All products featured are independently chosen by us. However, SoundGuys may receive a commission on orders placed through its retail links. See our ethics statement.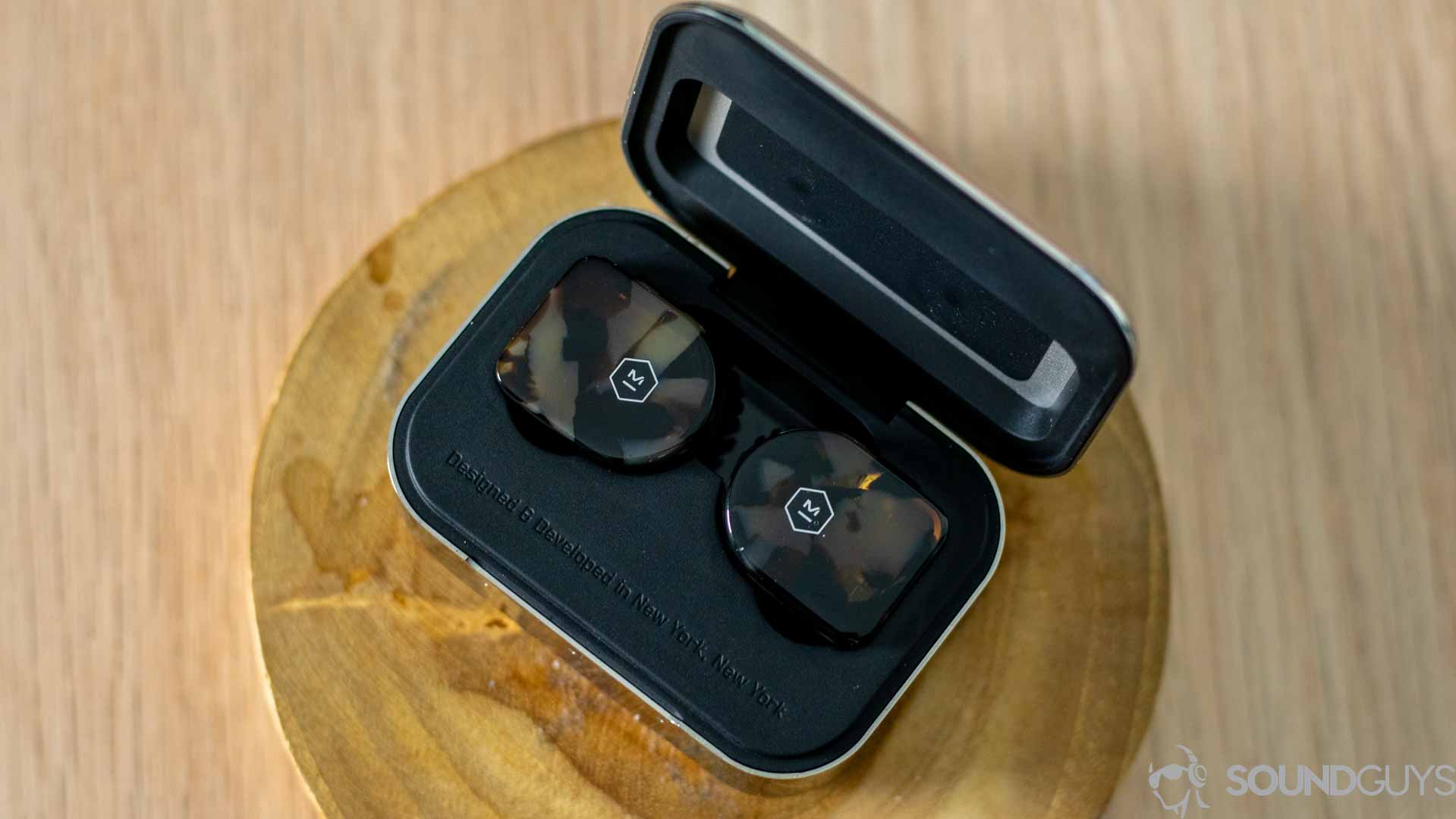 The bottom line
Though they're expensive, the MW07 true wireless by Master & Dynamic are a really good pair of 'buds that just about anyone would be happy with.
Master & Dynamic MW07
Though they're expensive, the MW07 true wireless by Master & Dynamic are a really good pair of 'buds that just about anyone would be happy with.
Dimensions
Earphones: 25mm x 22.2mm x 28.3mm
Charging Case: 64.6mm x 26.8mm x 45.1mm
Weight
Earphones: 9g each
Charging Case: 76g
What we like
Good fit<br>
Sound quality<br>
IPX4 certification<br>
Design<br>
Playback controls<br>
Autoconnect feature<br>
What we don't like
Average battery life<br>
Occassional stutters<br>
Price<br>
Rating Metric
Sound Quality
8.1
Bass
8.0
Midrange
7.5
Highs
8.8
Durability / Build Quality
9.5
Value
7.0
Design
9.0
Microphone
7.0
Portability
9.0
Battery Life
4.1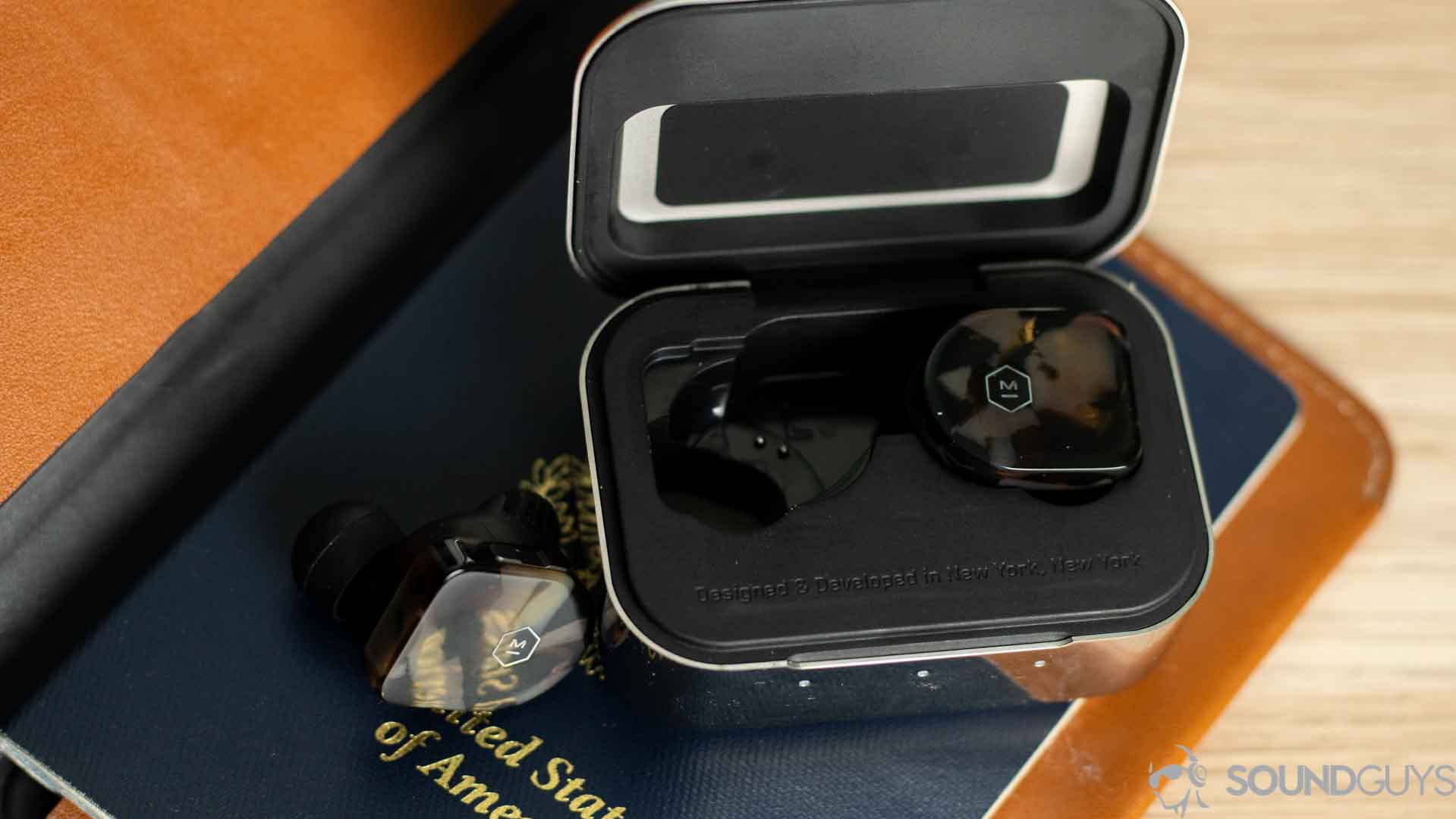 The MW07 earbuds are made of acetate and have a unique design.
If you want true wireless earbuds there are a few ways you can go. You can get a cheap pair that won't break the bank, workout 'buds that won't break when you sweat at the gym, or if you have an iPhone you can just get the AirPods. There haven't really been any options for anyone that wants a premium option. That's where the Master & Dynamic MW07 comes in. The company spares no expense when it comes to designing their products and while that usually means a more expensive price tag, it also results in gorgeous products that even end up in the MoMA. But does anyone really want a premium pair of true wireless earbuds?
Who is the MW07 for?
People headed to the gym after work. These might not look like it because we've been conditioned to expect plastic when it comes to exercise 'buds, but the MW07 has an IPX4 certification. You shouldn't submerge them (and I'd still recommend a cheaper pair of earbuds for the gym), but at least you know they can survive your post-work trip to the gym.
Anyone who doesn't want AirPods. For some reason, I've heard people say the reason they use AirPods is because of the solid build and design. They're plastic but don't feel cheap. If you want something just a premium feeling as the AirPods but would prefer them to look better and be a little more discreet, these are for you.
What's in the box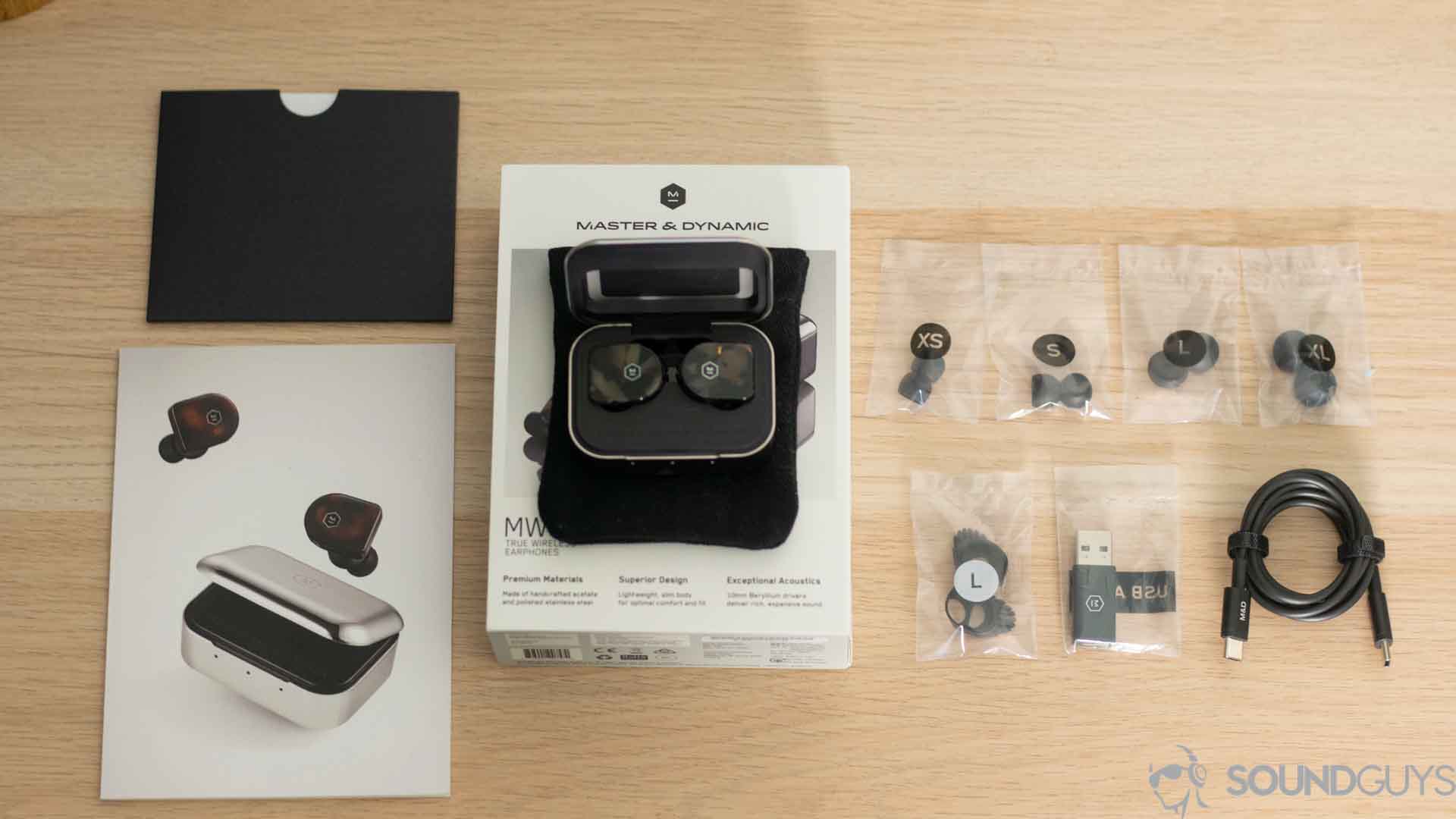 Everything that comes in the box with the MW07 earbuds.
For $299, you get the earbuds, five different pairs of ear tips, two different fit wings, a USB adapter, a stainless steel charging case and cloth carrying case, a USB Type-C charging cable, and the quick start guide and manual.
How are they built?
For those wondering about the build quality, these really do feel worth the premium price tag from the moment you open the box. The stainless steel charging is a bit of a fingerprint magnet, but aside from the AirPods case, it's the best feeling one I've used by far. It's definitely built better with a magnetic lid, three small LED lights that let you know when they're charging, and rounded edges so that it slides easily into pockets. The AirPods case still has a slight edge in my book, but only because it's lighter since it's made of plastic. But that's personal preference and if you just felt $299 on a pair of earbuds, the heavy weight of the case will feel good in the hand. It feels like you're holding something that will last.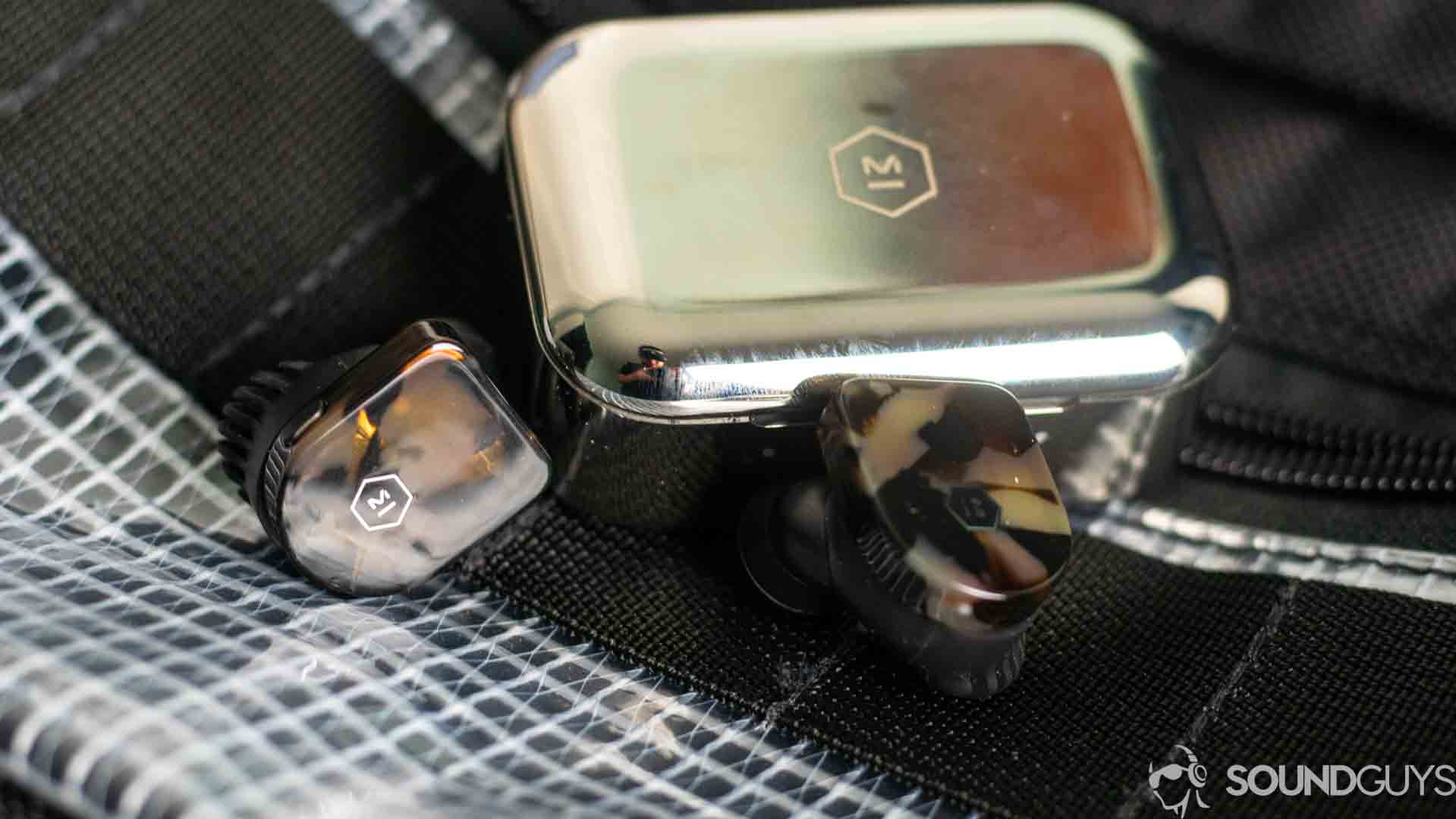 The case and the earbuds are both sturdy and beautifully made.
The premium build applies to the earbuds as well. Master & Dynamic really wants you to know that these are made from a handcrafted acetate. Initially I was skeptical; that material sounds like it would be heavy, and the design on the earbuds reminds me of a marble countertop. But after using them for a few weeks I can say that you barely feel the weight when you put them in your ears, and the design is prettier in person.
The fit wings are also a clever way of making sure these stay put in your ears. Though they're practical, I never liked the way that the wing tips look on workout 'buds like the Jaybird X4. These get it right as they're more minimal in aesthetic since they push against the inside of your ear to stay in place rather than curving along the outside. That said, it is a little uncomfortable after a while but it isn't painful.
The minimal Master & Dynamic logo also doesn't look half bad.
As nice as these earbuds look, it's the smaller details that made me a fan. The playback controls on the MW07 earbuds are intuitive, with a single multifunction button on the right earbud and two volume buttons on the left. Then there's also the autopause/autoplay function with is useful and cleverly implemented, so it works by default without even needing an app. On the inside of each earbud is a small sensor that knows when you're wearing the 'buds. So if you take one earbud out the music will mute until you put them back in. This was helpful when I wanted to listen to announcements on the bus or the train. Rather than needing to use a fancy swipe or gesture like on other headphones, simply taking one out does the job.
If there's one complaint I have with the build besides the slight discomfort while wearing them, I'd say it was that the buttons feel more squishy than clicky. It's a small gripe, but it's something you notice on first use. Thankfully, these also have an IPX4 certification so if you were looking for workout earbuds and want to go completely wireless these are surprisingly good for that.
How's the connection?
The earbuds fit well and don't fall out, though they aren't the most comfortable.
One of the best features of the AirPods is that they auto-connect as soon as you take them out of the case, and the MW07 do that to the best of their ability. You won't get a fancy animation on your phone, but you also won't need to hold down any buttons and wait for blinking lights (unless you're repairing to another device). The MW07 automatically enter pairing mode as soon as you take them out of the case, so you can just connect to them in Bluetooth settings. Once you've done that initially, they'll automatically pair to the last device so that by the time you get them out of the case and into your ears they're already connected.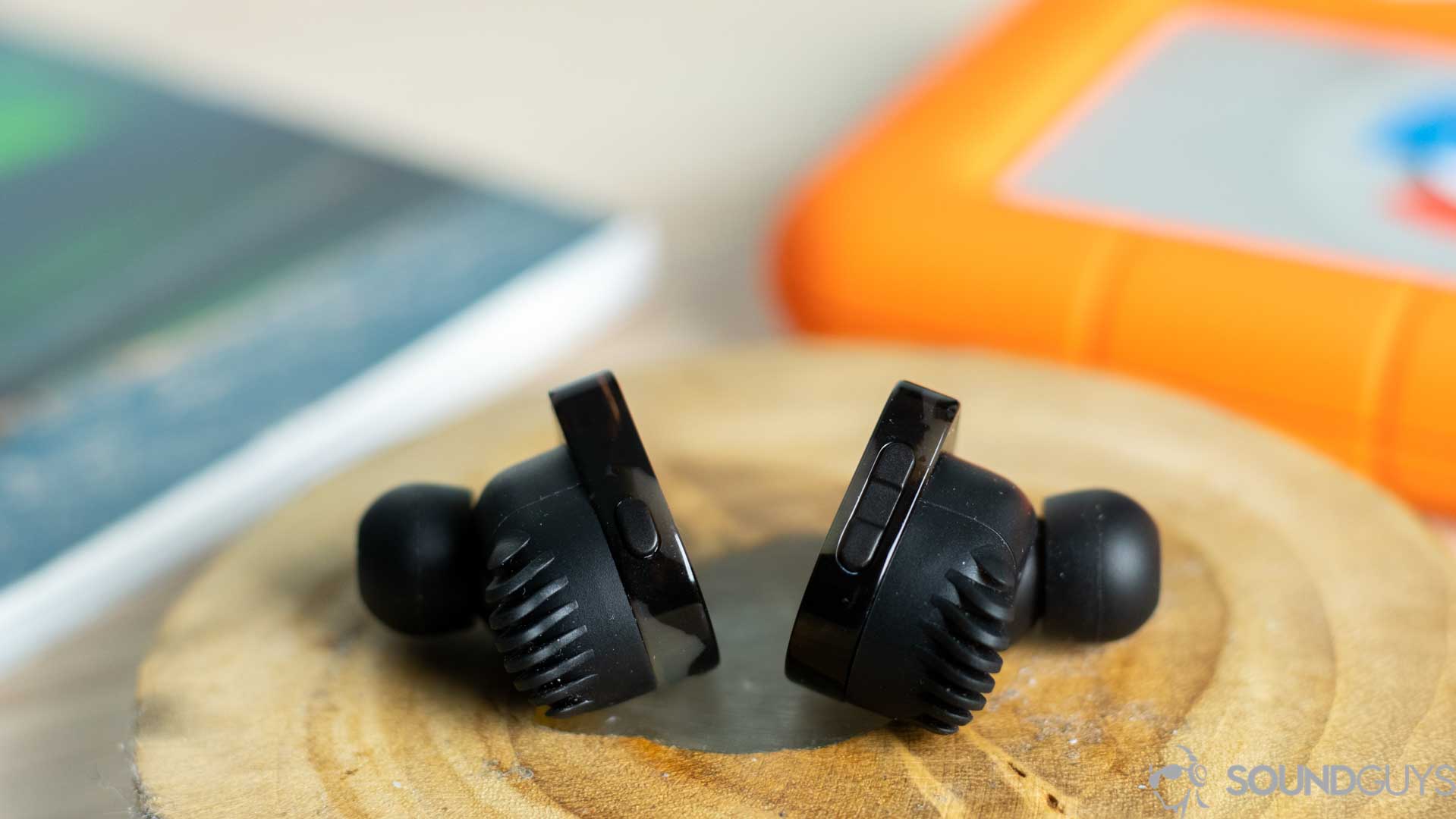 The controls are right on top of the earbuds and are easy to get to.
My only complaint is that while it's great for pairing to a single device, it's less seamless when connecting to multiple devices. It isn't a hassle, but it's not smooth either. You'll need to re-pair by holding down the multifunction until you can enter pairing mode. On the bright side, once you're connected the connection strength is great. These have Bluetooth 4.2 and use the aptX codec, so streaming is stable and the range is surprisingly good. Not to mention that audio-visual lag is none existent so if you stream a lot of videos during your commute you won't have to deal with the annoying lag that plagues so many Bluetooth products.
In regular use, I had a few random stutters when the phone was in my pocket, and none while it was on my desk. While the MW07 earbuds aren't perfect, they get the job done in most cases. Playback controls also work as you'd expect, with a single tap of the multifunction button pausing or playing music, a double tap skipping to the next song, triple tap returning to a previous song, and holding it down to access your phones personal assistant.
How long does the battery last?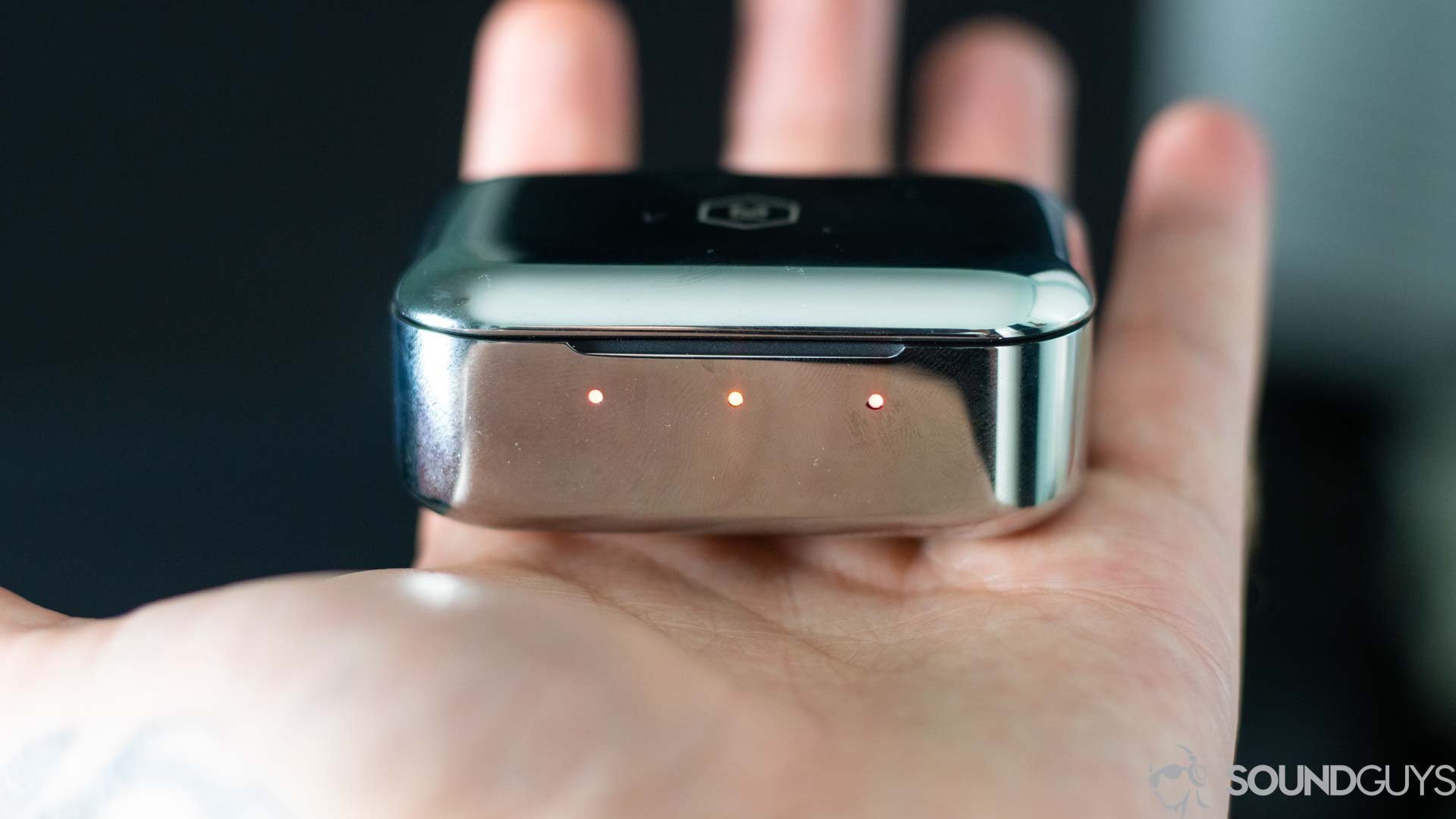 The charging case has three LED lights that let you know the battery status of the 'buds and the case itself.
As cool as true wireless earbuds are, their Achilles heel has always been battery life. Something like the Jabra 65t does a good job at reaching of playback time at a little over 5 hours, but everything else falls below that and the MW07 'buds are no exception. Master & Dynamic claim you'll get about 3.5 hours of constant playback, but in our testing, we got a little less at three hours and two minutes.
The charging case does add an additional three charge cycles, and there is a quick charge feature that will give you about 40 percent of battery in only 15 minutes on the charger. Practically, I don't see too many people having an issue with battery life as I doubt people will be listening for more than three hours anyway. Plus, the quick charge feature is nice to have if you forget to charge them and are headed to the gym for a quick workout, but if you want the longest battery life possible, you'll have to look elsewhere.
What do they sound like?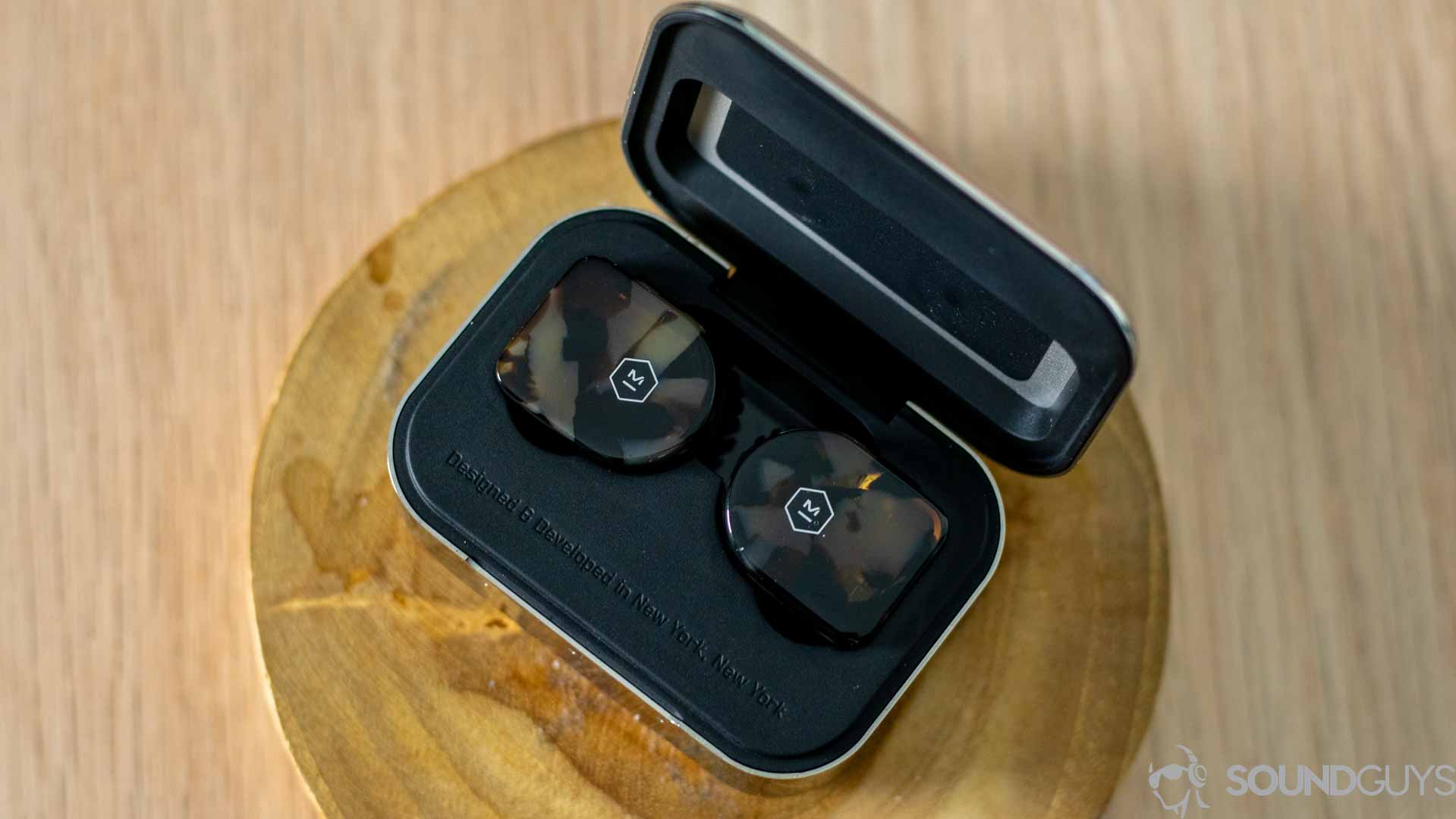 The charging case gives another three full charges.
Normally, I don't expect too much from true wireless earbuds. So that could be the reason why the MW07 earbuds took me by surprise. Don't get me wrong, you're not going to ditch your over-ears for these. Still, considering what we know about Bluetooth streaming and the struggles that true wireless 'buds have had in the past with regard to sound quality, I was really surprised by how good these sound. I'm not sure whether it's the 10mm Beryllium dynamic drivers, the isolation of the ear tips, or the aptX codec, but these rival some of the better Bluetooth earbuds I've heard and beat the rest. So yeah, when it comes to true wireless earbuds these are for sure one of the better sounding options you're going to find. That said, don't get your hopes up. They're still true wireless Bluetooth earbuds.
Lows are emphasized enough to make basslines and kicks stand out without stepping too much into the lower mids. The separation between the bass kicks, hums, and Nathaniel Rateliff's deep voice at the beginning of S.O.B was surprisingly good. It didn't sound like any one aspect of the song was masking the other. That said, I did find that instruments in the mids weren't as clearly separate as I would've liked.
It was hard to differentiate between the trumpets and piano throughout the song Rattlin' Bones by the Preservation Hall Jazz Band unless they were playing solo. So if you're big on Jazz music these might not do it for you. That said, instruments in the high end didn't share those issues and all of the cymbal and hi-hats throughout the song Morris Brown by Outkast had a good amount of detail and spacing between them.
Final thoughts
Are these "must buy" earbuds? Probably not, but if you do decide to shell out the $299 to get these in your pocket we doubt you'll have any regrets. They're not perfect, but they check a lot of the boxes for what you want in a pair of true wireless headphones. These have good sound, an IPX water resistant rating, decent battery life, intuitive playback controls, a good fit, a sturdy yet sleek charging case, and are beautifully designed earbuds. It's all here.
Of course, we wouldn't say no to better battery life and a slightly better connection when the phone is in your pocket, but there's always going to be something. The MW07  true wireless earbuds are clearly from Master & Dynamic: they're beautifully built and great at what they do. Just be prepared to pay a nice premium if you want to enjoy what they have to offer.