All products featured are independently chosen by us. However, SoundGuys may receive a commission on orders placed through its retail links. See our ethics statement.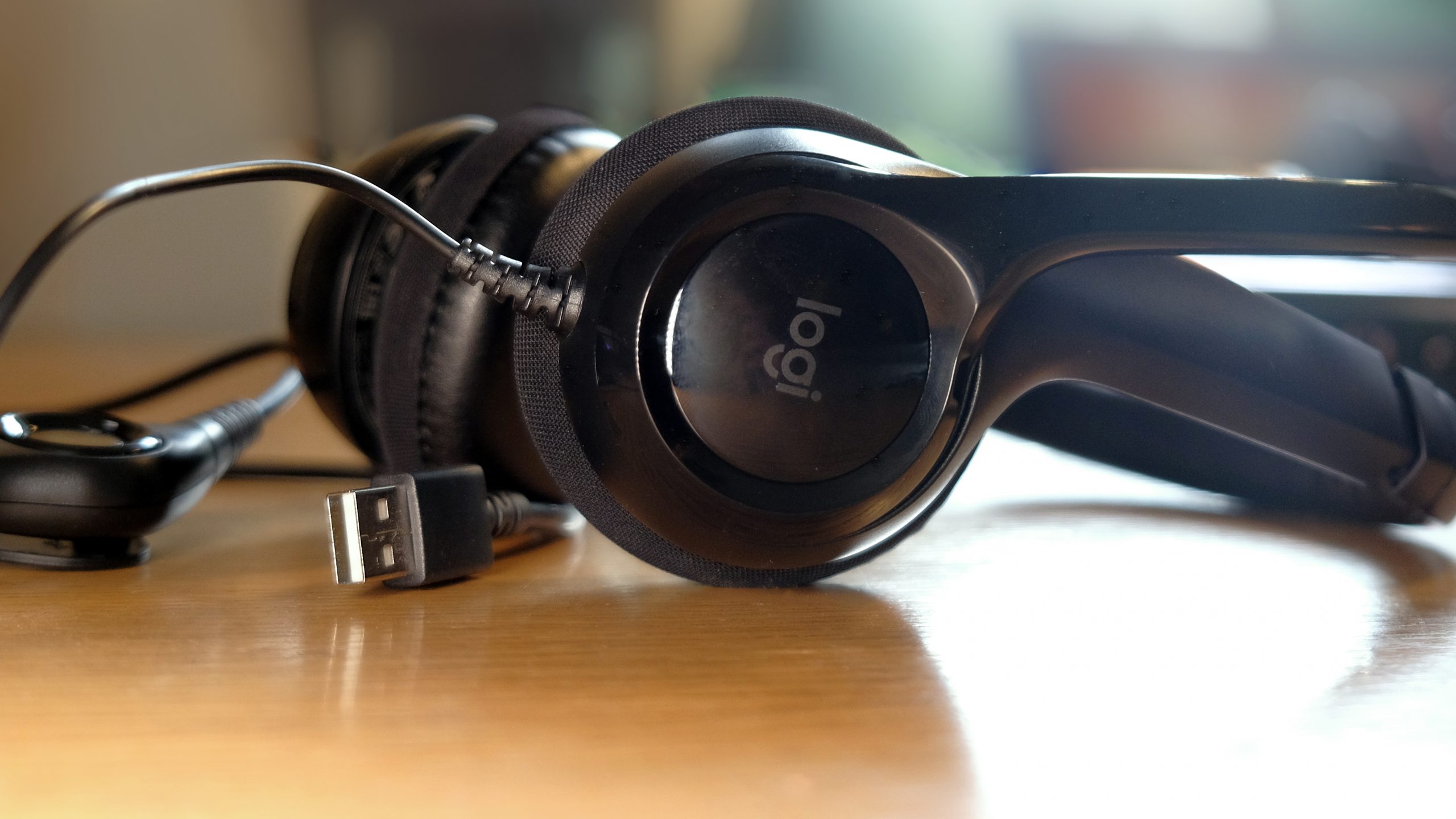 Jasper Lastoria / SoundGuys
The bottom line
Cheap and discreet looking, the Logitech H390 works just fine for an occasional meeting or class, but the on-ear fit hampers isolation performance and comfort.
Logitech H390
Cheap and discreet looking, the Logitech H390 works just fine for an occasional meeting or class, but the on-ear fit hampers isolation performance and comfort.
Model Number
981-000014
981-001285
981-001280
What we like
Budget price
Decent mic
Plug-and-go functionality
What we don't like
Poor isolation
Not comfortable after an hour
These days pretty much everyone needs a headset with a dedicated mic. Whether you take the occasional remote work meeting, or work in a shared office space, the Logitech H390 could be the thing to get if you don't want to spend much money. That it's made partly from recycled plastic is a nice touch if you're interested in prioritizing eco conscious purchases. Let's see if it does all you need, or if you should keep looking.
Editor's note: this review was updated September 5, 2023, to update charts and to answer FAQ.
About this Logitech H390 review: We tested the Logitech H390 over a period of five days. SoundGuys purchased the unit for this review.
What you need to know about the Logitech H390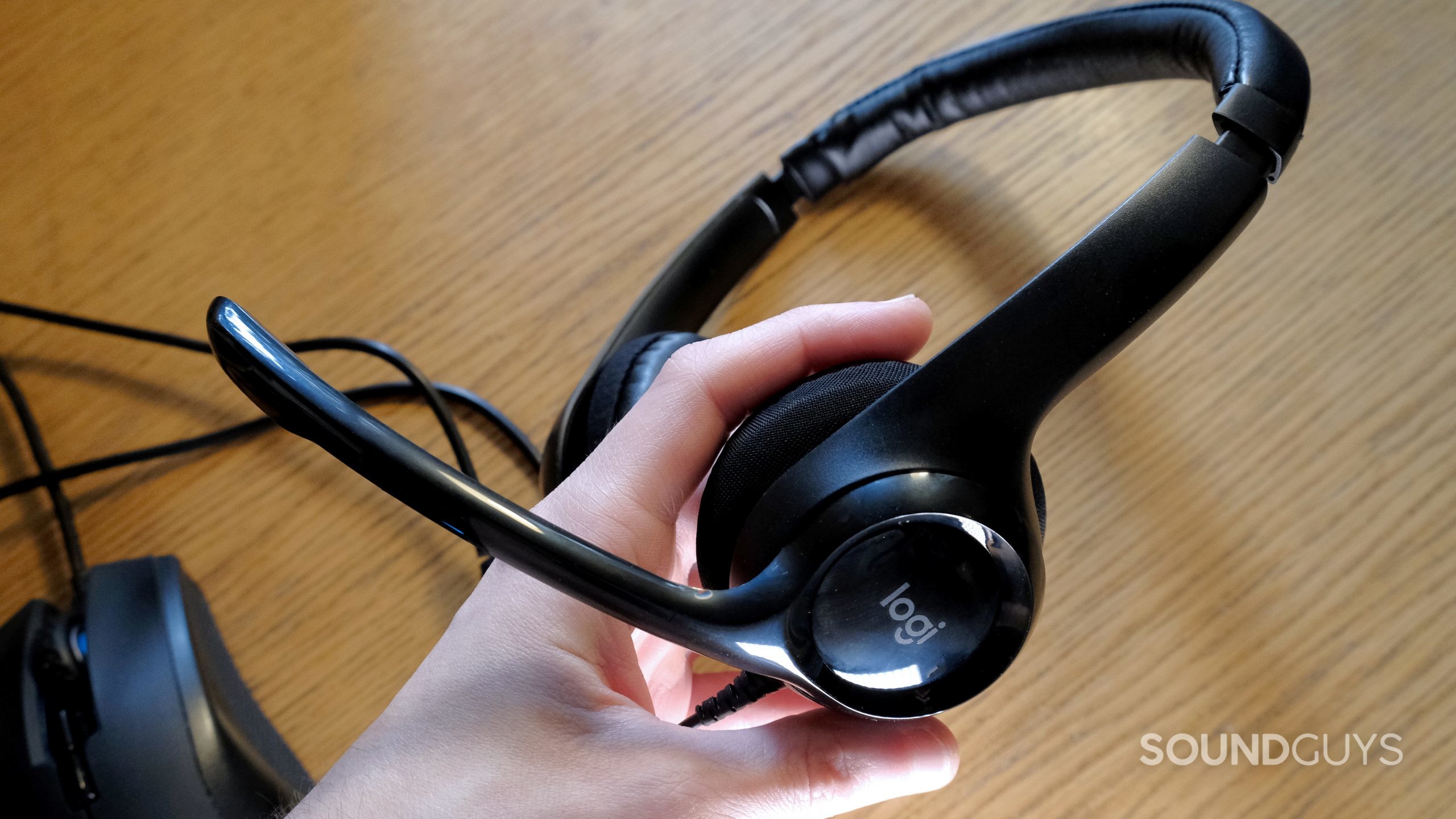 Jasper Lastoria / SoundGuys
Logitech makes the H390 out of recycled plastic.
Logitech H390: $39.99 USD / $39.99 CAD / £39.99 /

€

49,99
One of the best known names in computer peripherals, Logitech sells this budget oriented on-ear headset in three colors (graphite, off-white, and rose) aimed at folks who perform office work, productivity tasks, distance education students, and the occasional Zoom call. The H390 only works plugged in via USB-A. It sits a tier above the basic Logitech H340, and below the heftier H540 (which uses controls on the headset, rather than a remote).
What's good about the Logitech H390?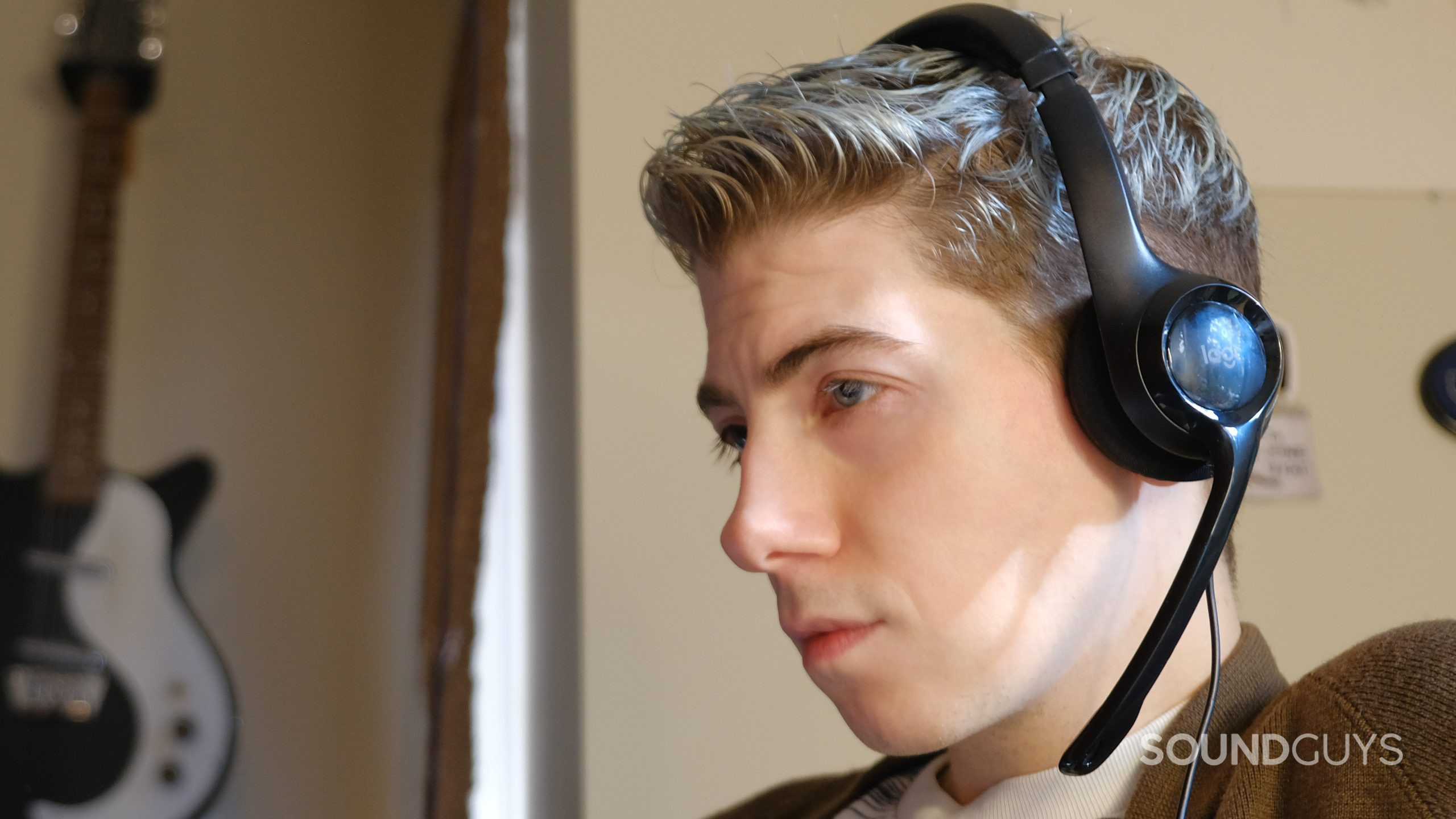 Jasper Lastoria / SoundGuys
You can move the mic closer or farther away from your mouth depending on how loudly you speak.
The Logitech H390 truly is a plug-and-play headset. Anyone will appreciate that you can simply plug it in and your PC (or Mac or Chromebook) ought to automatically switch audio out and microphone input to it.
Logitech has created a loud headset. I listen with the volume on Spotify between 6 and 8 (out of 100 on my PC). This is useful for calls and meetings, because unlike your favorite song, most people's mics sound anything but ideal. Having that kind wiggle room in volume means you shouldn't ever have any issues hearing other people's bad mic audio, which is nice. Audio on the playback side is alright for a cheap headset. It doesn't exactly pulsate with intense bass (thanks to a roll off below 100Hz), but by and large, it's fine. Rather surprisingly, the stereo width on the H390 sounds decent.
While the H390 doesn't really follow our headphone preference curve to a T, it sounds reasonably good where voices are concerned. That steep roll-off below 100Hz won't really affect how voices sound, but it will minimize low ambient and handling noise. When listening to music, you'll possibly notice trebly parts sound a little quiet, and any sub-bass sounds will remain difficult to hear well. However, music listening is not exactly the purpose of the H390, which aims more at folks speaking with others. For that use, the frequency response does just fine.
Logitech equips the H390 with a non-detachable 1.9m USB-A cable, which is particularly handy if you don't have your computer mere inches away. You can push the mic up away from your mouth when not on a call and use that giant mute button on the in-line remote. The remote also has volume buttons and a clip to attach it to something.
While imperfect, the permanently connected boom microphone does a reasonably good job of capturing your voice, successfully handling most plosives, though the audio can clip if you're not careful — if that happens, you can always adjust the boom's distance from your mouth. The H390 certainly sounds better than the average mic on a pair of Bluetooth headphones, illustrating the benefits of a dedicated boom mic over merely repurposing your music headphones for calls. However, folks with deep voices will sound quieter than in real life, and it does not filter out environmental sounds specifically.
The Logitech H390 mic sounds decent for picking up voices, although it intentionally emphasizes upper frequencies disproportionately compared to midrange frequencies. Don't be fooled by the chart, for the price it's not bad, but some folks might sound more sibilant than normal. The mic will definitely pick up office noise. Have a listen below.
Logitech H390 microphone demo (Ideal):
Logitech H390 microphone demo (Office):
How does the microphone sound to you?
30 votes
What's not so good about the Logitech H390?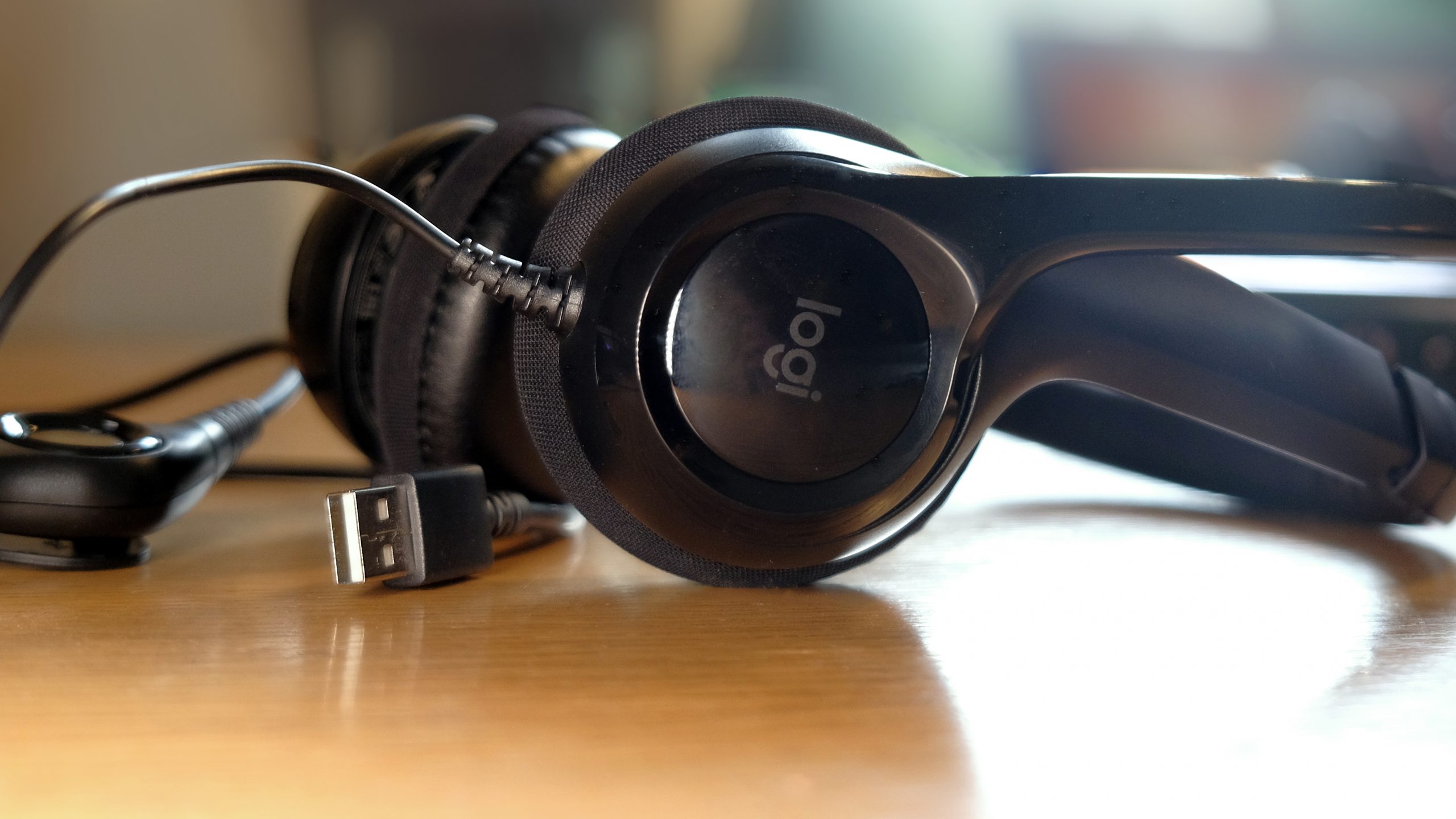 Jasper Lastoria / SoundGuys
You plug the H390 into a USB-A outlet on your computer.
The on-ear design's fit takes some getting used to, and the Logitech H390 does not isolate well at all. That's a problem if you're working in an office with an open floor plan or in a cubicle. It's possible that one of the reasons why the headset gets so loud is to compensate for environmental noise reaching your ears. In any case, on-ear fits tend to isolate poorly compared to the over-ear seals offered on other headsets, and this is no exception.
The mic definitely picks up keystrokes and mouse clicks, and there's some handling noise. No software or hardware controls for the mic means you can't adjust the mic level, besides mute and unmute. While doing an ad hoc test recording myself at my desk, the mic also picks up the music I'm listening to, meaning the drivers definitely leak sound. On a call, that could lead to the other person faintly hearing their own voice relayed back through the H390 mic. However, when using Zoom my friend did not notice any audio issues of that variety — most video chat apps have software built in to account for some degree of environmental noise.
As for comfort, the leatherette covered padding is quite stiff, which doesn't feel good pressed against my ears, even though the clamping force itself isn't terribly tight and the ear cups swivel to distribute that force evenly. Meanwhile, the leatherette gets sweaty within an hour of putting it on, and after about 90 minutes, I start to get a headache.
Perhaps this is a nitpick based on preferences, but the clip integrated on the back of the remote also feels cheap and liable to pull at knits and loosely woven clothes — a standard oxford or poplin shirt will probably fare fine. To that end, the overall build feels rough and made of cheap (albeit partly recycled) plastic. Where the headband splits for size adjustment, the edges are sharp, though it's fortunately not where the headset touches you.
Logitech H390 specs
In an effort to dispel any confusion with other similarly dubbed headsets, here are the specs for the Logitech H390.
Logitech H390

Size


171 x 151 x 68mm


Weight


196g


Noise canceling


N/A


IP certification


N/A


Connection


1.9m cable USB-A


Controls


In-line remote buttons
Mute / unmute
Volume up
Volume down


Battery life


N/A


Fast charging


N/A


Wireless charging


N/A


Connector


USB-A


Price


$39.99 USD

Logitech H390 review: Should you buy it?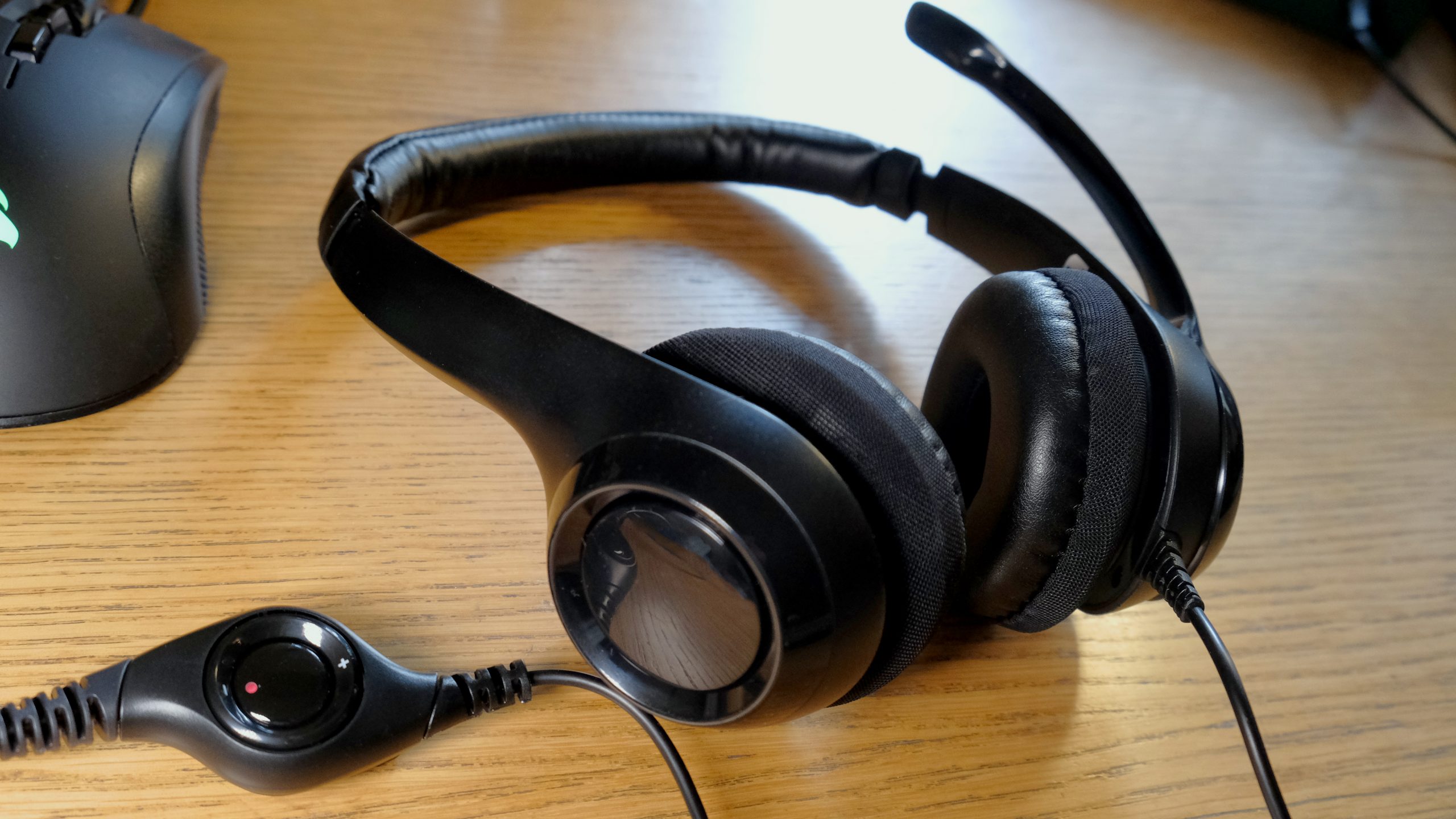 Jasper Lastoria / SoundGuys
The in-line remote has a large mute button and volume up and down.
For the price, the Logitech H390 performs as advertised. If you infrequently need a headset with a decent mic for your computer, it's an okay performer. Certainly, the hardwired USB-A connection and effortless compatibility with your computer defeats the usual chaos that can ensue with Bluetooth, for example.
During extended periods of use is where the H390 falters, as it is not very comfortable after an hour at all. A solid lesson to take away from any review is if the headphones feel uncomfortable, it's probably not the best choice. However, if you see yourself only needing a slim, professional looking headset at a low price a couple times a week for short stints, Logitech has succeeded.
Now, if you plan on using a headset more often, consider investing in something that isolates better and cushions around your ears (rather than on your ears). The Razer Kraken X ($49 at Amazon) has a bit more visual flash, however, it isolates a little better and feels more comfortable. Its mic performs similarly to the H390, with under-emphasized bass frequencies.
The SteelSeries Arctis Nova 1 ($55 at Amazon) has passable aesthetics for workplaces, and outperforms the H390 in sound, fit, and comfort. Finally, if you can get along with the logo, the HyperX Cloud Stinger 2 ($36 at Amazon) is another option with better sound and isolation than the Logitech H390. If you want to keep it cheap, the JBL Quantum 50 is an inexpensive earbud solution (for $34 at Amazon) designed to work with computers (or most devices) and its discreet style ought to get along with most professional spaces, while supplying good audio.
Logitech H390
Logitech H390
Price • USB audio • In-line remote
Frequently asked questions about the Logitech H390
No, the Logitech H390 doesn't have noise canceling. It barely even isolates.
If the red light is steady, the microphone is active. When the light blinks, the Logitech H390 microphone is muted.
Yes, you can use the Logitech H390 for gaming on a computer. However, the fit can feel uncomfortable after some time, so you might rather pick something else that isolates and feels more comfortable.