All products featured are independently chosen by us. However, SoundGuys may receive a commission on orders placed through its retail links. See our ethics statement.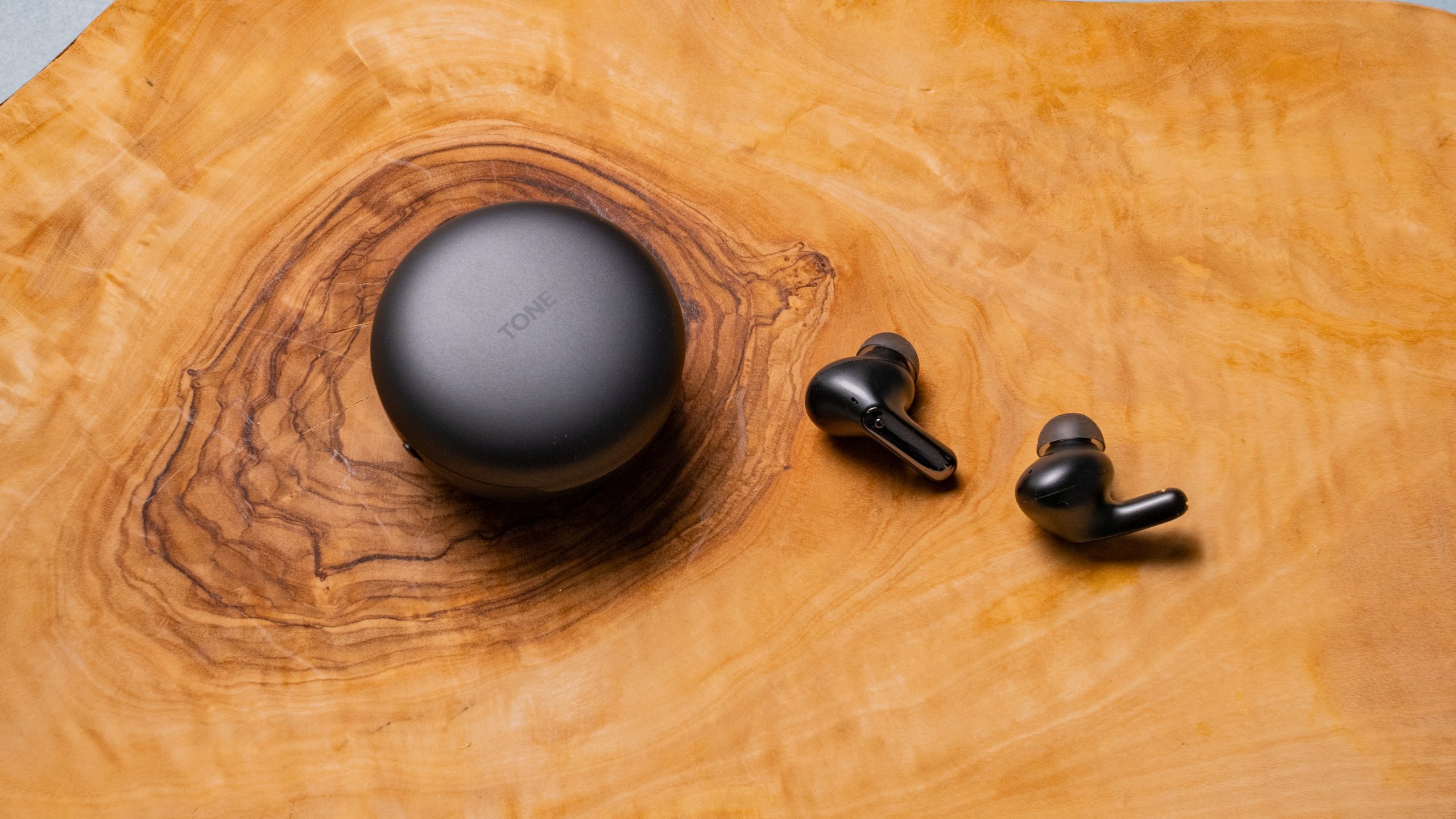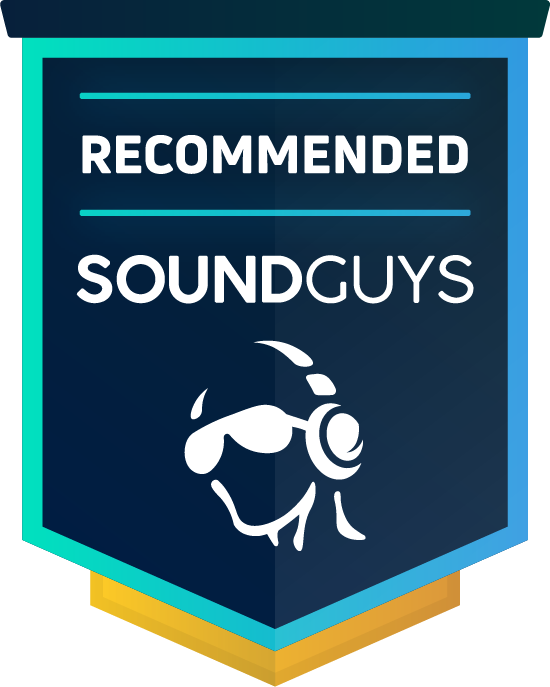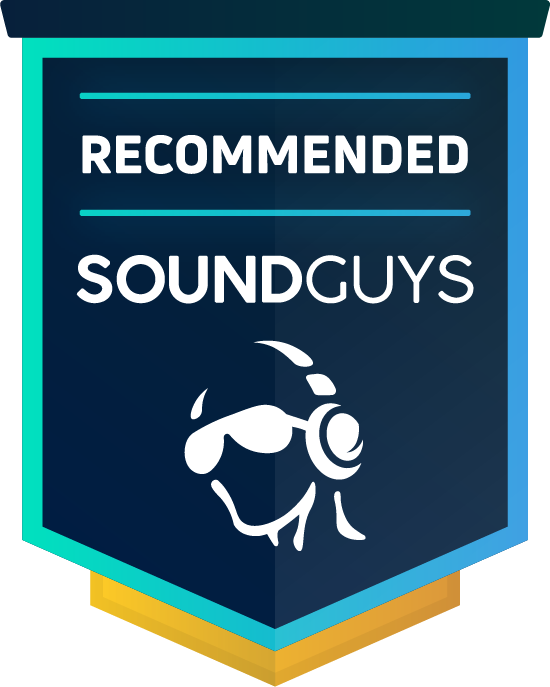 The bottom line
The LG Tone Free FP9 are a decent, if odd set of earbuds. However, the case being able to act as its own wireless transmitter opens doors not commonly available to most. The product is a good pickup for the right buyer, but may be too expensive for someone who doesn't need many features.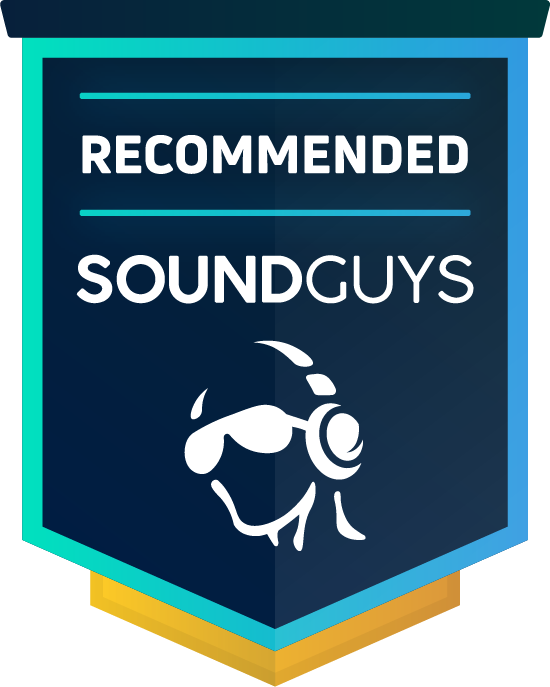 Tone Free FP9
The LG Tone Free FP9 are a decent, if odd set of earbuds. However, the case being able to act as its own wireless transmitter opens doors not commonly available to most. The product is a good pickup for the right buyer, but may be too expensive for someone who doesn't need many features.
What we like
Case acts as a transmitter
IPX4 rated
What we don't like
ANC could be improved
Rating Metric
Sound Quality
9.4
Bass
8.8
Midrange
9.9
Highs
9.6
Isolation / Attenuation
6.4
Active Noise Cancelling
7.4
Durability / Build Quality
8.0
Value
7.2
Design
7.1
Connectivity
7.5
Portability
9.5
Feature
8.4
Comfort
6.4
Long one of the more popular options on the market for neckband earbuds, LG has seen much of its former niche drift to true wireless earphones. In a space where more earbuds are very same-y and nondescript, the company is hoping the added features of the LG Tone Free FP9 are enough to set it apart from the morass of Tic-Tac lookin' plastic ear stoppers.
Is it worth your money? Well, the answer is complicated.
Editor's note: this is the first version of the article. Updates will follow as the market changes.
About this review: We tested the LG Tone Free FP9 over a period of one week. The company provided the unit for this review.
The LG Tone Free FP9 is for commuters and travelers who want a little extra protection from sweat and bacteria buildup in their ears. Additionally, these earphones offer multipoint and ANC.
What's it like to use LG Tone Free FP9?
As a daily driver, the LG Tone Free FP9 is an interesting option, given its unusual constellation of capabilities. Like most other true wireless earphones, the LG Tone Free FP9 comes with a charging case, but it's loaded with features that pretty much only LG offers.
For true wireless earphones, the LG Tone Free FP9 is quite straightforward.
The case has what LG calls "UVnano" cleansing, which is basically just tech branding language that means it kills bacteria on the ear tips with UV light. Additionally, the case also comes with probably the best feature I've ever seen on true wireless earphones, "plug and wireless," but that's a discussion for later.
Inside the packaging are three sizes of ear tips to meet your ear canals' needs. Though there are no foam options, we understand the commitment to the bacteria-killing theme here. Just be aware that it's possible that these three sizes may not be adequate for you, and you might look into buying third-party ear tips to save what would otherwise be an okay purchase for you. If I were to buy these, I'd want to get something that fits better than what's included, because the single-flange sleeves tended to come off in my ears sometimes.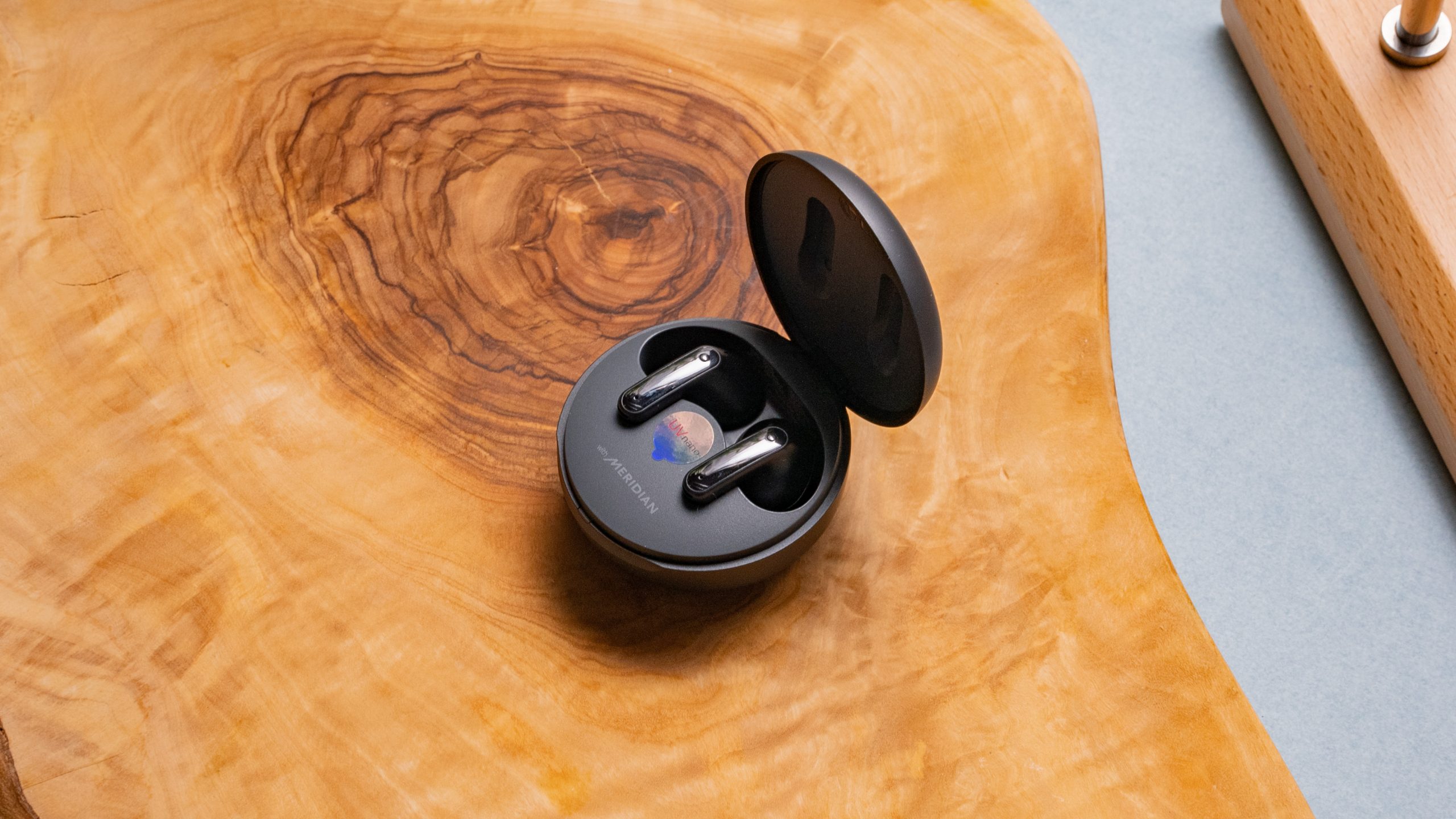 The UVnano feature kills most bacteria that collects on the earbuds, though that won't blast away any earwax or anything.
Each earbud has a lollipop-like design, housing the electronics, drivers, and microphones. Weighing in at 5.2g per earphone, the LG Tone Free FP9 might be a little heavy for your ear canals if you don't have a great fit. Luckily the rounded top is concha-friendly, because if it stuck out of your ears like some other buds: it'd be a bad time.
No. However, it does have an IPX4 rating, meaning it can take a little bit of moisture before suffering damage.
How do you control LG Tone Free FP9?
The LG Tone Free FP9 has touch controls on the back of the earbuds, allowing you to perform basic controls with music playback, noise cancellation, and transparency mode. After all, these are intended to go toe to toe with the other big players in the TWS sphere.
Action
Music Function
Call function

Action

One tap


Music Function

Play / pause


Call function

Answer call / hold


Action

Two taps


Music Function

Increase volume


Call function

End call


Action

Three taps


Music Function

Play next


Call function

N/A


Action

Long press


Music Function

Toggle transparency mode / ANC mode


Call function

Reject call

It's a little annoying that some of the more common gestures for playback are missing from the earbuds (like swipe for volume), but these touch controls are adequate for most uses. Just be aware you can always use your phone like usual to adjust things like volume. Strangely absent is voice assistant controls, but it's not a huge deal unless you are prone to barking orders at yours when you aren't using your phone right that second.
Should you use the Tone Free app for the LG Tone Free FP9?
As with most apps, if you want to know our recommendation on whether or not to use the Tone Free app for the LG Tone Free FP9: maybe. It mainly depends on how important things like firmware updates are to you, weighed against the drawbacks of using yet another app.
Should you choose to use the Tone Free app by LG, you'll be able to access items like spatial audio, touchpad settings, a find my earbuds feature, ANC settings, and some user guides. While the app itself isn't necessary for using the earbuds out of the box, it is needed to enable some of these smarter features. For example, you need the app with location access to enable the find my earbuds feature.
How does the LG Tone Free FP9 connect?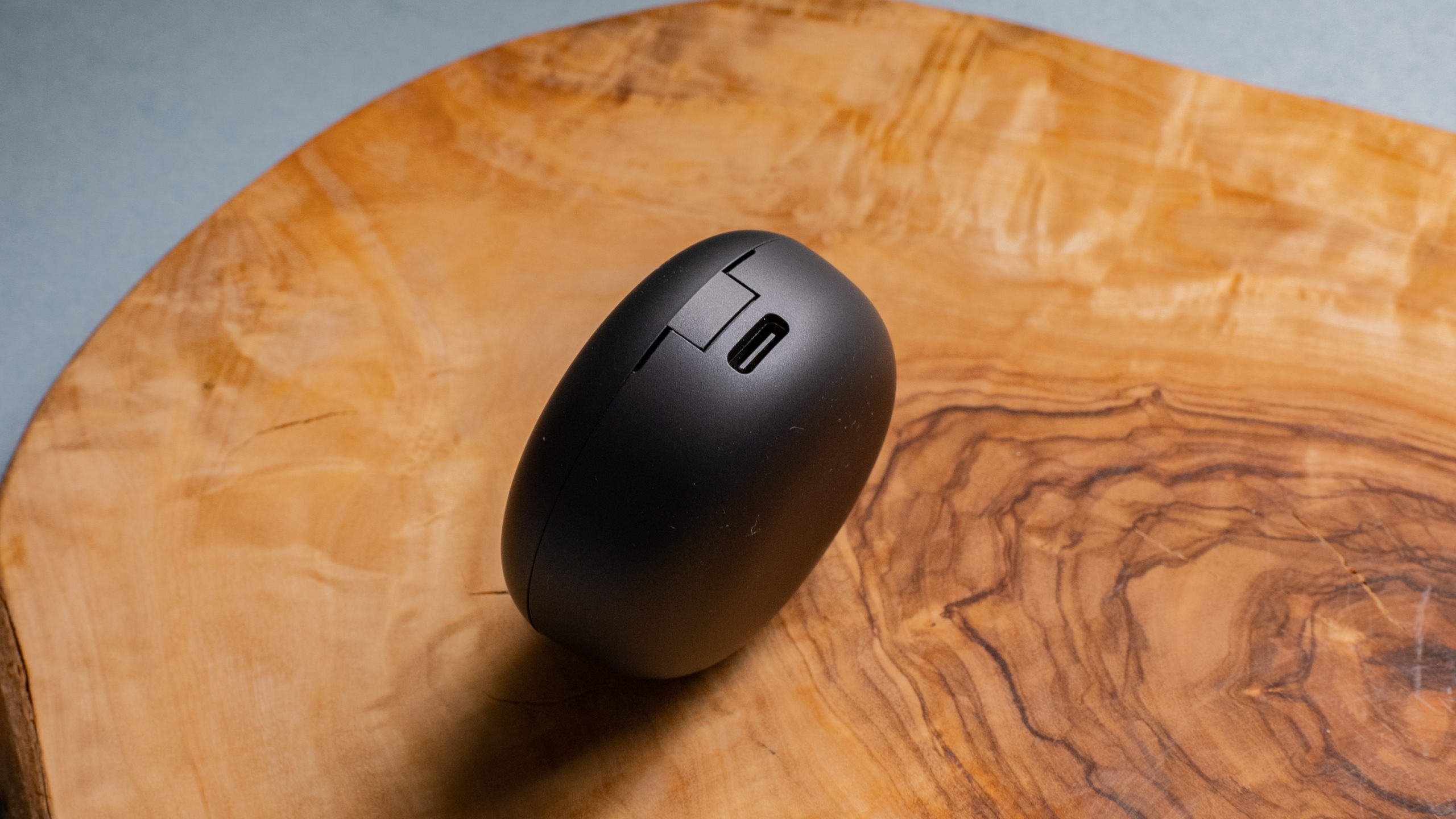 This USB-C port not only charges the case, but allows you to use your charging case as a stand-in source for older devices.
The LG Tone Free FP9 connect to its sources primarily through a Bluetooth 5.2 connection over SBC, and AAC. If you were hoping for higher-bitrate options, you're out of luck, but thankfully Bluetooth devices have come so far in recent years that it's really not worth worrying about so much. In general, these codecs will behave perfectly fine for most, though it's possible conditions, devices, and distance might throw a wrench into your listening. Depending on which codec you choose (or your phone defaults to), you may notice a bit of latency, but that's true of all wireless headsets. Over SBC we saw latency of up to .42 seconds, which is on the higher end of things, but most phone media apps are able to deal with this, so it mainly impacts a delay in controls.
Fortunately for commuters, pairing the LG Tone Free FP9 is a pretty standard process, and largely follows the same procedure as you would connect any other set of Bluetooth earphones.
Opening the charging case
While the earbuds are still in their slots: touch and hold your finger to either earbud for 3-5 seconds until you see a flashing blue light.
The earphones will either trigger a fast pair sequence, or merely show up in the available Bluetooth devices on your phone. Tap the correct model name to pair.
What is plug and wireless?
Perhaps my favorite addition to these earbuds is the "plug and wireless" feature. You can plug the carrying case of the LG Tone Free FP9 into a USB port or TRS jack and then use it as a Bluetooth transmitter for the buds. That's pretty neat, and solves a long-neglected problem in the wireless space. The vast majority of true wireless earphones won't connect to anything without a Bluetooth antenna, and with older systems or even airplanes, that can be annoying to navigate. Kudos, LG!
However, it doesn't always work properly, and it's a bit of a mystery as to why. Your experiences may differ from ours, but occasionally it may add a little noise.
How long does the LG Tone Free FP9 battery last?
Hold up! Something's missing
We're still in the process of testing the battery of the LG Tone Free FP9, so once that's done we'll report back with the official figures. In the meantime, though, hang tight and check back in a couple days for our final results.
Little batteries like the ones within the LG Tone Free FP9 aren't capable of sustaining output for very long, so you'll have to charge them quite often in order to keep them bumping tunes. Normally this is just a reality of wireless audio but for true wireless earphones this van degrade the batteries quickly. Consequently, battery hygiene is more important with these tiny cells than it would be with a set of over-ears you don't have to charge often. Even with perfect battery habits, small cells will die in a much shorter time than larger ones will, so don't be surprised if these units don't last past the 3 year mark. It's just not realistic for wireless earbuds.
LG claims the earbuds can last up to 10 hours on a single charge, but until our battery testing is complete, we can't say how true that is.
Yes, the LG Tone Free FP9 list a playback time of one hour with 5 minutes of charge time. Obviously your experience may vary, as there are a number of factors that can impact charge time like contact cleanliness, case battery level, or earbud battery condition.
How well does the LG Tone Free FP9 cancel noise?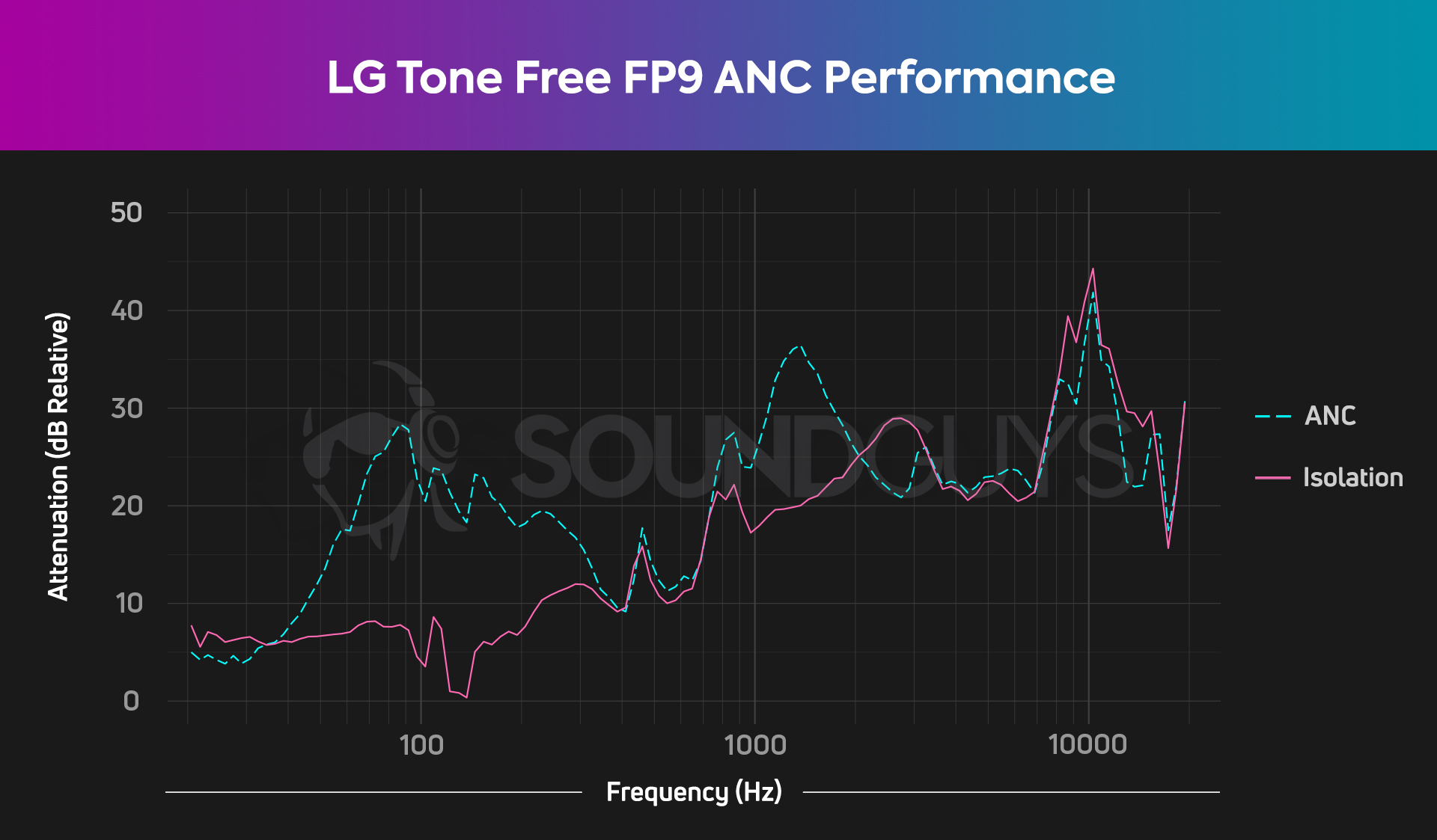 The LG Tone Free FP9 blocks out a fair bit of outside noise, provided you get a good seal.
On the whole, the LG Tone Free FP9 does a fair job at noise reduction, but it really depends on how well you can get the earphones to fit. Because isolation and ANC require a good fit to work optimally, you may notice the ANC is underwhelming if you aren't getting the required seal.
Like most ANC earbuds, the LG Tone Free FP9 is very adept at ridding your ears of high-frequency noise, though it stumbles a bit in the range where most fundamentals of music live. But by "stumble" I mean "only reduces noise by 50%-75%"—not really a terrible thing overall. This will be a good companion for commuters, travelers, and anyone looking to drown out the din of the world. You could probably find other options that are better, but after a certain point, you're looking at diminishing returns.
How does the LG Tone Free FP9 sound?
Most higher-end earbuds nowadays will allow you to change the sound of your product with the app, making the question "how does it sound?" a little more tricky. However, the presets offered by LG are fairly restrained—a shockingly rare thing nowadays. In addition to the options outlined below, there is also a spatial audio emulation mode (3D Soundstage), which alters more than just the frequency response in the charts shown here.
If you're looking for a bassy sound, you'll likely enjoy the LG Tone Free FP9. The "Bass Boost" preset will stand out for most people, but in our experience the "Treble Boost" preset is the closest equalizer preset to our target in the app. In fact, it's very accurate right up until the highs—though that's a very tough range to calibrate anyway. You can see how the sound changes among the presets above, but you'll likely find that you stick with one and forget about the others.
The Bass Boost option will emphasize the sub-bass found in movies and some rap tracks (like those used heavily by Run the Jewels), but the mids and highs are a bit underemphasized in comparison. This will create the illusion that the bass is even louder than it appears on a chart. This preset sounds a bit better when you're in the presence of other noise (rumbling noise like car engines can be tough to attenuate). However, it may not sound so great when it's a little more serene. On the upside, it can make tracks like Microwave's Grass Stains sound a little less cymbal-heavy (Ed. note: this track has painfully loud cymbal splash if you listen with a more "studio" or accurate sound).
We're not quite sure how the "Natural" preset got its name, but in essence the main thing it does to your music is massively emphasize the highs—more than the Treble Boost EQ preset, even. This preset might appeal to you if you listen to mostly podcasts or people (as it would increase speech intelligibility) but we don't recommend it for music outside of orchestral recordings. Ever want to hear the prolonged string vibrations in Clair de lune? Enable this preset. By underemphasizing mids and lows as much as it does, it will sound anything but "natural."
What about the Custom EQ profiles?
If you want more manual control over how your music sounds, there's a 9-band EQ slider interface in the app. While we usually say "go nuts," just be sure you're not making any huge boosts, as it's possible you'll introduce some issues with dynamic range or noise in your earbuds' playback.
What about the 3D soundstage preset?
In-ears in general are not always amazing about 3D audio content, and it shows here. I'm not going to knock something that takes a lot of work to build, but there's a few steps missing here that are tough to ignore. There's very obviously some processing going on, but I could never get good results on movies or music (supporting 3D/spatial audio). Considering that the reason you'd buy these earbuds isn't the 3D audio though, I'm prepared to give it a pass. Still, if this is something that's  important to you, you may want to keep looking.
Can you use the LG Tone Free FP9 for phone calls?
The LG Tone Free FP9 are capable enough at handling voice calls. We always like to include samples so you can hear what you're going to sound like over a conference or phone call.
LG Tone Free FP9 microphone demo (Ideal conditions):
LG Tone Free FP9 microphone demo (Office conditions):
LG Tone Free FP9 microphone demo (Windy conditions):
How does the microphone sound to you?
211 votes
Even in ideal conditions, the microphone is a little on the lo-def side. You really don't need an amazing microphone if you're going to be using it for phone calls, but the LG Tone Free FP9 is extremely susceptible to wind noise, as you can hear above. It's not uncommon, but if you live in a windy area please check our other reviews to hear the difference in performance.
Should you buy the LG Tone Free FP9?
Unless you have an extremely bad time with earphones causing you infections, the only big reason to buy these particular earphones is mainly if you find yourself annoyed by Bluetooth's ironic lack of connectivity. The features found on the LG Tone Free FP9 are pretty generic outside of the plug and wireless feature. That's not a bad thing, but it means waiting for these to go on sale might be prudent.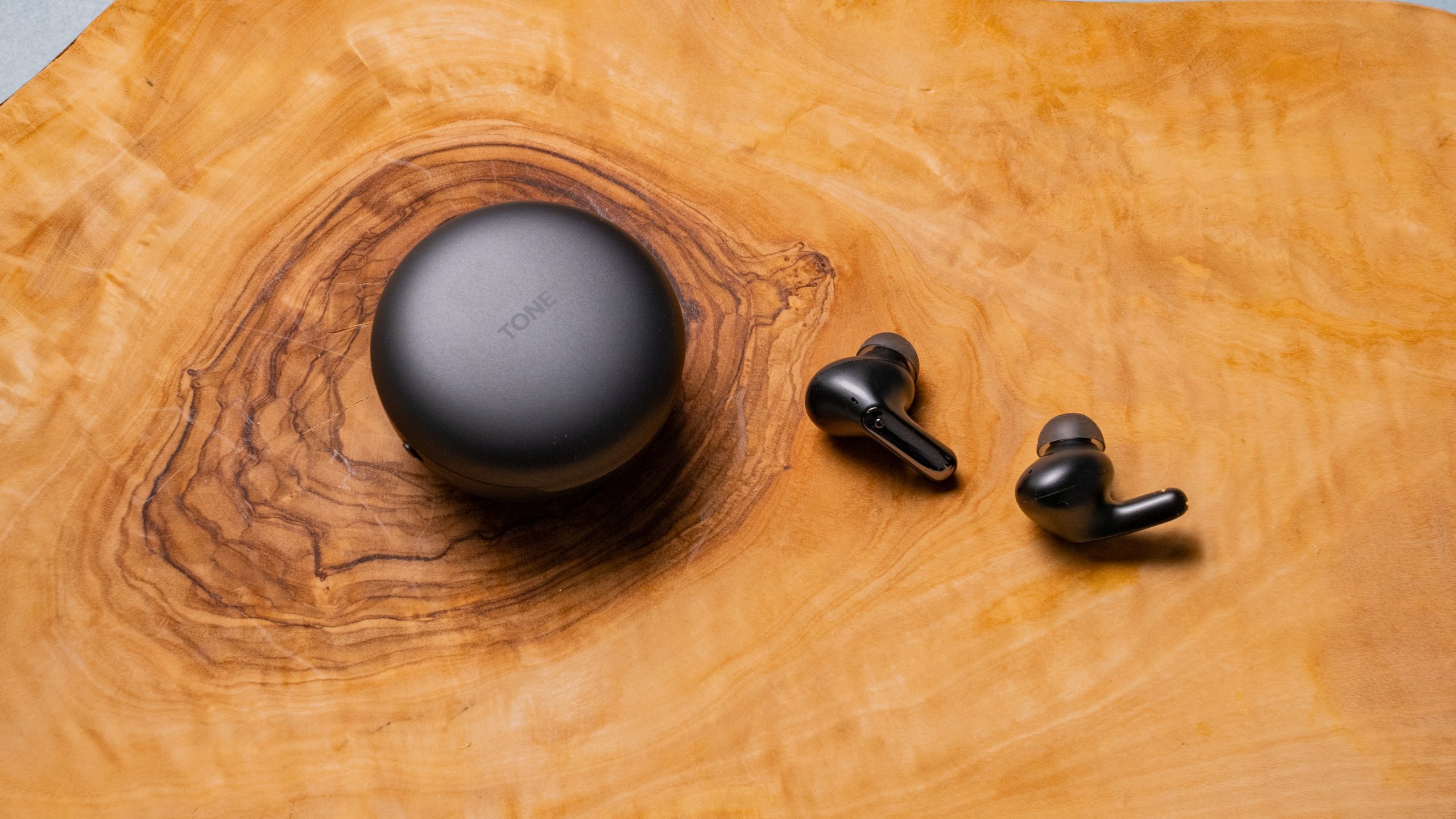 The LG Tone Free FP9 has a lot of features, but you may not need all that much earphone.
There's nothing wrong with these earphones—they're firmly what we'd call "decent." However, some of the features like the UV sterilization are more gimmick than godsend, and the added cost they bring isn't exactly a good trade-off.
LG Tone Free FP9E
LG Tone Free FP9E
ANC • Custom EQ • IPX4 rating
LG offers some AirPods Pro clones that will work well for Android users
If you're an Android user with AirPods Pro envy, the LG Tone Free look a lot like AirPods Pro but work well with non-iPhones. Custom EQ, ANC, and an IPX4 rating make these a decent buy regardless.
In that light, do some soul searching to see if the more useful aspects of these earphones are worth the extra money to plunk down. It's entirely possible older AirPods Pro are going to be more your speed if you don't care so much about bacteria disposal, for example. If you're an Android user we'd take the LG over the Apple earbuds, but your situation will dictate what's "good" or "bad" here.
How does LG Tone Free FP9 compare to AirPods Pro (2nd generation)?
Given that both the Apple AirPods Pro and the LG Tone Free FP9 will set you back quite a ways, it's important to identify if a feature or two will make you happier or not. In comparing these two products, the question mainly comes down to how often you want to listen to sources that don't have Bluetooth. Beyond that: sound quality, noise canceling, and spatial audio are all better on the AirPods Pro.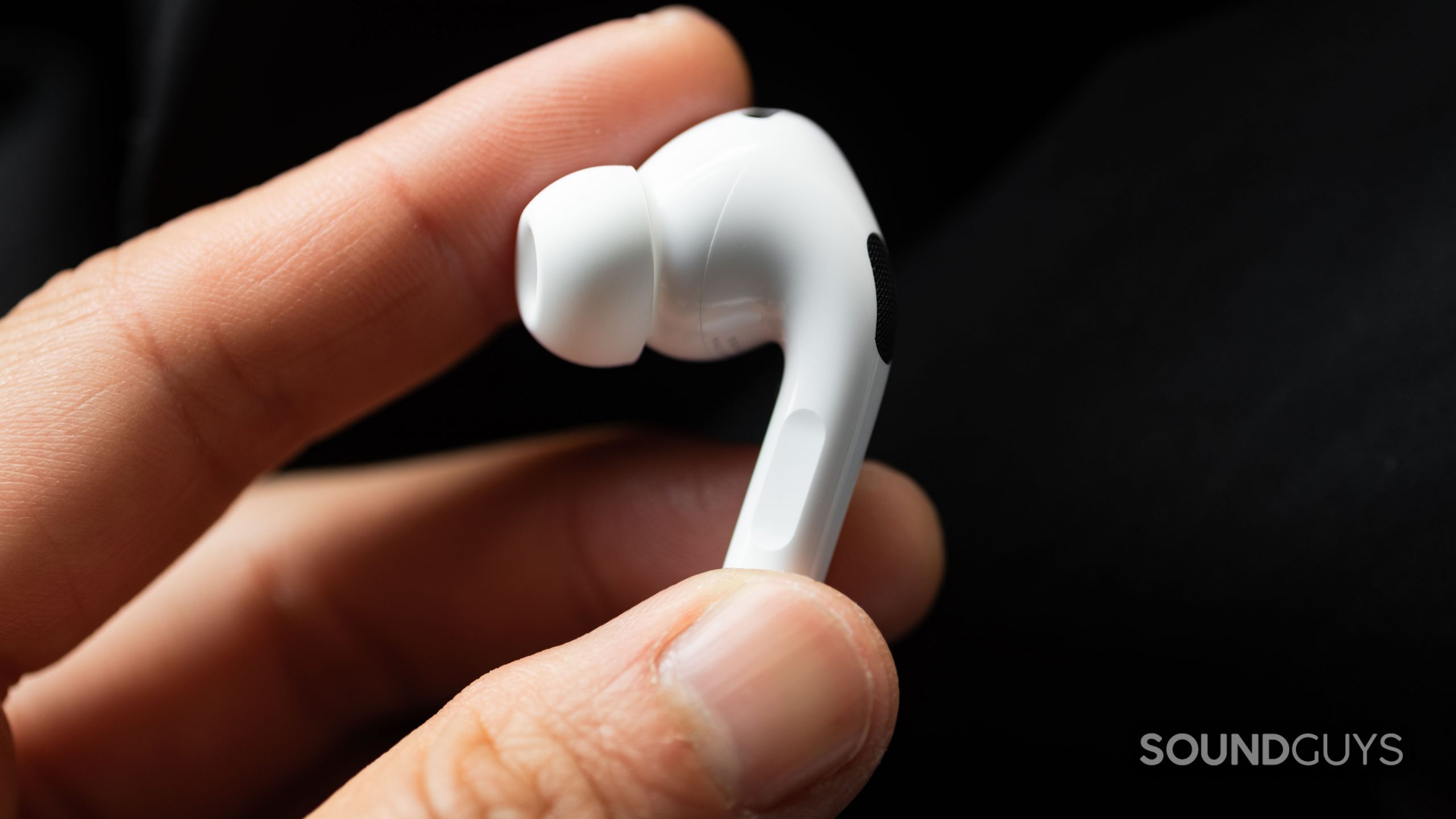 It seems cliche to point out, but the AirPods Pro are one of the best-selling earbuds for a reason.
As far as features go, the LG model doesn't really offer the same constellation of things that the AirPods Pro do, for example: autoEQ, convenience features with iPhones, and Apple's flavor of spatial audio. However, these things are probably not going to be as big a draw for Android users, as Android phones don't have the necessary chips to enable some of these features. In short, if you don't have an iPhone the LG earbuds become much more attractive than the AirPods.
Frequently asked questions
No. It can only kill the bacteria. You will still need to clean your earbuds should they get filled up with gunk.
Yes. By using the case as a portable emitter, you will use some charge. However, it's not really all that bad.