Buy at Amazon
In 1984 Reagan was still president, and Michael Jackson was on top of the world after releasing "Thriller". At the same time, Koss released the original Porta Pro headphones. It seems like everything these days is a remake or an unwanted sequel, but every once in a while something gets remade in a way that does the original justice. That's what Koss aimed to do with the new limited edition Porta Pros. Are these worth picking up?
What's Inside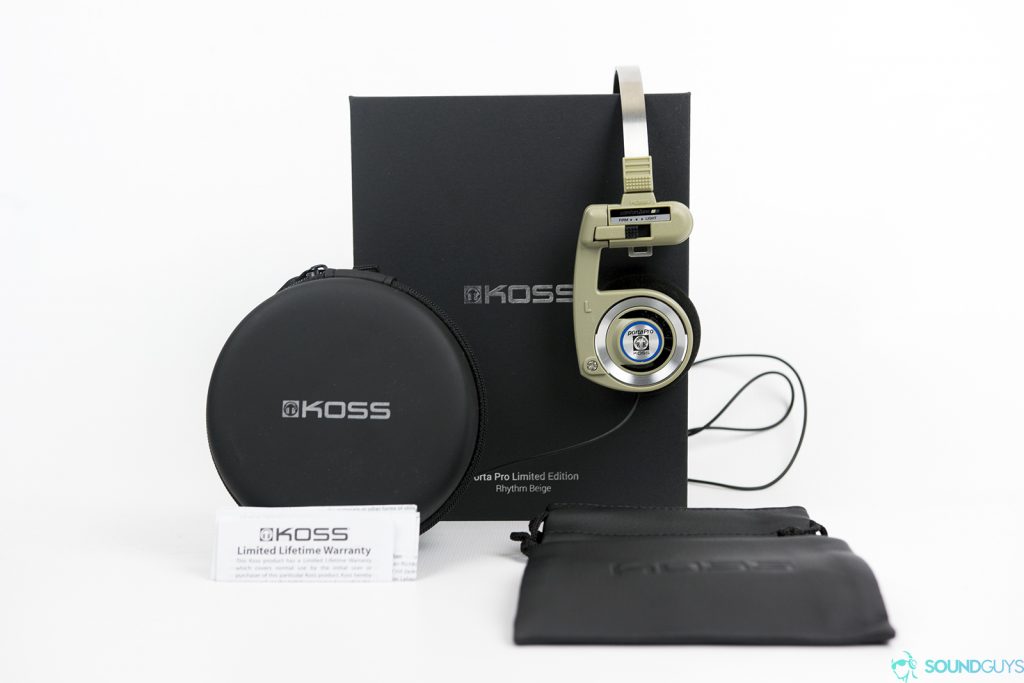 In the box you'll get a new hardshell carrying case for protecting your headphones as well as a soft carrying pouch. In the case you'll get the headphones  along with a warranty information booklet.
Build & Design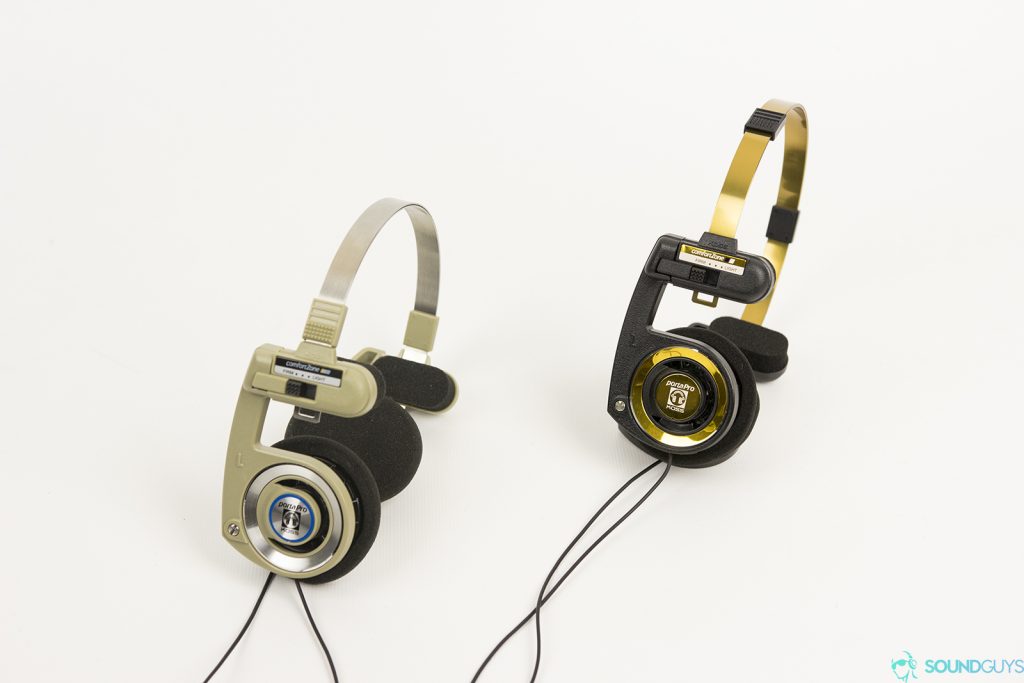 If you were a fan of the original build, you won't be disappointed with the new limited editions. These are exactly the same headphones save for a small part of the wire which we'll get into in the next section, and of course the new colors. In mid-2016 Koss held a worldwide vote for which new color options should be introduced and the winners were Black Gold and Rhythm Beige. The black gold color option is clearly the more flashy of the two, so if you're like me and like a more neutral color then beige might be the one for you. Either way you go, the design is still clearly straight out of the '80s which is both a good and bad thing. It really depends on you. Personally, I usually prefer more minimal looking headphones and these are far from minimal. But you can't hate on a classic and I'm glad they didn't change anything about these.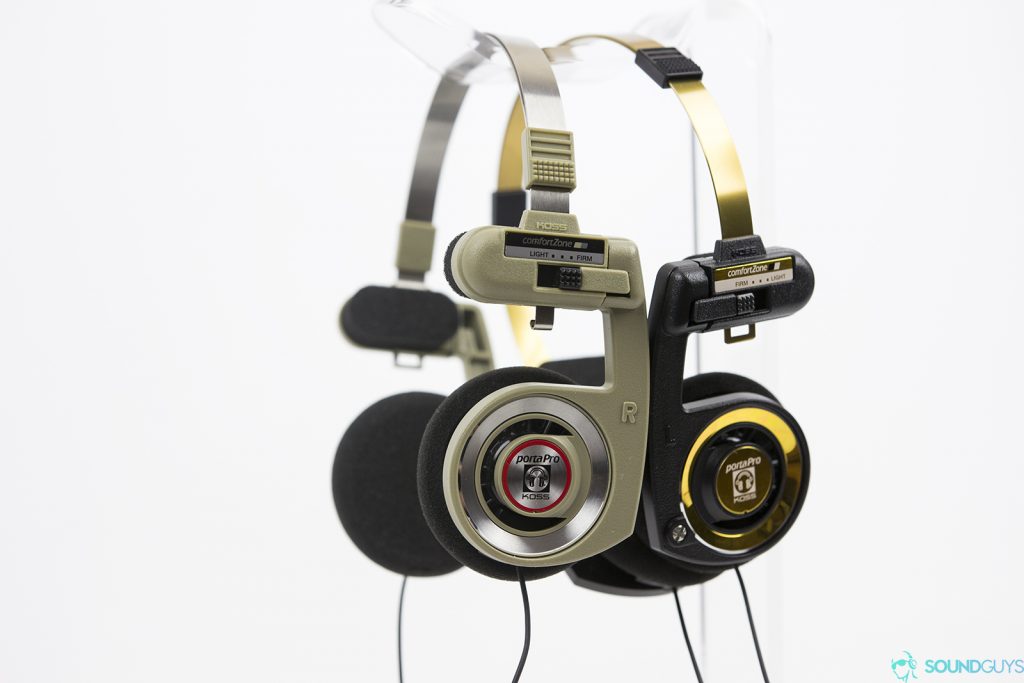 The headband is still two thin pieces of metal bent into each other. It's easily adjustable thanks to two small pieces of plastic on the headband, but if you try to adjust them while they're on your head you might lose a few hairs. That said, the foam right above the earcups makes these just as comfortable as the originals. If you couldn't already tell, these are on-ears so getting the right amount of tightness could be hit or miss.
Luckily, Koss let's you decide what's most comfortable. A small switch on the side lets you choose between a light fit, firm fit, or somewhere in between. During testing I found that my ears were never uncomfortable thanks to this firmness switch, and though there's no padding on the metal headband itself I also found it way more comfortable than I thought I was going to be. Just as the design is true to the originals, so is the build. I wouldn't call them flimsy, but they definitely don't feel like they would survive a few trips in a backpack without the hardshell carrying case. Thankfully they do fold at the hinges so you can stuff them in the case relatively painlessly. They're mainly made of plastic and thin metal, so unless you don't mind replacing them often I'd recommend taking good care of them.
Connection
Besides the color, the only other change to the Porta Pro's comes here. The cable now ends in a Lightning connector. Just kidding, you'll still find a 45-degree 3.5mm connector here. But on the audio cable is a slight adjustment to help out users listening to music on mobile devices. Now there's a universal mic and remote. You can now pause or play music and answer or end phone calls by tapping the button once, skip to the next song by double tapping, and access the voice assistant on your phone (Siri or Google) by holding down the button. There's also a new volume slider so you don't have to keep reaching for your source device every time you want to adjust the volume.
Sound Quality
We did all of our testing on mobile devices because of the new focus on mobile. One interesting thing to note is that even though the new control module makes mobile listening a priority, these are still semi-open headphones. Even when listening to music on max volume you'll be able to hear what's going on around you, and the reverse is true as well. People around you will be able to hear your music. Something to keep in mind if you plan on using these in an office for example, where that could make you the annoying co-worker.
Lows
For a pair of on-ears, the lows are pretty strong. They're not going to rattle your eyes by any means, but if you're a casual listener these will do your music justice. Regardless of what genre of music I played, I found the lows to be fairly enjoyable.
Mids
Vocals and instruments in the mids don't sound as widely spaced as I would've hoped considering these are semi-open, but they do come through nice and clear. You're not going to reach any crazy new layers of detail in your favorite songs, but you will hear what you're used to. For example, the two melodies of David Bowie in "Space Oddity" in each ear sound nice and full, but it's what I usually hear when I listen to the song.
Highs
The highs are a little more pulled back than I usually like, giving these a warm sound overall in my opinion. That doesn't mean that the highs sound bad, because they don't. The level of detail in cymbal hits and the scratchy guitar picking in "Dirty Paws" by Of Monsters and Men is still very enjoyable, but they just don't sound as open as I usually like.
Conclusion
Overall, the Koss Porta Pro's are classics for a reason. Nothing is perfect and the nit-picking of sound comes with the job, but there's no denying these sound good. Great even when you consider that they only cost $59. That's $10 more than the originals, but I think that's a fair amount to ask considering you get the added mic and control module. To be honest, Koss could get away with charging way more for these since they're classic headphones in special edition colors, so the fact that they're fairly affordable earns Koss a great amount of respect in my book. If you don't mind the retro look and can live with the sound leakage, the sound of the of Porta Pro's makes them worth every penny.
Frequently Asked Questions
Check Price
Koss Porta Pro Limited Edition Rhythm Beige
In July Koss fans throughout the world voted on five different concepts for a limited edition version of the Koss Porta Pro. After thousands of votes - the winner was: a tie! We wrestled with the next steps and ultimately decided to produce both (Black Gold & Rhythm Beige). The Porta Pro Limited Edition is more than two updated colorways. It features an inline microphone, remote and attenuating volume control. Included with the Porta Pro Limited Edition is an all-new hard compact carrying case (the standard case is also included). The Porta Pro Limited Edition ships direct only from Koss.com in Limited Edition, direct to consumer packaging. The acclaimed Koss Porta Pro has set performance and comfort standards for personal listening worldwide. Designed for those with refined musical taste, the Porta Pro continues to be one of the most popular headphones around the world. Designed for extended comfort, the Porta Pro Limited Edition has adjustable temporal pads to relieve pressure on the ears. Its lightweight, open-air cushions for hear-through sound keep listeners aware of their surroundings while delivering exceptional sound. The oxygen free copper voice coils and dynamic elements allow the Porta Pro Limited Edition to deliver rich bass and a remarkably wide frequency response. Whether you're listening at home or on the go, the Koss Porta Pro Limited Edition delivers all the excitement of a live performance.