All products featured are independently chosen by us. However, SoundGuys may receive a commission on orders placed through its retail links. See our ethics statement.
7
Koss Porta Pro Limited Edition
The bottom line
The Koss Porta Pro Limited Edition boast the same basic design as the original Koss Porta Pro headphones, but this time around there's a new colorway and integrated mic/remote module. If you're a fan of the original Porta Pro headphones but want something with modern functionality for all of your conference calls, consider these semi-open back headphones.
Koss Porta Pro Limited Edition
The Koss Porta Pro Limited Edition boast the same basic design as the original Koss Porta Pro headphones, but this time around there's a new colorway and integrated mic/remote module. If you're a fan of the original Porta Pro headphones but want something with modern functionality for all of your conference calls, consider these semi-open back headphones.
What we like
Sound quality
Inline mic and remote
Price
What we don't like
Build quality
Retro design not for everyone
Cables aren't replaceable
Rating Metric
Sound Quality
8.0
Durability / Build Quality
6.0
Value
8.2
Design
6.9
Connectivity
6.5
Portability
7.7
Feature
6.5
Comfort
7.5
In 1984, Reagan was still president, and Michael Jackson was on top of the world after releasing Thriller. At the same time, Koss released the original Porta Pro headphones. It seems like everything these days is a remake or an unwanted sequel, but every once in a while something gets remade in a way that does the original justice. That's what Koss aimed to do with the new limited edition Porta Pros. We spent two weeks with these retro headphones to see if they're worth picking up.
Editor's note: this Koss Porta Pro Limited Edition review was updated on May 3, 2022, to include in-line FAQs, update the format, add an FAQ section, and expand the list of buying options.
Budget listeners should consider the Koss Porta Pro headphones for their low-cost, high-value approach to audio. These semi-open back headphones are a staple in any audiophile's headphone drawer and they're a fun throwback to earlier days.
Urban music fans might want to pick up the Porta Pro Limited Edition because of its portable size and travel-friendly features. Plus, since the headphones don't create a seal around your ear, you can remain aware of your surroundings.
---
What's it like to use the Koss Porta Pro?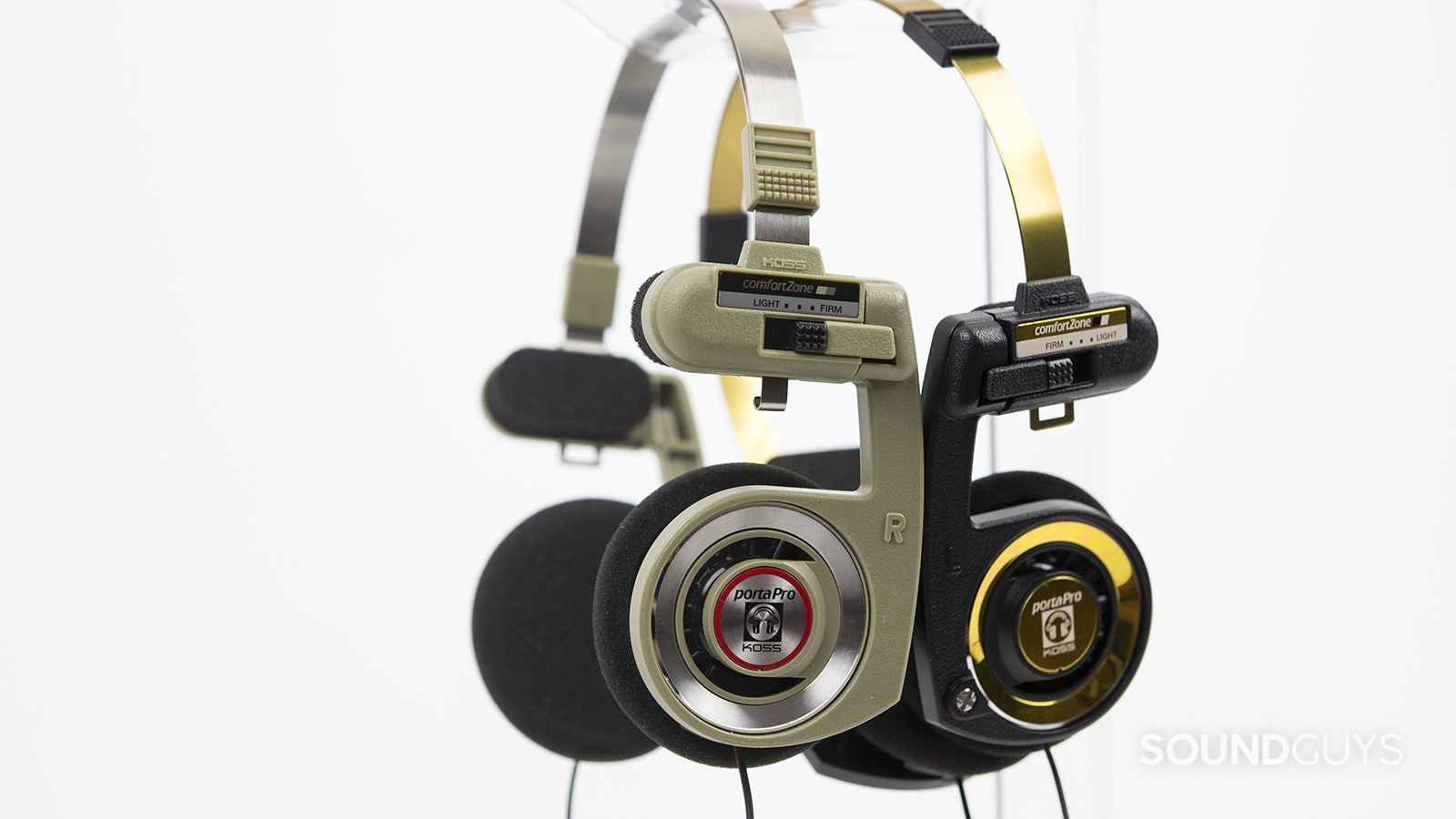 The Porta Pro Limited Edition comes in beige or black/gold.
If you were a fan of the original Porta Pro build, you won't be disappointed with the Limited Edition variant. This is the exact same headset, save for a newfangled inline mic and remote module. In mid-2016 Koss held a worldwide vote for which new color options should be introduced and the winners were Black Gold and Rhythm Beige. Either way you go, the design is still clearly straight out of the '80s which is both a good and bad thing. It really depends on your preferences.
Two thin pieces of metal make up the headband, and it's easy to adjust from the small plastic sliders on either end of the band. Be careful: if you adjust them while they're on your head, you might lose a few hairs. The pressure-relieving foam remains located right above either ear cup and you can adjust the tension level from the slider. These headphones feature an on-ear design, so it might take a few tries to find the right amount of tension for your noggin.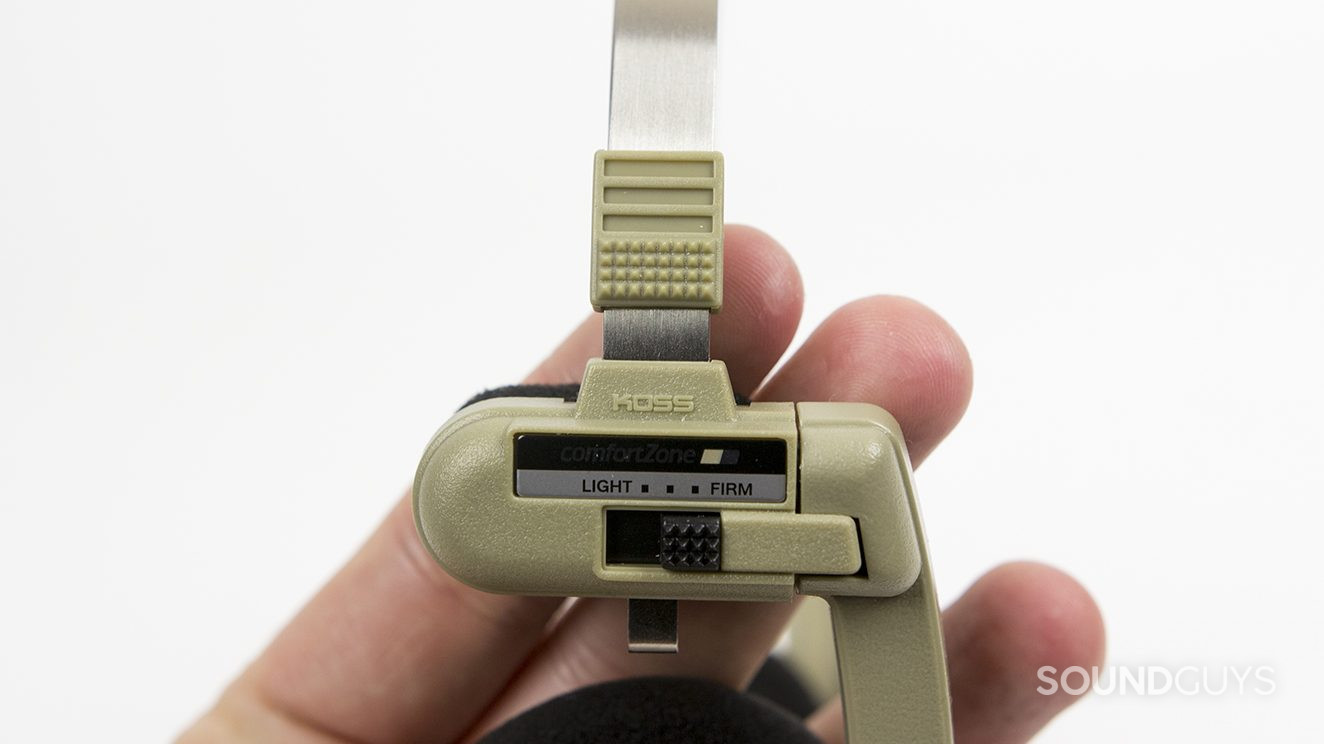 You can adjust the amount of tension from the band just like the original Porta Pro headset.
There's no padding on the metal headband, but don't let that deter you: these headphones are surprisingly comfortable. Just as the design is true to the originals, so is the build and this isn't necessarily a good thing. Sure they might survive a few trips across campus, but you'd best use the included carrying case if you want these to last for years to come. The ear cups fold at the hinges, so you can stuff them in the case quickly.
You get a hard travel case with a zipper on it, a drawstring carrying pouch, and the headset.
(Click the image to expand.)
---
How do you connect the Koss Porta Pro to your phone?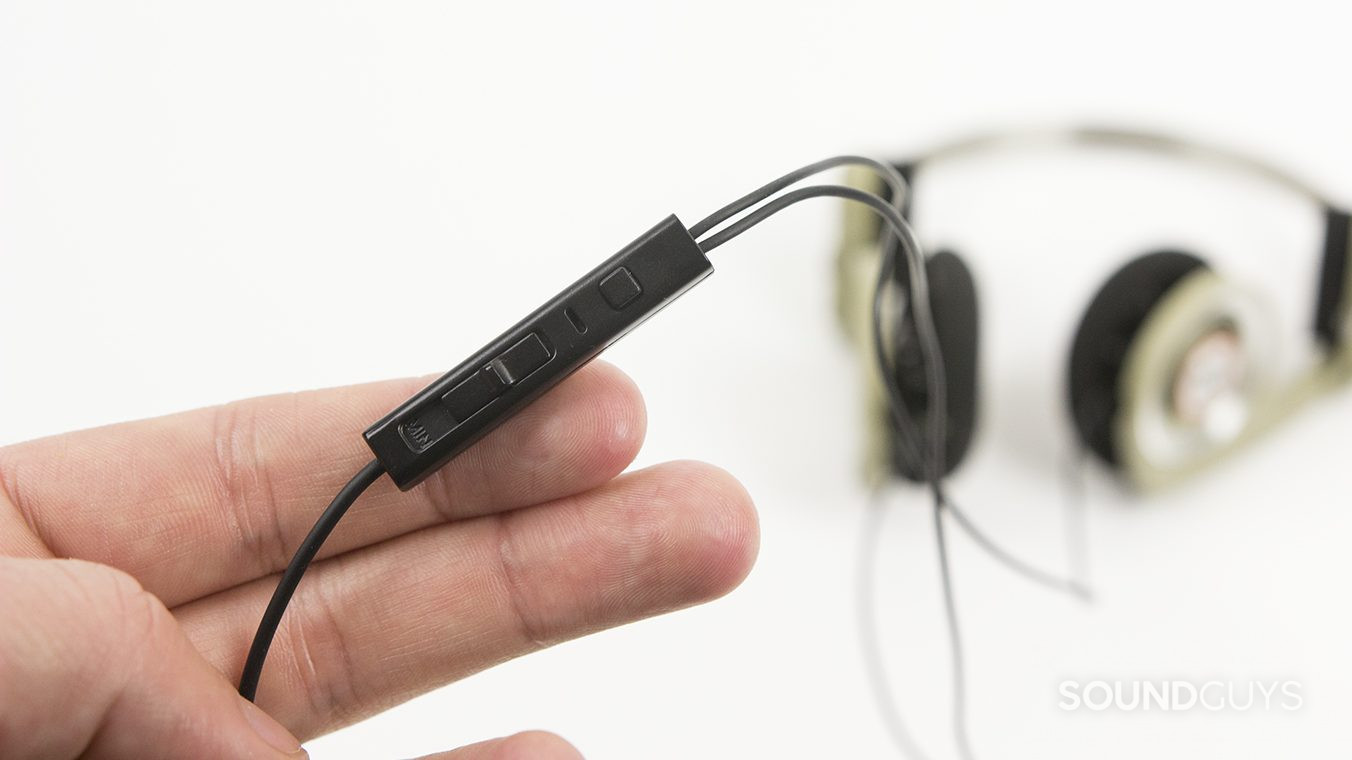 The in-line control module is a great addition to these simple on-ear headphones.
Besides the color, the only other change to the Porta Pro's comes here. The cable now ends in a Lightning connector. Just kidding, you'll still find a headphone jack here. On the audio cable is a slight adjustment to help out users listening to music on mobile devices. Now there's a universal mic and remote. You can control music playback, field calls, and access the voice assistant on your phone (Siri or Google). There's also a new volume slider so you can tweak the volume with ease.
How does the Koss Porta Pro Limited Edition sound?
We did all of our testing on mobile devices because of the new focus on mobile. One interesting thing to note is that even though the new control module makes mobile listening a priority, these are still semi-open headphones and offer no isolation. When you max out the volume, you'll still be able to hear most of what's going on around you and your neighbors will certainly hear your music. This probably isn't the best headset to use in a crowded office or even the campus library, but if you're aware of the volume levels, you can probably skate by just fine.
Lows, mids, and highs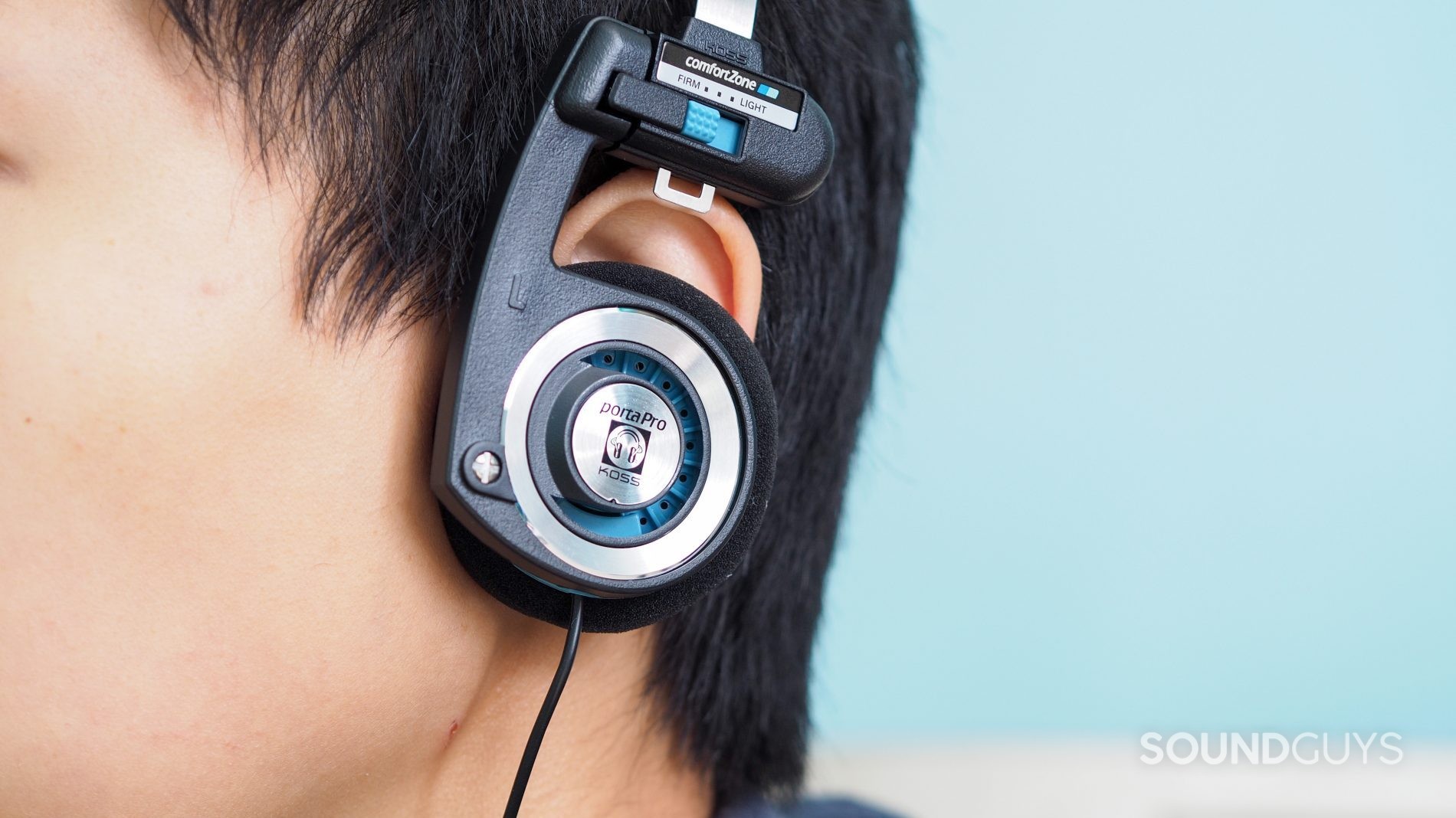 The original Koss Porta Pro is virtually identical to the Limited Edition but without the in-line mic and remote.
Sub-bass notes are under-emphasized, which makes sense because of the partially open design. To compensate, Koss amplified the upper-bass and low-midrange frequency response, which makes it easier for you to hear the most important frequencies from your music. (The 100-1000Hz range is where most music frequencies fall, you'll find plenty of harmonics higher up though.)
Treble notes are de-emphasized, which means you might have a hard time discerning much instrumental detail when you listen with these headphones. The Porta Pro won't compare to some of the best open-back headphones around, but what do you expect for $60 USD?
Hold up! Something's different:
This article was written before we had equipment to measure frequency response and isolation. We have since purchased a Bruel & Kjaer 5128 test fixture for testing and data collection. It will take a while to update our backlog of old test results, but we will update this review once we're able with sound quality measurements, isolation performance plots, and standardized microphone demos. These will be made obvious with our new chart aesthetic (black background instead of white).
Thank you for bearing with us, and we hope to see you again once we've sorted everything out.
Is the Koss Porta Pro Limited Edition worth it?
The Koss Porta Pro headphones are a mainstay among audio enthusiasts, but they aren't perfect. The middling build quality leaves plenty to be desired, and the frequency response isn't accurate, though it is unique. If you're just looking for a pair of headphones to switch it up from your main pair of Bluetooth headphones, we recommend these, but don't expect the Koss Porta Pro Limited Edition to have some kind of a Midas touch. Instead, go into buying this headset with the appreciation of the retro listening experience.
Koss Porta Pro Limited Edition
Koss Porta Pro Limited Edition
Decent sound • 3.5mm jack • Comfortable design
Modern features in a classic design
The Koss Porta Pro Limited Edition integrates a microphone and remote control into the original version. Fans of Porta Pro headphones will appreciate the modern functionality inserted in this unique and classic design.
What should you get instead of the Koss Porta Pro Limited Edition?
The AKG K240 Studio is a great alternative to the Koss Porta Pro Limited Edition and costs just a smidge more at $65 USD. We like how AKG includes a replaceable mini-XLR cable with the K240 Studio headphones, extending the life of the headset. Unlike the Porta Pro, the K240 Studio is a pair of open-back, over-ear studio headphones meant more for professional applications than casual use. Still, you can use this on a daily basis but you'll run into some of the same issues as the Porta Pro, mainly sound leakage.
If you want something super cheap, go for the Koss KSC75. This has a unique design with two separate ear pieces that rest on your ears—it's kind of like wearing on-ear headphones but without the headband. There's nothing too special about this wired headset, though we appreciate that the 3.5mm jack terminates in a reinforced "L" shape to prevent undue wear and tear.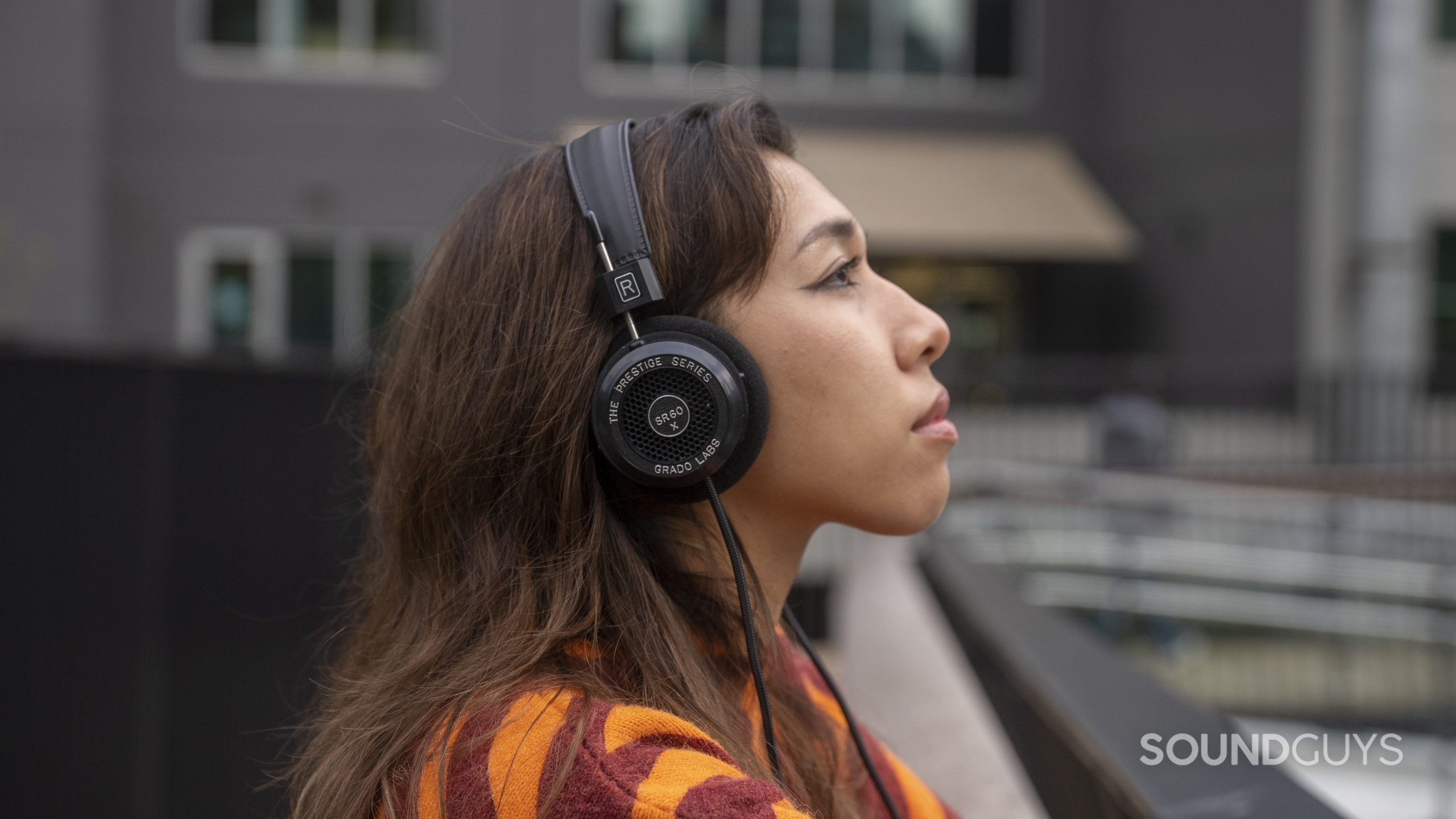 Wearing the Grado SR60x outside is alright if you need to hear the world around you, but other people will be able to hear your music.
Those willing to increase their budgets may want to consider the Grado SR60x open-back headphones, which are compact and a fan favorite. The SR60x sounds nearly identical to the SR80x from Grado but costs $99 USD instead of $125 USD. We like the SR60x because it's a relatively affordable way to enter into the open-back headphone space, but there are some isolation quirks you should learn about before you buy.
Frequently asked questions about the Koss Porta Pro Limited Edition
The Porta Pro Limited Edition includes two cases, one hard and one drawstring pouch, while the original Porta Pro only includes the latter. Also, with the Porta Pro Limited Edition, you get an in-line mic and control module which makes it a more modern offering.
(Click the image to expand.)
---
The JBL Tune 510BT is a solid set of Bluetooth headphones with an on-ear fit. We like that the Tune 510BT costs just $49 USD and goes on promotion for less sometimes too. One of our biggest complaints about the headset is that the fit is fairly uncomfortable for bespectacled listeners and that there is no headphone jack for wired playback.
(Click the image to expand.)
---