In 1984, Reagan was still president, and Michael Jackson was on top of the world after releasing Thriller. At the same time, Koss released the original Porta Pro headphones. It seems like everything these days is a remake or an unwanted sequel, but every once in a while something gets remade in a way that does the original justice. That's what Koss aimed to do with the new limited edition Porta Pros. Are these retro headphones worth picking up?
Editor's note: this Koss Porta Pro Limited Edition review was updated on March 15, 2021, to include a contents menu and add technical information.
Who should get the Koss Porta Pro Limited Edition headphones?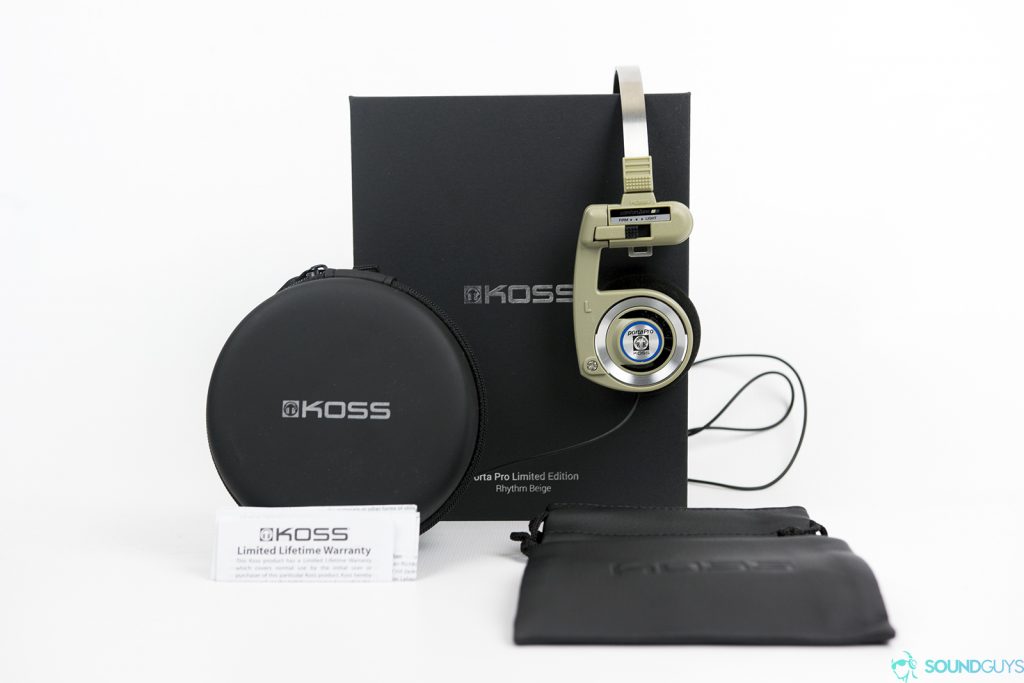 Budget listeners should consider the Koss Porta Pro headphones for their low cost, high value approach to audio. These semi-open back headphones are a staple in any audiophile's headphone drawer and they're a fun throwback to earlier days.
Urban music fans might want to pick up the Porta Pro Limited Edition because of the portable size and travel-friendly features. Plus, since the headphones don't create a seal around your ear, you can remain aware of your surroundings.
Start here: Ultimate headphone buying guide
What's it like to use the Koss Porta Pro?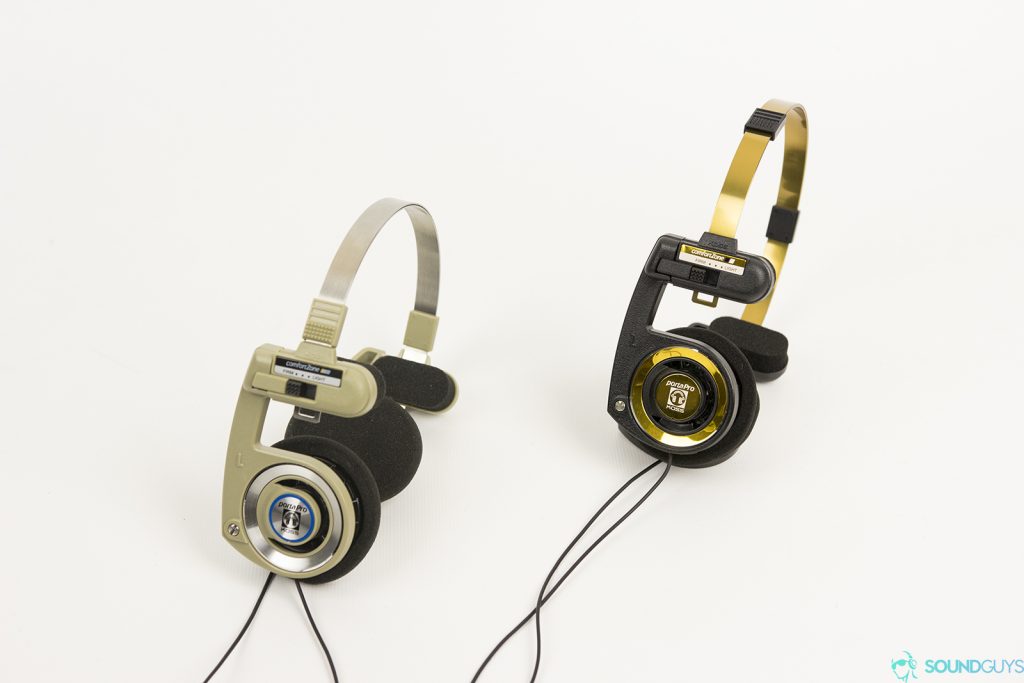 If you were a fan of the original Porta Pro build, you won't be disappointed with the Limited Edition variant. This is the exact same headset, save for a newfangled inline mic and remote module. In mid-2016 Koss held a worldwide vote for which new color options should be introduced and the winners were Black Gold and Rhythm Beige. Either way you go, the design is still clearly straight out of the '80s which is both a good and bad thing. It really depends on your preferences.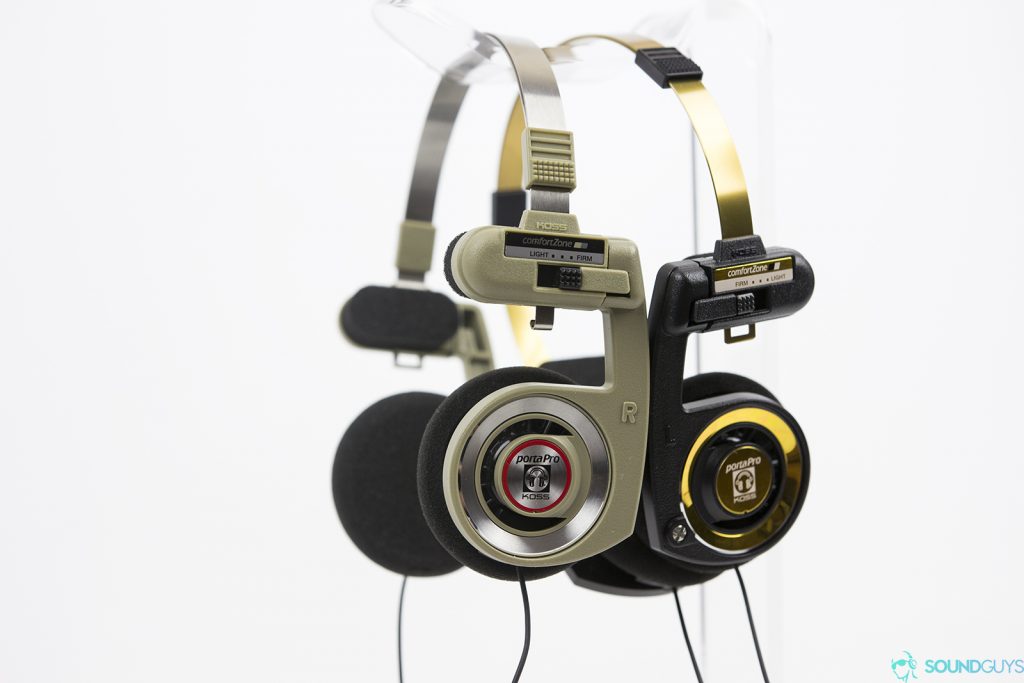 Two thin pieces of metal make up the headband, and it's easy to adjust from the small plastic sliders on either end of the band. Be careful: if you adjust them while they're on your head, you might lose a few hairs. The pressure-relieving foam remains located right above either ear cup and you can adjust the tension level from the slider. These headphones feature an on-ear design, so it might take a few tries to find the right amount of tension for your noggin.
There's no padding on the metal headband, but don't let that deter you: these headphones are surprisingly comfortable. Just as the design is true to the originals, so is the build and this isn't necessarily a good thing. Sure they might survive a few trips across campus, but you'd best use the included carrying case if you want these to last for years to come. The ear cups fold at the hinges, so you can stuff them in the case quickly.
How do you connect the Koss Porta Pro to your phone?
Besides the color, the only other change to the Porta Pro's comes here. The cable now ends in a Lightning connector. Just kidding, you'll still find a headphone jack here. On the audio cable is a slight adjustment to help out users listening to music on mobile devices. Now there's a universal mic and remote. You can control music playback, field calls, and access the voice assistant on your phone (Siri or Google). There's also a new volume slider so you can tweak the volume with ease.
How do the Koss Porta Pro Limited Edition sound?
We did all of our testing on mobile devices because of the new focus on mobile. One interesting thing to note is that even though the new control module makes mobile listening a priority, these are still semi-open headphones and offer no isolation. When you max out the volume, you'll still be able to hear most of what's going on around you and your neighbors will certainly hear your music. This probably isn't the best headset to use in crowded office or even the campus library, but if you're aware of the volume levels, you can probably skate by just fine.
Lows, mids, and highs
Sub-bass notes are de-emphasized, which makes sense because of the partially open design. To compensate, Koss amplified the upper-bass and low-midrange frequency response, which makes it easier for you to hear the most important frequencies from your music. (The 100-1000Hz range is where most music frequencies fall, you'll find plenty of harmonics higher up though.)
Treble notes are de-emphasized, which means you might have a hard time discerning much instrumental detail when you listen with these headphones. The Porta Pro won't compare to some of the best open-back headphones around, but what do you expect for $60 USD?
Should you buy the Koss Porta Pro Limited Edition?
The Koss Porta Pro headphones are a mainstay among audio enthusiasts, but they aren't perfect. The middling build quality leaves plenty to be desired, and the frequency response isn't accurate, though it is unique. If you're just looking for a pair of headphones to switch it up from your main pair of Bluetooth headphones, we recommend these, but don't expect the Koss Porta Pro Limited Edition to have some kind of a Midas touch. Instead, go into buying this headset with the appreciation of the retro listening experience.
Next: AKG K240 Studio review
Frequently Asked Questions