All products featured are independently chosen by us. However, SoundGuys may receive a commission on orders placed through its retail links. See our ethics statement.
The bottom line
If you're unable or unwilling to shell out for all the bells and whistles that certain workout earbuds afford, the $30 JLab Fit is a great compromise. It provides all the necessities of a good pair of exercise 'buds like dust and water-resistance while costing less than a date night at your local pub.
JLab Fit 2.0
If you're unable or unwilling to shell out for all the bells and whistles that certain workout earbuds afford, the $30 JLab Fit is a great compromise. It provides all the necessities of a good pair of exercise 'buds like dust and water-resistance while costing less than a date night at your local pub.
What we like
Cable management<br>
IP55 dust- and water-resistance<br>
Value<br>
3-month subscription to Pandora Premium<br>
What we don't like
Mic quality<br>
Quality control issues<br>
Rating Metric
Sound Quality
7.8
Bass
7.8
Midrange
7.4
Highs
7.6
Isolation / Attenuation
2.7
Durability / Build Quality
8.3
Value
8.6
Design
7.7
Microphone
7.0
Portability
8.6
Battery Life
5.9
Look around the gym and you may notice fellow athletes rocking Beats or Bose earbuds. While these are recognizable workout audio brands, they're also expensive. If you're like most of us who just want to go to the gym, perspire a bit, and leave, then there's no need to spend an excessive amount of money on fancy headphones. The JLab Fit 2.0 fills the demand for cheap, yet viable workout earbuds.
Editor's note: this review was updated on April 17, 2019, to reflect for objective scoring methods.
Who is it for?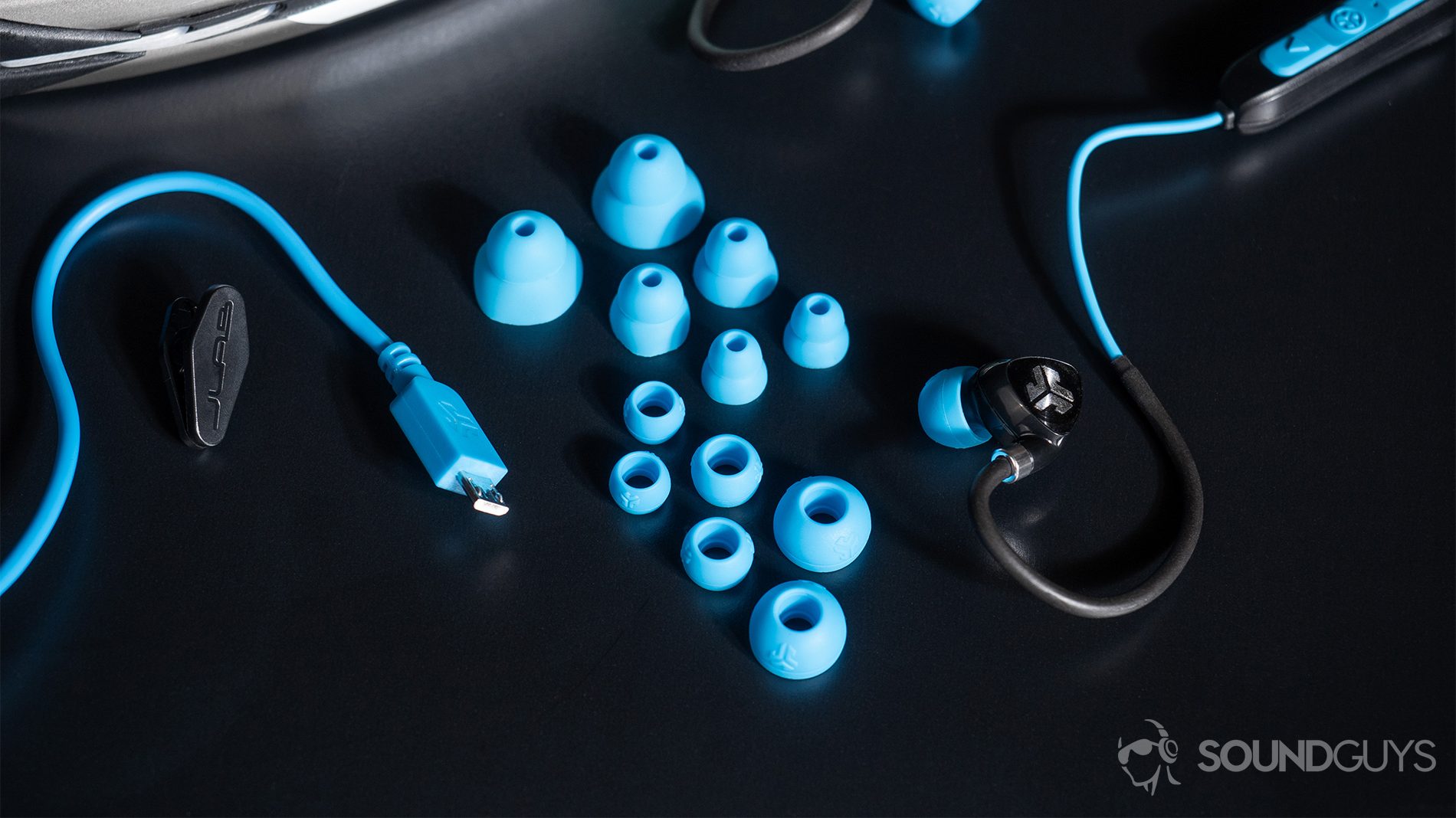 Users get an array of ear silicone ear tips, a micro-USB charging cable, a T-shirt clip, and the Fit 2.0 'buds.
Just like the company's more premium true wireless earbuds, the JLab Fit 2.0 is for athletes. its moldable ear hooks shape to any sized ear and promote a stable fit. What's more, the earbuds are IP55 dust- and- water resistant, so you can take them to the beach and sweat to your heart's desire without worrying about damaging them.
Using the JLab Fit 2.0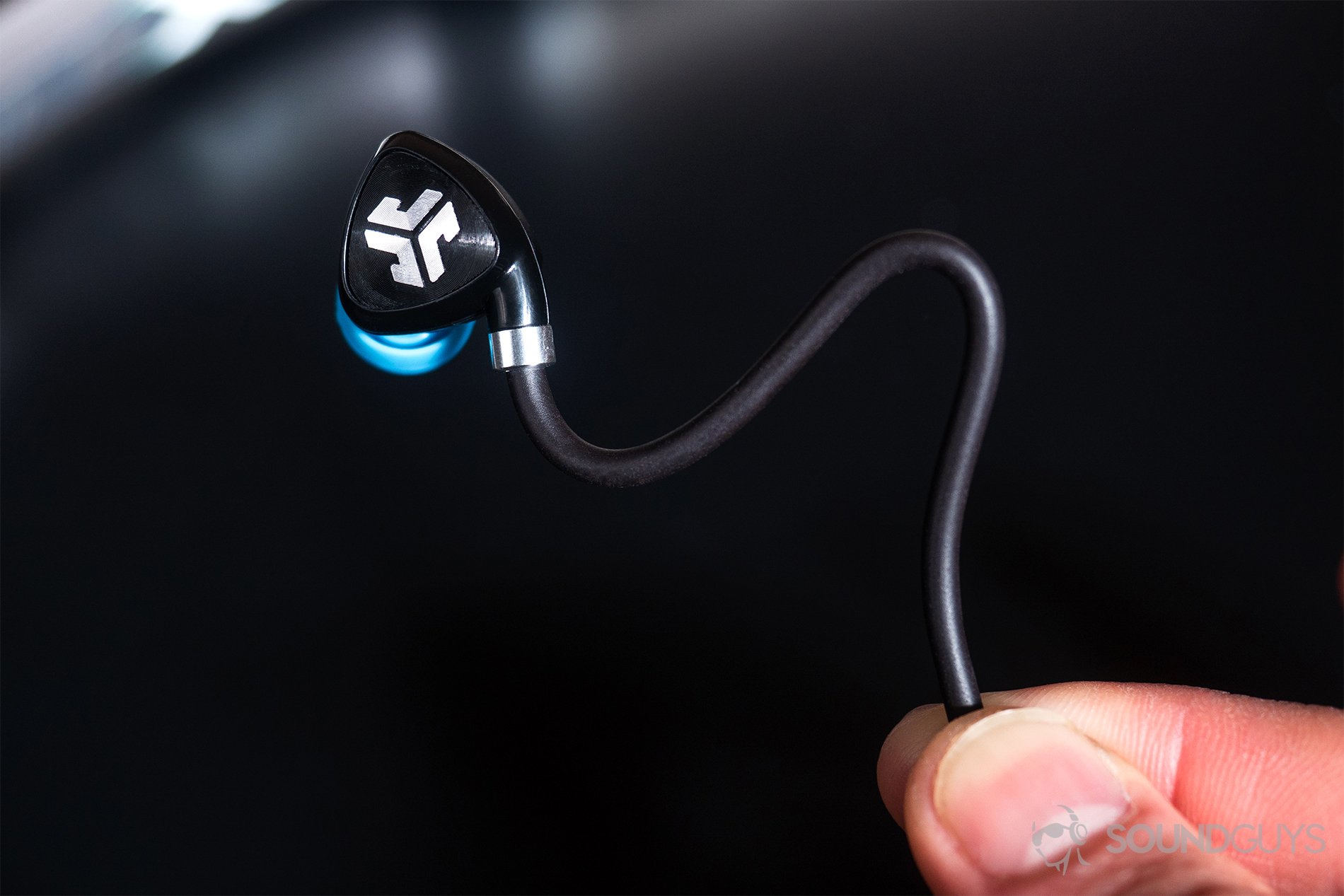 The Memory Wire is stiff enough to hold virtually any shape.
The triangular earbud housings are made of plastic and each enclosure contains a 10mm dynamic driver tuned to JLab's C3 sound. Although the plastic is great at keeping costs down, it also produces an intermittent squeaking noise during wear. This is easy to ignore, but if you're one who is particularly attuned to odd sounds, it may be annoying.
Extending from each earbud is the company's proprietary Memory Wire, which feels similar to Shure's stiff, yet pliable ear hooks. Initially, the wire molding process is a bit of a hassle, but it's well worth it as the ear hooks effectively keep the earbuds in place during all sorts of activity.
Something that's much appreciated with wireless workout earbuds is a good cable management system. We see this in more expensive options like the Jaybird Tarah and X4, and it's nice to see this overlooked, invaluable feature make its way to the more budget-friendly market. Unfortunately, even with the cable cinch, noises still travel freely from the cable into the ear. While this may not be an issue for most people, it's certainly noticeable when running.
The JLab Fit 2.0 may not feel premium, but it's not supposed to. These earbuds perform effectively for listeners on a budget.
JLab includes an in-line mic and remote with the Fit 2.0, which works well but doesn't allow for virtual assistant access. What's more, the microphone is functional but barely. Oftentimes, people on the other line said it was hard to hear what I was saying. Even my mother said, "Are you testing one of those headphones? Just use your phone."
Working out
Working out with these earbuds is all right. Again, the IP55 rating is confidence inspiring, but when it comes to comfort, there are plenty of better candidates. I was pleasantly surprised, however, by how effectively the earbuds stay in place. Even with vigorous jostling, the housings never felt wobbly. Of course, part of that has to do with finding the right ear tips, too.
Despite the cheap plastic feel of the remote, its chunky body is good for thoughtless operation. The separation between the lateral buttons from the center one makes it easy to quickly distinguish one button from the other.
Battery life
The micro-USB input is located on the back of the integrated remote.
The packaging lists the battery life at six hours, which is already fairly low for wireless earbuds. According to our objective testing, the Fit 2.0 managed to play music for 5.46 consecutive hours at 75dB(SPL). In all fairness, this is much louder than you'll likely listen to your music anyway, meaning you should be able to hit or potentially exceed the six-hour mark. Charching the earbuds is a matter of using the included micro-USB charging cable. There aren't any quick charging features but it doesn't take more than 1.5-2 hours to complete a full charge cycle.
Connectivity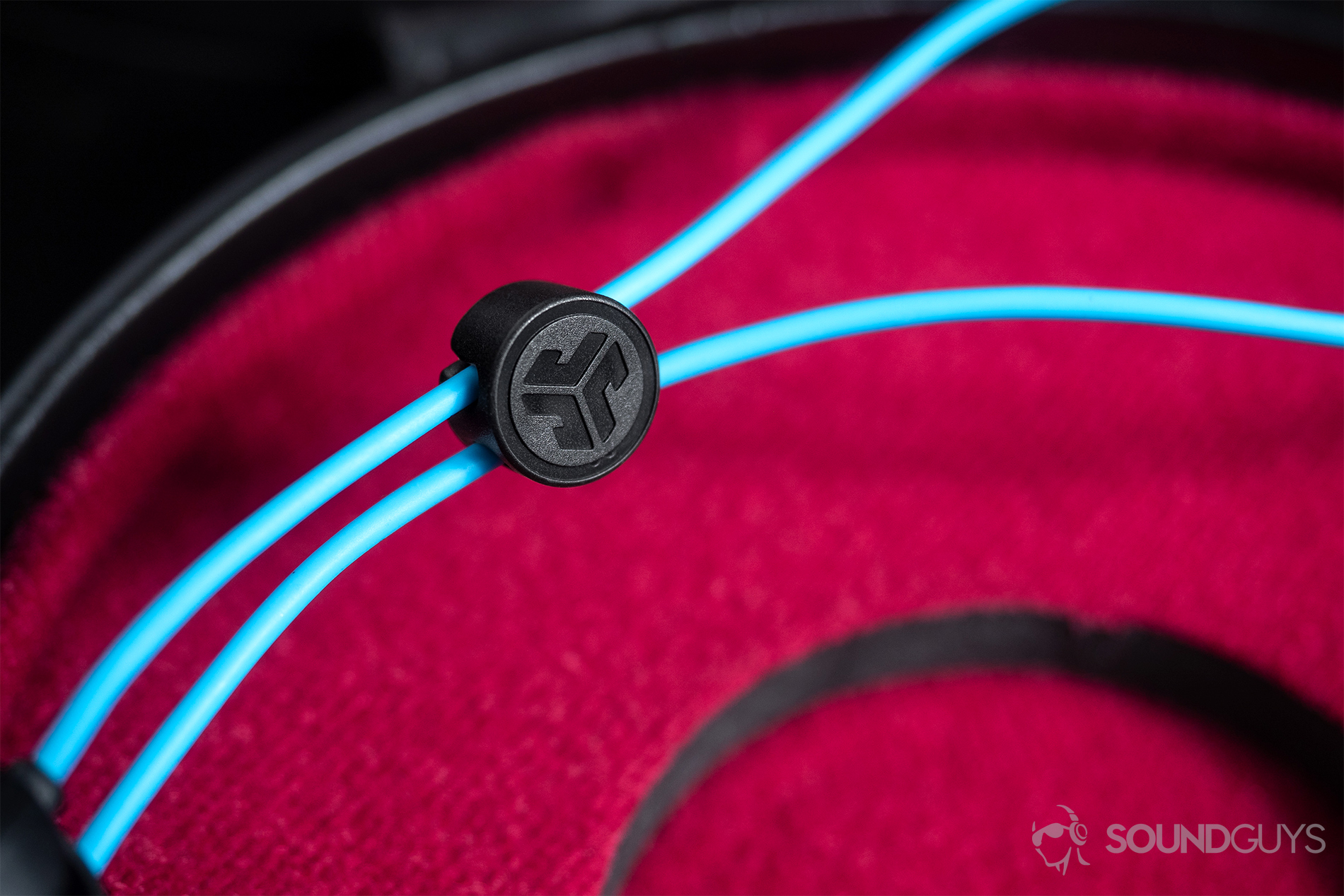 The cable cinch is a simple solution to a common problem.
Listeners are limited to the most common SBC codec, which makes sense given the affordable price of these earbuds. Plus, while SBC isn't aptX quality, it's come a long way since its inception. The biggest downside of it is the audio-visual lag and shouldn't be a huge deal unless you're one for binge-watching Netflix from the elliptical. For the most part, connectivity is reliable. There were a few moments where I experienced short-lived stutters but never a complete dropout. Any connectivity issues experienced with these is nothing compared to true wireless earbuds, though.
Sound quality
Sound quality is better than you'd expect for a pair of $30 exercise earbuds. Sure, you're not going to be blown away by sound quality due to the lack of high-quality codec support, and audibly unbalanced frequency response. That said, perceived instrumental separation is surprisingly realistic, which can be attributed to the emphasized treble: the exaggerated high-frequency response simulates a clarity.
Isolation is fine when it comes to low noises like passing cars and such. Unfortunately, the earbuds can't effectively mitigate the slamming of weighted plates in the gym or syncopated steps on a treadmill. Conversations come through a bit, too, albeit muffled.
In Frank Ocean's ballad Ivy, his vocals are masked by the left channel's low-end reverb starting at 0:32 as the main C-G-Am chord progression begins. The prominent low-end bodes well for dance music, rap, and the like. Ultimately, this bass emphasis is preferred for workout earbuds as it keeps us pumped up, but in the second verse at 1:49 when Ocean sings, "In the halls of your hotel…" the word "halls" is nearly inaudible as it's overshadowed by the exaggerated bass.
That said, treble frequencies resonate in a surprisingly clear fashion, a consequence of the 6.5kHz spike. This is audible throughout the song during the finger picking which occupies the A and D strings of the electric guitar. The synthesized guitar slides from the fifth fret of the D string to the seventh, creating an A note. Its resonance is heard above the main guitar and Ocean's vocals.
Should you buy the JLab Fit 2.0?
The JLab Fit 2.0 and Epic Air Elite are both workout earbuds, but the Elite is a true wireless model with touch controls.
If all you're looking for is a pair of earbuds that can pump out some substantial bass during your workouts, yes. These are durable enough for most athletes, with the exception of swimmers, and provide basic onboard playback controls. It's fair to say that the Memory Wire ear hooks aren't for everyone but man favor that design over neckband earbuds; it's all a matter of personal preference.
Perhaps these earbuds pique your interest but the thought of cable noise is so wholly unappealing that you're willing to shell out a bit more for true wireless options. Well, fortunately, you don't have to look far: JLab has two great true wireless workout options. The more affordable JBuds Air cost less than $50 and provides a great fit, while the more premium Epic Air Elite is relatively costly for JLab but remains more affordable compared to competitors.
Still looking? Check out the best cheap true wireless earbuds