All products featured are independently chosen by us. However, SoundGuys may receive a commission on orders placed through its retail links. See our ethics statement.
JBL Flip 7 wishlist: All the features I want to see
Sticks and stones are no match for JBL's rugged, loud, and durable bones.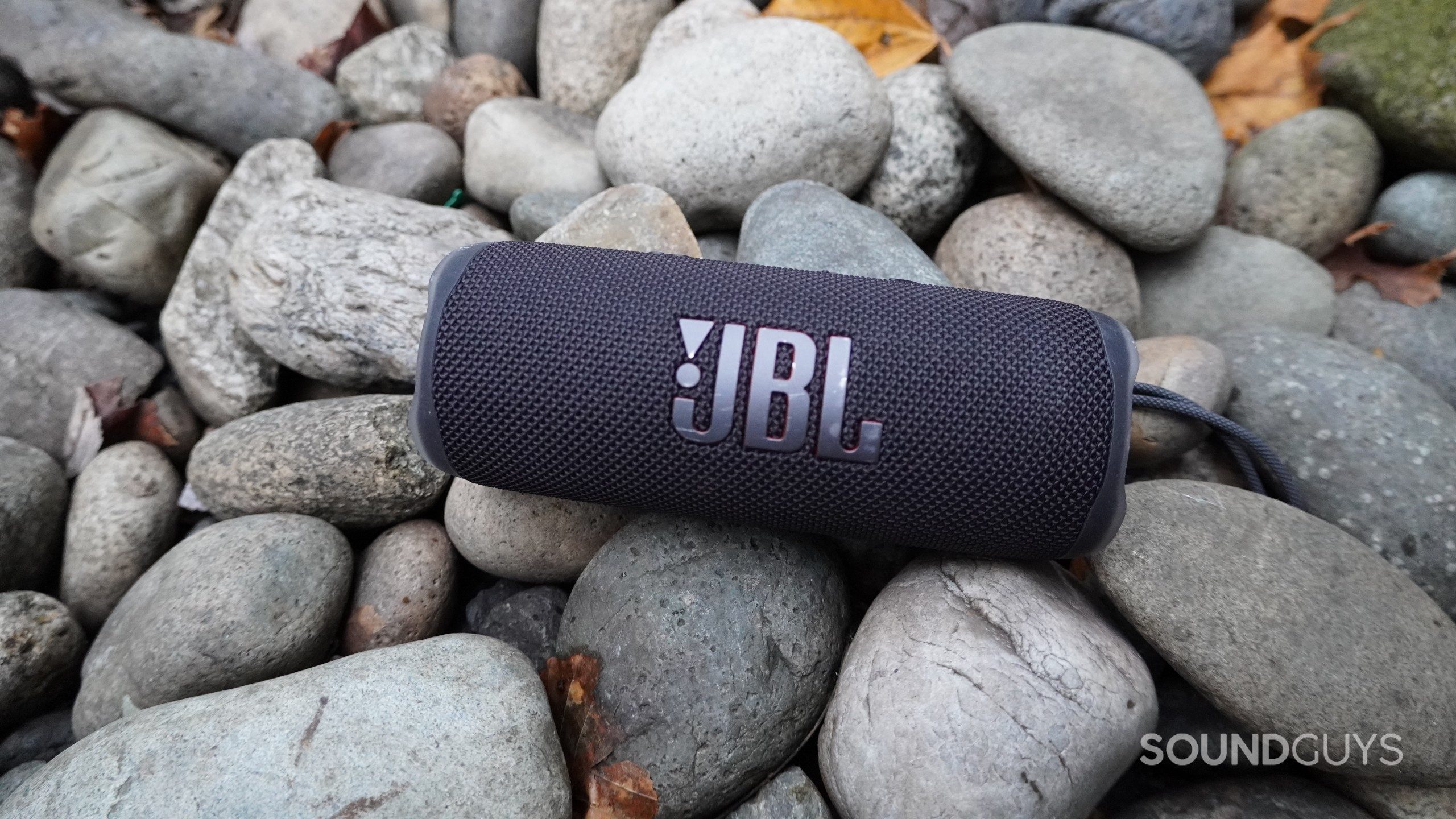 JBL has a proud legacy of producing hardy Bluetooth speakers that can withstand the rough outdoors. The company has released six Flip model Bluetooth speakers thus far, and there is growing anticipation that it will release its newest flagship speaker soon. JBL's most recent JBL Flip 6 is a standout piece of gear that is durable, loud, and user-friendly. However, many high-end features have been left at the wayside. With that in mind, here is a list of features I hope to see included as part of the JBL Flip 7.
An AUX input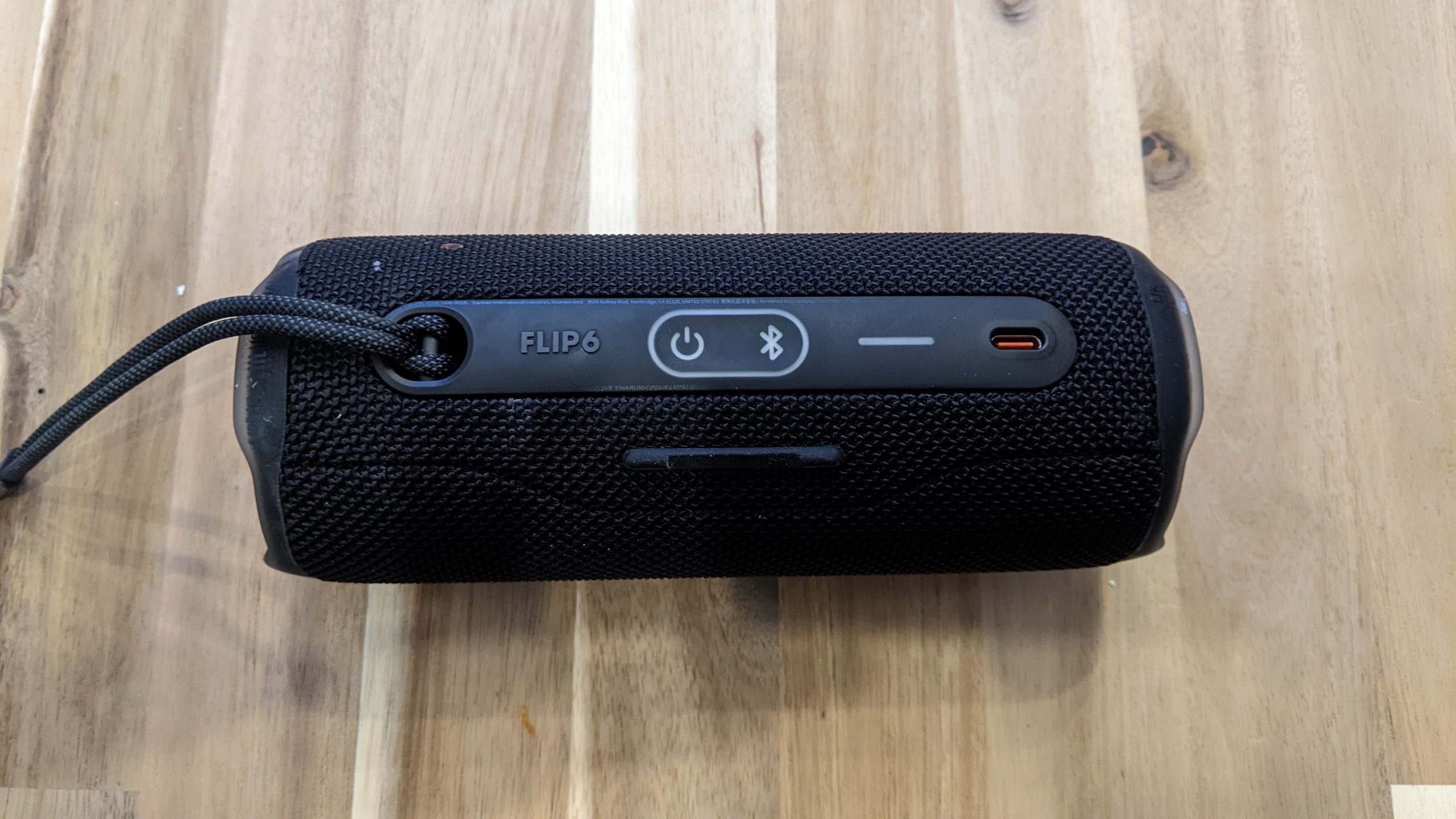 Despite fashioning micro-USB charging and shorter battery life, the JBL Flip 4 is the last speaker in the Flip line to host an AUX input. This is a shame, especially given how JBL has yet to support any high-quality Bluetooth codec options for its Flip series speakers. The JBL Flip 6 may not reproduce to the standards of fine-tuned audiophile ears, but it would be nice to have a wired connection to retain audio quality. Furthermore, wired connectivity is a useful backstop when wireless signal strength becomes unreliable. This can be a particular problem when streaming Bluetooth audio in crowded environments, such as railway stations and airports.
Support for AAC and Qualcomm's aptX Bluetooth codec
It is becoming increasingly common for smartphones, headphones, and Bluetooth speakers to ditch the aux input. This is apparent in JBL's phasing out of the aux input since the Flip 4. Without a viable wired connection option, it is more important than ever for Bluetooth products to incorporate high-quality Bluetooth codecs. We hope JBL will adopt AAC and Qualcomm's aptX Bluetooth codec for the Flip 7. With this, users could gain access to up to 320kbps, 44.1kHz/ 16-bit and 352kbps, 48kHz/16-bit audio streaming respectively. While this by no means replaces the quality of a wired connection, it would go a long way to making the JBL Flip 7 an attractive, high-quality speaker.
An IP68 water and dust-resistance rating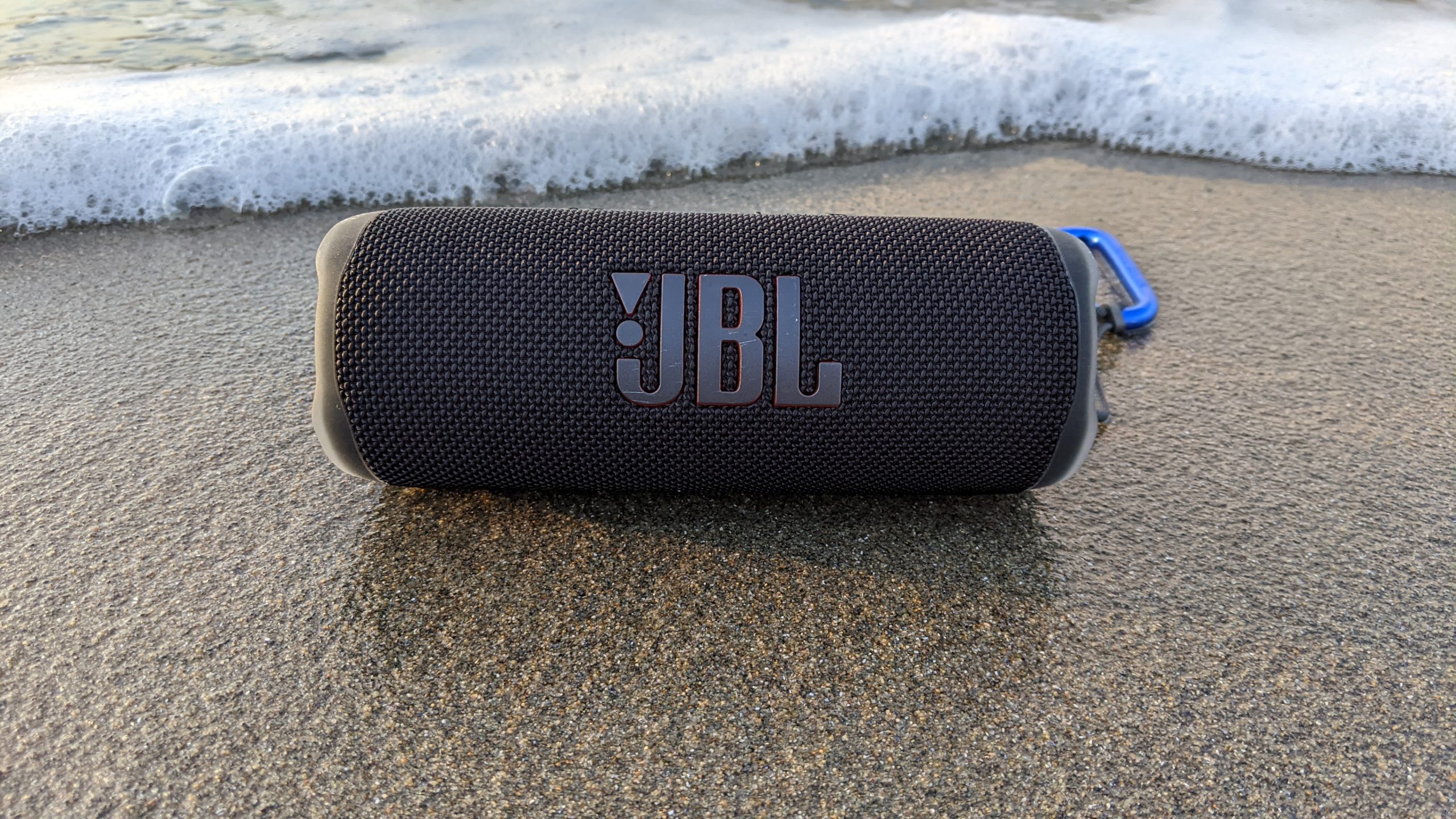 The JBL Flip 6 survives dunks into saltwater and sand doesn't get behind its grille, thanks to its IP67 rating.
JBL remains a master of producing some of the best Bluetooth speakers capable of enduring the great outdoors. While there is no denying that the JBL Flip 6 is about as hardy a speaker as they come, we would like to see the company take this even further with its flagship release. An IP67 rating protects from total dust ingress and immersion for up to 30 minutes between 15cm – 1m of water. However, an IP68 rating protects from total dust ingress and long-term immersion under high pressure. While we don't expect users will be taking the Flip 7 with them for a scuba dive, it may provide more reassurance that the speaker can endure a trip to the beach or a dunk in the sea without breaking.
Backlit controls
On the JBL Flip 6, the power and Bluetooth pairing buttons illuminate with a backlight. However, the volume, skip song, play/pause, and PartyBoost buttons do not. We would like to see JBL bring backlit buttons to all of its controls for the JBL Flip 7. This would help to operate the speaker in darker environments, as well as add a little bit more color and style to the design. The all-black finish is pleasing, but some colored LEDs could help the speaker to stand out.
Backward-compatible Stereo Mode functionality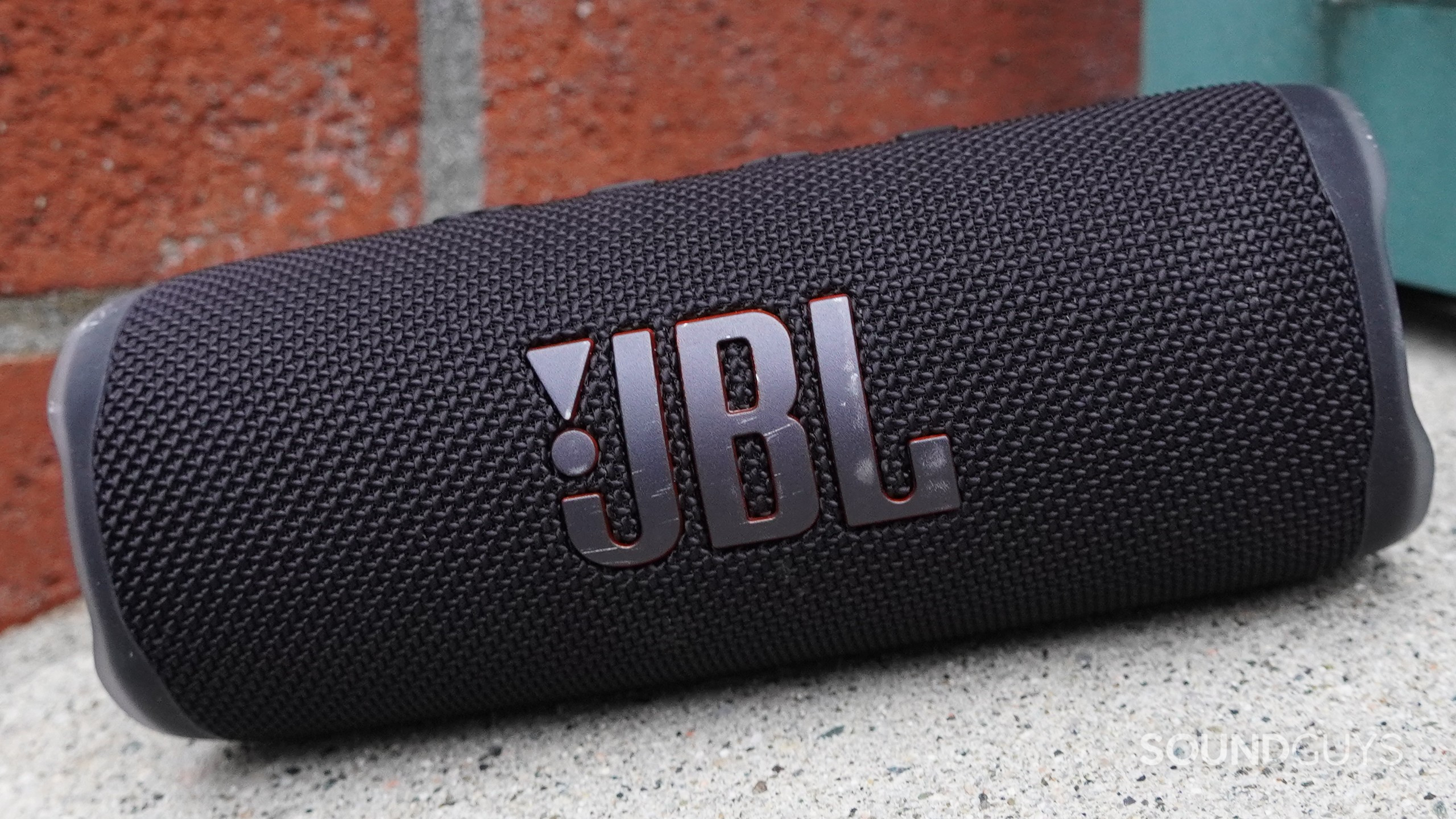 The JBL Flip 6 doesn't slide down much despite its round shape, so setting it on a slanted surface outdoors isn't a worry.
JBL's PartyBoost feature lets you connect multiple Flip series speakers together to amplify sound in multiple locations simultaneously. This works whether you're pairing JBL Flip speakers from the same generation or from different generations. Unfortunately, this isn't the case for JBL's Stereo Mode feature. At present, this only works for JBL Flip 5 or Flip 6 connected to another speaker of the same generation. We would like to see the JBL Flip 7 adopt backward compatibility for its Stereo Mode feature so that users can enjoy stereo sound without having to throw away their older JBL Flip speaker.
---
Will there be a JBL Flip 7?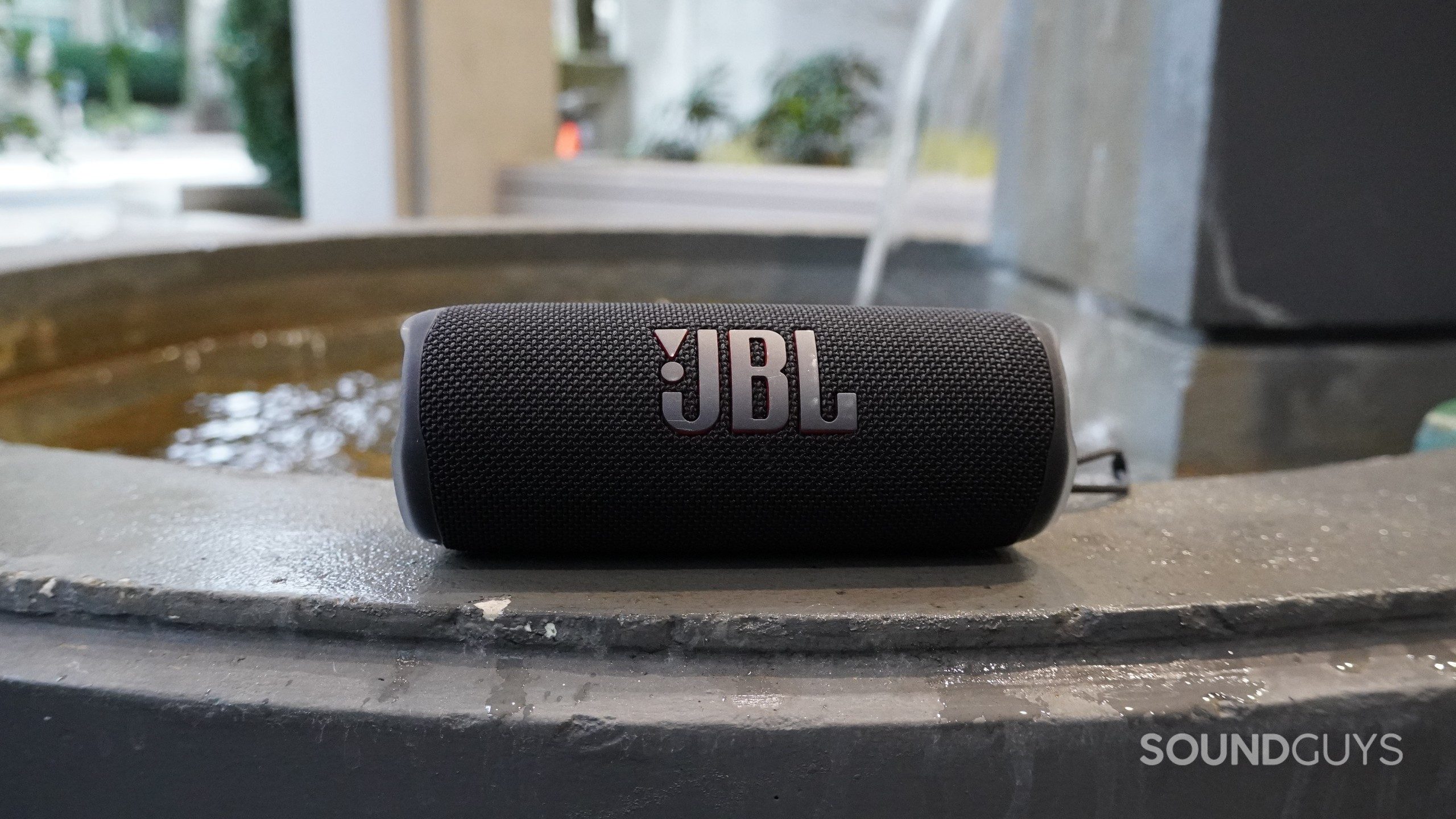 The JBL Flip 6 is water- and dust-resistant and loud enough to keep a small patio party entertained.
With JBL having just refreshed its Live lineup with the release of the JBL Live 770NC and Live 670NC headphones, we fully expect the next-gen Flip 7 vanilla speakers to be in the pipeline. It has been nearly two years since the company bought out the JBL Flip 6. Given that JBL favors a roughly two-year release window, we shouldn't have to wait too long for a new model.
JBL Flip 1 — 2012
JBL Flip 2 — January, 2014
JBL Flip 3 — September, 2015
JBL Flip 4 — February 21, 2017
JBL Flip 5 — August 1, 2019
JBL Flip 6 — December 6, 2021
It is clear from JBL's previous launches that the company favors fall and winter releases for its flagship Bluetooth speakers. That means the JBL Flip 7 could come to shelves sometime in the final months of 2023 or the start of 2024.
Historically, the time between each release has been steadily increasing since the Flip 3. For example, the Flip 4 came to market one year and five months after the Flip 3. Furthermore, the Flip 5 followed the Flip 4 two years and six months later. However, the company threw tradition to the wind with the release of the Flip 6, which followed only two years and four months after the Flip 5. It would make sense for JBL to release the Flip 7 within the next six months.
Should you wait for the JBL Flip 7?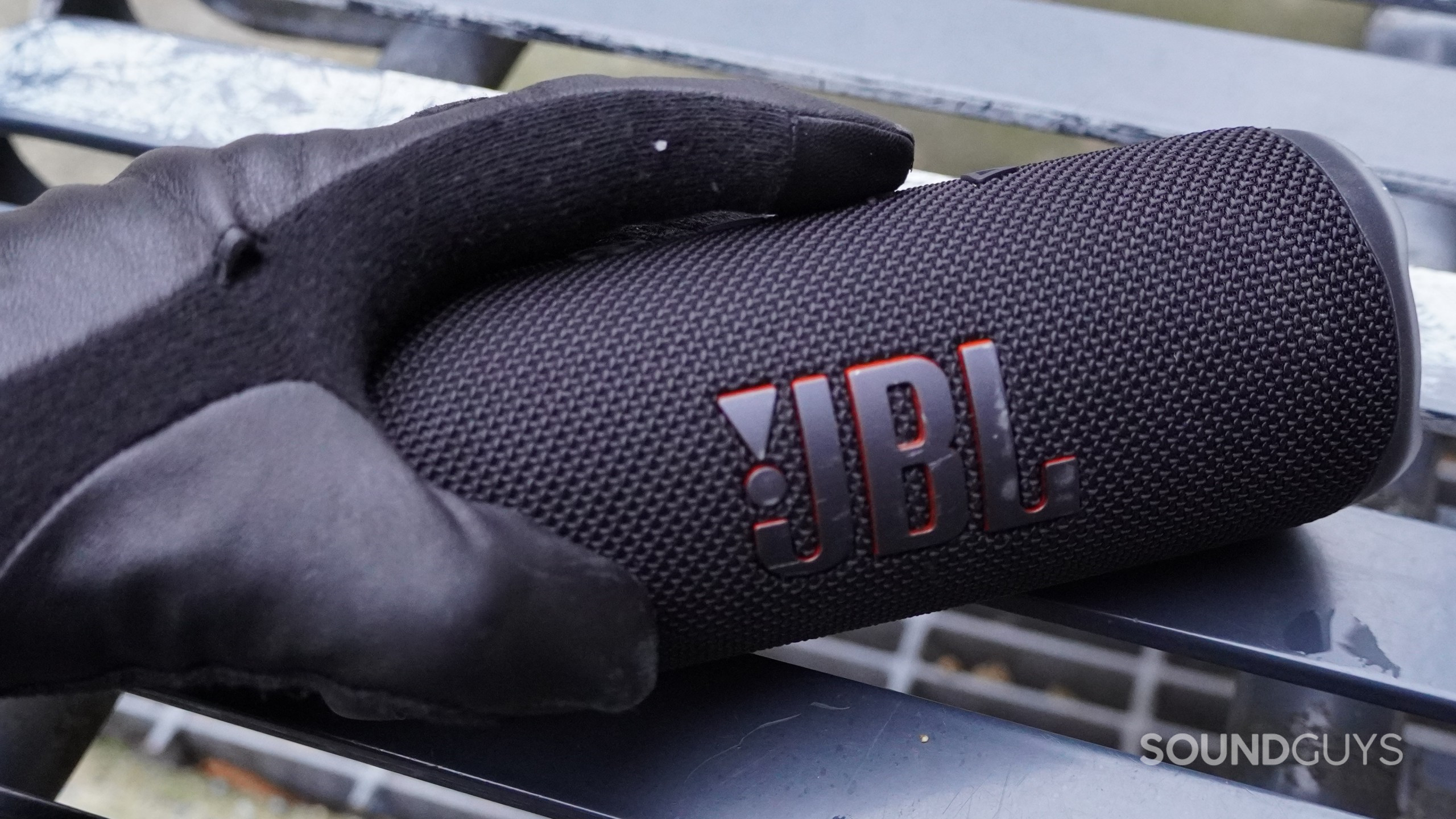 The JBL Flip 6's control buttons aren't backlit, but they are shaped differently from each other and easy to press—even when wearing gloves.
The JBL Flip 6 is still available for ($99 at Amazon), offering users a loud and powerful sound profile that won't break when you need it most. With an IP67 rating, JBL's latest iteration is a seriously robust kit that won't quit even when submerged in water or in sandy environments. It therefore makes sense to question whether the next-gen upgrade is worth the money, or whether you are better off sticking with an already solid product.
JBL has been showcasing its talents in creating portable Bluetooth speakers for over 10 years. Each release has become more durable than the last while preserving JBL's "signature" sound that many have come to love. The JBL Flip 6 is a fine example of the company's best work, integrating smoothly with iOS and Android. The ability to pair with JBL speakers from generations 5 and 6 via PartyBoost also means you do not necessarily need to throw away your older JBL speakers.
That said, the JBL Flip 6 does not exactly reinvent the wheel. The JBL Flip 5 ($89 at Amazon) is already a Bluetooth behemoth that hosts virtually the same battery life as the Flip 6, in addition to a solid form factor and the ability to reproduce loud and bassy audio. The two speakers are very alike, except the Flip 5 costs roughly $30 less than the Flip 6 and produces slightly lower-quality audio.
Those looking for something a little different should consider the JBL Charge 5 ($149 at Amazon). This speaker reproduces even louder audio than the JBL Flip 6, can charge portable devices, and boasts a battery life of over 20 hours. Although there is also no aux input with the Charge 5, you do receive the same IP67 water and dust-resistance rating as the Flip 6. Bluetooth Multipoint also features, which is a valuable asset at parties when you want to connect multiple devices to the speaker.
Another great contender if you want something a little more compact is the JBL Clip 4 ($59 at Amazon). This speaker benefits from a carabiner out of the box, which makes it easy to take your music anywhere you go. It also packs a surprisingly loud punch for its size and supports USB-C charging to keep it future-proof. Unfortunately, you won't be able to connect the Clip 4 via JBL's PartyBoost feature to other compatible speakers. Nevertheless, this little workhorse supports Bluetooth 5.1, an IP67 water and dust-resistance rating, and up to 10 hours of audio playback.
For those willing to stray outside the JBL sphere, the UE Boom 3 ($129 at Amazon) is a great alternative that offers loud, if not a little sub-standard, audio. However, what this speaker lacks in audio quality it makes up for in features. These include wireless charging, an IP67 rating with a floating design, compatibility with over 150 other UE speakers, and a battery life of up to 15 hours on a single charge. It is worth noting that the charging dock that enables wireless charging is sold separately, which is a bit of a bummer.
Finally, the Bose SoundLink Revolve+ II ($249 at Amazon) works well for those looking to use their speakers as both an audio player and for calls. This is thanks to its built-in microphone. The housing also boasts an IP55 resistance rating, access to voice-prompted smart features, a convenient carrying handle, the Bose SimpleSync feature, excellent sound quality, and up to 17 hours of juice. However, the eye-watering price of this speaker may put many people off.
JBL Flip 6
JBL Flip 6
Easy to use Bluetooth pairing • Loud output for parties • Portable
A solid successor to the Flip 5.
The JBL Flip 6 makes for a solid update to the JBL Flip 5 and the IP67 rating is a welcome upgrade. You still get JBL's signature sound and it's just as easy as ever to sync this Bluetooth speaker with your devices.