All products featured are independently chosen by us. However, SoundGuys may receive a commission on orders placed through its retail links. See our ethics statement.
How to find the best earbud tips for your ears
Small, medium, or large—let's find a pair of ear tips that's just right.
You just bought a new set of earbuds and can't wait to listen to them, but you put them in, and they don't sound great. Fear not: it's unlikely the earbuds are bad, and more likely that the default ear tips just don't work with your ear anatomy. Ear tips significantly impact audio quality and the ability for you to hear all of the primary and supporting notes from your favorite pieces of music. A proper fit also helps prevent pain and infections. So, make that initial investment worth it and pick up a pair of specialized tips.
Editor's note: This article was updated on September 1, 2023, to clarify language, topics.
What makes a set of ear tips premium?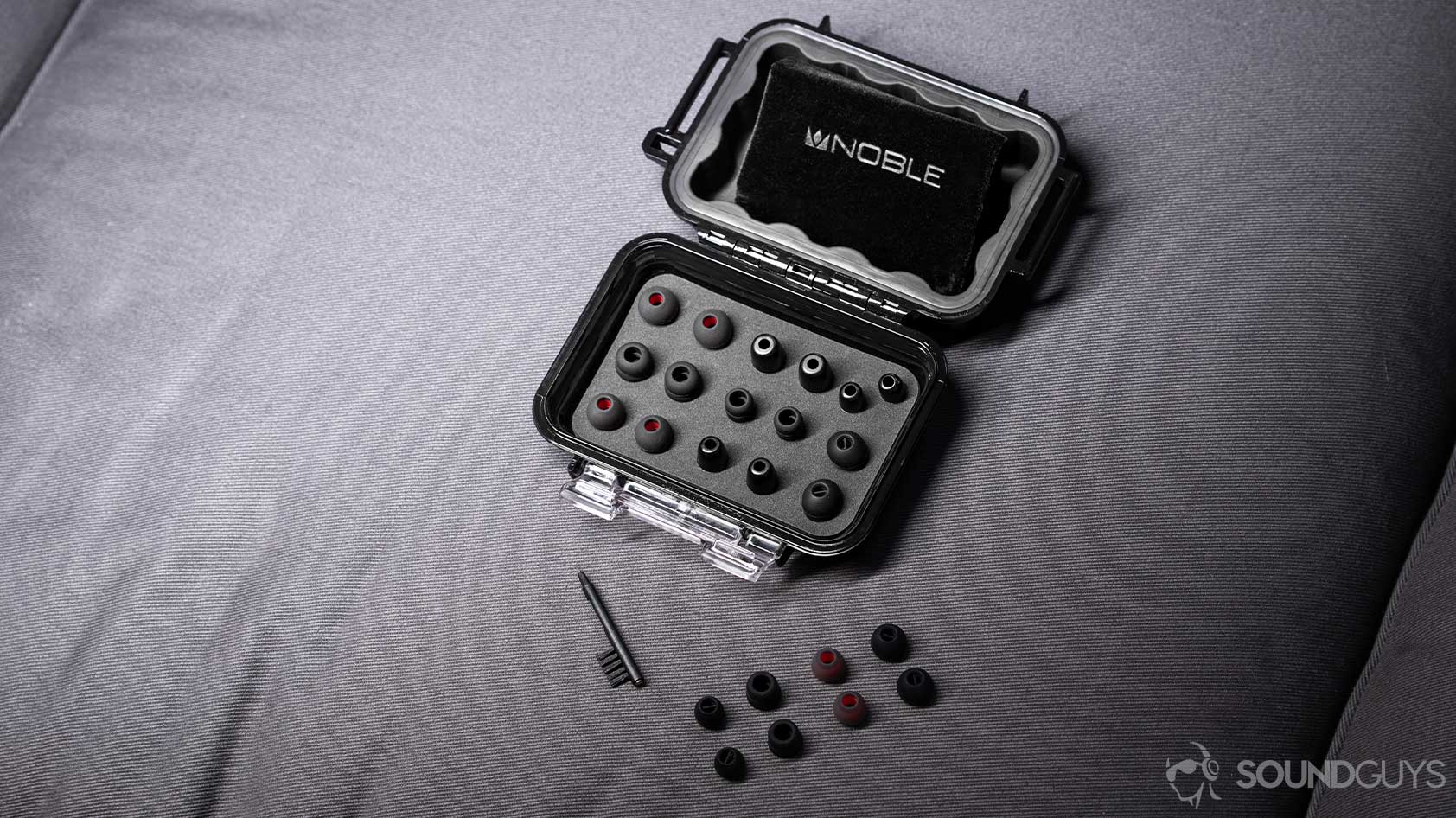 The double-flanged ear tips may be uncomfortable if you're coming straight from on or over-ear headphones.
An ear tip's ability to isolate you from your surroundings makes a world of difference. When you get a proper seal with ear tips, be it silicone or memory foam, the outside world is blocked out to some degree. This means that your brain spends less energy trying to process extraneous environmental noise and can dedicate more processing power to hearing the bass, midrange, and treble frequencies of your music. A poor seal degrades both sound quality and comfort.
A pack of premium tips will typically include a variety of sizes and materials. This way, you can experiment for a few minutes to see what's most comfortable for you. I prefer memory foam ear tips as they block out noise without creating an uncomfortable, hard suction sensation, while others prefer silicone ones for their ease of use and longevity. While finding the Goldilocks set of tips takes a bit of trial and error, the payout is great. Plus, you're just furthering your investment. After all, why invest the money into premium earbuds if you're not going to figure out how to get the most out of them?
What types of ear tips are there?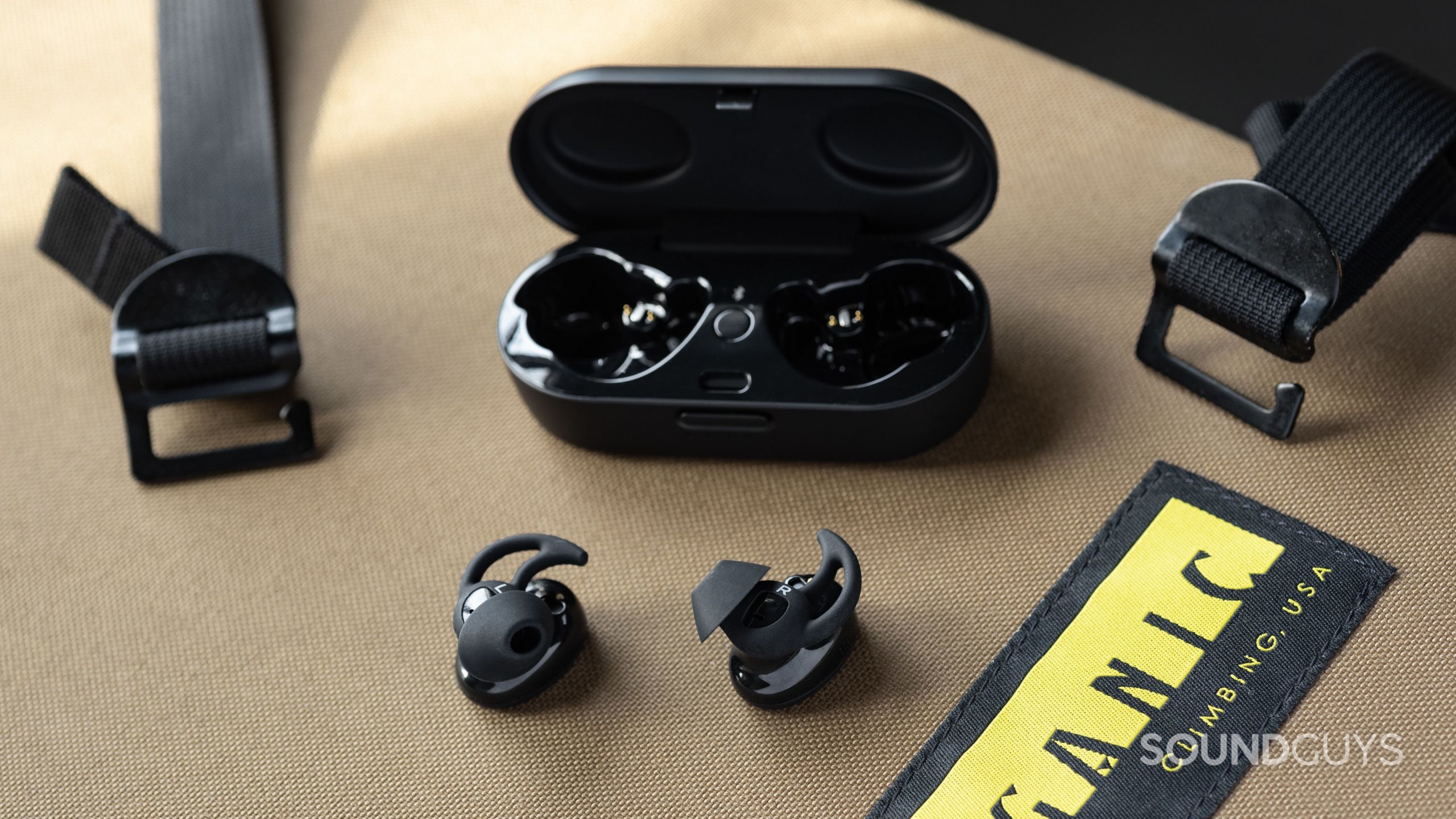 The Bose Sport Earbuds' StayHear Max ear tips may not look the most comfortable, but they most certainly are.
Standard: The lowest common denominator of ear tips. This style is typically pre-installed, especially at the consumer level. RHA provides listeners with ten pairs of options (ranging in style and material), yet, the company still showcases its standard, dual-density silicone tips because they please the majority of listeners.
Bi-flange: These are more invasive than traditional ear tips. Though they take some getting used to, they provide excellent sound isolation and are fairly easy to pop in or remove at a moment's notice.
Triple-flange: Speaking of invasive, triple-flange tips may feel like they're excavating your ear canals (relative to standard tips), but they provide all the same benefits as bi-flange ear tips and isolate you even more from your surroundings. Etymotic is known for including these in its packaging.
Wingtips: These are pretty much reserved for workout earbuds and are usually an optional add-on to the separate silicone ear tip. However, that's not always the case (see: Jaybird Vista 2). Wingtips rest against the triangular fossa and form a secure fit to combat vigorous movement.
Custom: If you have the budget for custom-molded ear tips, it's worth trying out. These will transcend any previous ear tip experiences that you've had. Since they're molded to your ears, they're supremely comfortable. However, you may writhe in financial discomfort.
Aside from this, there are size variations to account for. For each style option available, you can typically find them in at least the usual small, medium, and large, not to mention my favorite T-shirt size, "smedium."
Silicone ear tips vs memory foam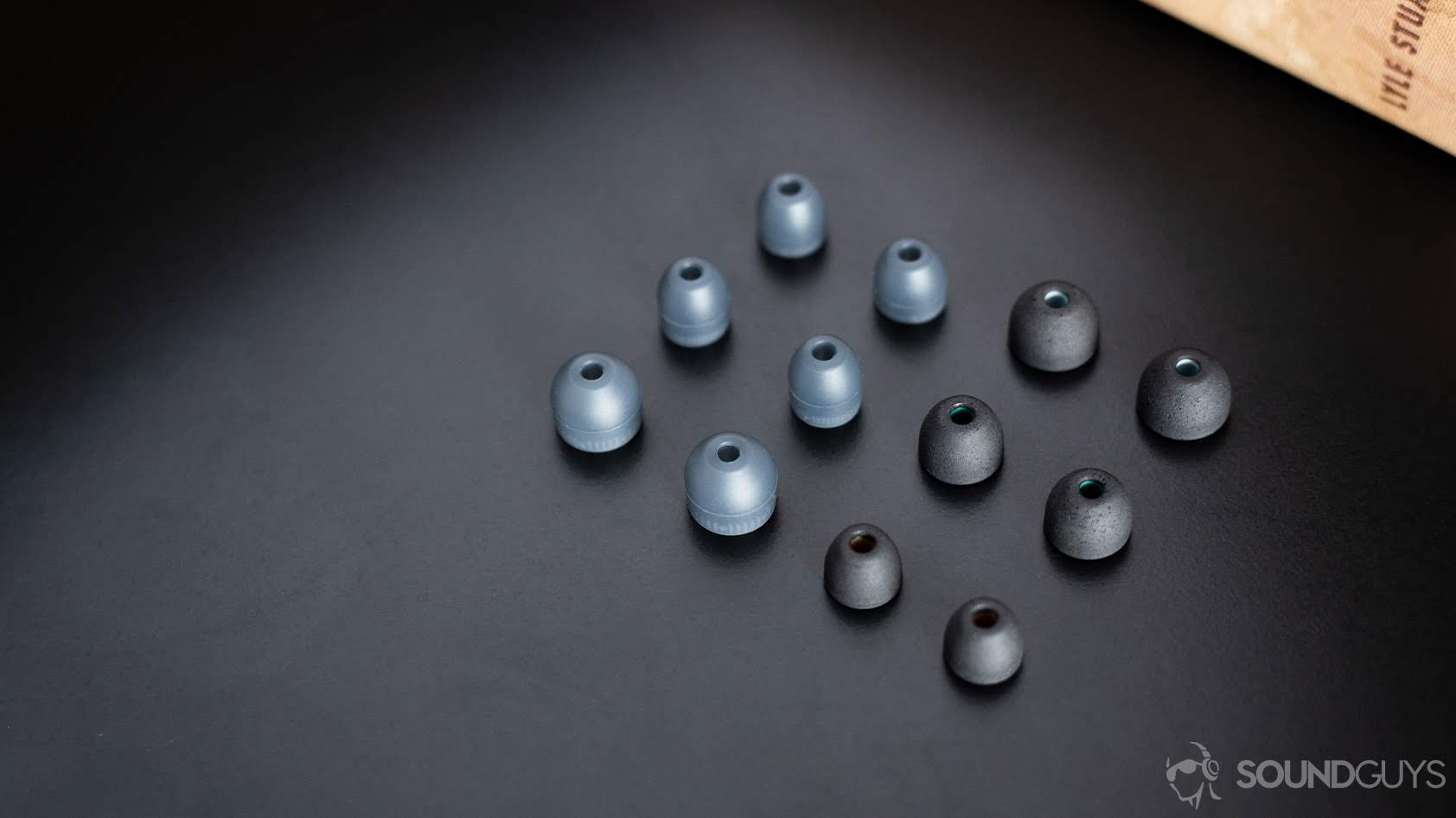 Sony provides plenty of ear tips, ensuring you'll find the proper fit.
Just as there are different styles of earbud tips, there are also different materials. Sure, there aren't as many options here as there are with clothing textiles, but it's nice to have some liberty in choosing what fits you best.
Silicone is the usual suspect for ear tip construction. It doesn't isolate sound as well as foam, but it's comfortable and washable. Plus, silicone tends to be more durable than its foam counterpart and more affordable. There are varying grades of quality with silicone ear tips. The Panasonic ErgoFit includes cheap silicone ear tips that feel much less premium than what you'll find on the Samsung Galaxy Buds Pro.
If you've been around the block, then you're likely familiar with Comply. This company has made memory foam ear tips accessible in the consumer audio market and are frequently recommended here at SoundGuys. These are a great value and noticeably improve sound quality. Comply accommodates a wide range of use cases for its tips. Whether you play sports, need quiet time, prioritize comfort, or want something specific to wireless earbuds, Comply has you covered.
Do different earbuds require different ear tips?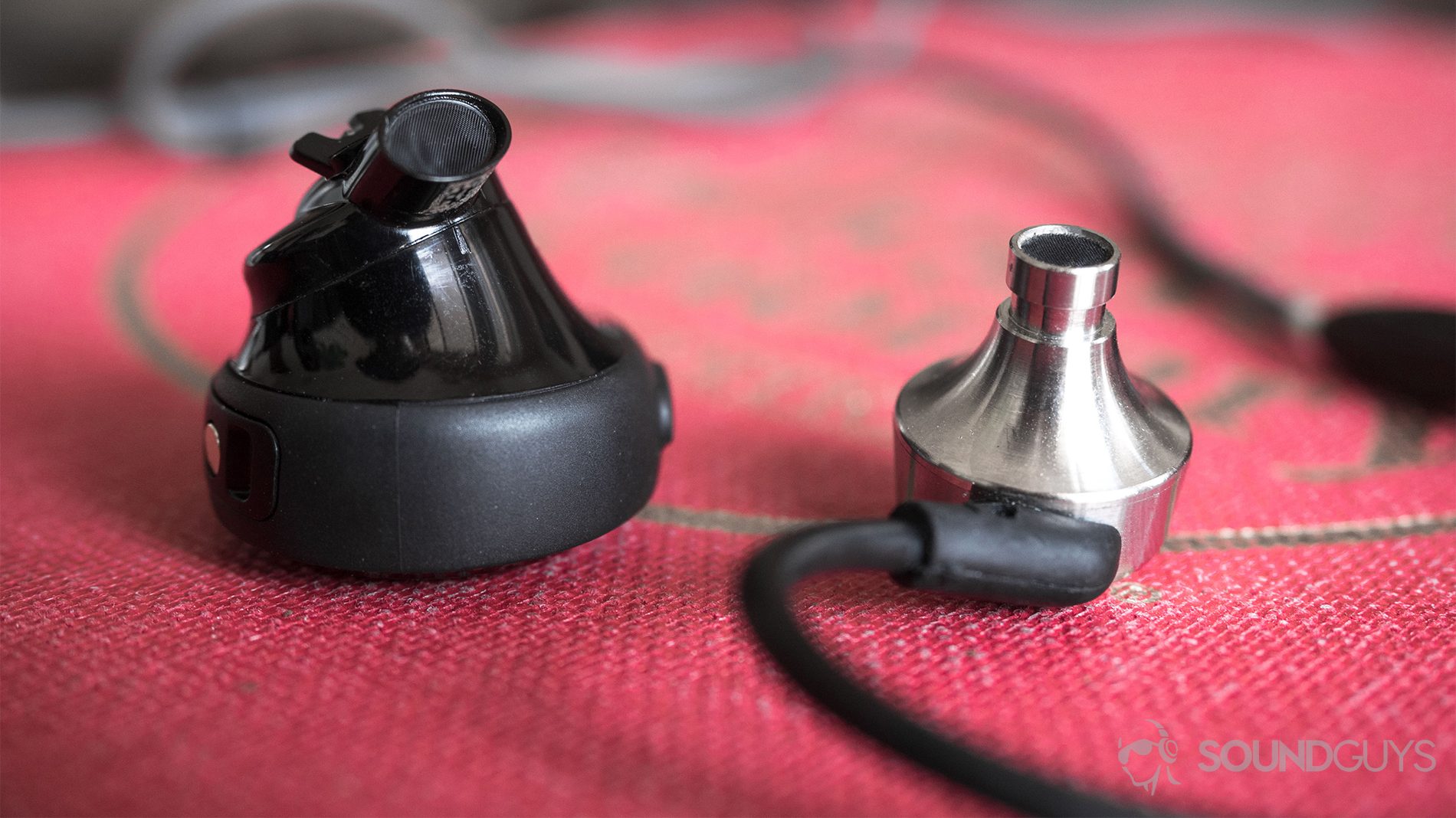 Not all earbud nozzles are the same size, making it hard to find a compatible premium ear tip.
If you've ever looked closely at your earbuds without the silicone sleeves, you may have noticed that there isn't a universal standard in earbud-nozzle diameter. Some are narrower than others, so you'll need to do a little research to ensure that the core of your premium silicone sleeves fit around the earbuds. A quick visit to a manufacturer's website will do the trick. Comply walks users through finding compatible ear tips via its "find your fit" module. This is a basic, step-by-step process that guarantees compatibility.
As you can see, there are a few variables when it comes to picking out the right tips for you. But like any good recipe, once you understand the ingredients and what pairings work, the final product is much more enjoyable. All it takes is time to define how you plan on using your earbuds and figuring out what style and material seem the most fitting. Then it's a few clicks to make that sound-altering purchase.
Some wireless earbuds feature software-powered ear tip fit tests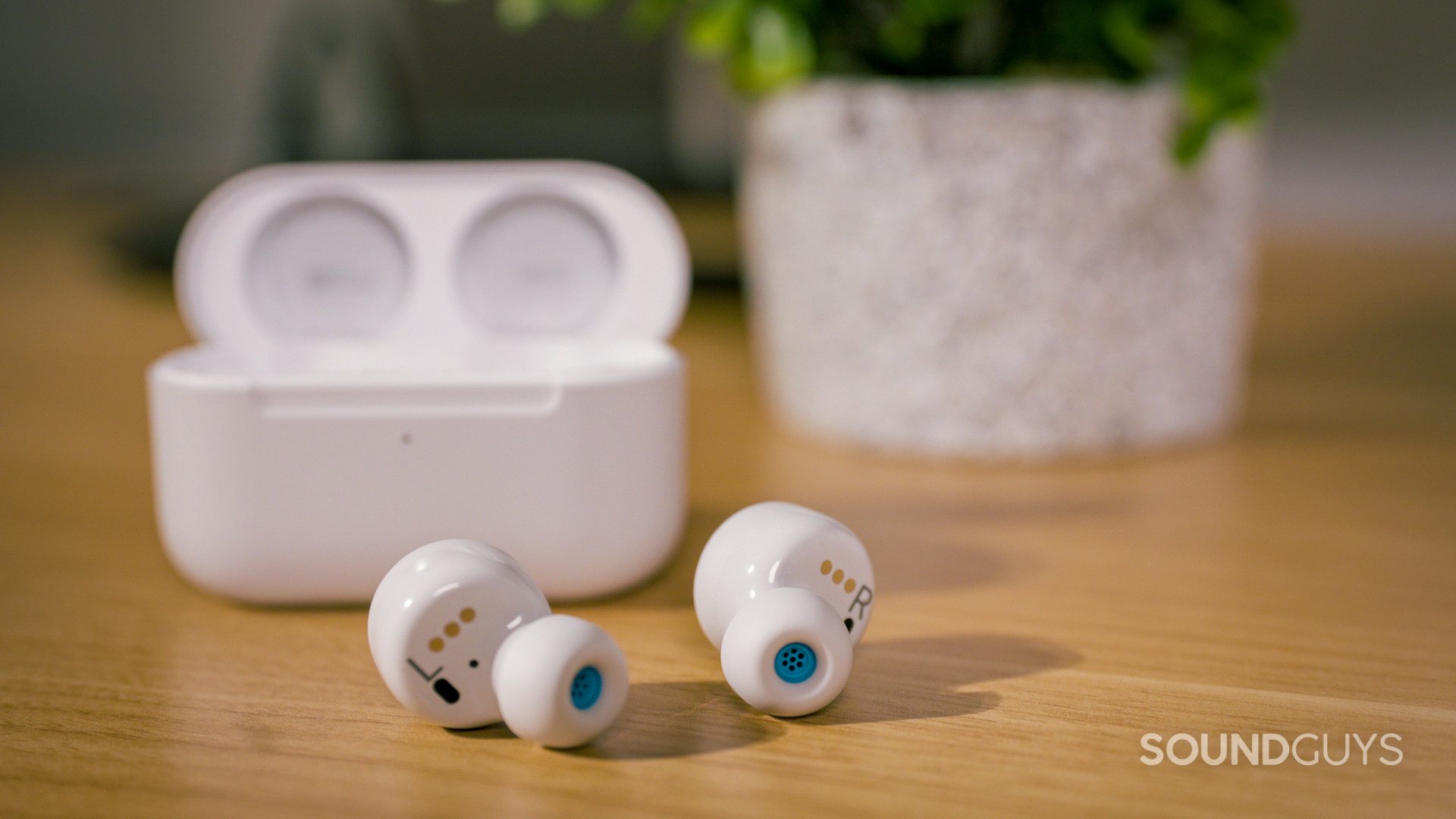 The Amazon Echo Buds (2nd Generation) is a solid set of true wireless earphones that compares well against the AirPods Pro.
Finding the best ear tips for your needs is a deceptively involved task, depending on your purchased earbuds. Headset manufacturers are beginning to realize that not everyone understands what a good fit feels like, so various companies have released ear tip fit tests bundled into their respective apps and software.
The Apple AirPods Pro is the most famous pair of true wireless earbuds with an ear tip fit test, but in typical Apple fashion, its utility is limited to iOS and iPadOS devices. Android users can't take advantage of this and have to hope what they've selected is the best choice. Amazon, however, democratized the ear tip fit test with its Amazon Echo Buds (2nd Gen). This set of earphones includes a handful of ear tips, and silicone ear stays that keep the buds in place. When you download the Alexa app (iOS and Android), you can check to see if your chosen ear tips work with your ears. If not, the app will give you immediate feedback to try another set.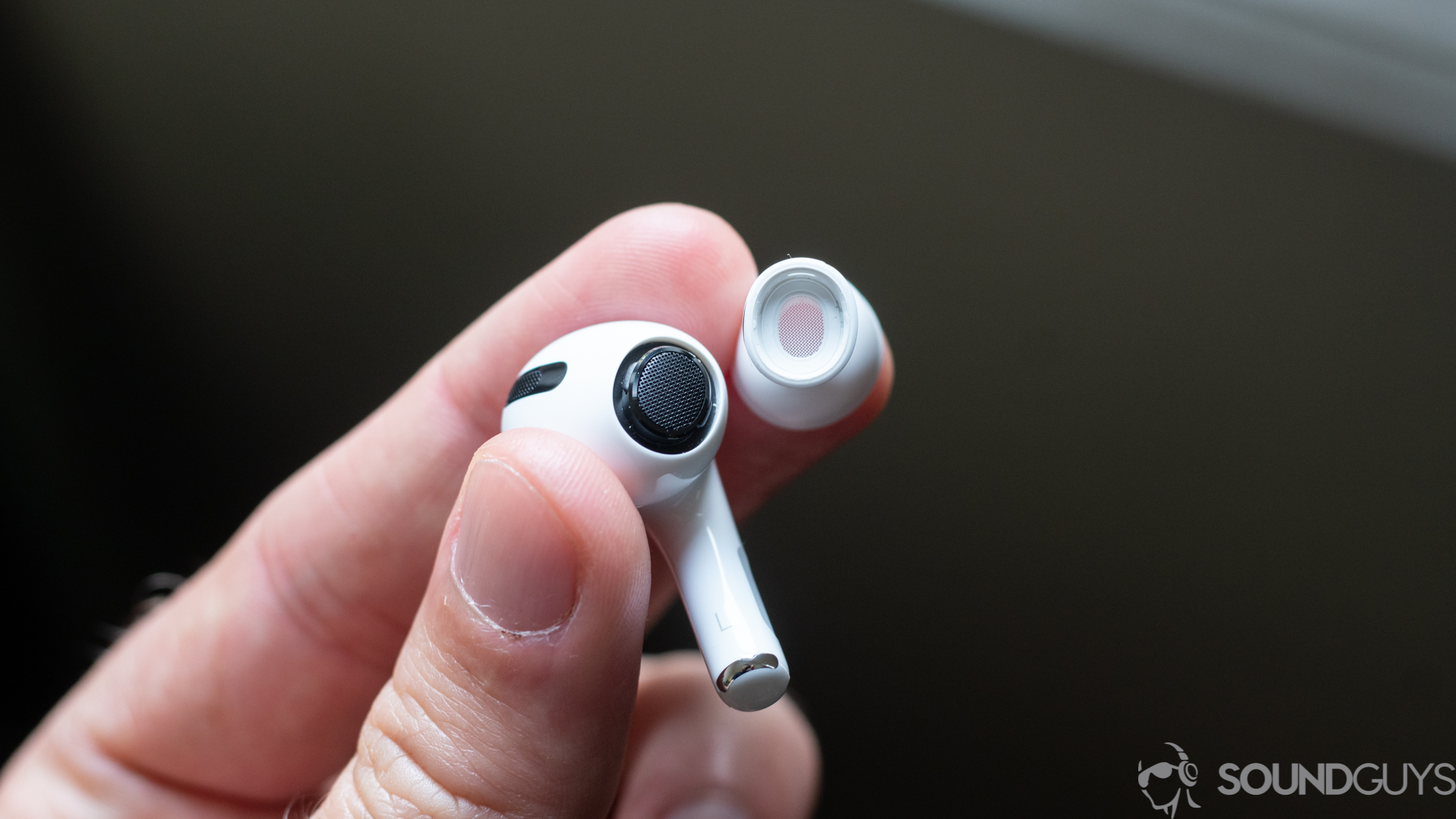 The AirPods Pro silicone sleeve pops into a divot surrounding the nozzle, which ensures a more stable connection between the pieces.
Yes, the AirPods Pro has a slightly different mechanism for installing earbuds. Rather than sliding the ear tip collar down a nozzle protruding from an earbud, the AirPods Pro ear tips serve as the nozzle. There's a recessed ring around each AirPods Pro driver unit that lets you click the AirPods Pro ear tips into place. We have a whole article explaining how to change your AirPods Pro ear tips.
The best replacement ear tips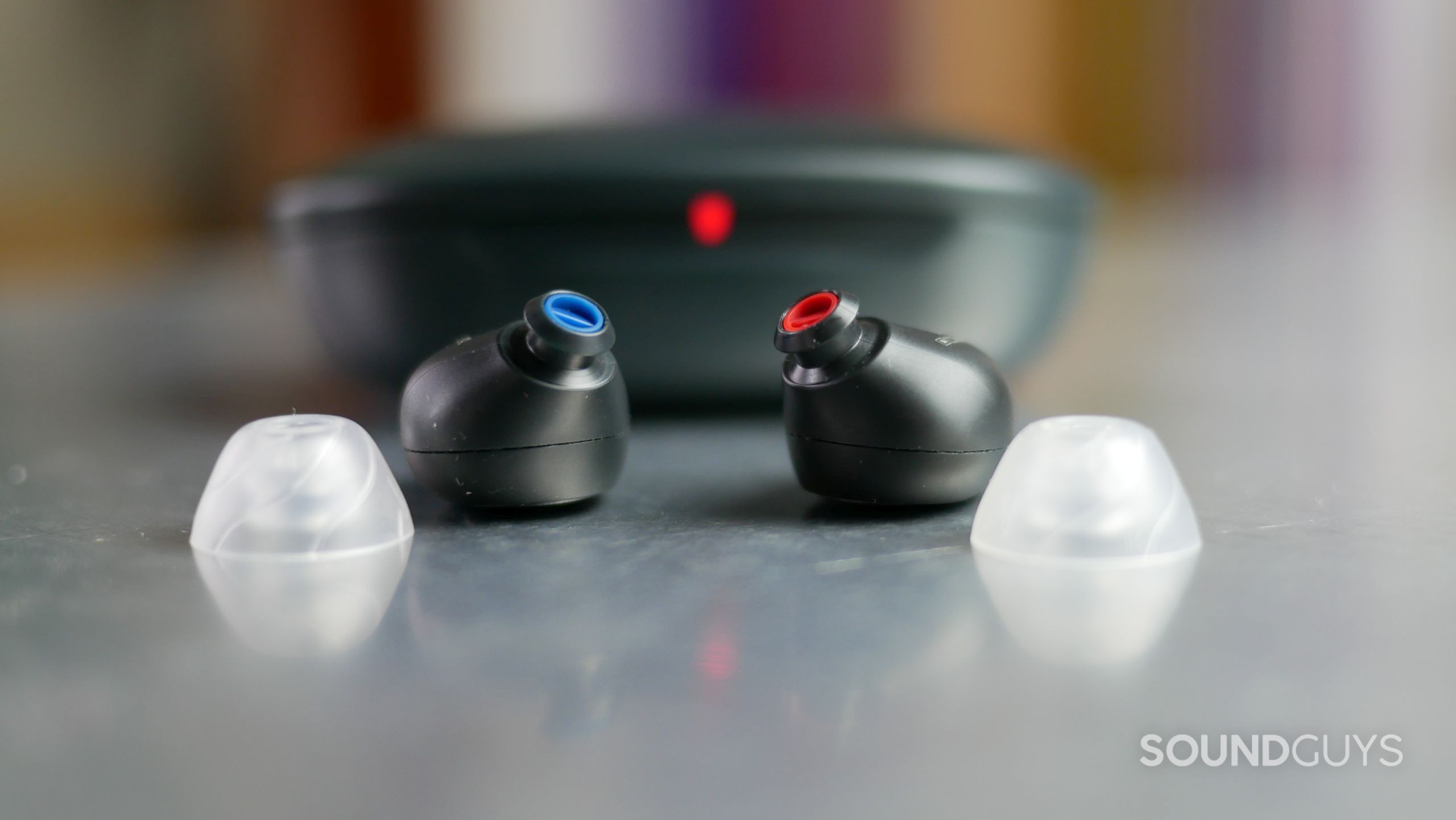 The Jabra Enhance Plus provides outstanding battery life.
Given the compact and portable nature of earbuds, they're incredibly convenient for on-the-go music lovers, fitness enthusiasts, and busy commuters. However, these same benefits can be a double-edged sword. Their small size makes them susceptible to being lost or misplaced. Even more elusive are the earbud tips, those tiny yet essential components that can easily pop off and disappear into the abyss of a gym bag or under a car seat. Fortunately, replacements are available.
Now, while most earbud manufacturers offer their own replacement ear tips, they tend to be pricier than necessary. Luckily, there's a world of affordable third-party replacements that provide the same, if not better, quality and comfort. Here are some of the top-rated replacement ear tips for popular earbuds available on Amazon:
Remember that earbud tips are not universally compatible with all earbuds, so ensure your chosen ear tips fit well with your earbuds' design.
Frequently asked questions about ear tips
Ear tips are the small, detachable pieces of material that cover the end of earbuds, inserting into the ear canal. They come in various shapes, sizes, and materials, including silicone and foam, and can significantly impact the comfort, noise isolation, and overall sound quality of your earphones.
No, earbud tips vary in size, shape, and material. They come in standard, bi-flange, triple-flange, wingtip, and custom styles and are usually made from either silicone or foam. The diameter of the earbud nozzle can also vary, so not all ear tips are compatible with all earbuds.
To replace earbud tips, start by gently pulling the existing tips off the earbuds. Then, take the replacement ear tips and align them with the nozzle of the earbuds, pushing them onto the nozzle until they are securely in place. Always ensure the ear tip size is correct and the fit is snug to avoid them falling off or causing discomfort.
Yes! You can find this feature on the Samsung Galaxy Buds 2, but iPhone owners can't take advantage of it. There's no iOS app that supports the Galaxy Buds 2, unfortunately.
Please feel free to peruse our list of the best earbuds! On here, you'll find items like the Etymotic ER4SR and Linsoul TIN HiFI T2, both of which are wired earbuds with a variety of tips to choose from. There are also great noise canceling wireless earbuds out there that include a selection of silicone sleeves and ear wings to improve isolation and keep the buds in place. Listeners who want the convenience of wireless earbuds but don't care for ANC should look at the Shure AONIC Free.
This depends on how often you use them and how you store them. If you use your earbuds daily, you'll benefit from cleaning them about once a week. Athletes should really clean their earbuds after each workout, and it's important to let your earbuds dry out before returning them to the case. Learn more about how to clean your earbuds.
Silicone and foam ear tips each have their own advantages. Silicone tips are durable, washable, and generally more affordable. They provide a comfortable fit and good sound isolation. Foam tips, on the other hand, offer superior sound isolation and tend to conform better to the ear, providing a secure and comfortable fit. Ultimately, the choice between silicone and foam depends on personal preference and use-case scenarios.
The comfort of ear tips is subjective and depends on the individual's ear size and shape. Bigger ear tips may be more comfortable for those with larger ear canals but can cause discomfort if they are too large. It's important to find the right size that ensures a secure, yet comfortable fit to enjoy optimal sound quality and noise isolation.