All products featured are independently chosen by us. However, SoundGuys may receive a commission on orders placed through its retail links. See our ethics statement.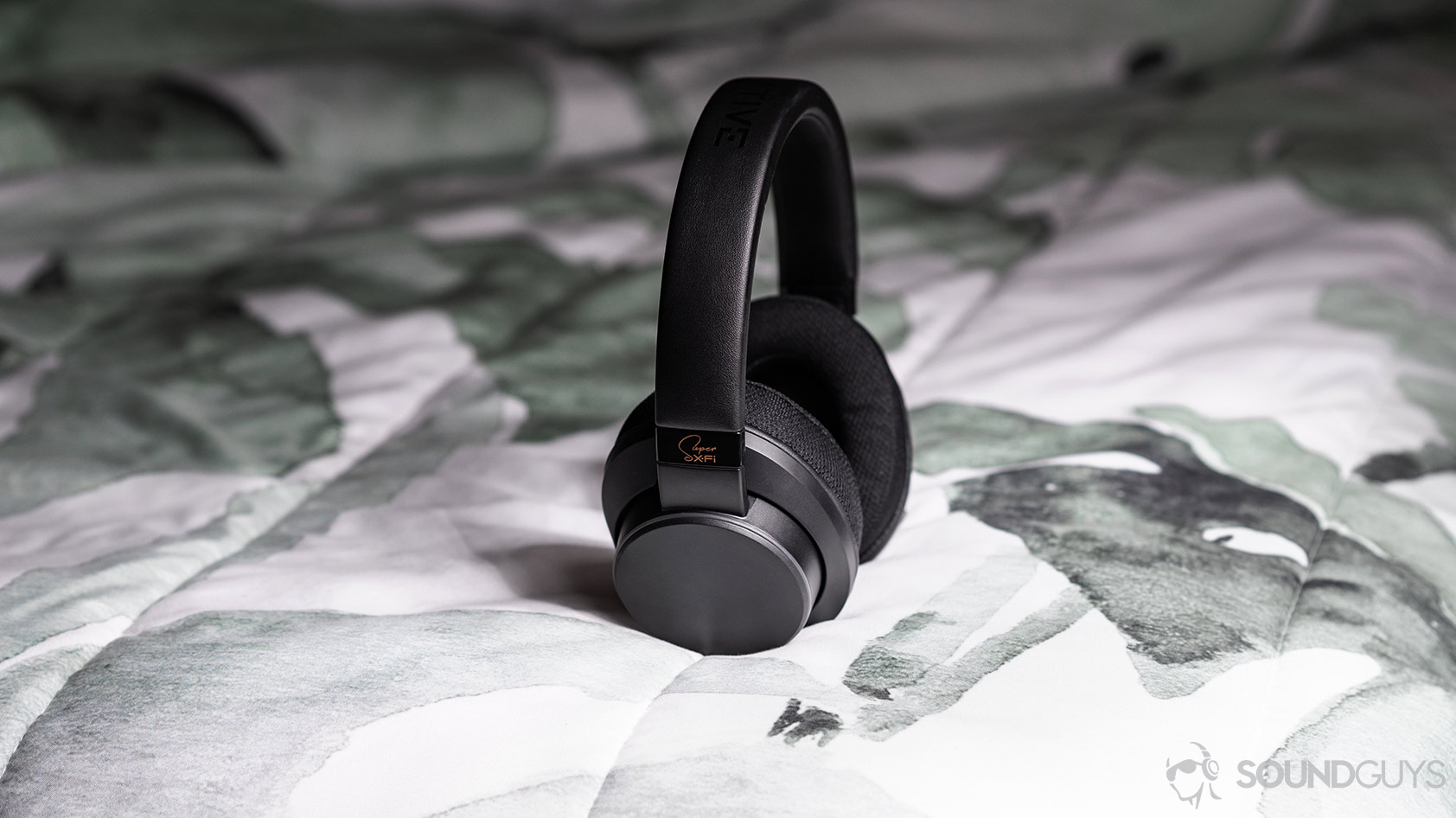 The bottom line
Browsing over-ear headphones can get tedious. After a while, they all blend together. However, these stand out with their RGB lighting, optional storage, 50mm drivers, and Super X-Fi technology for a realistic sound. Meanwhile, the NanoBoom mic is great for calls and gaming. Sure, the build quality isn't remarkable, but the reasonable price tag makes up for it.
Creative SXFI Air
Browsing over-ear headphones can get tedious. After a while, they all blend together. However, these stand out with their RGB lighting, optional storage, 50mm drivers, and Super X-Fi technology for a realistic sound. Meanwhile, the NanoBoom mic is great for calls and gaming. Sure, the build quality isn't remarkable, but the reasonable price tag makes up for it.
What we like
Four ways to listen to media
Natural, 3D sound
Replaceable ear pads
Virtual assistant access
microSD supports MP3, WMA, WAV, and FLAC files
What we don't like
SBC only
No folding hinges
Rating Metric
Sound Quality
8.9
Bass
9.8
Midrange
9.5
Highs
7.4
Isolation / Attenuation
3.8
Durability / Build Quality
9.2
Value
8.3
Design
8.7
Microphone
9.2
Portability
7.5
Battery Life
7.8
Creative perked ears up with its Super X-Fi amplifier and holographic audio adapter earlier this year. Now, it's back with the same Super X-Fi technology integrated directly into the Creative SXFI Air wireless headphones. This comfortable set of over-ear cans service nearly every kind of listener and have a few cool tricks up its sleeve to help them further stand out from the crowd.
Who is the Creative SXFI Air for?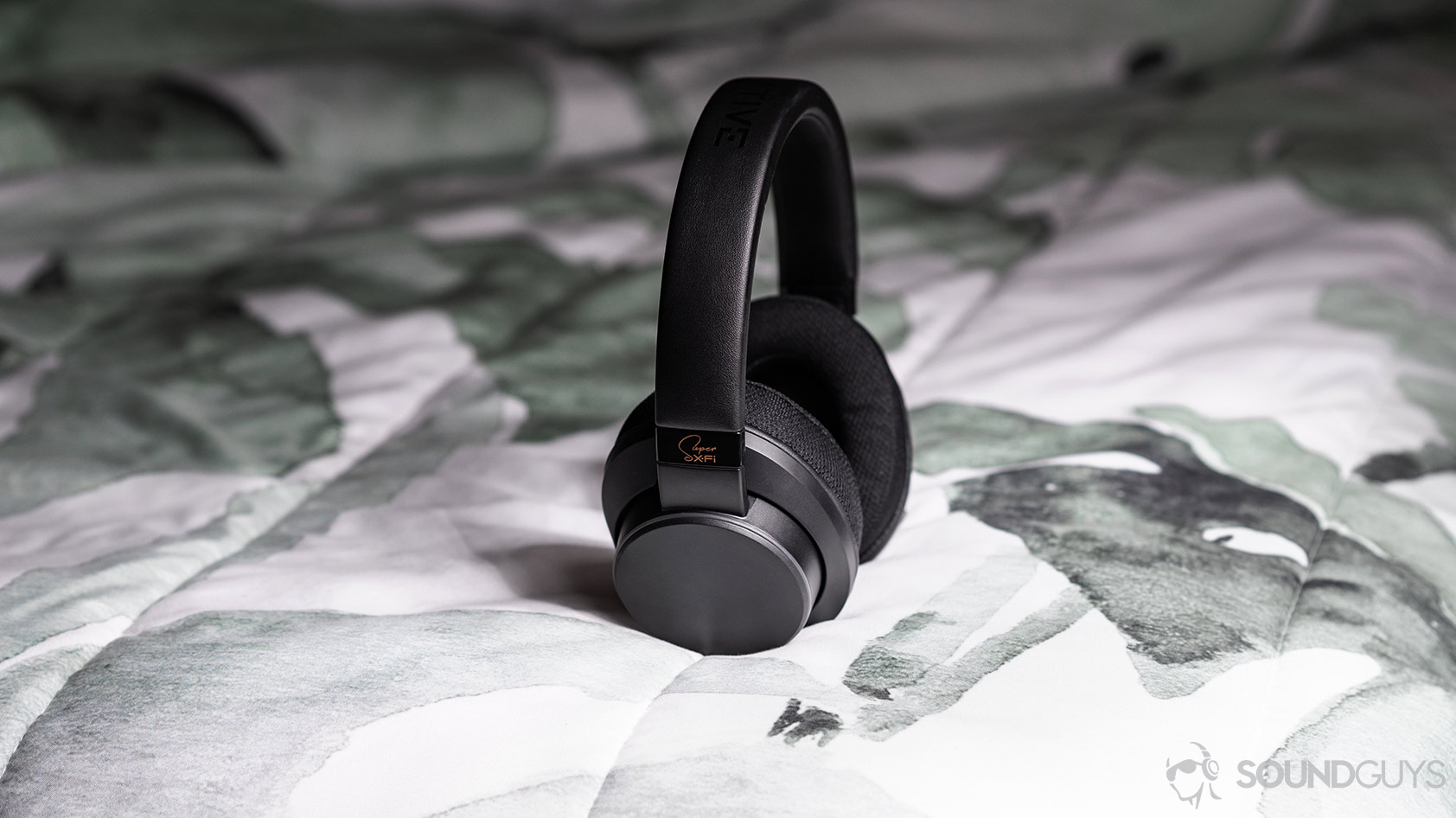 The creative SXFI Air feels like two headphones in one: a gaming headset and an every day pair of cans.
Gamers will benefit from the accurate representation of three-dimensional sound reproduced by the Creative SXFI Air. Depending on your style, the ring light LEDs are a neat touch, too.
Avid movie-watchers will be enthralled by Creative's "holographic" sound. What's more the ear pads and headband cushion are comfortable enough to wear through at least two movies before needing a break. They're even fine with glasses.
Anyone who wants a versatile headset. Since the Creative SXFI Air affords users four options for connecting and listening to music, these are some of the most flexible cans out there. If you want to go for a walk but don't want to take your phone, you can with these because of the microSD card slot.
What's it like to use them?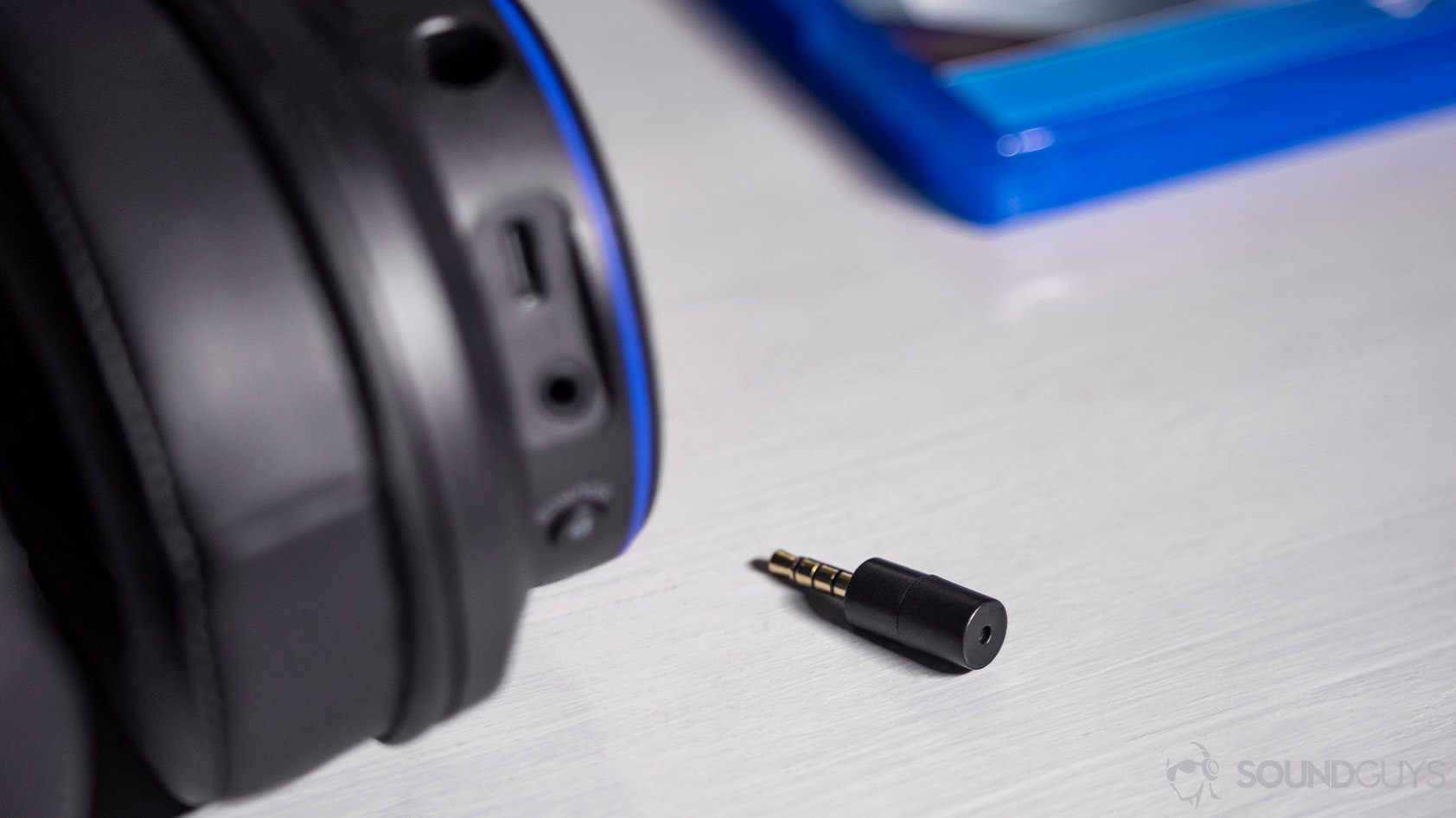 The NanoBoom mic relays clear audio and is removable.
For the most part, using the Creative SXFI Air is great. Our matte black review unit looks fantastic. The left ear cup is lined with buttons and inputs, which makes it easy to alternate sources at a moment's notice. Something that caught my eye is the microSD card slot. As cool as it is, I didn't feel compelled to go through the trouble to find a microSD card and load it up with songs. It's easier to listen from a phone.
The protruding nub on the right ear cup is Creative's NanoBoom microphone. At first, I thought it expanded and had to be wriggled from the ear cup. Nope. The little cylinder is the whole microphone. It can, however, be removed and the input covered by an included plastic piece. The ear cups are also removable. Creative even provides a secondary pair of mesh ear cups to complement the synthetic leather ones, just in case you wear glasses or it's hot out.
The mesh ear pads (left) are more breathable than the synthetic ones (right).
Both ear cups are emphasized by LED rings. It's eye-catching but may not be everyone's cup of tea. If you're not one for flashing ear cups while perusing a local grocer's aisles, this can be turned off from the Creative SXFI Air Control app. There's also a separate app, Super X-Fi, for taking digital measurements of your face in order to tune the SXFI to recreate a more accurate sound. The functionality of both is fine, but I'm flummoxed by why Creative thought it necessary to have two apps instead of consolidating it into one.
The NanoBoom mic and cross-platform compatibility make the SXFI Air a gamer's delight.
Creative gets the touch controls right with these headphones, though. The left ear cup's touch capacitive panel rarely mistakes my gestures and registers them without fail. What's more, with Super X-Fi built-in, you don't need an external amp or dongle to experience holographic audio.
How long does the battery last?
When subjected to a continuous 75dB output, the 1,300mAh battery lasted 10.88 hours. This surpasses Creative's posited eight-hour playtime, a delightful surprise. When the battery dies, set aside 2.5 hours to complete a full charge with the USB-C cable.
What's the best way to connect the Creative SXFI Air?
The left ear cup is decked out with the 3.5mm and USB-C inputs and three buttons.
There are four ways to connect the Creative SXFI Air, giving you plenty of flexibility depending on your needs. If you're taking these on-the-go, you can connect wirelessly. These support Bluetooth 4.2 and rely just on the SBC codec. No high-quality wireless streaming here. The lack of aptX or AAC support is frustrating, but plenty of us can't discern between the codecs anyway. However, latency is an issue. If you're streaming videos, there can be up to a half-second audio-visual lag depending on which phone you use. It's not the headphones' fault, but it is something to note.
Gamers of all kinds (PC, Mac, PS4, and Nintendo Switch) will benefit from the long USB-C cable, which charges the headphones and doubles a wired, latency-free listening option. It supports 7.1 channel reproduction for an open, realistic sound. You can also use the included 3.5mm cable for wired listening from a smartphone.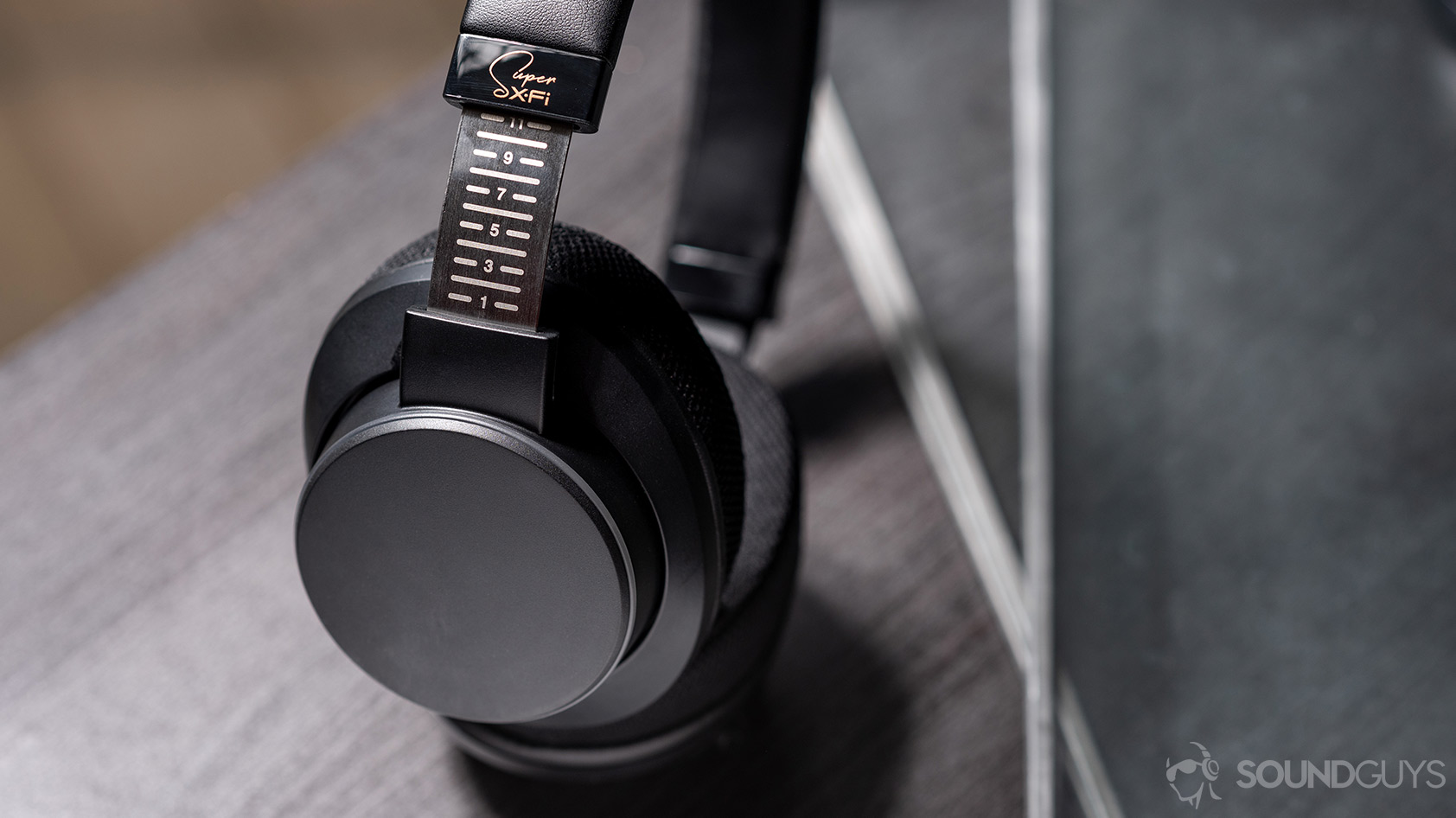 The expandable headband can fit virtually all noggins.
What's really neat about the SXFI Air is the option to enjoy music sans-source device. Just grab a microSD card with your favorite music and you can listen while still enjoying Creative's holographic audio. This is a feature we usually only see with waterproof headphones, so swimmers can listen to music while exercising. It's a fun feature; granted, I didn't find a need for it. However, if you're a die-hard audiophile, you'll be pleased to know that the SXFI Air supports MP3, WMA, WAV, and FLAC files.
What do they sound like?
Even though the headphones don't support any high-quality codecs, they sound great. Creative tuned these to reproduce a neutral-leaning frequency response with nearly imperceptible emphasis from 60-200Hz and again from 600-1500Hz. These slight bumps make drum kicks and vocals standout ever so slightly from other instruments. The bass bump, in particular, makes explosions in movies or games sound a bit more jarring.
Isolation is great with the preinstalled synthetic leather ear pads. Since they effectively block out outside noise, there's less opportunity for auditory masking to degrade sound quality. This is also good for gamers, who don't want to be disturbed by their surroundings.
Editor's note: the following section was written with Bluetooth on and Super X-Fi activated.
Lizzo's vocals begin three seconds into the song Better In Color. The ~1kHz bump emphasizes the metallic clanging we hear throughout the song while Lizzo's voice remains clear. At 0:55, a bass line underscores the refrain, "color." Its subtle presence is easier to hear thanks to the minimal bass bump.
This neutral response means that any genre of music will sound accurate through the SXFI Air. Plus, if you want to equalize your music by way of Creative's app, more flexibility is granted than with a pair of headphones that grossly exaggerates its low-end response.
How does the NanoBoom mic work?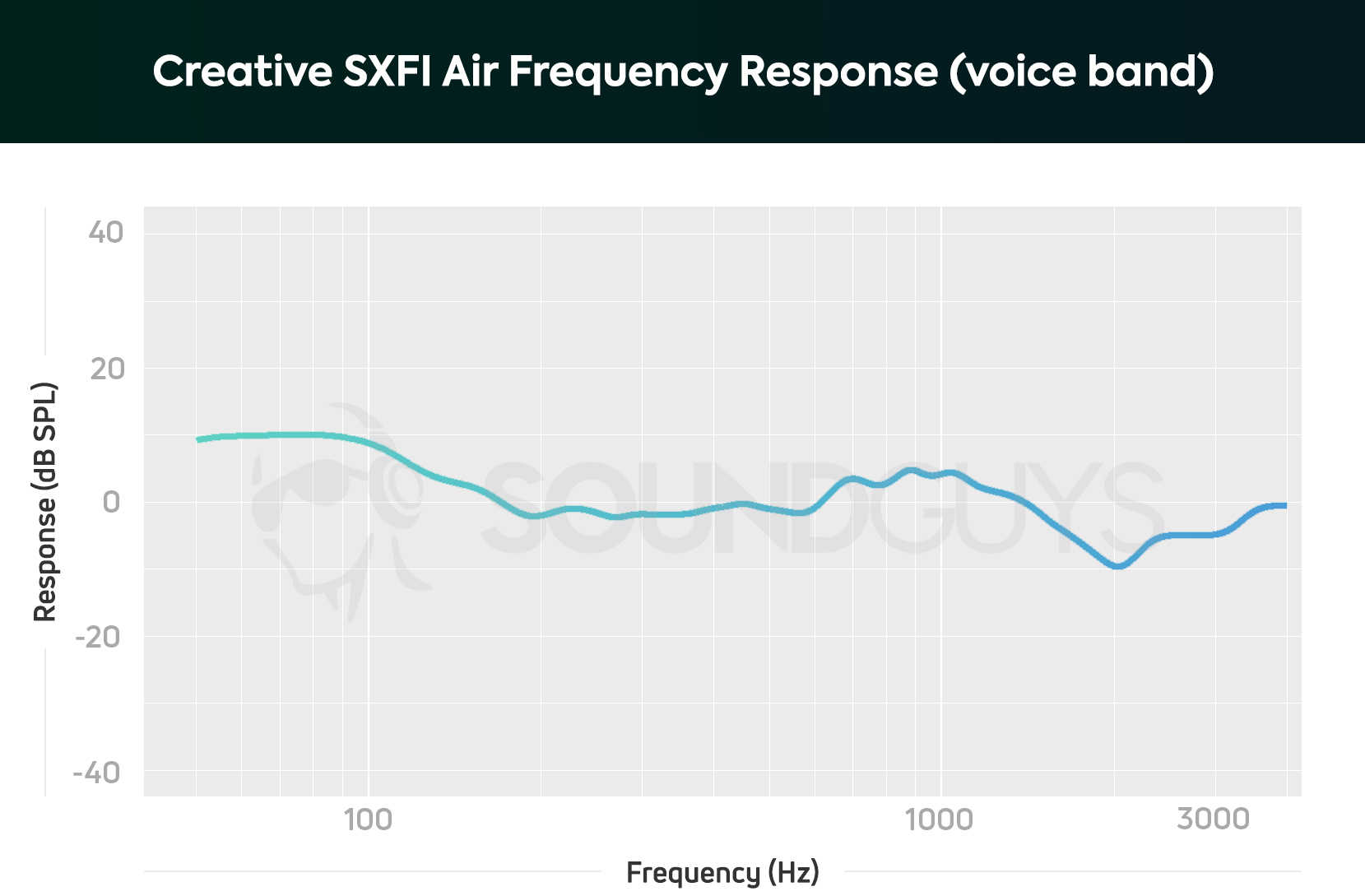 The NanoBoom mic significantly boosts low voices, which give higher pitched voices and echo effect.
The removable NanoBoom microphone reduces some background noise, but not as much as I was expecting. I took these to a cafe, and whirring machinery and voluble high schoolers' voices were registered by the unidirectional mic.
Creative SXFI Air microphone demo:
When it comes to transmitting voices, the microphone does a great job. Be aware: low voices sound twice as loud as middle-range voices. This gives my voice which, at its lowest, hits 160Hz, a very slight echo effect. Generally speaking, the amplification relays voices well, particularly in controlled environments.
Related: How to read charts
Should you buy the Creative SXFI Air?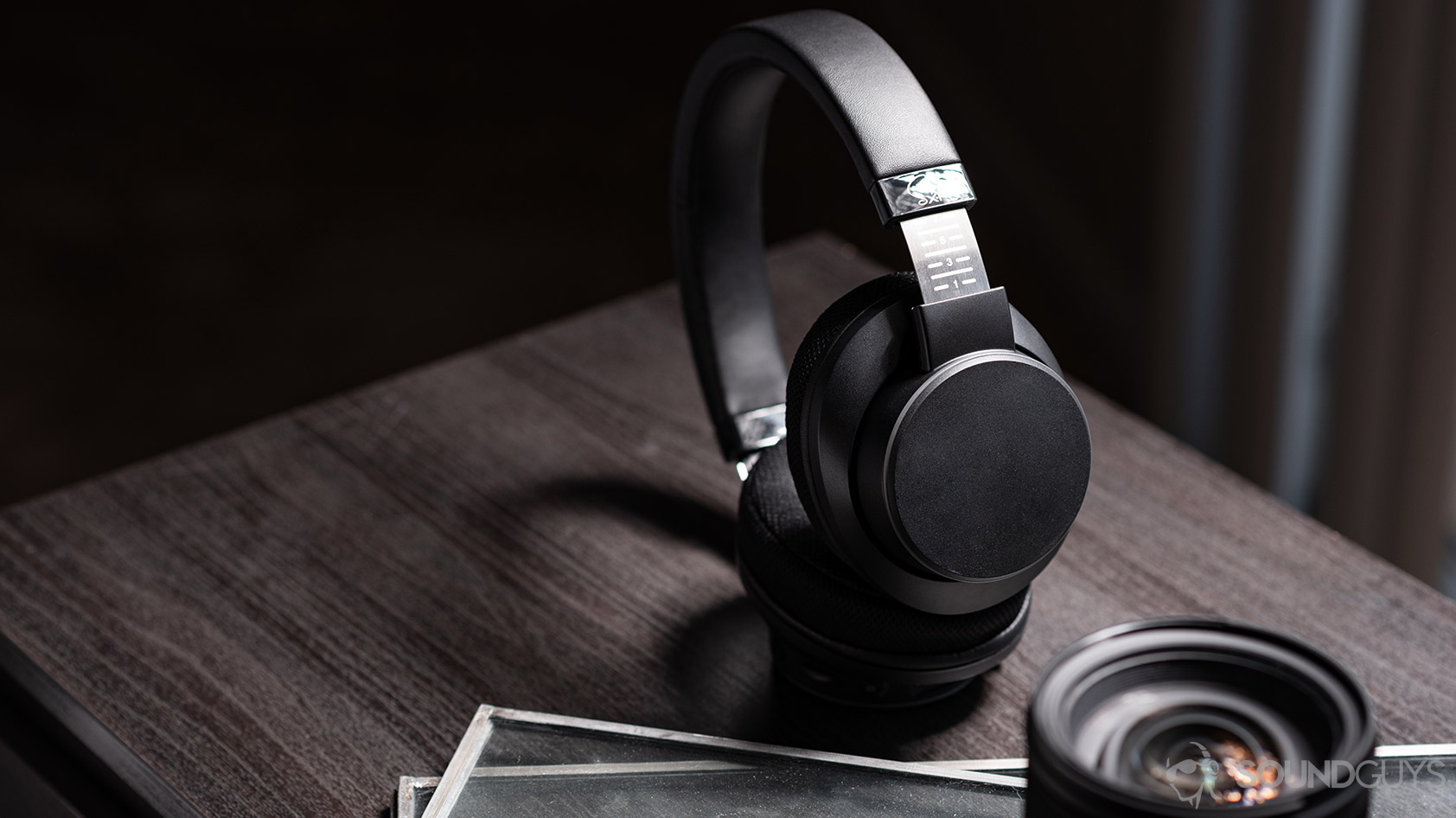 The Creative SXFI Air is a great headset. While aptX support would be nice, the array of connection options is great.
If you're a gamer who wants an affordable headset that can be brought out publicly without screaming, "I'm a gamer," yes. The microphone is excellent, as is sound quality. While Super X-Fi listening isn't the best for podcasts, it makes gaming and cinema noticeably more immersive. I do wish the headphones folded, but it's a small sacrifice to make for these otherwise excellent $160 headphones.
You may like: Best gaming headsets