All products featured are independently chosen by us. However, SoundGuys may receive a commission on orders placed through its retail links. See our ethics statement.
The bottom line
The Creative Outlier Air is the pair of true wireless earbuds to get if you're unsure about the technology. Connectivity is reliable and sound quality, while not the clearest, is fun. Battery life is the best of any we've tested for true wireless earbuds and comfort means you can actually wear them for the full seven-plus hours.
Creative Outlier Air
The Creative Outlier Air is the pair of true wireless earbuds to get if you're unsure about the technology. Connectivity is reliable and sound quality, while not the clearest, is fun. Battery life is the best of any we've tested for true wireless earbuds and comfort means you can actually wear them for the full seven-plus hours.
What we like
AAC and aptX support<br>
IPX5 water resistance<br>
Audio and microphone quality<br>
Superb battery life<br>
USB-C charging<br>
What we don't like
Slippery charging case<br>
Buttons require a bit of force<br>
Poor isolation<br>
Rating Metric
Sound Quality
7.9
Isolation / Attenuation
3.6
Durability / Build Quality
8.3
Value
8.8
Design
7.8
Microphone
8.2
Portability
9.0
Battery Life
6.9
Comfort
8.4
With the rapid rise of true wireless earbuds, you've likely considered cutting the cord altogether. After all, this is as convenient as on-the-go listening gest. While the market is well saturated with fine products, the Creative Outlier Air stands out from the rest on the high-value, low-cost nature of the earbuds.
Editor's note: this Creative Outlier Air review was updated on January 17, 2021, to include a microphone poll, expand the list of buying options, and add a contents menu.
Who is the Creative Outlier Air for?
Anyone can buy and enjoy the Creative Outlier Air is for battery life is excellent and the fit is very comfortable. If you want some of the best true wireless earbuds for a reasonable price, the Creative Outlier Air is for you.
Athletes can take advantage of the earbuds' IPX5 build, which can endure most workouts and unpredicted downpours alike.
What's it like to use the Creative Outlier Air?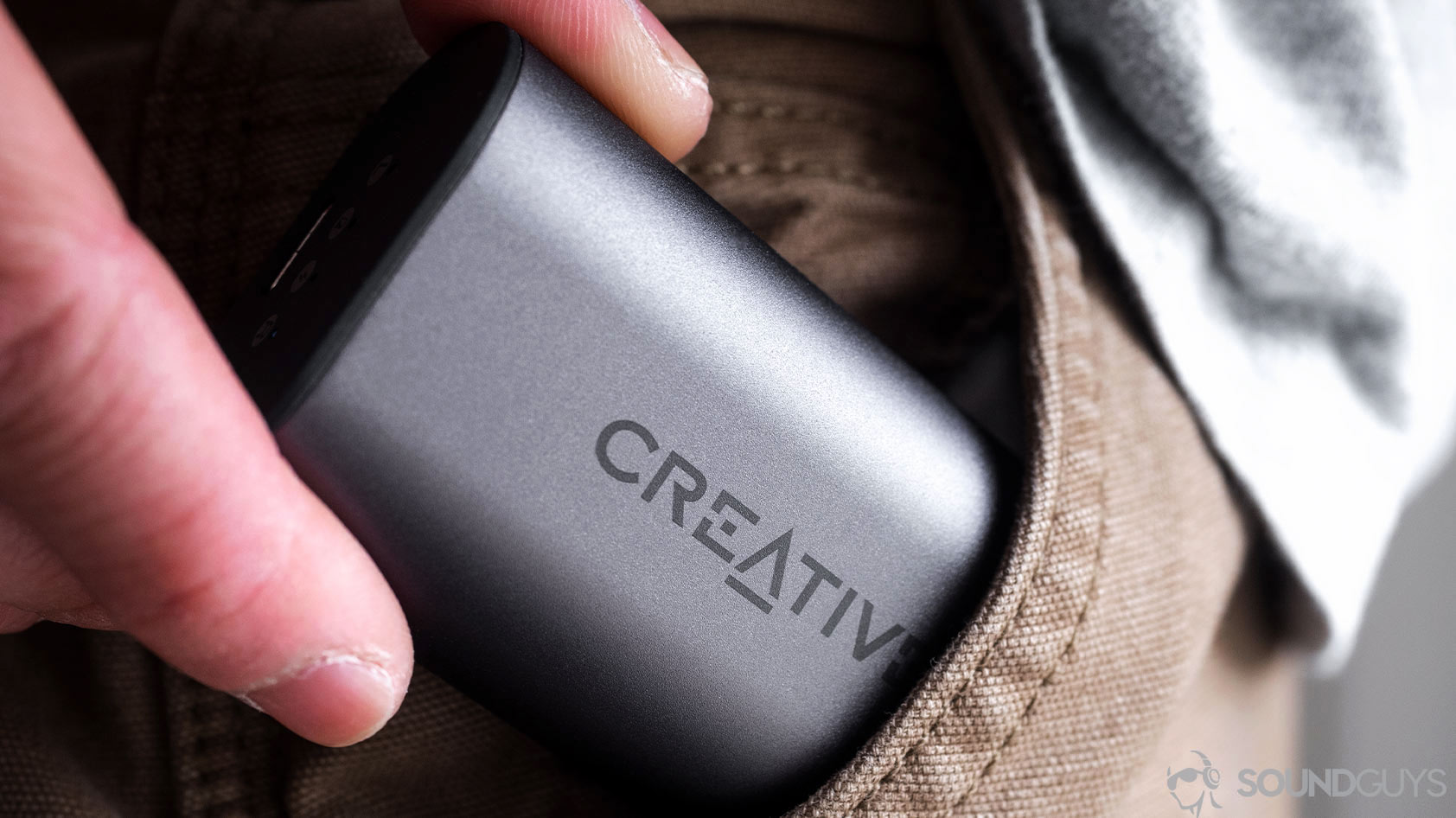 The pocketable charging case is sleek but slippery.
The Creative Outlier Air earbuds and charging case are lightweight and compact, making it easy to transport them in a purse or pocket. Pushing the inner portion of the charging case out reveals the earbuds, which are magnetically attached to the charging pins. I was doubtful about the fit since the housings are slippery, but my doubts were quickly quelled after wearing them for an hour. Each earbud houses what Creative describes as a 5.6mm graphene driver. However, this isn't graphene through-and-through; rather it's either a sort of coating laid atop the driver itself.
If you're navigating a high-trafficked area or exercising outdoors, simply engage mono listing by placing one earbud back in the case. This way, you can stay safe while still enjoying your music while working out or just walking about. If you do choose to exercise with the IPX5 water-resistant Creative Outlier Air, be sure to let the earbuds dry off completely before placing them back in the charging case.
The secure fit and IPX5 rating make these a great all-purpose option that can double as workout earbuds.
One of the earbuds' few drawbacks is the amount of force required to press the on-board control buttons. Sure, it's great that you're afforded call, track skipping, and volume controls all from the earbuds, but it's odd how much effort it took to answer a call or access Google Assistant. This may very well loosen over time, though.
The earbuds have a long battery life
Upon testing, we were able to squeeze a whopping 7.78 hours of playback from the 60mAh batteries found in the Creative Outlier Air earbuds. Although this is less than Creative's boasted 10-hour standalone battery life, it still outperforms most other true wireless earbuds we've tested. The 380mAh charging case provides an additional two charge cycles, carrying you through nearly a full day of listening. Charging takes up to two hours, and the same applies to the USB-C charging case. If you like the build and style of the Outlier Air but wish they had a bit more juice per charge, the Creative Outlier Gold earbuds are a great alternative. For just $20 more, you get 10.3 hours of playtime before the earbuds run out of juice.
Do the Outlier Air stay connected?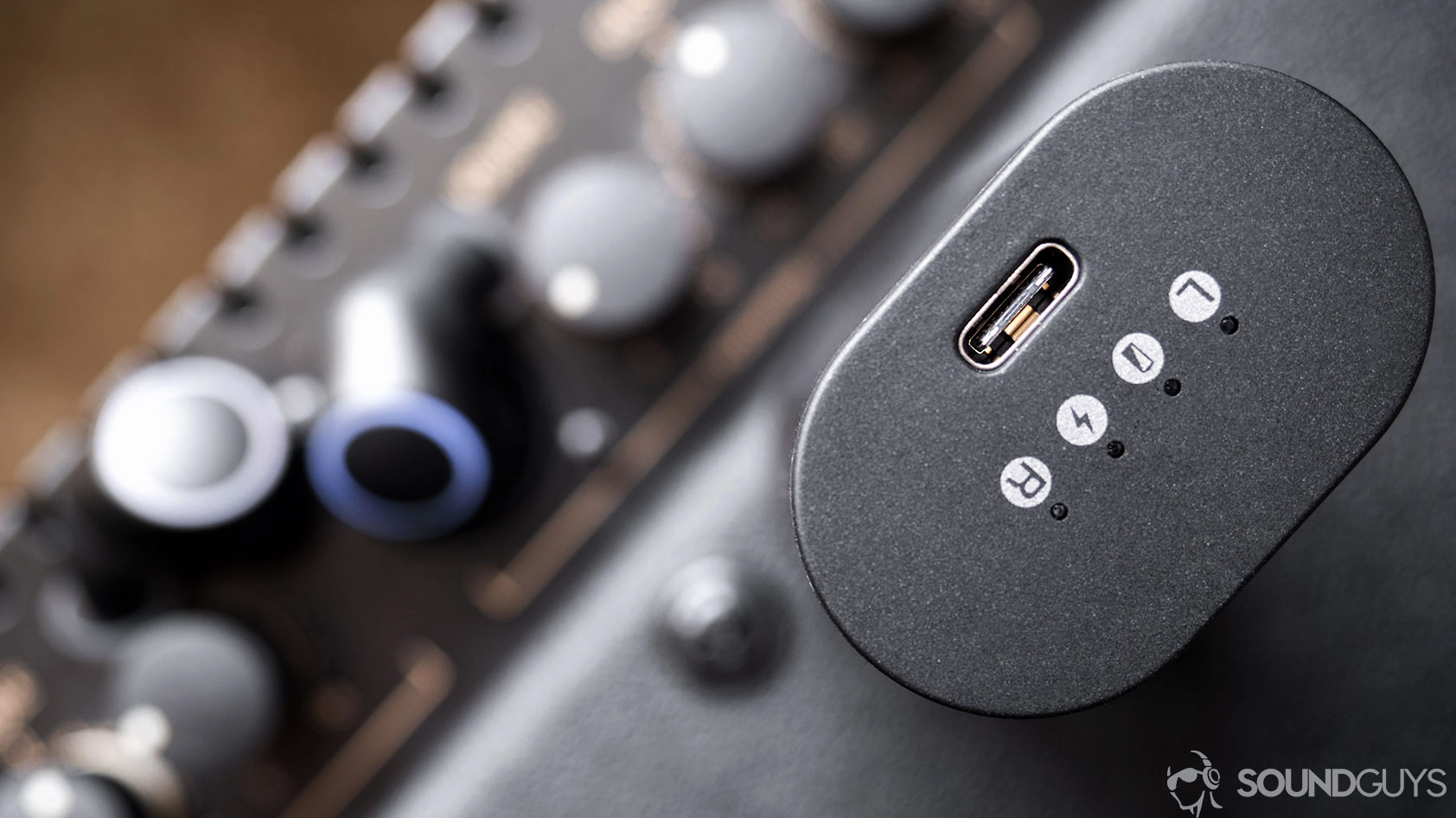 The USB-C charging case provides an additional two charges.
The Bluetooth 5.0 earbuds have a 10-meter wireless range and stayed connected through two layers of walls during testing. What's more, the earbuds support both aptX and AAC high-quality codecs. Not only does this reduce latency on both iOS and Android devices but it affords improved audio quality over the standard SBC codec.
Both aptX and AAC high-quality codecs are supported, which reduces latency on iOS and Android devices.
Editor's note: some users have run into connection strength issues. After discarding the results from the review unit and replacing them with the results from a separately-purchased pair, we were unable to recreate the issues many people were having. We've also reached out to those more in the know, and the issues some have experienced seem to be limited to some early units. We would not recommend a product if it continued to display these issues.
How to pair the Creative Outlier Air
Initial pairing for every Bluetooth headset is different; for these, just remove both earbuds simultaneously and one of the circular indicators will alternate between red and blue, indicating pairing mode. Your phone's menu will register two options: Creative Outlier L and Creative Outlier R, choose the one with the blinking LED. This is now the main unit, while the other is secondary.
How to reassign a primary unit
To reassign which is the main unit, place the desired secondary unit into the case. Doing so automatically designates the active earpiece as the main unit and requires up to 10 seconds to take effect.
How do the Creative Outlier Air sound?
These sound like a fun pair of earbuds that put bass before clarity. Bass frequencies are louder than midrange frequencies, and the emphasized treble response aids in reproducing a clearer sound.
While the bass response may be overpowering at times, the reproduction of three-dimensional space is quite impressive. Instrumental separation is easy to hear which may not be surprising seeing as it's the same company that brought us the Super X-Fi amplifier.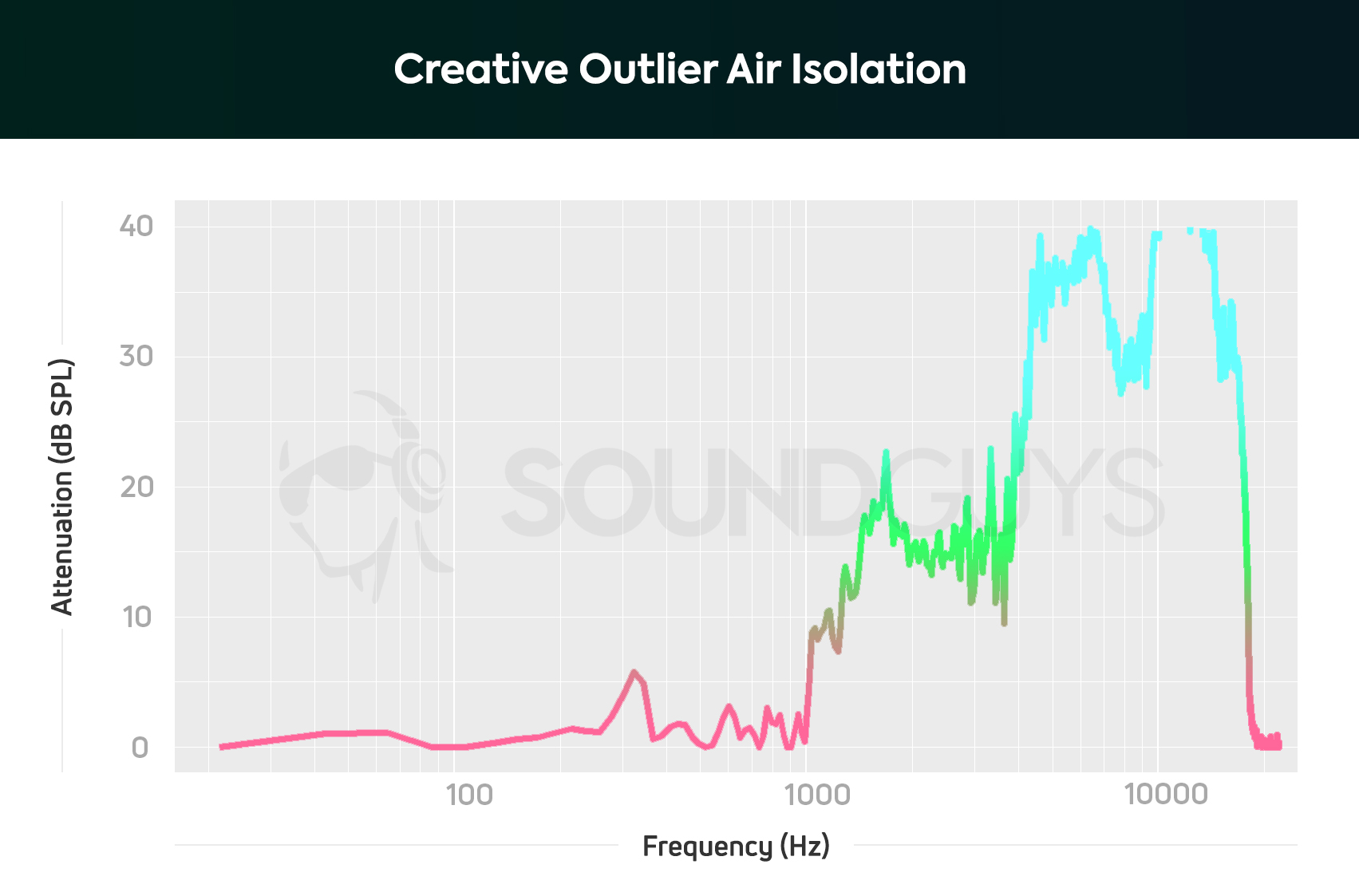 The Creative Outlier Air don't isolate low frequencies very well, making third-party ear tips a smart add-on.
Media playback becomes significantly less clear when in a noisy environment. I took these out to my local coffee shop and could hear nearly everything around me. Increasing the volume counteracted this a bit, but doing so isn't always the safest choice. Seeing as these are relatively affordable true wireless earbuds, it's worth picking up a pair of third-party ear tips to improve isolation.
Lows, mids, and highs
The song Man On Fire by Edward Sharpe & The Magnetic Zeros is a great example of how well the Creative Outlier Air recreates a realistic sense of sound. At 0:29, the guitarist walks down the fretboard playing individually plucked notes as lead singer Alex Ebert vocalizes a melodic "oh." The light drum and tambourine hits are distinguishable from one another and you experience a sense of spatial awareness that isn't replicated as well by true wireless competitors.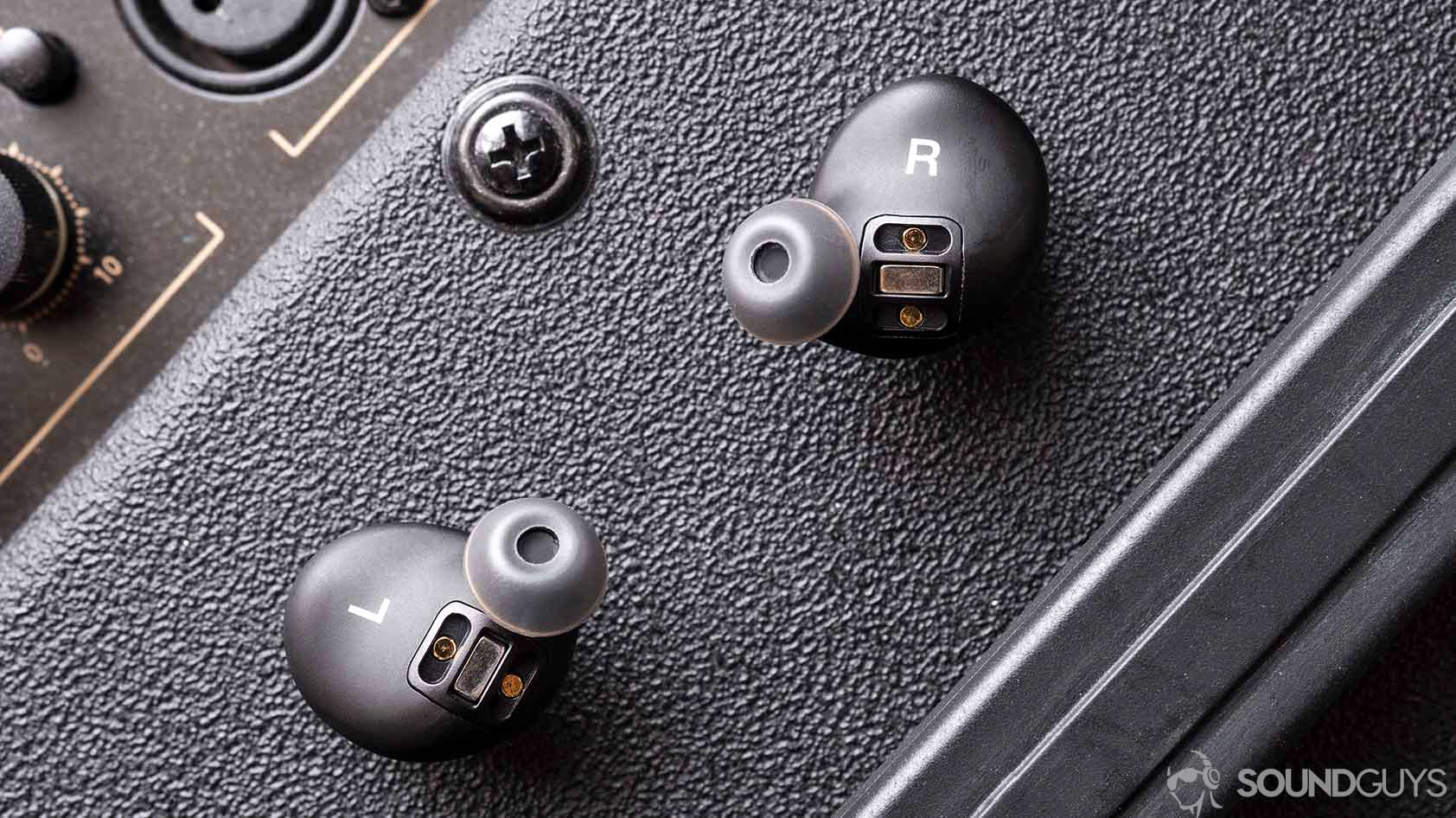 Bass frequencies are the star and often overpower vocals.
Bass frequencies are the star and often overpower vocals.
There are some drawbacks to the Creative Outlier Air's sound signature: at 3:16 a triangle hit comes through clearly, but vocal "Ohs" are underemphasized and muffled by the overpowering kick drum strikes. Remember when I mentioned that certain midrange frequencies will sound half as loud as bass notes? Case in point: Jade Castrinos' echoing vocals at 3:26.
Is the Creative Outlier Air good for phone calls?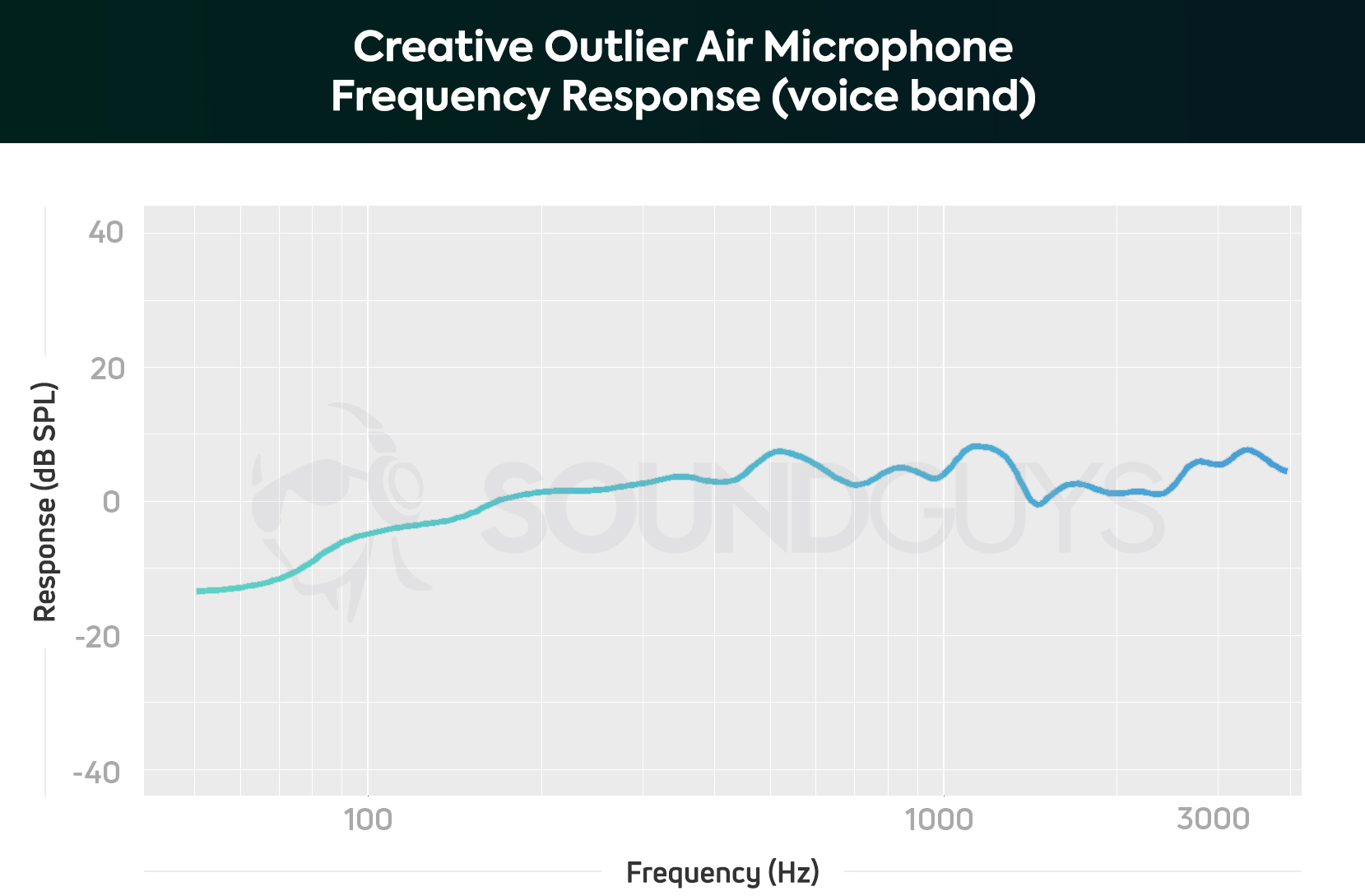 The Creative Outlier Air microphone is deficient when relaying very low voices but effectively lessens external noise.
Absolutely. Unlike many true wireless earbuds, the Creative Outlier Air relays call audio through both the left and right channels. Additionally, each earbud is outfitted with an integrated microphone, which works well enough to relay the human voice. It's not as good as something like the AirPods (2019) or even the Samsung Galaxy Buds, but it does the trick.
Not how the chart above depicts notes below 160Hz as quieter than higher ones. This means if you have a low register, most males, you won't sound quite as clear as someone with a higher-pitched voice. For reference, 160Hz is the lowest end of my voice's fundamental frequency range.
Creative Outlier Air microphone demo:
How does the microphone sound to you?
504 votes
The example above was recorded while an industrial fan and dehumidifier were running in my apartment just ten meters from me. Even though the machines are slightly audible in the recording, they're significantly quieted by the microphones. Safe to say the Creative Outlier Air's ability to attenuate such loud, low-frequency noises is impressive.
Should you buy the Creative Outlier Air?
The Creative Outlier Air was a great bargain when it was released, and it's still a good pair of true wireless earbuds. However, you may want to turn you attention to more modern alternatives for the price.
You can choose which earbud is the primary and which is the secondary, or forgo stereo listening altogether by enabling mono mode.
If you enjoy just about everything the Creative Outlier Air has to offer but wish they had just a bit more battery life per charge, the Creative Outlier Gold is a smart alternative. These earbuds integrate Creative's Super X-Fi technology for realistic reproduction of 3D space, but its usage is limited to local audio files and must be streamed via the SXFI app. You get the same sound signature as with the Creative Outlier Air, which is great for most consumers.
Read up on our list of the best true wireless earbuds
How does the Outlier Air compare to other cheap true wireless earbuds?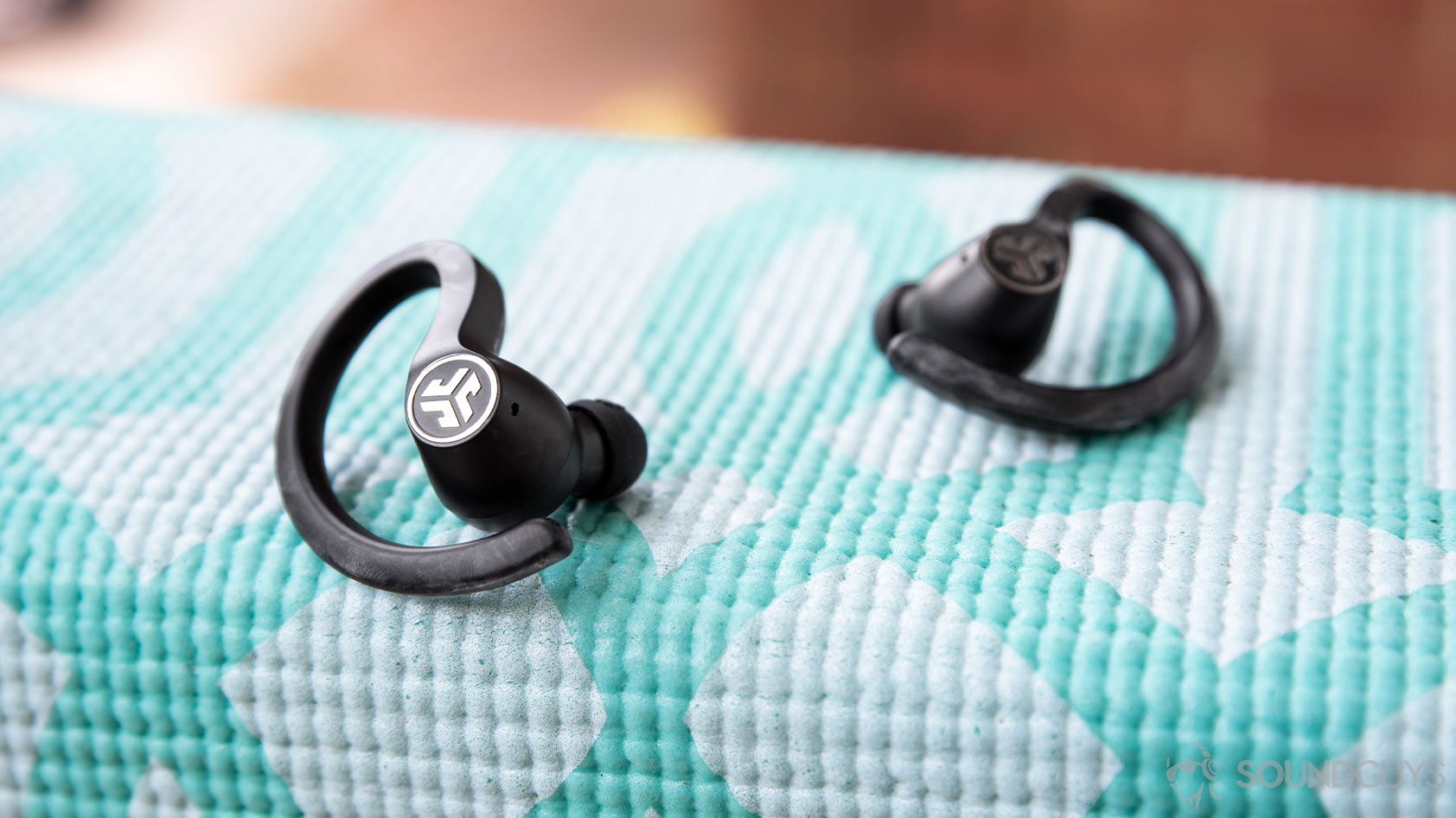 The ear hook design is great for athletics.
It outperforms other true wireless earbuds under $100, so much so that it's reigned champion among the competition since its release. That's a general measurement of the earbuds, though; if you want something more specialized, say exclusively to keep you motivated during a workout, then the JLab JBuds Air Sport may be a better pick. These are $69, feature an IP66 rating meaning rock climbers can use them without worrying about chalk damaging the internals, and they have safety features like Be Aware mode, which allows ambient noise in. You're sacrificing aptX support with the JLab JBuds Air Sport, but the earbuds support AAC, so iPhone users can still enjoy reliable high-quality streaming. If you like the idea of the JLab JBuds Air Sport but want to remain earhook free, the new JLab JBuds Air Icon 'buds are a comparably priced alternative.
If you want something that's more of an AirPods alternative in terms of aesthetics, we're fans of the Anker Soundcore Liberty Air 2. There's no aptX support but connection strength is reliable thanks to the Bluetooth 5.0 firmware. What's more, the sound signature features a more modest bass response, making them more versatile across varying music genres. Another great, albeit more expensive option, is the Jabra Elite Active 75t or standard Jabra Elite 75t, both have great microphone quality, battery life, and a comfortable fit for all-day wear.
Frequently asked questions about
There is no way to completely disable the ring lights, but they're off when media is playing.