All products featured are independently chosen by us. However, SoundGuys may receive a commission on orders placed through its retail links. See our ethics statement.
The bottom line
As an entry-level Beats product, the Beats EP is a good option. However, as a pair of on-ears, there are better options out there for sure.
Beats EP
As an entry-level Beats product, the Beats EP is a good option. However, as a pair of on-ears, there are better options out there for sure.
What we like
Price<br>
Minimal design<br>
Not as bass heavy as other Beats products<br>
Playback controls work nicely (on iOS)<br>
What we don't like
Still clearly skewed towards emphasizing the low end<br>
Build quality is questionable<br>
3.5mm cable is not removable<br>
Can not skip between tracks on Android<br>
No folding hinges or swiveling ear cups<br>
Uncomfortable headband<br>
Rating Metric
Sound Quality
7.1
Bass
8.0
Midrange
7.5
Highs
6.5
Durability / Build Quality
6.5
Value
7.0
Design
8.5
Microphone
8.0
Portability
7.0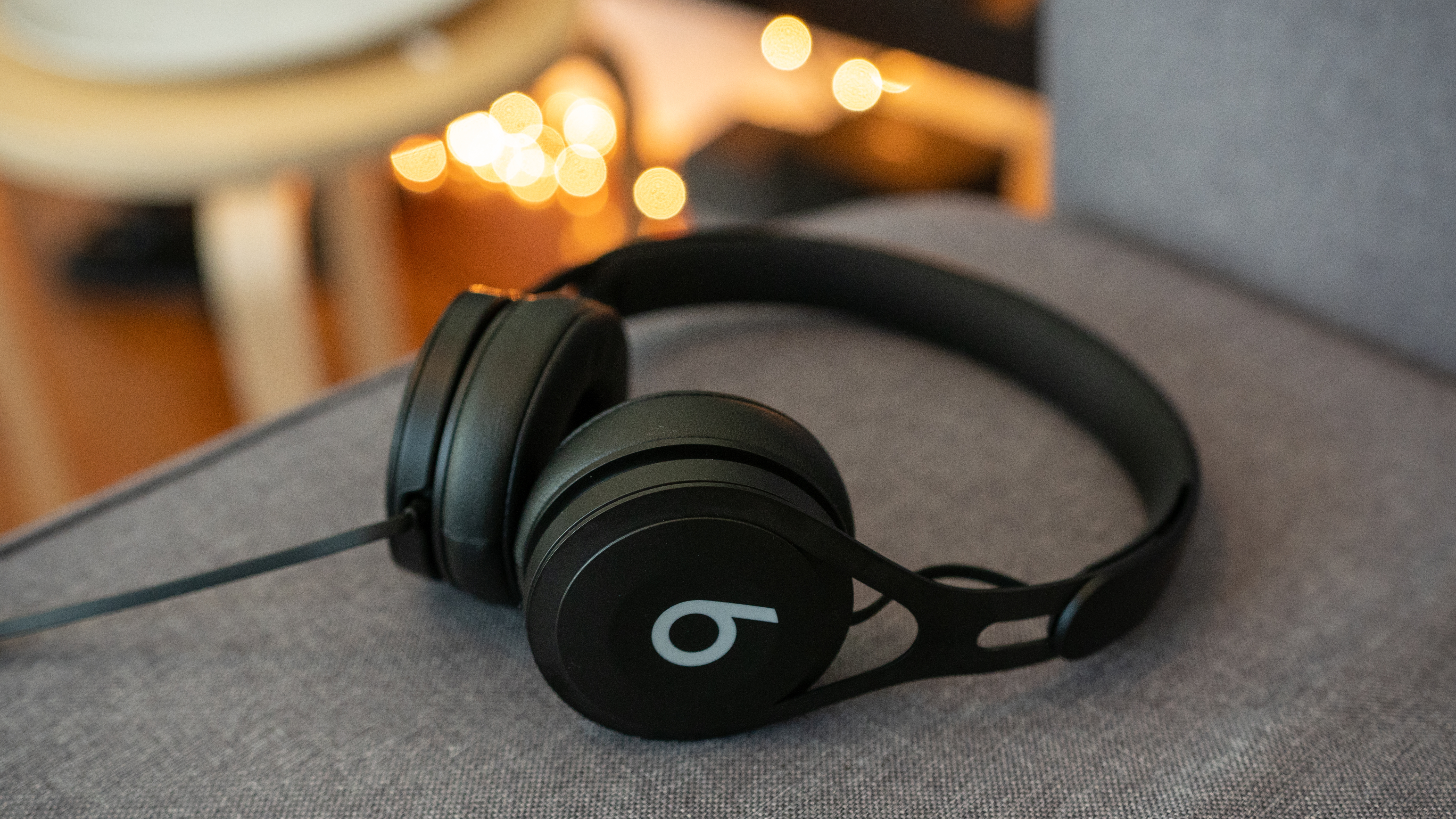 The Beats EP are a lightweight pair of on-ears with a plastic build and metal frame.
Beats is one of the most popular audio brands—maybe ever—but they're far from perfect. One of the biggest complaints with the brand is its pricing. People might have overlooked their characteristic bass-heavy sound signature if they weren't priced the same as some premium models, but that isn't the case with the Beats EP. Surprisingly, these headphones are decently priced at only around $79 at the time of writing. So are they worth it?
Related: Best Beats headphones
Who are the Beats EP for?
Anyone who just wants to wear that sweet "b" logo. If you're not looking to spend a ton, but still just have a thing for Beats, these are one of the easiest ways to get a pair on your head.
As a gift. The sub-$100 price point of the Beats EP makes these a great gift to give to someone who maybe just isn't as into audio as you are. Though you'd probably find better sound on this list of best under $50, none of those options have the Beats branding.
How are the Beats EP built?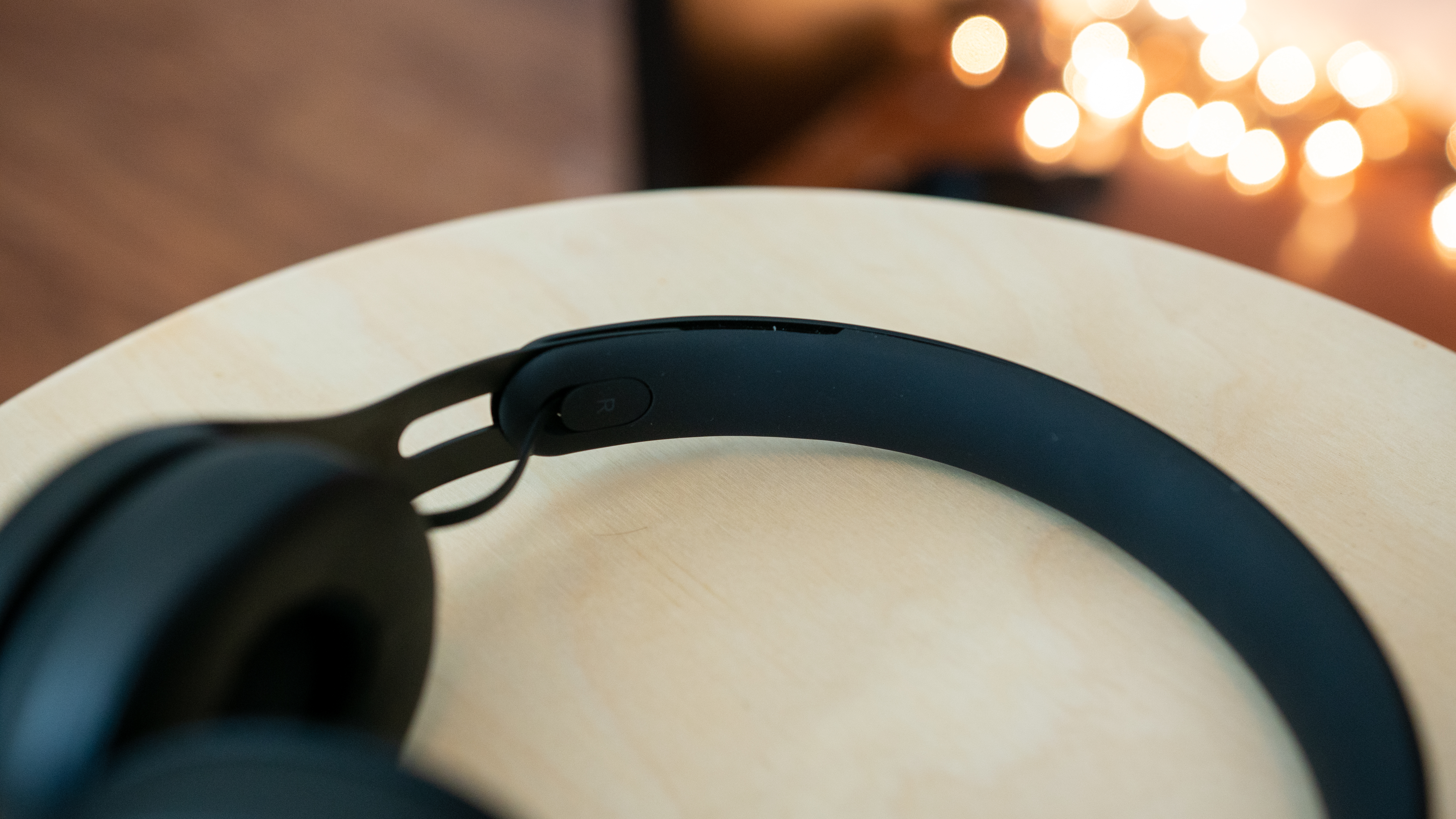 The headband uses the same rubberized plastic found on some other Beats models.
The Beats EP give you a good first impression out of the box, with a credible build quality. The headband and ear cups seem to be made of the same plastic found on their more expensive products, and the same is true with the rubberized padding on the bottom of the headband. The ear cups are even attached via sliding metal plates which, when paired together with the decently plush padding, gives you a boost of confidence. Unfortunately, that positive first impression doesn't last long. The audio cable seems frail and cheap without a sturdy attachment point, and worst of all: it isn't removable. So if it breaks, you're going to end up buying a new pair of headphones.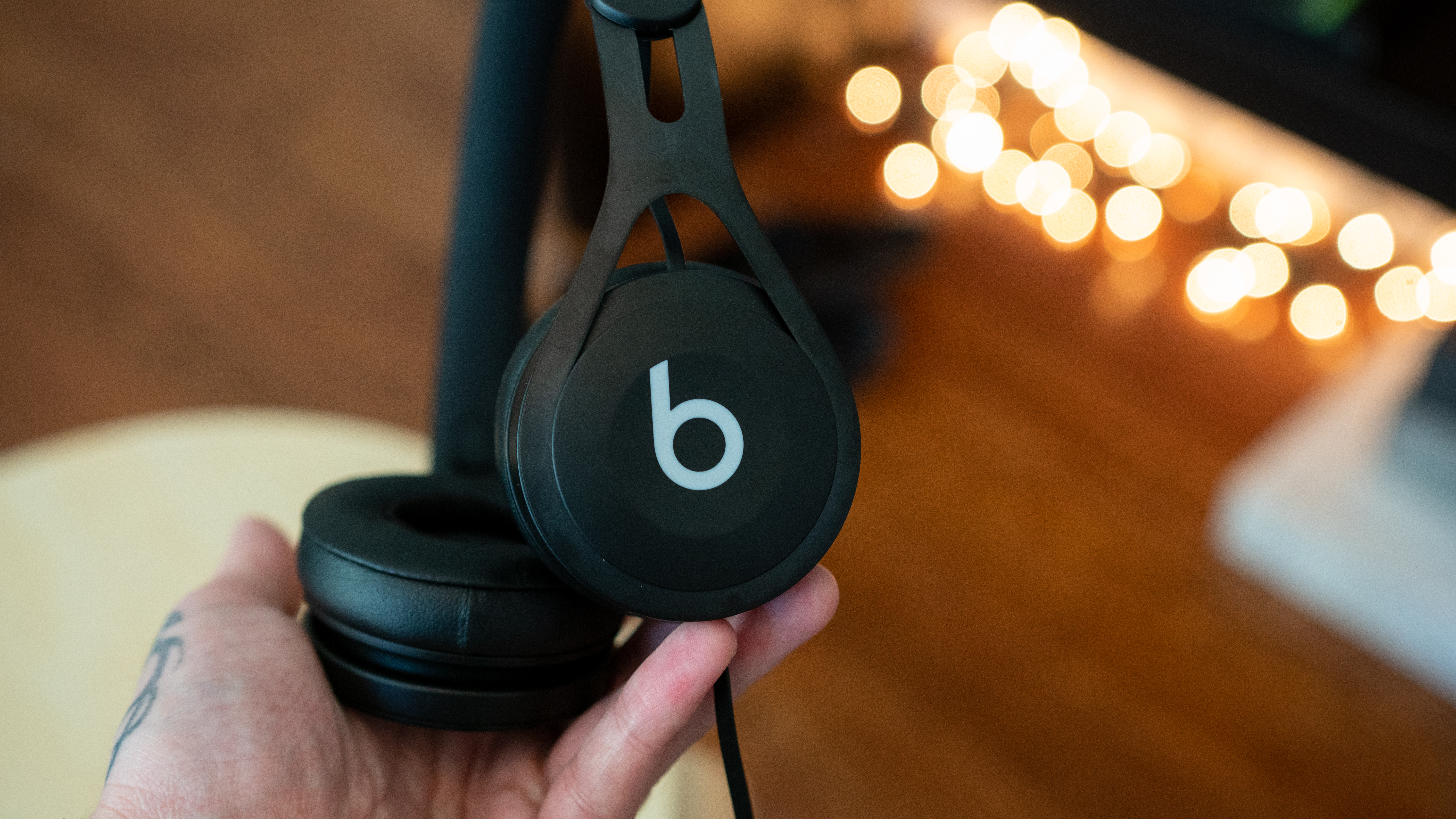 On the bright side, these headphones have fairly minimal branding with just a "b" on the ear cups and the word "Beats" on the headband.
Furthermore, the headphones don't have hinges for folding (or even swiveling.) What you see is exactly what you get: a stiff pair of hard plastic headphones. Wearing them is also immediately uncomfortable at the crown of the head. Within a few minutes, the pressure at the top of my head was enough to force me to take them off, and that was after adjusting the headband. On the other hand, the fit on the ears is actually pretty nice considering they are on-ear headphones, but I've never been a fan of the rubberized plastic that Beats considers padding. It all too frequently pulls on my hairs and, because it's so easily compressed, you can almost feel the plastic on the crown of your head. The padding on the ear cups isn't amazing by any means, but if they had just lined the headband with that same cheap puffy stuff I'm sure I would've had a much more comfortable experience.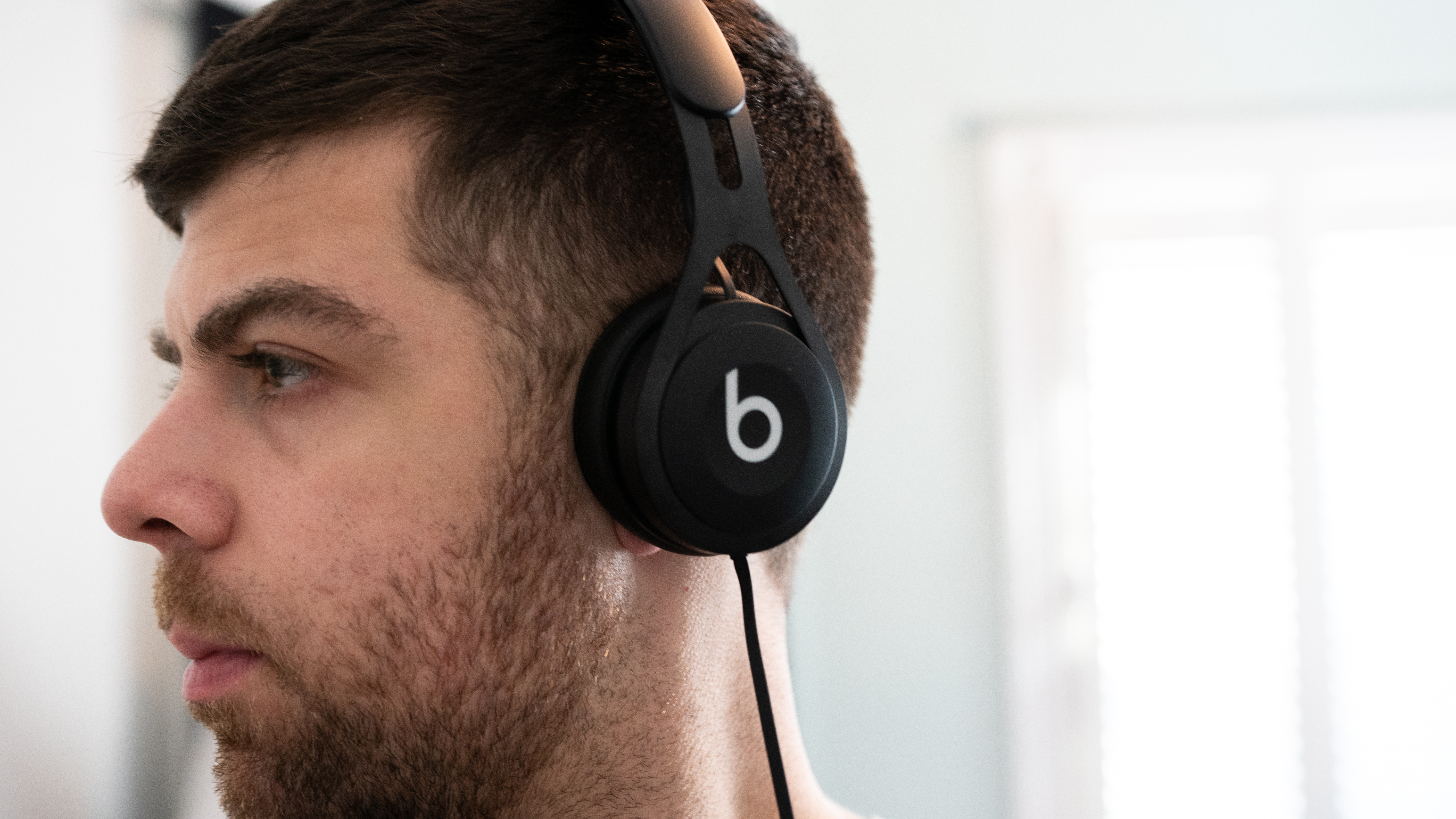 The Beats EP on-ears are one of the cheapest ways to get a Beats logo on your head.
Then there's the overall flexibility of the Beats EP which, as I said, aren't. They're pretty stiff, and I don't see them lasting too long in an everyday backpack. I feel like forgetting that they're at the bottom of your pack and throwing a few textbooks or a laptop on top of them might be the end of them. To be fair, I don't see the spontaneously falling apart though so if you take decent care of them and maybe invest in a hardshell carrying case I can see them lasting a while. The problem is that the use case for on-ear headphones is usually for commuting or if you're at the gym, both of which seem like activities where a large carrying case defeats the purpose of getting a small, portable pair of on-ears.
The Beats EP on-ears don't fold at the hinges or even swivel, so packing them in a bag probably isn't the best idea for longevity.
While we're talking about the gym, I wouldn't recommend using these even though most Beats products seem at home at the gym. Besides the dubious build quality, the Beats EP is also lacking any kind of IP rating to protect against sweat or water damage and to top it all off they're wired. If you want something more suited to the gym, you might be more interested in something like the Plantronics Backbeat Fit 500 on-ears.
What about connectivity? Are the Beats EP Bluetooth?
As I've mentioned already, these aren't wireless—which means you have a 3.5mm connector to plug into basically anything (except some smartphones without a stupid dongle). On the cable is a small control module with a mic and three buttons that let you control volume, pause or play music, access your phone assistant, and give you the ability to skip between songs if you're on an iOS device. On Android, you won't be able to skip between songs, unfortunately.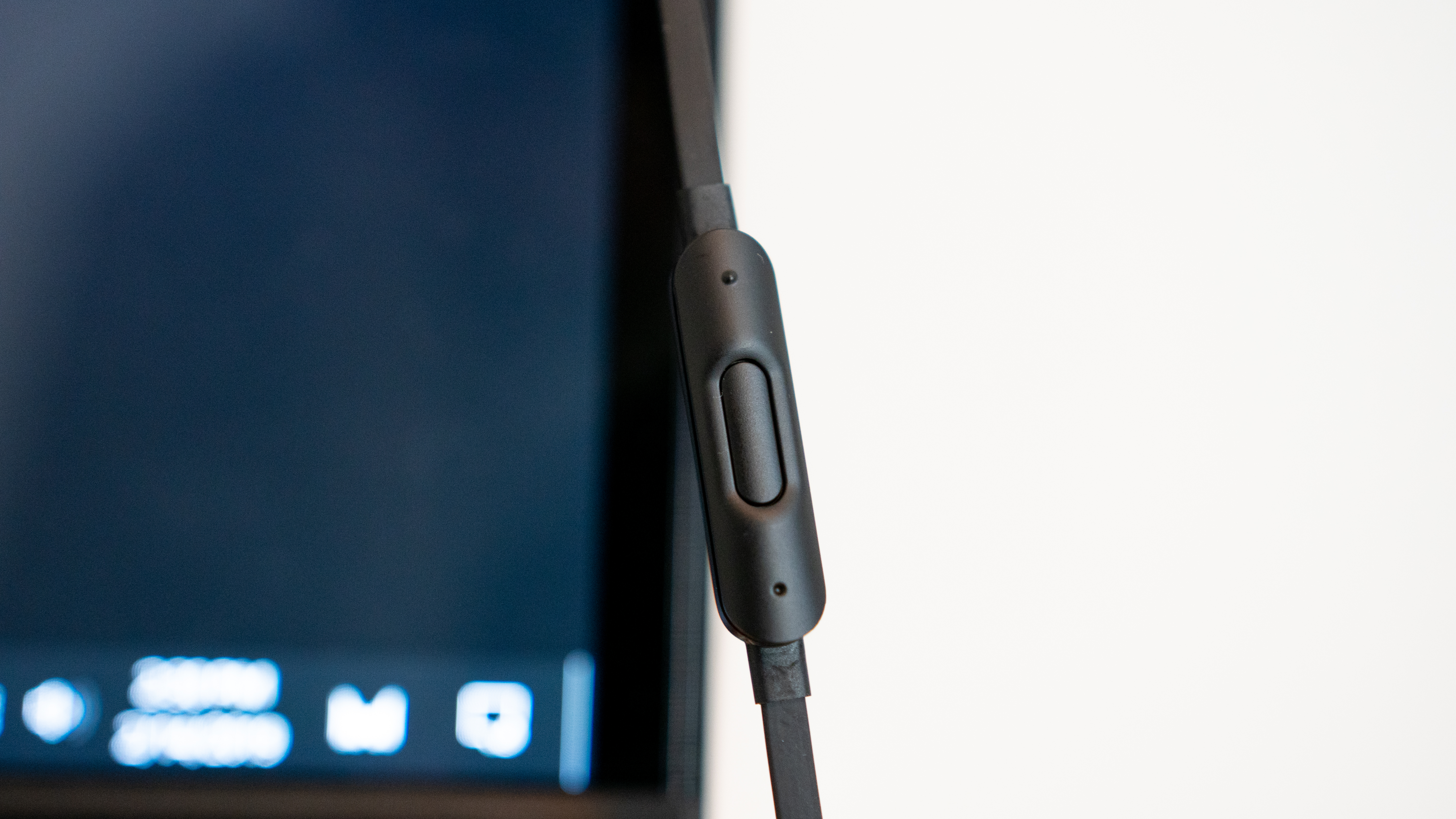 The control module works perfectly on iOS, but Android users won't be able to skip between tracks.
That point aside, I really like the feel of the control module. The buttons are perfectly spaced apart and have a near perfect feedback-click. I was never left wondering whether or not my controls registered which was nice.
How do the Beats EP sound?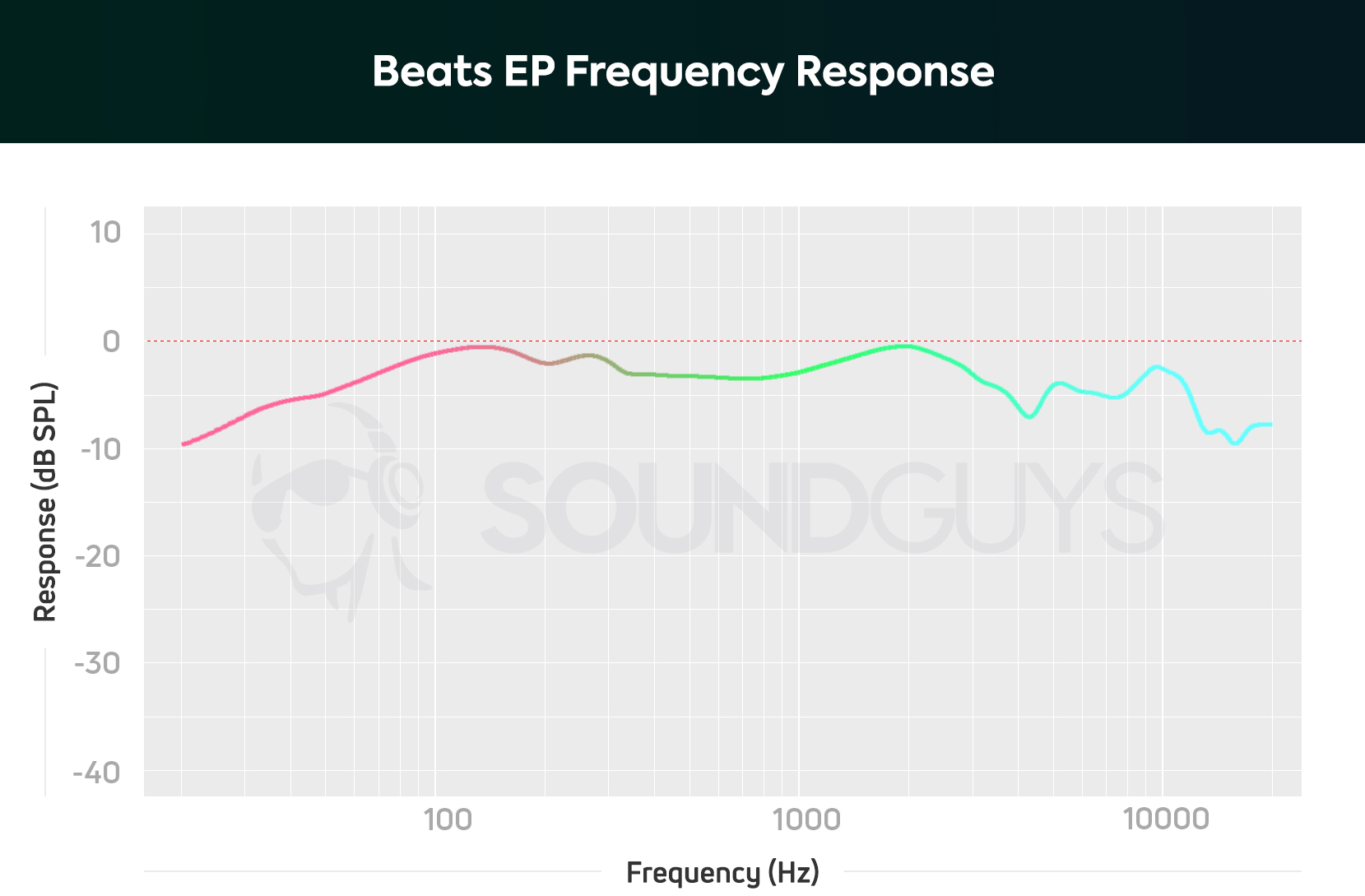 The Beats EP aren't as exaggerated as some other Beats products, but they still put a heavy emphasis on lower notes.
It may seem like I've been having the Beats EP, mainly because I have been. Still, the one reason you still might want to consider picking these up is because of their sound quality. Yeah, I know that was weird for me to even write, but hear me out. I'm not going to say these are the best, most accurate pair of headphones under $100 because we all know that's a lie (and that title probably belongs to something like the Sony MDR-7506), but these are surprisingly decent for Beats headphones.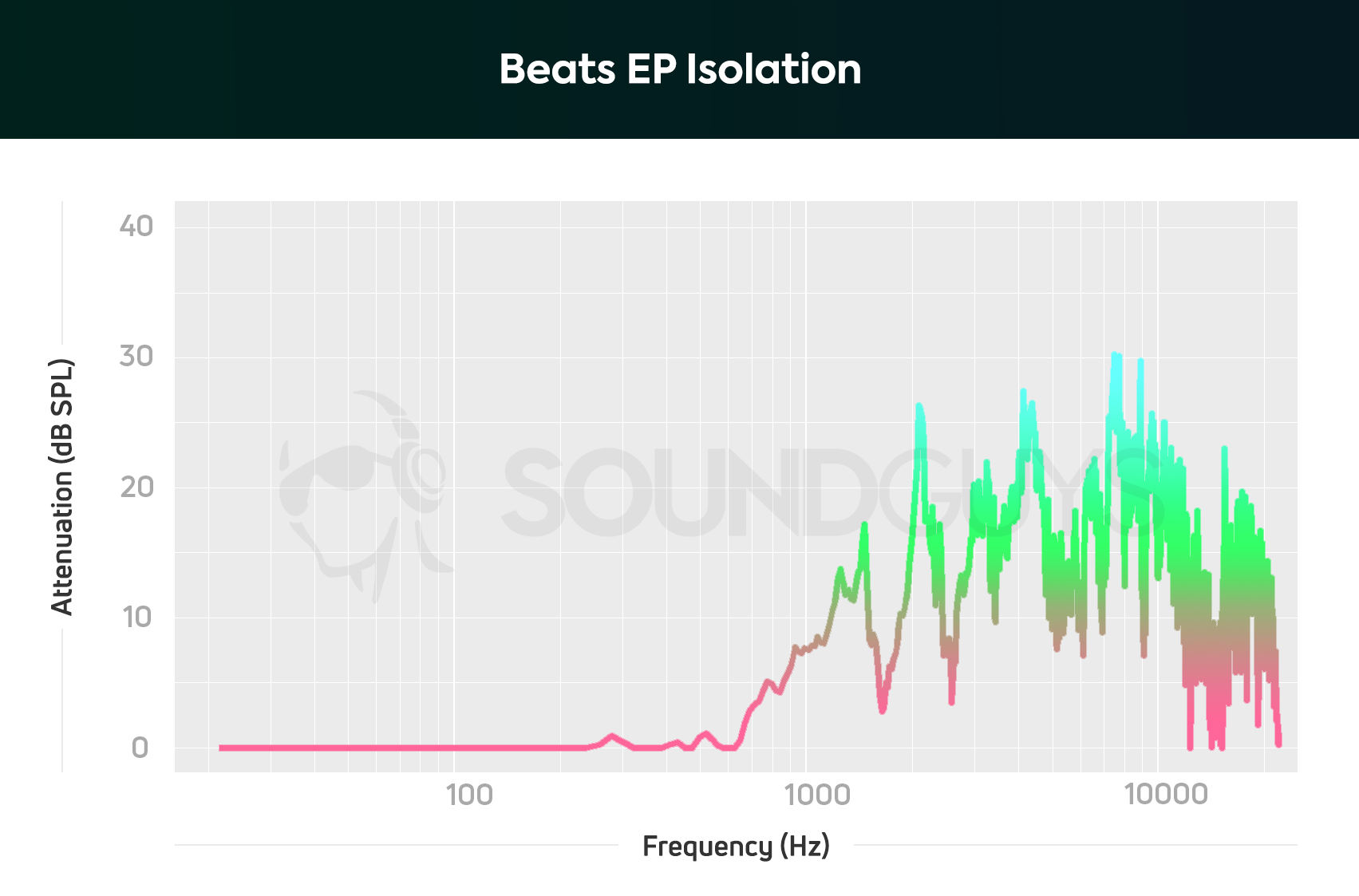 The Beats EP do an acceptable job at blocking higher frequency noise (green), but all of the problematic low-end comes right through.
Though they're very convenient to use on the street, on-ears like the Beats EP are poorly-suited to block out the outside world without a little noise-canceling help. Because the Beats EP don't do that, sound quality takes a massive hit in the presence of outside noise, though that's true of any headphones with the same form factor and features. On-ear headphones are enormously difficult to fit perfectly because they don't seal the entire ear at any point, and that can have dramatic consequences for your music.
The low end isn't greatly exaggerated like you'll find on something like the Solo3, but they're still definitely given some extra love and attention. They make the thumping 8-bit bassline of Spirit of Hospitality off the Celeste soundtrack really pop, which is something you really notice while playing the game. Of course, that's a minimal track with no vocals. These don't fare so well when it comes to vocals. Even with the slight bump they have at around 11kHz, things sound somewhat muffled.
You can hear this in the song Stayin' Alive by the Bee Gees, where vocals get overrun by the bassline and the thumping bass kick that should be more in the background than they are. It's also a great example of how deemphasizes the high end. Cymbals and hi-hats throughout disappear almost immediately and have very little airy reverb after they're struck. This helps keep them from becoming harsh when on max volume, but it also means they're lacking in clarity.
Final thoughts
The Beats EP is a good, decently-priced pair of Beats headphones. While there are plenty of better options to choose from if you want durability, sound quality, or wireless connectivity, the Beats EP might be the best bang for your buck as far as Beats products go.
But it can't be overstated that Apple's Beats EP are a pretty mediocre pair of headphones in general. It's not exactly a secret that Beats headphones have been maligned for years by audiophiles, but even for your average Joe and Jane there are better options out there if sound quality, features, and price are your biggest concerns.