All products featured are independently chosen by us. However, SoundGuys may receive a commission on orders placed through its retail links. See our ethics statement.
The bottom line
These competitively priced premium headphones are a worthy adversary for Sony and Bose. AKG's bass-leaning sound will appeal to nearly everyone, and the ANC technology can quiet nearly any environment. If you want noise canceling headphones that can combat low-frequency noise with ease, the AKG N700NC needs to be on your ears.
AKG N700NC
These competitively priced premium headphones are a worthy adversary for Sony and Bose. AKG's bass-leaning sound will appeal to nearly everyone, and the ANC technology can quiet nearly any environment. If you want noise canceling headphones that can combat low-frequency noise with ease, the AKG N700NC needs to be on your ears.
What we like
Excellent noise canceling
Compact design
Ambient Aware
Firmware updates via AKG app
What we don't like
Price
microUSB charging
No aptX, AAC only
Rating Metric
Sound Quality
9.3
Bass
9.7
Midrange
9.9
Highs
8.2
Isolation / Attenuation
7.1
Durability / Build Quality
8.0
Value
9.0
Design
8.2
Microphone
9.3
Portability
7.5
Battery Life
9.2
AKG is no stranger to premium audio products, and today we're looking at its high-quality N700NC noise canceling headphones. These over-ear cans filter out low-end noises better than a Brita filter sifting out pebble-sized minerals. The real question, though: are the AKG N700NC better than the comparable Sony and Bose headsets?
Editor's note: this AKG N700NC review was updated on June 25, 2020, to address the new $120 price of the headset. 
Who is it for?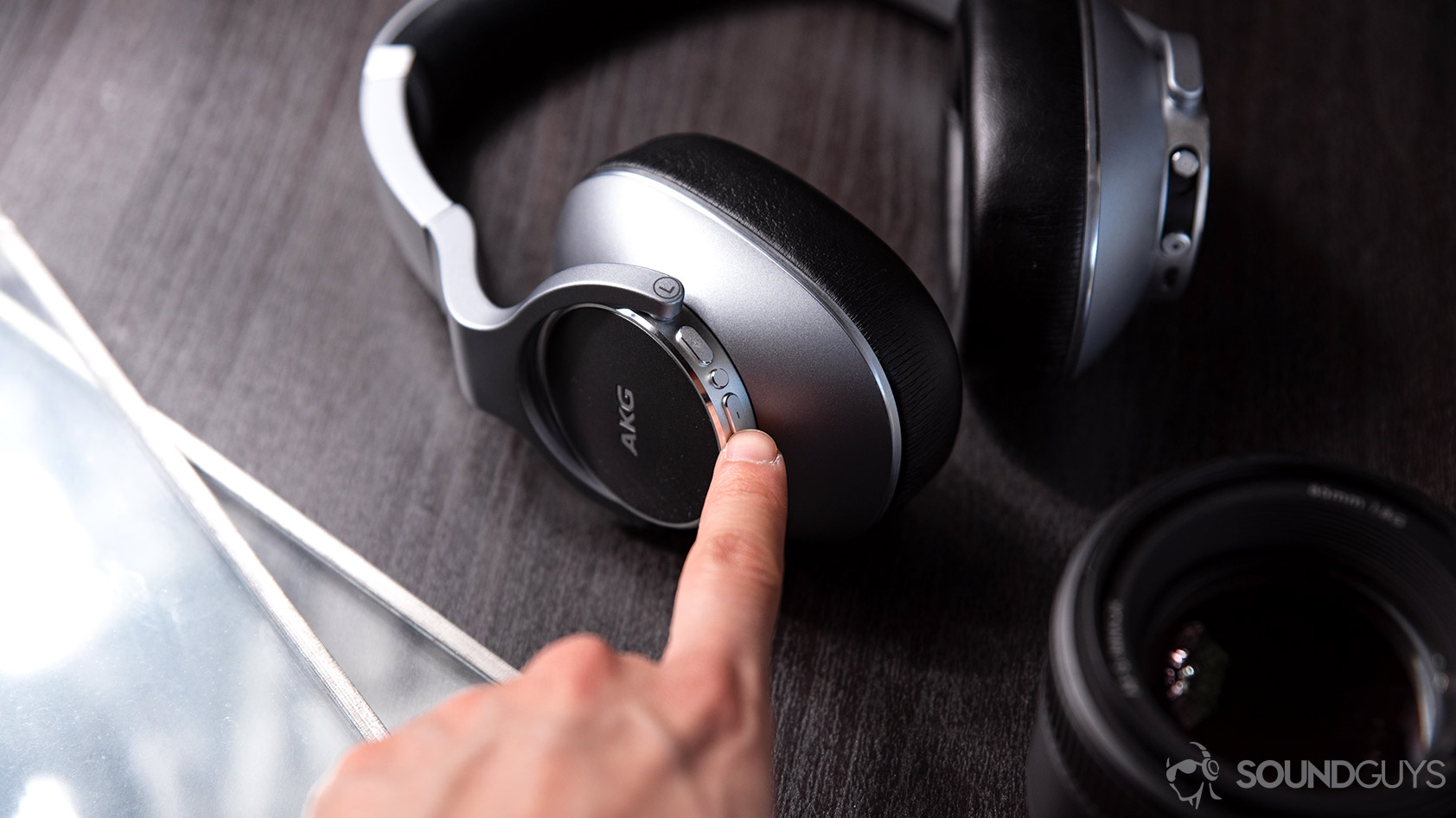 The buttons are easy to operate but do tend to creak when pressed.
Casual listeners. the noise canceling abilities benefit all listeners from coffee shop adventurers to library dwellers. AKG's audio tuning results in clear audio with a slight bass boost that most listeners will enjoy.
Commuters will make frequent use of the superb noise canceling. In fact, the AKG N700NC combats low-frequency noise (~30-100Hz) more effectively than the Sony WH-1000XM3.
Frequent flyers will thank themselves for investing in a pair of premium ANC headphones. The low-end attenuation makes crying children, coughing neighbors, and roaring engines a bit more bearable. Plus, they fold up or lie flat which makes for a compact, travel-friendly design.
What's it like to use the AKG N700NC?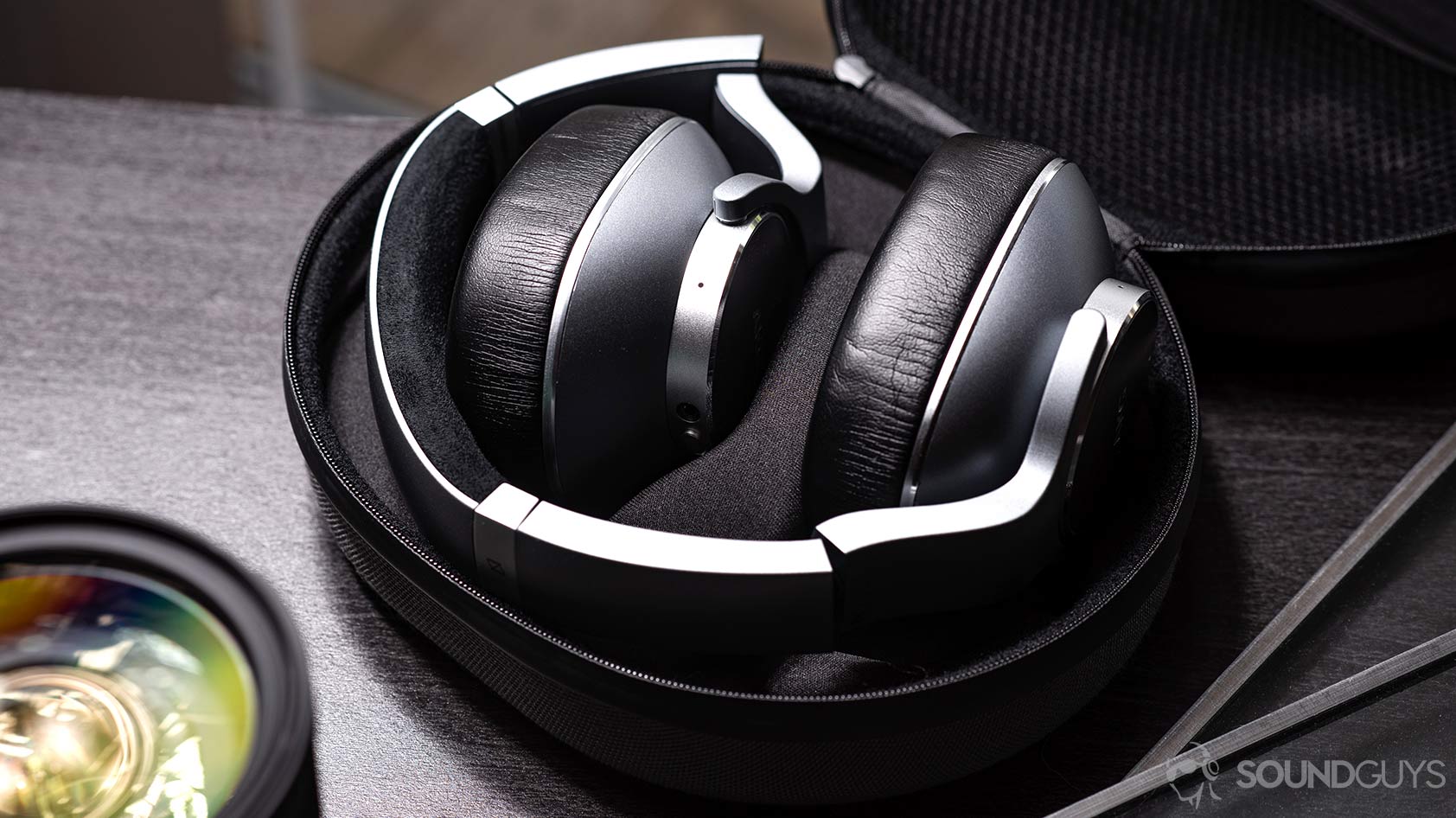 The headphones fold up and fit into the included zippered carrying case.
Using the AKG N700NC is easy. They have intuitive tactile controls, so no need to memorize a multitude of swipes and taps for playback and call control. One thing that threw me off is how to access a virtual assistant: whereas many headphones require you to press and hold the multifunction button, the AKG N700NC calls for a double-tap of said button.
The plastic build appears polished and is made even more refined next to the synthetic leather ear pads and velour headband wrap. Like the Jabra Elite 85h and Sony WH-1000XM3, the N700NC ear cups rotate 90 degrees and fold toward the headband. This is great for transport. If you're someone who flies often, you'll want to take these headphones with you. The top-notch noise canceling masterfully attenuates low, rumbling sounds.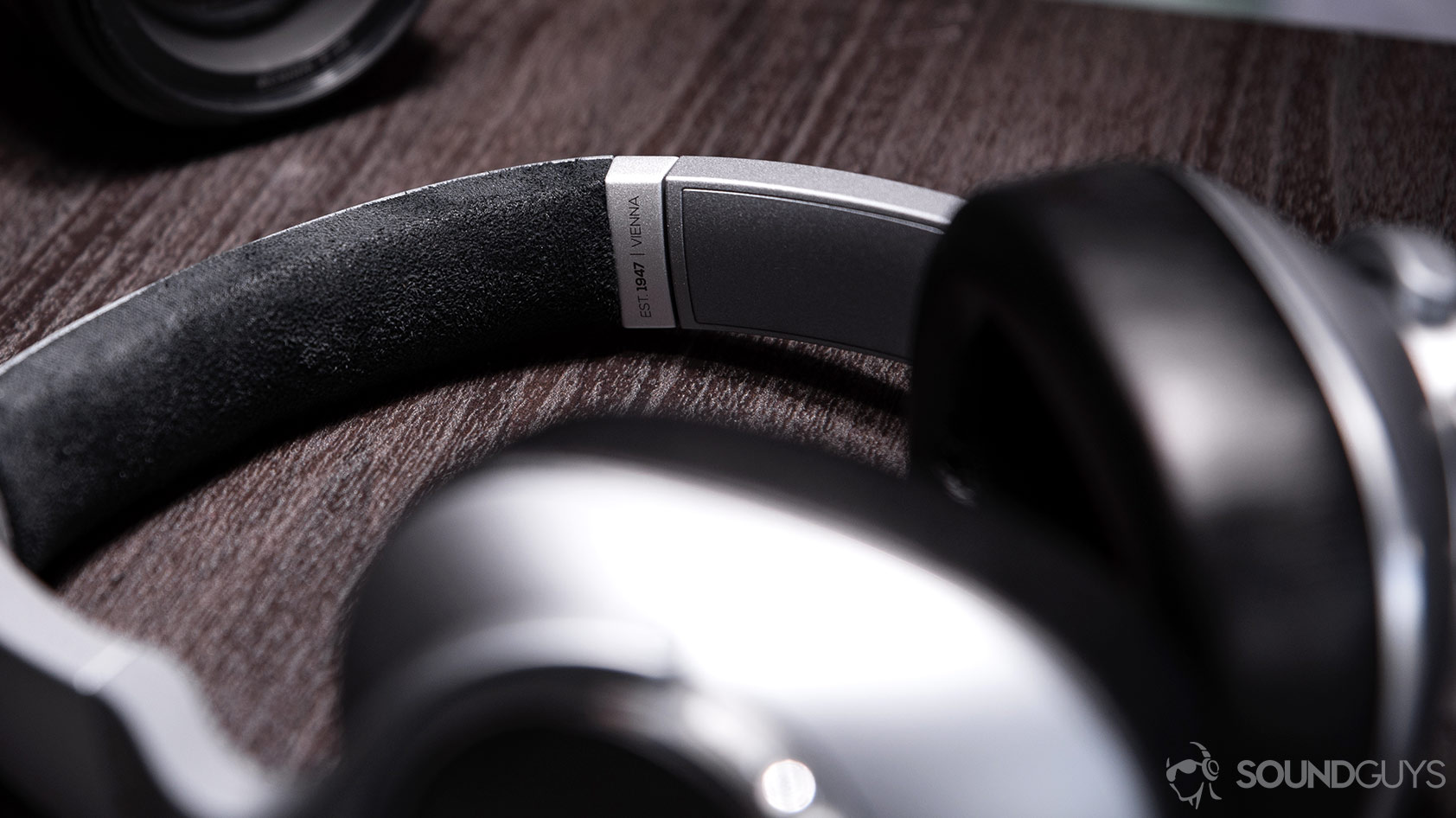 The velour headband of the AKG N700NC looks great but doesn't provide enough cushioning for long listening sessions.
Ambient Aware and TalkThru technologies are growing in popularity. We're even seeing it in higher-end true wireless earbuds, and AKG included it with the N700NC. By default, the Smart Ambient button is assigned to adjust Ambient Aware, but you can reassign it to enable TalkThru via the AKG Headphone app instead.
The AKG N700NC is an attractive headset with competitive features such as Ambient Aware and TalkThru.
With music playing, turning Ambient Aware on doesn't do much, and I don't find it more effective than simply pausing music playback or temporarily removing the headphones. In all fairness, it's nice to see AKG include the feature.
Are the headphones durable?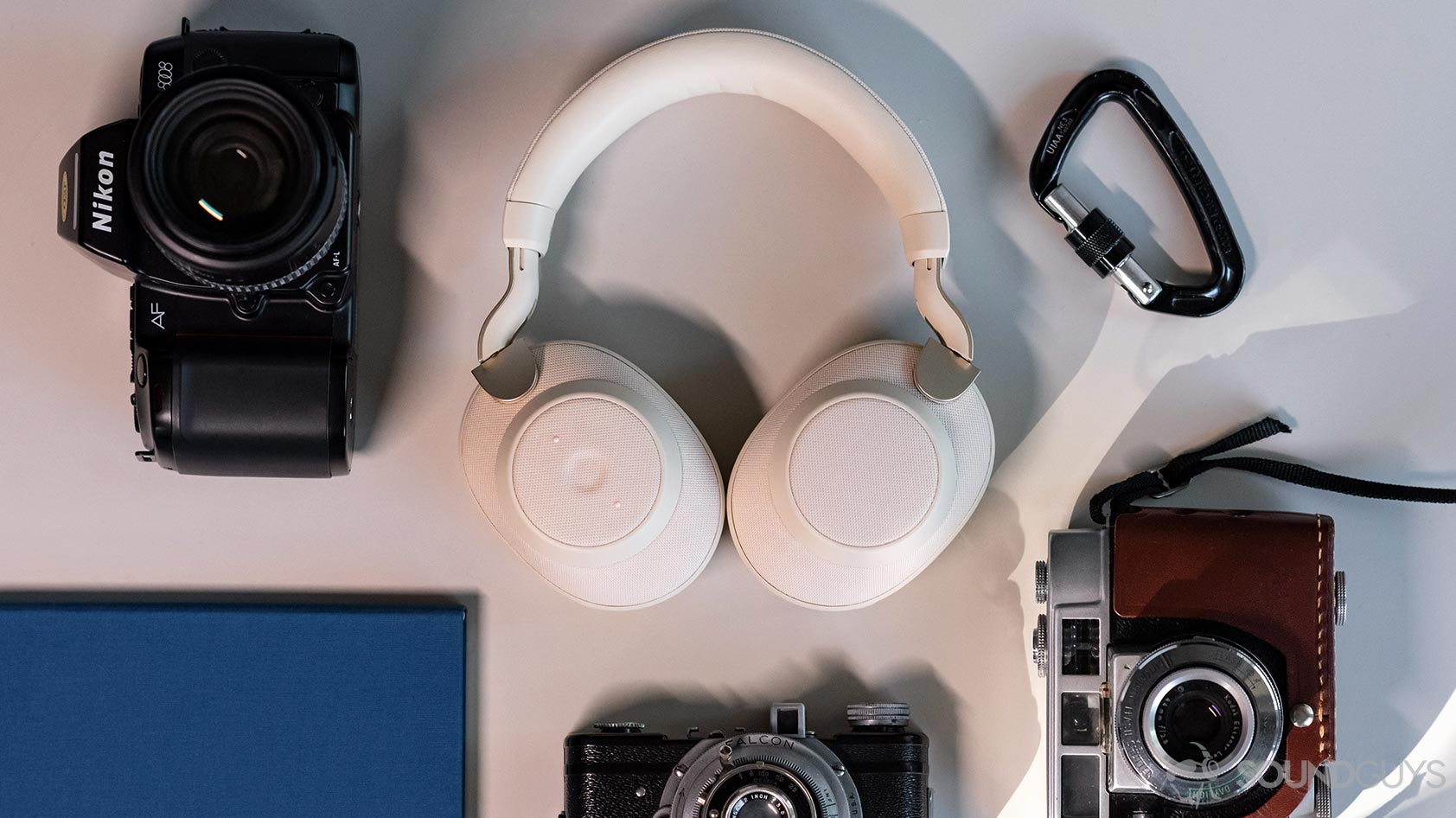 The Jabra Elite 85h is more durable than the AKG N700NC due to the water-resistant nano-coating.
After using them nonstop for the past few days, it seems a stretch to confidently call them durable, because the plastic tends to creak and one side of the headband slider is significantly looser than the other. However, the AKG N700NC headphones have some great touches like the velvet headband cushion and breathable ear pads. Although the headband looks fantastic, it's uncomfortable after an hour and a half of wear. When testing, the crown of my head felt pain from the lack of even weight distribution. The ear cushions, on the other hand, are great with or without glasses.
Do you need the AKG app?
No, you don't need it per se, but it's an easy way to make EQ adjustments. Plus, if you want firmware updates, you will need to download the app; the same goes for reassigning the Smart Ambient button. Other than that, the pessimist in me understands it as another way for a large corporation to collect our data.
How long does the battery last?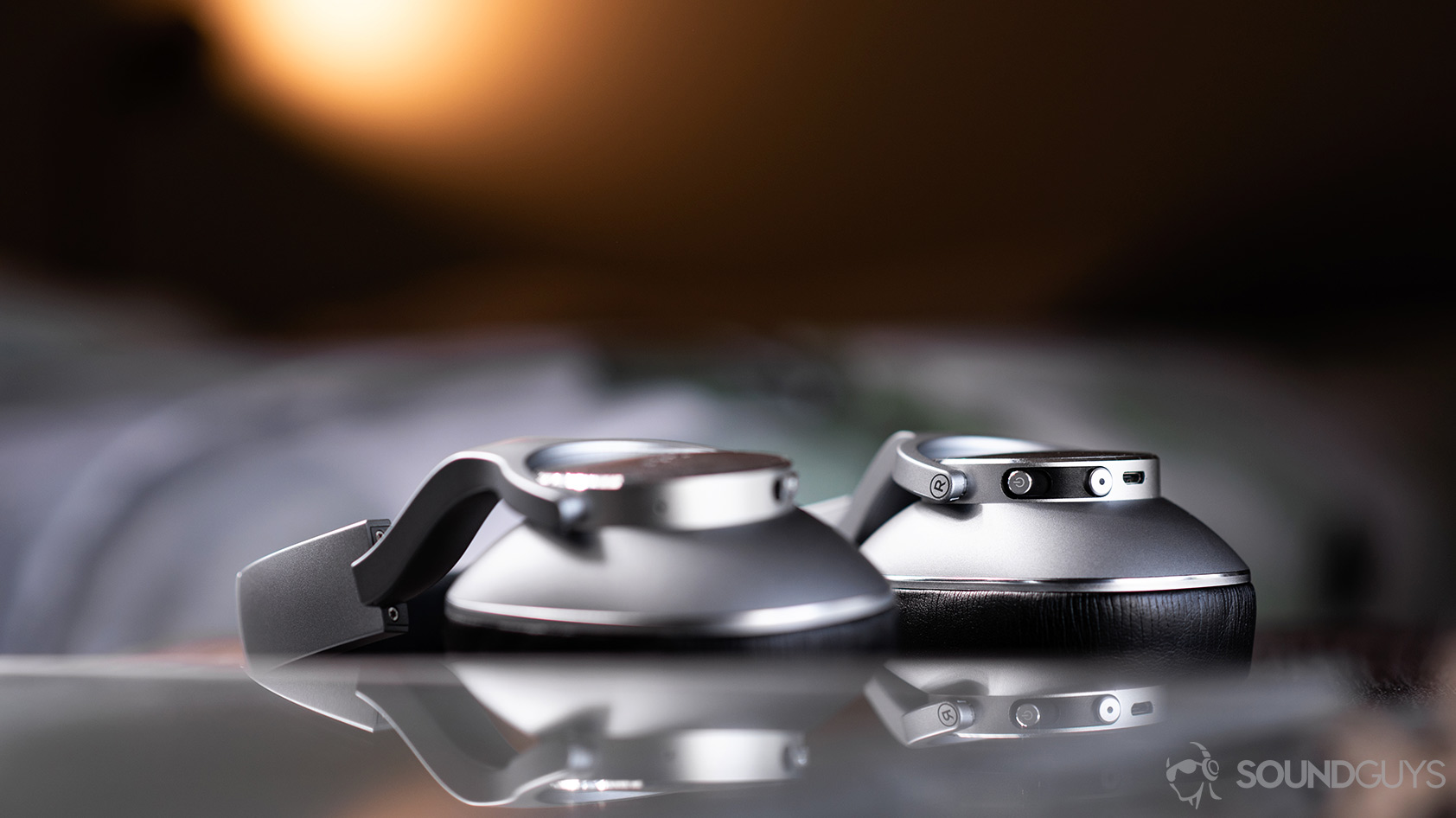 Rather than a USB-C input, AKG installed a microUSB port onto the N700NC.
With noise canceling on and the volume cranked to 75dBSPL, it lasts 22.65 hours, which is slightly more than what AKG claims. While it's not great compared to the leading competitors, it's plenty for real-world use. It takes a little more than two hours to complete a full charge via the included microUSB cable. Yes, you read that correctly, microUSB. Why AKG didn't opt for a USB-C input remains a mystery.
How do you connect the AKG N700NC to your phone?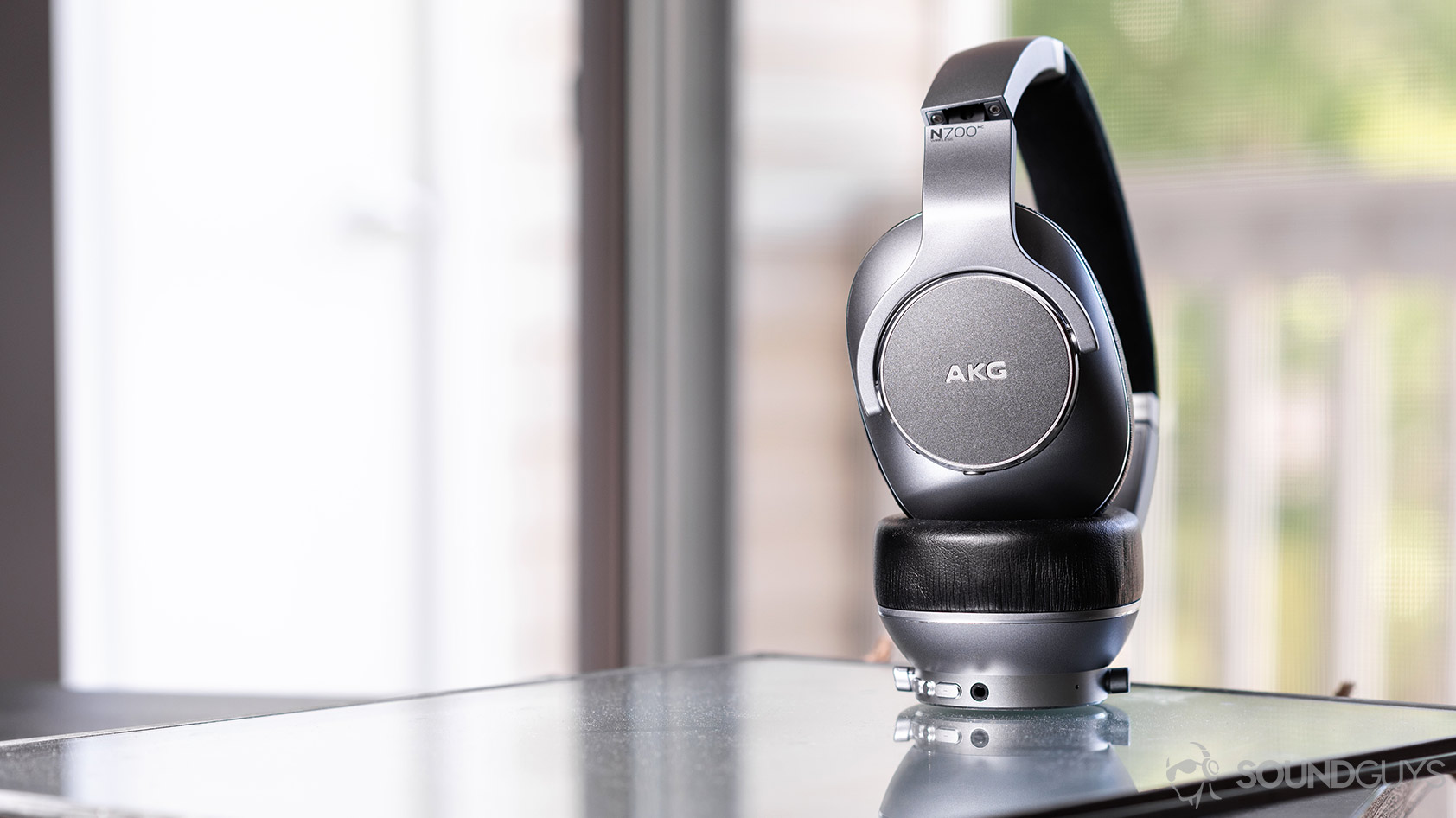 The AKG N700NC use Bluetooth 4.2 and only support AAC and SBC codecs.
Connecting the AKG N700NC headphones is just like pairing any other Bluetooth device to your phone or computer. If you don't want to deal with that, AKG provides two 3.5mm cables, one with a single-button mic and remote and one without. Plus, if you're on a plane that happens to require one of those blocky adapters, AKG includes that too.
AAC is the only high-quality codec supported by the AKG N700NC.
As far as firmware is concerned, these use Bluetooth 4.1 and only support AAC and SBC codecs. Feel free to balk at the outdated Bluetooth firmware and lack of aptX support, but the connection stability within the 10-meter range is great whether inside or out.
Do the AKG N700NC headphones cancel noise well?
The AKG N700NC noise canceling headphones do an outstanding job at filtering out sounds across the frequency spectrum.
Absolutely. These premium noise cancellers boast first-class noise canceling. Our testing shows that low-frequency noises are filtered out more effectively with the AKG N700NC than with the Sony WH-1000XM3 and Bose QuietComfort 35 II headphones, which is quite the feat.
What do the N700NC sound like?
The N700NC sounds great. The minor bump in bass is significant enough to ensure every kick drum is heard without masking midrange frequencies and vocal or guitar harmonics. Anderson Paak's album Oxnard sounds fantastic through this headset. Its frequency response aids Paak's vocals in being heard without being hushed by the collection's bass drops. Additionally, the effective noise cancellation is a great aid to the headphones' clarity because external noises are unable to mask media playback.
Lows, mids, and highs
Anderson Paak's song Who R U? Demonstrates how well these headphones reproduce music without significant auditory masking. At 0:11, a hard drum kick occurs while synth notes are being played, underscoring Paak's lyrics, "They want my bidness on the front page." Most other headphones may struggle to relay the breathy female exhale that also sound off at 0:11, but the AKG N700NC has no trouble with this. The audible reproduction of the breath is particularly impressive since it's such an indistinct noise.

The clattering cymbals from 0:32-0:38 sound great, too. Rather than tuning the treble to be overemphasized, giving listeners a false sense of clarity, the highs are relatively neutral and are distinguishable even with the continuing bass hits during the same six seconds.
Is the AKG N700NC good for phone calls?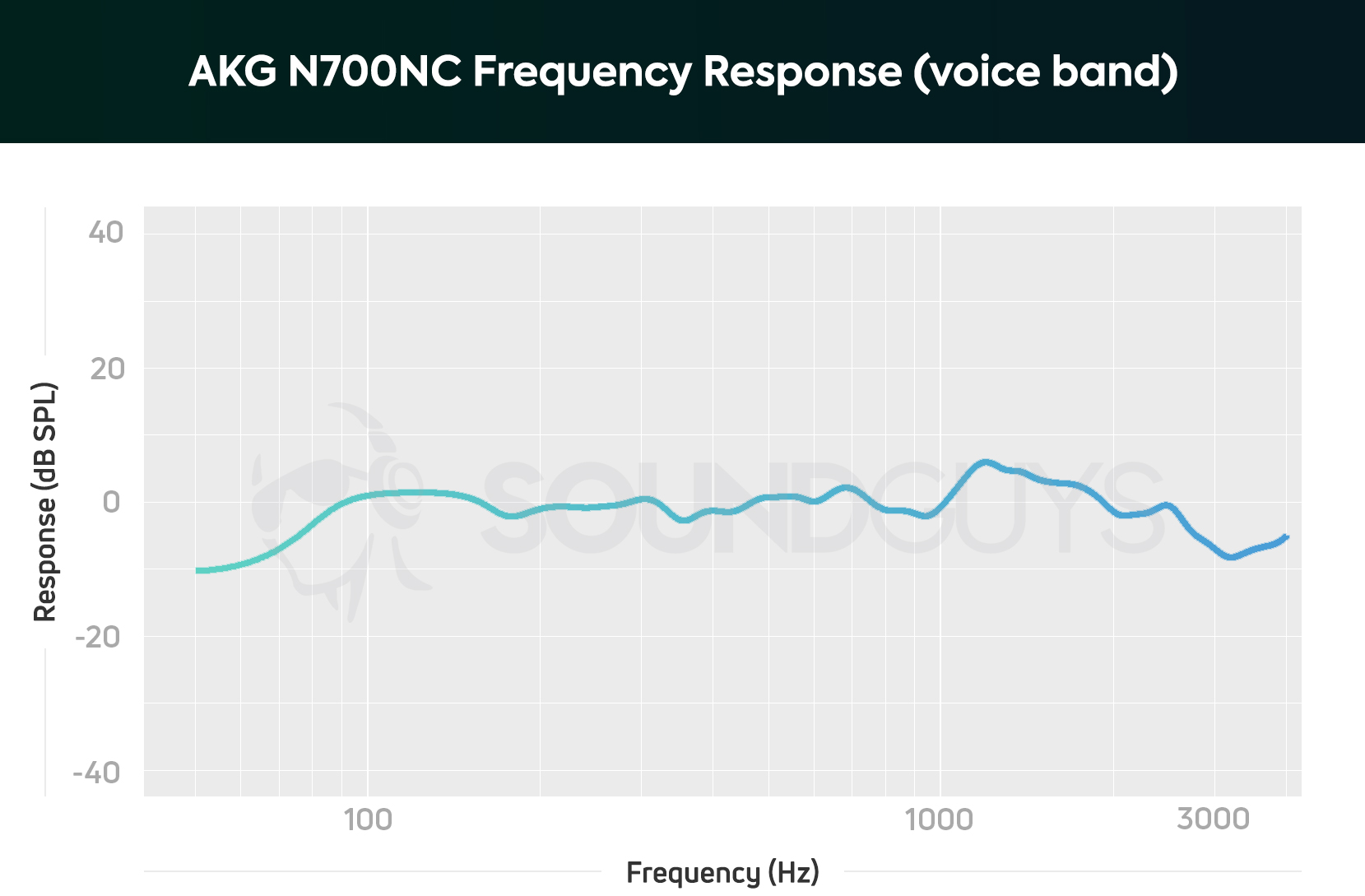 The fairly neutral microphone frequency response means that voices of all ranges will sound natural and accurate through the microphone.
Yes, it's great for phone calls. The frequency response is remarkably close to the platonic ideal (0-mark), which results in natural voice reproduction regardless of how high or low-pitched your voice is. I worked from a balcony overlooking a river while testing these headphones and the running water and nearby construction was rendered nearly null by the dual-microphone array.
AKG N700NC microphone demo:
In the above demonstration, you can hear that it's still a headset microphone, rather than a dedicated USB mic, but my voice is still relatively clear. What's more, once the music starts playing, it's difficult to hear above my voice. This illustrates how well the microphone can attenuate background noise.
Related: How to read charts
Should you buy the AKG N700NC?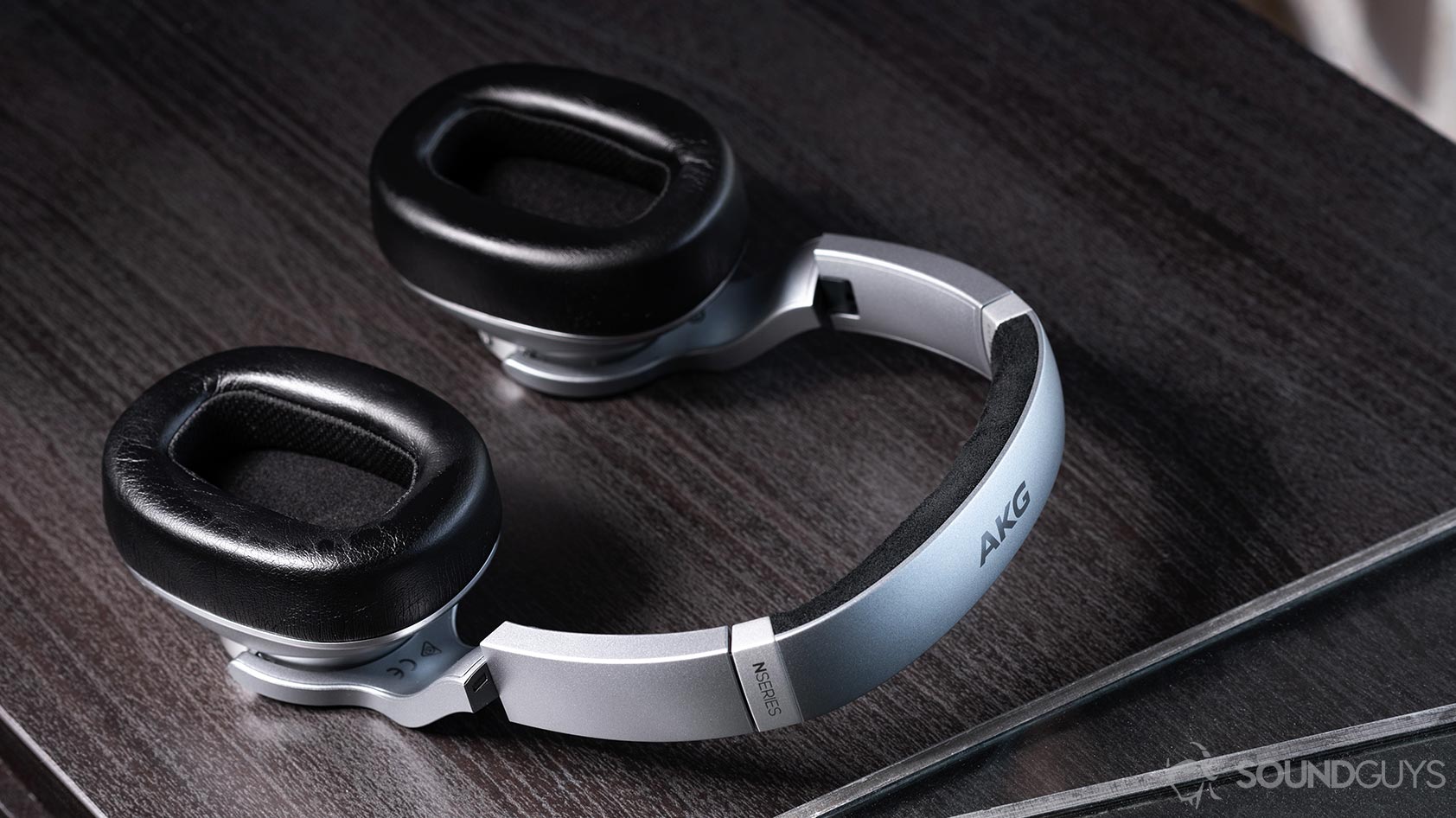 The ear cups rotate 90 degrees, but doing so doesn't automatically pause music playback.
The AKG N700NC is a great set of headphones made extremely appealing by its new $120 price. If you end up going with these: you're going to enjoy them. However, every product has its drawbacks and for some, the lack of aptX and aptX HD support may not be worth the slightly better low-end attenuation.
Read Android Authority's Reader's Choice picks
Alternatively, grab the Sony or Shure noise canceling headphones
Listeners who want something that cancels low-end noise nearly as well as these headphones do but has better battery life, more high-quality codecs, and touch controls, get the Sony WH-1000XM3. They're more expensive and hover closer to the $300 price point but comfort portability, and high-quality codec support is all there. We've been championing the Sony flagship since its debut and feel its the best ANC headset for most listeners.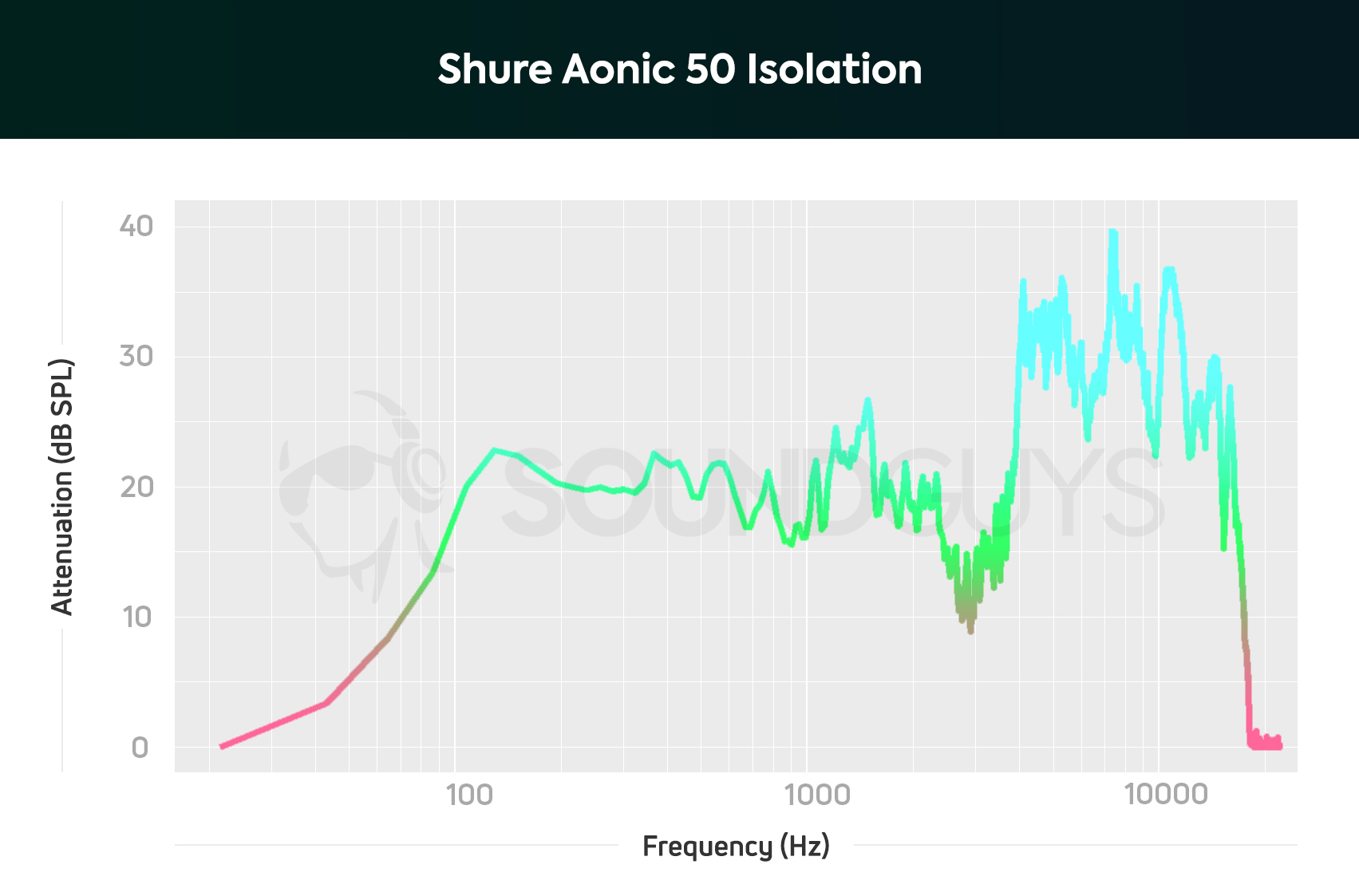 The Shure AONIC 50 noise canceling is excellent and aided by high-density memory foam ear pads.
The best of the best when it comes to noise canceling headphones are the Shure AONIC 50. Shure's ANC technology masterfully attenuates nearly all frequencies, making them the best when it boils down to raw noise cancellation. These 'phones cost a pretty penny, though, putting them right up there with the Bose Headphones 700 at $400. That said, they're great for bespectacled listeners as the memory foam pads are extremely comfortable and the ANC makes them a great productivity tool for working from home.
Frequently Asked Questions
The Shure AONIC 50 have a more neutral reproduction of sound, especially in the low-end. Shure's sub-bass frequencies are attenuated, could make it harder to perceive the impactful "oomph" that we've grown accustomed to from most consumer audio products; but the main benefit is that it avoids auditory masking. Vocals come through well on both headsets, but are rendered even more detailed and clear with the Shure AONIC 50. Both the Shure headphones and AKG N700NC render stereo sound well, but Shure's outperform AKG's. If you're looking for great studio sound, and want to stay within the AKG family, look into the AKG K371.