All products featured are independently chosen by us. However, SoundGuys may receive a commission on orders placed through its retail links. See our ethics statement.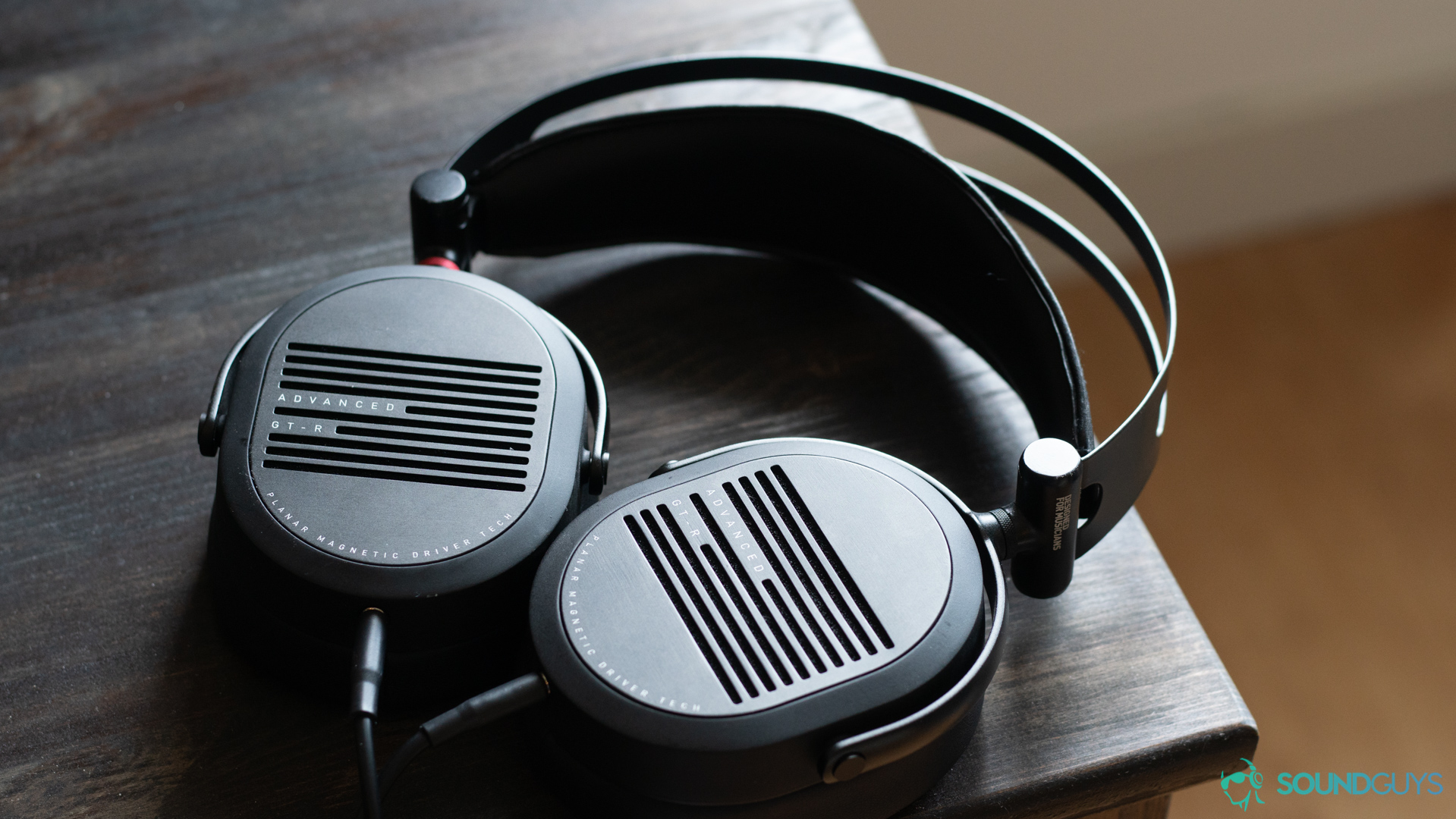 8.1
GT-R Planar Magnetic Headphones
The bottom line
If you don't want to spend too much but still want to dip your toes into the world of planar magnetic headphones, the GT-R headphones might be the way to go. Though the mids aren't the best we've heard, the lows are great and the price is even better.
GT-R Planar Magnetic Headphones
If you don't want to spend too much but still want to dip your toes into the world of planar magnetic headphones, the GT-R headphones might be the way to go. Though the mids aren't the best we've heard, the lows are great and the price is even better.
What we like
Great low end<br>
Plush padding is comfortable<br>
Ear cups rotate 90-degrees<br>
Price<br>
What we don't like
Mids lack clarity<br>
Ear cup padding can't be replaced<br>
Rating Metric
Sound Quality
8.2
Bass
9.0
Midrange
7.5
Highs
8.0
Durability / Build Quality
8.0
Value
9.0
Design
8.0
Portability
7.0
The Adv.Sound GT-R headphones have a simple design with a thin metal frame and plush padding.
Audio has been dominated for decades by giant companies like Sennheiser and Beyerdynamic that have decades of experience under their respective belts. It isn't easy for a smaller company to make a name for itself, but that's exactly what ADV.Sound has been doing. We've reviewed a few of its products and have always come away impressed. The company started out by making bang-for-your-buck products, some of which made more than a few of our best lists. But recently, they've set their goals a little higher and have been dabbling with higher end audio. Now they have a Kickstarter for a new pair of headphones, dubbed the GT-R, which are a pair of open-back, planar-magnetic headphones that won't break the bank. So how do they hold up? We'll get into that, but first, let's point who should consider buying these in the first place.
Who are the ADV.Sound GT-R for?
Not commuters. If you're looking for a pair of cans to use on the commute to or from work, keep looking. These are for the destination, not the journey. Despite being able to easily power them with an iPad, the open-back design means you're going to hear everything going on around you. If you're in an office, you might have to warn the person next to you because sound leakage is pretty significant.
People who listen to music to relax. If the only time you listen to music is at the gym, these aren't for you. If you come home after work to listen to a new album every now and then you'll like these. They're comfortable, sound good, and have a minimal design that won't look out of place at any listening station.
Budding audiophiles. If you've been in this game for a while, then you probably already own a great pair of expensive open-back headphones and high-end equipment to match. And that's great, but in the modern era of music, you don't need super expensive amps or DACs to get good sound. It's easier than ever to become an audiophile thanks to products like this, and if you want to dip your toe into the audio world for the first time, these a great way to do so. Especially since they can be easily powered by most modern tech because of their 32-ohm impedance.
What's the build quality like?
The ADV.Sound GT-R have a leather strap that keep these comfortably floating on your head.
One of the first things to go when you try and keep prices down is build quality, but ADV.Sound found a nice little loophole here. There isn't much to these headphones to skimp out on. The bare frame is made of a metal which, in my experience, is pretty hard to break. Though, to be fair, the metal that holds the ear cups in place is significantly tougher than the thin, flexible steel that makes up the headband. So—while I don't see these getting bent—if you leave them on a desk or somewhere in your living room, I'm not confident there won't be some damage if you throw them in a backpack.
The only plastic you'll find are on the ear cups—well, the half of them that isn't covered by the padding—because these have some serious padding. If you look closely, you'll see that the padding actually takes up most of the ear cup. This was good news for me. My ears fit perfectly inside the padding, and that isn't an exaggeration. So if you have larger ears, you might find these too small to get a comfortable fit. Speaking of which, I didn't have a problem with comfort either.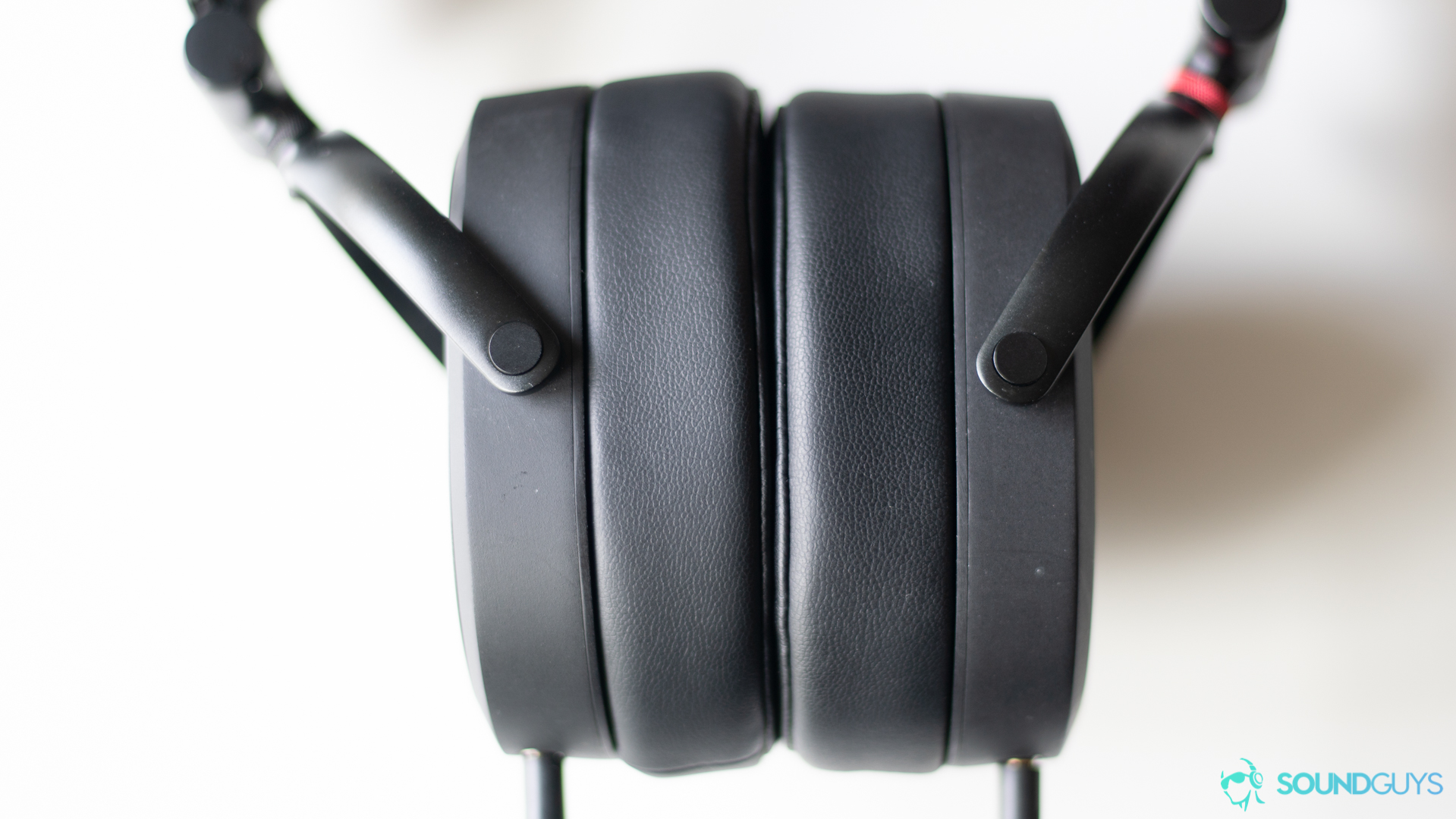 More than half of the ADV.Sound GT-R ear cups are padding, making for a comfortable experience.
The clamping force is a little strong but, because I move around a lot while testing headphones, I didn't mind it. At no point did these feel like they were going to slip off, and no amount of head-shaking caused these to budge. I will say that my ears did get pretty warm after an hour or two of listening, but I didn't even notice until I took off the headphones. Other than that, there weren't any real issues of discomfort. One downside is that the ear pads aren't replaceable. So if the wear and tear becomes too much over time, you're kind of out of luck. That is, unless you're brave enough to replace them manually. The elastic strap on the inside of the headband does a good job of keeping the weight distributed without putting pressure on the crown of the head.
How do you connect?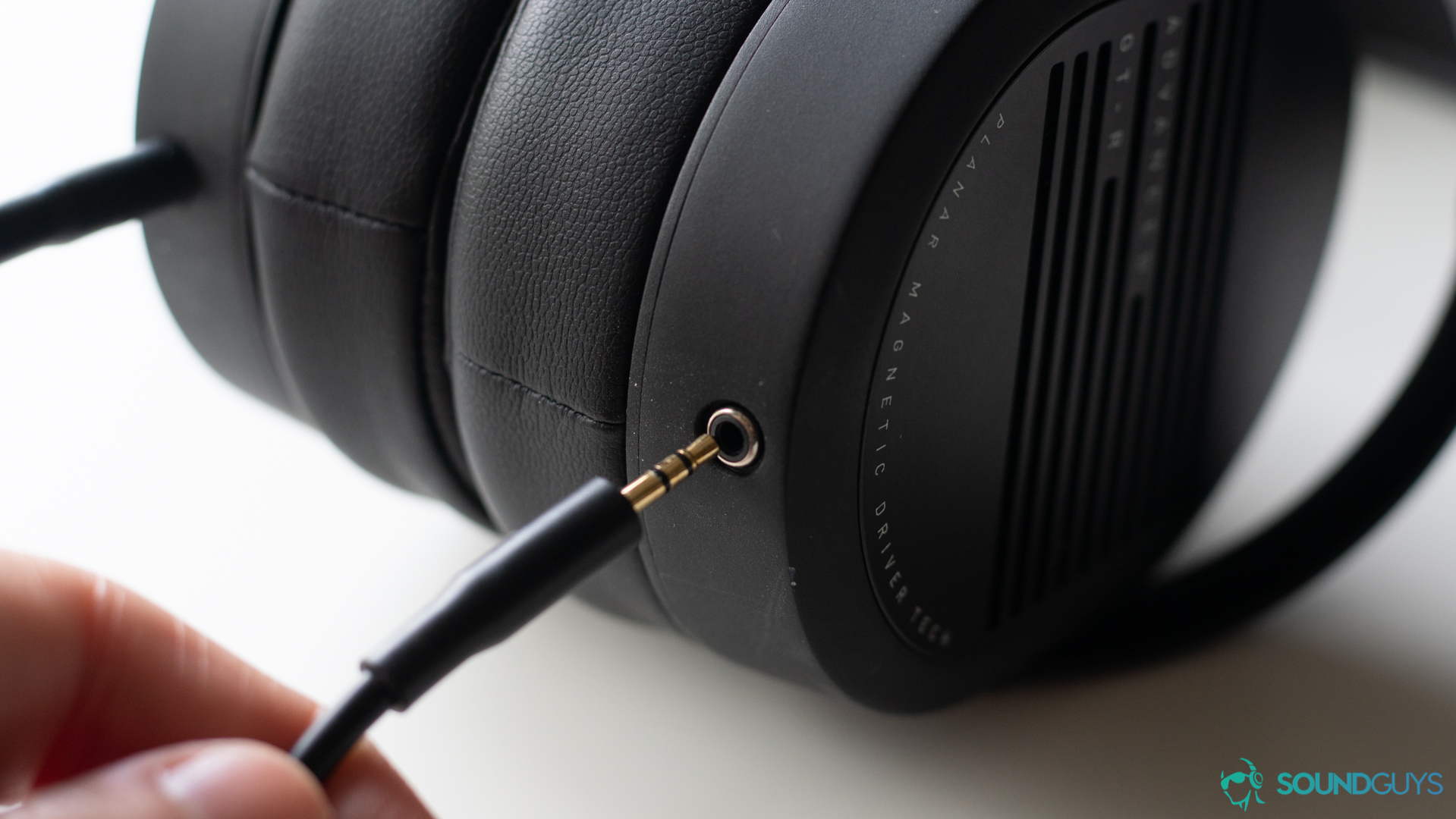 The cable plugs into the bottom of each ear cup on the ADV.Sound GT-R via 2.5mm jacks.
The good 'ol fashioned way. It plugs into the left and right ear cups via 2.5mm jacks and ends in a 90-degree 3.5mm jack. So if you ever manage to somehow break it—it's pretty thick—you can always just replace the cable. As I mentioned earlier, these have a 32-ohm impedance, so while a decent amp is always a worthy investment, it isn't necessary to power these.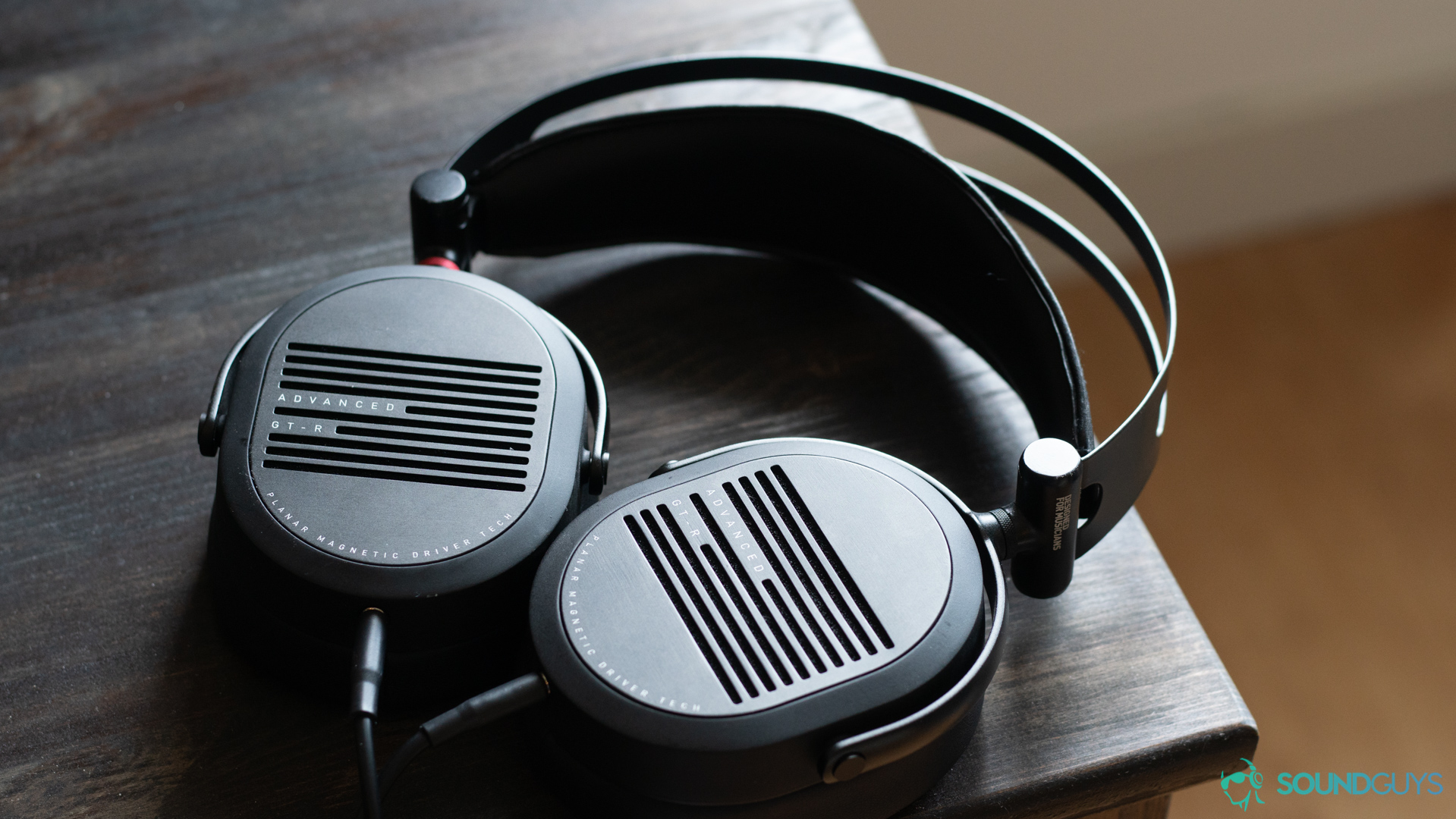 Each ear cup on the ADV.Sound GT-R has 65mm planar magnetic drivers and can rotate 90-degrees.
That said, a smartphone isn't the best way to get the most out of these headphones. So if you're going to be using your phone a decent amp won't hurt. While we're on the topic, if you do want to make your smartphone your main listening device we made an entire list breaking down which one you should get.
Sound quality
The ADV.Sound GT-R have plush ear cups fit nicely over the ears; though, the cavities might be a bit snug if you have larger than average ears.
What makes the GT-R headphones so intriguing is the same thing that makes the Monoprice Monolith M1060 headphones so interesting: they're both affordable planar-magnetic headphones. They may not be as clear in the mids as the Monolith M1060's, but the GT-R headphones are nothing to scoff at.
The most impressive part of these headphones, in my opinion, has to be the lows. Bass notes had just the right amount of power and didn't linger longer than they needed to. They weren't overly emphasized and seemed to be fairly neutral-sounding, regardless of which type of genre I was listening to. The bass kicks in the song Glow by Retro Stefson didn't push their boundaries and added the perfect driving rhythm to the song.
Similarly, the sub-bass throughout the song Vanish In Our Sleep by Rob Roy usually results in some annoying rattling when using a pair of cans that emphasize the bass notes too much. Luckily, that wasn't the case here. The sub-bass is only as strong as it needs to be. If you're looking for one area of the sound quality that's a little weak, it'd have to be the mids. Vocals in the song Half Dome by Toro y Moi seem to be masked by the rhythm guitar which should be a little less prominent.
Instruments also aren't super clear in this song, but the detail in the highs somewhat makes up for this. Cymbals and hi-hats are easy to distinguish, and I didn't hear any distortion—even at high volumes. If it's there, my ears can't detect it. Though I would've expected a slightly better soundstage from a pair of open-backs, these still get the job done.
Should you buy the ADV.Sound GT-R?
If you want a pair of planar magnetic headphones but don't want to spend a ton of money, the GT-R should be on your shortlist. They don't have the same level of clarity as the Monoprice Monolith M1060 headphones do, but for the moment, they're also significantly less expensive. If you back the campaign now, you can grab a pair for as low as $199 which makes them a steal in my book. Of course, once the campaign is over, retail value will jump up and all things being equal the Monoprice planar magnetics have a slight edge. But that's not to say that the GT-R headphones aren't impressive. If you want good sound, are looking to save some money, and don't mind waiting until September to receive your product make sure to back the campaign.