All products featured are independently chosen by us. However, SoundGuys may receive a commission on orders placed through its retail links. See our ethics statement.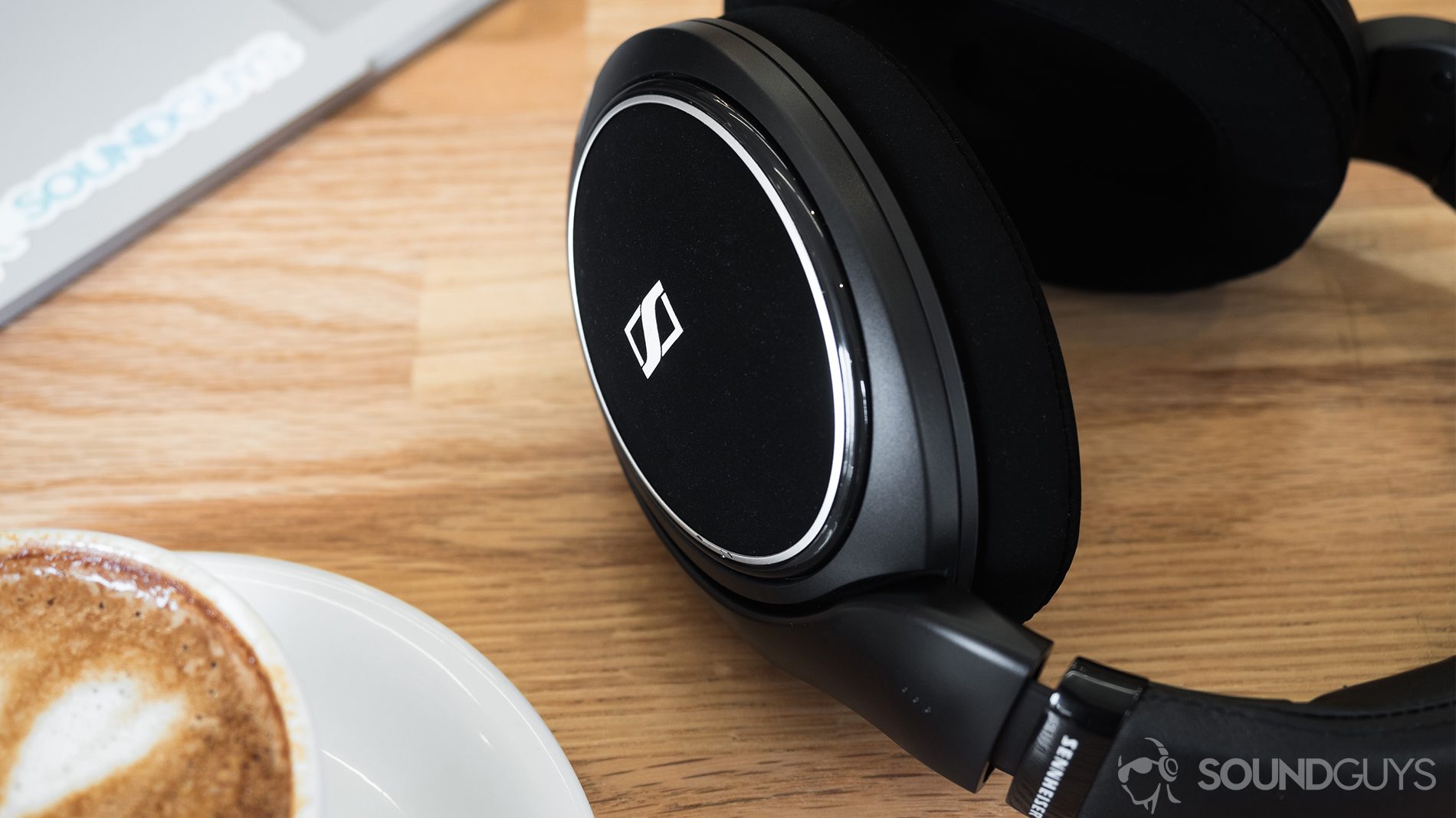 The bottom line
If you're looking for a pair of closed-back, all-day cans that provide a phenomenal sense of spatial awareness, the Sennheiser HD 598 CS are an excellent option.
Sennheiser HD 598 CS
If you're looking for a pair of closed-back, all-day cans that provide a phenomenal sense of spatial awareness, the Sennheiser HD 598 CS are an excellent option.
What we like
Excellent soundstage<br>
Comfortable<br>
Solid passive isolation<br>
Virtual assistant access<br>
Premium look and feel<br>
What we don't like
Not travel-friendly<br>
Headband slides around<br>
Remote lacks volume controls<br>
Rating Metric
Sound Quality
8.8
Bass
8.7
Midrange
8.4
Highs
8.8
Durability / Build Quality
8.2
Value
8.7
Design
8.2
Microphone
7.7
Portability
7.0
With over 70 years in the audio industry, Sennheiser has crafted another fabulous product: the Sennheiser HD 598 CS. Don't let the plastic construction fool you, these cans still manage to look and feel premium. Plush padding and even weight distribution throughout the expandable headband make these extraordinarily comfortable. If you appreciate having a sense of spatial awareness in tracks, then the Sennheiser HD 598 CS may be the last set of closed-back cans you'll ever have to buy.
Who are the Sennheiser HD 598 CS for?
Audio enthusiasts who want exceptionally comfortable headphones that provide a relatively flat frequency response without breaking the bank.
Listeners with a decent budget. However, for under $150, users are afforded an immersive sound that's unparalleled by opposing closed-back headphones.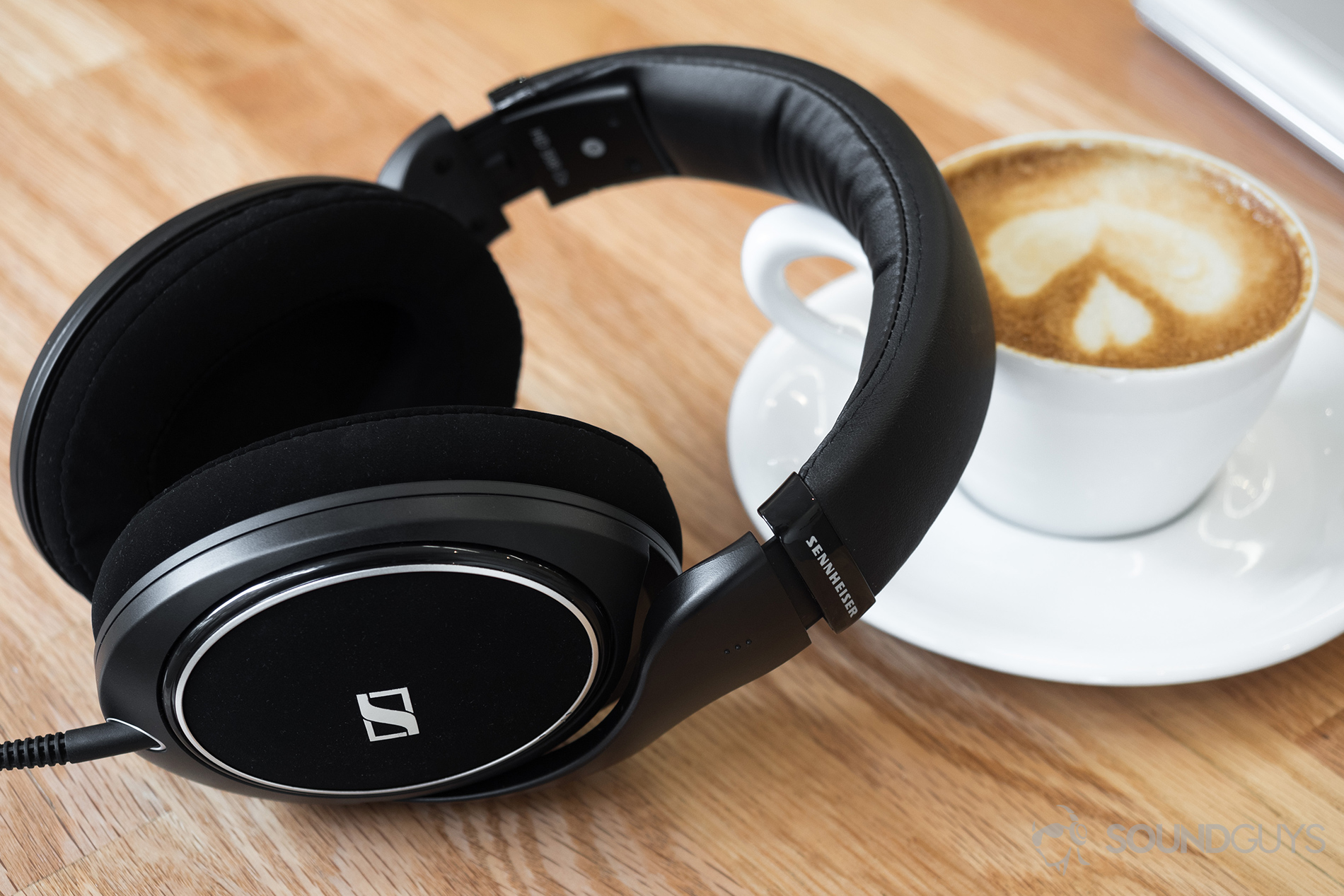 Sennheiser's circumaural HD 598 CS easily isolate the listener from ambient noise.
Side note: Anyone who wears glasses will revel in the comfort that the ear pads provide. The padding appropriately gives way to glasses arms without compromising sound isolation.
What's Inside
Inside are two cable options: a 3-meter cable with a 6.5mm jack and a 1.2-meter cable with a one-button mic/remote and 3.5mm jack. Sennheiser also provides listeners with a two-year limited warranty on the off-chance that cables fray or a driver fails.
Build & Design
The German-based company opted for lightweight plastic rather than weightier premium materials for the headphones—something those about to embark on a multi-hour listening session will appreciate. Given the ear cup size, folding hinges or the ability to rotate the ear cups to be completely flat would have been a nice addition, but at least the Sennheiser HD 598 CS accommodate for noggins of all shapes and sizes. The headband expands ~2 inches and each ear cup rotates vertically at the yoke. What's more, the spacious over-ear design allows for plenty of wiggle room.
Though the headband expands a good 2 inches, it lacks the ability to fold for storage or travel.
Additionally, the deep-black velour ear pads have a suede texture which matches the ear cup exterior and exudes sophistication. This looks great but easily accumulates difficult-to-remove dust. However, the synthetic material should please those with an aversion to animal-derived products. On the headband, the leatherette padding more closely resembles the real deal and remains equally as comfortable as the ear pads.
Though the padding makes these comfortable for long listening sessions, once the HD 598 CS have been worn for three or four hours, the crown of the head is the first noticeable pressure point. Gradual pain accumulation is nearly imperceptible… until it's alarmingly obvious. Now, the pressure won't induce a migraine or even an extended headache; nonetheless, it's still uncomfortable. If possible, listeners should remove the headphones every three hours, tops, to avoid this.
The in-line microphone of the Sennheiser HD 598 CS is located on the back of the multi-function module on the 1.2-meter cable.
Moving down to the cable, one end terminates at 3.5mm—what most consumers are familiar with—but the other ends in a 2.5mm jack. This side is outfitted with an L-shaped divot, which acts as a locking mechanism, to prevent sporadic ejections. Both cables feature this mechanism.
Combining a closed-back design with sound-dampening ear pads is a great way to passively isolate the listener from ambient noise without the fuss and battery drainage that plagues active noise-cancelling headphones. Performance of the Sennheiser HD 598 CS is impressive. Although, there's always room for improvement. For instance, filtering out the rustle of anxious undergrads shuffling papers in the library commons is an easy task for the headphones; noisy coffee shops, however, are an entirely different beast.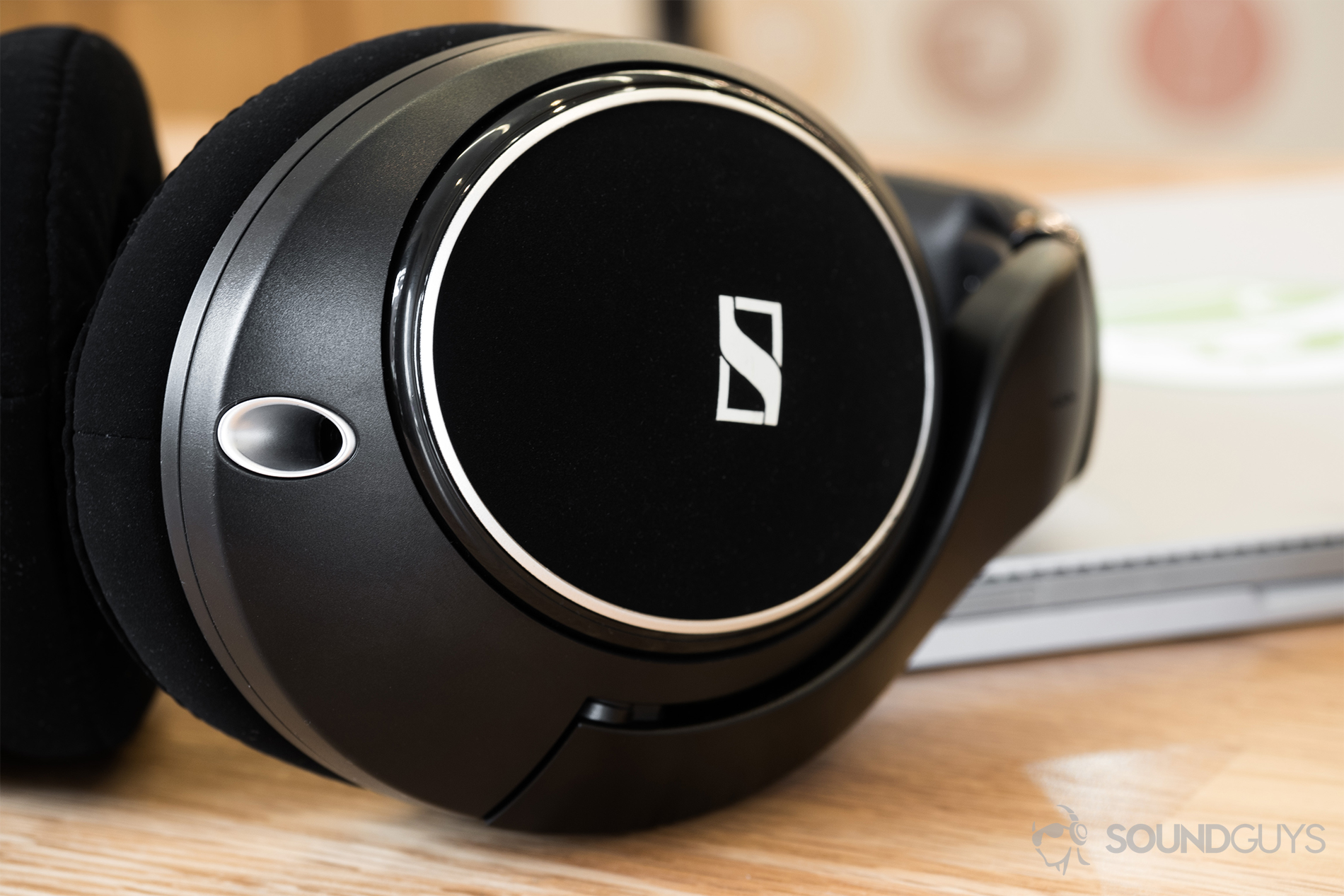 The 2.5mm headphone jack on the Sennheiser HD 598 CS headphones features an internal locking mechanism to keep the cable in place.
The headphones still outperform something like the JBL E55BT, but even a normal conversation that's 5ft away manages to permeate the HD 598 CS sound barrier with ease. Coffee shop vagabonds will likely benefit more from a pair of in-ears with Comply memory foam ear tips. In all fairness, the HD 598 CS still hold up exceptionally well, but there are better options if isolation is a top priority.
Sennheiser's E.A.R. technology: What is it?
Listeners of the Sennheiser HD 598 CS—and all Sennheiser HD 500 series cans—benefit from the company's Ergonomic Acoustic Refinement (E.A.R.). Aside from being on par with Dad-joke puns, E.A.R. means that each transducer is positioned to channel audio directly into the ear canal. This arrangement allows for a greater soundstage—or perceived sense of spatial awareness.
While it's a branded feature, angled drivers are more common on higher-end headphones than you might think.
Connectivity
Sennheiser HD 598 CS review: The locking mechanism helps prevent inadvertent ejections.
The Sennheiser HD 598 CS are wired-only, so there's no Bluetooth codec compatibility to worry about. Both cables are straight-jacks with ample stress relief. Plus, with a low impedance of 23Ω,  listeners can forgo purchasing an amp, making the HD 598 CS evermore portable—despite their lack of folding ability.
Sound Quality
Overall, the sound of the Sennheiser HD 598 CS tends to highlight the mids, as there's a bit of a bass roll-off. Vocals receive the most emphasis, in terms of volume, but they also tend to mask other elements of a song. At first listen, the boosted mids help highlight fun parts of your music, but analytical listeners might be dissatisfied. For most listeners, the highs and neutral bass reproduction compensate for the midrange frequencies.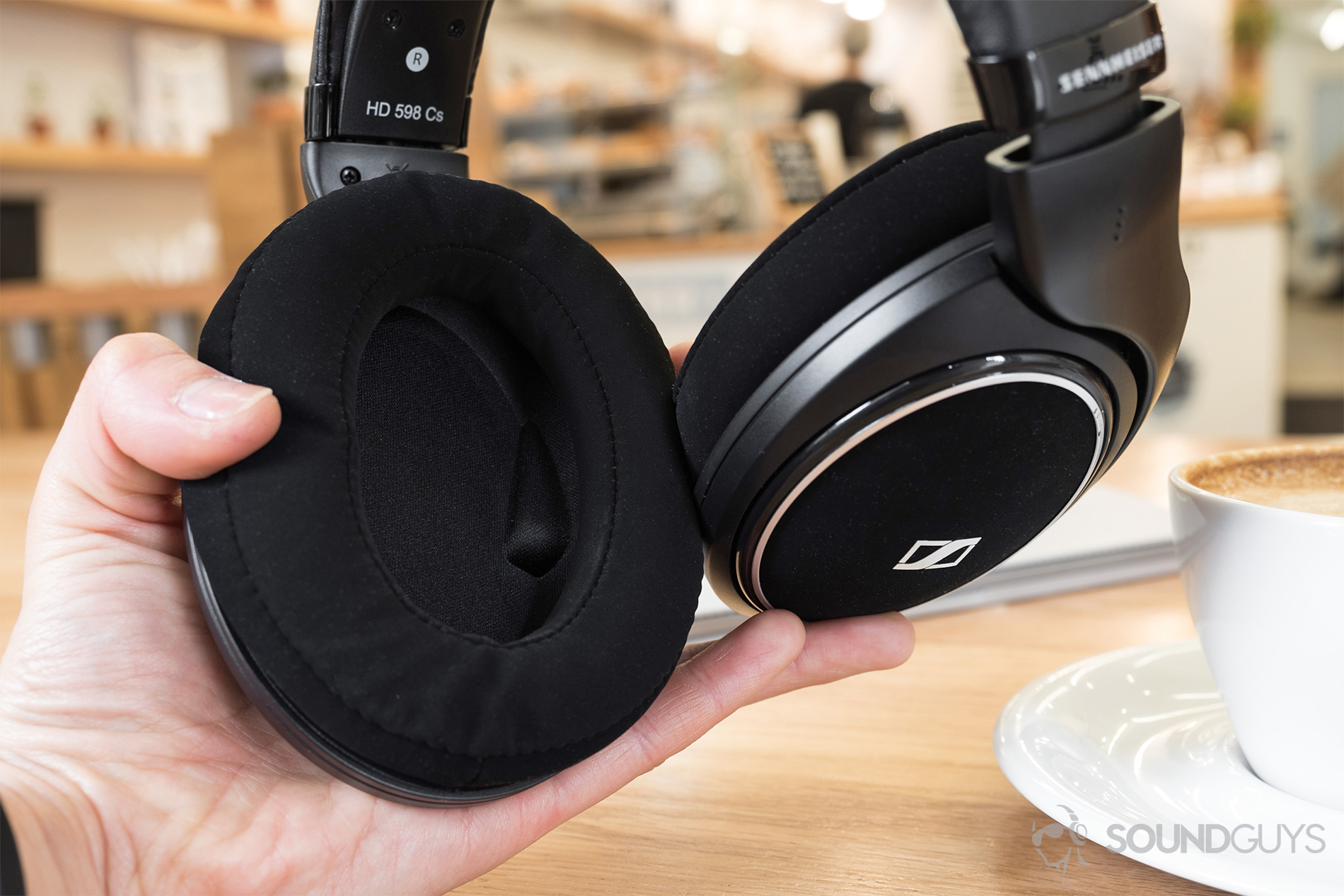 Sennheiser's E.A.R. designed transducers angle the audio directly into listeners' ears, creating a greater sense of spatial awareness.
First and foremost, the E.A.R. design of the Sennheiser HD 598 CS provides a notably good soundstage for closed-back headphones. The Beyerdynamic Custom Game reproduction of Roma Fade by Andrew Bird can't hold a candle to what the HD 598 CS offers.
Sennheiser's E.A.R. technology drives audio directly into the ear canal, promoting a greater sense of spatial awareness for the listener.
The latter brings the violin to life, illustrating depth by creating a distinct separation between the dominant violin and subordinate xylophone. Bird's vocals sit appropriately between the looped violin and high-pitched whistles.
During the verses of I Would Die For You by Miley Cyrus, vocals are relayed clearly; however, the exaggerated lower midrange frequencies mask Cyrus' vocals in the chorus. This is even more apparent during the primary guitar switches from F to G and then to A-minor. The lower frequency strums make it difficult to perceive the picked notes on the secondary guitar. Though some may view this as a bad thing, the overall emphasis is still clearly reproduced relative to something like the workout-oriented Plantronics BackBeat 500 FIT.
BomBom, heard on Macklemore's sophomore album, is an instrumental-only ballad—save for the twice repeated lyrics, "Uh uh"—that uses a combination of bass, piano, drums, and brass instruments to create an audio triptych.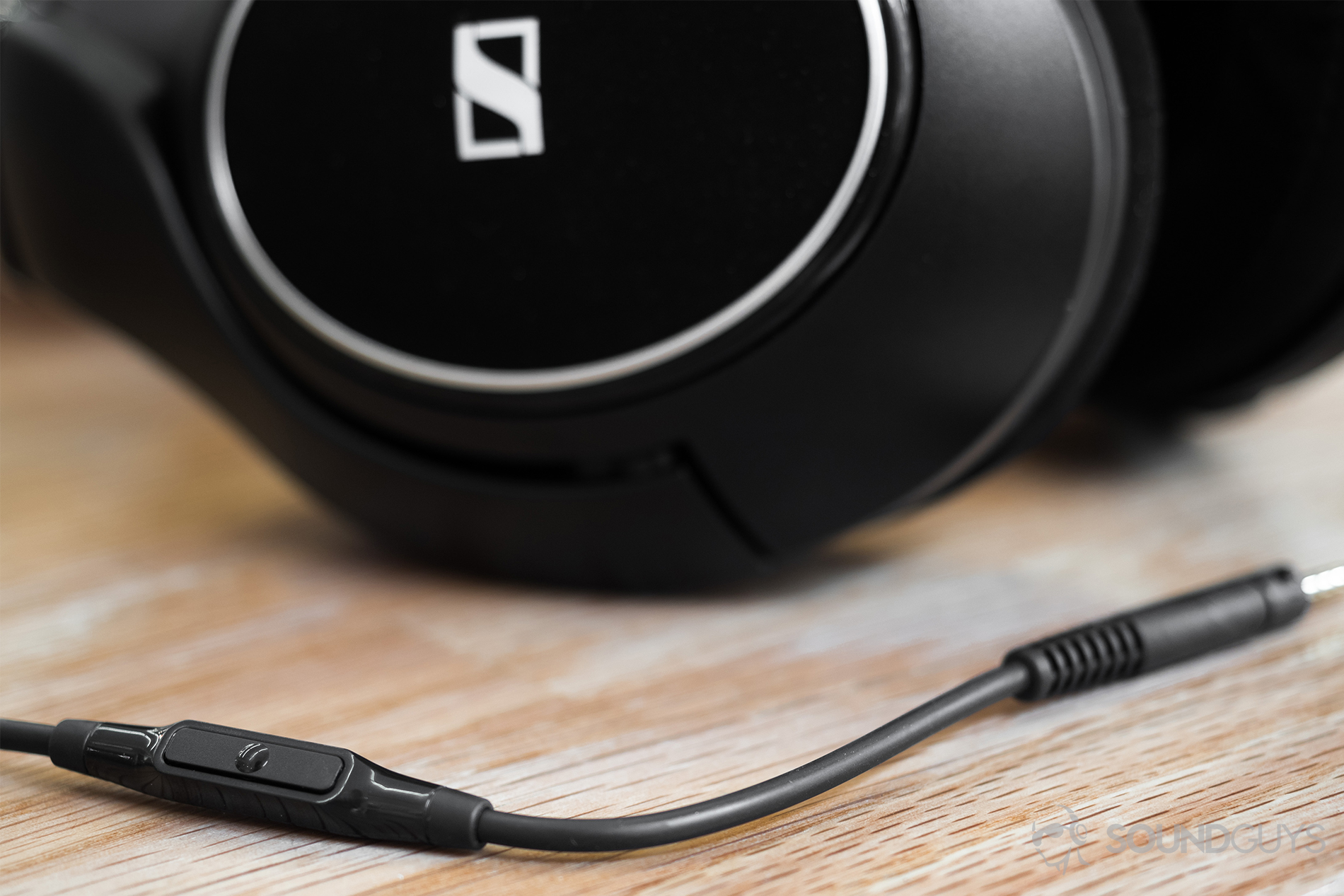 The multi-function button on the Sennheiser HD 598 CS is useful and allows listeners to easily access their respective virtual assistants.
Tambourines enter at 1:47 and are shaken, not hit, to extract a pure treble sound sans percussive attack. While the tambourines shake, a basic four-beat drum pattern kicks in. The two ends of the frequency spectrum complement each other well, due to the Sennheiser HD 598 CS sound engineering. Barely overemphasized, the treble is easily heard without degrading the bass which may sound under-emphasized to the consumer's ear but is actually an appropriately neutral response.
Conclusion
If emphasized vocals and treble combined with neutral bass reproduction appeals to you, then the Sennheiser HD 598 CS is a great buy. The soundstage is phenomenal given the closed-back design and sub-$150 price, making each song an open field for auditory exploration.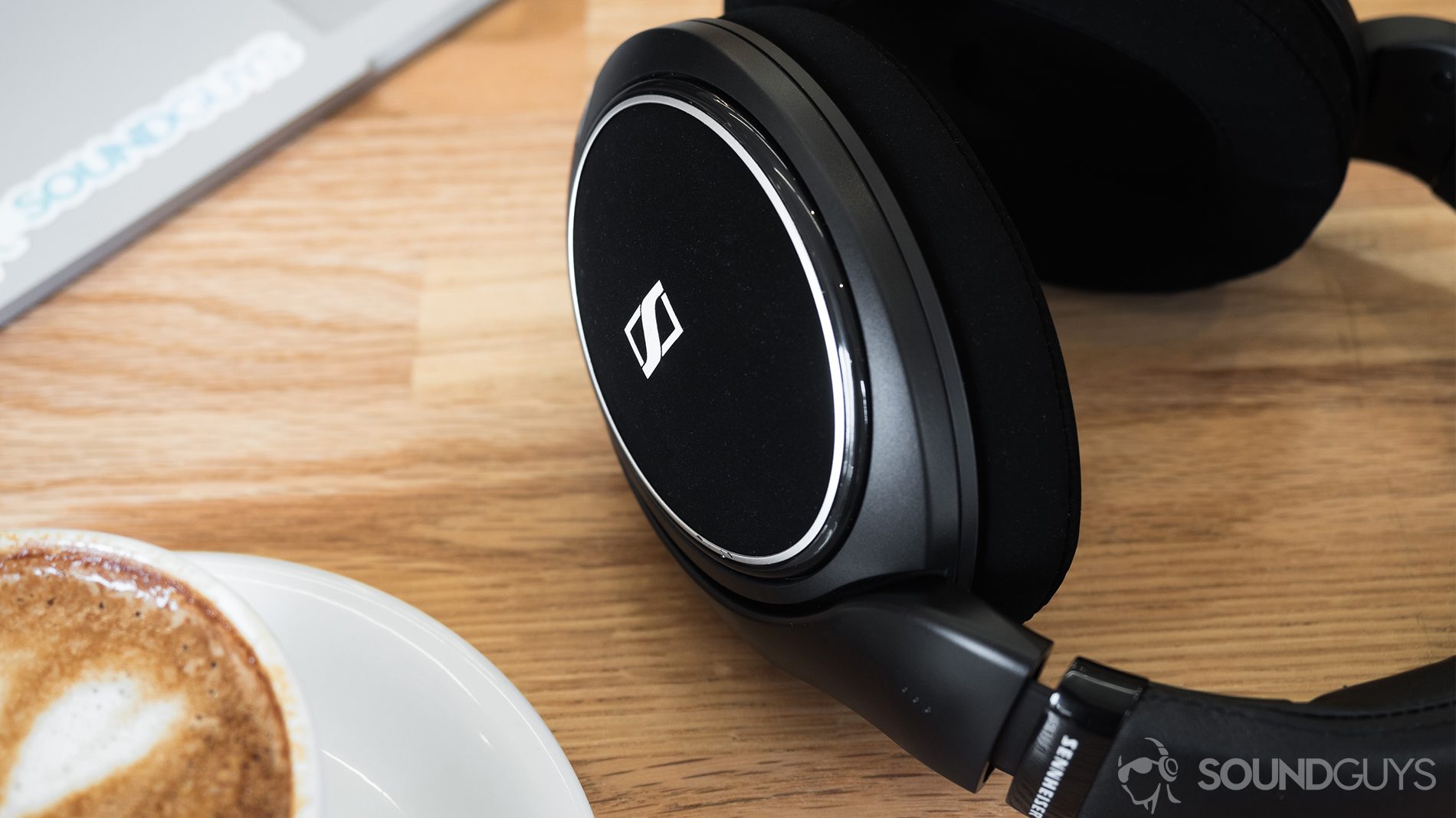 Though the suede-like material looks and feels great, it takes patience and a good lint roller to remove all the dust it attracts.
Though the mids could benefit from added clarity within the midrange spectrum, the sound signature is still pleasing without being completely neutral and analytical. The Sennheiser HD 598 CS serves as a great pair of headphones for listeners who appreciate a more neutral sound compared to bass-heavy alternatives.
Related: Best headphones under $200