All products featured are independently chosen by us. However, SoundGuys may receive a commission on orders placed through its retail links. See our ethics statement.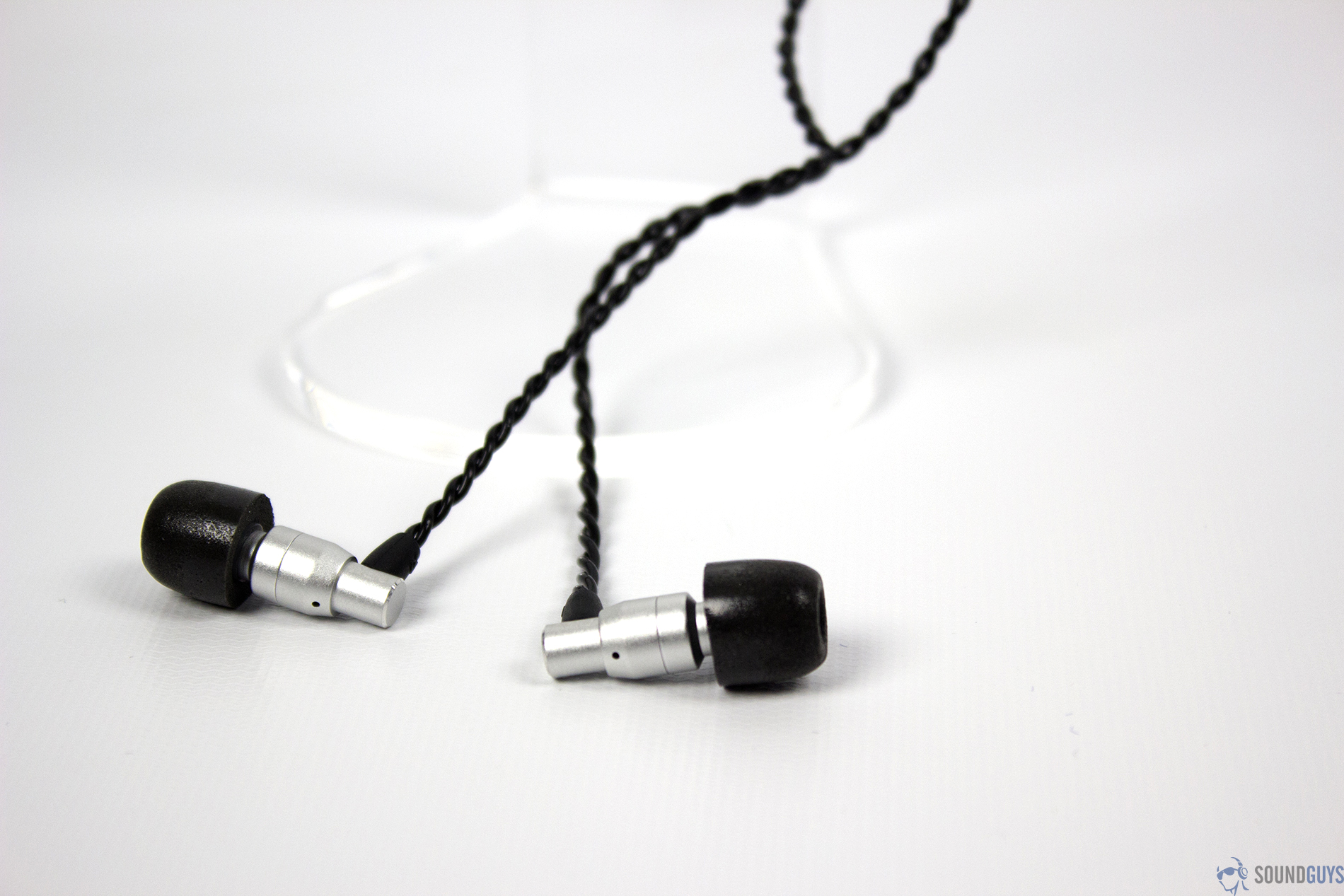 The bottom line
For less than $50, the M4 is definitely worth considering as your next pair of portable in-ears.
ADV.Sound M4
For less than $50, the M4 is definitely worth considering as your next pair of portable in-ears.
What we like
Good mids & bass<br>
Tangle-free & durable<br>
Inexpensive<br>
What we don't like
Overemphasized highs<br>
Fairly heavy for 'buds<br>
Rating Metric
Sound Quality
8.4
Bass
8.9
Midrange
9.2
Highs
7.0
Durability / Build Quality
8.5
Value
9.0
Design
8.4
Microphone
8.0
Portability
9.0
UPDATE [February 2022]: This product has been retired. You can find similar in-ear headphones in this list of earbuds.
ADV.Sound is a small new audio company that burst onto the scene via crowdfunding sites like Kickstarter and Indiegogo with their M4 in-ears. They claimed that they could provide high-quality sound for only $40, which was enough of a hook to shatter their goals many times over (800% funded on Indiegogo). The headphones are designed with sound quality for musicians and are supposed to be pretty durable as well, and for only $40 we knew we had to give them a shot. But do they live up to all they claim? Or are you better off looking elsewhere?
What's in the box
In the box, you'll get the headphones, a small information booklet, and a nice hardshell carrying case. In the carrying case are a few different ear tips of different styles and sizes to help you find a good fit.
How is the ADV.Sound M4 built?
At first, I wasn't impressed with the build quality of the earbuds. The braided plastic cable and the aluminum earbuds felt kind of cheap and overall the headphones are a little on the heavy side, but there's a reason for that. First, these headphones actually are cheap in terms of money. But more importantly, the M4's are really durable and almost impossible to tangle. Using them for a few days without the case I never had to stop to untangle them even when I deliberately stuffed them in my pocket, which is a sure way to tangle any average pair of 'buds. The braided cable also grew on me because pulling and stretching the audio cable never caused any damage. Of course we didn't try to break them, but applying a decent amount of force to them never caused them to snap.
One downside to note is that because the headphones are kind of heavy they do tend to fall out or get snagged easily. Thankfully there's an included shirt clip on the cable to avoid this from happening too often, but it was still worth mentioning. Though they come with a few different ear tip options, I found the memory foam ones that came included worked fine for me and were comfortable in my ears. That said, the backend of the earbuds are more narrow and do get a little uncomfortable. It's not painful by any means, but it's definitely noticeable.
Connectivity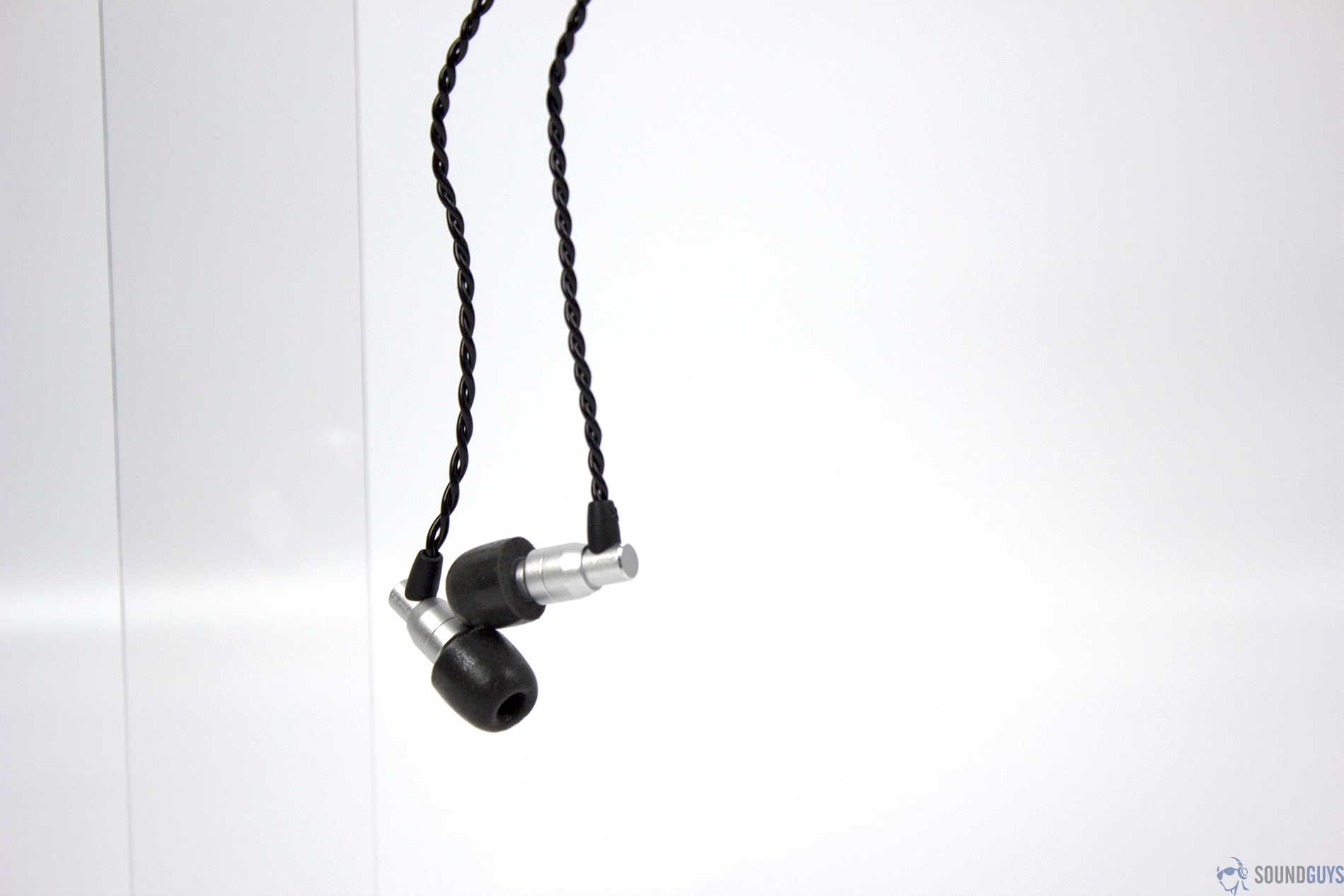 Though the treble is harsh at times, the sound quality is hard to beat for a pair of sub-$40 earbuds.
These earbuds do work with iOS and Android, but their main purpose is for music so you're not going to find too many features in this category. There's a one-button mic and remote that, if you have an iOS device, let's you skip songs, return to previous songs, pause and play music, and even access Siri. On Android, you have the same functionality, minus the ability to return to previous songs. You can still access Google Now, pause/play music, and skip songs. The 3.5mm jack also ends in a 90-degree angle to help avoid any of the internal wires getting frayed, which just adds to the durability.
Sound Quality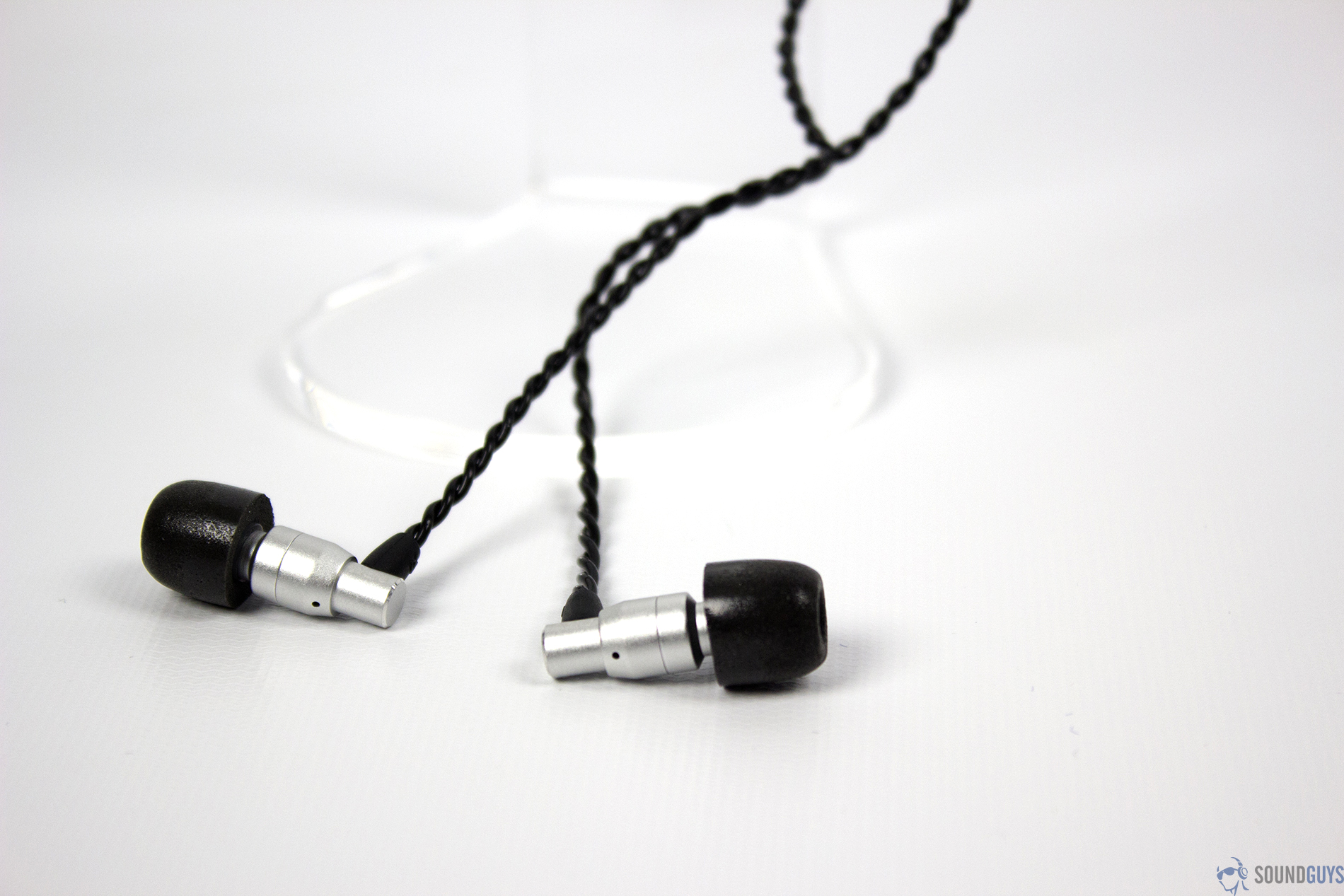 A braided cable helps earbuds to be tangle-resistant. For earbuds under $50, this is one of the most robust features you'll get.
We did most of our testing on mobile devices like tablets and phones, but we also plugged them into an audio interface to see what they can really do.
Lows
If you're looking for heavy bass you might not enjoy these, but the low end is great. They have a pretty flat sound and there was no muddy bass bleeding in the mids at all. The percussion and baseline in "Spaceship Coupe" by Justin Timberlake was particularly enjoyable and never overdid themselves.
Mids
The mids had a good amount of emphasis that really worked in the M4's favor. Normally vocals sit way on top and background instruments tend to blend together, but these managed to maintain a good amount of detail in supporting instruments as well as the vocals. In "Joy" by Iron & Wine, the guitar, piano, and vocals all coexisted perfectly in the same space.
Highs
Highs were by far the weakest part of the headphones. Cymbals and hi-hats got pretty harsh at times and t's and s's seemed to pop out to the point where I had to lower the volume on plenty of songs. It was most apparent in "The Only Living Boy in New York" by Simon & Garfunkel. If you usually listen to music on max volume, you'll most likely be forced to lower the volume.
Should you buy the ADV.Sound M4
In the end, many of the M4's strengths are also their weakness. The cable is hard to break and won't tangle, but it makes the earbuds kind of heavy. The sound quality in the lows and mids are great, but the highs really take it down a notch. With all the pros and cons tallied up, there's still one aspect of the headphones that make them great and that's the price. For only $40, these are an aggressively priced pair of headphones. For double the price you can probably find a better pair of headphones, so if you have the money you might as well go for something better. But if you're strict on a sub-$50 budget, these are a great option.