It's been a busy year for audio and even though a couple of months isn't enough time for some obviously amazing products to be dethroned, it is enough time for some new ones to emerge. We're only about halfway through the year but we thought it'd be a good idea to update our best Bluetooth speakers list to reflect what's going on in the market in mid-2016. Consider this a — progress report of sorts. Except instead of having to worry about what you got in math class, you get a few cool new options for Bluetooth speakers.
You might also like: Best bluetooth speakers under $50 | under $100
---
Best All-Around
Money is no object: Creative Sandblaster Roar 2 – Amazon.com ($142.00)
Now if you're looking for the Swiss Army knife of speakers that has some great features and still sounds good, then our pick hasn't changed since last year. The Creative Sound Blaster Roar 2 is still a killer speaker. The original Sound Blaster Roar took us by surprise, with a ton of great features at a competitive price. So when the Roar 2 came out we weren't sure if Creative was going to pull off the same kind of magic.
In terms of bass, this speaker packs a punch
Luckily they did, and the Roar 2 has earned a spot on this list. It's smaller and lighter than the original while maintaining a good sound, but the magic lies in the functionality. It has NFC, a USB output to charge your devices, a built-in voice recorder, a micro SD card slot so you can play music stored on a memory card, and it can even act as an external sound card for your computer. It has a 6,000 mAh battery that provides up to 8 hours of constant playback, and has on-board controls so you won't have to reach for your source device every time you want to lower the volume.
In terms of sound the speaker packs a punch with a feature Creative calls "TeraBass". Normally, when a speaker is played at low volumes it stresses the lower end of the frequency range so that bass can still be heard. Creative claims that the TeraBass feature is able to intelligently up the bass without "artificially over-accentuating" the levels, allowing for a more pleasant listening experience. On top of that there's also the ROAR feature, which is the feature for which the speaker was named after.
Turning this on gives the speaker a boost in volume without distorting any of the frequencies. Even the vocals in the mid-range still come through loud and clear. It has a ton of features, but Creative still managed to keep it significantly under $200 which is pretty impressive. On Amazon, you can find it sitting with a comfortable 4.6 out of 5 star rating thanks to about 1,600 customer  reviews.
Buy from Amazon
Bang for your buck: Anker Soundcore – Amazon.com ($35.99)
We reviewed a few options that could've gone here. Questionable sound quality is no longer a requirement when it comes to affordable Bluetooth speakers and we reviewed plenty of inexpensive speakers over the past few months, but one that stands out above the rest is the Anker Soundcore.
Another great feature is the 24-hour battery life
Anker seemingly came out of nowhere making a name for themselves in quality battery packs and phone accessories, and when they stepped into audio they continued to impress. The Soundcore is their newest Bluetooth speaker and when we reviewed it we were pretty impressed with the sound that came out of this innocuous little black box. It's not going to blow you away with crystal clear audio, but when you take into account the sub-$50 price tag it makes you wonder how they were able to achieve what they did.
This little black box weighs in at only 12.6 ounces and has a soft rubberized body, so tossing it into a backpack isn't a problem at all. Another great feature is the 24 hour battery life, which is perfect if you're like me and don't really want yet another device that needs to be plugged in every night. Up top is where you'll find the power and Bluetooth pairing button along with the pause/play button and volume buttons.
It's worth mentioning that the matte black plastic casing isn't ideal for greasy fingers, so you may not want to reach for it after eating some chips. Anker claims range of 60 feet for the Soundcore and while playback isn't perfect at that distance, they weren't lying. Connecting up to 30 feet is a breeze and it's only once you get to about 40 feet where you might run into some issues.
If you usually play music from something like an older iPod that doesn't have Bluetooth capabilities, you can still plug in via the 3.5mm input located on the side. The Anker Soundcore comes in black, blue, and red for and has a score of 4.6 out of 5 stars on Amazon.
Buy from Amazon
---
Best At Home
Money is no object: Fluance Fi70 – Amazon.com ($499.99)
One of the more recent speakers we reviewed that really impressed us was the Fluance Fi70 Bluetooth speaker. First things first let's get one thing out of the way: this isn't portable. Though you can move around the house if you really want to, at 81 pounds it's pretty much meant to stay in one place. That said it is still a Bluetooth speaker and sheerly due to its sheer size is able to provide a great audio experience whether you're listening to music or watching a movie.
It's able to provide great audio due to sheer size.
The speaker stands just below waist height but is surprisingly easy to assemble considering it's size. The speaker has some plastic but for the most part the entire housing is made of wood which not only helps with how it sounds, but also with the aesthetics. For such a large speaker it has a gorgeous design and would be a welcome addition to most home audio setups (especially if you don't already have a home audio setup). It has a fairly strong Bluetooth connection and a few different inputs depending on what you want to do. Being a Bluetooth speaker there's an option for connecting wirelesssly, but you can also listen to FM/AM radio, hardwire a source device through the 3.5mm audio jack, and also hook it up for video thanks to an optical input. If you need to charge your device there's also a USB output.
The Fi70 has a lot of different inputs but thankfully they're all hidden away on the back of the speaker. From the front you'll only see a clean, minimal design that doesn't even have any buttons to break up the continuity of the design. Instead, Fluance opted for the touch sensitive controls we've seen on some of their previous speakers. It worked well on those speakers and they work here as well, with controls letting you power on the speaker, control volume, change inputs, or change tracks. If you don't feel like getting up to manually adjust the volume or settings, it also comes with a small remote so you can control your audio without ever leaving the couch.
All the features are great, but what really sets this speaker apart is the sound. It has dual 8" subwoofers that provide a full low end while the mids have their own set of dual drivers, as do the highs with dedicated tweeters. As we said in the full review, if you have space for a speaker of this size it's well worth the money. And at only $500, it really isn't too expensive to begin with, considering it's a home speaker. The Fluance Fi70 may only have 16 reviews on Amazon, but it has an almost perfect score of 4.7 out of 5.
Buy from Amazon
Bang for your buck: Anker Premium Stereo Bluetooth Speaker – Amazon.com ($59.99)
Are you surprised it's another Anker speaker? The Premium Bluetooth Speaker (henceforth referred to simply as the Premium) is a compact speaker with dreams of home audio. It received plenty of great reviews before we gave it a shot, and when we did we liked what we heard. It isn't going to give you the sound that something like the Fluance Fi70 is going to, but that's just due to its size. If this was as big as the Fi70 it'd sound just as good.
Apart from that, nothing about this speaker is old.
That said, this speaker measures only 8.3 x 2.4 x 2.4 inches and weighs 1.4 pounds. It's still portable, but everything from the design to the way that it stands points towards it being made for something like a desk or table. It's still rectangular in shape, but it has rounded edges that make it seems like it'd be better off in your living room instead of a backpack. The front grill is also made of the soft fabric found on retro audio speakers and give it an unmistakeable old school feel. Even the buttons up top are made of a plastic that reminds me of old electronics.
Apart from all that, nothing about this speaker is old. It has Bluetooth 4.0, buttons that let you control volume and playback built into the design, and an 8 hour battery life. It's not as impressive as some other speakers of this size that we've seen, but in my mind that furthers the case that it makes a great home speaker. If you're already home you're probably not going to need the 24 battery life of the previously mentioned Soundcore because chances are you're going to be near outlets.
If you decide to sacrifice some of that battery life, you get a more powerful bass, louder overall volume, and crispier highs which make for great listening experiences. Pair that with a sleek retro design and it's why we chose the Premium as the best bang for your buck home Bluetooth speaker. If you need further confirmation before paying $59 for it, you can check Amazon where almost 1,300 customers have reviewed it and gave it a score of 4.4 out of 5 stars.
Buy from Amazon
---
Best Portable
Money is no object: JBL Flip 3 – Amazon.com ($82.99)
When it comes to portability the name JBL always comes up in one form or another. This time, it's in the cylindrical shape of the JBL Flip 3. The Flip 3 is the sequel (threequel?) to the popular Flip. It now has a fabric covering with two passive bass radiators on either end to pump out the sound and a fabric covering to protect it from splashes.
Now that the Flip 3 is splashproof, it's a good beach companion
Battery life has  also been increased to 10 hours, nearly double the just over 5 hours we got while testing the Flip 2. Bass is better than it has any right to be in a speaker this size, mids are slightly forward but don't go nuts, and while the highs can get harsh when you push the volume all the way up, they're fine through most of the volume range.
During our testing we got almost 50 feet of range, and now that the Flip 3 is splashproof, it makes a good companion to take to the beach or a family picnic. It has the volume buttons sneakily embedded into the fabric and also two buttons on that back to activate Bluetooth pairing or to sync up with another JBL product.
If you have two of these (or something like the JBL Xtreme), pressing this button connects them together for a seamless audio experience. It's a neat trick that doesn't even require an app . With 4.5 out of 5 stars on Amazon coming from over 1,100 reviews, we doubt you'll be disappointed.
Buy from Amazon
Bang for your buck: CB3 Ultra Slim – Amazon.com ($49.99)
Unless you've already seen it our post on the best Bluetooth speakers for under $50, you've probably never heard of this one, but the CB3 Ultra Slim can be found for less than $50 and measures only 1.8 inches thin. It is what it claims to be: ultra slim. But it still has some other features that makes it best bang for your buck portable option.
It's also fun to look at, thanks to its exposed passive radiator
For one, the unibody aluminum design doesn't only mean that it's slim enough to easily slide into your pocket or backpack, but it also means that it's fairly durable. We wouldn't exactly consider it rugged, but it can definitely survive trips from point A to point B without a problem.
Of course one thing any speaker this size is not going to do is shake the table with bass, but it is pretty decent considering it's size. It's also just fun to look at while it's playing music since you can watch the passive radiator in the middle move along with the beat. Definitely something that will make you look that much cooler when you slide it out of your pocket and start playing music at your next get together. Battery life is spec'd at about 8 hours so although you might need to charge it after a days use, at least you can feel confident that it'll get you through the day.
They come in three minimal colors that match your phone or computer pretty much spot on, so if you want something slim, ultra portable, and  definitely go grab one of these. They have a 4.4 out of 5 star rating on Amazon with 90% of the reviews being either 4 or 5 stars.
Buy from Amazon
---
Best Rugged/Waterproof
Money is no object: Fugoo Sport XL – Amazon.com ($299.99)
Summer parties and music go hand-in-hand, so what's our favorite waterproof speaker? This title goes to the Fugoo Sport XL.
If you're nowhere near water, then maybe some of the other speakers on this list are good enough for you. But if you like to enjoy warm weather with some tunes, then you might want something that can take a beating and a bath and live to see another day. Fugoo speakers are always a solid option when it comes to waterproofing, but the Sport XL takes the cake because of the easy controls, durable design, and the large sound.
If you're going to a pool party, you won't want to forget this speaker
It has an IP67 waterproof rating and can withstand 3 feet of water for 30 minutes. It can basically go swimming with the fishes, as long as the fish aren't at a depth greater than 3 feet. Of course another compelling reason to go with this speaker is the baller 35 hour battery life. On either side are four symmetrically placed drivers that allow it to pump out the sound that it does. You'll get four tweeters taking care of the highs, 2 mid/sub drivers, and 2 passive radiators.
If you're going to any kind of water related party, the Sport XL is something you won't want to leave behind. Not only is it waterproof but Fugoo claims that it's drop proof up to 3 feet as well. Honorable mentions in this category go to the JBL Extreme and UE Megaboom, but we like the sound on the Fugoo way better. The Fugoo Sport XL can usually be found for around $300 and has an overall score of 4.3 out of 5 stars on Amazon.
Buy from Amazon
Bang for your buck: CB3 Armor XL – Amazon.com ($79.99)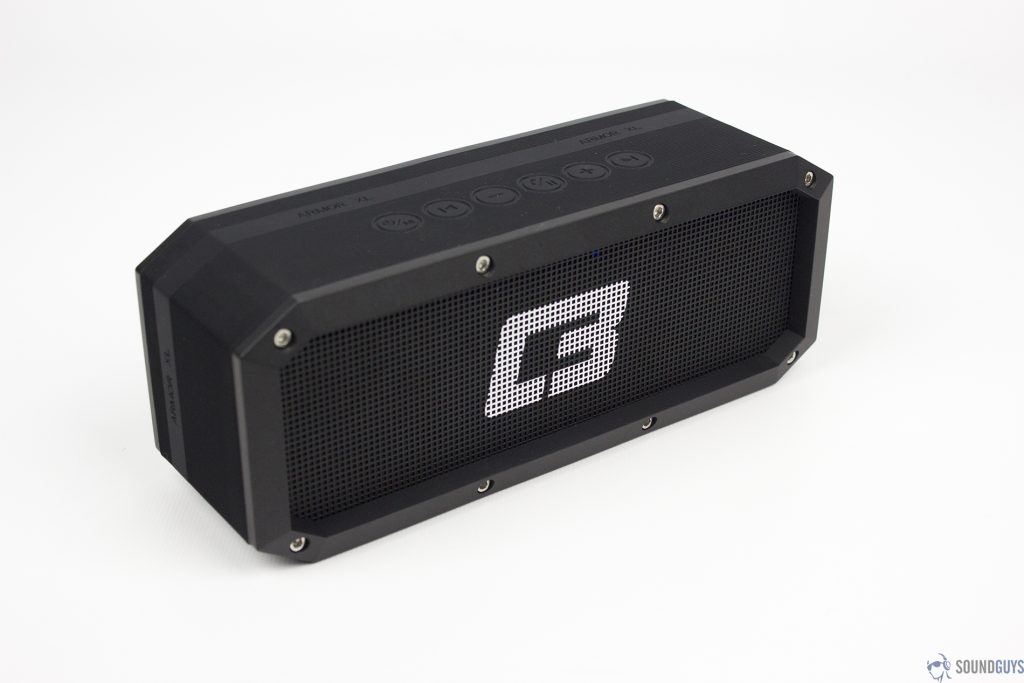 Normally this spot would be filled by something from JBL, but for the first time in a long time we found something that we like a little bit better. Enter the CB3 Armor XL. This is a waterproof speaker that's as rugged as it look. It probably shouldn't be completely submerged in water, but when we ran it under a faucet it came out completely fine, so at least you know that you won't need to worry if you're near water.
The Armor XL was built to be abused.
It doesn't have as sleek a design as some of the other speakers on this list, but this is this rugged section isn't it? Who cares, as long as it's durable and sounds good. This little cube also has Bluetooth 4.0, and it can play music for a straight 10 hours. As you would expect from a speaker that's meant to be durable, it does have a few basic playback controls built in since you're probably not going to want to bring your $600 phone near water. Better to deal with the $79 speaker while standing in a pool than a phone. It has a power button, dedicated phone button for answering and ending phone calls, a mute button, track skipping buttons, and volume buttons. The buttons are made of a soft plastic and embedded into the rubber of the speaker on top.
Bass and kick drums come through loud and clear thanks to the dual 50mm drivers so if you enjoy a strong low end, you'll like this one. Overall sound quality is pretty good on the Armor XL, but it's the sheer toughness of this speaker that gives it a spot on this list. The speaker also comes with a rubber strap that you can attach to the speaker so you can dangle it from a shower head or even a backpack. While a shower or a beach might not seem like a hostile environment for you, it is for electronics so a solid build is essential.
The combination of the sound and the build quality is the reason why this speaker is a perfect pick for a durable bang for buck option. The speaker is brand new so it doesn't have too many reviews on Amazon, but its gathered a 4.8 out of 5 star rating from the few available reviews that are already there.
Buy from Amazon
---
Best Design
Money is no object: Bose SoundLink Mini 2 – Amazon.com ($179.00)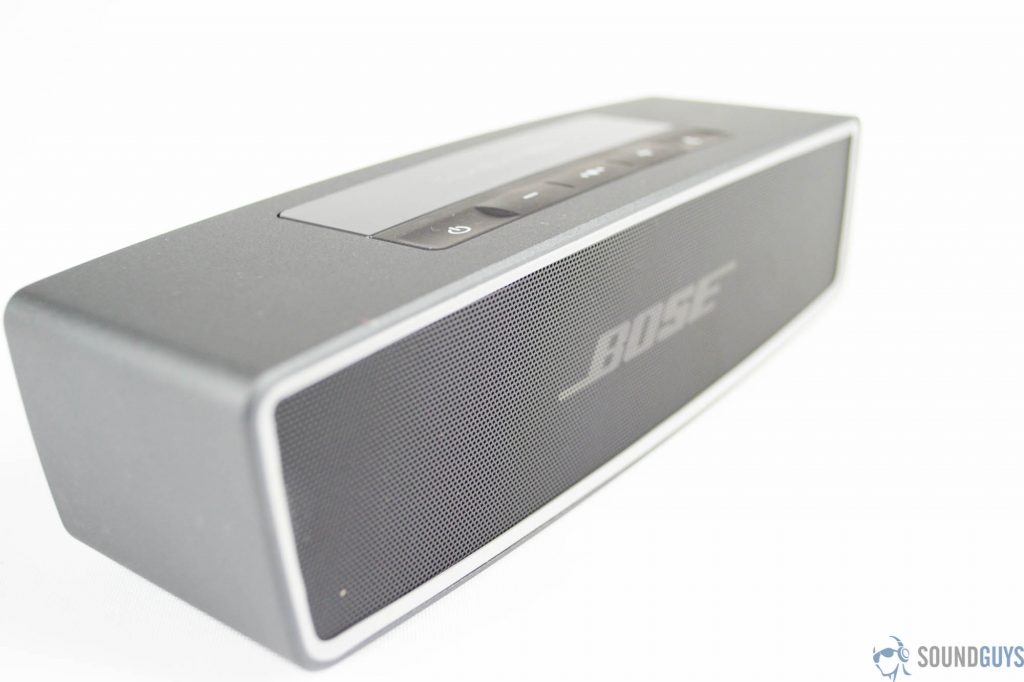 If you're looking for something sleek and portable, then the Bose SoundLink Mini 2 is still a great option. Bose products always start a debate among people who care about audio, but we take it on a case by case basis and the SoundLink Mini 2 definitely impressed us. It now has a 10 hour battery life compared to the 7 hours from the original, and thankfully it can now be charged by micro USB because, you know it's 2016.
The SoundLink Mini 2 packs big sound in a small size
The speaker has a new multifunction button up top next to the volume, power, and Bluetooth button and still maintains the minimal design people loved about the original. The same unibody metal design means that it's fairly durable and though I still wouldn't want to drop it, I'm sure it would come away from the average drop with little damage. We said it in the full review but it's worth repeating here, it has a big sound in a small size.
One overlooked perk of the SoundLink Mini 2 is that it has a good quality speakerphone built in. This might not be a big deal for most people, but if you or someone you know tends to spend a lot of time speaking on the phone or on conference calls this could be a deal breaker.
The SoundLink Mini 2 is more of a refinement to the original, which is fine considering how much most people seemed to like it. Anytime a product is made better than it was, it's hard to complain. That said, hopefully the next SoundLink Mini shakes things up and looks a little different, but for now the Mini 2 is a pretty little thing with great sound. It has a 4.6 out of 6 star rating on Amazon and comes in two colors: black or silver.
Buy from Amazon
Bang for your buck: GOgroove BassPULSE Wireless – Amazon.com ($59.99)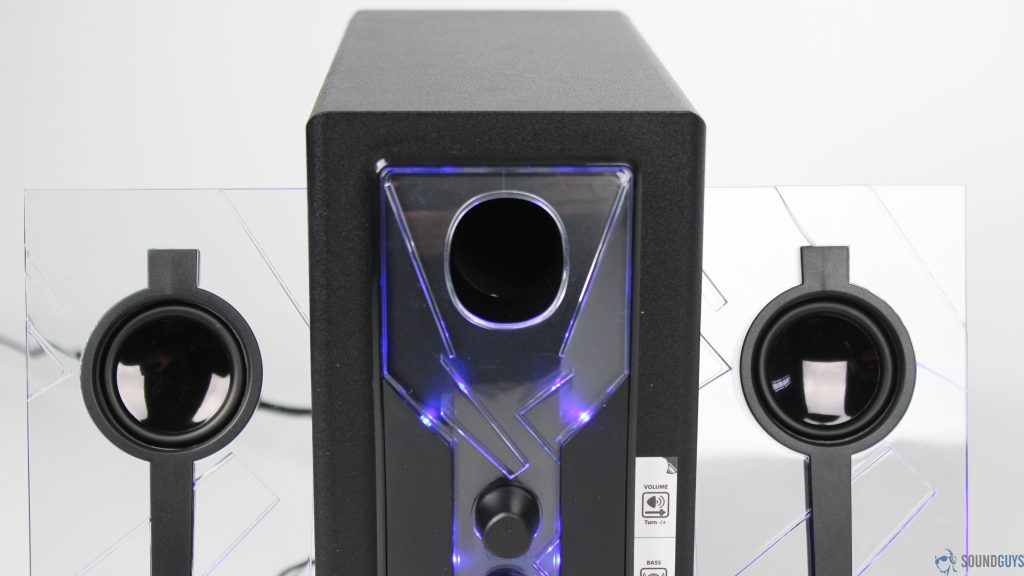 It's always hard to judge something in terms of design or style because, like sound, it's subjective for the most part. So while most people may like the minimal design of speakers like the Bose SoundLink Mini 2 that was previously mentioned, it may not be for everyone.For those of you that prefer LED lights, jagged edges, and want  speakers with a "cool" factor, there's the GOgroove BassPULSE wireless desktop speakers by GOgroove.
This is for those who prefer speakers with some cool factor
Though these are Bluetooth, they're desktop speakers which by definition makes them almost the exact opposite of portable. You'll get two satellite drivers with 40mm drivers clearly visible in each of them because, if you haven't noticed by now, they're mostly see through. The plastic is designed to look like it has cracked and jagged edges, which get illuminated by LED lights at the base of the speaker. They stand 8.25" tall and come with sub that also has the same illuminated design on its front.
The sub is about 11"in height and definitely delivers on bass. In fact, it might even be a little too much bass but thankfully you can adjust it to your liking thanks to the bass level knob found on the subwoofer. It connects to your computer via a 3.5mm jack, but it does have Bluetooth 2.1 +EDC (Enhanced Data Rate), so it can stream audio from something like a phone or tablet. You can connect via Bluetooth to the computer too, but in testing we found it easier to just leave that plugged in and use Bluetooth for portable devices.
The range is pretty standard at about 30 feet, but if there are no walls in the way the connection can stay strong at an even longer distance. Probably the coolest feature of the speaker is where it gets its name from. If you turn up the bass past 80%, the lights will pulsate to the beat of whatever music you are listening to. It seems gimmicky, and that's because it is. But we actually found this to be quite entertaining and oddly peaceful working with it on the desk. It also has a fairly solid total score of 3.4 out of 5 stars on Amazon.
Buy from Amazon
---
While we haven't covered every possible price range or use case here, these picks represent what we feel are some of the best options for a few different use cases. If you're looking for something that we haven't covered here, whether it's more expensive, more rugged, or just plain different, make sure to check out all of our reviews over at SoundGuys.com since we've reviewed a lot of stuff, so you'll probably find what you're looking for there. As always we'll be sure to keep this updated with new picks and information so you know you'll always be up to date.
Full disclosure: CB3 Audio is a partner of Sound Guys.