All products featured are independently chosen by us. However, SoundGuys may receive a commission on orders placed through its retail links. See our ethics statement.
7.2
UA True Wireless FLASH X by JBL review
The bottom line
The UA True Wireless FLASH X by JBL is a great headset for athletes. The IPX7 rating means the earbuds can be fully submerged in water for a limited while, and the wing tips help keep the buds in place during vigorous workouts. Listeners who want something with a smaller footprint should look at the Jaybird Vista or Jabra Elite Active 75t, both of which have the same IP rating.
UA True Wireless FLASH X by JBL review
The UA True Wireless FLASH X by JBL is a great headset for athletes. The IPX7 rating means the earbuds can be fully submerged in water for a limited while, and the wing tips help keep the buds in place during vigorous workouts. Listeners who want something with a smaller footprint should look at the Jaybird Vista or Jabra Elite Active 75t, both of which have the same IP rating.
What we like
12-month premium membership to MapMyRun
IPX7 water-resistance
Ambient Aware and TalkThru modes
Versatile sound for workout earbuds
What we don't like
No fast charging
Lacks multipoint connectivity
Bulky earbuds
Limited onboard controls
Rating Metric
Sound Quality
8.5
Isolation / Attenuation
3.6
Durability / Build Quality
9.0
Value
7.5
Design
8.0
Connectivity
5.0
Portability
9.0
Battery Life
7.3
Comfort
7.3
Anyone shopping for workout earbuds is bound to trust an athletic apparel brand, or so JBL hopes with its Under Armour partnership. The UA True Wireless FLASH X by JBL features a durable pair of earbuds, an aluminum case, and a 12-month premium MapMyRun membership. The partnership forged a great pair of workout earbuds, so let's see if the FLASH X stands out from the likes of Beats and Jaybird.
Editor's note: this UA True Wireless FLASH X by JBL review was updated on May 6, 2021, to include a content menu, add context to the sound quality section, and address alternative workout earbuds.
Who should get the UA True Wireless FLASH X by JBL?
The wing sleeves keep the earbuds in place.
Athletes should put these earbuds on their lists because they're extremely durable as proven by the IPX7 rating. Plus, the ear and wing tip combination keeps the earbuds in place during intense exercises.
People who value isolation should pick up these earbuds: they do a great job of blocking out background noise, so long as you find the right ear tips.
What's it like to use the UA True Wireless FLASH X by JBL?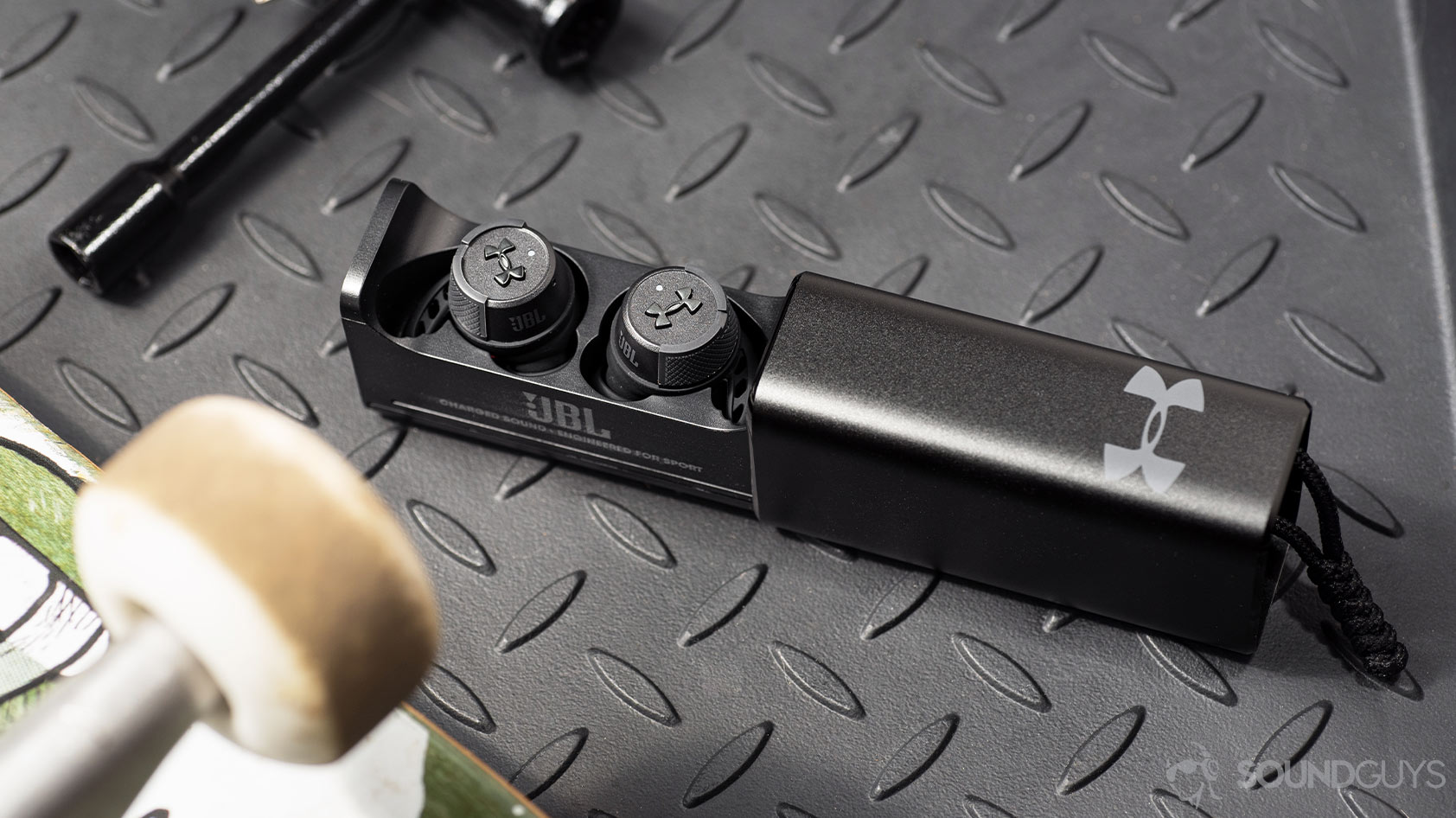 The aluminum charging case is large and supplies an extra four charge cycles.
This is one of the more premium charging cases on the market: an aluminum cover sheathes a sliding plastic piece that holds the earbuds. One end of the case has a fabric loop, so you can clip it onto a bag or hang it from a wall hook. The other end of the case houses a rubberized flap to protect the USB-C port.
Related: What makes a great set of in-ears?
JBL used a strong plastic as a foundation for the earbuds' cylindrical shape that protrudes from the ears. An etched design wraps around the housings, making them easier to grip. Under Armour's logo decorates each earbud, and is the center for onboard playback and call controls. You can also use the left earbud to cycle through TalkThru and Ambient Aware modes, and the right may be used to access your preferred virtual assistant.
The UA FLASH X supports Ambient Aware mode, but mono listening proved more pleasant.
Ambient Aware mode is great for outdoor athletes because it allows you to hear external noise while your music plays. While this feature is appreciated, I prefer to listen in mono mode because it's less distracting. TalkThru, on the other hand, amplifies vocal frequencies instead of allowing the entire frequency spectrum through the headset. Although some background noise is let in, voices predominate. This feature is great in theory but made my friends' voices sound static-y in practice. It's a forgivable disappointment since I always remove my earbuds when speaking to someone.
Should you download the My JBL Headphones app?
Currently, the UA True Wireless FLASH X by JBL isn't supported on the My JBL Headphones app, so it's not worth the download. The original UA FLASH X still isn't supported on the app, so this model likely won't see any firmware updates.
Are these great workout earbuds?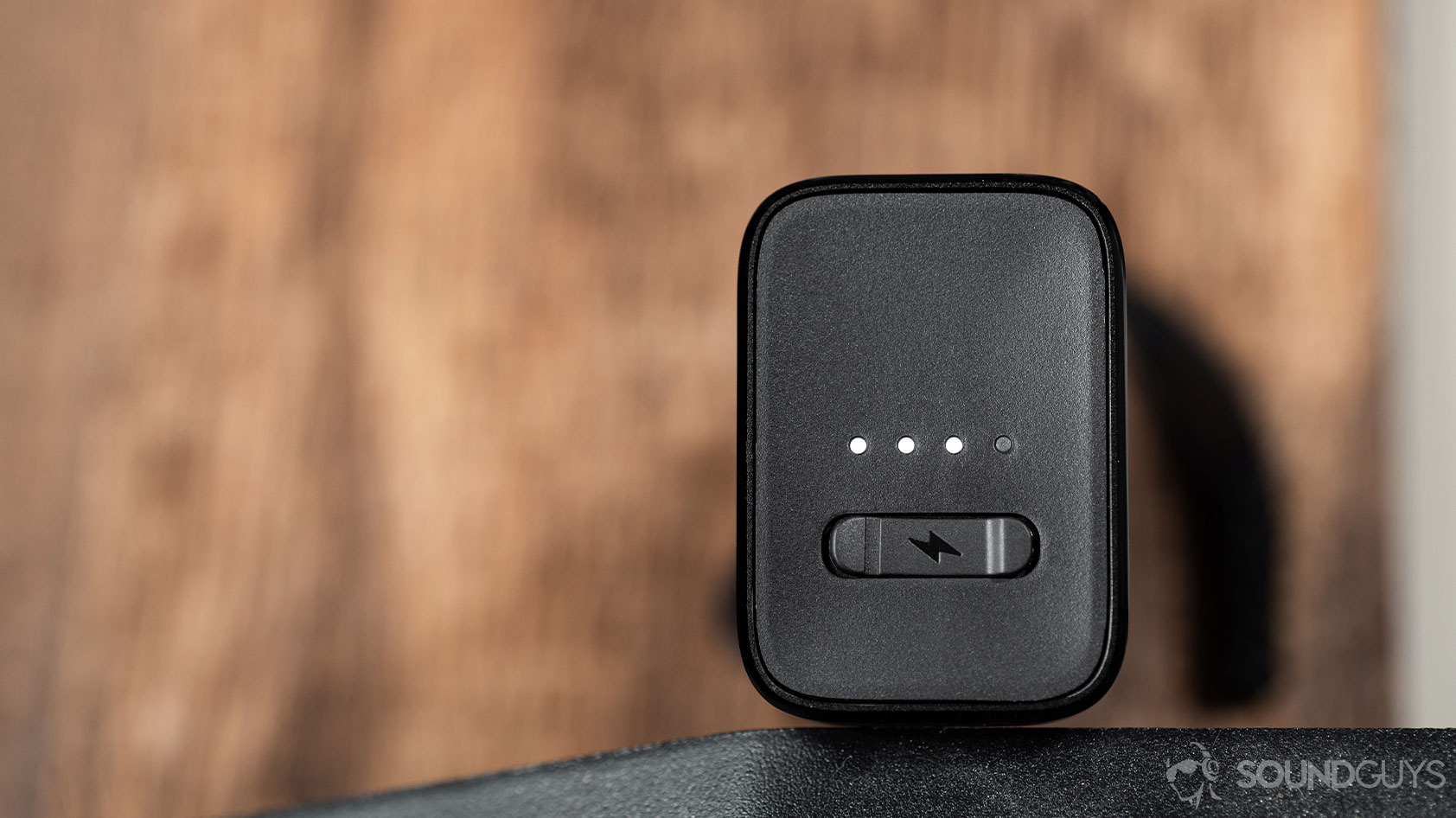 The charging case has four LEDs to notify users of battery status.
From indoor cycling to skateboarding, these earbuds served me well during all of my activities. Whenever I cycle, I become grossly sweaty but the IPX7-rated UA True Wireless FLASH X by JBL handled my perspiration like a champ. The buttons were easy to control with sweaty palms and fingers; I only wish that volume controls were enabled directly from the headset. Athletes who use chalk may want to use these earbuds with caution because they aren't officially dust-resistant.
Read on: Best workout earbuds
I love that JBL provides users with an array of wing and ear tips, so each athlete can find their perfect combination for exercise. I shook my head vigorously to try and dislodge the earbuds to no avail. The pre-installed options worked best for me, but your mileage may vary.
Do the earbuds stay connected?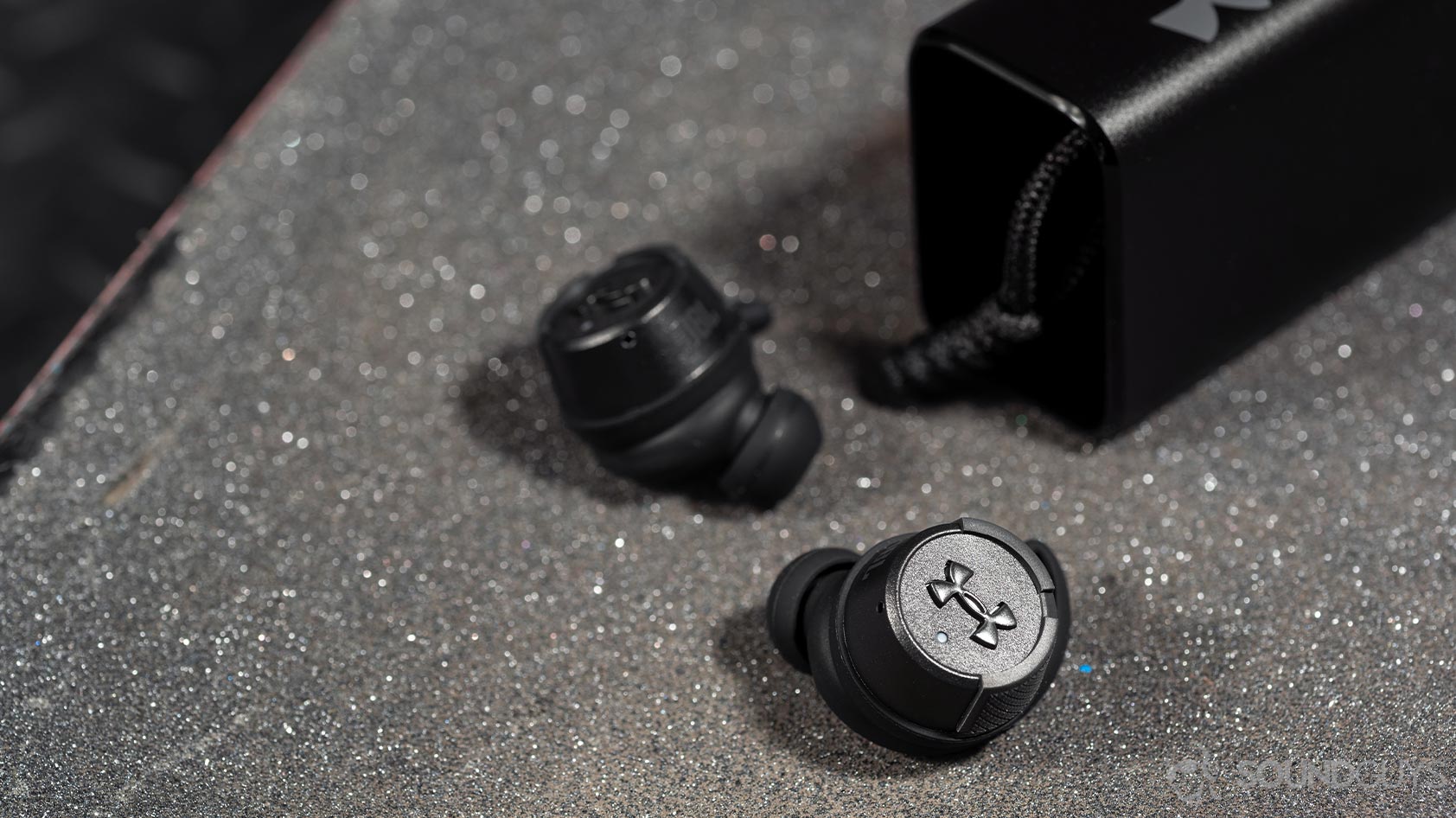 The buttons are easy to operate but don't support volume control.
Connection stability is reliable and better than the first-generation, largely due to the new Bluetooth 5.0 firmware. During my test period, I walked throughout my 700-square-foot apartment, and a connection was maintained the entire time. Hiccups only occurred when three layers of drywall were between the earbuds and my smartphone. I also noticed a few hiccups outside, but there were fewer than five instances in 10 days of use.
Become an expert: Understanding Bluetooth codecs
Bluetooth codec support isn't optimal as the earbuds only allow listeners to stream over SBC or AAC. Although both iOS and Android are compatible with AAC streaming, only iPhones and other iOS devices deliver consistent streaming qualities over AAC. Android, unfortunately, struggles to decode the AAC Bluetooth codec reliably across its litany of devices. Normally this would be a significant drawback for Android users, but since the UA FLASH X earbuds are for exercise, high-quality audio reproduction is less important.
The JBL True Wireless FLASH X don't support Bluetooth multipoint, meaning you'll have to manually disconnect the headset from your current source device before selecting the JBL True Wireless FLASH X from the desired device's Bluetooth menu. It isn't a huge deal, but feels a bit outdated, seeing how headsets like the Samsung Galaxy Buds Live use Swift Pair for rapid device switching. Auto-connect is reliable and consistent, though.
How long does the battery last?
The UA True Wireless FLASH X by JBL lasted 8 hours, 58 minutes on a single charge, which is great for the technology. Battery depletion was uneven: the right earbud drained first and the left bud lasted 9 hours, 53 minutes. This is a large discrepancy but isn't anything new. A primary bud drains faster than the secondary because it has two jobs whereas the secondary bud only has one. The primary earbud is both a receiver of data from your smartphone and a transmitter of said data to the secondary earbud. If you listen in mono mode, you'll hit JBL's claimed 10-hour playtime.
It takes two hours to fully charge the earbuds, and they do not support fast charging. This is a real shame for workout earbuds, because efficient charging capabilities are appreciated anytime you show up to the gym with drained earphones. The case doesn't support wireless charging, so you have to rely on a USB-C cable.
How does the UA FLASH X by JBL sound?
The UA True Wireless FLASH X by JBL sounds comparatively restrained when you consider that most workout earphones tend to overdo the bass notes. Usually, the bass in workout earphones is pushed to sound two or even four times louder than midrange notes (green). Fortunately, the UA FLASH X have a pleasant sound with slightly amplified bass and midrange notes. Clarity is only okay especially as it relates to vocal detail. Some of the more subtle features necessary for vocals are comparatively quiet compared to the rest of the notes. It's not much of a surprise that the illusion of clarity in voice is impacted by this.
Most all genres of music will be rendered accurately enough, and the slight bass emphasis ensures that pleasurable oomph we're used to perceiving in our music, and thankfully the UA True Wireless FLASH X by JBL achieve a good seal with ease.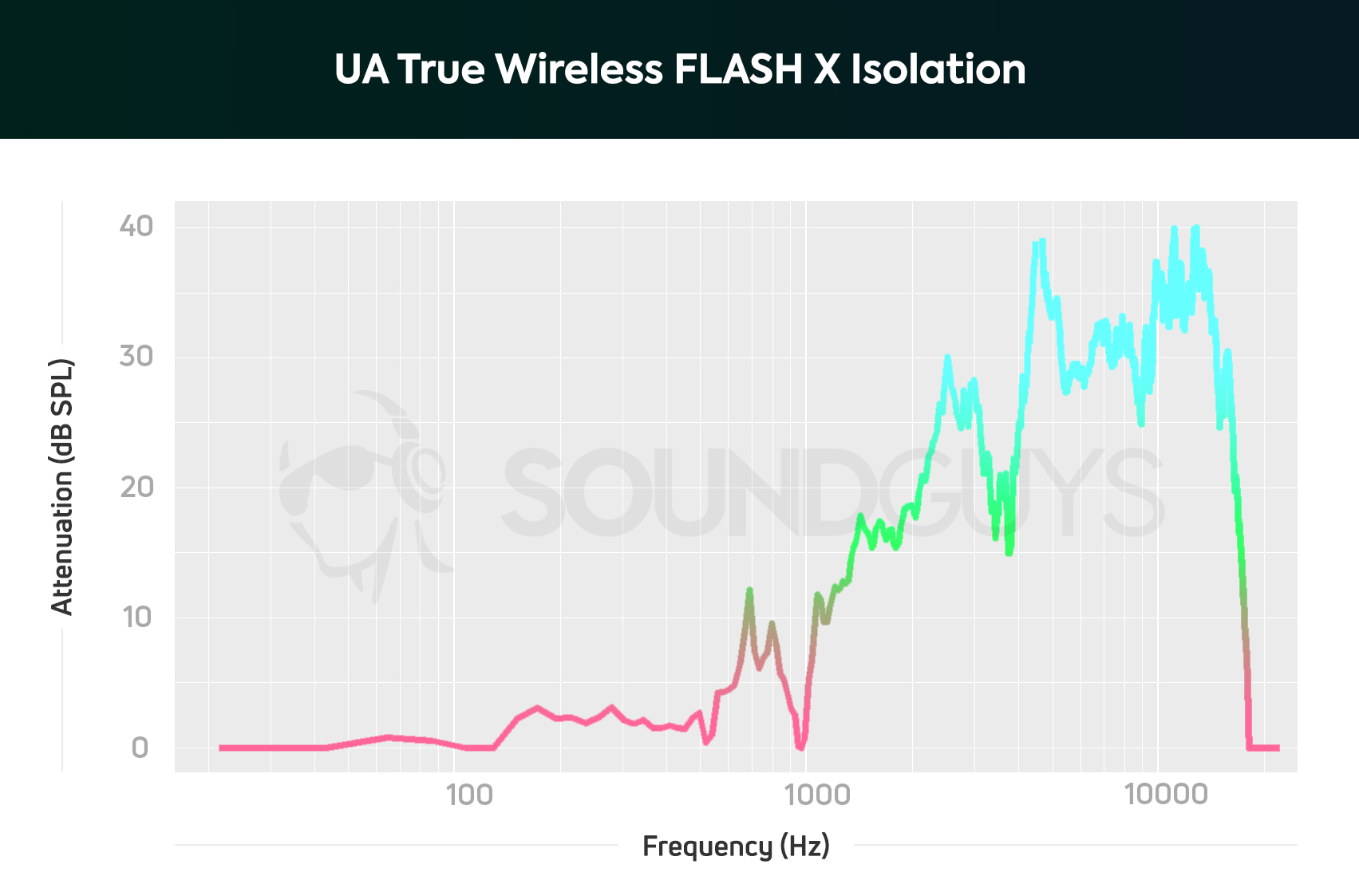 Distant background noise is effectively reduced due to the secure fit, and strong seal the buds make to the ear canals.
Isolation is very important for optimal sound quality, and these wireless earbuds easily form a strong seal. During testing, background noise (e.g. my dishwasher) was nearly impossible to hear with the earbuds in. Neighboring conversation still bleeds through the headset, but even that is muffled. Getting the ear tips to fit properly takes a bit of trial and error, though; if the default ear tips are too loose, try a size up. It's well worth the few minutes out of your day to get the best bang for your buck out of these 5.8mm dynamic drivers.
Lows, mids, and highs
The song ICY GRL by Saweetie sounds fun through the JBL UA True Wireless FLASH X thanks to the tame bass emphasis, which allows for sub-bass and bass notes to stand out a bit from other instrumentation. Saweetie's voice comes through clearly as she raps through the short song.
Treble notes are present but take a bit of effort to hear above the different percussive elements of the song. Skip ahead to 0:27 as Saweetie raps, "Stacking papers steadily so I can live in luxury." As she says the word "steadily," a chime-like sound can be heard but it's very quiet when I listen with the UA FLASH X compared to my Shure AONIC 50.
Can you use the UA True Wireless FLASH X by JBL for phone calls?
The microphone is usable but the sound quality won't blow your colleagues and friends out of the water. In the voice demo below, you can hear my voice clearly, but the headset does a poor job of rejecting background noise. You can hear my wooden floor creak as I shift my weight. This microphone array is no match for windy days or a lot of background chit-chat. If your roommate is doing dishes a few meters away, the person on the other end of your call will probably hear it.
UA True Wireless FLASH X by JBL microphone demo:
How does the microphone sound to you?
589 votes
UA True Wireless FLASH X by JBL vs UA True Wireless FLASH by JBL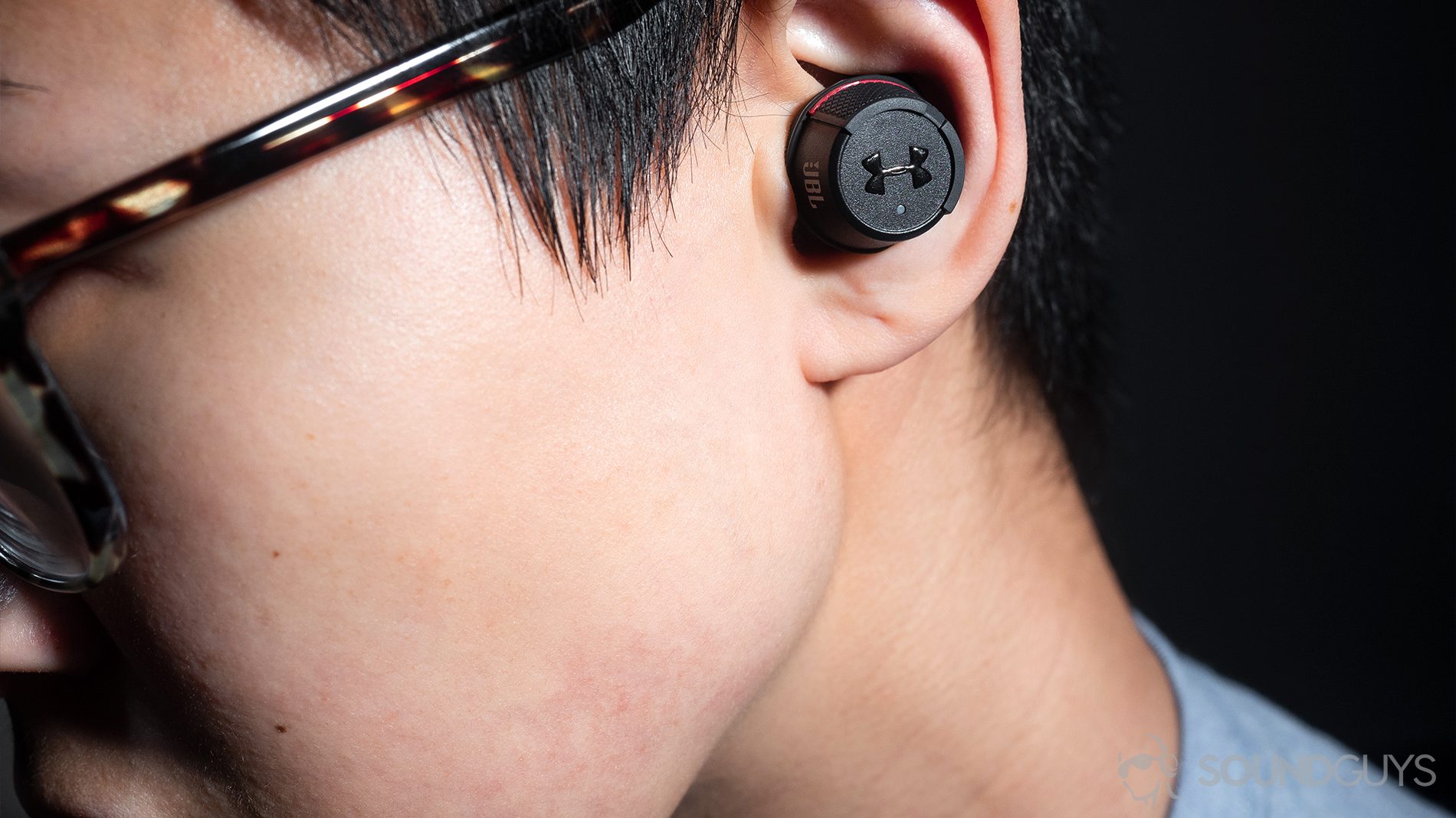 Just like the second-generation FLASH X earbuds, the FLASH protrude from the ears.
There are very few differences between the JBL UA True Wireless FLASH X and the JBL UA True Wireless FLASH, save for the red accent ring on the first-generation earbuds. The updated case uses USB-C for charging, rather than the archaic microUSB port found on the original FLASH case.
Connection quality improved with the second-generation model, which has much to do with the updated Bluetooth firmware (version 5.0 compared to version 4.2). Both headsets still support just AAC and SBC, though; and neither headset can connect to two source devices at once.
The headsets share the same build and drivers, so sound quality and isolation are unchanged, but battery life has nearly doubled from the old to the new headset. The Under Armour True Wireless FLASH affords 4 hours, 57 minutes of playtime on a single charge, while the JBL UA True Wireless FLASH X affords 8 hours, 58 minutes of playtime. Not only has standalone playtime improved, so too has the case's capacity. Listeners get an extra 40 hours of playtime from the FLASH X case, whereas the FLASH case provides 20 extra hours of battery life.
Both true wireless earbuds are IPX7-rated and can be submerged to depths of one meter for up to 30 minutes. Onboard controls are tactile buttons that take up the entire panel of the earbuds, and controls are the same. The new JBL UA True Wireless FLASH X retails for $169, while the old one costs $136. Listeners unbothered by connection hiccups should save money and get the old model. If, however, you're enticed by the better battery life and connection quality offered by the FLASH X, it may be worth digging around your old coat pockets for extra cash.
Should you buy the UA True Wireless FLASH X by JBL?
The FLASH X offers incremental improvements over the original JBL UA FLASH.
Athletes who take their workouts seriously and are constantly pushing their physical limits may enjoy the JBL UA True Wireless FLASH X. These earbuds can handle all the sweat you throw at them, and they'll even survive a dip in the pool. However, there are drawbacks: namely, the large housings and lack of fast charging. The price, while steep, is still reasonable for a high-quality pair of workout earbuds as much of the competition is priced between $170 and $200.
Beats, Bose, and Jabra offer great alternatives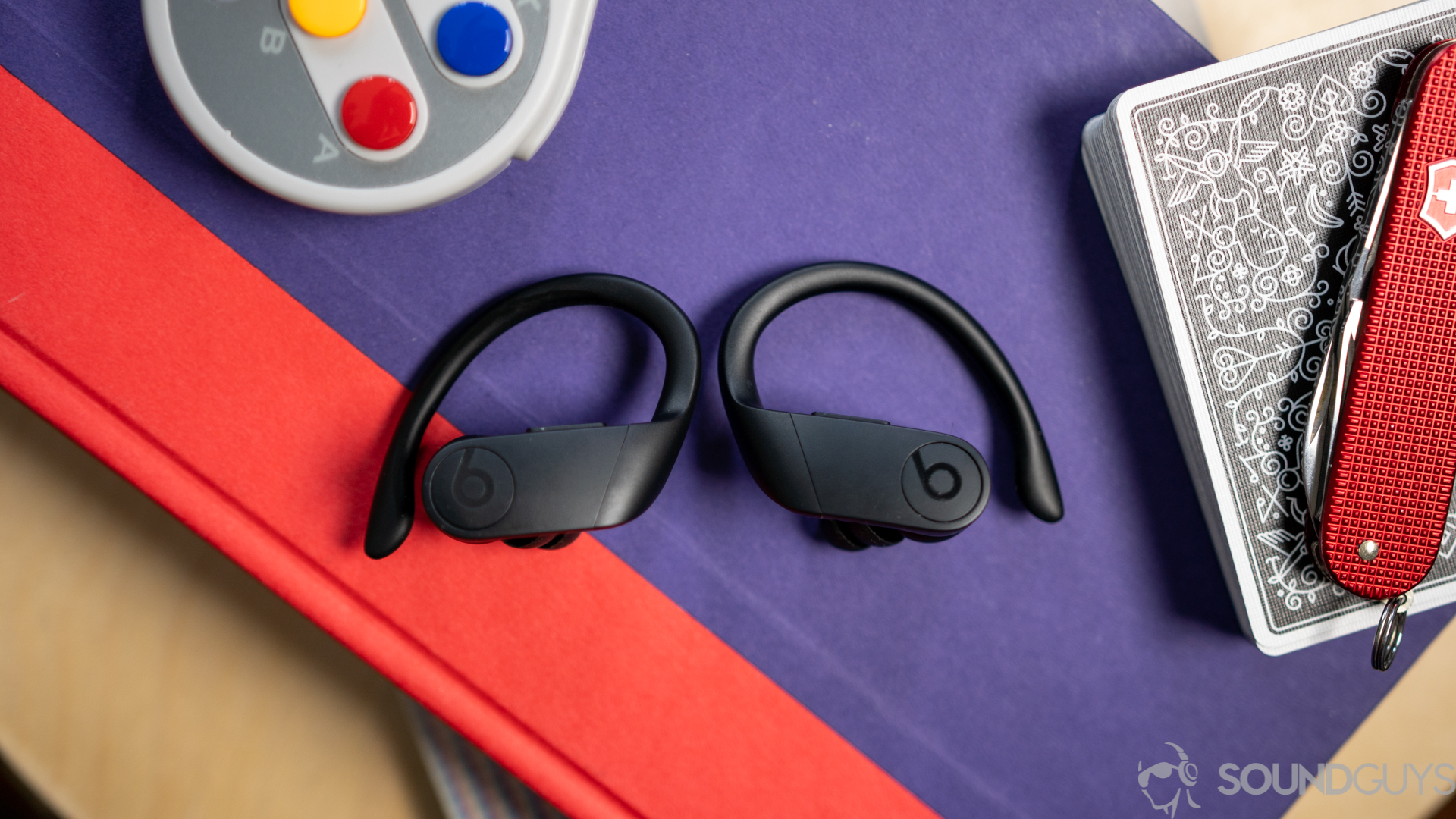 The Beats Powerbeats Pro use ear hooks to secure the housings to your ears.
iPhone users who aren't quite sold on JBL's partnership should consider the mighty Beats Powerbeats Pro. These true wireless workout earbuds aren't quite as durable as the UA FLASH X, the Powerbeats Pro have an IPX4 rating, but they include iOS-friendly features like fast pairing, device switching, and hands-free Siri access. Battery life is even better than JBL's juggernaut buds, and the ear hook design may be preferred by some.
The Bose Sport Earbuds sound and look great, and they're some of the most comfortable workout earbuds around thanks to the StayHear Max ear tips. You can listen to these earbuds for hours on end in or out of the gym, and the touch controls are some of the best around because the touch panels effectively register touches and even decode imprecise gestures accurately.
Another great audio brand that has stepped into the exercise sphere is Jabra. The Jabra Elite Active 75t are IPX7-rated and forgo extreme battery life, though the Elite Active 75t is still very good, for a more compact and versatile design. You can EQ the sound in the Jabra companion app, and take a hearing test to create a custom sound profile.
Next: Best JBL headphones