All products featured are independently chosen by us. However, SoundGuys may receive a commission on orders placed through its retail links. See our ethics statement.
Turtle Beach Stealth 600 Gen 2 vs Corsair Void RGB Elite Wireless
The Turtle Beach Stealth 600 Gen 2 and Corsair Void RGB Elite Wireless are wireless gaming headsets for $99 that share lots of features. Which one's better?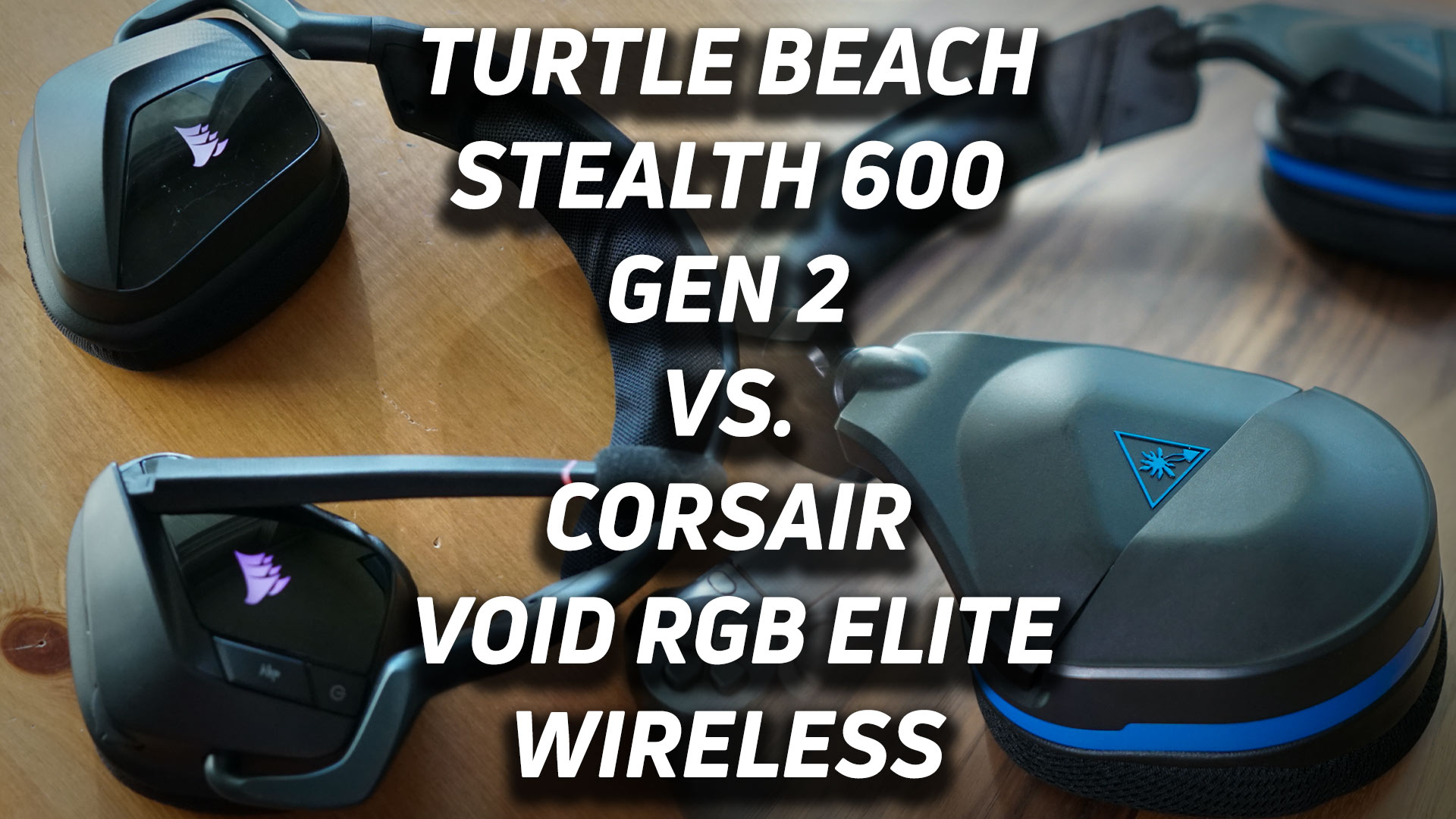 These days, there are so many great gaming headsets for around $100 that it's hard to stand out. The Turtle Beach Stealth 600 Gen 2 and Corsair Void RGB Elite Wireless both include one of the last common features usually held for more premium headsets: wireless audio. On paper, they're very similar gaming headsets, with virtual surround sound support, long battery life claims, and accurate microphones—which one is worth buying?
Editor's note: This versus article was updated on April 13, 2021 to include a link to our guide on Corsair gaming headsets.
The Turtle Beach Stealth 600 Gen 2 and the Corsair Void RGB Elite Wireless check a lot of the same boxes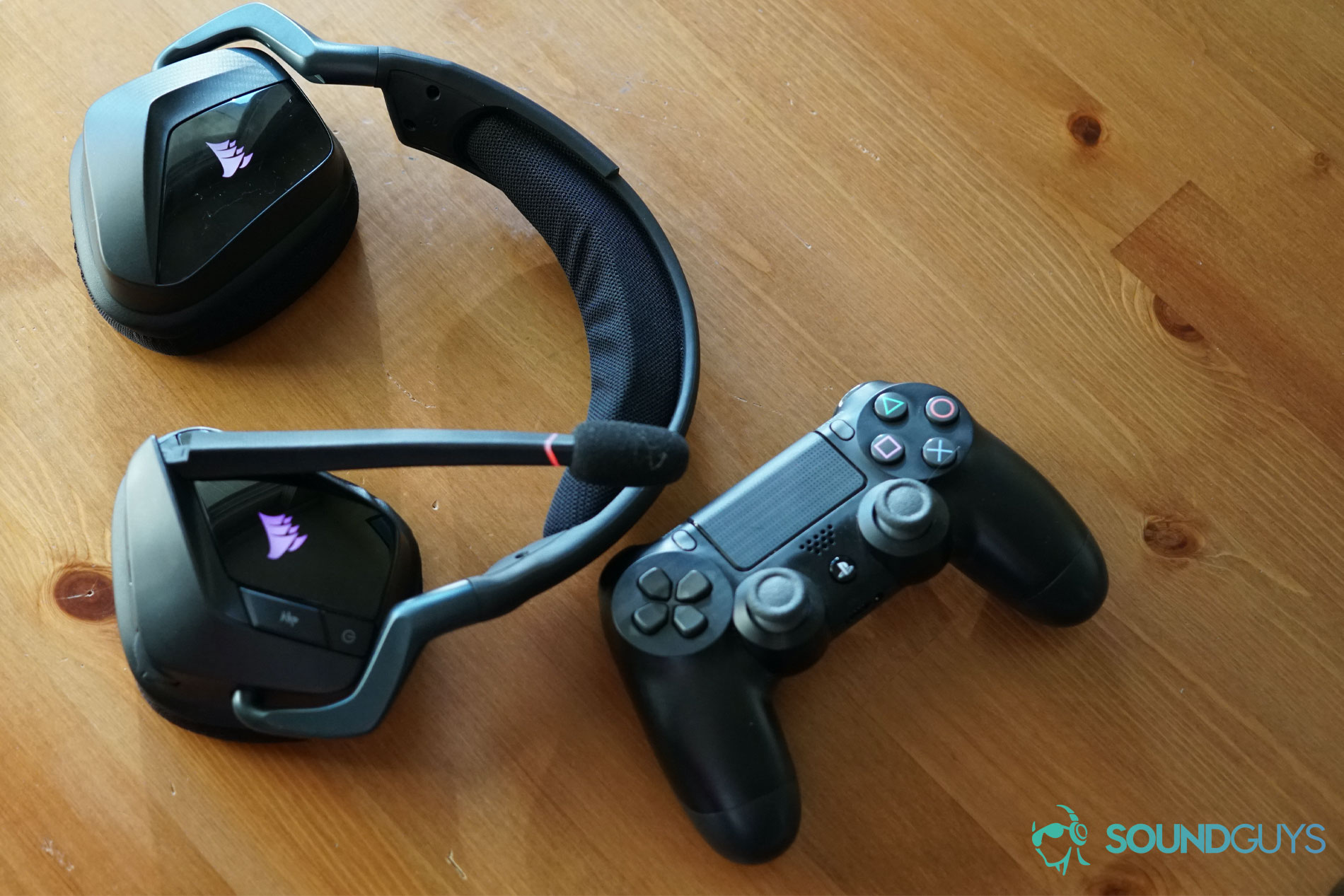 You can use Corsair iCue to take advantage of virtual surround sound.
These headsets cover a lot of similar territory, but they don't do everything in the same way. Both are wireless gaming headsets aimed at PC and PlayStation 4 that use a 2.4GHz USB RF dongle, though the Turtle Beach Stealth 600 Gen 2 also works wirelessly with the Nintendo Switch when docked. Neither offers a 3.5mm headphone jack for when the battery dies or when you want to connect to an unsupported platform like Xbox One or mobile.
The Corsair Void RGB Elite Wireless supports 7.1 virtual surround sound through its companion app, iCue. This app also lets you control the color and brightness of the headset's onboard LED lights, swap between headphone EQ presets, and adjust mic and sidetone volume. It's also the only place you can get a relatively accurate battery indicator, though it never gets more specific than within 10%. Like most gaming apps, iCue is innocuous enough, but poorly laid out. If you're not interested in surround sound, you're probably better off just ignoring it.
The Turtle Beach Stealth 600 Gen 2 works with the PlayStation 5.
Turtle Beach has a Mobile Hub app, but it's only really available on mobile (the desktop version is only for update headset firmware). The Turtle Beach Stealth 600 Gen 2 doesn't have a way to connect to a phone, so it skips the companion app experience entirely. This means its features vary by version a little. The PlayStation/PC model is designed to support the upcoming PlayStation 5, which has its own spatial audio processor. Unfortunately, it means surround sound on platforms that are actually available currently isn't an option because of that. However, one upside is that other typical software features are handled via hardware. The headset sports a Mode button for switching between EQ presets, and a separate volume dial for sidetone; this feature lets you hear your voice as you speak.
Basically, what it really comes down to is surround sound and where you need it. If you're definitely going to be an early adopter for the PlayStation 5, the Turtle Beach Stealth 600 Gen 2 is the future-proof option. If you're more of a PC gamer, the Corsair Void RGB Elite Wireless is a little more tailored to your needs.
The Turtle Beach Stealth 600 Gen 2 has way better battery performance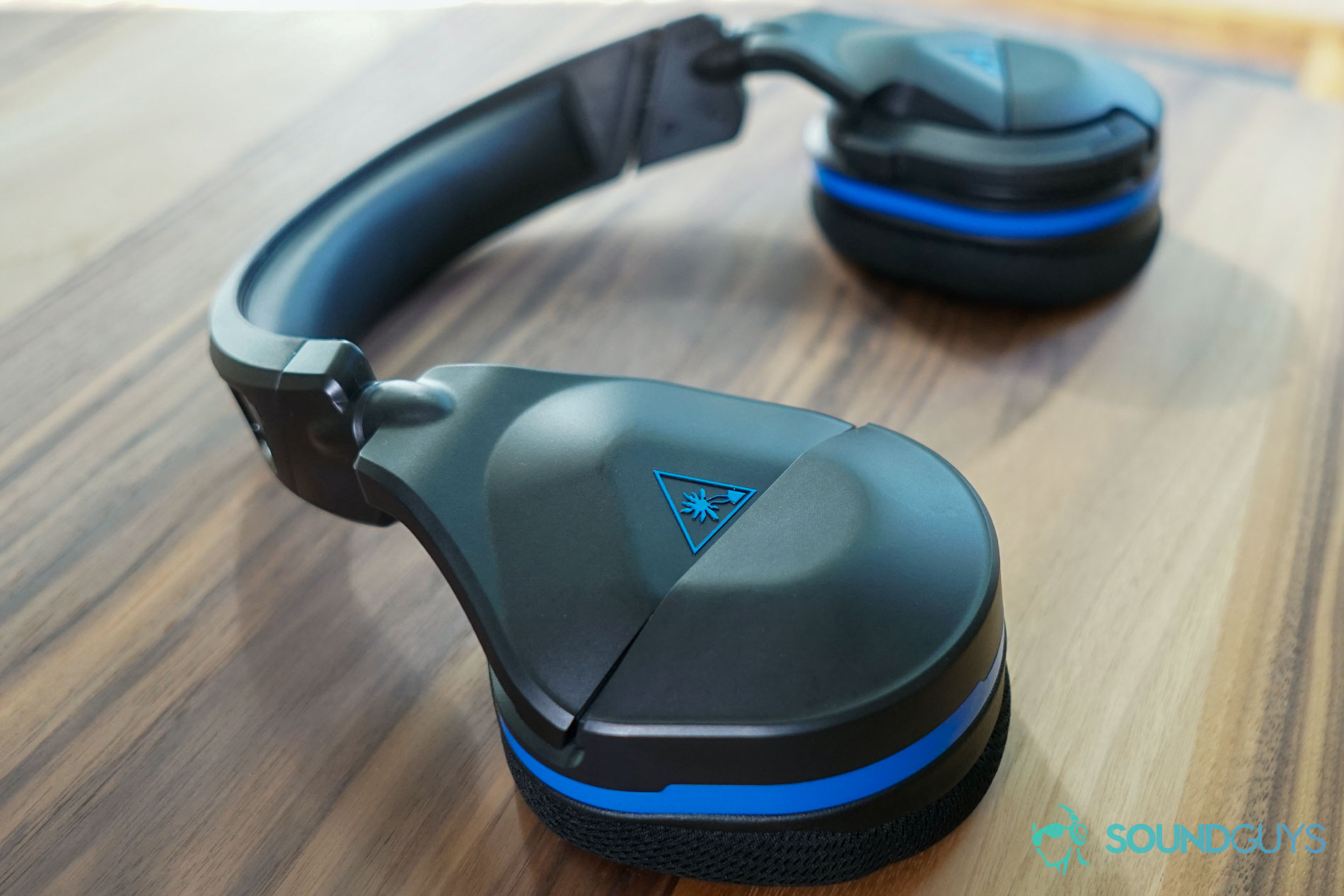 Turtle Beach's headset charges using USB-C.
While the feature set and price of these wireless gaming headsets are pretty close, the battery performance isn't. According to Corsair, the Void RGB Elite Wireless can last up to 16 hours of playback time, and in our testing at ~75dB of consistent output it actually beat that, lasing 17 hours, 25 minutes with the LED lights turned off. That's nothing to sneeze at, but under the same conditions the Turtle Beach Stealth 600 Gen 2 lasted just over 21 hours. If you're one of the many people who listens to things at a lower volume than 75dB, you'll likely get better performance—just know that if you turn the Corsair Void RGB Elite Wireless' LEDs on, performance will suffer.
The Turtle Beach Stealth 600 Gen 2 has much more accurate sound
Neither of these two headsets sound bad, but where the Corsair Void RGB Elite Wireless is average, the Turtle Beach Stealth 600 Gen 2 is excellent. In fairness to both gaming headsets, neither fall into the common trap of boosting bass into the stratosphere, but that's really where the similarities end.
The Corsair Void RGB Elite Wireless sounds alright, but it's got pretty inconsistent audio output. There's a huge drop off in the bass and sub-bass range, and consistent minor de-emphasis in the mid to high range. Most of this just means it sounds a little quiet, but if you're into bass-heavy EDM music, or really most genres music in general, you may have trouble hearing everything properly.
Learn more: How to connect your gaming headset
Conversely, the Turtle Beach Stealth 600 Gen 2 features very accurate audio across the frequency spectrum, with a couple minor exceptions. There are brief dips in output in the bass, mid, and high range, but they're not significant enough to really even notice. This is beneficial for gameplay and music playback: all sound will be relayed accurately and as the respective audio engineers intended.
These two headsets are very similar on paper. However, when it comes to raw audio output, one is average, and the other is excellent.
The Corsair Void RGB Elite Wireless isolates sound better
Both of these headsets' isolation performances were surprising when we reviewed them. Throughout the review process, the Corsair Void RGB Elite Wireless fit loosely, and constantly felt on the verge of falling off my head. Despite that, when we tested it, we found the headset actually established a decent seal and blocked out a decent amount of noise. It's not anything close to the best on the market in this regard, but you shouldn't run into trouble when your roommates are being a little loud in the other room.
The Turtle Beach Stealth 600 actually has pretty disappointing isolation. Despite its tight band, and decent seal, the headset just doesn't do a good job blocking out noise. Whether it's down to the rigid foam ear pads, or their mesh covering, or a combination of those and other factors, the bottom line is this is a great gaming headset for a quiet room, and not much else.
Both are good, but the Turtle Beach Stealth 600 has the better microphone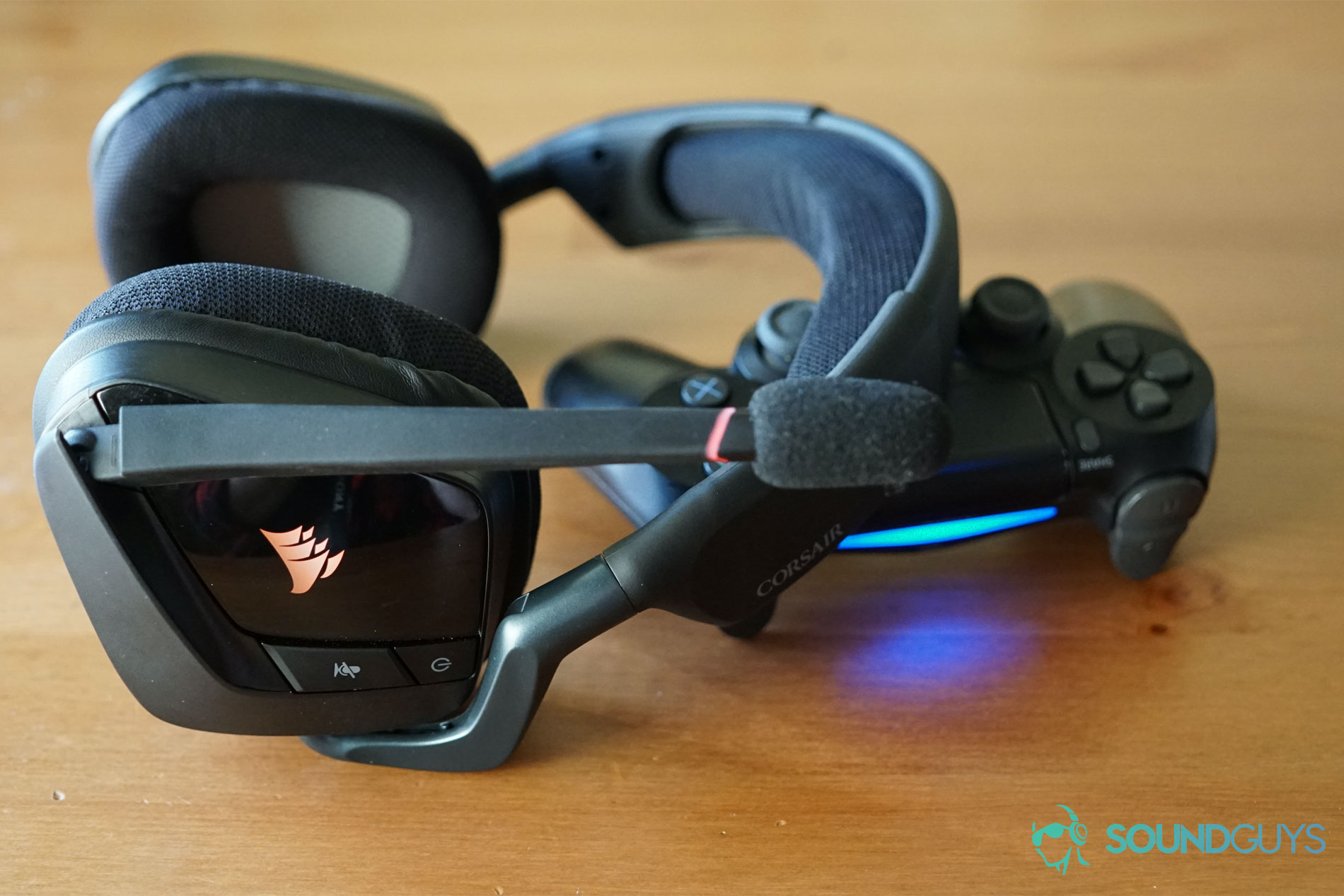 Currently the PlayStation 4 is the only console that supports this headset, but if the Switch and Xbox One expand their compatibility, that could change.
When shopping around for a gaming headset, the microphone is typically the thing you have the least say in. It doesn't matter if it costs $50 or $250, odds are you're going to end up with a microphone that dramatically de-emphasizes bass range sound, and slightly boosts high-end sound. That's why both of these gaming headset microphones are so special.
Neither of these headsets fall into the typical pattern of a gaming headset microphone. The Corsair Void RGB Elite Wireless microphone still has a slight dip in the bass range, but not as severely as is common. This de-emphasized bass response is intentional, in fact: it's used to combat the proximity effect. This is when bass notes are distorted (over amplified) as a speaker gets too close to a microphone. Even still, while the Void is very good, once again the Turtle Beach Stealth 600 Gen 2 is great. The Stealth 600's microphone is accurate across the vocal range, which means even the deepest voice should come through loud, clear, and undistorted. Listen for yourself:
Corsair Void RGB Elite Wireless microphone sample:
Turtle Beach Stealth 600 Gen 2 microphone sample:
which microphone sounds best to you?
137 votes
You should buy the Turtle Beach Stealth 600 Gen 2
It's just better.
Tip of the hat to the Corsair Void RGB Elite Wireless for its microphone, but at the end of the day, the Turtle Beach Stealth 600 Gen 2 is just a better gaming headset. Games will sound more like they should, and so will you with this headset. The isolation is a shame, but everything else about the headset is great.
If you're in a shopping situation and the Corsair Void RGB Elite Wireless is your only choice, it's not a bad buy. To be sure, it's a good gaming headset, and often on sale for pretty cheap, but Corsair makes a lot of better headsets than this one these days. As I said a couple times above, where the Void is good, the Stealth 600 is excellent.
Get the Razer BlackShark V2 if something wired is more your speed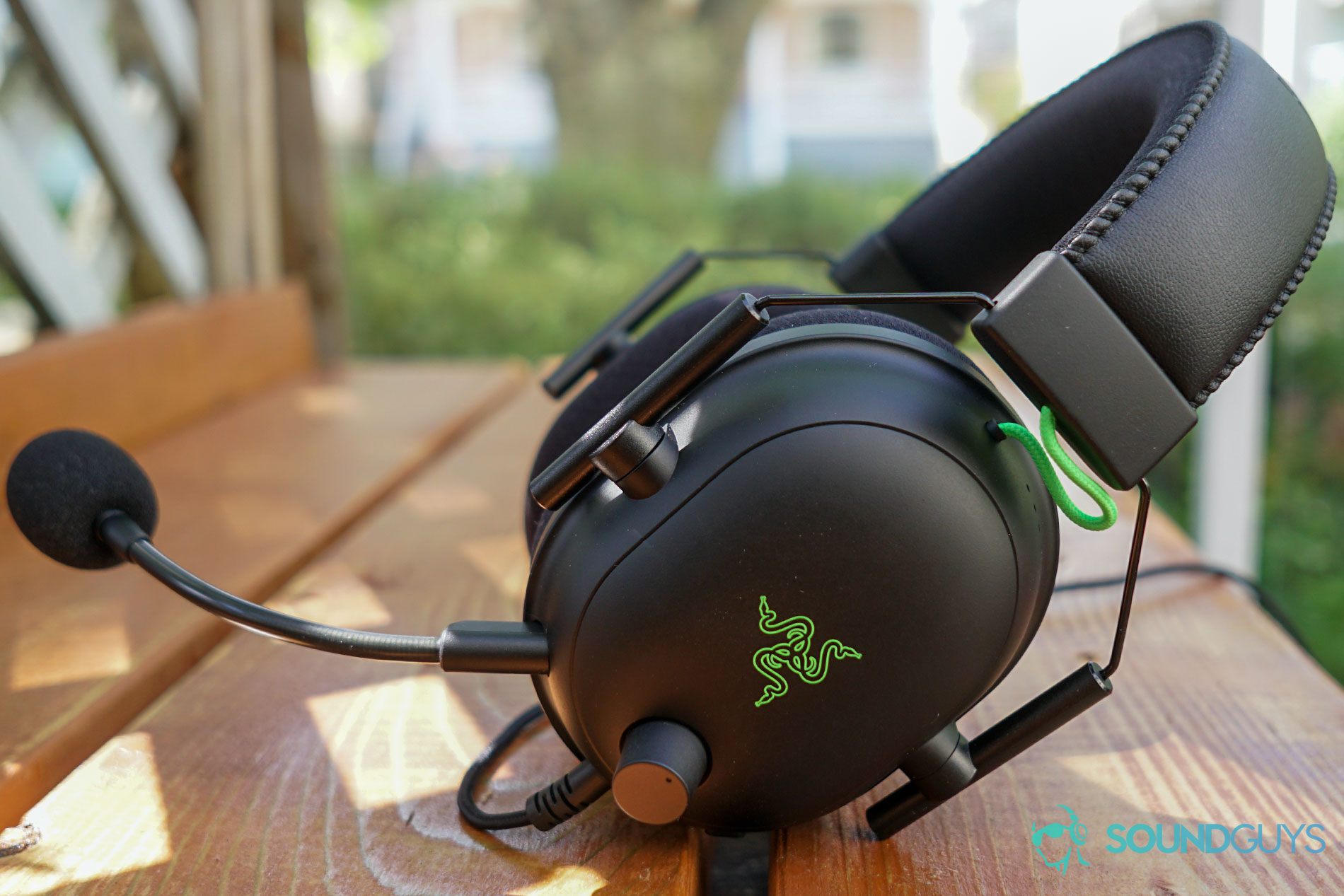 There aren't any random grilles or light-up logos here.
If you've read through this whole versus article and decided having a wireless gaming headset isn't all that important to you, check out the Razer BlackShark V2. This wired gaming headset uses a 3.5mm connection and a USB dongle. This you can plug it into a console controller and not have to worry about stretching a cord across your living, or plug it into your PC via USB to take advantage of the features Razer Synapse brings, like virtual surround sound.
The BlackShark V2 is among the most comfortable gaming headsets on the market, absolutely nailing the balance between weight and tension—it feels secure, but not tight, and it's light enough you'll hardly notice it. The mesh fabric ear pads keep heat build-up to a minimum, and offer better passive isolation than most gaming headsets.
The headset features more accurate audio output than either the Turtle Beach Stealth 600 Gen 2 or the Corsair Void RGB Elite Wireless, with slightly emphasized bass, and accurate mids and highs. Its microphone isn't as accurate, with a pretty stark drop-off in bass range output, but it's clear and doesn't have any volume issues. If you're sticking to the same budget as before, but want something wired, it's hard to do better than this.