All products featured are independently chosen by us. However, SoundGuys may receive a commission on orders placed through its retail links. See our ethics statement.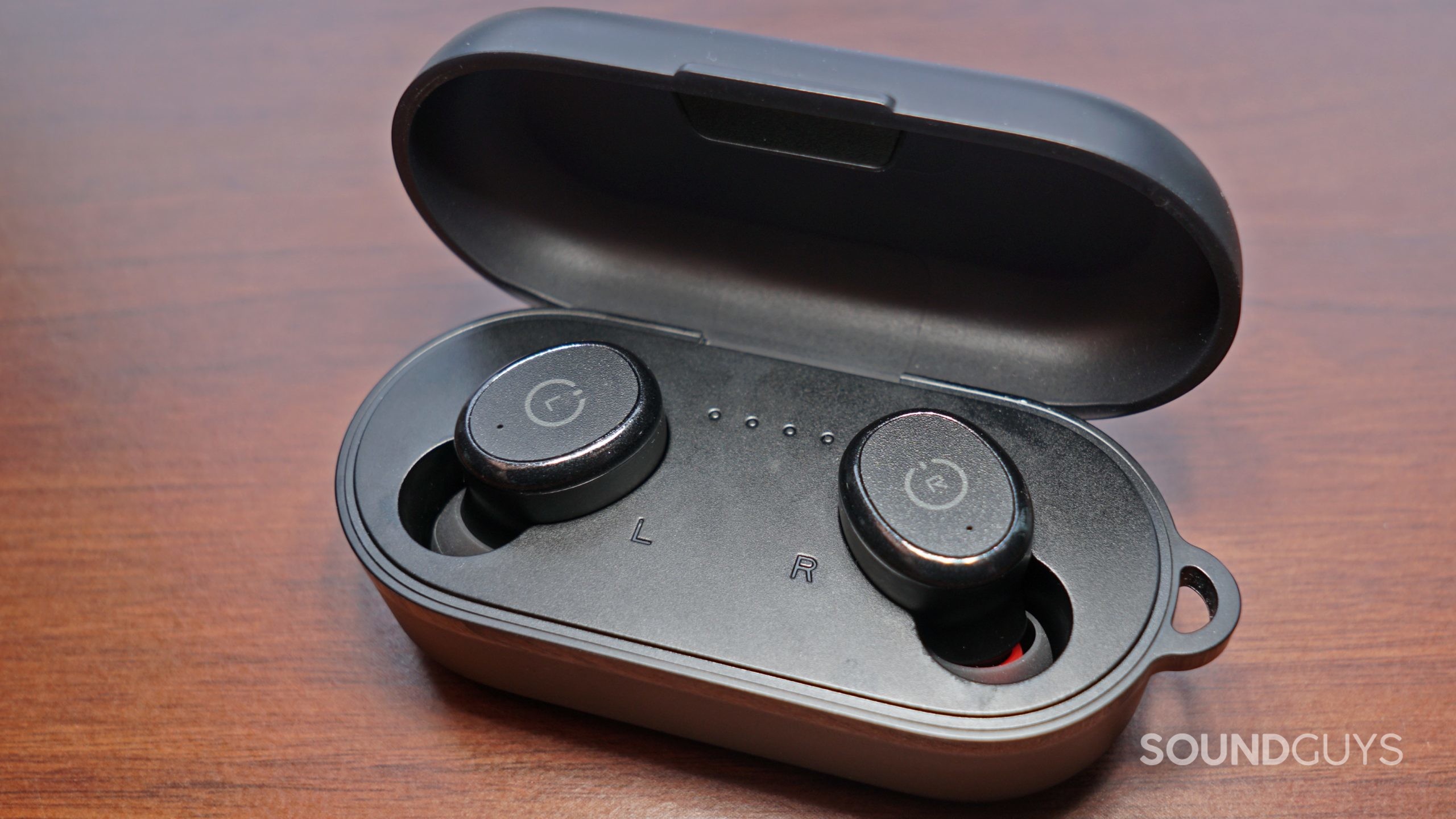 The bottom line
If you end up with the most recent model of the TOZO T10, you're looking at a reliable, decent pair of true wireless earbuds for the budget conscious. There's a lot of extra bass, and the battery performance is lackluster, but not enough to make for a negative overall experience.
TOZO T10
If you end up with the most recent model of the TOZO T10, you're looking at a reliable, decent pair of true wireless earbuds for the budget conscious. There's a lot of extra bass, and the battery performance is lackluster, but not enough to make for a negative overall experience.
What we like
Price
Many ear tip options
What we don't like
Microphone
Lots of bass
Hard to tell what you're actually buying
Rating Metric
Sound Quality
9.0
Bass
7.9
Midrange
9.8
Highs
9.4
Isolation / Attenuation
4.4
Durability / Build Quality
9.0
Value
7.0
Design
5.0
Connectivity
5.0
Portability
8.0
Battery Life
6.4
Feature
3.5
Comfort
5.0
TOZO has been putting out cheap, but reliable true wireless fare for a little while now. The TOZO T10 is another budget-friendly entry in the company's stable, this time sporting a low profile design and a waterproof build. Is that enough to make it a worthy workout buddy?
Editor's note: this TOZO T10 article was updated on July 10, 2023, to add the TOZO NC2 to Alternatives, to add an FAQ, and to update formatting.
About this TOZO T10 review: We tested the TOZO T10 over a period of a week. There's no companion app, and so no way of knowing what firmware version the earbuds run. SoundGuys purchased the unit for this review.
The TOZO T10, like most TOZO earbuds, is for people who want something decent on the cheap. The waterproofing means this will handle sweat at the gym or getting caught in the rain without issues.
What's it like to use TOZO T10?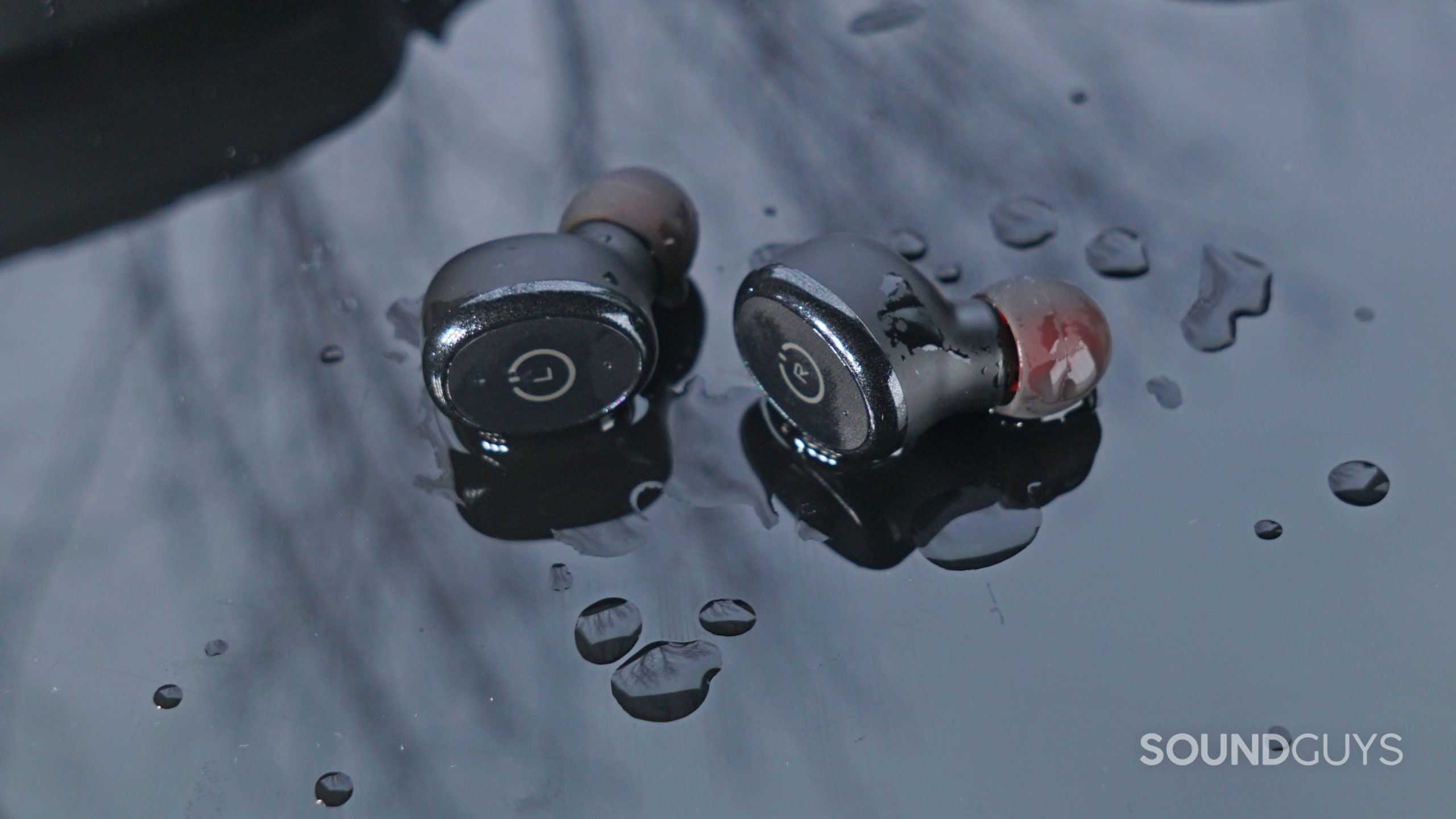 The IPX8 rating means a watery situation will be no problem, unless you need the earbuds to float.
If you've used a pair of true wireless earbuds before, the TOZO T10 ought to be pretty familiar to use. This is a very simple product made of black plastic. There's no active noise canceling and no app — no extra features to speak of, really. A touch sensitive panel adorns the side of each earbud, but otherwise what you see is what you get.
The TOZO T10 has a fairly straightforward construction, with a typical stemless look and smooth plastic build. These earbuds are comfortable, though they lack any sort of physical feature to keep them securely in your ear like a hook or a fin, which means finding the right size ear tip is imperative. TOZO includes five additional pairs of ear tips of different sizes and shapes (six in total — XL to XXS), but if you've always had problems with earbuds staying in your ears, this probably isn't a product for you.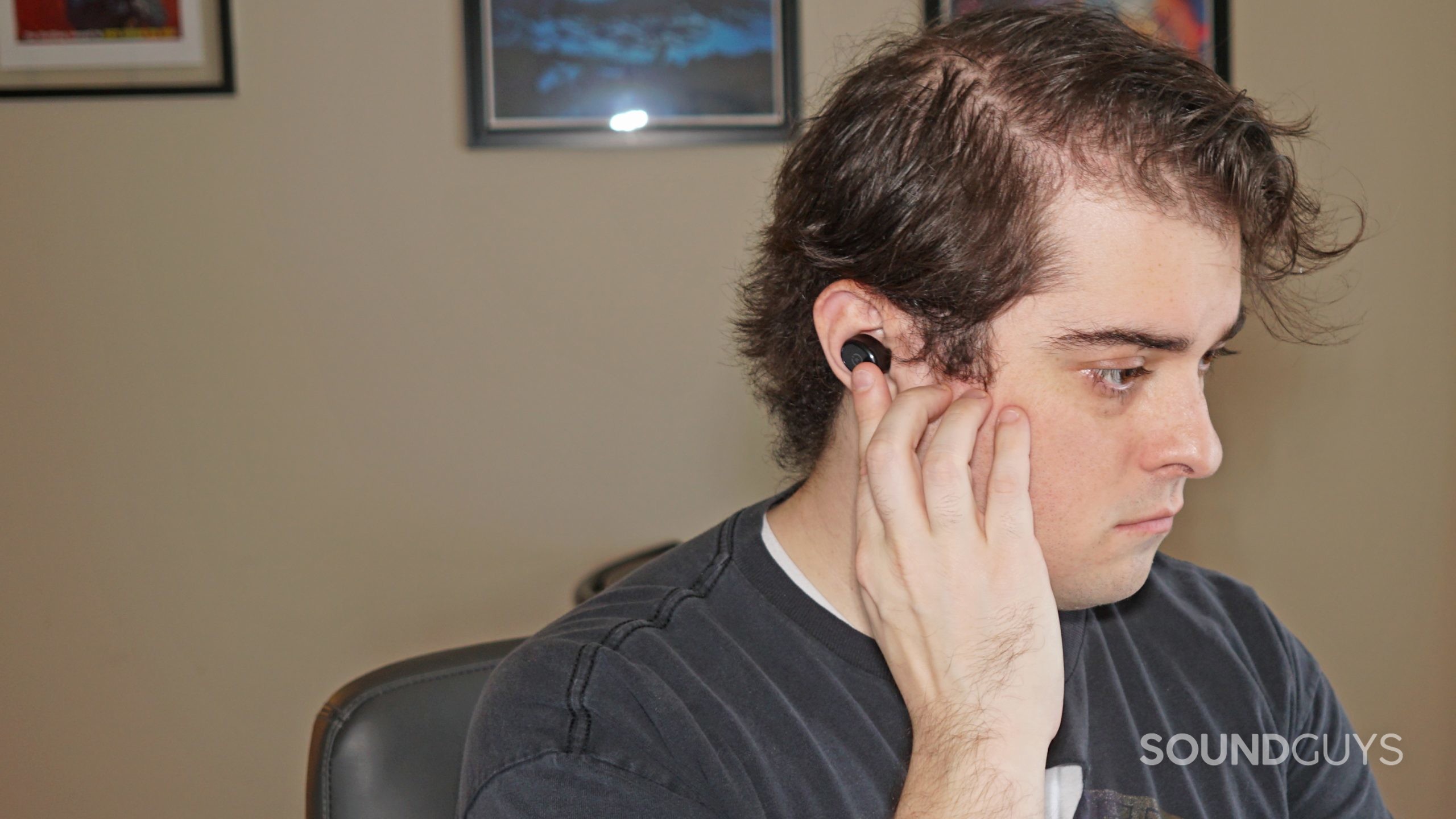 These earbuds are comfortable enough, but the tap controls are inconsistent.
The earbuds are IPX8 rated, which is sufficient waterproofing to allow for submersion in a meter of water for up to 30 minutes. Moisture protection like this is more than enough for a sweaty gym session, though again, if you're prone to earbuds falling out, exercise involving vigorous head movement is probably a no-go — I certainly find myself regularly reaching up to readjust them as I run.
How do you control the TOZO T10?
The touch sensitive panels are large, but not very responsive.
The TOZO T10 features an array of on-ear controls — there's no app associated with the earbuds, so there's no way to change them. The tap controls are pretty straightforward, but the touch sensitive panels are definitely a little unresponsive — I usually need multiple tries to skip forward or back a song, and it's even worse if I'm at the gym and my hands are sweaty.
Gesture
Right earbud
Left earbud
Call controls

Gesture

Tap and hold


Right earbud

Volume up


Left earbud

Volume down


Call controls

End call/Reject call


Gesture

Single tap


Right earbud

Play/Pause


Left earbud

Play/Pause


Call controls

Accept call


Gesture

Double tap


Right earbud

Next track


Left earbud

Previous track


Call controls




Gesture

Triple tap


Right earbud

Voice assistant


Left earbud

Voice assistant


Call controls




Gesture

Hold both earbuds


Right earbud

Power off


Left earbud

Power off


Call controls



How does the TOZO T10 connect?
Pairing with a phone is pretty easy, and stays solid.
The TOZO T10 features the same basic connection options as most recent true wireless earbuds. The earbuds connect using Bluetooth 5.3, with support for the SBC and AAC audio codecs, both of which are required for a device to qualify as Bluetooth 5 or higher. That's pretty much all there is to it — there's no fast pair, multipoint, or low latency modes here.
Here's how to Bluetooth pair your TOZO T10.
Take the earbuds out of the case.
Wait for the primary bud (the right one by default) to initiate pairing.
Select the TOZO T10 in your Bluetooth menu.
If pairing isn't initiated automatically, hold down the touch panel on the right earbud for six seconds to manually initiate it.
How long does the TOZO T10 battery last?
It's nice to have a strap, but this is definitely a long strap.
Depending on where you look, TOZO claims the T10 can last up to 6, 8, or 10 hours, but in our testing we found it lands on the very low end of that. When subjected to constant real music playback peaking at 75dB (SPL), the earbuds lasted 6 hours, 32 minutes on a single charge, which is pretty good for a true wireless product but certainly a big difference from some of the quoted numbers. The case apparently houses enough charge for 35 additional hours of listening, and nothing in the review period has given us cause to doubt that.
Battery performance like this is fine, but it's not going light the world on fire — at least not metaphorically. True wireless earbuds all have a pretty staggering environmental cost, and the TOZO T10 is no exception. The constant charge-recharge cycle of these earbuds means these probably won't last much longer than a year or two.
The TOZO T10 case apparently supports fast charging, though TOZO makes no claim about how much juice you'd get from a few minutes plugged in, which is a typical marker companies use to advertise that kind of feature — an hour and a half plugged in will fully charge the case, though. The case also supports wireless charging, and apparently takes 2 hours to full charge.
How well does the TOZO T10 block out noise?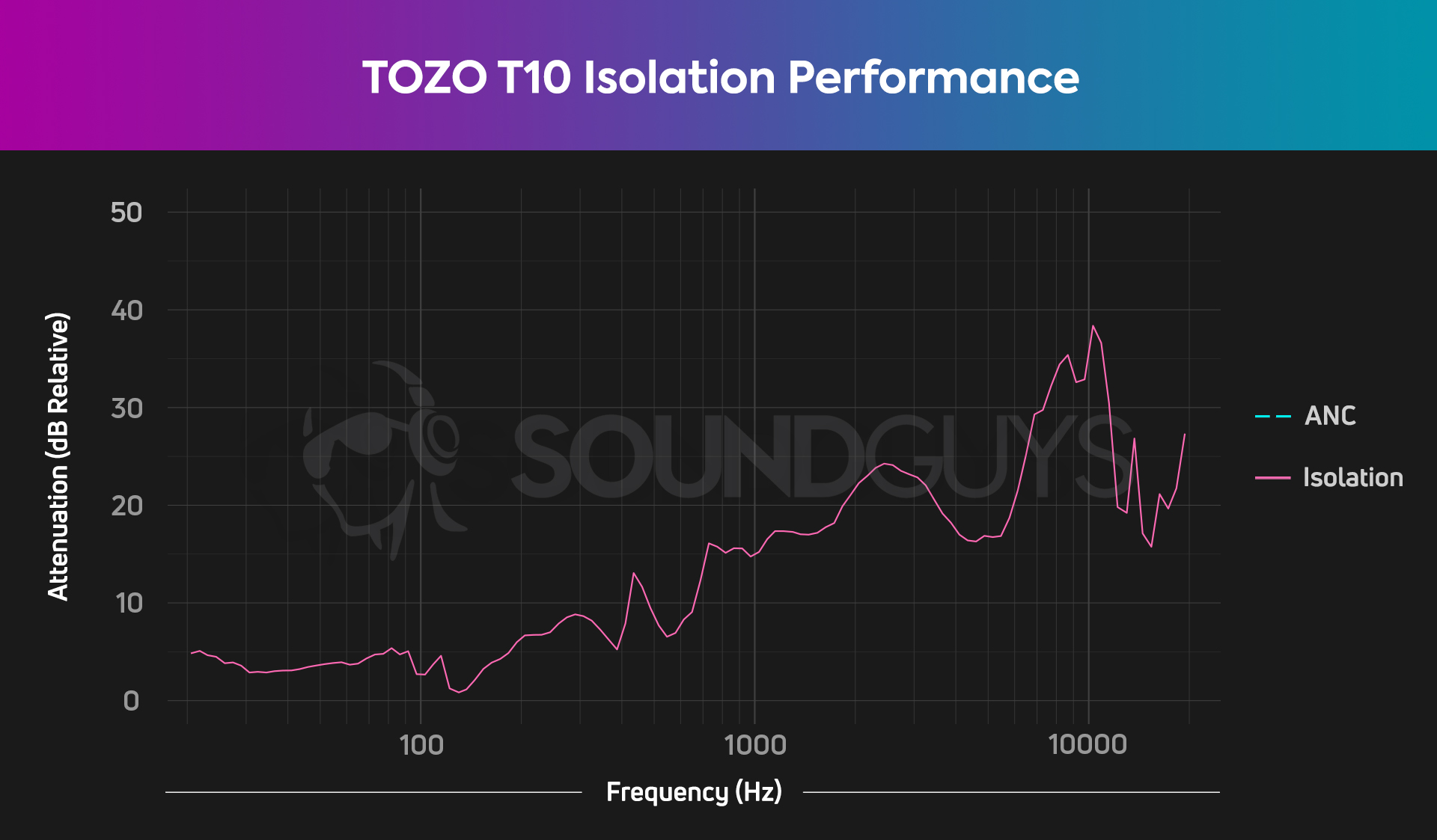 Isolation performance like this really isn't going to keep most sounds out, though things will be a little quieter.
The TOZO T10 blocks out some noise, but its isolation performance is hardly spectacular. Even with a decent seal, don't expect to miss much if what's going on in the world around you with these in your ears. There's no active noise canceling (ANC), so getting even this good a result depends entirely on making sure you have the correct size of ear tip — it's fortunate that TOZO included so many.
How does the TOZO T10 sound?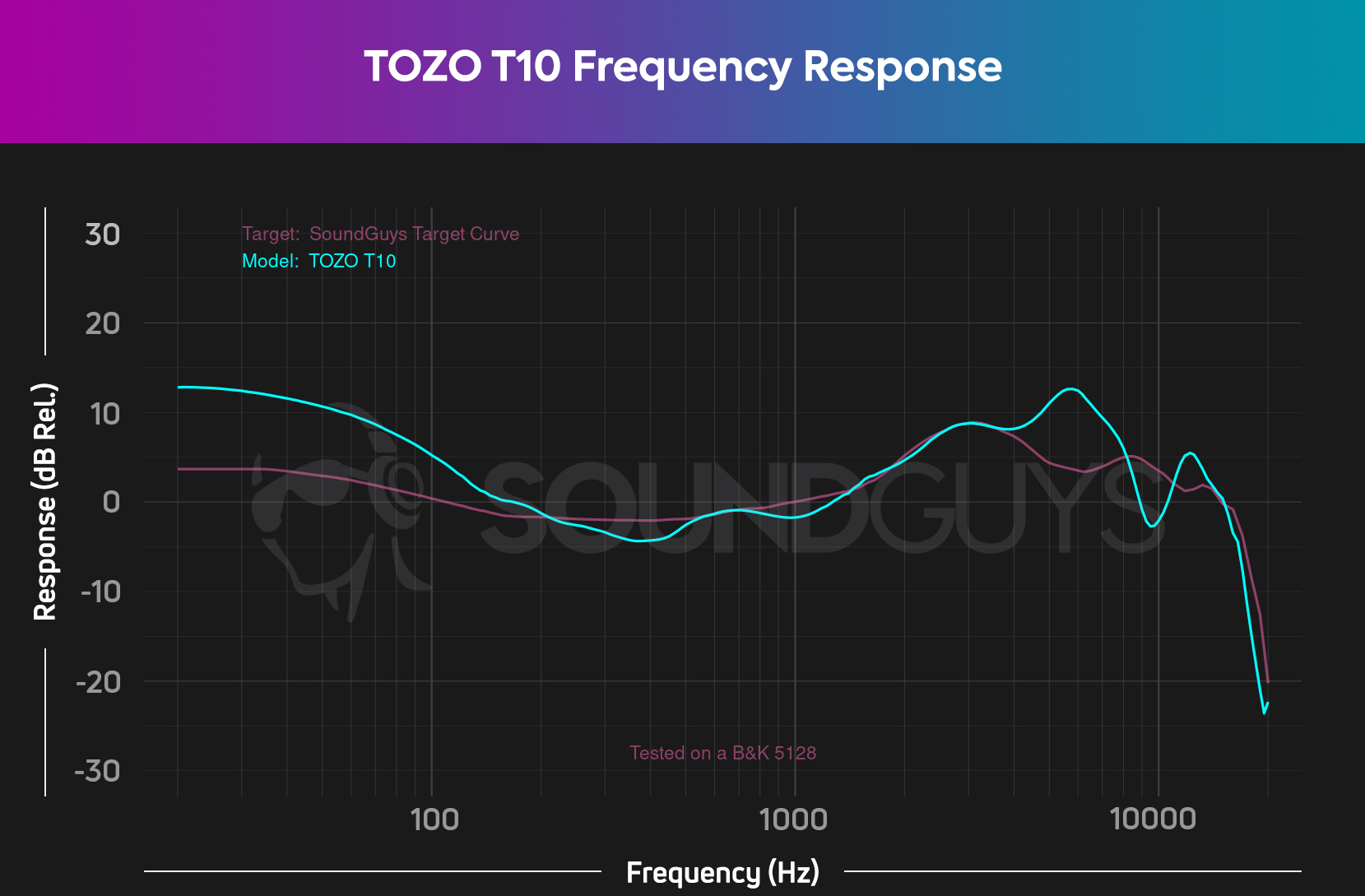 The kind of low-end bump is pretty common in the budget space.
The TOZO T10 sounds a lot like many budget earbuds — our testing indicates the frequency response features notable extra emphasis in bass and high-end regions. This doesn't necessarily sound bad, but if you're not looking for loads of bass, it could be pretty distracting. It certainly deviates from a lot from our headphone preference curve both below 200Hz and from 4Khz-12KHz.
Bass, mids, and highs
Bass in particular is going to sound very loud coming out of the TOZO T10. That may be desirable, depending on your taste and the genres you listen to, but it can sound pretty overwhelming sometimes. Listening to Casa De Mel by Brad Goodall, the kick drum comes through with a really nice oomph, but as soon as the bass guitar starts playing, a lot of the detail in the synth keys and drums gets lost in a sort of indistinct low end rumble — not an issue coming out of headphones or speakers with less exaggerated bass output.
Can you use the TOZO T10 for phone calls?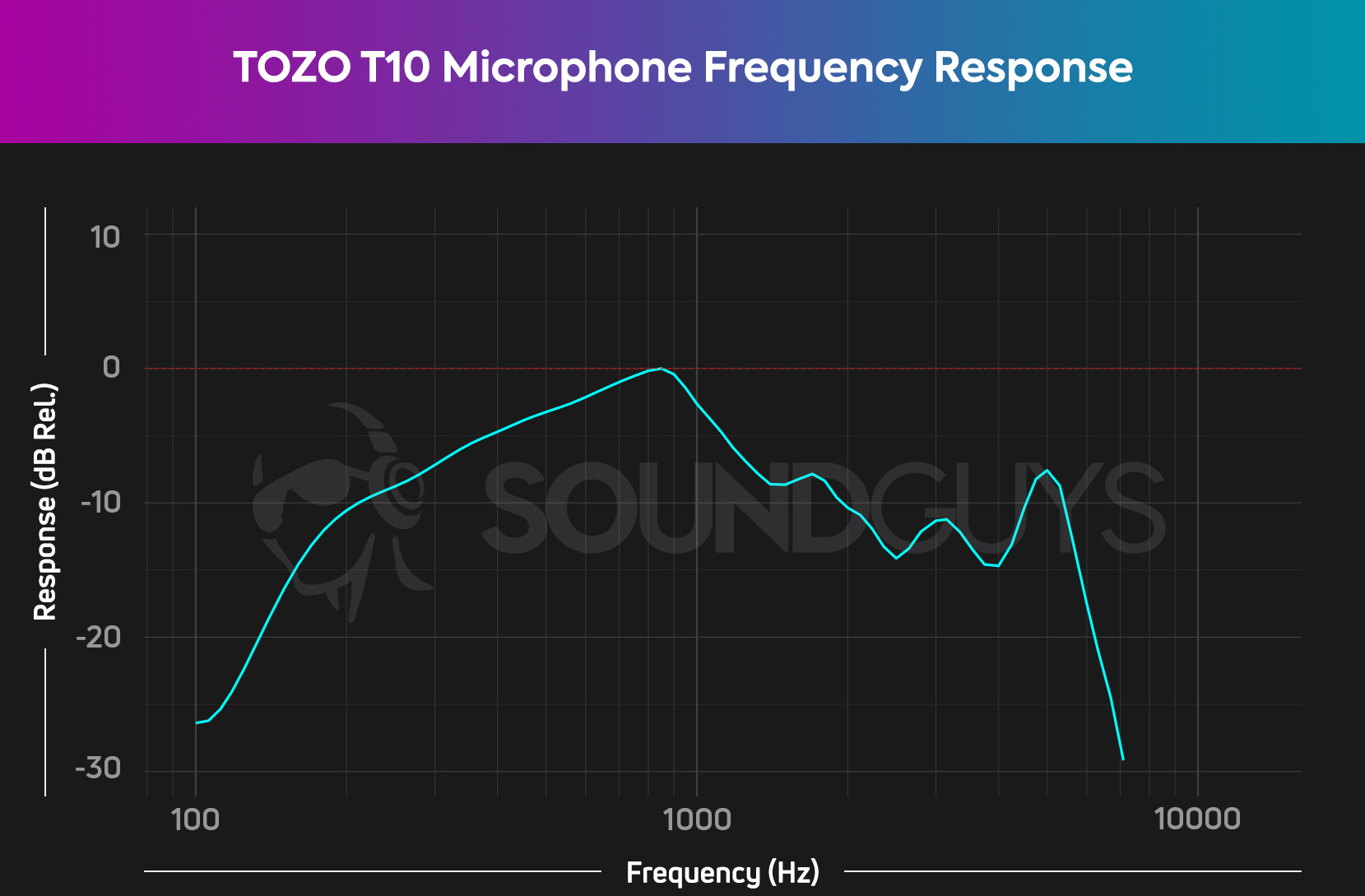 The FR looks a little iffy—and the microphone also doesn't sound great.
You can use the TOZO T10 for phone calls, but I wouldn't recommend it. Every time I spoke to someone on the phone while reviewing these earbuds, I drew immediate remarks about how bad I sounded. The T10 microphone sounds muffled and quiet, with quite audible processing artifacts on the speech. It functions, but you'll probably find you need to repeat yourself to be understood, so best to keep things short and sweet.
TOZO T10 microphone demo (Ideal conditions):
TOZO T10 microphone demo (Office conditions):
TOZO T10 microphone demo (Windy conditions):
How does the microphone sound to you?
269 votes
Should you buy the TOZO T10?
There's plenty of ear tip shape and size options.
If you're on the hunt for cheap audio, the TOZO T10 is a compelling, if a little basic option. It doesn't have any bells and whistles to speak of, and its battery performance falls well short of its own claims, but it sounds fine and it works reliably. This is a decent enough starter pair of true wireless earbuds and it's a mostly decent workout companion.
However, there's another consideration to make when thinking about the TOZO T10, and that's whether you be can sure you're getting what you think. At time of writing, there's a lot of inconsistent information on the TOZO T10 available on the internet. The store pages for the product on Amazon and TOZO's own web store make it seem like what's available through Amazon is out of date (Amazon advertises a Bluetooth 5.0 product, and TOZO advertises a Bluetooth 5.3 one).
Additionally, the battery claims vary wildly — on the manufacturer's site, the product images claim 6 hours of battery, but the text on the side of the page claims 10 hours, meanwhile the user manual that came with the model we used for review claims 8 hours (our model says "UPGRADED 2022" on the back of the box, but it was purchased through Amazon, where the store page is most outdated). Because of this, I can't recommend the TOZO T10 — nobody should have to roll the dice to see what they get, even if they're hunting for a bargain.
TOZO T10
TOZO T10
Price • Simplicity
This is a decent starter pair of true wireless earbuds
If you're looking for simple and reliable wireless earbuds, the Tozo T10 are worth your consideration.
What should you get instead of the TOZO T10?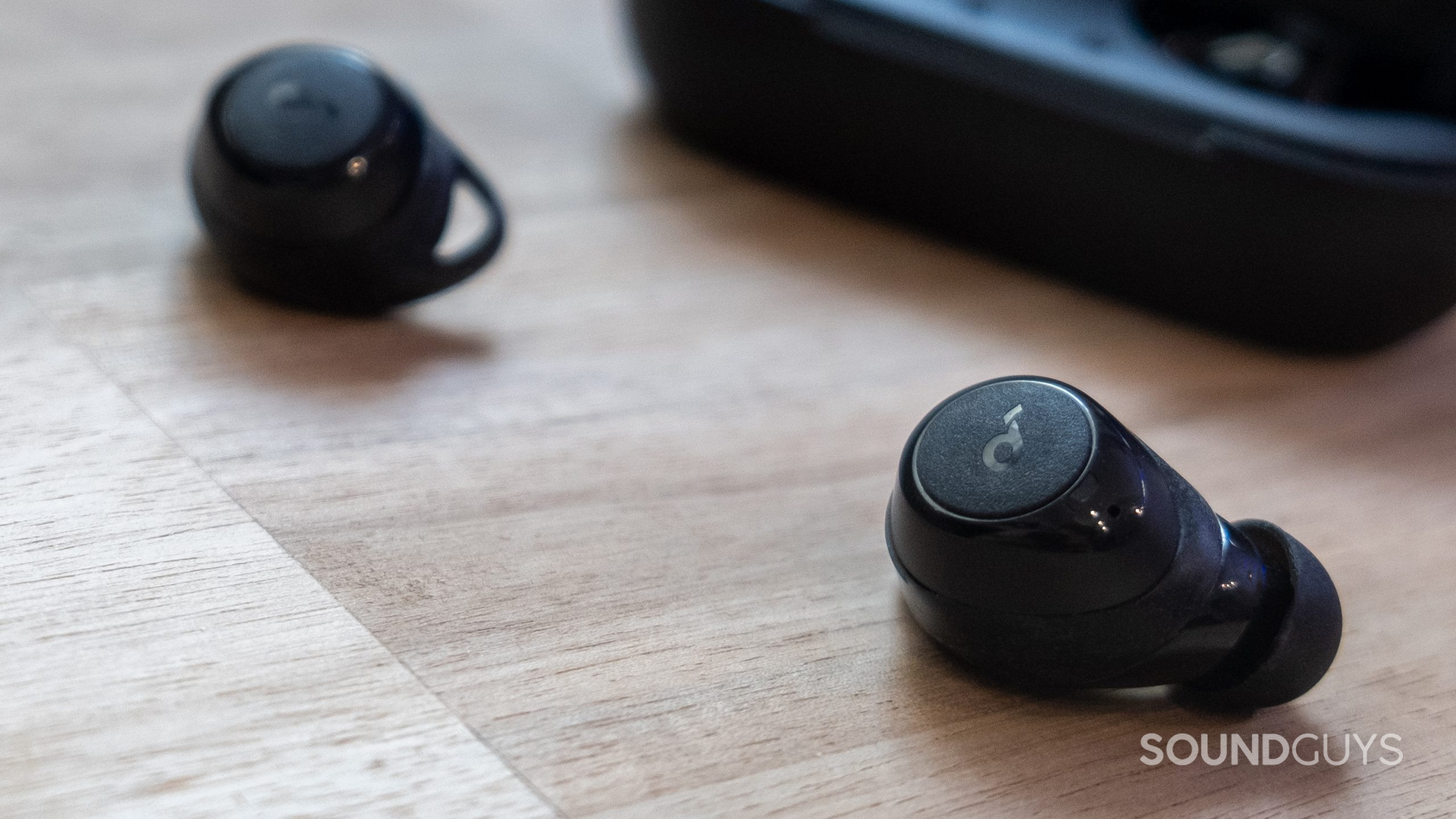 The Anker Soundcore Life A1 has ear fins to add more security.
If you're on the hunt for cheap earbuds, there are lots of good options that won't leave you in suspense. The Anker Soundcore Life A1 features a similarly bassy sound profile, and an IPX7 rating, but the good battery life and more stable fit makes it a superior workout option to the TOZO T10. These go for a similar price ($49 at Amazon) and frequently go on sale.
If the ANC is something you really want, the stemmed TOZO NC2 goes for a reasonable price ($39 at Amazon) and the TOZO NC9 ($33.99 at Amazon). As far as ANC quality goes, the NC2 has the superior noise canceling between the two models, and more predictable functionality. Also, people who want a little less bass in their earbuds should check out the JLAB GO Air POP, which offers a more neutral-leaning frequency response for merely $24 at Amazon.
Frequently asked questions
There are quite a few color options, actually. You can get them in black, white, blue, grey, and khaki.
Ideally, replacing both TOZO T10 earbuds into the case and removing them should fix this problem once they've paired to your device again. It sounds like you've don't this. You can also try to manually turn off and on both earbuds as explained above in the controls section. Alternately, when the one mono bud is paired you can press on both touch pads simultaneously when they are out of the case for a couple seconds; that often works too.
The last resort is a factory reset, which goes as follows.
Ensure the devices the TOZO T10 have previously been paired to are off, or have Bluetooth off.
Remove the T10 from the case.
Press and hold the touch pad on both earbuds for roughly 10 seconds, until both buds flash purple on the indicator lights and beep three times.
Factory reset is completed at that point, and now try to pair again as you would with any device for the first time.