All products featured are independently chosen by us. However, SoundGuys may receive a commission on orders placed through its retail links. See our ethics statement.
The bottom line
If you value value-packed products, then the RHA MA390 should be on your audio wish list.
RHA MA390 Universal
If you value value-packed products, then the RHA MA390 should be on your audio wish list.
What we like
Superb value<br>
3-year warranty<br>
Build quality<br>
Strong bass<br>
What we don't like
Lacks volume controls<br>
Microphonics<br>
Rating Metric
Sound Quality
7.9
Bass
7.9
Midrange
7.7
Highs
8.0
Durability / Build Quality
8.1
Value
9.0
Design
8.8
Microphone
7.6
Portability
8.9
Gas stations across the country, well, across any country, take advantage of patrons' desperation, up-charging in the name of convenience. Unless you absolutely need earbuds then and there, you'll thank yourself for embracing delayed gratification and ordering the RHA MA390 Universal earbuds.
These are some of the best sub-$30 earbuds. Albeit, there's room for improvement, but these sound good and look great. Unfortunately, they have been discontinued by RHA, so we recommend checking out some alternative earbuds under $50.
Editor's note: This review was updated on January 19, 2021, to address product availability and adjust formatting.
Who are they for?
Listeners who are on a tight budget but don't want their earbuds to reflect that. The 6063-grade aluminum housings look and feel great. At first glance, you'd never guess that these are just under $30.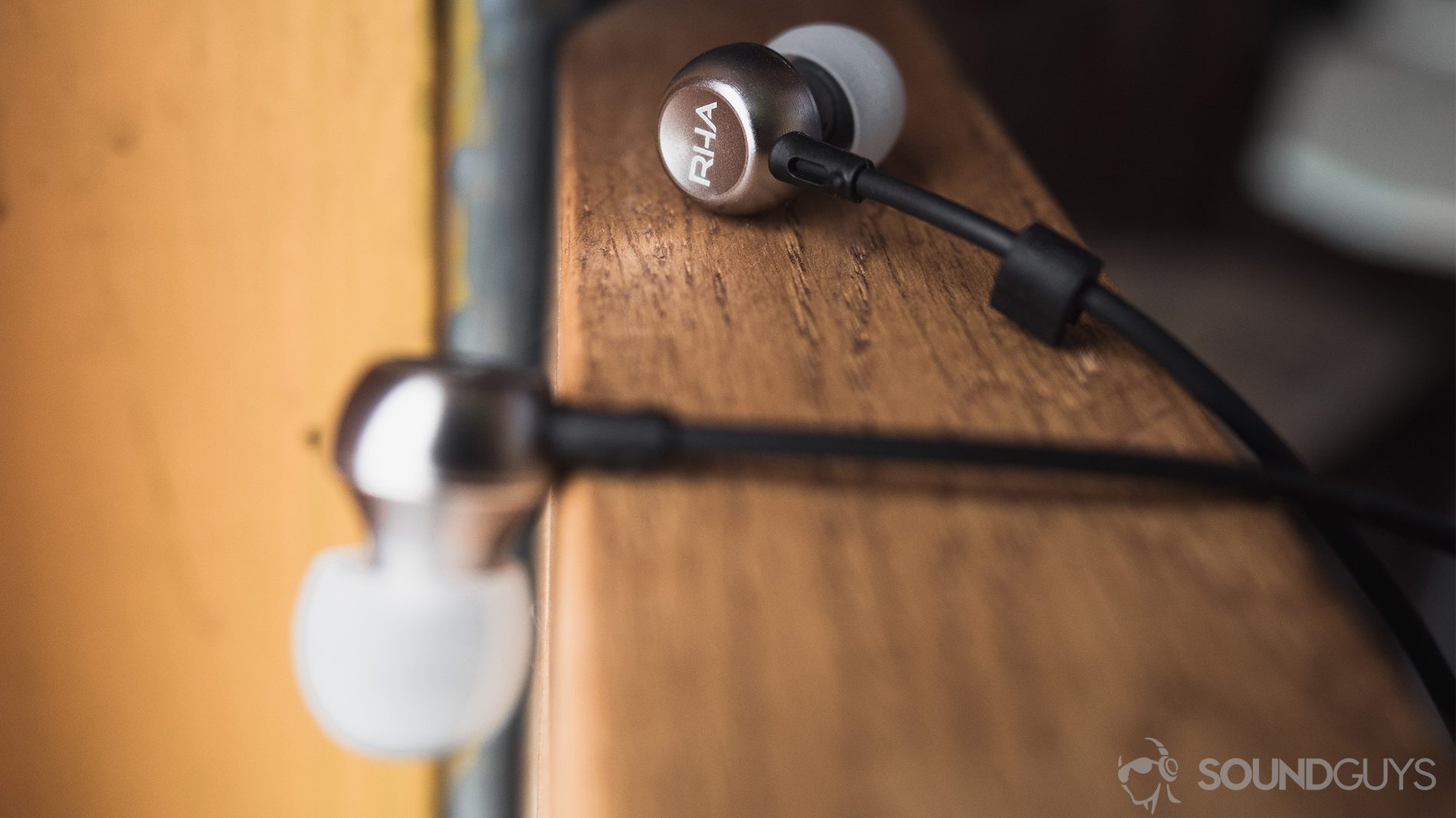 The RHA MA390 feature the company's signature aerophonic design to improve clarity.
Fans of bass. Don't let the minimalist design fool you, these are bass-heavy. If you like your lo-fi, hip-hop YouTube stream to have extra oomph, then you'll want to keep reading.
Clumsy consumers. As with all of its products, RHA provides listeners with a three-year warranty. Though customer service can be hit-or-miss, RHA's attentive customer service is receptive to warranty-related inquiries.
What's in the box?
Since these are still budget earphones, RHA omits a few of its typical inclusions. Though the MA390 Universal forgo the inclusion of Comply ear tips, which the MA650 and MA750 Wireless both include, the Universal supply three pairs of dual-density silicone ear tips (S/M/L). Additionally, you get the same mesh carrying pouch found with the MA650.
How are the RHA MA390 built?
RHA's 6063-grade aluminum is molded into the company's signature aerophonic design. Aside from sounding cool, this engineering effectively mimics the airflow properties of a trumpet but inverted. Consequently, this concentrates sound without altering it. The MA390's one-piece housing design minimizes physical obstruction even further, relaying a less compromised sound.
The 6063-grade aluminum feels much more premium than teh $29.95 price tag suggests.
Dual-material cables can look Frankenstein-ed, but RHA's design team managed to create an attractive, functional design. Before the Y-splitter, a braided sheath swaddles the cable components. Though it's not impervious to tangling, RHA doesn't claim tangle-resistance and it's fairly easy to straighten out.
How to find the best earbud tips for your ears
Guides & How-to's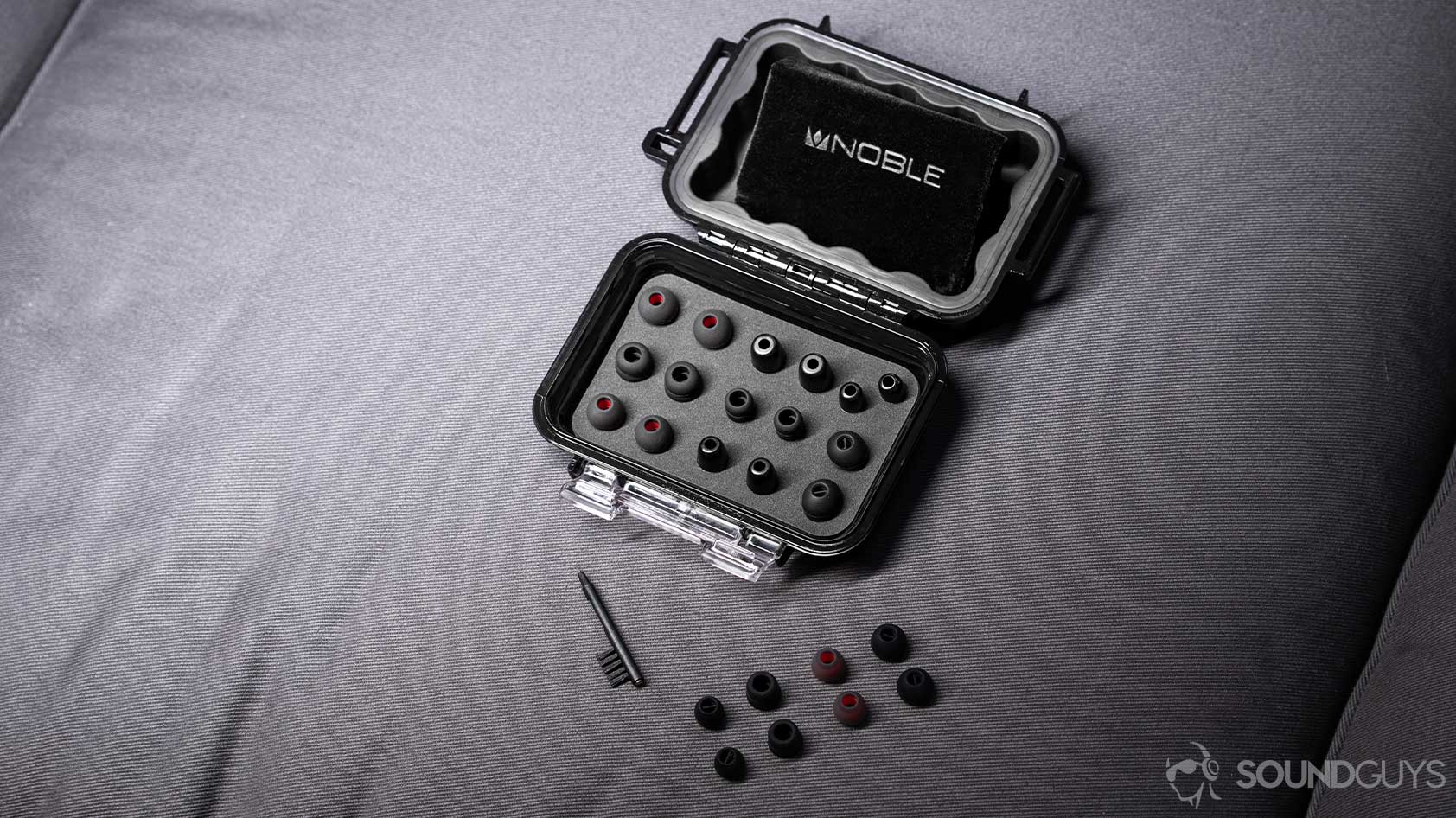 The company tacks on a cable slider which zips the wires that descend from the earbuds together. At this point, if I'm going to use wired earbuds, this small feature is invaluable and often overlooked. It makes using the earbuds a great deal less frustrating and combats the tendency that wires have to get caught on any and all objects.
The Glasgow-based company's proprietary silicone ear tips are some of the most durable tips that I've tried. They're comfortable, well-reinforced, and retain their structure. They isolate noise better than the average ear tip, but if you want to go the extra mile, it's worth investing just $12 in a pair of Comply memory foam tips, which I frequently reach for.
Related: How your in-ears fit matters
Good multi-function remote, disappointing mic
The remote functions universally (hence, RHA MA390 Universal) and it's easy to locate on the right cable without being an eyesore. Admittedly, it would have been nice to see a three-button remote on here, since we know it can be done for under $25, but it's tactile and easy to operate.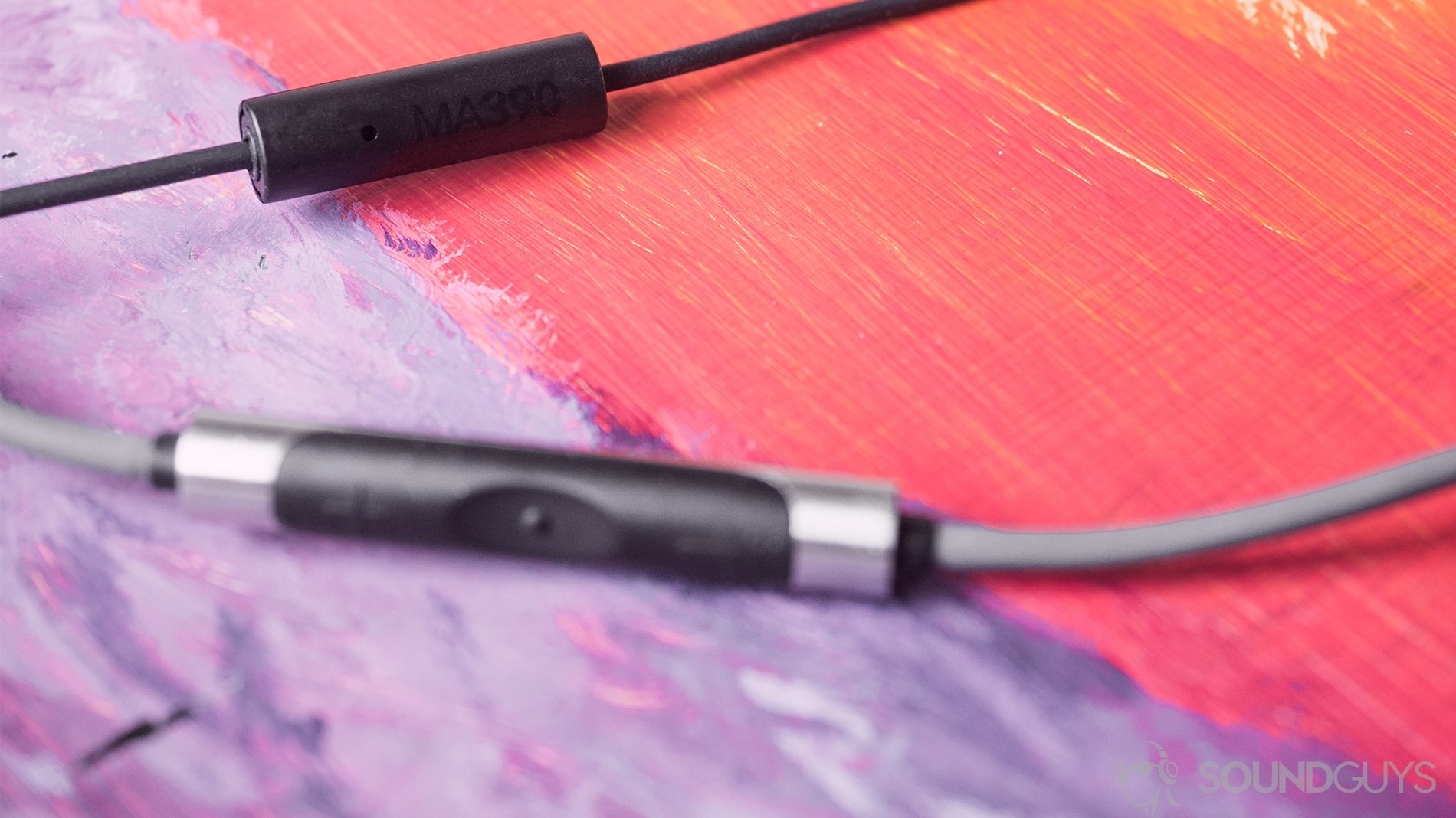 The MA390 microphone isn't as clear and doesn't feel as nice as the MA750i three-button mic and remote.
The microphone, on the other hand, is another story. It operates fine for voice commands; for instance, Google Assistant never struggles to register a command, but during calls, family and friends had a hard time hearing me. This was especially true if I was in an area with a moderate amount of ambient noise. If you plan on taking calls outside, best of luck. The microphone has a tendency to amplify winds, even if they're a light 5mph.
How do you connect the earbuds?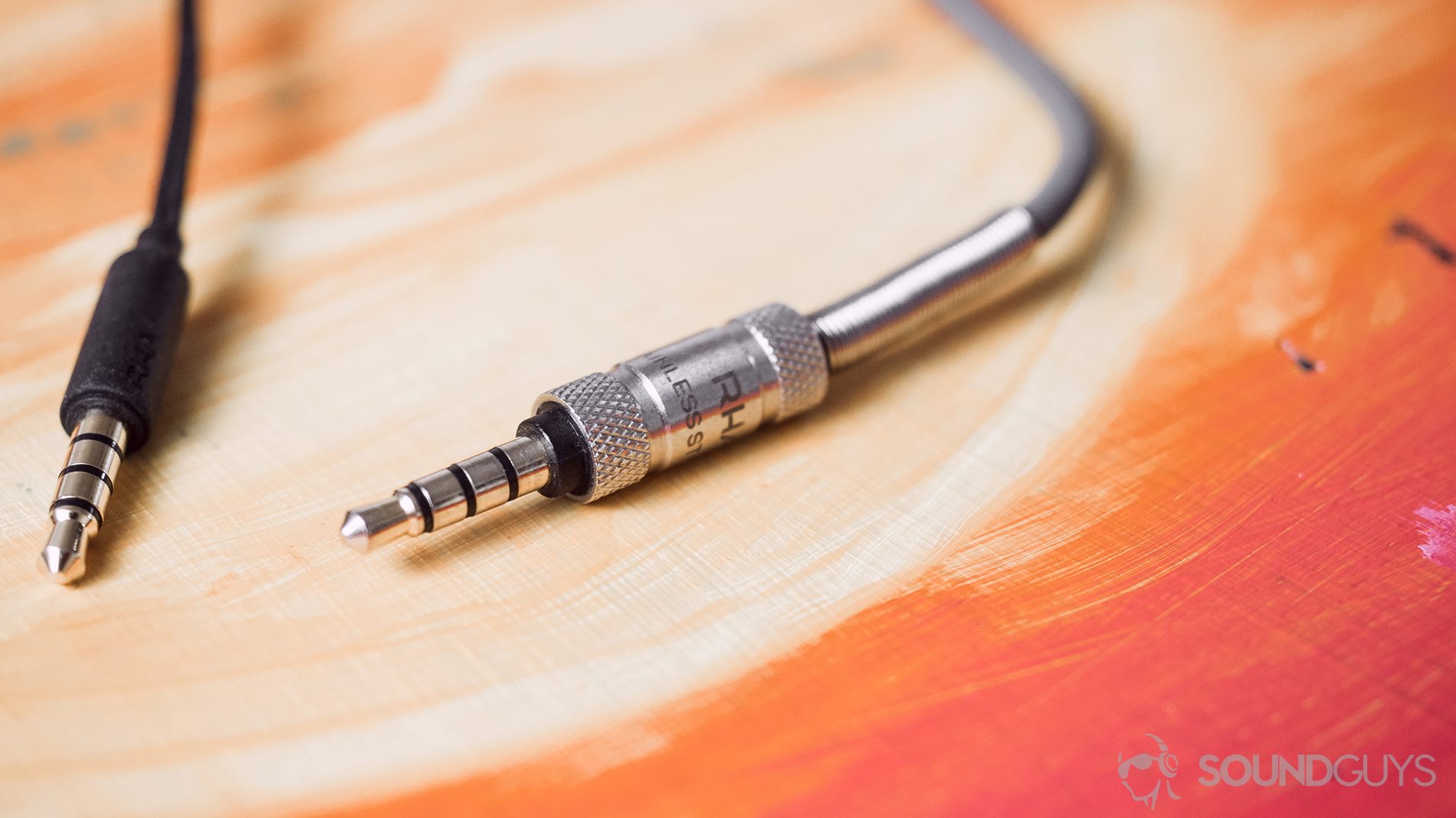 The 3.5mm headphone jack is gold-plated but could use a beefier stress-reliever like the MA750i is equipped with.
The 1.35-meter cable terminates into a standard 3.5mm, gold-plated headphone jack. From an aerial perspective, it may seem that wired ear and headphones are going the way of the PalmPilot, but quite the contrary. It's just a different way of listening to music. Sure, you're physically tethered, but you don't have to worry about codec compatibility or finicky Bluetooth connections.
The plague of microphonics strikes again
First, let's define microphonics: It's when unwanted cable noise travels up and reverberates through the housing. I'll bemoan microphonics until I'm blue in the face. No matter how good a pair of earbuds sound, it doesn't matter if any cable rustling results in severe degradation of sound. The harshness of the cable noise is dependent upon cable and housing material.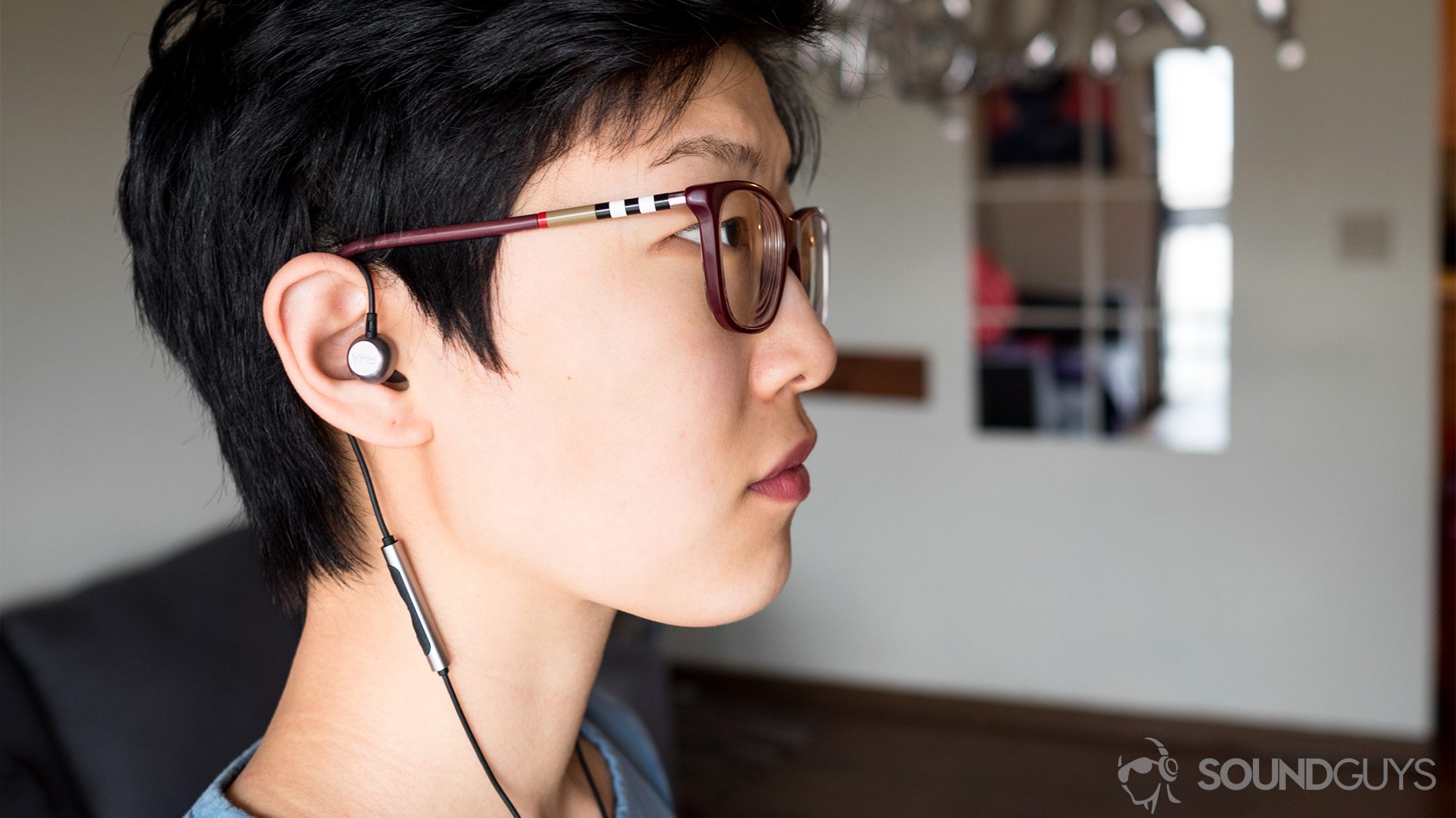 The MA650 suffer from the same problem as the RHA MA390.
Now, here's how to fix it. Simply take note of RHA's around-the-ear design of its higher-end models. The company's flagship is the T20i, which hardly transmit these throwaway noises due to the design and higher quality materials.
Wearing the RHA MA390 Universal like this will create another problem though: It places the microphone adjacent to the bend of the jaw, exacerbating the difficulty that it has with relaying the intended voice during phone calls. It all comes down to personal preference. Do you place more importance on unimpeded sound or voice transmission during calls?
How do they sound?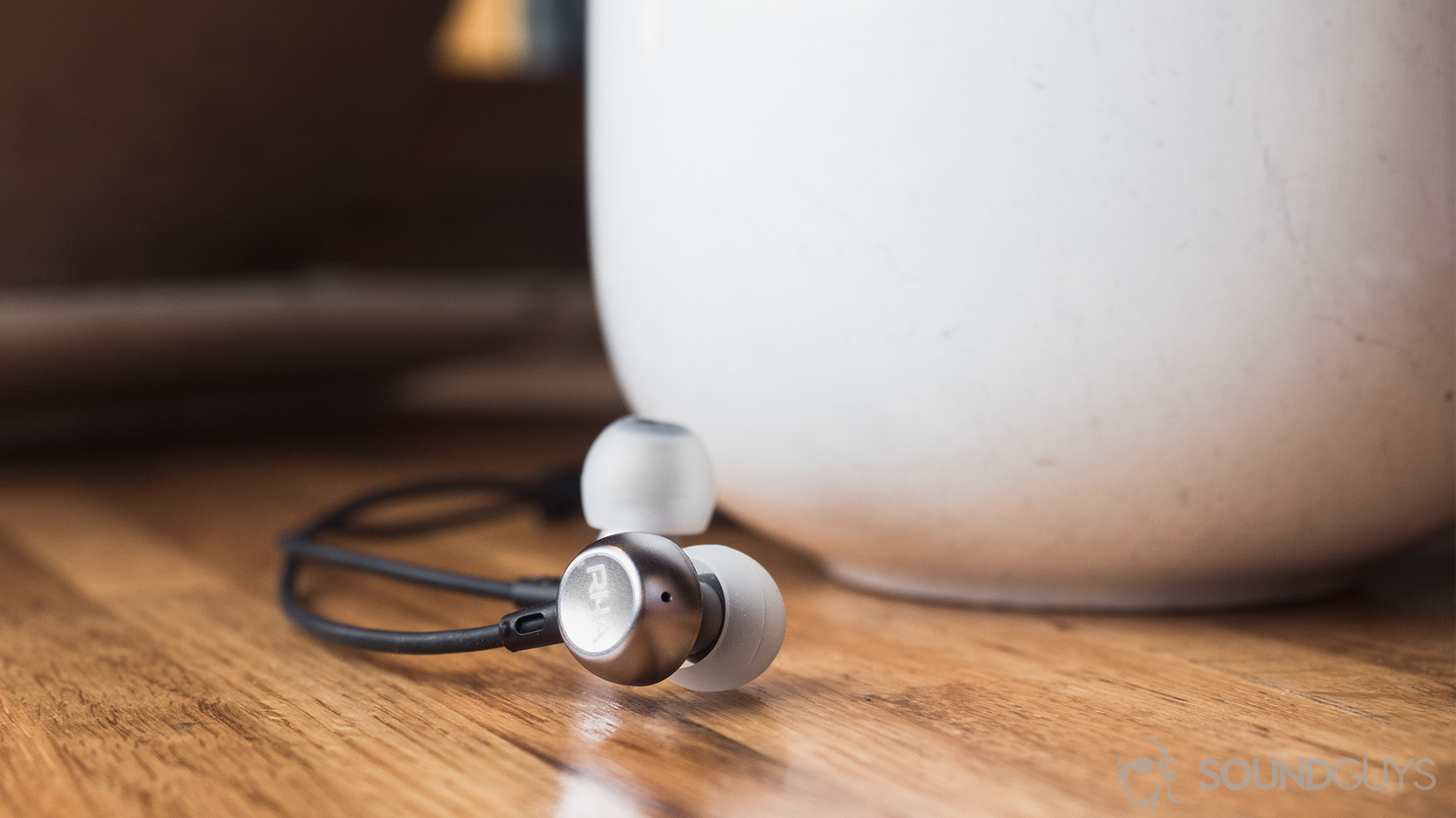 The RHA MA390 aren't going to win any audiophile awards, but they sound great especially after considering the price.
Before getting into the nitty-gritty of the sound signature, you should know that these aren't for audiophiles. They may look more sophisticated than your average pair of sub-$50 earbuds, but the sound panders to the general consumer, meaning that they're bass-heavy with underemphasized mids and accentuated treble. Now, this isn't automatically a bad thing; plenty of us enjoy this type of sound especially for casual listening.
Lows
Bass receives the most emphasis; its strong presence is to the detriment of the mids. In I Wanna Know by NOTD, featuring Bea Miller, the delayed bass response makes it difficult to hear the tonal shifts in Miller's vocals. In any of the choruses, the song becomes rife with synthetic and instrumental din. Something like the Etymotic ER4SR can easily parse this out because of their more neutral frequency response, but the MA390 Universal isn't quite as adept.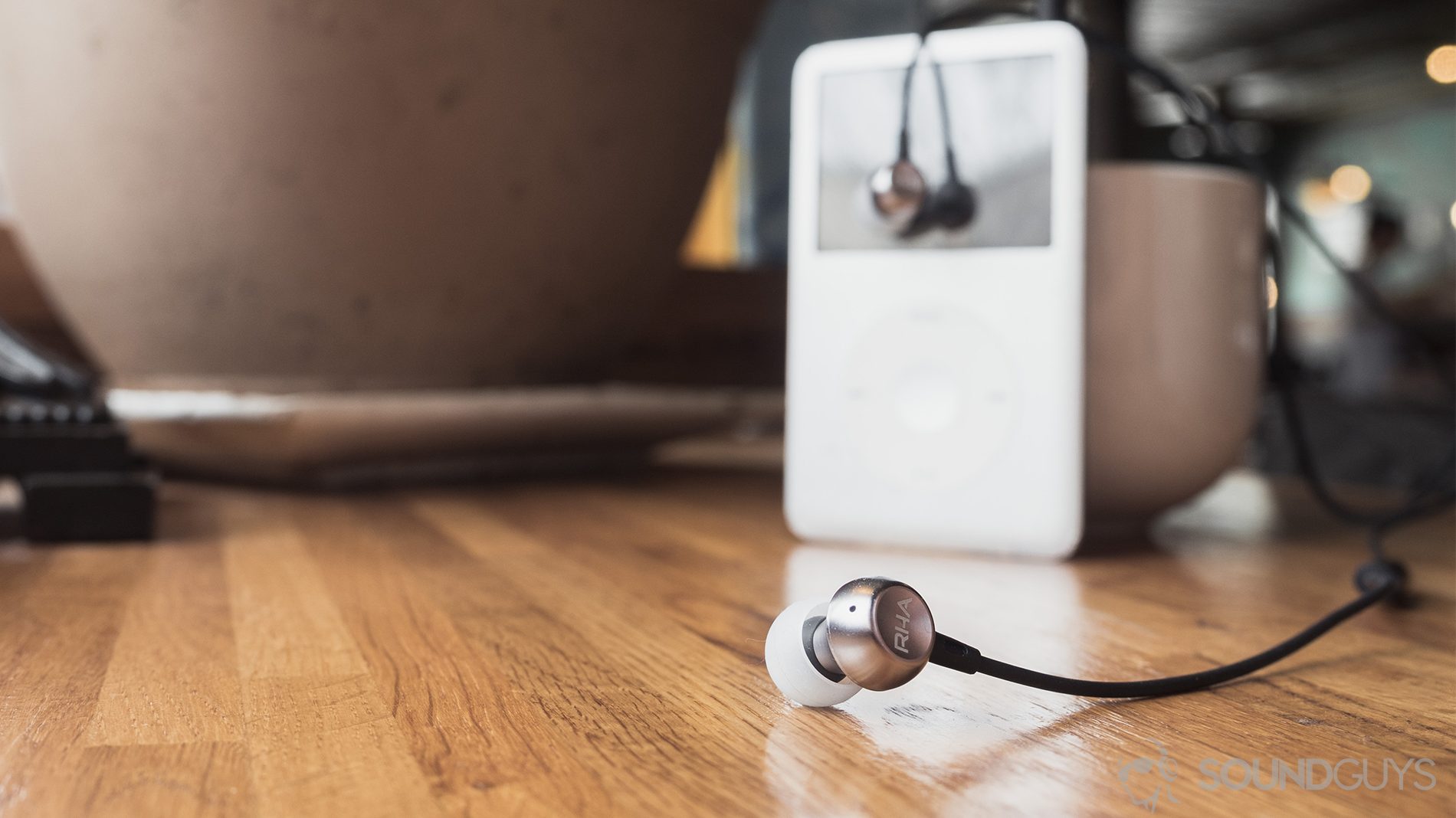 Being just 15 grams, the MA390 are easy to transport.
This sound would be frustrating for more expensive 'buds, but since the intended audience for these earbuds are listeners on a budget who want something slightly better than the best earbuds under $20, it can be forgiven—perhaps even embraced depending on your auditory preferences.
Mids
While You Fade Away by The Happy Fits is a prime example of the MA390 Universal's diminished midrange frequency reproduction. While The Happy Fits accreddit their unique sound to the liberal use of the electric cello, its aggressively reproduced sound makes it difficult to clearly hear vocals.
That said, the mids are no slouch. These are some of the best sounding earbuds in this price range, especially after taking into account value of the fine build quality and security afforded by the three-year warranty.
Highs
In dodie's sobering ballad, Sick of Losing Soulmates, the resonance of her fingers sliding up and down the fretboard seem to come through with great clarity. Though I wouldn't generally classify the highs as clear, the MA390 Universal are tuned to boost the volume, making listeners perceive clarity in the treble reproduction.
These earbuds are a step up from gas station buds, but aren't going to blow your socks off with high quality sound.
An explicit illustration of this volume boost to simulate clarity can be heard during the chorus. Beginning at 3:12, chimes resonate above Dodie's humming. It's here that audible sharpness is surrendered to the muted drums.