All products featured are independently chosen by us. However, SoundGuys may receive a commission on orders placed through its retail links. See our ethics statement.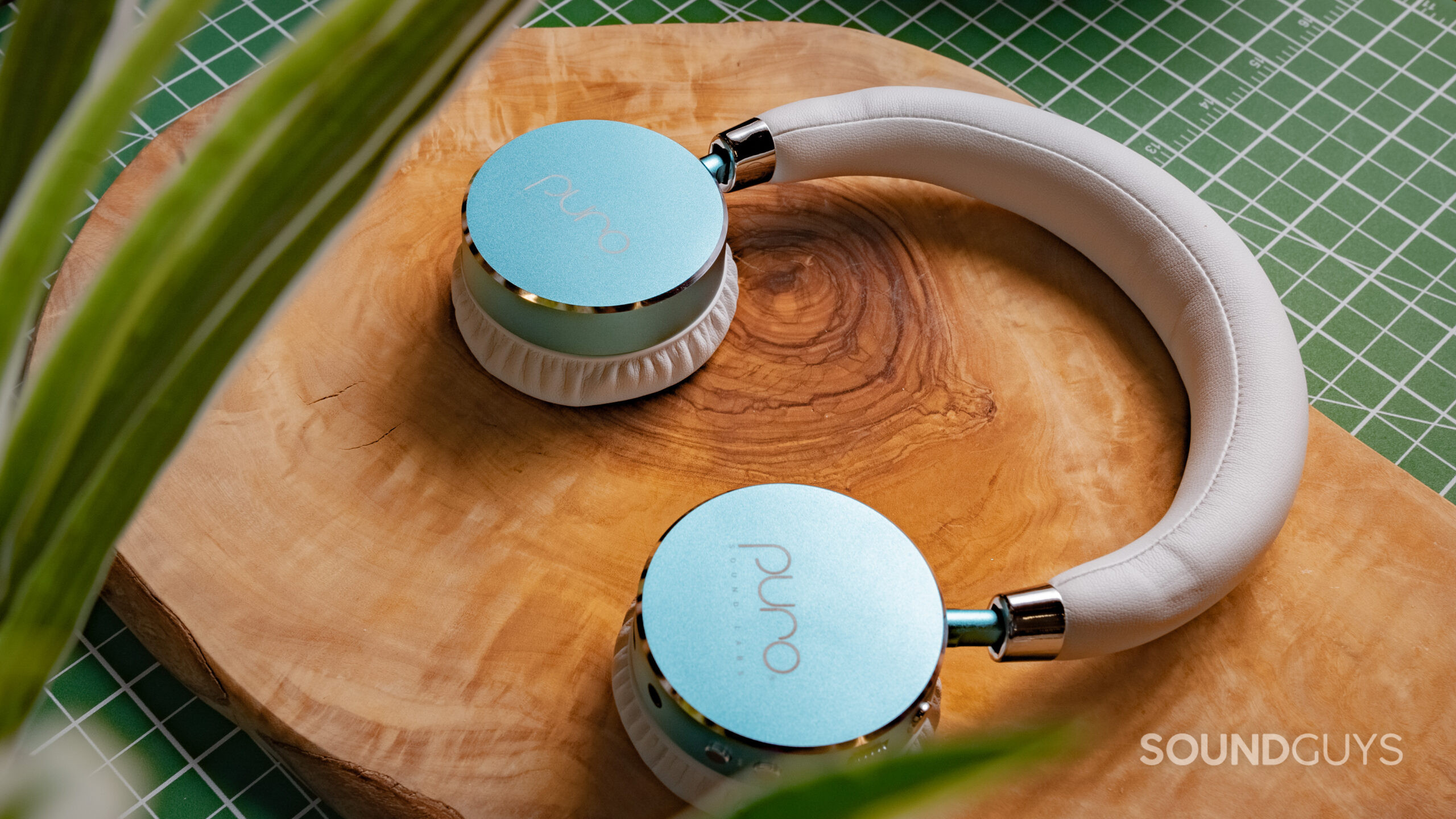 The bottom line
At $100 USD, the Puro Sound Labs BT2200 is one of the most complete kids headphones you're likely to come across, eclipsed mainly by other models from Puro Sound Labs's own offerings. It's a bit spendy for kids headphones, but it's worth it.
Puro Sound Labs BT2200
At $100 USD, the Puro Sound Labs BT2200 is one of the most complete kids headphones you're likely to come across, eclipsed mainly by other models from Puro Sound Labs's own offerings. It's a bit spendy for kids headphones, but it's worth it.
Dimensions
219 x 182 x 66mm
Outer ear pad dimension: 66mm
What we like
Very lightweight
Durable
Daisy-chain listening
Battery life
Sound quality
What we don't like
Price a bit high
On-ears tough to fit
microUSB connector
Volume limit not quite there
So you're in the market for kids headphones and you're at a bit of a loss for what to pick up. A ton of the options on Amazon don't exactly, uh, inspire confidence, but lots of reviews point to options like the Puro Sound Labs BT2200. Is this headset any good? Let's find out.
About this review: We tested the Puro Sound Labs BT2200 over a period of 5 days. SoundGuys purchased the unit for this review.
What you need to know about the Puro Sound Labs BT2200
Puro Sound Labs BT2200: $99 USD / $129 CAD /  £157.20
The Puro Sound Labs BT2200 probably represents the upper end of what people are willing to pay for kids headphones, even if this particular product is among the mid-level options from the company. What you're paying for is increased attention to the design process and manufacturing quality—something nauseatingly rare for this category.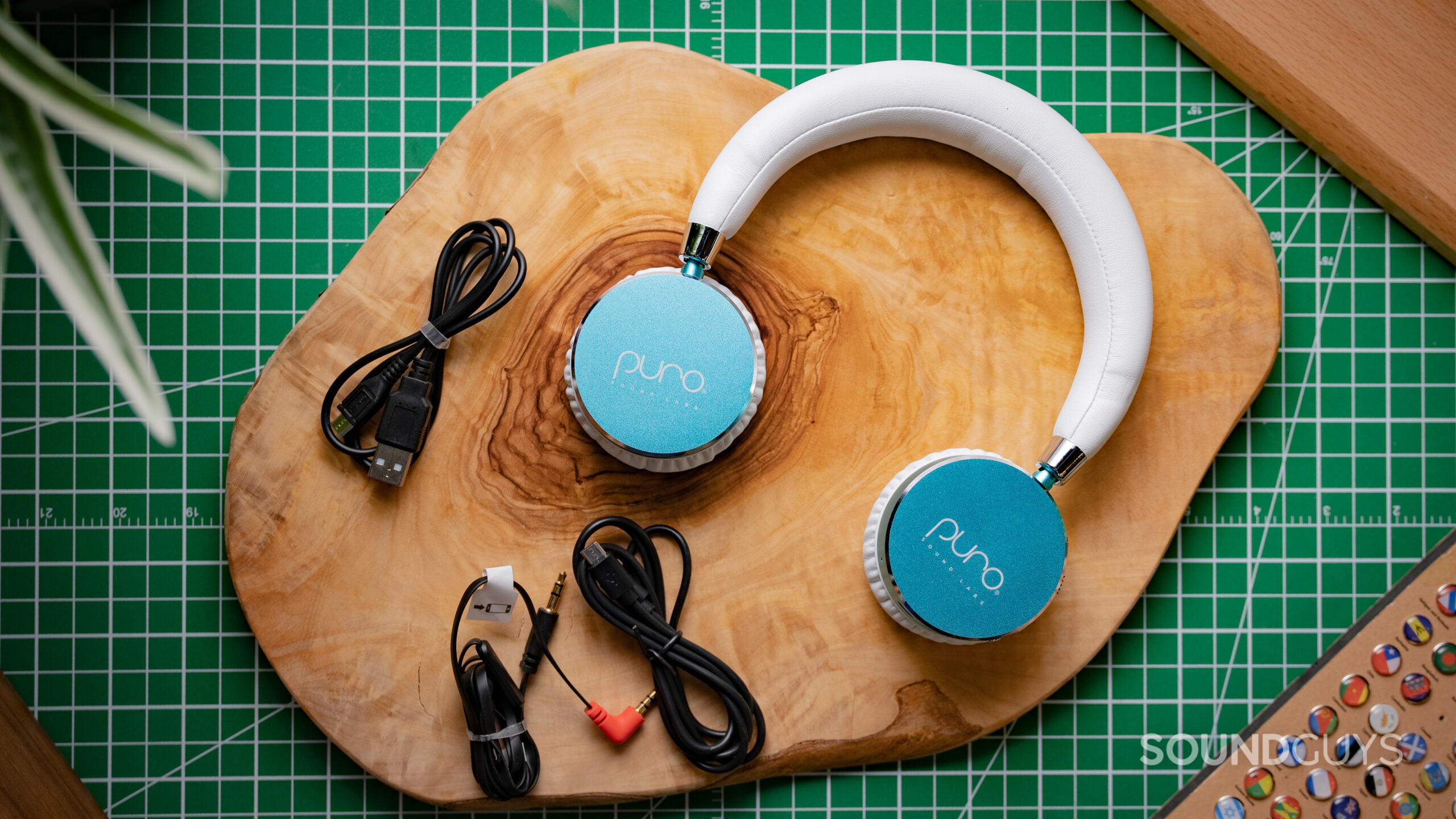 All accessories outside of the larger ear pads come included in the packaging.
Puro Sound Labs offers two headphones above the BT2200 in its lineup with active noise canceling (ANC)—the PuroQuiet Active Noise Canceling Headphones and the PuroPro Active Noise Canceling Headphones—with modest steps up in cost. There are two less-expensive options in the lineup: the JuniorJams Volume Limited Headphones for Kids and the PuroBasic Wired Volume Limited Headphones, both without ANC or upgrade accessories. With the exception of the PuroBasic, all the headphones in this lineup can use a USB daisy-chain cable to share audio between two headsets, and all come with a 3.5mm jack cable of one flavor or another. Additionally, all of the headphones here have an advertised volume limiter function that should keep tunes under 85dBA.
As far as the product itself goes, the Puro Sound Labs BT2200 also is fairly unique in that it offers upgrades and accessories that change the function of the headphones themselves to meet your (kid's) needs. For example, you can pick up wider "over ear" pads that will allow you to avoid having the ear pads touch the user's outer ear—this kind of thing can really improve long term comfort. This is also helpful to extend the usable window for this device by enabling the headphones to grow with your child. The Puro Sound Labs BT2200 is available in teal, blue, pink, or green.
What's good about the Puro Sound Labs BT2200?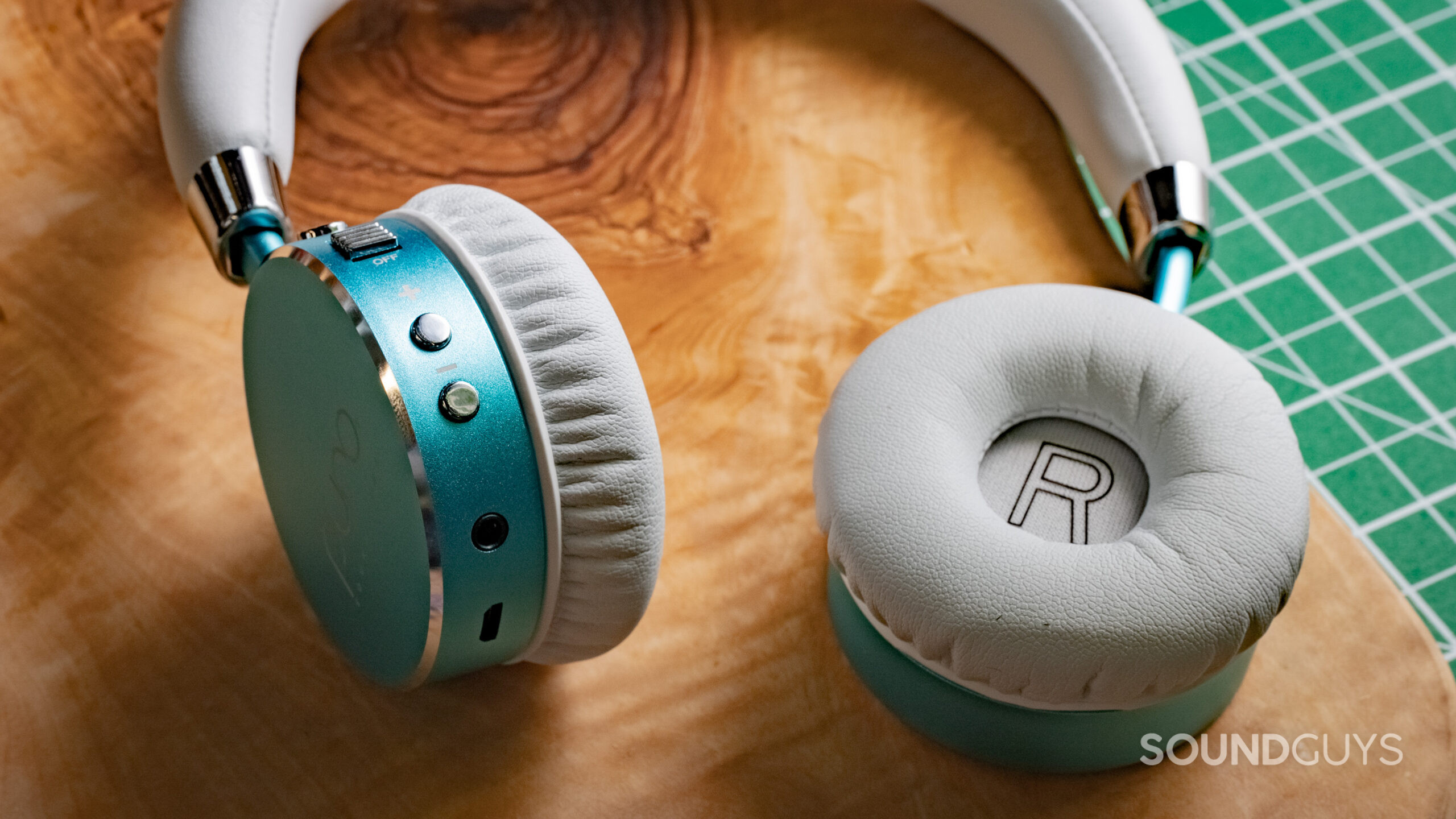 Buttons and switches might not be visually attractive, but they're much easier for less-coordinated kid fingers to operate.
All in all, this set of headphones is as close to a "sure thing" as you get for $100 USD. Obviously nothing is truly perfect, but the Puro Sound Labs BT2200 really does represent some of the best kids headphones around, owing mainly to the fact that it's one of the few kids headphones that actually does what it claim to.
Kids headphones are notorious for cheaping out in every way possible, and that isn't the case here. The build quality is very much worth the price, and the physical controls are easy for a child to use. Kids get frustrated pretty easily when they can't be in control of something they feel like they ought to be—and headphones are a really good example of a potential powder keg of emotions. Having simple and uncomplicated controls that work reliably is really important. Additionally, the over-ear pads really are a marked upgrade for any user—though you're not committed to them right away, so you can wait on buying these until you need them.
Even the wireless implementation is solid, as the Bluetooth 5 radio allows the use of aptX Low Latency to eliminate frustrations with lag in streaming. The daisy-chain feature uses an included microUSB to microUSB cable to link two Puro Sound Labs headphones together to allow kids to listen to the same content without having to fight over the connection.
Kids headphones are notorious for cheaping out in every way possible, and that isn't the case here
If you find that your kid runs into issues with fit, you may just need to ensure that the headphones are actually getting worn correctly. The band is quite "slippy" for kiddos with fine hair, as my four year old puts it, but this is easily remedied by sliding it further back on the head a little.
The headphones definitely perform to their price—though the wireless sound performance is better than wired (the yellow dotted line is the wireless connection, cyan is wired, and pink is our target curve)  because there's seemingly no digital signal processing (DSP) active in wired mode. Isolation is pretty good for on-ears, helping block out a substantial amount of high-frequency noise. Over the wireless connection, our testing shows the headphones limit volume to around 88dB(SPL), measured at the drum reference point, exceeding the 85dB(SPL) listed on the box. Considering some of the other horror stories we've seen in the lab, this is one of the better results out there. Battery life is also solid at 22 hours, 38 minutes, which should be more than sufficient to handle long trips without hiccups, should you forget to plug it in.
What's not so good about the Puro Sound Labs BT2200?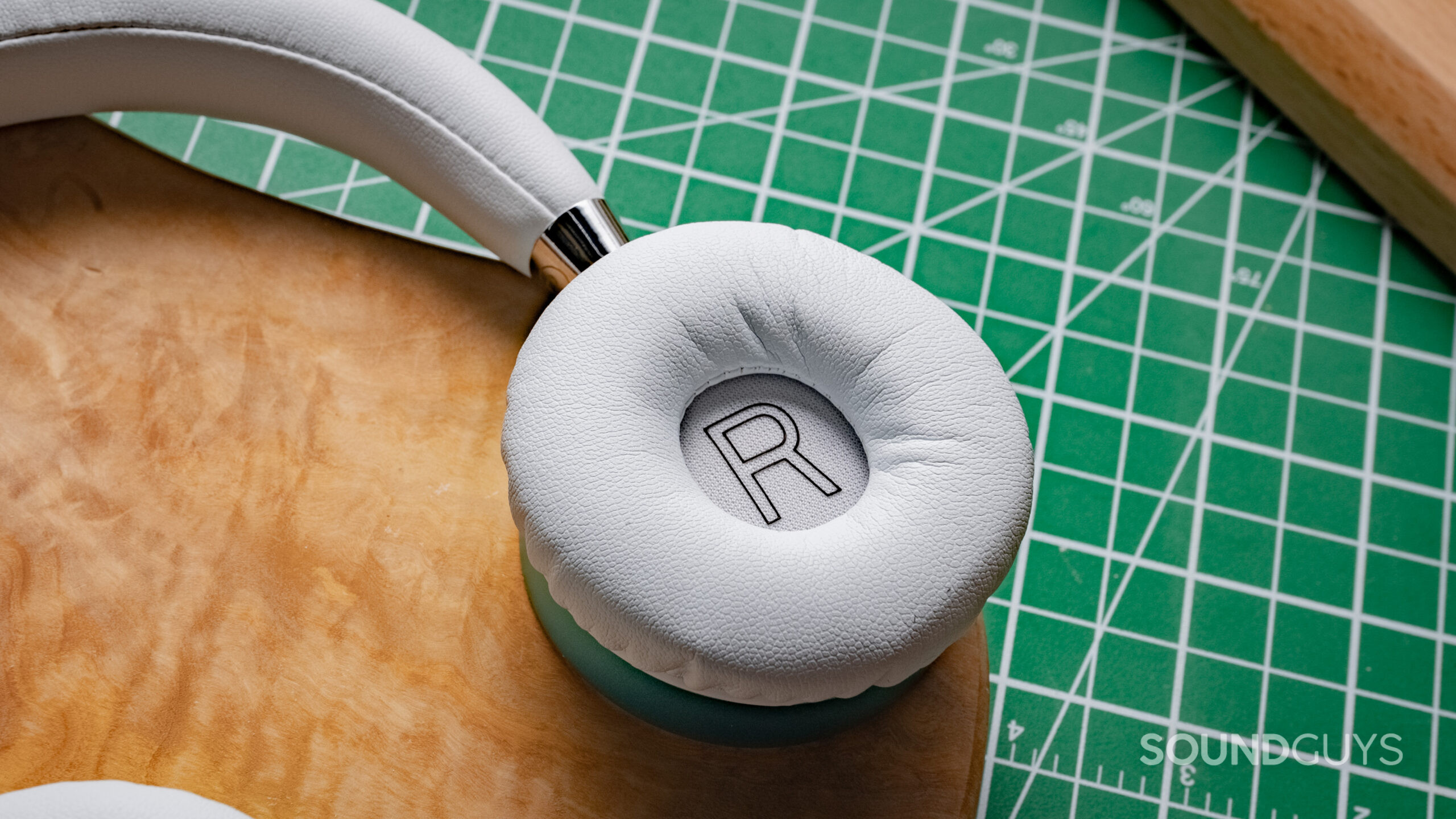 Despite kids ears being small, tiny on-ear pads have a number of drawbacks—mainly a difficult fit.
One thing we notice with pretty much every set of kids headphones is that the wired connections seldom actually limit the volume, and the Puro Sound Labs BT2200 is no different, pushing to 103dB(SPL) over a wired connection. Though the situations where a child would be listening wired are fast diminishing, extremely few kids headphones limit volume from our source's headphone output to 85dB(SPL). Most other models also struggle to keep wireless levels under 85dB(SPL), too.
All this means is that you shouldn't let your kids listen to max volume, but definitely teach them about safe listening habits anyway. 85dB(SPL) may sound quiet, but it's just the OSHA-specified limit for workplaces to create a hearing protection policy when adults are exposed at work for eight hours—not really an awesome target for kids, even if that's the standard at the moment.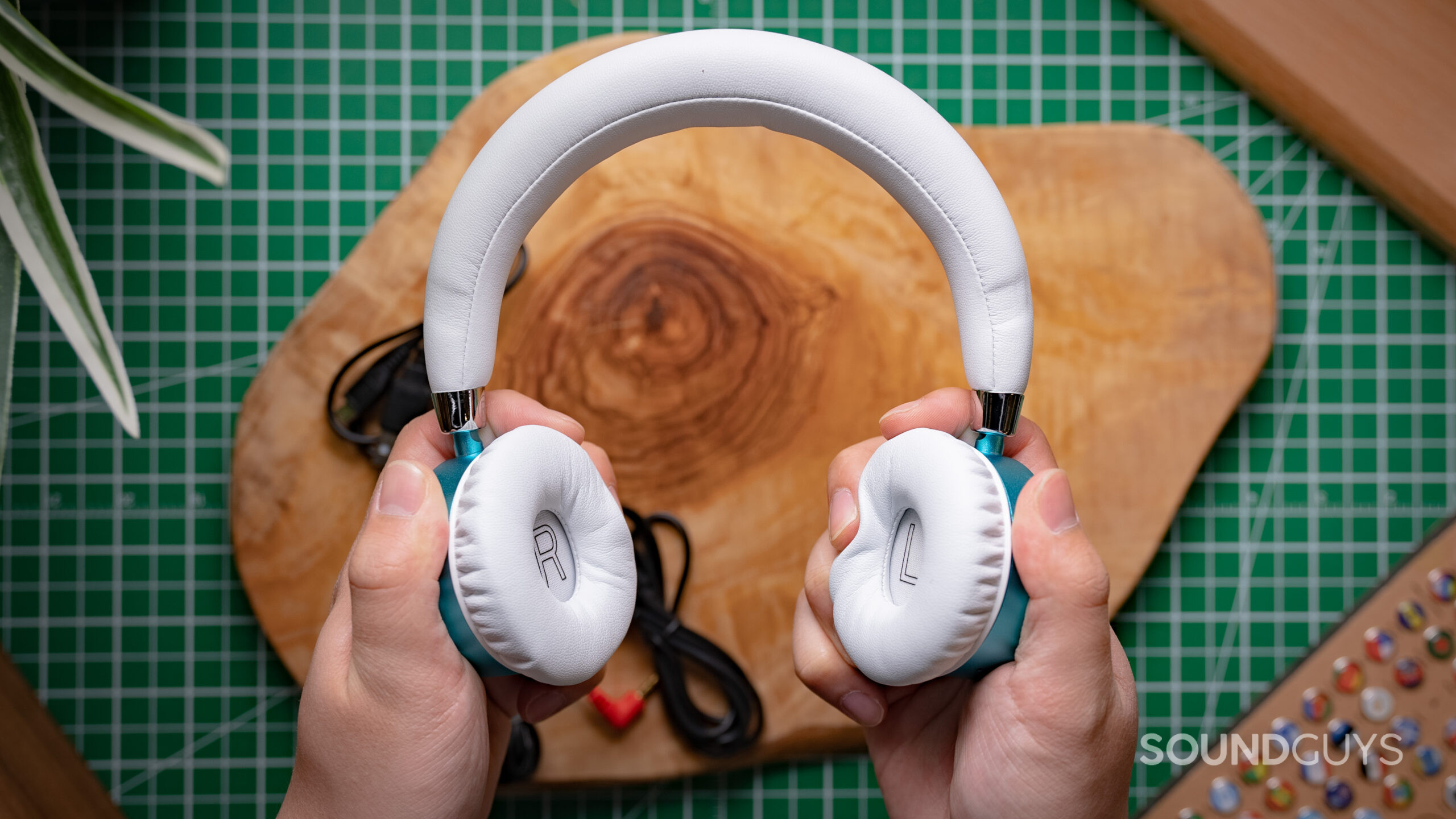 The Puro Sound Labs BT2200's padding is mercifully light.
Then there's that microUSB charging port. Though older parents may be happy they don't have to share their phone charger with the kids when they need to top up their headphones, I can tell you the need for separate chargers gets old fast. The microUSB port on the Puro Sound Labs BT2200 may be the only thing you can use the daisy-chain cable with, but it's still a pain to use in 2023.
Finally, we aren't wild about the on-ear form factor, as it tends to need to put more pressure on the outer ear than over-ear designs. If you wanted your kids to use headphones to help limit outside noise from a plane or car, the worst thing you can do is get a set of uncomfortable headphones, because they'll simply take them off. This is why we're so positive about the over-ear pads that you can add, though it probably would be better to increase the price a little and include those in the packaging instead so parents can troubleshoot on day one (or just sell an over-ear option from the jump).
Puro Sound Labs BT2200 specs
Kids headphones are a bit of a mess, so it's important to know a few key specifications about each product as you research what to buy. Here's what you should know about the Puro Sound Labs BT2200.
Puro Sound Labs BT2200

Size


Inner pad gap: 23.7mm
Outer pad dimension: 66mm
Case: 21 x 17.7 x 5.1 cm


Weight


150g


Connection


Bluetooth 5; SBC, AAC, and aptX Low Latency


Controls


Button, switch


Battery life


22 hours, 38 minutes


Wireless charging


No


Connector


microUSB


Price


$99 USD

Should you buy the Puro Sound Labs BT2200?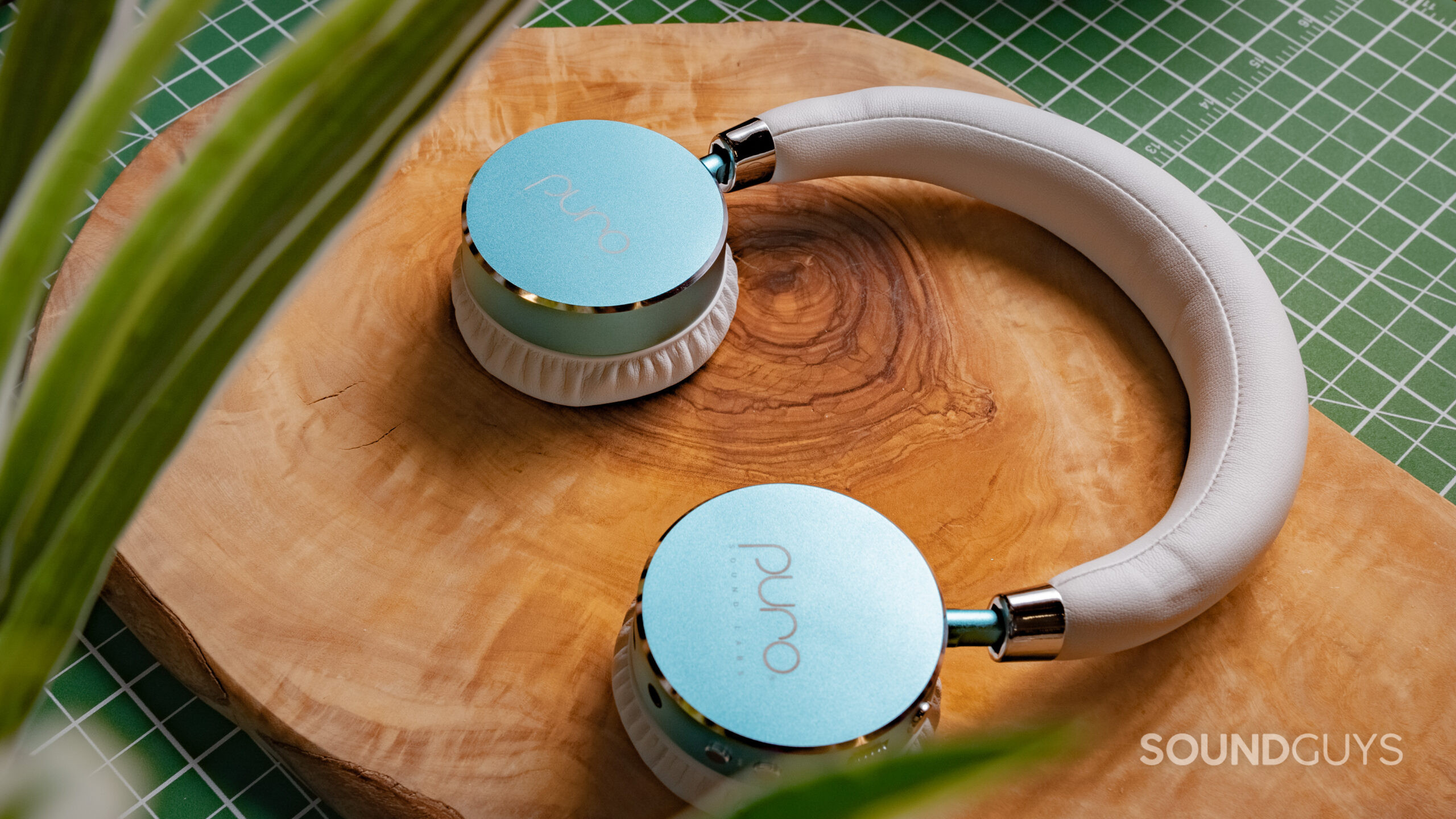 A less "kid-like" appearance means these won't get tossed for something more expensive right away.
Despite the added cost, I don't have any trouble recommending the Puro Sound Labs BT2200, or other higher-end Puro Sound Labs headphones. Of all the brands of kids headphones out there, this company has the best track record when it comes to actually delivering the promise of the volume limiter, even if these cans fall a little short of the mark over a wired connection. Additionally, it's obvious the designers may actually have kids of their own, since many of the defining features that come enabled out of the box (like the daisy-chain cable) meets the needs of not just one kid but multiple—belying an understanding of the consequences of tech use in a household. I like that this product keeps little fingers with developing motor control in mind, and I also appreciate the inclusion of advanced Bluetooth codecs to meet the needs of those with certain sensory issues.
Sure, $100 USD is a lot of money for headphones—especially if you're buying for multiple kiddos. Still, you're paying a little more for something that is laser-focused on the constellation of needs younger kids have, with the upside of being able to keep up with them as they grow. A design that looks a little less juvenile will also appeal to many kids over the long haul. If my four year old approves, that's essentially a good guarantee that your kids shouldn't see these headphones as "childish."
As far as alternatives go, the logical step up would be something like the Puro Sound Labs PuroQuiet, which offers larger ear cups and ANC for only a few dollars more. It's still a bit dated, but it at least has many of the positives of the Puro Sound Labs BT2200. If you're looking for a step down in cost, the JLab JBuddies Studio Wireless is better able to limit its volume over both wireless and wired connections—with a very obvious tradeoff in sound quality and battery life. Your kiddo may not be wild about the grey aesthetic, but it's a very branded look for JLab.
Frequently asked questions
Only in terms of potential sound output. The wireless Bluetooth tech itself is so low power that it's not enough to cause any kind of damage that people typically get worried about.
If your child is growing, or simply can't have anything touching their ears: these are a good pickup. While we can't vouch for performance increases, larger ear pads have a much better chance of fitting than smaller ones, as they're more likely to create a better seal around the ear rather than just sitting on it.