All products featured are independently chosen by us. However, SoundGuys may receive a commission on orders placed through its retail links. See our ethics statement.
The bottom line
Mobvoi's first true wireless earphones are a hit, with good sound quality, better-than-average battery life, and a convenient carrying case. The only downside is how insecure the silicone sleeves are, but that can be remedied with different tips. Overall, these are a solid buy.
Mobvoi TicPods Free
Mobvoi's first true wireless earphones are a hit, with good sound quality, better-than-average battery life, and a convenient carrying case. The only downside is how insecure the silicone sleeves are, but that can be remedied with different tips. Overall, these are a solid buy.
What we like
Sound quality
Ambient noise cancellation
True wireless connectivity
What we don't like
SBC, AAC
Sleeves fall off in ears
Rating Metric
Sound Quality
8.4
Isolation / Attenuation
5.0
Durability / Build Quality
7.5
Value
9.0
Design
8.0
Connectivity
4.0
Portability
9.0
Battery Life
4.6
You could be forgiven for not hearing of the Mobvoi TicPods Free, but they tick all the boxes of what makes a good set of true wireless earbuds. They're affordable, they sound great, and have decent battery life. But do they hold up today?
Editor's note: this Mobvoi TicPods Free review was updated on March 16, 2021, to add context to the sound quality section and include a contents menu.
Who should get the TicPods Free?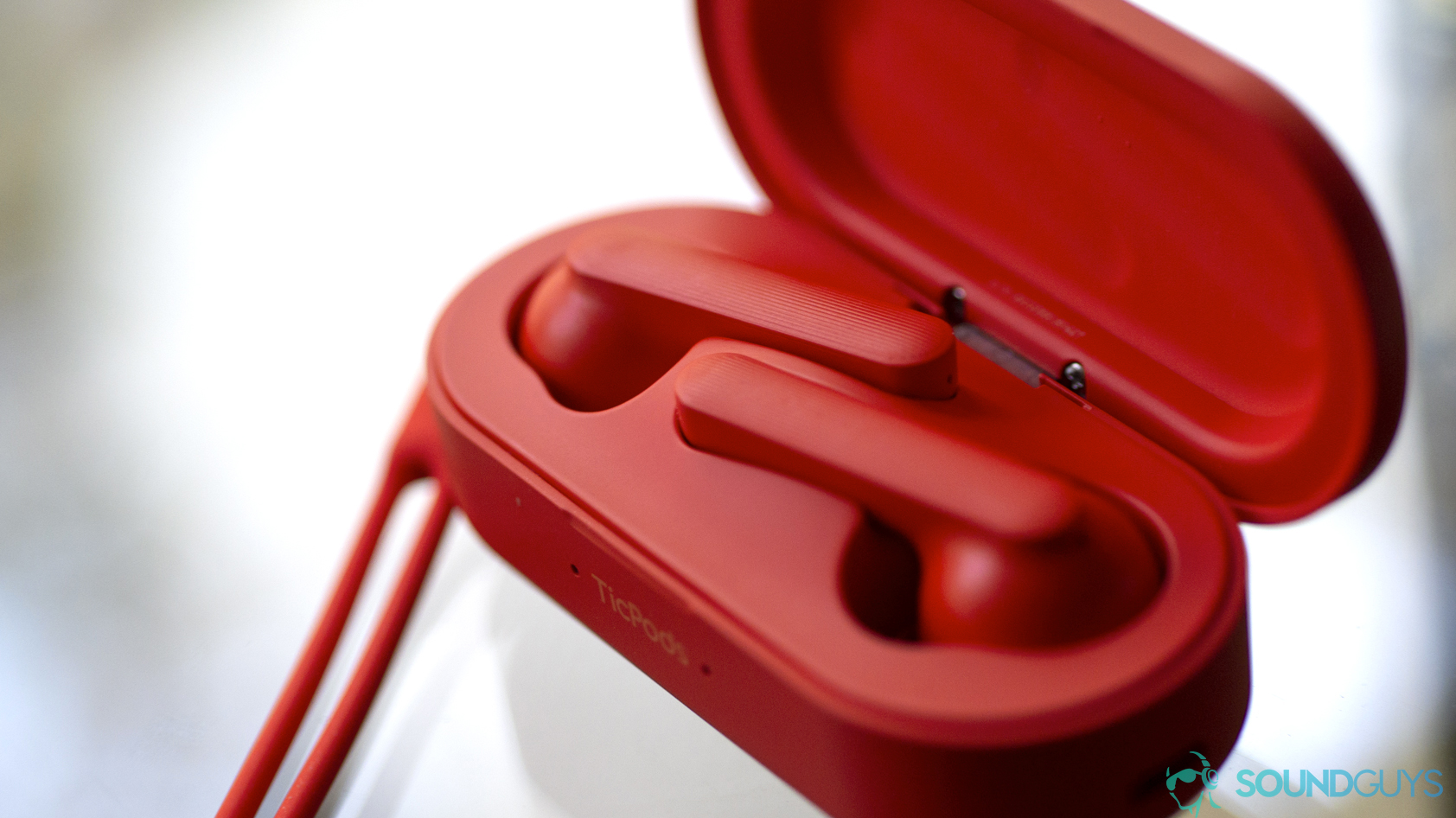 The Mobvoi TicPods Free may look like Lava-colored AirPods, but they perform much better.
Mobile listeners and commuters will like the TicPods Free, as they offer solid battery life, decent sound quality, and good isolation.
Bass-lovers will appreciate the bass-heavy sound of the TicPods Free.
People who get sweaty will appreciate IPX5 rating.
What's it like to use the TicPods Free?
I have to admit, I was surprised at how well the Mobvoi TicPods worked out of the box. Pairing was extremely fast, and while there wasn't an app ready for use—you don't need one. Opening the battery case puts the buds into pairing mode, and your phone will connect after a short period. Once paired, insert the buds into your ears, and you should be good to go. The max volume is a little low, but that's not a bad thing.
The tiny battery case can easily stash your TicPods into your pocket.
If you want to adjust the volume, you can swipe up on the left earbud, and double-tapping the same spot skips to the next track (or accepts a call). If you need to pause, a long press on the left will handle that fairly quickly. You can also reject calls with this same movement, or toggle the voice assistant if you continue pressing for two seconds.
By far the biggest downside of the TicPods Free is the ear tips. While they're not bad, they're not very securely attached to the earbud's nozzle, making them a foreign object risk in your ear canal. I took the buds out twice only to find that the sleeve was still in my ear, forcing me to find a safe way to get them out. Not a fun way to spend ten minutes, I assure you. You may elect to get third-party foam tips, because those will at least stay put if they do come off.
A microUSB charging port is unusual, but not too ancient… yet.
However, when these little buds are in your ears, the performance is surprisingly very good, and they stack up well to other true wireless earbuds in every metric that counts. While you may or may not like the AirPods-esque aesthetics, they do come in white, blue, and a salmony-red called "lava" (pictured in this review) if you want some color choices.
How good is the Bluetooth connection with the TicPods Free?
In general, many look down upon SBC and AAC-using earphones because there are some significant quality drawbacks for each. However, we didn't run into those while testing the TicPods Free. SBC has come a long way, and AAC… works best on iPhones. If you have an Android phone, you may want to force a SBC connection in your developer options. Additionally, you shouldn't hear any noise at normal listening volumes, so if you can hear a hiss or other noise: you're listening too loud.
How good is the battery of the TicPods Free?
Despite being quite light, the battery life of the Mobvoi TicPods Free is below average. By setting the volume to 75dB and letting the product play continuously, we were able to squeeze 3 hours and 35 minutes out of a single charge. Upon the TicPods Free's release, this was solidly respectable battery life but falls short of more modern true wireless earbuds less than $50.

While you may think that a single charge only lasting three and a half hours isn't all that amazing, consider how much you actually listen to your music on a day-to-day basis. It might surprise you to find out that most people rarely listen for more than 3 cumulative hours every day, and that you'd be covered by the TicPods Free even if you listened for an hour each way commuting in the morning, and an hour at lunch. You're also likely to store the TicPods in their charging case, which will also top off your buds while you're not listening.
In that light, a battery life of three-plus hours is more than good enough for most people, even if it does mean charging more than you may expect. The charging case can fully juice your buds four times from a 100% charge, so you won't be left in the lurch for long.
How do the TicPods Free sound?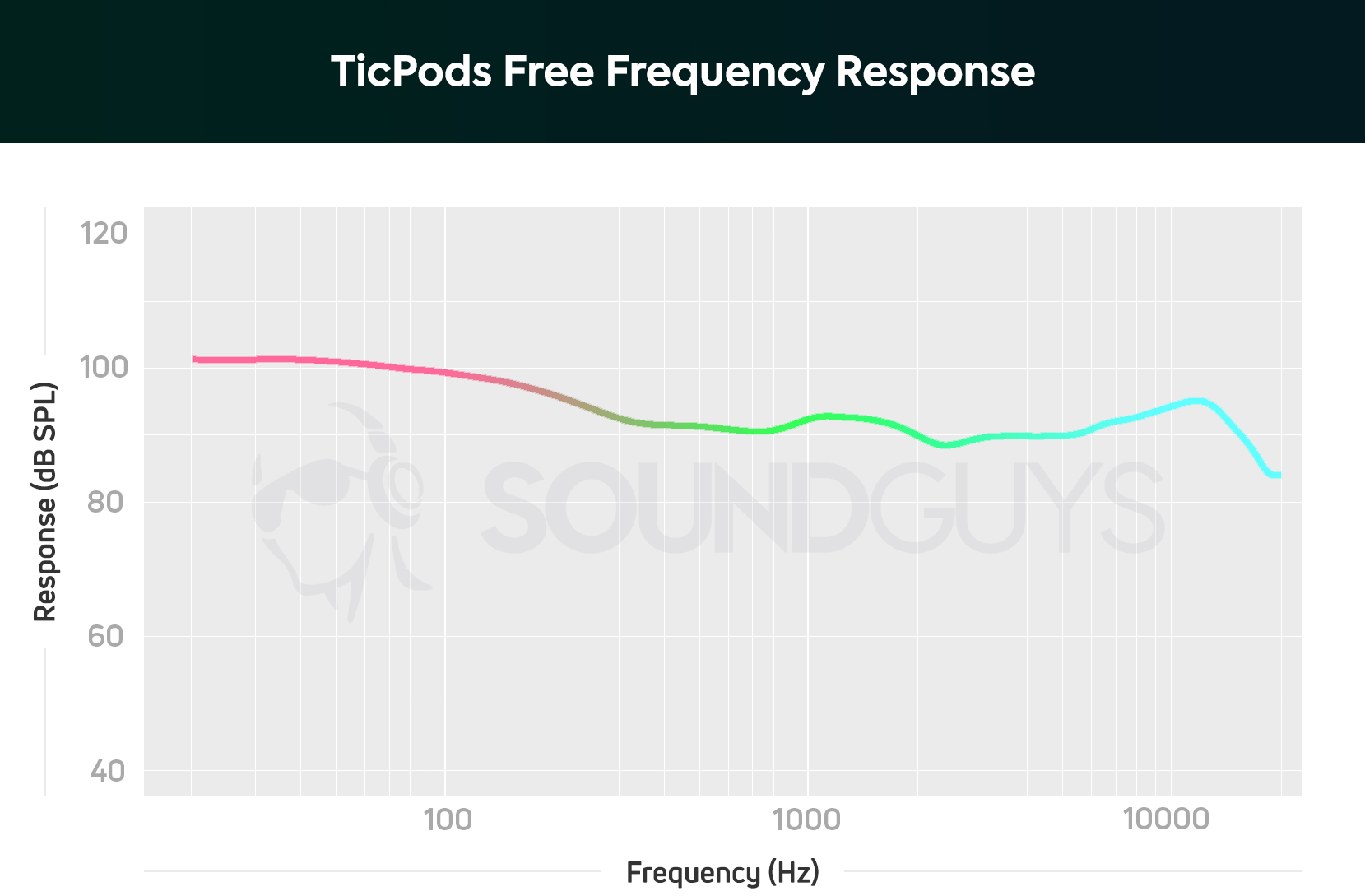 With a very consumer-oriented sound, the Mobvoi TicPods Free boost bass, a little treble.
Despite what some Mobvoi users are reporting, the TicPods Free are anything but bass-deficient. In fact, these are some of the more bass-heavy true wireless earbuds we've ever tested, so if you don't hear any bass—you need new eartips. We've run into this issue before, but a poor seal can lead to wild swings in audio quality. We recommend memory foam, as those will fit perfectly every time.
The TicPods are pretty great at isolating you from the outside world—though low rumbles will still get through.
These in-ears keep out a surprisingly high amount of outside noise if you can get a good seal—largely due to the fact that these buds also offer some weak active noise canceling. In our tests, the TicPods all but muted high end noise, though it does let in some low-end rumble. That's a blessing in disguise, though, as you'll be able to hear car engines just fine (if you're listening to music at a reasonable volume, anyway).
Lows, mids, and highs
Headphones and earphones that have this level of bass response will generally sound a little less clear in favor of boosting the bass guitars, drums, male vocals, cellos, and other low notes. It's a very common thing, but it does mean that these things can sometimes dominate your music a bit. While modern mixers are aware of this and can correct for it, if you can't hear higher notes: this is why. The TicPods Free exhibit this sort of issue in some songs—but only in the extreme edge case.
In a similar vein, female vocals, higher-pitched string instruments, everything above middle C on a piano, and woodwind instruments will sound a little off in comparison to the bass notes. But again: this is something most modern mixers should be able to correct for, as this type of frequency response is super common. You may notice older classic rock mixes having trouble with vocals, and that's definitely the case with the chorus in age-old pop hit Since U Been Gone.
Should you buy the Mobvoi TicPods Free?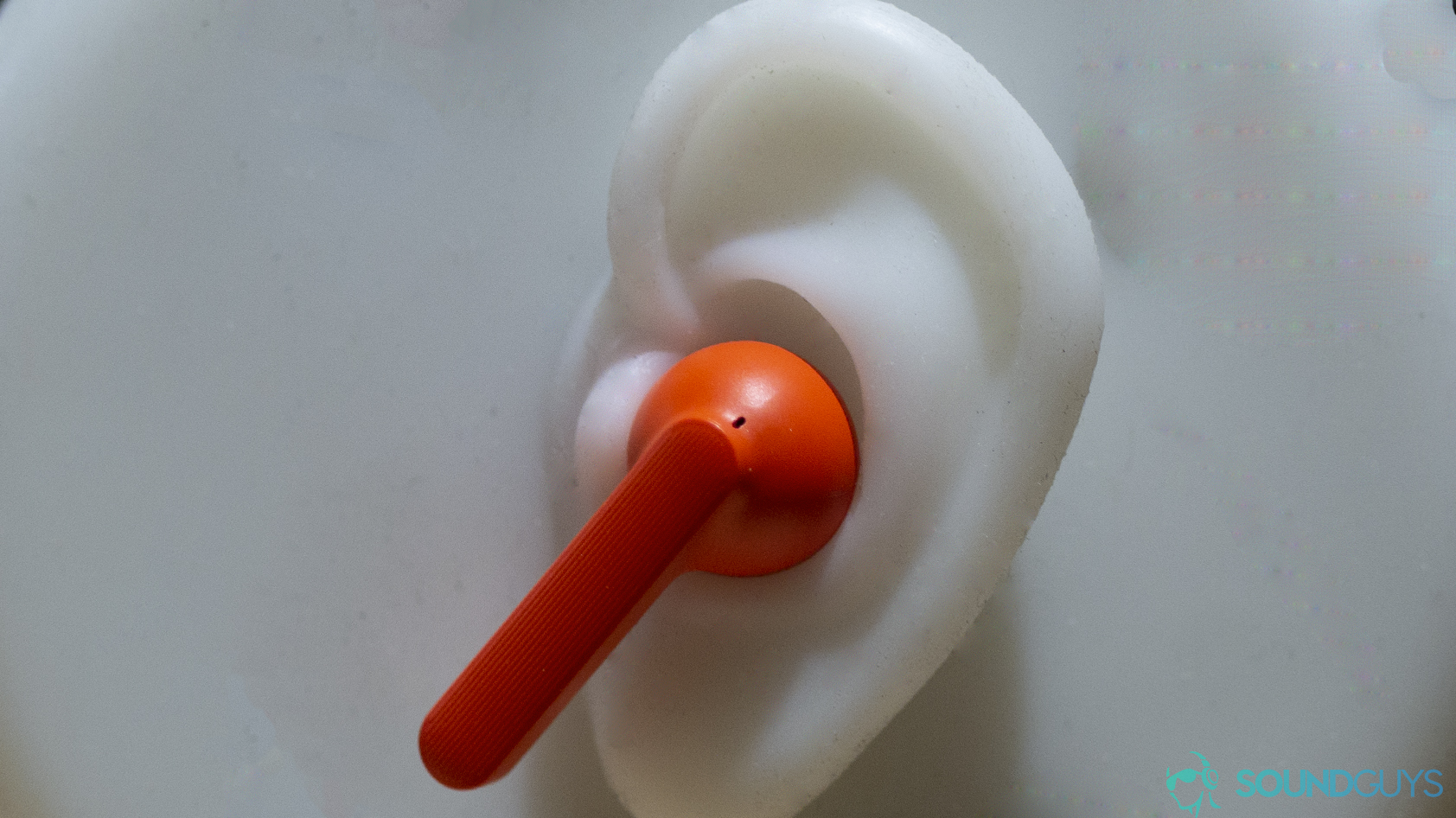 They stick out of your ears like other true wireless earbuds, but the TicPods Free are held in place by your ear canal.
The TicPods Free originally retailed for a hair under $130, making them a solid all-around pick for true wireless earbuds. Seeing how the price has dropped dramatically with the advent of dedicated noise canceling true wireless earbuds and other Mobvoi products like the TicPods 2 Pro, the TicPods Free stand as a real bargain. They don't light the world on fire, but they do offer a certain level of quality that's tough to find in this price range. However, you may be better served by the Jabra Elite 65t if you're looking for a step up, and you may want to budget some extra cash for foam eartips. If you really need to save some cash, we recommend the original RHA TrueConnect, not to be confused with the second-generation model. You can check out our best picks under $100 if you desperately need true wireless earbuds for a bit less money than the TicPods Free.