All products featured are independently chosen by us. However, SoundGuys may receive a commission on orders placed through its retail links. See our ethics statement.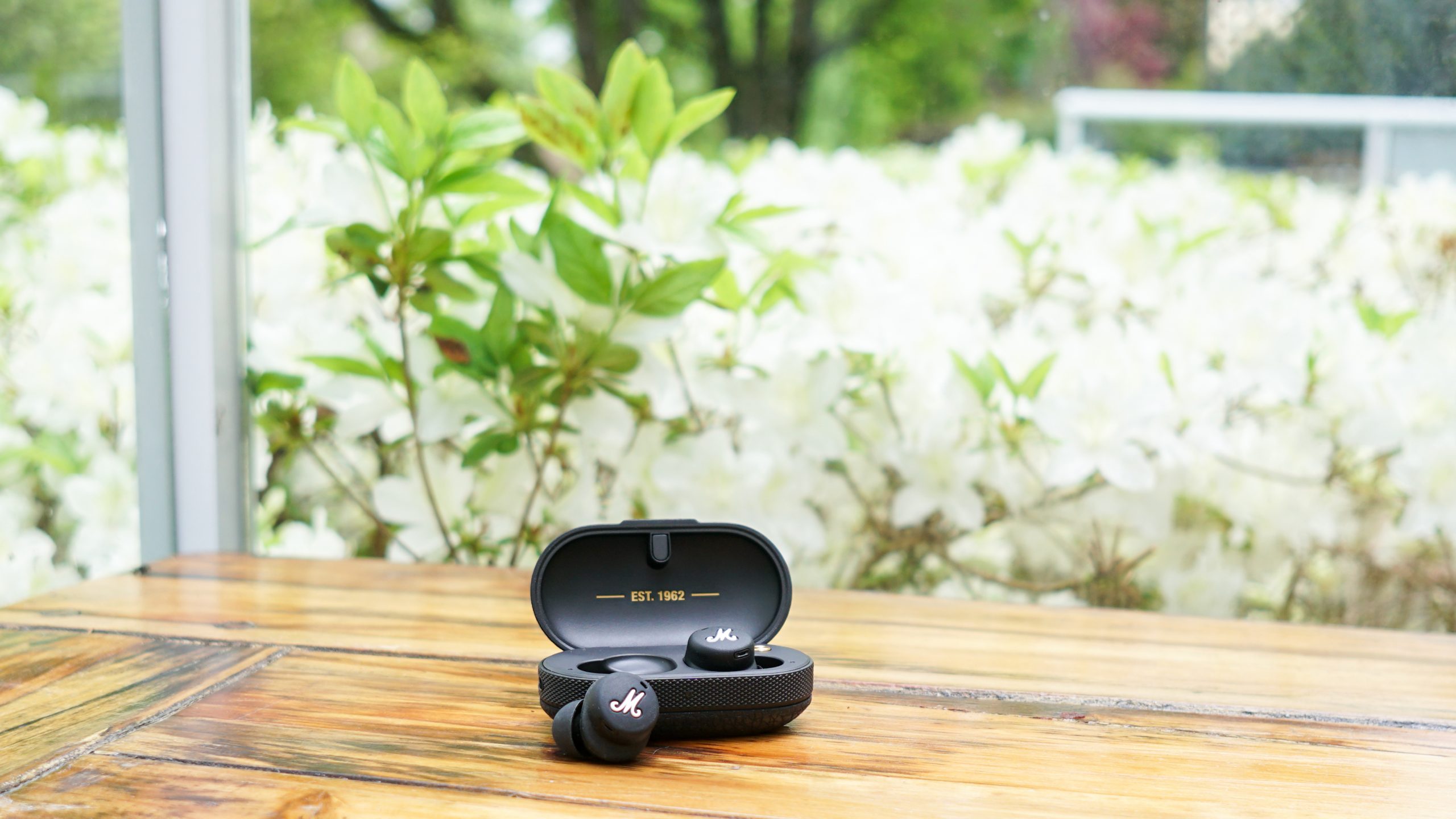 The bottom line
The Marshall Mode II is very good, with great audio and isolation, and comfortable build, but it doesn't exist in a vacuum. In the increasingly competitive true wireless earbuds market, spending a little less will get you basically the same performance, and spending a little more will net you big gains.
Marshall Mode II
The Marshall Mode II is very good, with great audio and isolation, and comfortable build, but it doesn't exist in a vacuum. In the increasingly competitive true wireless earbuds market, spending a little less will get you basically the same performance, and spending a little more will net you big gains.
Dimensions
7x 3.5 x 3.5 cm (case); 2.5 x 2 x 1.5 cm (earbud)
Weight
5g (per earbud); 35g (case)
Waterproof
IPX5 (earbuds); IPX4 (case)
What we like
Comfortable
Sound
aptX and SBC support
IPX5 rating
What we don't like
Microphone
Price
Matte design gets dirty easy
Weak transparency mode
Rating Metric
Sound Quality
9.5
Isolation / Attenuation
9.2
Durability / Build Quality
8.0
Value
7.0
Design
8.5
Connectivity
7.0
Portability
9.0
Battery Life
4.8
Feature
7.0
Comfort
8.0
The Marshall Mode II brings the company's iconic black and white, faux-leather look to the truly wireless space. These earbuds are a little light on features for the price, but when it's executed well, a simple product can still be great.
Do these true wireless earbuds bring the noise?
Who should get the Marshall Mode II?
Music lovers on Android who want something with a high-quality codec that they can use.
Lovers of low-profile earbuds.
Fans of Marshall who want something that fits their black and white ~aesthetic~.
What is it like to use the Marshall Mode II?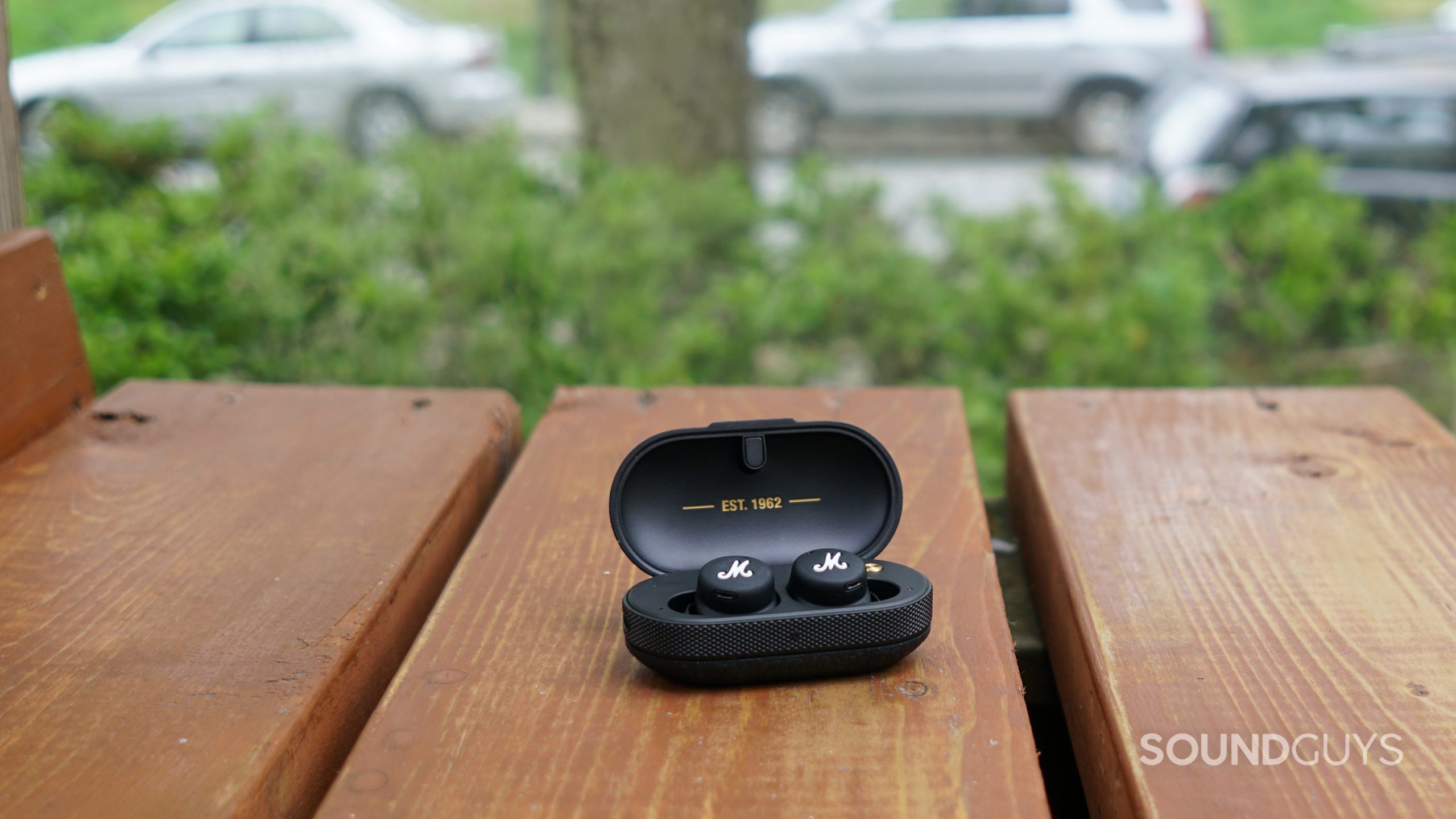 The magnets and the rather particular shape of the earbuds mean they fit in the case very securely.
If you've seen other Marshall products before, the Marshall Mode II will be immediately familiar. These true wireless earbuds have all the hallmarks of a product from the company. The plastic charging case features a grippy surface with the same cracked leather look and stark white cursive Marshall logo you'd find on one of the company's iconic guitar amps, or its less iconic (but still good) headphones. The earbuds are made of smooth matte plastic and feature that same kind of curvy M on the side.
Read on: What makes a good pair of in-ears?
These in-ears are also pretty comfortable. Their all-plastic build keeps the weight low (5g per bud), and they come with silicone ear tips of four different sizes, so getting a decent seal is just a matter of finding the right one for you. However, the matte finish makes the earbuds extremely susceptible to picking up dust and grime—expect them to take a little bit of every surface they touch with you (including dead skin from your ears). It's important to regularly clean your earbuds, but you may find it's worth doing a little more often to preserve that clean black and white look.
The M logo is where you tap to access touch controls—playback controls are on the right earbud, and transparency and virtual assistant controls are on the left one.
The Marshall Mode II features a subtle fin running along the bottom edge of both earbuds, which keeps them in place even during vigorous movement. The earbuds are IPX5 rated for water resistance, which means they can handle a light spray—with the secure fit, it makes this a great workout option too. The charging case features an IPX4 rating, so it too resists splashes.
On the subject of the case, it's also pretty well built. I have concerns about the long-term stability of the lid hinge—frankly, it feels flimsy—but otherwise, the Marshall Mode II case feels nice. It's covered in that craggly faux leather and ringed with a harder textured plastic so it feels pretty grippy. This definitely isn't a case that's prone to slipping out of your hands.
Would it really be a Marshall product if it didn't somehow look like a guitar amp?
The layout inside the case is simple; magnets hold the two earbuds into their appropriate slots, and given their finned design, they fit very securely. I haven't run into any instances of improper charging connections after nearly a week of use. The copper-colored button next to the right earbud slot is for pairing, but you should only need to use it once (unless you're switching between devices a lot).
However, while wearing and listening to the Marshall Mode II is a breeze, actually controlling playback can be a bit of a hassle. The earbuds feature touch controls tied to the M logo emblazoned on each side. One, two, or three taps on the right or left earbud will let you answer and hang up on a call; play, skip or go back a song; toggle the built-in transparency mode; and access your device's smart assistant. There's no way to control device volume, so you'll have to pull your phone out if your music is too loud.
It's not terribly common for an audio product that doesn't feature active noise canceling to include a transparency mode. However, if walking around outside listening to music makes you anxious without it, you don't need to worry. The transparency mode doesn't sound terribly good or natural, especially compared to something like the Apple AirPods Max, but it'll do in a pinch.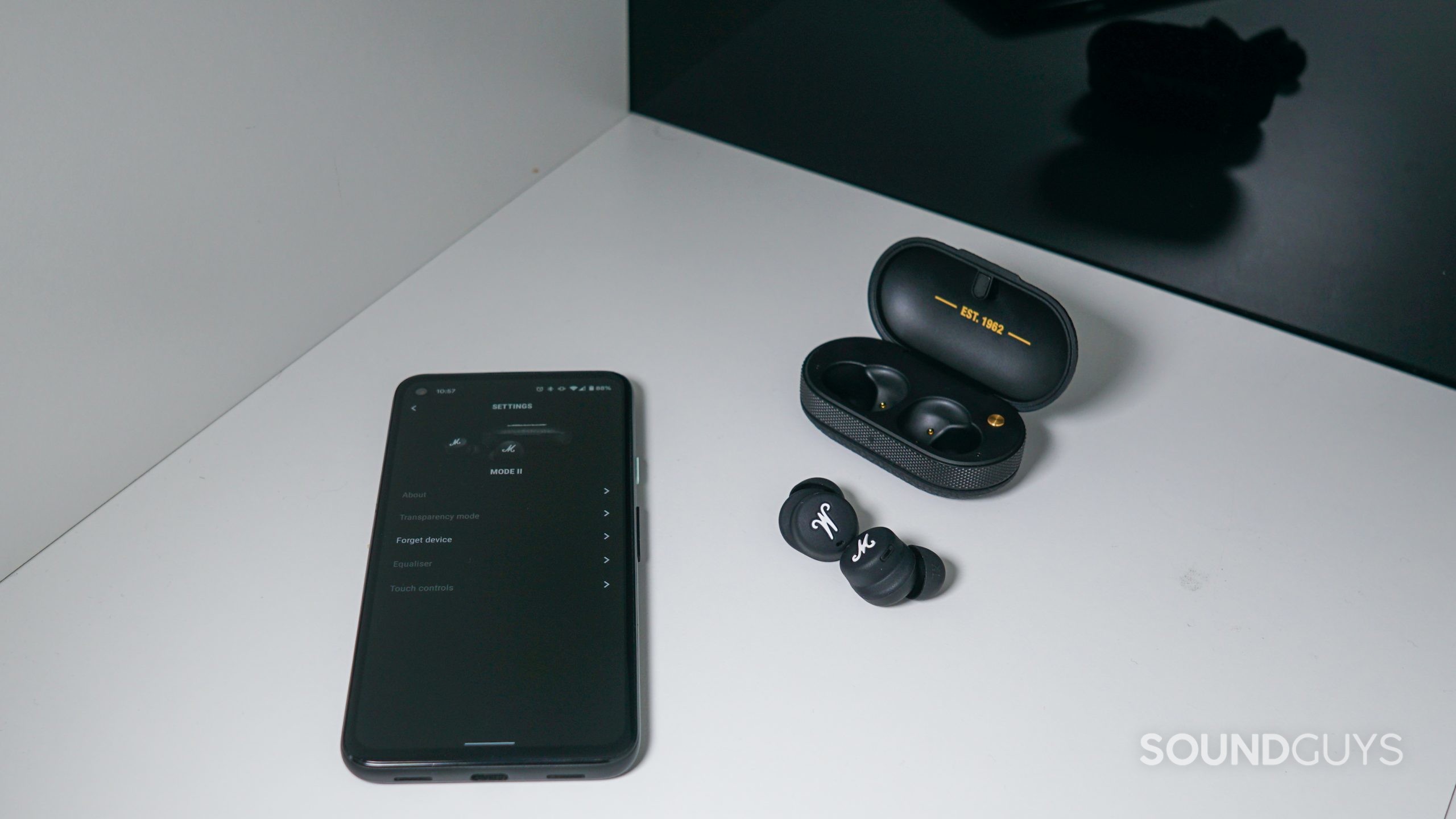 The experience of pairing is complicated at first by this app.
On iOS and Android, Marshall recommends installing the Marshall Bluetooth app to augment initial pairing, and it's definitely good to have—I actually couldn't get the Marshall Mode II to pair at all with my Google Pixel 4a without first installing the app. It's also where you get firmware updates for the earbuds.
Once pairing is done, the earbuds connect without issue, and the mobile app brings a decent array of features. You can cycle through a wide variety of EQ presets, or even save two custom ones of your own. You can also set the sensitivity of the earbuds' transparency mode, and turn off touch controls if you don't want them—there's no way to actually customize the touch controls, however. The app is also the only place to get a live battery readout for the left and right earbuds individually.
How does the Marshall Mode II connect?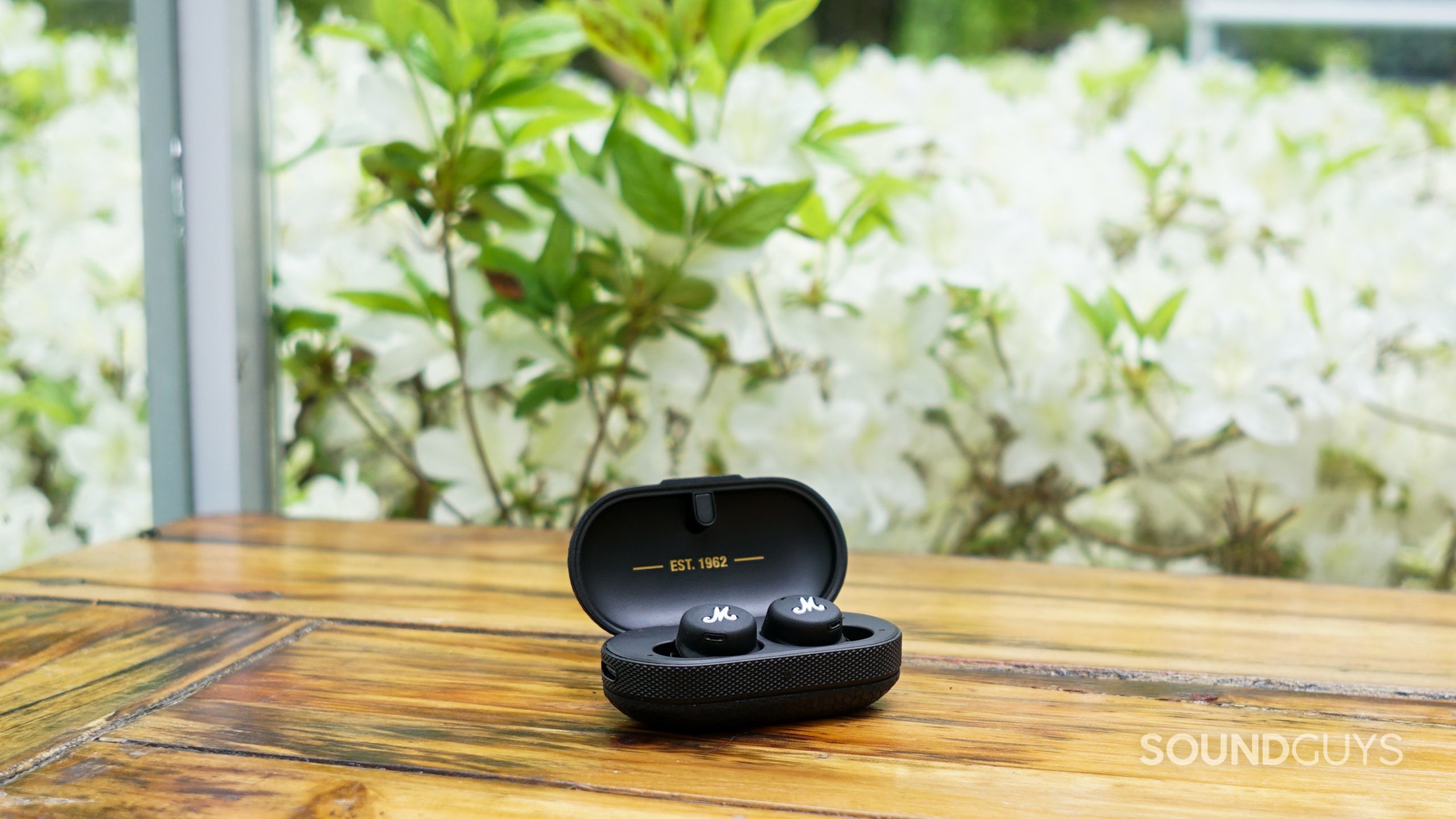 No multipoint means the earbuds need to go back in the case every time you want to switch devices.
The Marshall Mode II connects using the Bluetooth 5.1 firmware. They support the standard SBC codec, as well as aptX for high-quality audio. This isn't great for iOS users, who will have to settle for SBC, as Apple products don't support aptX, but Android users should enjoy it. The earbuds both connect independently to your device of choice, but there's no way to switch touch controls around, which means your mono listening options are a little limited (playback control is locked to the right earbud). Additionally, there's no Bluetooth multipoint support—it's a shame, because moving back and forth between devices is still a little bit of a hassle.
How is the battery life?
Charging the case is easy.
At a consistent output of ~75dB(SPL), the Marshall Mode II has pretty inconsistent battery life. In our testing, we found that these true wireless earbuds drain at significantly different rates—the left earbud lasted 4 hours, 48 minutes, while the right lasted just shy of 3 hours, 50 minutes. That is a difference of 21% and well below the 5-hour mark that Marshall claims. If you're into mono listening, this may not be a huge deal, but remember, on-ear playback controls are rooted to the right earbud and you can't switch them.
Marshall also claims there's enough juice for four additional charge cycles in the case, which squares with our experience during the review period. The case itself doesn't support fast charging of any kind, but it can charge up in a couple of hours using a USB-C or Qi wireless charging mat.
How does the Marshall Mode II sound?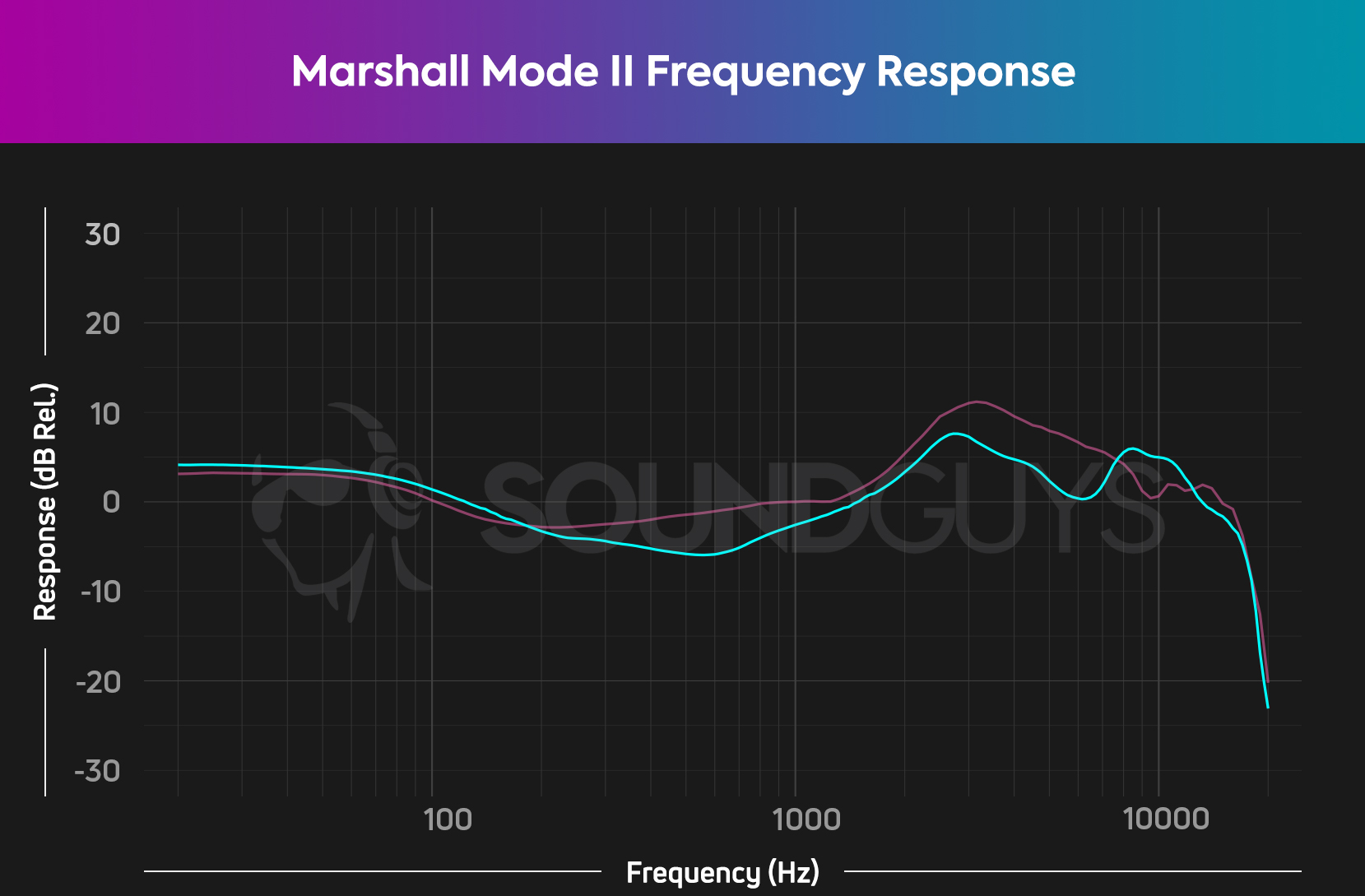 This is a very accurate pair of earbuds.
The Marshall Mode II offers quite accurate audio, compared to our house curve. Mids lack emphasis slightly, but not so much that you'd have trouble hearing anything, and the accurate bass and high range sound means auditory masking is less of a concern, though not entirely absent.
Lows, mids, and highs
In the Genesis classic That's All, the bass drum and hi-hat combo that punctuates Phil Collins' vocals and Tony Banks' keyboard at the very beginning comes through very clearly. However, when the rhythm guitar comes in (0:55), it gets a little lost amid the more prominent high and low range sounds.
The slightly de-emphasized mid-range sound is a little less of an issue in electronic music. In New Lands by Justice, the bass is still particularly loud, especially the bass drum sound during the chorus (1:04), but the distorted guitar that plays throughout still comes through clearly.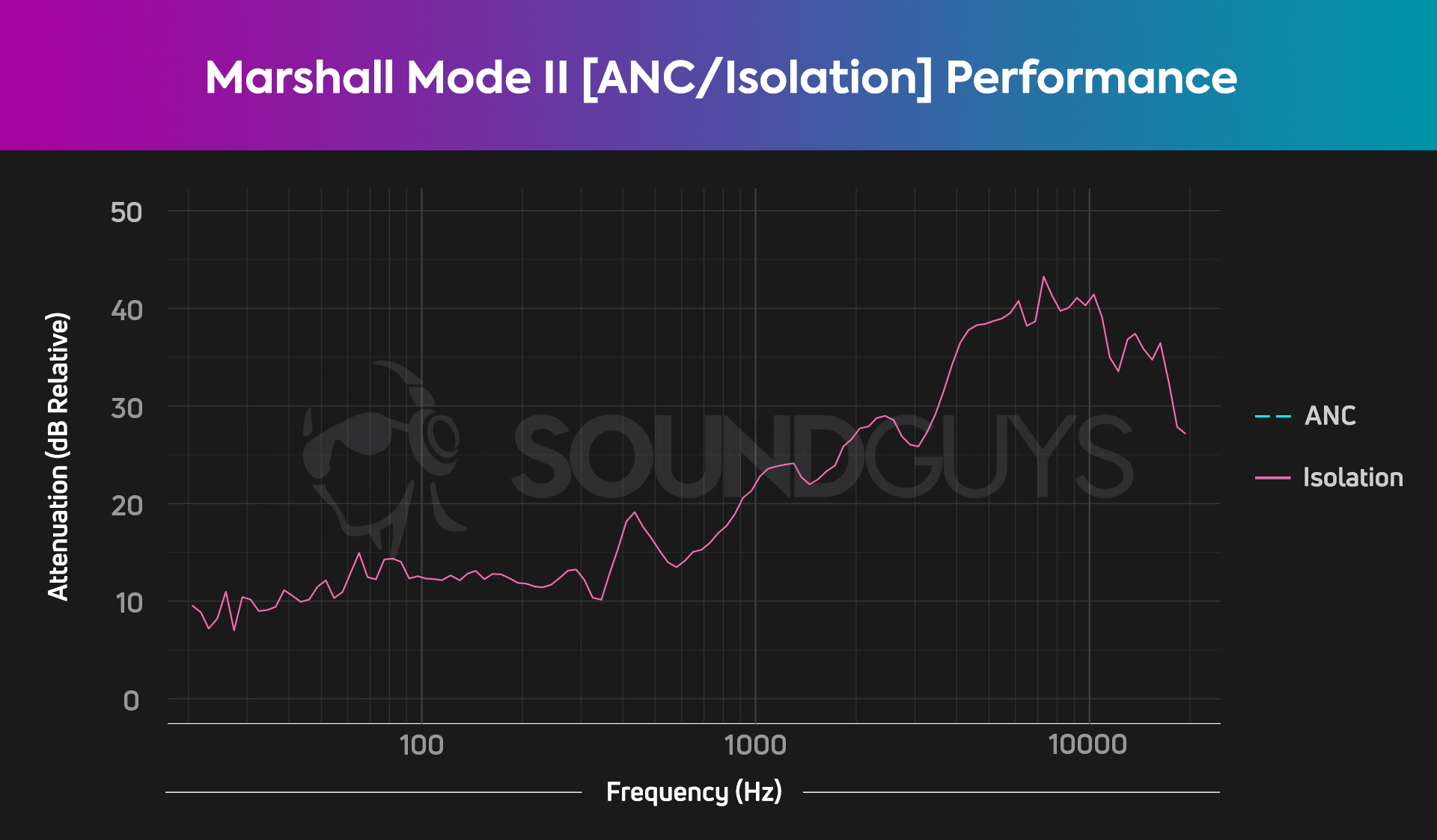 Finding the right size rubber tips can lead to some pretty great isolation.
The Marshall Mode II doesn't offer active noise canceling (ANC), but in most situations, you probably won't miss it. With a decent seal, these true wireless earbuds offer isolation on par with the best on the market. If you're running around outside, don't expect this to block out the low droning rumble of cars (especially if you've turned transparency mode on), but otherwise you won't have much issue with moderately loud sounds interrupting your listening sessions.
How is the microphone?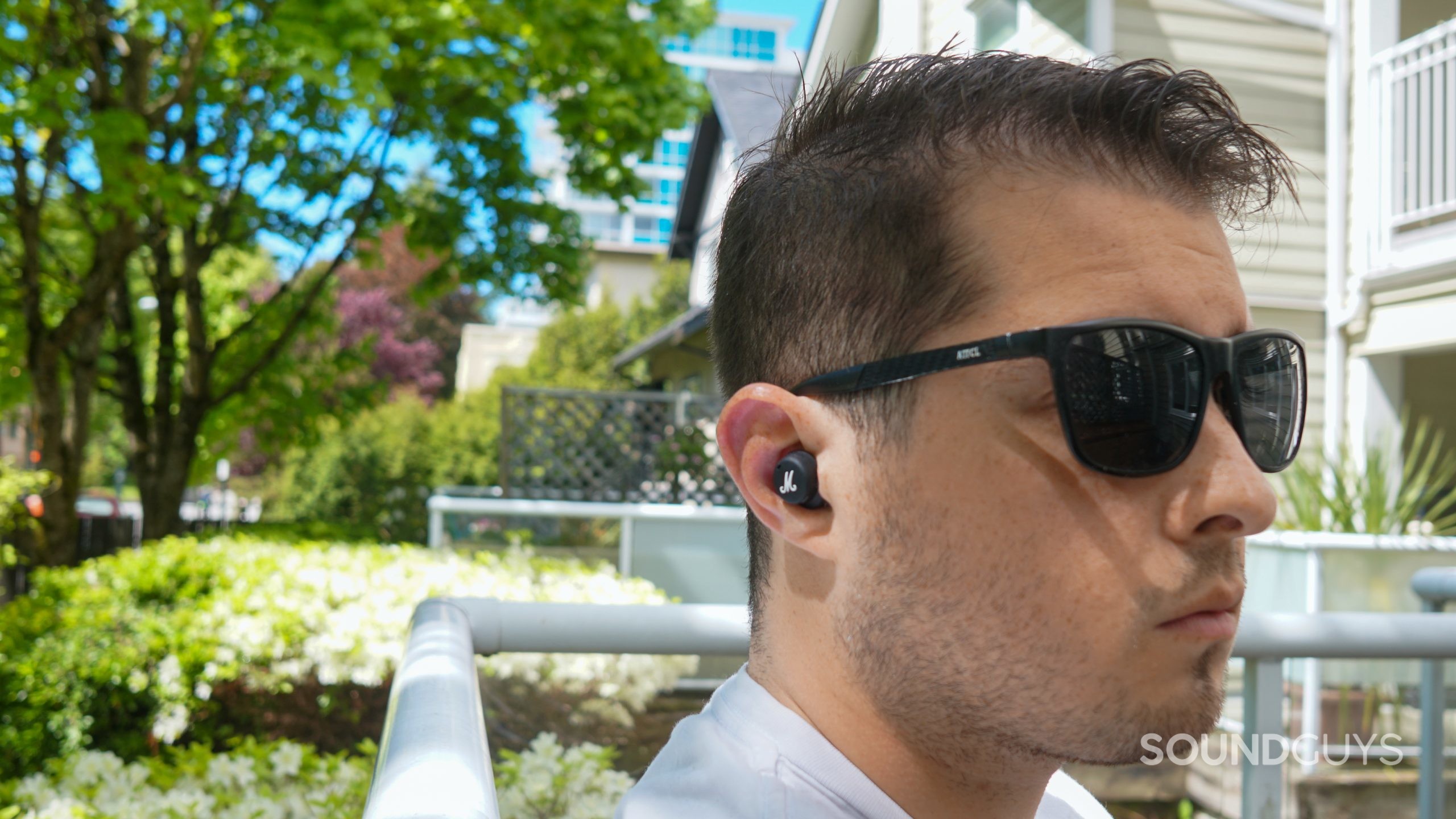 It's probably best to keep the phone calls short if you're using the Mode II.
The Marshall Mode II microphone just doesn't sound all that good. We could get into the frequency response a little, but most of those considerations get covered up by the fact that this suffers from some pretty serious clarity issues, no doubt because of its tiny diaphragm and embedded design. Additionally, even testing across multiple devices, the mic also features persistent buzz that is downright annoying. Listen for yourself:
How does the microphone sound to you?
772 votes
Should you buy the Marshall Mode II?
Apple users should steer clear, but if you've got an Android phone and you don't mind spending a little more for the ~aesthetic~, you should consider the Marshall Mode II.
This one feels a little light on features.
The Marshall Mode II is a very good pair of true wireless earbuds. It sounds great and great isolation. The earbuds are comfortable and lightweight, and they've got a heck of a look to them. Pairing is a little bit of a hassle at first, but the connection is rock-solid thereafter. The battery performance is disappointing, but the charge capacity of the case makes it a little easier to bear.
However, for $179 USD, this product is edging into a pretty premium space, where features like Bluetooth multipoint and noise canceling are increasingly common. Battery life is decent, but compared to other non-ANC true wireless options, it can't keep up. Many similar products can at least offer a halfway decent microphone for less money. In these respects, this product feels a little barebones.
Overall, it's hard to say you'd be disappointed using the Marshall Mode II (unless you make a lot of phone calls). However, it sits in an odd place among true wireless earbuds—it's a little more expensive than options that do basically all the same things, and a little cheaper than devices that bring significant additional features like noise canceling. If ANC doesn't matter to you, maybe that doesn't make much difference, but in that case, why not save the money and go for a cheaper, just-as-good option?
What should you get instead of the Marshall Mode II?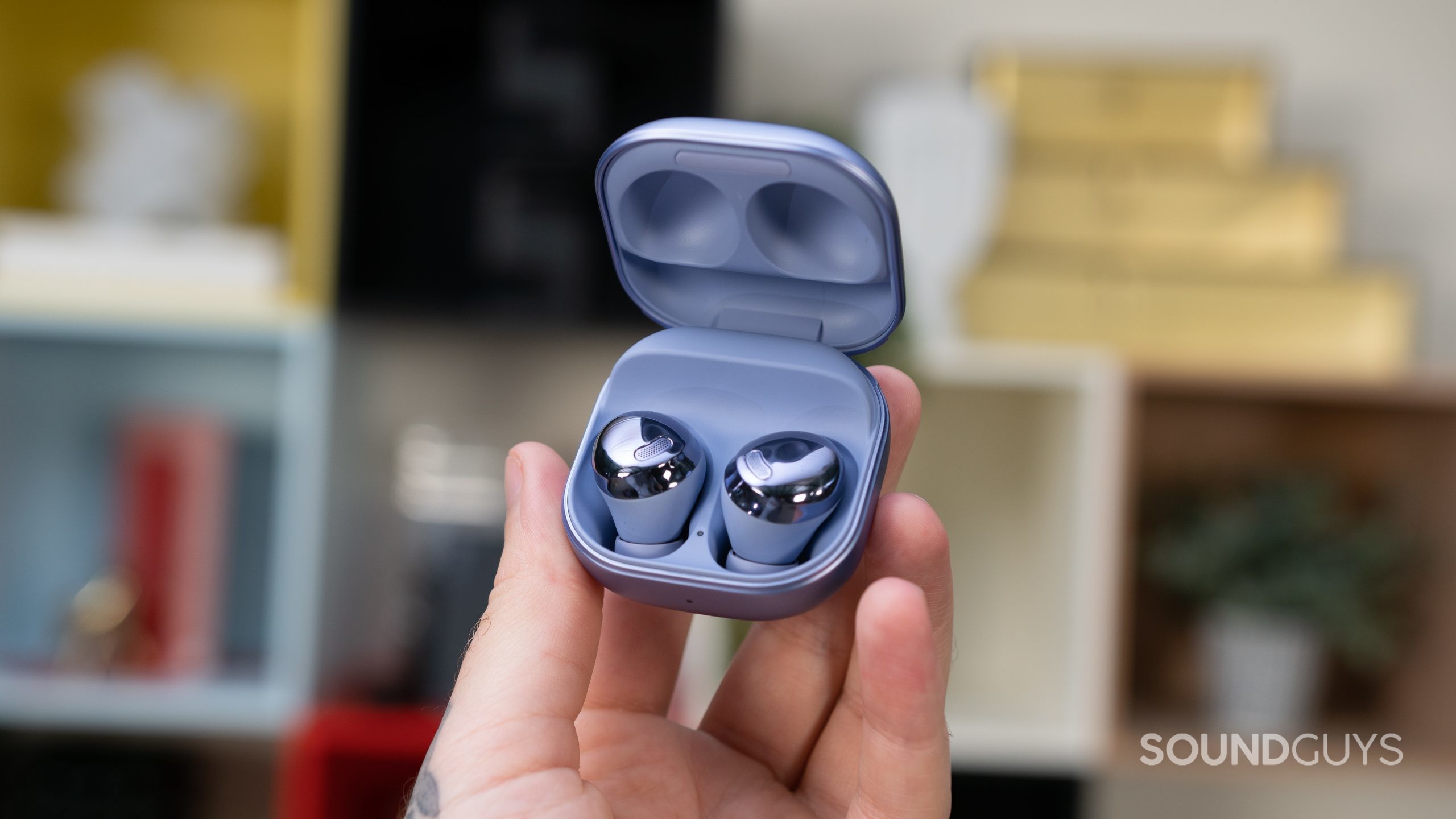 The Samsung Galaxy Buds Pro takes the best features from all of the previous Galaxy Buds generations.
If you want true wireless audio that gets a little more bang for your buck, you may find Samsung's earphones compelling. The Samsung Galaxy Buds Plus offers similarly basic features to the Marshall Mode II, but it also has the best battery life on the market, supports AAC, SBC, and the Samsung Scalable codec, and costs $70 less. The Samsung Galaxy Buds Pro is a little more expensive than the Marshall earbuds, but it brings active noise canceling and a far better microphone for taking calls.
If you're an Apple user, the Apple AirPods Pro remain the best true wireless earbuds for iOS and macOS devices—Apple's H1 chip really makes integration with its devices a sinch. If you want something a little sportier, the Beats Powerbeats Pro has an ear hook design for an even more secure fit, and an H1 chip for better iOS integration as well.