JBL is one of the most popular audio companies among average consumers, but it's products warrant the renown. Whether you're looking at JBL headphones or speakers, the company offers relatively affordable, high-value products with pretty good sound quality. Most all of its speakers are water-resistant, and many can even withstand a dip in the pool. The JBL Charge 3 is yet another water-resistant Bluetooth speaker to join the party.
Now that there are newer speakers available, how does the older Charge 3 hold up to Father Time?
Editor's note: This article was updated on July 14, 2021, to mention the JBL Charge 5.
How tough is the JBL Charge 3?
The previous Charge 2 was splash proof but JBL took it a step further with the Charge 3. This model is IPX7 waterproof, meaning that you can submerge it completely in water. The shape of the speaker is similar to plenty of the other speakers in the JBL line-up. It's cylindrical and also has exposed bass radiators on either end which definitely helps push out some sound. Up top, you'll find the familiar set of buttons that JBL puts on all their speakers. They're made of a soft plastic and are slightly raised above the speaker. The only buttons that aren't raised are the power and JBL Connect buttons which are flush with the speaker.
Not only does the fabric protect the speaker, but it also gives you a way to get a good grip on it. This can come in handy when the speaker is wet because, you know, waterproof. On the very front of the speaker is the only place you'll find the JBL logo. I'm normally not a big fan of obvious logos, but this one isn't that bad since it's nice and small.
On the bottom of the speaker, there is a small stand built into the design of the speaker with five small indicator lights on it that let you know how much battery is left. On the back of the speaker is where you'll find the USB output, which is the feature that gives the Charge line of speakers their name. It's hidden under a secure rubber flap along with the 3.5mm input and microUSB input.
Editor's note: Sara tested a JBL Flip 4's IPX7 rating by submerging it in a pool for about 10 seconds, and it came out broken. The speaker still produced sound, but the sound was shrouded by a loud crackling. JBL customer support stated that the one year warranty had passed, and defective products out of warranty could not be replaced for free. Considering JBL is a company whose big selling point is their waterproofing, this was disappointing.
What's comes with the Charge 3?
In the box you get the Charge 3, a charging block, a microUSB cable, and the warranty information and instruction booklet. Pretty standard stuff, though the orange color is definitely a nice touch especially with this teal color option.
How do you connect the JBL Charge 3?
If build quality is good then the connection is amazing on this speaker. With no walls, I was able to get a strong connection up to about 50 or 60 feet. Once you throw a few walls in the way the range does jump back down to 30 feet, but it's still very strong with no skipping. As far as playback controls go there are few options here. You can pause/play music, control the volume, and also skip to the next song if you double-tap the play button.
How to reset the JBL Charge 3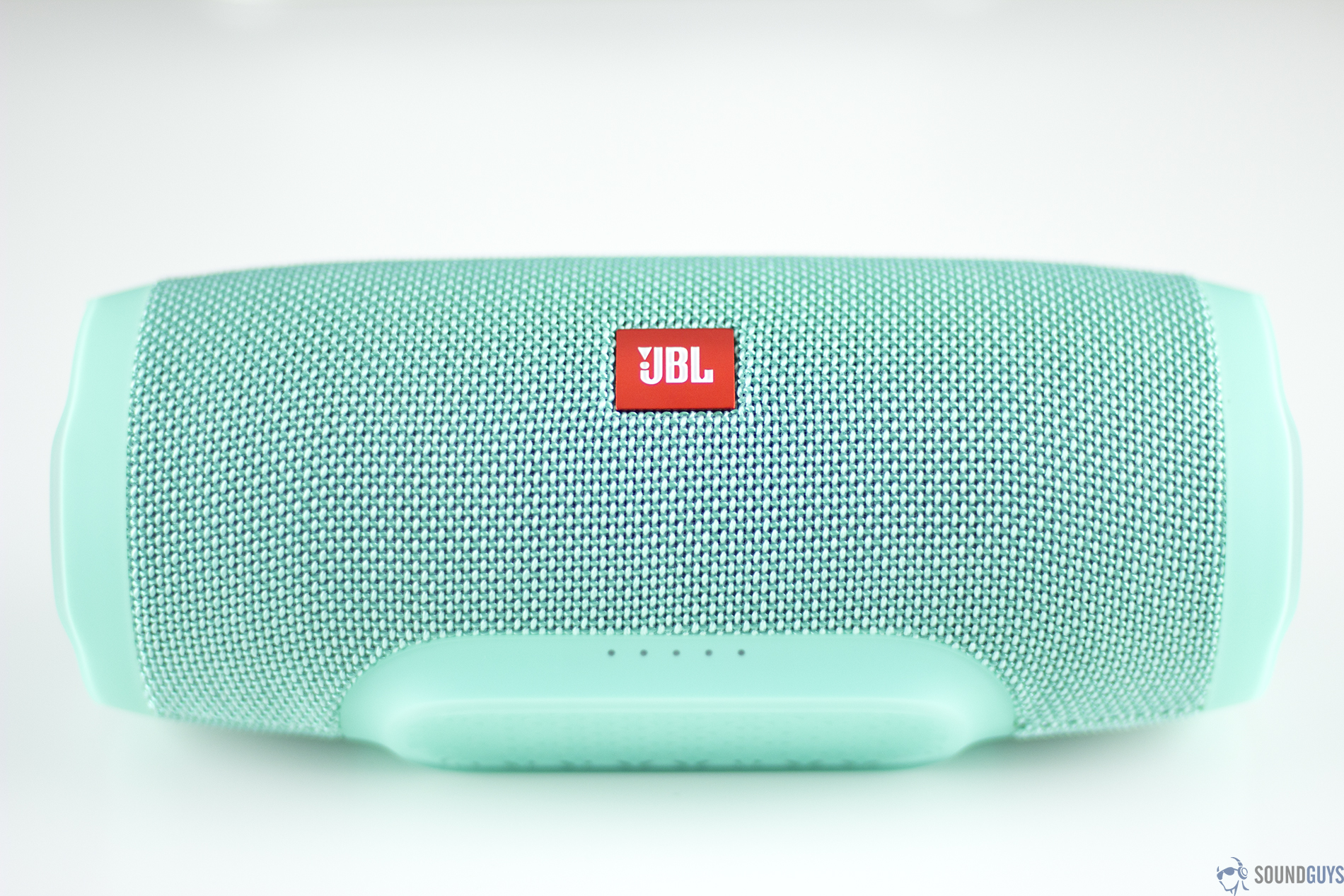 Along the "stand" on the bottom are small indicator lights that let you know how much battery life is left.
Sometimes for one reason or another our devices tend to go a little haywire. If that's happening to your JBL Charge 3 then the best thing you can do might be to just do a factory reset. This will force it to forget all devices it was paired with so that you can try connecting another device. To do this just follow these simple steps:
Power on the speaker.
Hold down the Bluetooth pairing button and the volume up (+) button simultaneously for a few seconds until the speaker powers off.
Power the speaker back on and the LED light should be blinking blue, meaning that you were successful in resetting the speaker.
Go to the Bluetooth settings on your source device and pair to the speaker as usual.
How long does the battery last?
Battery life is rated at 20 hours, and that's more or less what we got during testing. But keep in mind that charging your devices will likely shave a few hours off that. Under the flap on the back is where you'll find the input for charging, so it goes without saying but I'm going to say it anyway. Try to keep the speaker away from water as you're charging it since the only seal will be exposed.
Does the JBL Charge 3 sound good?
Even though it has a 3.5mm input, I did all of my testing wirelessly using mobile phones since I figure that's how most people are going to be using this speaker anyway. The Charge 3 makes good use of it its size with a strong low end. It's definitely a little more powerful than some audiophiles will like, but I found it was perfect for bringing it outside. The Charge 3 was basically made for being poolside considering how loud it gets.
The Charge 3 has a powerful sound with a party-friendly sound.
The mids were my least favorite part of the speaker, but they weren't bad. They do sound a little muddled which could be because of the waterproof fabric, but vocals and lead instruments still have great detail. It's just in the background elements where things get a little weird. Though the speaker does get plenty loud, highs never become harsh even when indoors. Crashes and hi-hats in Give Life Back to Music by Daft Punk sound fine and never become piercing.
What you should know before buying the JBL Charge 3
There is a new version of Charge speaker available
All good things must come to an end, and so has the Charge 3's reign as JBL's midrange Bluetooth speaker. Not only is the JBL Charge 4 available, but there's an even newer JBL Charge 5. The Charge 5 has an IP67 rating so it's dust-proof as well as waterproof. It supports Bluetooth multipoint and has a charging bank, but unfortunately doesn't have a microphone or the option for wired listening. The Charge 5 sounds great with similar specs as the Charge 3 and 4, so if you already have an older iteration it's probably not necessary to buy the Charge 5. It supports JBL PartyBoost which allows you to connect up to 100 compatible speakers together for synchronized playback, but it is not compatible with either of the previous Charge speakers.
The Charge or the Flip? Which one is best for you?
There's plenty of options you can choose if you're looking for a good Bluetooth speaker. Two of the better options from JBL are the Charge 3 and the Flip 5, and knowing which one to go with can be a bit confusing. There are some key differences to help you choose which speaker is right for you that you can read all about here as we put these two speakers head to head, but the main differences are just the size and sound. If you need portability, going with a Flip may be the right choice, but if sound quality is everything to you, a Charge is probably best.
It's also worth mentioning that the older Flip 4 is cheaper and not much different than the Flip 5, and may be found refurbished on JBL's website. The model is slowly but surely being phased out, but if you're in the market for a more affordable option we definitely recommend checking this out. However, now that the Charge 3 has dropped significantly in price, it's a big closer of a contest.
What are IP ratings?
The JBL Charge 3 has an IPX7 certification which makes it completely waterproof, but what exactly does an IP rating mean? We have an entire explainer but this chart should help explain the main points. The last digit, or the seven, in this case, refers to water submersion. So something that has an IPX7 can be submerged for 30 minutes in up to one meter of water.
Water-resistant
Waterproof
Can withstand
IPX0
Not water-resistant
IPX1
✓
Dripping water (1 mm/min)
Limit: vertical drips only
IPX2
✓
Dripping water (3 mm/min)
Limit: Device max tilt of 15° from drips
IPX3
✓
Sprays
Limit: Device max tilt of 60° from sprays
IPX4
✓
Splashes, omnidirectional
IPX5
✓
Water jets (12.5 L/min)
Example: Squirt guns
IPX6
✓
Strong water jets (100 L/min)
Example: Powerful water guns
IPX7
✓
Complete submersion
Limit: 1 m. for 30 min
IPX8
✓
Complete submersion
Limit: 3 m. for 30 min
Is the JBL Charge 3 worth buying in 2021?
Despite the release of its successors, the Charge 3 is still a great value for its money. While it may not offer modern features like USB-C charging, the Charge 3 still delivers the same IPX7 build and comparable sound quality to the Charge 4. Plus, you'll often find the Charge 3 available for a lower price.
Though the Charge 3 and its successors are still relatively portable, the Flip 4 or the Flip 5 are hands-down better options if you want to take it with you everywhere. If you want the biggest sound possible then you're better off with the JBL Xtreme. But if you want the perfect mix of both, I have no problem recommending the Charge 3. It's big enough to have a full sound, but it's not so big that it's a burden. Even when compared to the newer Charge 4, it's still a great option if you can get a good enough discount.
What should you get instead of the JBL Charge 3?
UE BOOM 3: The main competitor to JBL is probably UE, and the best that the company has to offer right now is the UE Boom 3.
Sony SRS-XB42: The best Sony has to offer right now comes in the shape of the XB41 Bluetooth speaker. It's more expensive than the Charge 3, but it also sounds better.
Anker SoundCore Flare 2: What if you just want a waterproof speaker that's cool, sounds decent, and won't cost hundreds of dollars? Then check out the Anker Soundcore Flare 2 which is well under $100.
Frequently Asked Questions
My wife and I like to have calls with family members and using the speaker option on the phone produces very crappy sounds out and in. Would the JBL Charge3 be a good speaker to use for phone calls or is there a better option?
Yes, the sound quality will definitely be a bit better on your end through the JBL Charge 3 than it is on your phone's speakerphone. The mic on the speaker is also decent and should get your voices across to your family just fine.
Can I connect two speakers together?
Yes, the JBL Charge 3 has JBL Connect which means it can be paired with one other JBL Connect-compatible speaker. It can't, unfortunately, be paired to a newer speaker like the JBL Charge 4, which has JBL Connect+ instead.
I have an iPad Air 4th generation. My sister gave me a JBL charge3. I can't figure out how to sinc it.
On your iPad, go to Settings and then Bluetooth. Turn on Bluetooth. Look for your JBL device under "OTHER DEVICES" and tap on it to connect.
Is the speaker (when wired) good enough to differentiate between lossless and mp3 audio?
Yes, but the difference won't be as big as you're expecting.