All products featured are independently chosen by us. However, SoundGuys may receive a commission on orders placed through its retail links. See our ethics statement.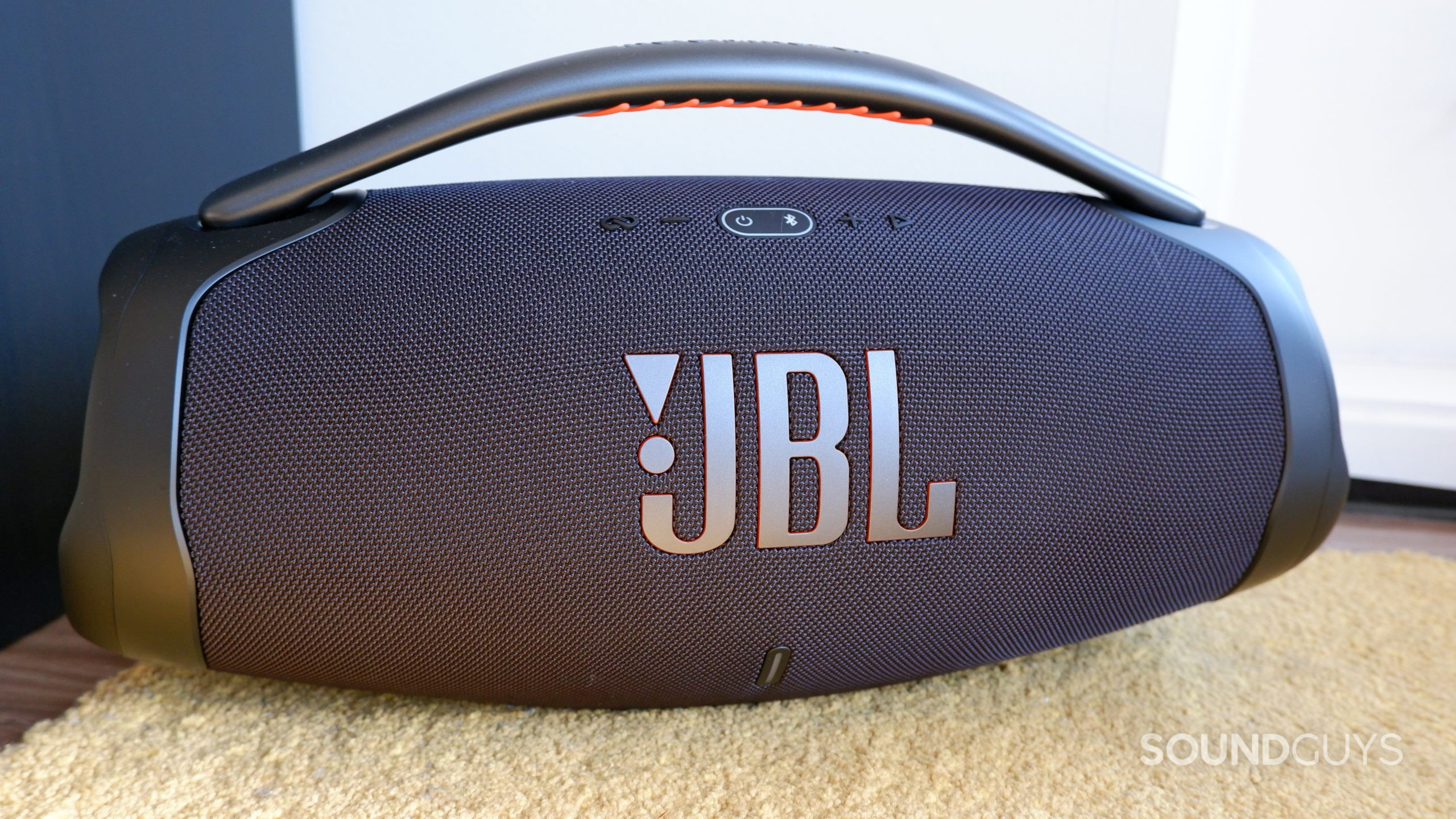 The bottom line
The JBL Boombox 3 is a solid speaker for anything from house parties to pool parties to beach parties. It has a durable IP67 rating so you can be sure it can survive wherever you take it, and it sounds great too. It's quite pricey for what you get though.
JBL Boombox 3
The JBL Boombox 3 is a solid speaker for anything from house parties to pool parties to beach parties. It has a durable IP67 rating so you can be sure it can survive wherever you take it, and it sounds great too. It's quite pricey for what you get though.
What we like
Loud
Enjoyable bassy sound
In-app EQ
IP67
What we don't like
Expensive
Heavy and large
Multipoint doesn't work
The JBL Boombox 3 is a newer addition in JBL's arsenal of Bluetooth speakers, as a successor to the JBL Boombox 2. With an IP67 rating and loud sound, this water-resistant speaker could be your new favorite party companion. Is the JBL Boombox 3 worth the price and the heft, and does it live up to expectations?
About this JBL Boombox 3 review: We tested the JBL Boombox 3 over a period of four days. It was running firmware version 0.3.0.0, and the JBL Portable app ran version 5.6.7. The company provided the unit for this review.
Editor's note: this review was updated on July 11, 2023, to ensure the timeliness of the information within.
What you need to know about the JBL Boombox 3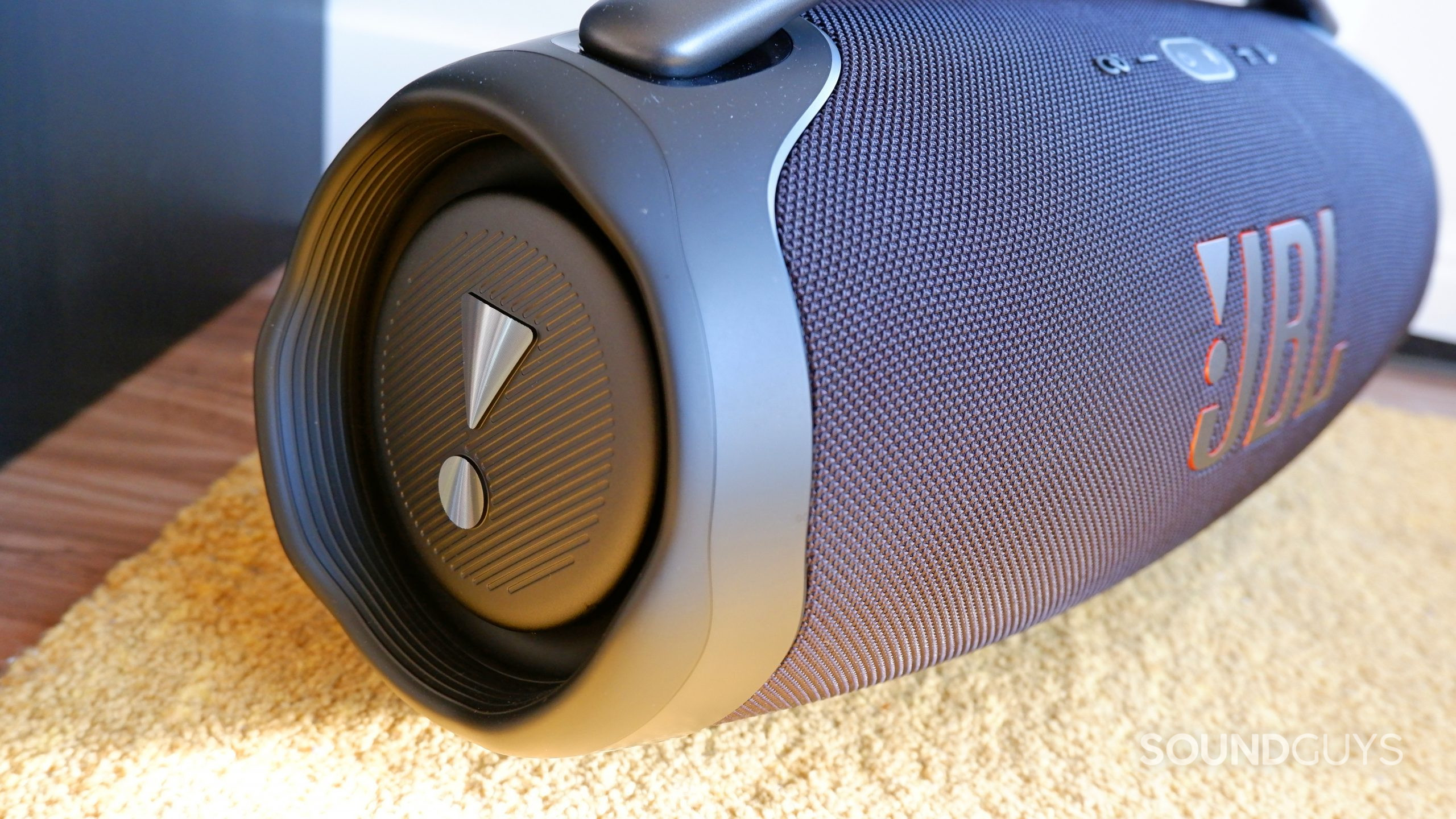 The JBL Boombox 3 has a subwoofer, two tweeters and two midrange drivers that project out the front of the speaker. Passive radiators emanate from the sides.
JBL Boombox 3: $499.95 USD / $599.98 CAD / £499.99 / €579.99
The JBL Boombox 3 is a large portable Bluetooth speaker, with a handle on top so you can carry it around. It's quite heavy, weighing in at 6.7kg. The speaker comes in two colorways, black or camouflage. As is the case with most JBL speakers these days, the Boombox 3 is IP67 rated for water and dust resistance, so it can withstand submersion in one meter of water for 30 minutes, and it's completely dust proof. This way you can take the speaker to the beach or the park without issue, and even rinse it off if it gets dirty.
The speaker contains one subwoofer, two midrange drivers, and two tweeters. They all face forward, while dual passive radiators project from either side of the Boombox 3. You can feel the passive radiators moving when there's a lot of low frequency content.
The speaker works wirelessly using Bluetooth 5.3, and it uses the SBC codec. You can also plug in your phone through the 3.5mm port in the back to play music via a wired connection, and you can charge your phone using the USB-A port beside that. The speaker can also be plugged into a wall so you have a constant power supply. If you want to use it wirelessly, the battery life of the Boombox 3 is 24 hours according to JBL, and it charges in 6 hours, 30 minutes.
There's also software for the speaker. The JBL Portable app is available on iOS and Android, and it will let you install software updates, adjust your EQ, and connect other speakers using PartyBoost mode.
What's good about the JBL Boombox 3?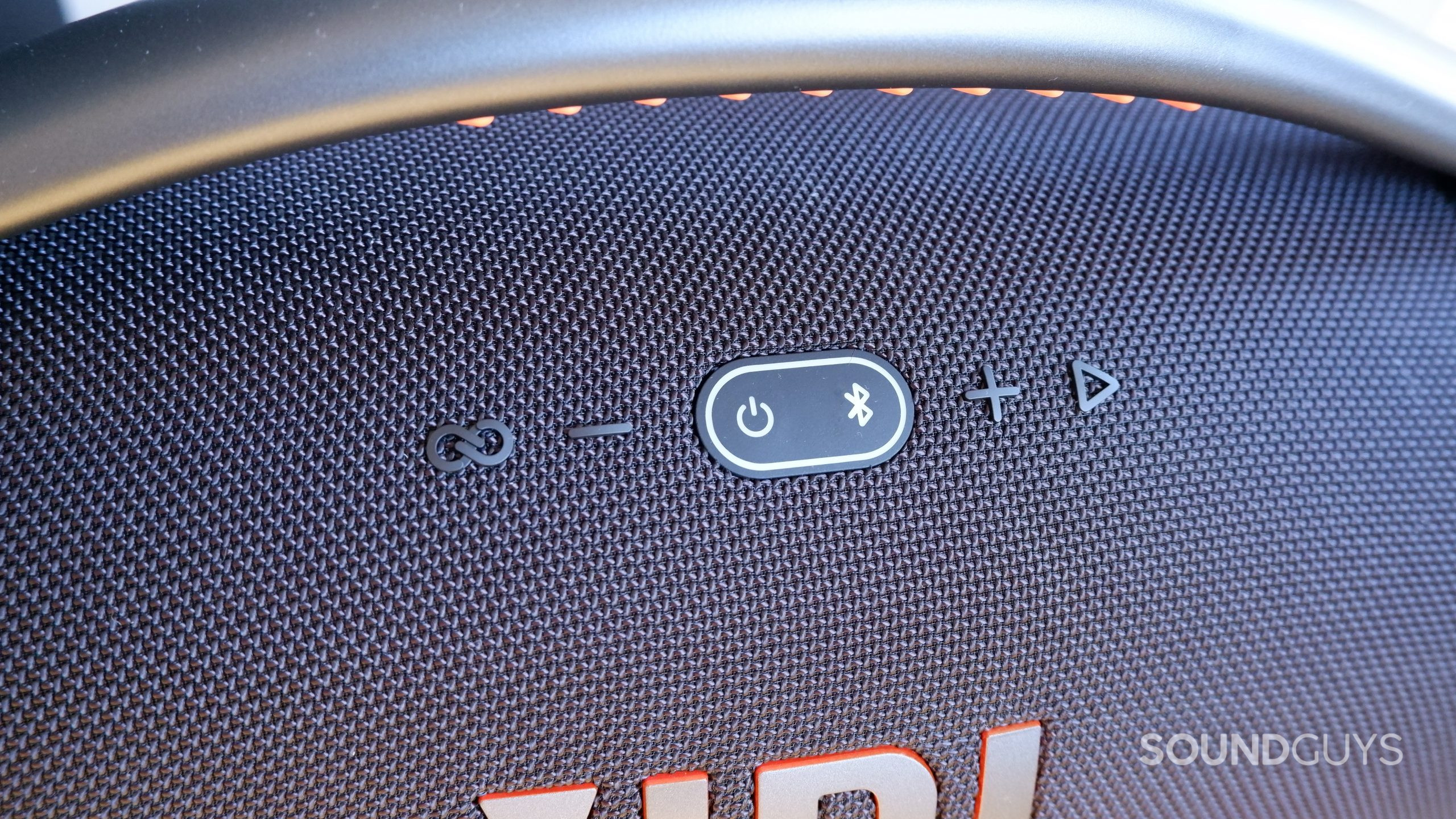 The controls are buttons on the boombox that are simple and easy to use.
The JBL Boombox 3 sounds really good, and it gets very loud. Turning it up high doesn't make the audio sound bad, so it's a solid option if you need a louder speaker for parties. It's very bass-heavy, but that might be a good thing, depending on your tastes. If it isn't a good thing, the JBL Portable app has an equalizer that will let you turn the bass down (or turn it up if you want even more). However, if you're not interested in EQing your devices, don't worry—the bass isn't overwhelming by default, and the speaker actually sounds quite good. For example, when I listen to Dance Yrself Clean by LCD Soundsystem on the JBL Boombox 3, the bass is enjoyably loud without overpowering the percussion, vocals, and synths throughout the track.
The JBL Portable app is incredibly simple to use, and includes a helpful user guide for the speaker in case you don't want to dig around for the manual that comes in the box. There's not a whole lot to it other than the three-band equalizer, software updates, and user guide, so it's not a bloated or complicated app.
The IP67 rating is a great feature of this speaker, since this means you can take it most places without worrying about damage. The back has a rubber flap to cover the AC, USB, and 3.5mm ports, so make sure that's closed if you're going to get it wet or dusty. Lastly, the controls on the speaker are easy to use and respond quickly.
What's not so good about the JBL Boombox 3?
The JBL Boombox 3 is quite heavy, but portable nonetheless.
The first negative is the price: it's high. The JBL Boombox 2 was the same price before, but now it's $100 USD cheaper, which feels a lot more reasonable, but also steep nonetheless. Another noticeable issue I have with the JBL Boombox 3 is how large and heavy it is. I definitely struggle to find space to store it in my small apartment, and it's not the easiest object to carry around. The handle helps, but if you plan to lug this speaker around with you, you may struggle a bit.
The JBL Boombox 3 apparently has Bluetooth multipoint, but I can't get it to work. I can't connect two devices to the speaker at once—when I try, it just disconnects from the first. This results in a clunky switching process, as opposed to the smooth, fast switching multipoint usually brings with it. The issue is the same regardless of what kind of device I use.
Lastly, while the app is useful overall, the equalizer is really simple and doesn't allow for more granular EQ customization. It's only a three-band equalizer and it doesn't specify frequencies beyond "bass," "mid," and "treble." It would be nice to have more specific customization options, as well as presets to choose from.
JBL Boombox 3 specs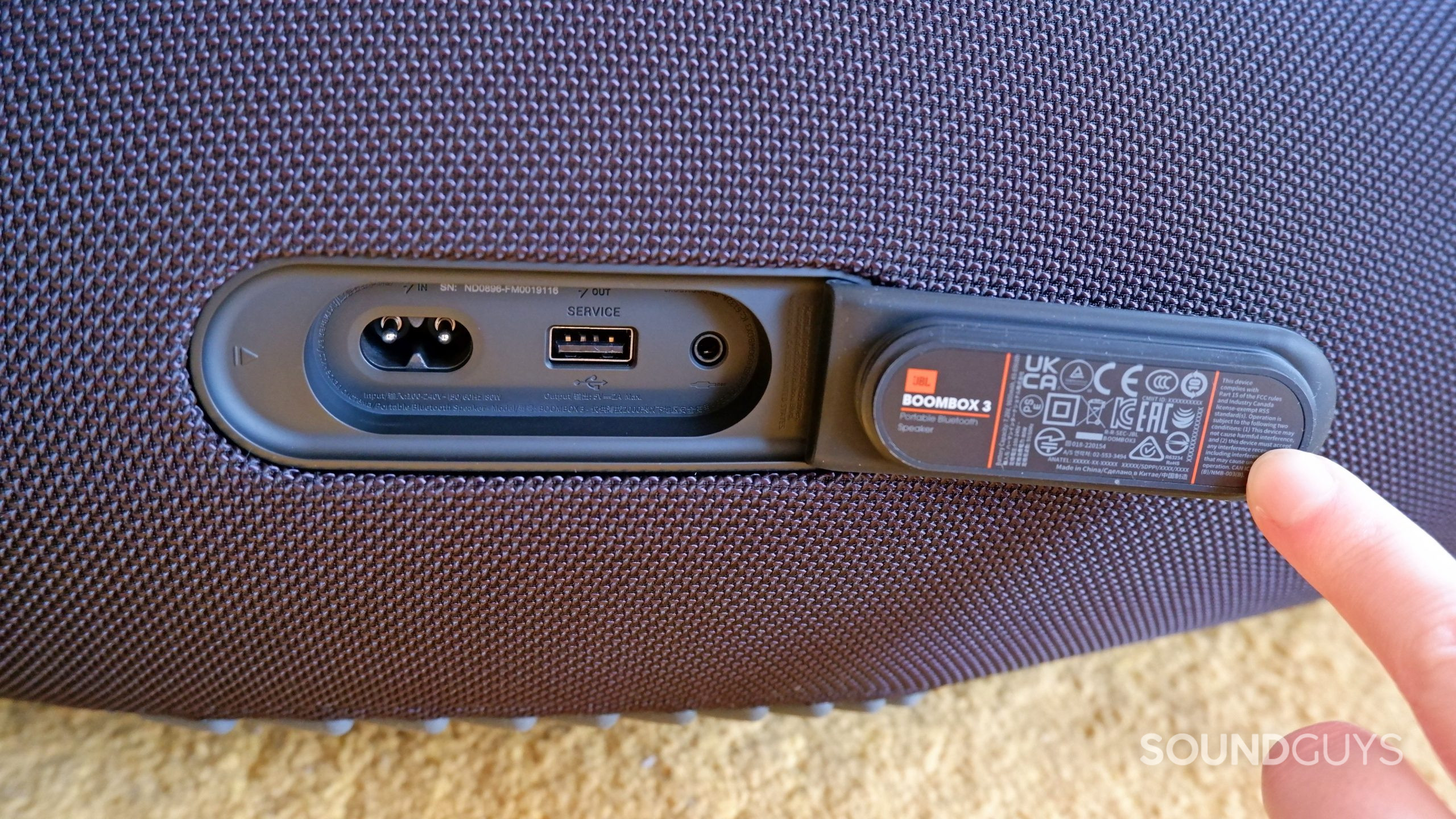 The speaker has a service port for charging your phone, and a 3.5mm port for wired connectivity.
There's a lot to know about the JBL Boombox 3, so here's a list of the specs you might want to know about.
| | JBL Boombox 3 |
| --- | --- |
| Size | 482 x 257 x 200mm |
| Weight | 6.7kg |
| Channels | Stereo |
| Audio specs | 2x tweeters, 2x midrange, 1x subwoofer |
| Audio inputs | 3.5mm TRS |
| Wireless audio connection | Bluetooth 5.3 |
| App | JBL Portable app (iOS/Android) |
| Controls | Buttons |
| Price | $499.95 USD |
JBL Boombox 3 review: Should you buy it?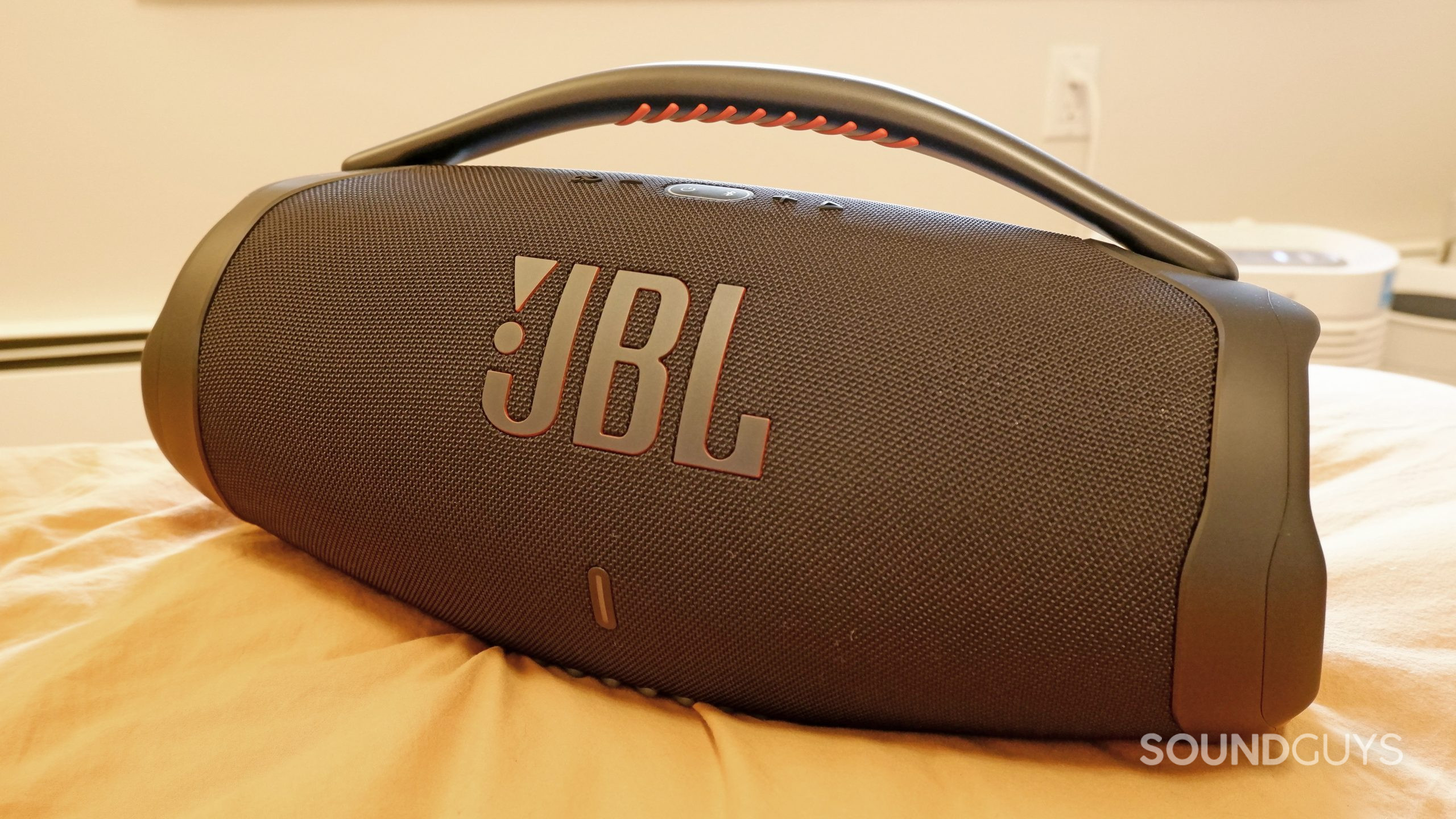 While the speaker is technically portable, it's a bit of a pain to carry and place in a reasonable spot.
The JBL Boombox 3 is definitely a great Bluetooth speaker, since it's loud, sounds good, and has some customization available for the sound profile. The biggest hangup I have is the price—it just feels high for what you get—but this is a solid a choice if you don't mind shelling out for it.
JBL Boombox 3
JBL Boombox 3
IP67 • Companion app • Connects with other JBL speakers
A durable party speaker, whether you're indoors or outdoors.
The JBL Boombox 3 is IP67 water- and dust-resistant, so you can take it to the pool, the beach, or on a hike and not worry about it. Using PartyBoost mode, you can connect it to other JBL speakers for stereo sound.
If you want a much more affordable Bluetooth speaker with an IP67 rating, the JBL Charge 5 is one of the best out there. It's small and portable, it sounds great, and it also has the PartyBoost feature for pairing multiple JBL speakers together for stereo sound. It's available for $149 at Amazon.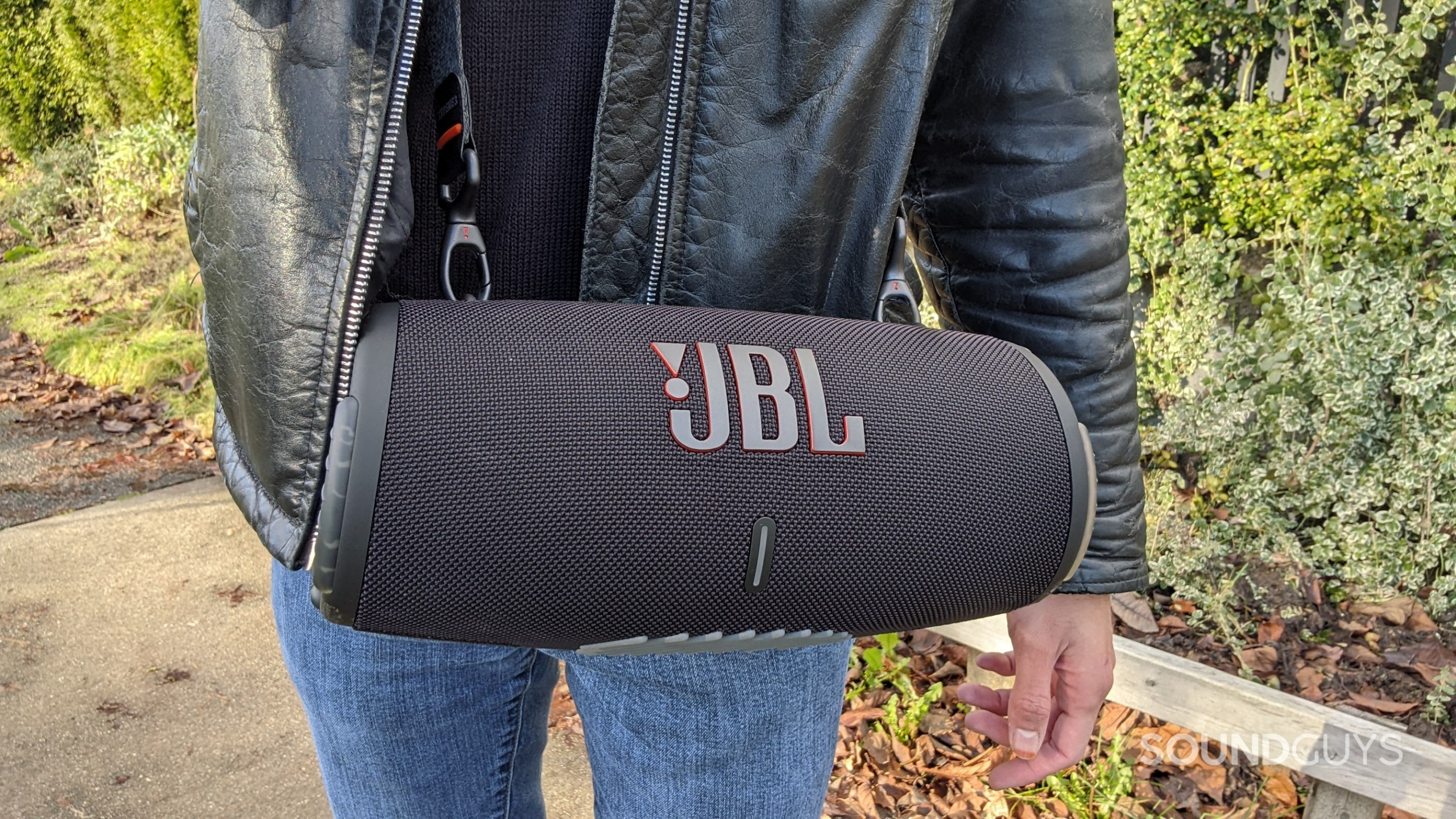 The JBL Xtreme 3 is a "portable" Bluetooth speaker in that it includes a carrying strap, but it's heavy and bulky.
If you want something a bit closer in form factor to the Boombox 3, consider the JBL Xtreme 3. It's similarly IP67 rated, and has the same features as the Boombox 3 and aforementioned Charge 5. It's still large but much more portable, weighing only 2.68kg, and it also has a carrying strap, making it a bit easier to carry around than the Boombox 3. You can pick it up for $279 at Amazon.
The Anker Soundcore Motion+ is a good alternative if you don't plan on taking the speaker outdoors but still want a loud speaker for indoor use. It's IPX7 rated, so it can handle water perfectly fine, just not dust. Along with wired connectivity and the SBC Bluetooth codec, it supports the aptX Bluetooth codec, great news for aptX enthusiasts. You can find the speaker for $99.99 at Amazon.
Frequently asked questions

Absolutely not. This speaker is 6.7kg and very dense, it will sink to the bottom of a pool or the ocean without hesitation.