All products featured are independently chosen by us. However, SoundGuys may receive a commission on orders placed through its retail links. See our ethics statement.
How to play Dungeons and Dragons on the internet
No need to cast magic missile to attack this darkness.
Ah, Dungeons and Dragons—who doesn't love a bit of roleplay. The popular pen and paper game has had something of a resurgence in recent years, partly due to the accessible nature of it's fifth edition of rules and the meteoric rise of popular shows like Critical Role—that's right, it's not just for satanists anymore!
Editor's note: This article was update on April 15, 2021 to include more affordable microphone recommendations, and mention alternative platforms to Roll20.
You may be wondering why we're covering something like this on SoundGuys, but bear with me. A huge part of the increasing popularity of Dungeons and Dragons has been due to the internet making it easier and easier to find a group of people, get in touch with them, and start your own campaign. I myself have played off and on for years, and just recently started a campaign over the internet.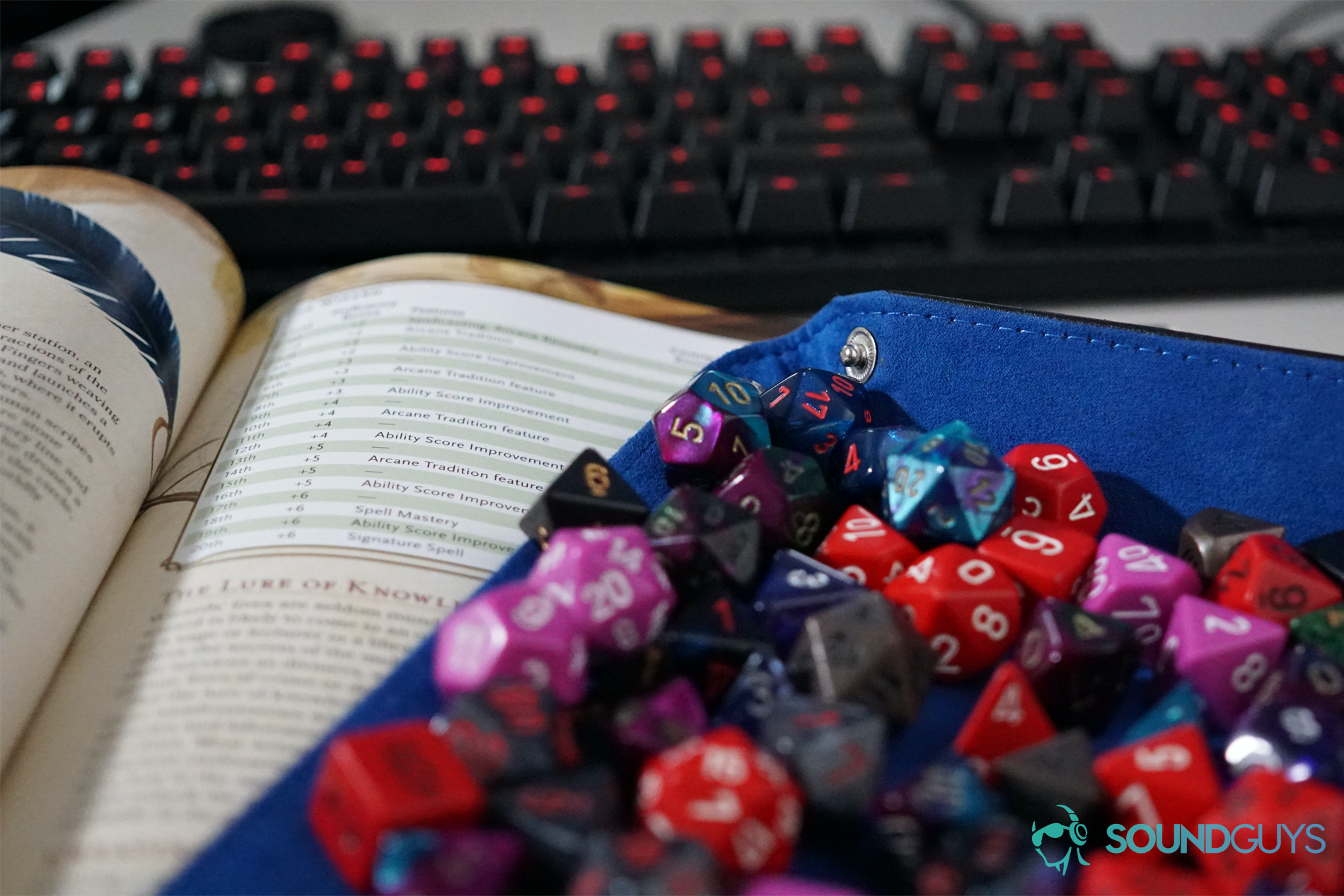 Turns out, there are a number of considerations to make when you're getting ready to play this kind of game—and a lot of them involve audio. Here's what you need to start playing Dungeons and Dragons and put it on the internet. The basic steps are easy, but require some explanation (below).
Create your setup—it's a lot like building a podcast setup. The equipment you need for an online Dungeons and Dragons game is accessible and easy to use. Grab a decent mic and webcam, find a good spot with minimal echo, and you're ready to roll (pun intended).
Getting online is a pretty much just a matter of choosing what calling service you want to use—we recommend Discord, but it's hardly the only option.
Playing the game requires a few more decisions. Are you going all digital, or sticking with the books and actual dice? How much money do you feel like spending?
Create your setup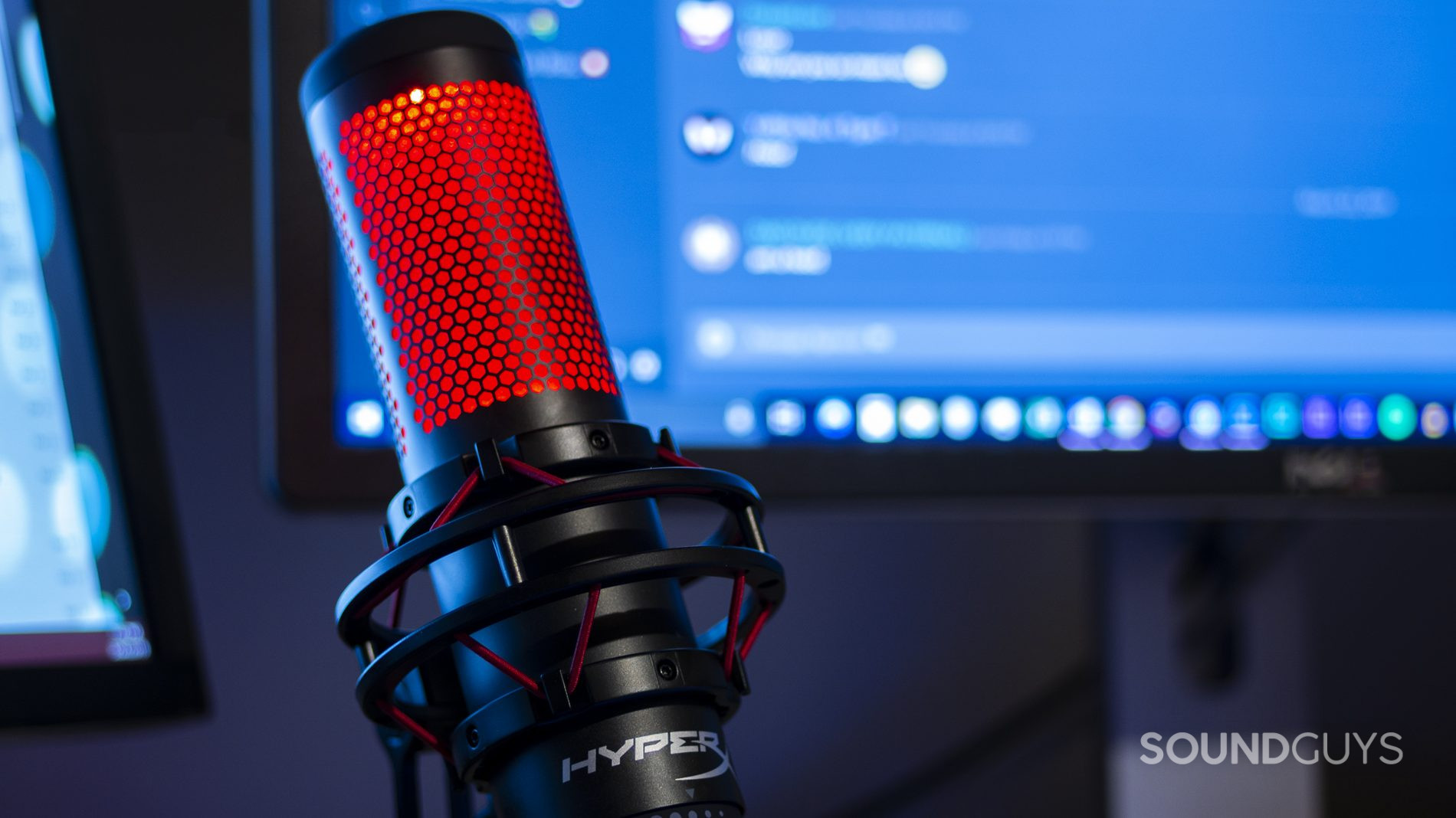 Any kind of podcast setup will work just as well for a Dungeons and Dragons campaign.
There are all sorts of different ways to set up your computer for playing Dungeons and Dragons, but ultimately, it boils down to the same kinds of hardware considerations as something like podcasting or conference calling. If you really don't care about clarity in your audio, you probably already have everything you need—any webcam with a microphone will do in a pinch.
However, webcam microphones kind of suck. They're often not that accurate, cut in and out due to background noise or your proximity to the microphone, and they offer an all around mediocre experience. If you want your friends to be able to hear you clearly and cleanly, you're going to need to do a little more.
If you're one of thousands of people looking to broadcast their game in some way over the internet, springing for a higher quality detached microphone is a necessity. Basically, you should be aiming for something akin to a decent podcast setup or Twitch stream. It's important to plan ahead—grab a decent podcasting microphone, throw some foam or egg cartons on the walls, and make sure to record whatever you say locally, whether that's using Audacity or something else.
Detached USB microphones offer a great solution if you've already got everything other than a microphone sorted.
Picking a microphone shouldn't be too difficult—we've got tons of reviews and best lists with recommendations. If you want something simple and versatile, the Blue Yeti range is a perennial mainstay in the podcasting and streaming industries. The Yeti, Yeti Pro, and Yeti X are all USB microphones and they strike a great balance of quality and simplicity, with multiple recording patterns, convenient control dials, and built in recording stands for added convenience. After a year of everyone being a little more homebound, more reasonably priced, decent-sounding microphones have also hit the market—products like the Razer Seiren Mini and HyperX SoloCast will suit the needs of the
If you're just playing with friends online, and you don't feel inclined to otherwise include the public, a gaming headset with a good microphone might be more your speed. These kinds of plug and play devices won't get you podcast-quality audio, but the best ones sound pretty damn close, and they're a far simpler solution than turning your PC into a recording space. You don't have to spend a lot to get a lot with gaming headsets, either.
The Logitech G Pro X's Blue Vo!ce software feature lets you play around with how your voice sounds using different EQ presets, as well as a number of other effects.
The recently released Fnatic React headset is aimed at the esports crowd, but it's comfortable, offers one of the best mics you can find on a headset, and it's relatively cheap. Additionally, if you're keen to do character voices, and you'd like some software help with that, something like the Logitech G Pro X can do that with its G Hub integration. Heck, even a headset like the Roccat Elo 7.1 Air might work well—it's Swarm software brings cartoonish voice filters that might add a little needed goofiness to your sessions.
Getting online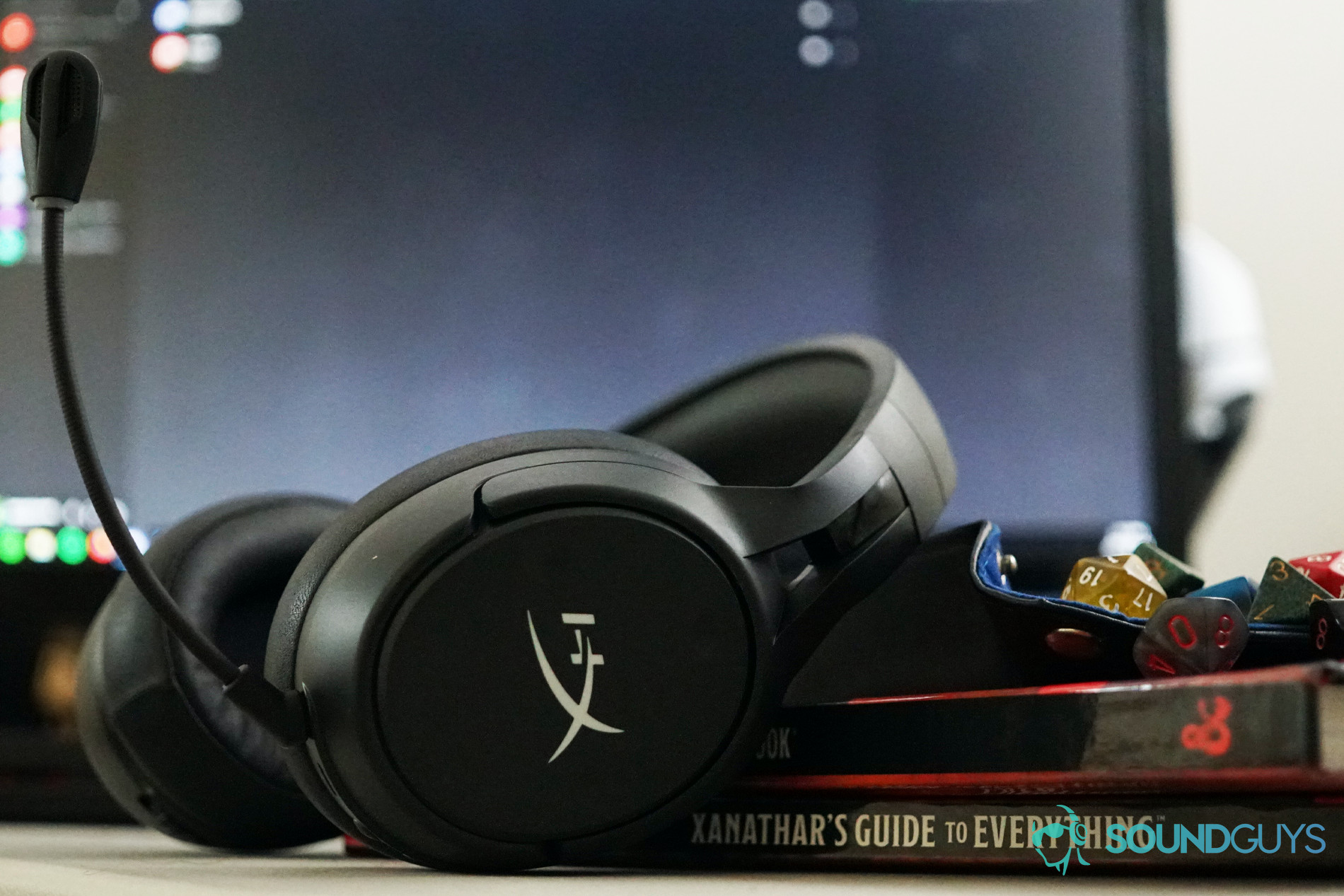 At minimum, playing Dungeons and Dragons on the internet requires a voice call program like Discord.
There are an extremely wide variety of ways to connect with your fellow adventurers online, but ultimately a decent voice calling app is all you need. In most cases, that means Discord—it's the best service around, both in quality and ease of use, and it's built for gaming, which means getting a bunch of people in a a shared call is easy as can be. However, if you need a more visual component to the game, like a map or a character sheet, or even just a way to keep the party's knowledge and experiences organized, you'll need a little more than just that.
Roll20 is a service geared toward offering an all-in-one roleplaying game experience, and for years it's been the best option out there if you need a way to keep everything and everyone in your campaign organized. However, it's not perfect. The voice and video calling options it offers are generally pretty awful and its user interface is pretty unfriendly, so sticking to Discord is probably still your best option if you just need audio (or even if you don't).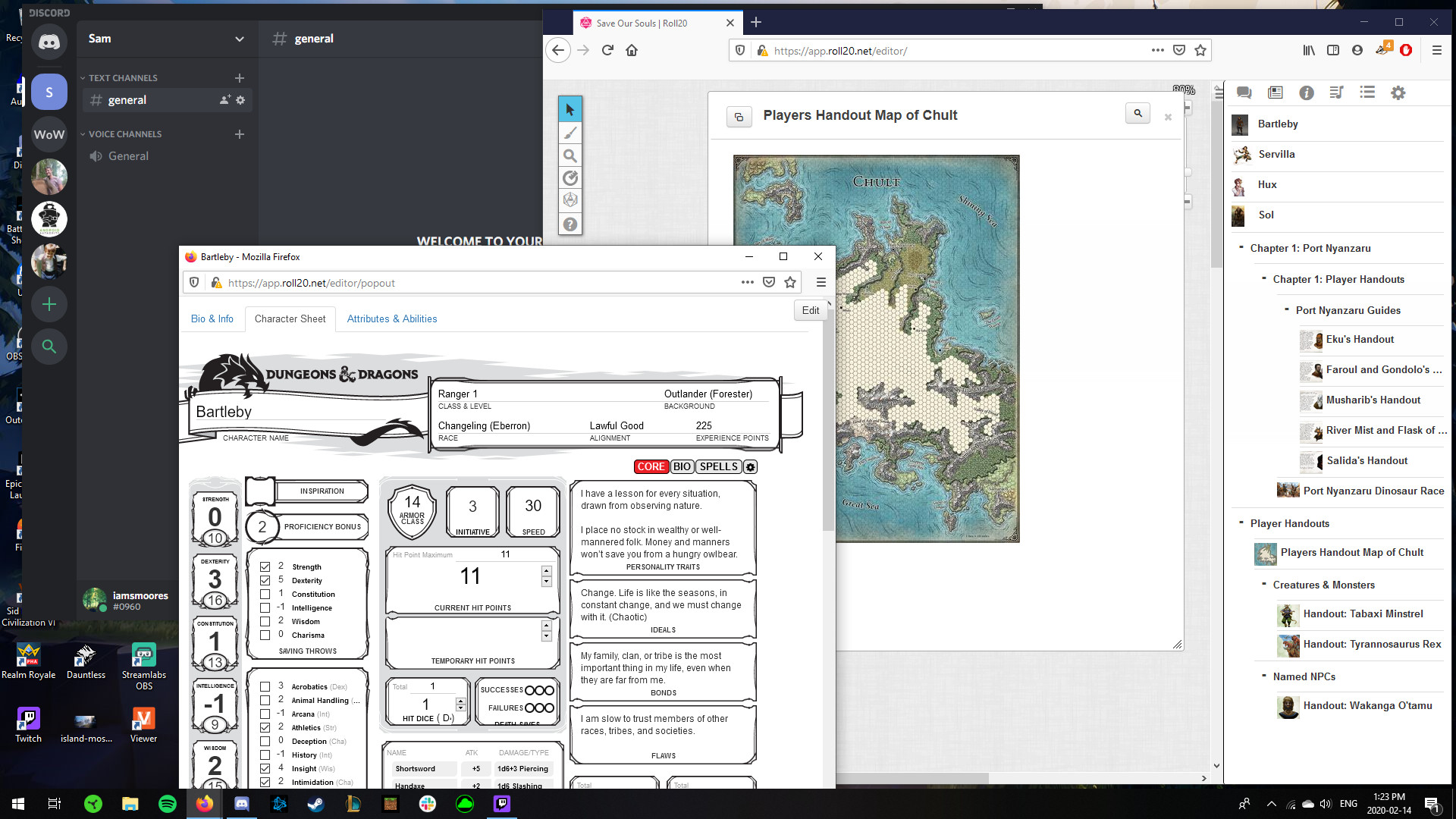 Adding more services to your online D&D setup can make some aspects of the game easier, but prepare to be constantly alt-tabbing.
Again, if you're keen to get your game out into the world for everyone to see, you'll need still more software. For live broadcasts on services like Twitch or Youtube, OBS is your best bet. We have a whole guide on how to set up Streamlabs OBS and get broadcasting, but suffice it to say here that capturing output content like Dungeons and Dragons is easier and less hardware intensive than most video games. You should have an even easier time getting your D&D campaign online than your Fortnite matches.
Playing the game
Once you've gotten your hardware sorted, you're almost ready to actually play the game. There are a few ways to go about getting the materials you need to play, and they range in price. To just start playing Dungeons and Dragons, you don't actually have to spend a dime—the basic fifth edition rules are available for free on the Dungeons and Dragons website. If you're keen to go all digital, services like Roll20 and D&D Beyond offer virtual versions of the game's expansive series of rule and adventure books, along with tools to create characters and encounters.
However, it seems players' collective frustration with how unfriendly Roll20 is to use has bred new options in the last year. New services like Role, which offers a slicker interface and better voice and  video chat functionality, and TaleSpire, which features a comprehensive 3D map builder in addition to tools for running Dungeons and Dragons sessions, both launched in beta form in the last few months. Heck, even  D&D Beyond has been inching its way from being an online repository of rules and character sheets to something that can actually facilitate online tabletop sessions.
This stuff is all a lot of fun to have, but you don't need to own a bunch of books and dice to play.
However, while the whole game is about creating a theater-of-the-mind experience, it's not like you can't indulge in some good old fashion book buying too. Every D&D book is available, and frequently discounted on Amazon (or likely at your local hobby shop, if there's one you can get to). Similarly, if you, like me, love the feel of rolling a D20, polyhedral dice sets are easy to track down in a wide spectrum of colors and designs—no need to stick to a virtual dice roller if you don't want to.
Some final notes
Yes, those dice are all mine. It's a personal problem.
There are so many different things you can buy to augment or improve your Dungeons and Dragons campaign, whether that's books or premium subscriptions to Roll20, but it's very important to recognize it's almost all optional. It might be fun to amass a dice collection large enough to fill a backpack (I'm almost there myself), but at the end of the day the only truly necessary consideration to make in playing Dungeons and Dragons online is that the people you're playing with can hear you.
There's no improving on being in the same room to play with your friends, but getting a your audio situation sorted is how you get as close to that as possible. Grabbing something with enough fidelity to adequately capture the subtle variations in your voice is vital to keeping everyone engaged and on the same wavelength as you role play. Everything else is fun, but it's ultimately all window dressing. If there's one thing to put a lot of effort into for your setup, it's the sound.