All products featured are independently chosen by us. However, SoundGuys may receive a commission on orders placed through its retail links. See our ethics statement.
How to pet-proof your home office
Pet-proofing is a constant process, so here are some tips for making sure your pet and your equipment are safe and pet-proof.
All pets have instincts, and sometimes those instincts drive them to chase every wire, scratch up your microphone, or chew on anything they can sink their teeth into. This can be a passing phase for some pets, but some crave the taste of plastic for a lifetime. Pet-proofing is a constant process, and it can be hard to keep track of what you need to fix. When you're working from home, the bad habits your pets have become a lot more obvious—they really don't have the best microphone etiquette, do they?
Since you probably don't want to replace your equipment more than you need to, you're going to want to pet-proof your wires and any fragile equipment to prevent any accidents from happening, and opt for more durable equipment when possible. If you have a pet at home or are thinking about adopting one, here are some ways to pet-proof your equipment.
Does double-sided tape work?
If you have a wire your pet likes to chew on a lot or a surface you don't want them jumping on, pet-proof it by putting double-sided tape on it. Pets generally dislike the feeling of double-sided tape, especially when they claw at things. It works great wrapped around wires, or on the edge of a speaker or amplifier. Any type works, from regular double-sided tape to the pet-specific variety. Just remember to replace it once in a while if it starts to peel off.
Should you get wireless headphones if you have pets?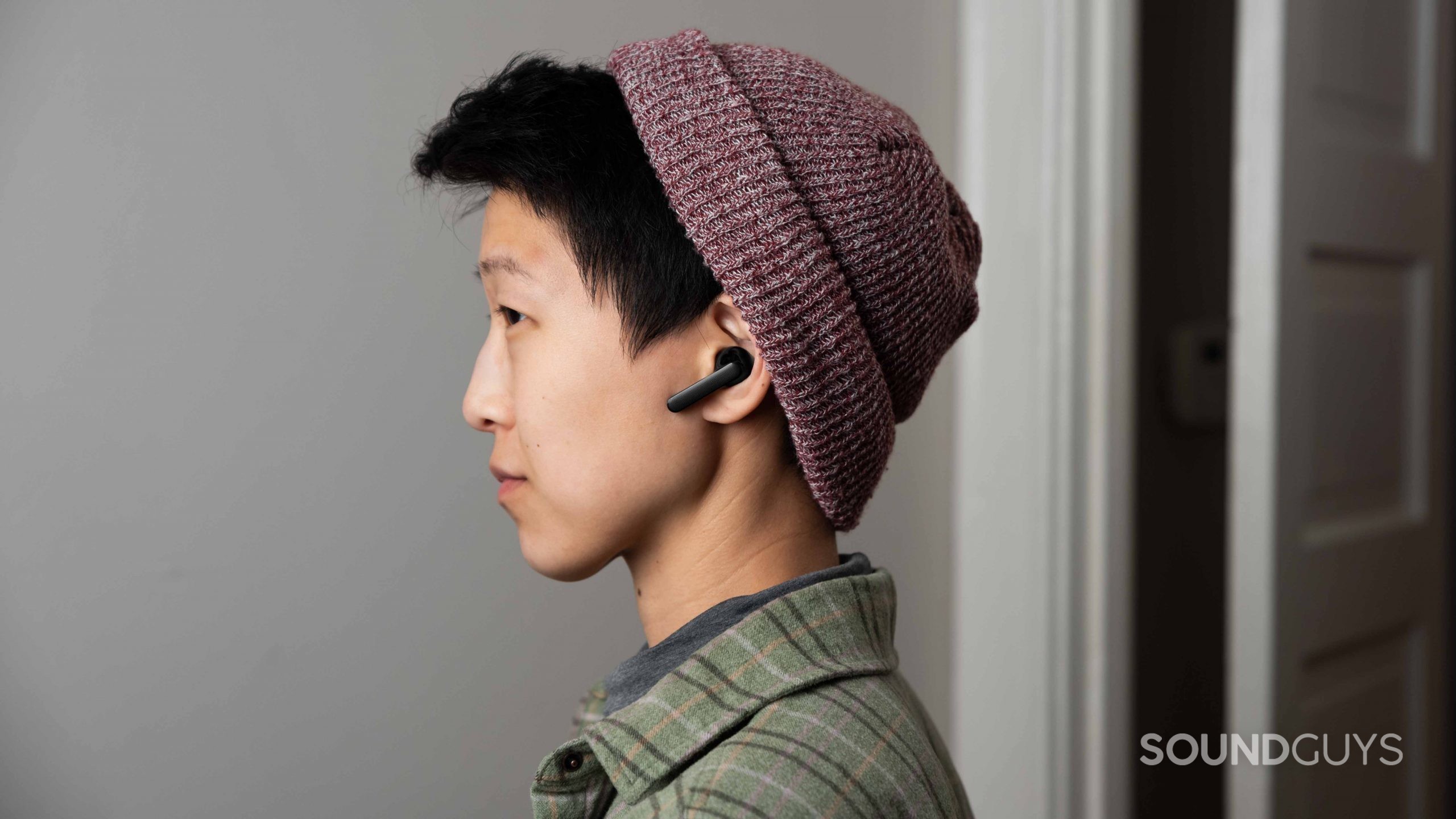 Wireless headphones are a great option if you're trying to pet-proof.
If you've ever picked up your cat for a mid-day hug when working from home and they went straight for your headphone wire, you might want to consider going wireless. If your finances permit and you don't need the absolute highest quality audio, opting for wireless headphones will likely save you some grief. With no moving wire, there will be one less thing for your pet to pounce on and chew. When it comes time to charge them, do so in a place your pet can't reach while you're not looking, so you don't undo all your pet-proofing efforts.
If you're looking for durability and quality, the V-Moda Crossfade 2 has great audio with support for two high-quality Bluetooth codecs, and a MIL-STD 810G durability rating, which is about as good as it gets. The headband can also withstand being crushed flat 10 times if you have a particularly large dog that likes to sit on things.
There are still some considerations to take into account with wireless options. If your pet likes to chew or scratch the pads on your headphones, ensure you have a spacious place for them in a drawer or a high up shelf when you're not using them. If you have earbuds, make sure you keep any removable tips out of reach of your pets. If you're leaning toward a pair of true wireless earbuds, remember to keep them away from your pet too—after all, most of them are pretty much bite size.
See also: The best wireless headphones
How can you organize cables?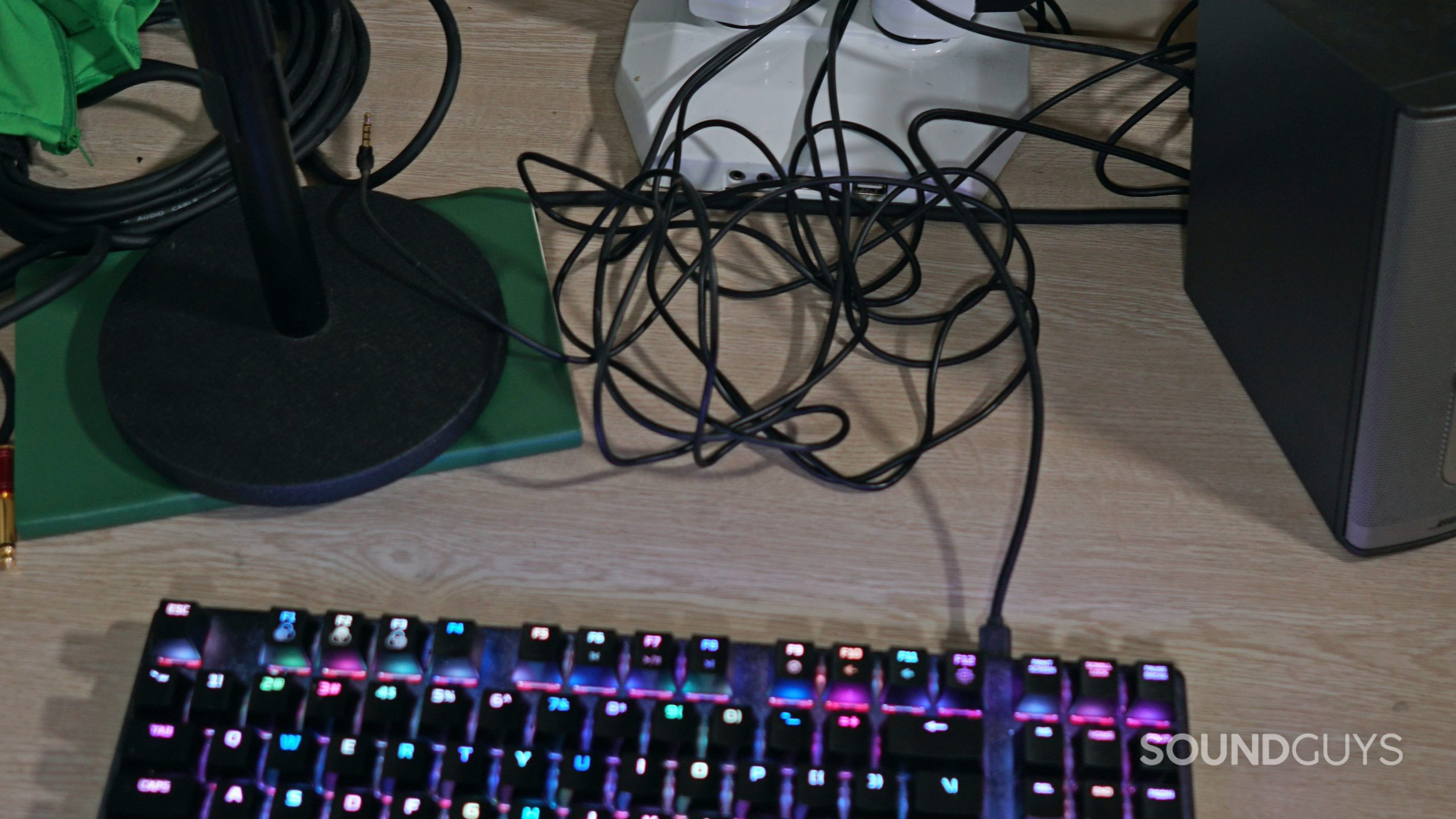 Cable management is key if your pet thinks every long wire is a snake.
Having an innumerable amount of cables tangled on the floor might look like a bunch of snakes or worms to your pet, and attract a little too much of the wrong kind of attention from them. It's always a good idea to keep your cables tied together when possible. If you have them tied together, you could even cover them with a cable sleeve or double-sided tape to keep them safe together. Not only does this make your home office space a lot neater and harmonious, it also keeps your pet from hurting itself on exposed wires and protects your belongings from permanent damage. Consider it pet-proofed!
How should you rearrange your office if you have pets?
Sometimes pet-proofing requires some very intentional rearranging. If your pet keeps clawing at your microphone or your acoustic foam, make sure they can't reach these things easily. Don't have climbable surfaces too close to the foam on your wall, and store your microphone, speakers, or any fabric accessories high up or in a cabinet where they can't reach when you're not using them. If they claw at anything while you're using it, redirect them with a toy, or by picking them up and placing them across the room. Sometimes change is good when you've been working at home for this long, anyway!
What are the most durable earbuds?
Durability is key if you have a pet that likes to knock your earbuds off your desk.
If you're in the market for an upgrade or want to something new for your work from home setup, durability is important when you have pets. If you're in the market for new earbuds, consider tougher builds that won't break if they fall off your desk or your cat starts batting them around. A good choice would be the Jaybird Vista 2 earbuds, which are IP68 and MIL-STD-810G rated, meaning they can withstand dust and full water submersion, just in case your pet knocks them off the table while you're not looking into that dusty cover of your office.
When it comes to microphones, it's good to choose something sturdy and durable so your pet can't knock it off or break it by biting it. A great option is the Movo UM700 USB microphone, which has a sturdy base and won't break the bank. Microphone covers can be very fragile, so if you have a foam or fur cover, stow it away while you're not using it.
If finding something particularly durable is proving difficult, try looking for something with replaceable parts. Getting a nice pair of headphones or a microphone is great, but it's even better when you just spend a few bucks replacing a cord instead of having to go all-in on something brand new. Focusing on repairable hardware also cuts down on tech waste, which is always a bonus.
With these tips, some adaptability, and patience, you're sure to save some of your equipment from an early demise. Pet-proofing your home takes time and whenever you take away one thing they're fixated on, they might find a new thing. Just be sure to give them lots of love after you take away their beloved headphone snake.