All products featured are independently chosen by us. However, SoundGuys may receive a commission on orders placed through its retail links. See our ethics statement.
The bottom line
If you don't mind sacrificing a bit of bass for good isolation and a more neutral sound, these are a great option for the price.
ER3XR
If you don't mind sacrificing a bit of bass for good isolation and a more neutral sound, these are a great option for the price.
What we like
Good build<br>
MMCX connectors<br>
Sound isolation<br>
A slight touch of extra bass<br>
Great separation in the mids<br>
What we don't like
Can get uncomfortable after a while<br>
Highs can be harsh at high volumes<br>
Cheap for reference in-ears, expensive in general<br>
Sound isn't for everyone<br>
Rating Metric
Sound Quality
8.1
Bass
7.0
Midrange
8.5
Highs
9.0
Durability / Build Quality
7.5
Value
7.5
Design
7.0
Portability
8.0
A lot of the headphones that come across our desks tend to be geared towards the average consumer. Someone who might not care so much about pristine sound quality, but just wants an inexpensive pair of headphones that will hold up to everyday wear and tear. And while that's a giant market that encompasses basically every person with ears, there's a smaller niche of people that require more from something they're going to be using every day. To some, headphones are a tool and it's for those people that Etymotic Research has been making in-ears like the new ER3XR for.
If you work with audio you need something that will tell it to you like it. A good friend that will tell you whether your mixtape is fire or belongs in the trash. Reference headphones are that friend, letting you tweak the sound you're working with to how you want it. We previously reviewed their ER4SR in-ears and while we enjoyed them, they definitely weren't cheap. But with the ER3XR in-ears Etymotic Research is hoping to reach for ears with a lower price tag, but can they recreate their accurate frequency response in a less expensive pair of in-ears? And more importantly are they worth it?
What's Inside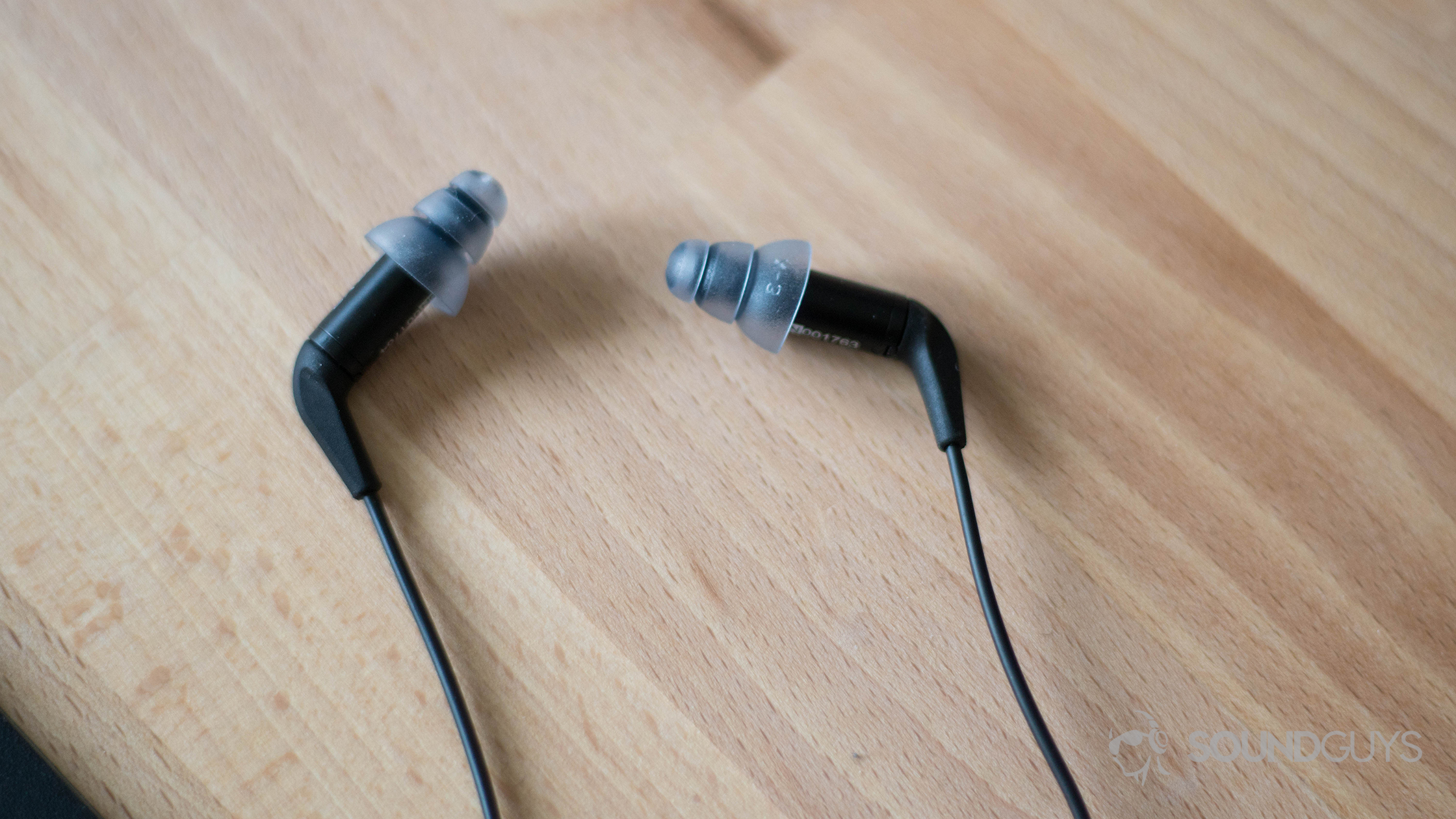 Etymotic ER3XR with flanged tips.
When you open the box the first thing you'll see is a carrying case. In there you'll get the headphones along with an extra set of flange ear tips as well as a pair of foam ones, a filter removal tool, and a cable clip for managing the 4-foot audio cable.
Who's it for?
As you'll read later in the review, I think these try to do a little bit of everything for everyone. But I also think they fail at achieving that, instead carving out a small niche in a slighter larger niche or the market. You'll enjoy these if you:
Work with audio for work or for fun, these are going to show you things that other headphones hide. And they're really good at doing so, especially in the sub-$200 price point.
Are looking for headphones with great sound isolation for the office or for commuting and don't mind trading a strong bass for better separation between instruments
Build & Design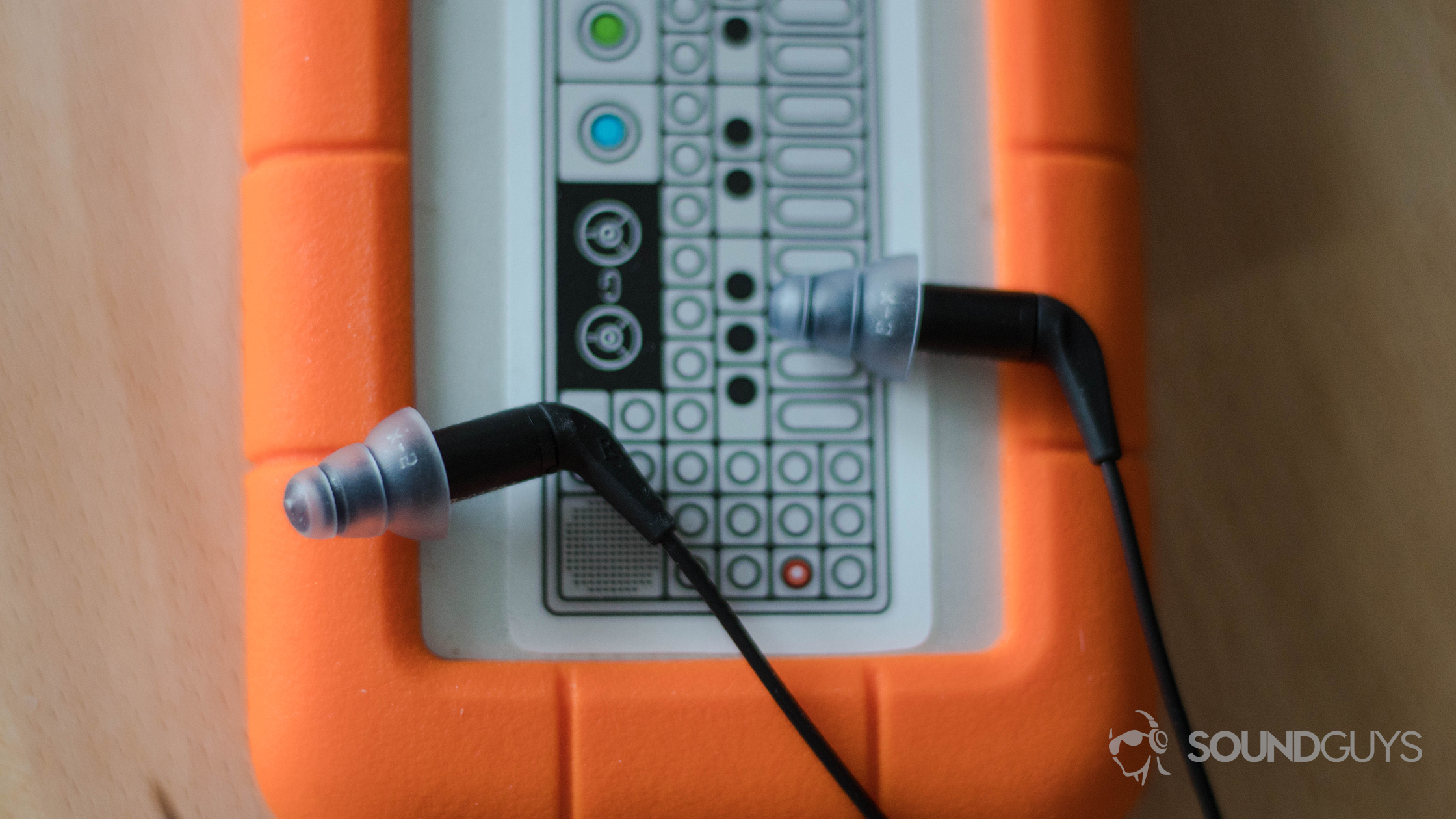 The Etymotic ER3XR in-ears have a pretty thin audio cable, but solid build overall.
A quality build doesn't always mean durable. I'm sure if you took these to the gym you'd destroy them, but you'd deserve it anyway because that's not what these are made for. Now if you're going to be recording a podcast at home, listening to music on your way to the office, or editing audio at work, these should hold up no problem. The audio cable is thin but it doesn't feel flimsy or cheap. Plus the points of weakness where you would normally find tears and breaks are reinforced to prevent that from happening.
The Y-split has a metal covering and the 3.5mm connector is reinforced and angled at 90-degrees to prevent fraying. But the best part of the build has to be the earbuds themselves. They're long, slender, and also made of metal but best of all: they're removable. Thanks to MMCX connectors you can easily pop them off should you need to replace the cable. They fit snugly in my ears with the tips that come on them fresh out of the box, but if you need help getting them to stay in chances are one of the other options available should get the job done.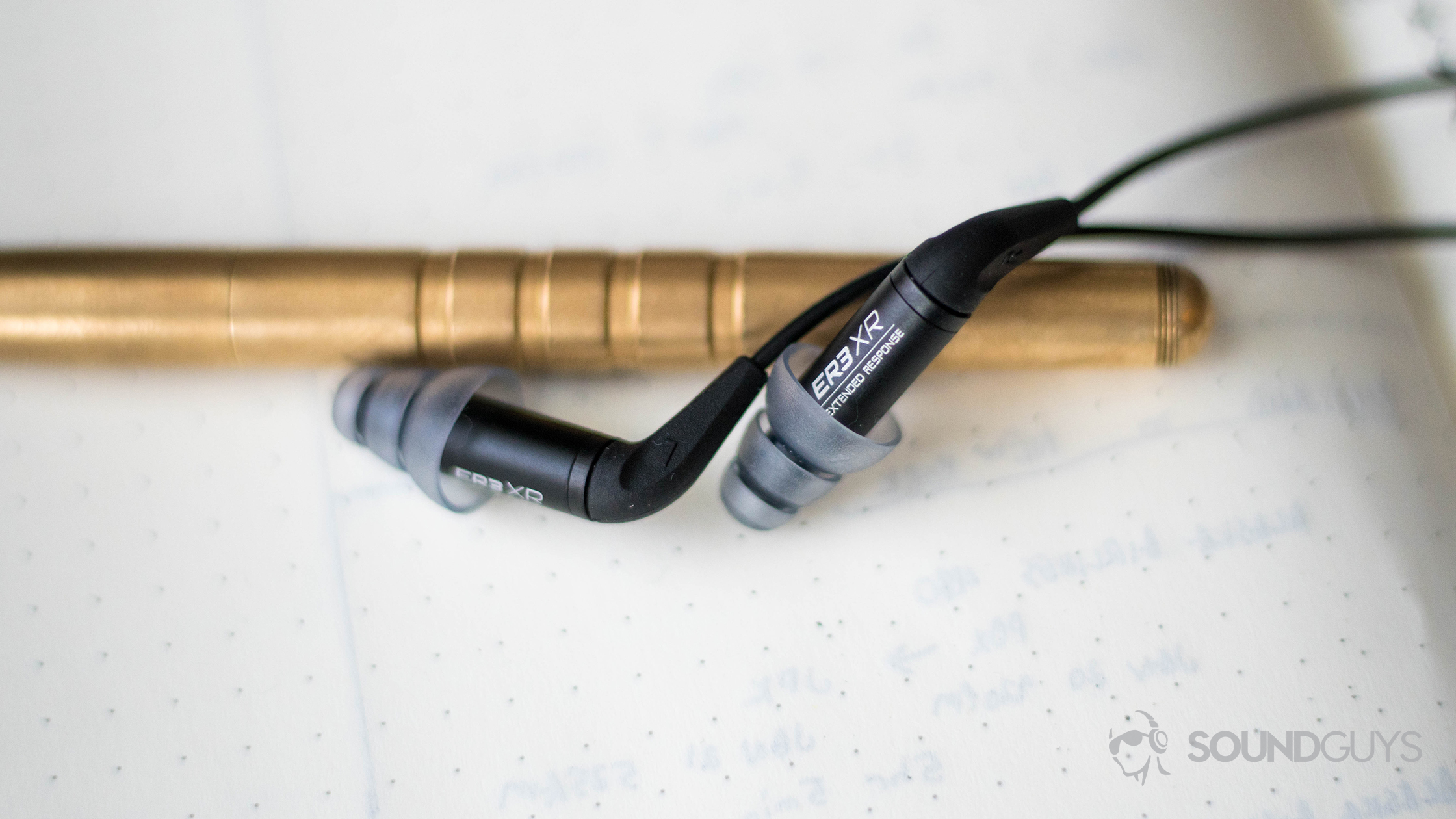 The Etymotic ER3XR use MMCX connectors so you can pop off the 'buds to replace the cable when you need to.
If you've never tried a pair of in-ears before I'd recommend giving it a shot before you decide to pick these up because it's both a blessing and a curse, and that's true for the Etymotic ER3XR in-ears as well. We'll start with the good. Because these sit in your ears sound isolation is pretty great. Etymotic Research claims anywhere from 35 dB – 42 dB in noise isolation and while we don't have the proper equipment to put that to the test (yet) like we do with over-ears, I can say that nothing I've heard during testing gives me any doubts that the claim is true. Once you hit play it's like everything else disappears. Now don't get it confused, we're not talking about active noise cancellation here. This is just good 'ol fashioned isolation by putting a physical object in between your ears and outside noise.
But these aren't without their downsides. Not everyone is going to like sticking a small piece of metal in their ears. Even I found these to be a little uncomfortable after about 2 hours and had to take them out to let me ears breathe. Then again if you're going to be mixing audio you probably shouldn't be going for hours straight anyway since you need to let your ears reset every now and then.
Connection
These are great for use in and out of the studio thanks to a 4 foot cable.
There isn't much going on with these as far as connection goes. The 90-degree jack ends in a standard 3.5mm cable though I do wish these at least came with a ¼" adapter as some people will probably be plugging into higher end gear to get work done. But at the same time these will work perfectly with your average smartphone as they only have an impedance of 22 Ohms, so you definitely won't need an amp to drive these. Even with the abysmal dongle included with the iPhone X and Pixel 2XL, I had no problem listening to music.
Sound Quality
Speaking of listening to music, the ER3XR surprised me. I guess I forgot what it felt like to listen to music through a pair of headphones that don't emphasize too much because it was like a breath of fresh air. I got so used to listening to pushy basslines that I forgot the value of a less intense sound signature. And because these have a little bit of a push to the low end I ended up using these even when I wasn't working with audio.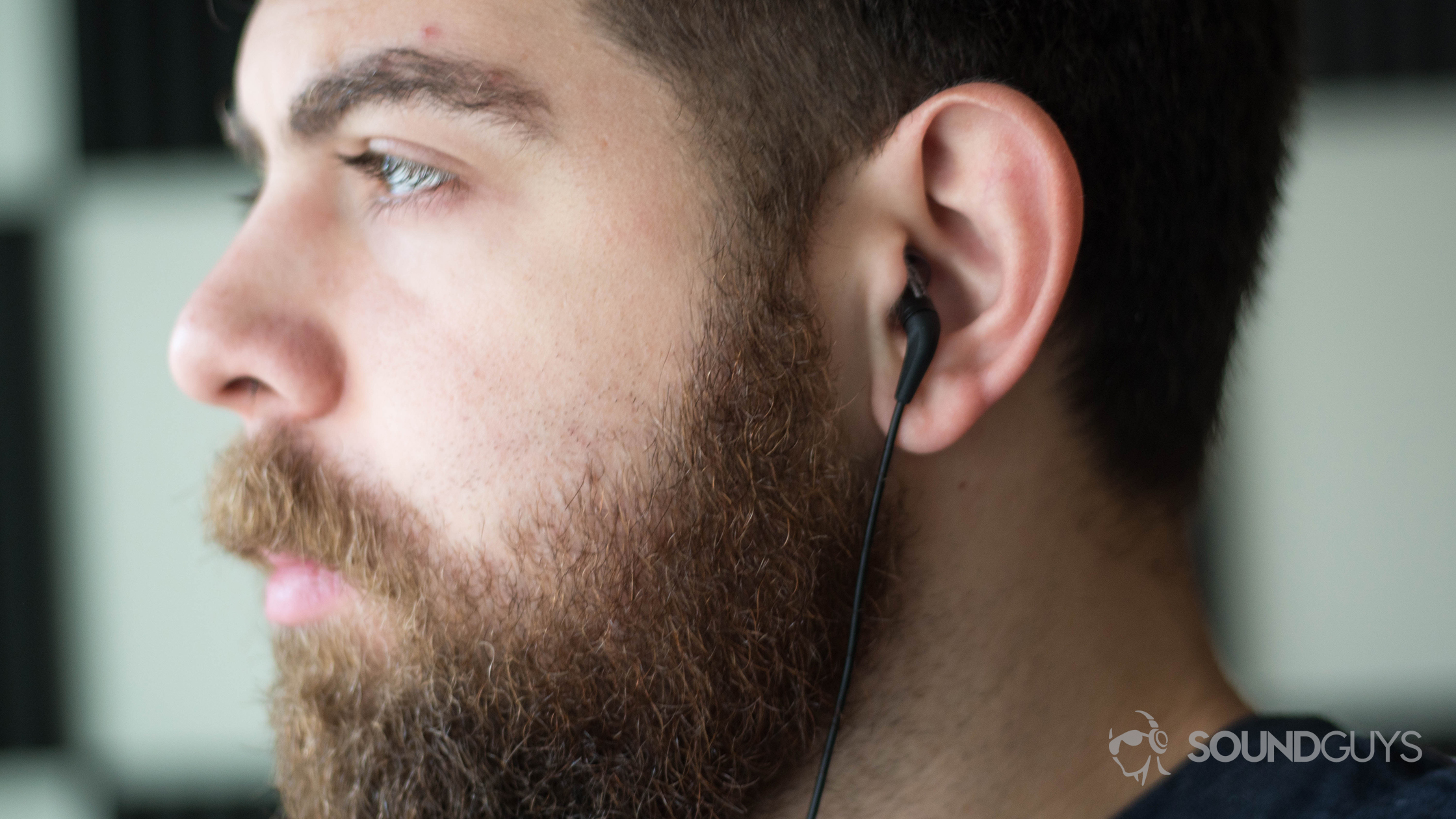 The Etymotic ER3XR are in-ears in the truest definition, sitting in the ear canal.
If this is your first foray into the category you're going to think these are flat as hell, and that's because they are. The push in the low end that I'm speaking of don't compare to Beats or V-MODA, but more to Etymotic Research's previous in-ears that I reviewed. The ER3XR in-ears definitely have a little extra sauce, and I love it. It means I can use these to mix the audio in my videos and then continue using them to listen to music when I walk out the door without missing out on too much.
But it has its pros and cons. The extra push works out for less intense instrumental pieces like "Paperman" by Christophe Beck, but it falls short on heavier bass tracks. It just fails to deliver that low end bump most consumers want, while at the same time failing to be truly accurate which means that these land somewhat in a No man's land of trying to please everyone. True these have some extra bass, but the treble is also nothing to slouch at. Instruments are easy to distinguish and the stereo separation is very apparent, which helps to create the illusion of space when listening to your music.
But because these try to tell it to you like it is, you're going to hear flaws in some of your favorite tracks that make them kind of hard to casually listen to. For me this happened in the song "Constellations" by Darwin Deez which is one of my favorite tracks of all time. I never noticed just how loud the claps are during the chorus compared to everything else going on, and it quickly becomes grating and annoying. But that's what these in-ears are good at: showing you things that other headphones hide.
Conclusion
Etymotic Research is no stranger to quality in-ears, and the ER3XR just expand on their reputation by being a versatile and well-built pair of headphones. They're easy to recommend for commuters because of the sick sound isolation, yet they're just as useful in the studio because of the accurate frequency response.
Though they're not the most accurate or the most pleasing to the ear for most people, I think they found a nice balance between the two worlds. That said, those two worlds might not be for everyone so I feel like these are going to be very hit or miss. You either like them or you don't, and I do.