All products featured are independently chosen by us. However, SoundGuys may receive a commission on orders placed through its retail links. See our ethics statement.
The bottom line
As good of a pair of headphones as these are, it's still hard to recommend for the average person.
As good of a pair of headphones as these are, it's still hard to recommend for the average person.
What we like
Good sound
Really comfortable
Great noise isolation
What we don't like
Big and bulky
Rating Metric
Sound Quality
8.9
Bass
9.2
Midrange
8.9
Highs
8.7
Durability / Build Quality
7.5
Value
7.0
Design
8.2
Microphone
8.0
Portability
6.9
UPDATE [February 2022]: You can still find this headphone on Amazon, even at massive discounts. Should the it no longer be available, have a look at our favorite wireless headphones.
Blue is a company most known for their stellar microphones, but as we've seen in the past they know how to make a pretty good pair of headphones too. We decided to take a look at their new Lola headphones to see how they stack up against the competition, and against their predecessors. Where the older Mo-Fi headphones were hard to recommend for the average person, the Lolas seem to be specifically aimed at the average person. So are they?
What's inside?
This is a very unique unboxing experience as the box itself doubles as a kind of headphone stand. The base has a special molding that the headphones fit into perfectly and, due to the design of the headphones, they prop themselves up. It's just really clever way to package these headphones. If you don't have a headphone stand, the box would probably work just fine. Underneath the headphones you'll also get a nice carrying pouch, a 1/4" adapter, two audio cables (one with an in-line remote/mic and one without), and also the instructions and warranty information.
Build Quality & Design
If you remember the Blue Mo-Fi headphones we previously reviewed, you'll see that these look pretty similar. Blue kept the same unique appearance and the same method of adjustment as well. Where most other headphones have a sliding adjustable headband, the Lolas use a hinge mechanism on each ear cup that adjusts the position and angle of the headphones in order to achieve a tighter fit. At first this method was a little weird, but it could be just because it's so uncommon. After you get used to it, it's actually really cool and it works perfectly. It basically gives you a perfect fit every time simply by putting them on.
One thing to keep in mind is that these aren't light headphones. Even though they ditched the metal body of the previous Mo-Fi for a lighter plastic body, they still have a good weight to them. They're about 70 grams lighter than their predecessor, but still weigh almost 400 grams. That said, they're really comfortable and I didn't have any issues wearing these for hours at a time. The padding on the ear cups and the top of the headband do a good job at keeping the headphones from actually resting on your head. In a way, they almost float over the head. Since these are plastic, it's also reasonable to think that they might break easier and even though we didn't throw them against a wall during testing, they survived a couple backpack trips just fine.
One thing that might be an instant turn-off for some people is the design. Although I personally enjoy the weird design, some people might prefer a more minimalistic approach to their over-ear cans and I don't blame them. It's really a hit or miss depending on your preferences and even though these also come in all-black, I was more than happy with the white storm trooper version.
Connection
The older Mo-Fis had a built-in amp to help power the headphones, but Blue left those out in the Lolas. Instead they tried to make a more everyday pair of headphones and because of that, the Lolas come with a pair of standard audio cables. One is 3 meters long and meant for studio use, so you won't find any in-line controls on this one. The other is 1.2m long and more mobile-friendly. This is the one that you'd use with your phone or tablet since it has built-in playback controls and a mic. Thankfully, Blue ditched the proprietary audio cables found in the Mo-Fis.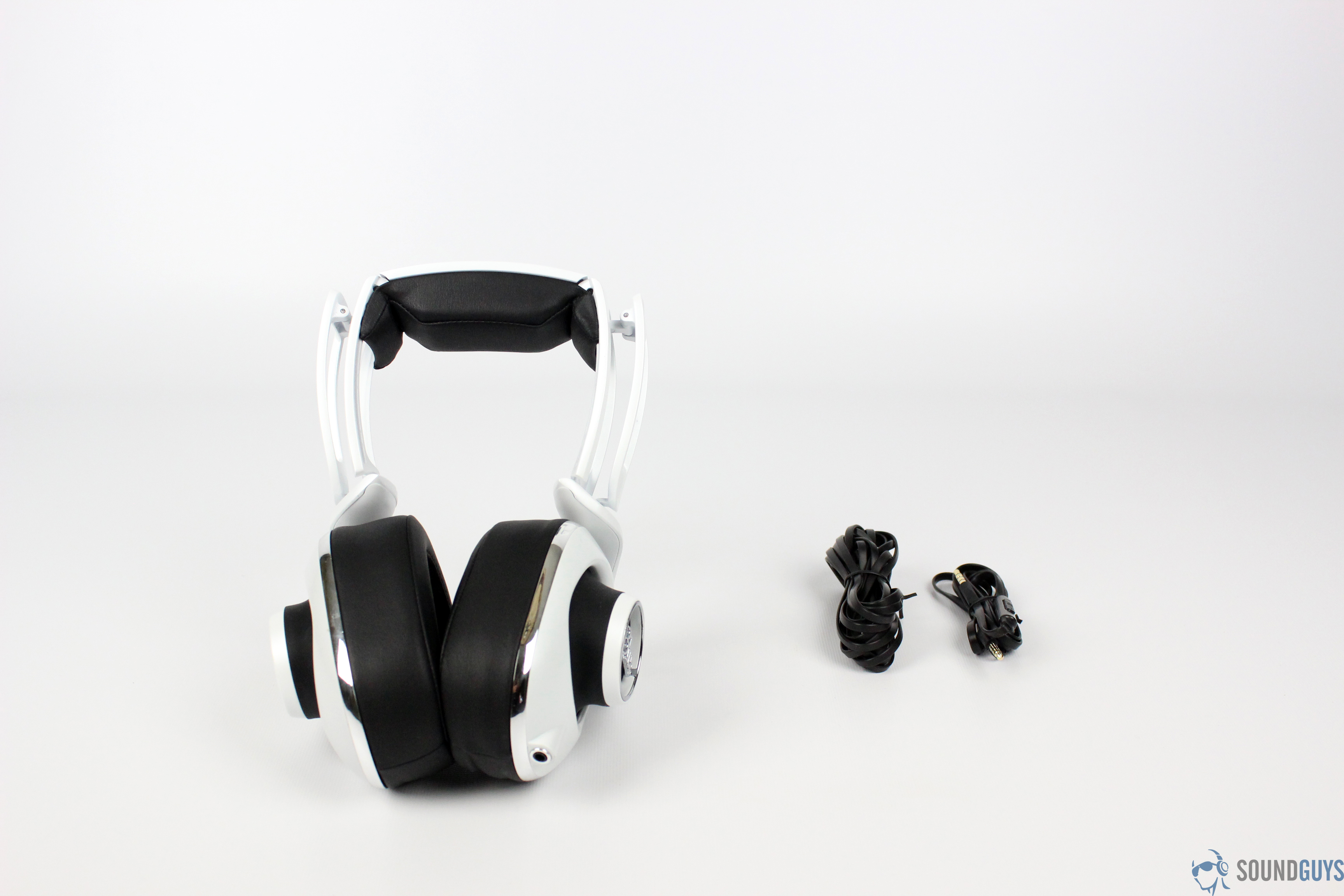 Both cables end in 3.5mm jacks so replacing them should be fairly easy if necessary. One other thing worth noting is the functionality of the in-line controls depends on what device you're using. These are optimized for iOS so if you're rocking an Android, only the middle button that pauses and plays music will work.
Sound Quality
Since these come with two audio cables (one for studio use and one for mobile use), we tested these both ways. For half of the testing we had these plugged into a Scarlett 2i2 audio interface and the other half was done on mobile devices. These have 50mm drivers and can get decently loud on iOS devices, but for some reason the volume wouldn't get as high on Android devices.
That's not to say that it doesn't get loud enough to hear. For example, a song that I had 2 or 3 clicks under max volume on an iPhone 6 required max volume on a Nexus 6. On the bright side, these do a superb job at noise isolation. There's no active noise canceling going on here, but the great seal and thick padding block out almost anything with little leakage.
Despite having 50mm drivers in each ear cup, the low end on the Lola isn't ridiculously powerful. It can definitely be felt when it needs to be, but for the most part it leans more towards accuracy. The bass kicks in 'Anchor Down' by Outasight are meant to be big sounding, but they still weaved in and out of the song perfectly. I personally prefer that kind of accuracy, but if you're looking for a "fun sounding" pair of headphones you might have to look elsewhere.
The mids in most songs were good enough to let the elements shine without being too emphasized. The piano and strings in 'Happiness Does Not Wait' by Olafur Arnalds sounded amazing and, even though it might be cliche to say, I really did hear some parts that I didn't notice previously on other headphones.
The roughest part of the headphones had to be in the highs. Cymbals and hi-hats were never harsh, but there were other elements like some synths in 'When I Was Done Dying' by Dan Deacon that come through as slightly piercing at times. For the most part, harshness is avoided without sacrificing too much detail,but it does have it moments.
Soundstage in these is also particularly good and some song elements that play back and forth between the left and right ear cups can really be pinpointed. Percussion elements in particular have great spacing. They're also portrayed as a good pair of headphones for gaming and even though that is questionable for hardcore gamers, the great soundstage had me twitching every time a TIE fighter flew overhead in Star Wars: Battlefront.
Conclusion
Blue definitely knows what they're doing when it comes to the technical aspects of headphones, but similar to the Mo-Fi headphones, these don't really seem to have a target audience. Though they ditched the built-in amp and the heavier build qualities, there's still not enough reason for the average consumer to invest in these unless they absolutely love the unique design. If you're going in the studio or want a pair of designated headphones for your desk then these are a great option, but there are plenty of other great options to choose from as well. Even though the sound is great and I really enjoyed these, it's hard to recommend these for everyday usage.