All products featured are independently chosen by us. However, SoundGuys may receive a commission on orders placed through its retail links. See our ethics statement.
Best headphone stands
There's really only one way to protect headphones from falling off your desk while also displaying their majesty—and that's with a headphone stand.
SAMDI Wood Gaming Headset Holder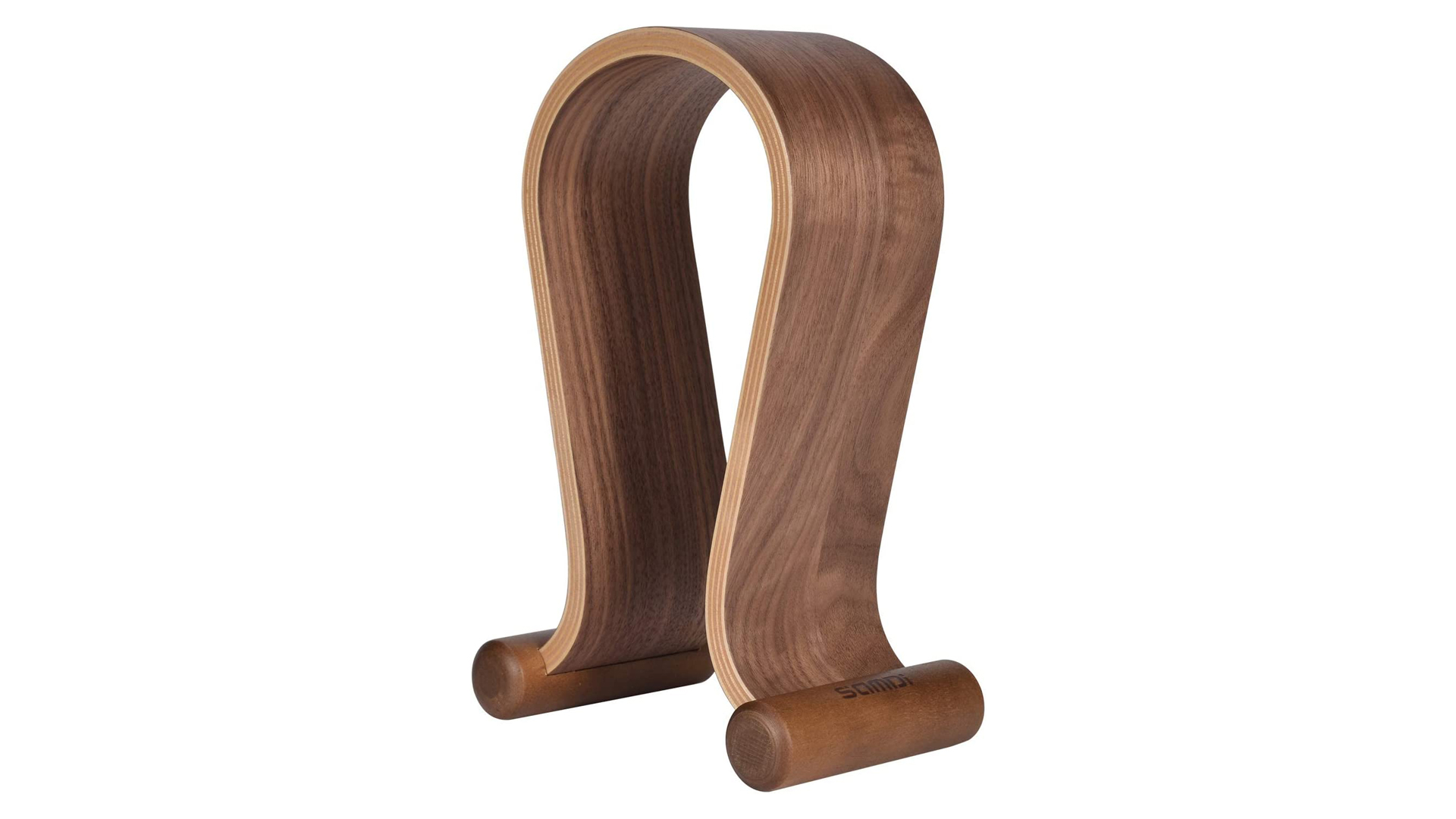 9.1
Check price
Positives
Solid wood construction
Maintains gentle separation of earcups
Sturdy and stable
Negatives
Wood might not match your desk
Minimalist
The Bottom Line.
You can't beat simple, and this stand does the job perfectly.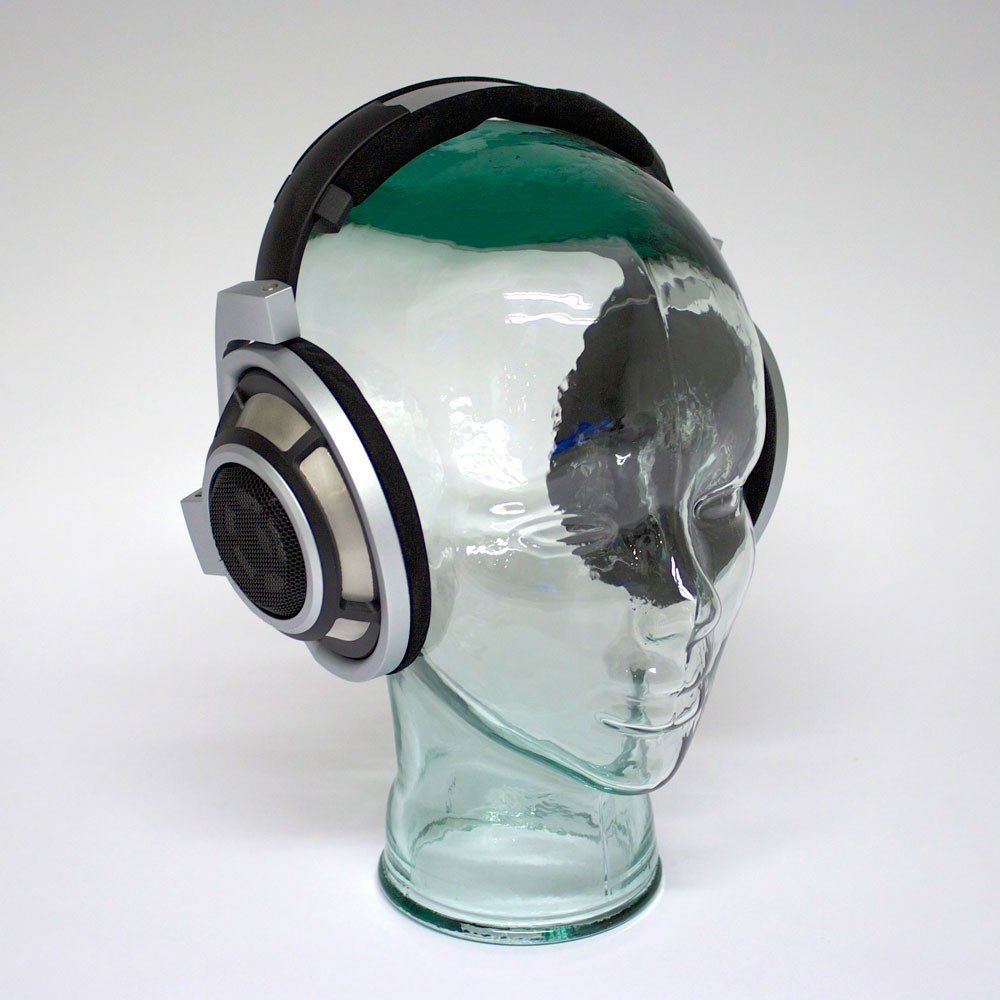 9
Check price
Negatives
Heavy
Might strain tight bands
Might break if toppled
The Bottom Line.
This is an interesting—if a little off-putting—option.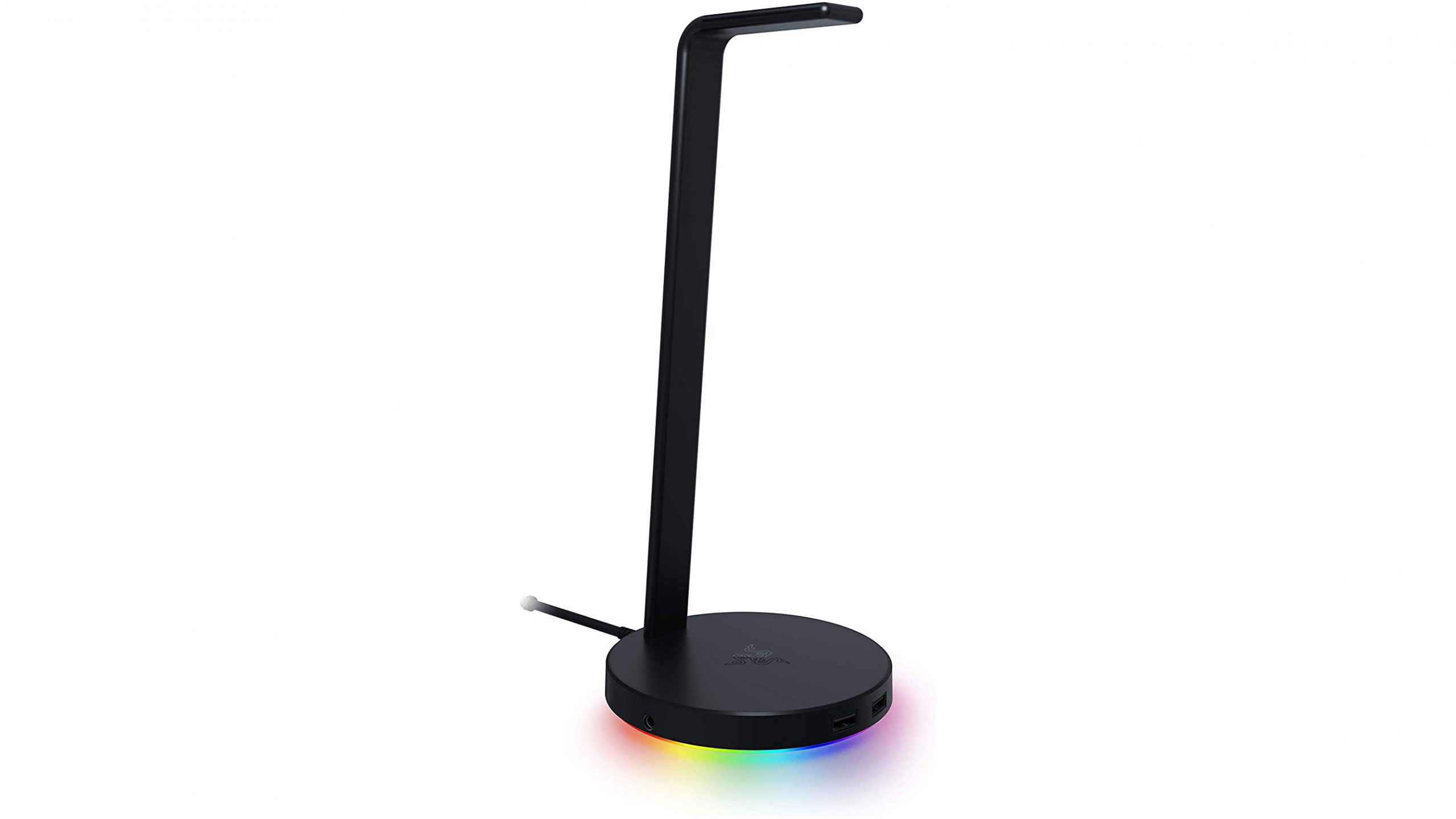 9
Check price
Positives
3.5mm input
Optional 7.1 surround sound
Two USB 3.1 ports
Non-slip base
Negatives
Design clashes with wooden desks
Price
The Bottom Line.
This is a great headphone stand for gamers and fans of the angular black aesthetic. However, it's not for everyone.
9.5
Check price
Positives
Wireless charging
Internal DAC
USB 3.1 ports
The Bottom Line.
Though extremely pricy, the Asus ROG Throne has just about everything you could ever want in a headphone stand.
Avantree Bamboo Headphone Stand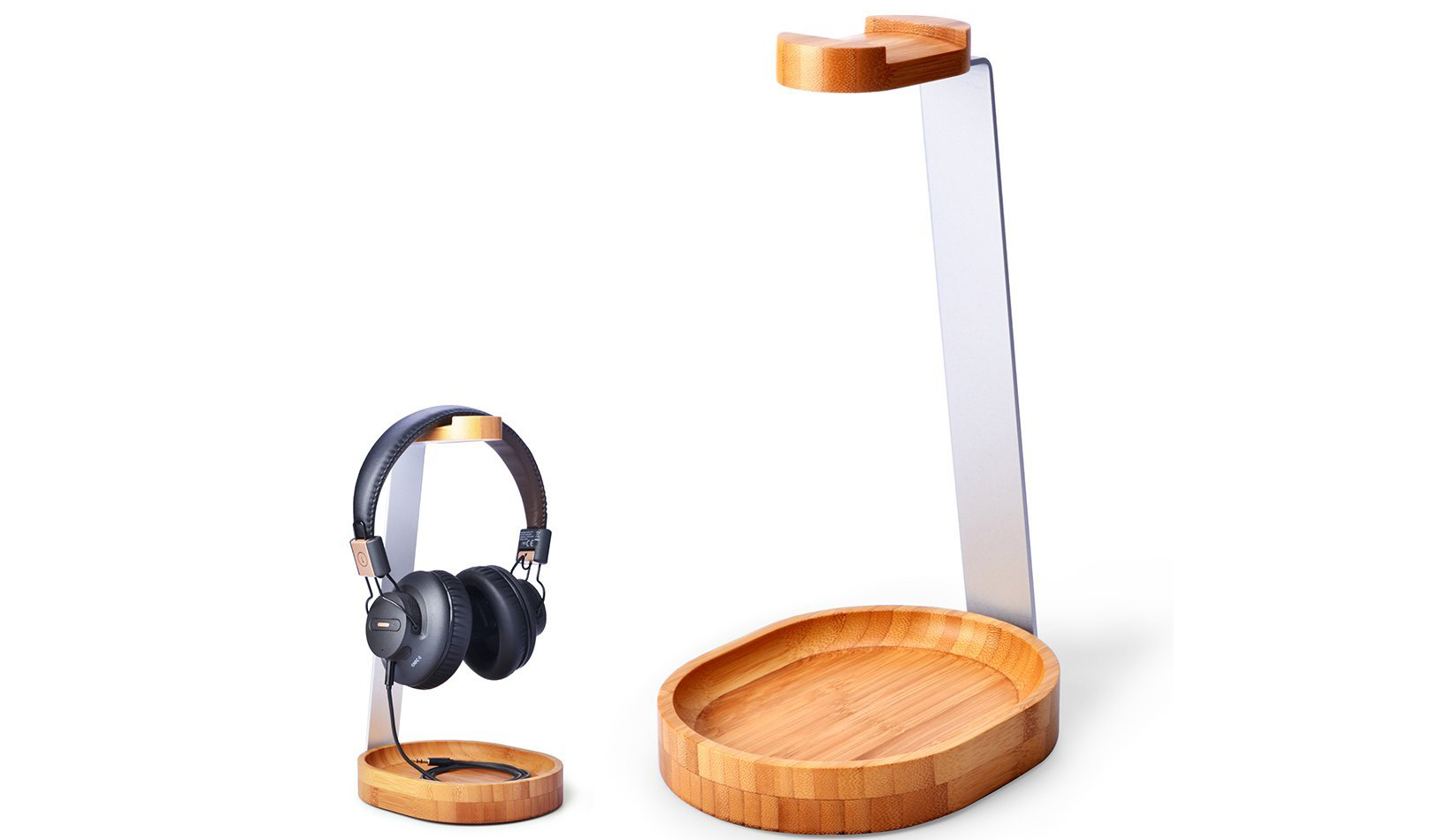 9
Check price
Positives
Attractive bamboo design
Pan for cable
Negatives
Basic
Bamboo might clash with other wood finishes
The Bottom Line.
This is a great option for an affordable headphone stand that you need to pair with white, black, or other solid-color desks. There's also a black steel version.
There's only one way to protect expensive headphones from falling to the floor while also displaying their majesty—with a headphone stand. Sure, it may seem like a bit of excess for some, but it is a good way to clear up some space on your desk while showing off one of your prize possessions.
Editor's note: this best list was updated on November 28, 2023, to update picks, remove outdated formatting, and add FAQ.
The best headphone stand is the
SAMDI Wood Gaming Headset Holder
SAMDI Wood Gaming Headset Holder
SAMDI Wood Gaming Headset Holder
9.1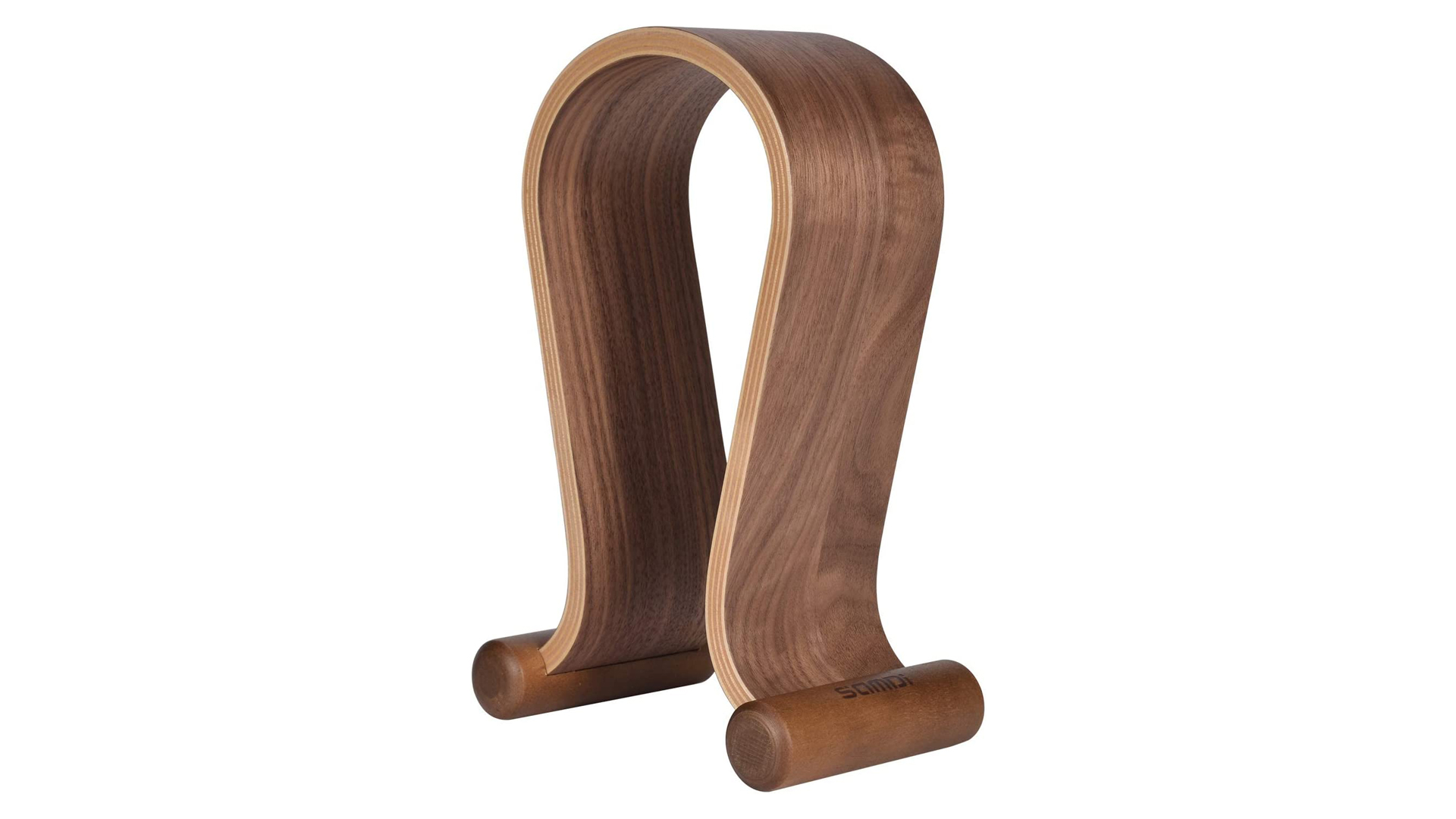 SAMDI Wood Gaming Headset Holder
SAMDI Wood Gaming Headset Holder
Buy now
For headphone stands, you really don't need to mess with anything complicated if all you're looking to do is the very minimum when protecting your cans. You really don't need to overthink it: just keeping them supported on your desk in a manner that won't get them broken is all that needs to happen here. Sure, it's a positive if the stand looks nice, and what looks nicer than wood? Nothing, that's what (argue with me and be wrong.)
Though the SAMDI Wood Gaming Headset Holder seems to be largely a veneer over particle board, that's enough. Wood is plenty expensive nowadays, and there's no reason to break the bank if you can get away with it. If you want a step-down—or if the wood clashes with your setup—you could also go for a similarly-shaped Monoprice product that uses a matte black aluminum and rubber construction.
Why should you get a headphone stand?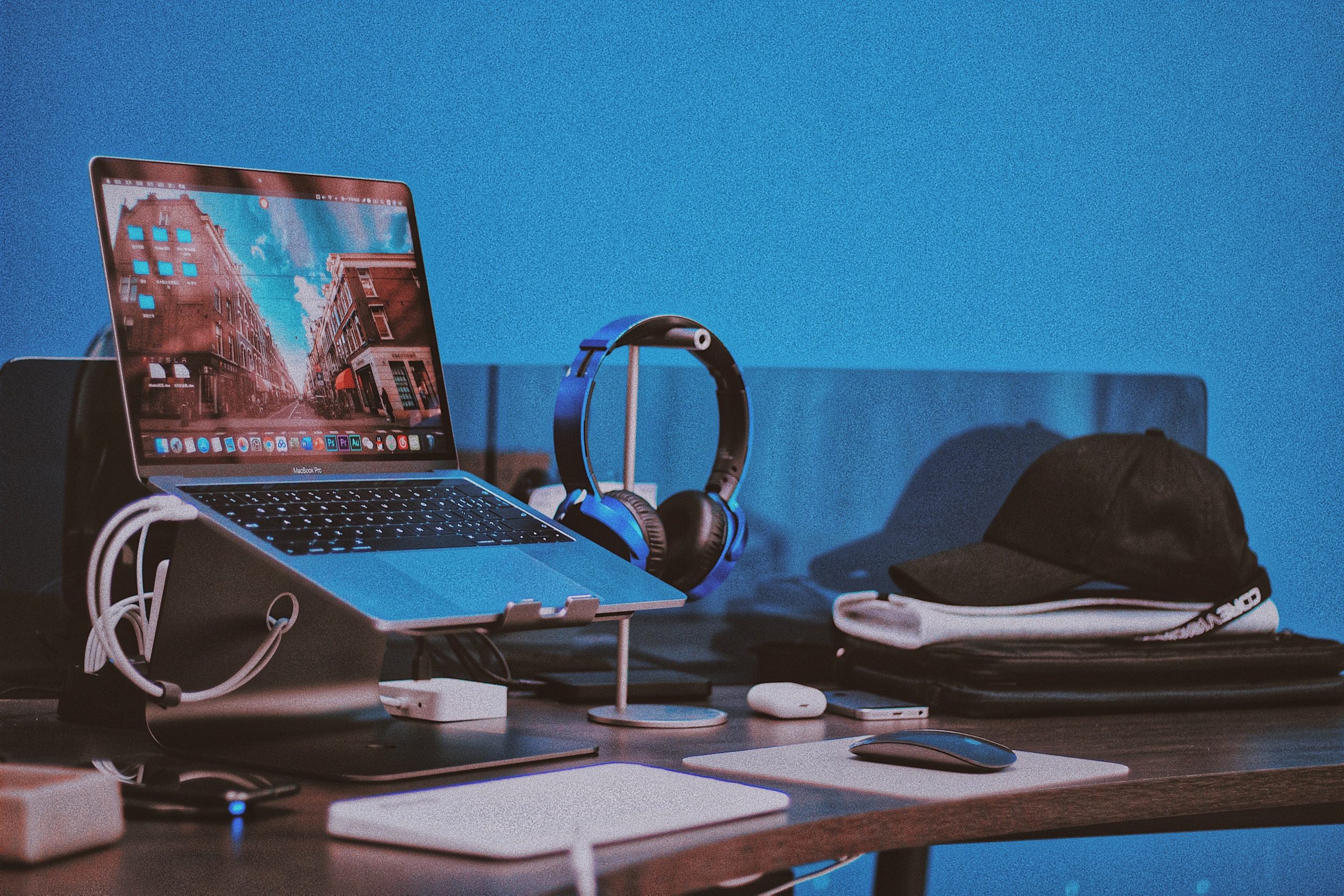 A headphone stand can help reduce clutter on your desk. Photo by Pengye Chen on Unsplash
Headphones can be really pricy, and if you've spent several hundred dollars on a pair of cans, you should be treating them as such. Everyone's desk gets cluttered sometimes, and having a headphone stand can help you avoid damaging your headphones by shoving them to the side or into a drawer. It can also help keep your desktop organized, and you'll never lose your headphones in the clutter. If you have a set of really high-end headphones, a stand will also prevent debris and junk from getting inside open-backed headphones by keeping them off of your messy desk surface.
For the most part, headphone stands are very inexpensive, though you can find ones that come with all sorts of bells and whistles. If you're not willing to spend on a stand and happen to have a 3D printer, you can make one of your own pretty easily, considering how simple most of their designs are.
Get something different with the Glass Head Universal Display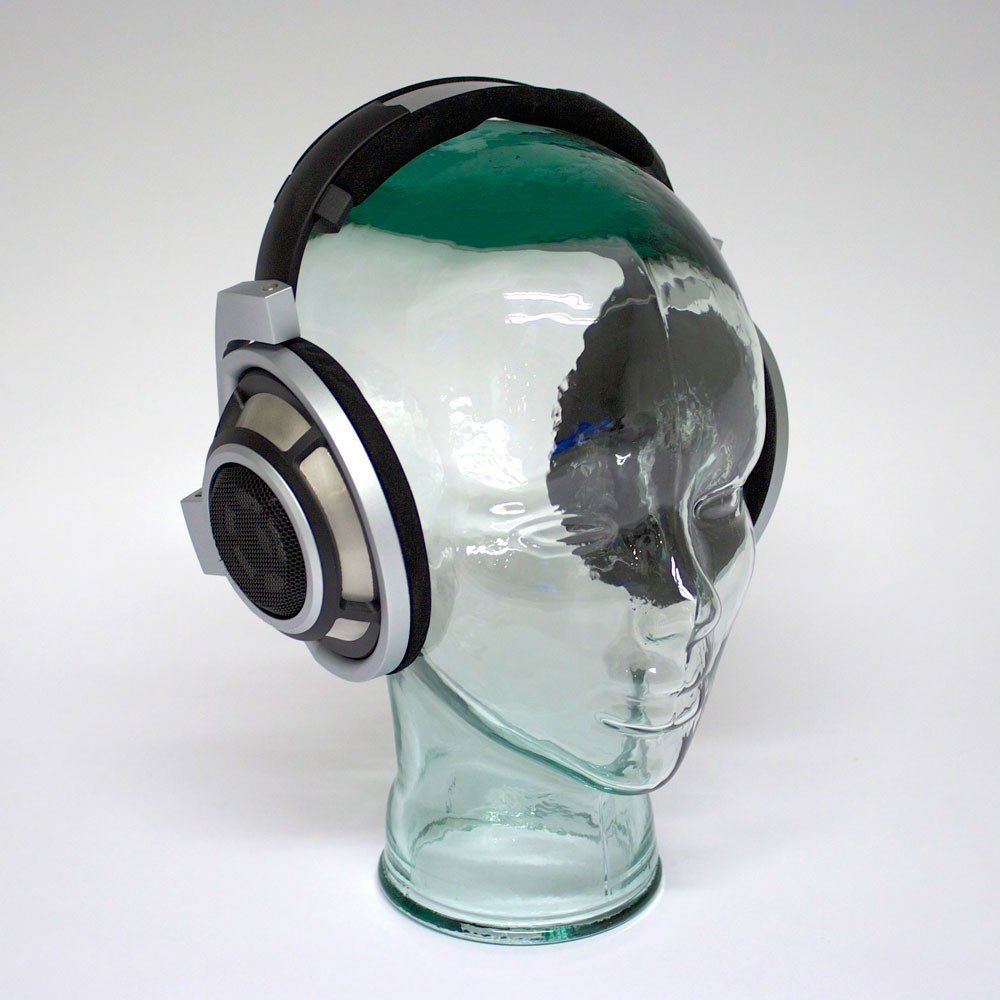 For the more avant-garde among us, a glass head could be a good choice to adorn your desk. It certainly looks a lot better than the head on my desk and serves as a high-concept headphone stand if you're a fan of transparent objects. Though it may stretch out your headphones a bit, that could be a benefit of the stand if your cans clamp on your head too hard. If I had more desk space, I'd consider this, but much like it is in Highlander, only one head survives in my office.
See price at Amazon
Patient Sleep Supplies Glass Head Display
Gamers, grab the Razer Base Station V2
Though it's a little more expensive, the Razer Base Station V2 has a lot of the features that keyboard warriors want in a headphone stand. By offering functionality as a USB hub along with a headphone jack and RGB lighting, it fits the bill as a product that comfortably supports a gaming headset.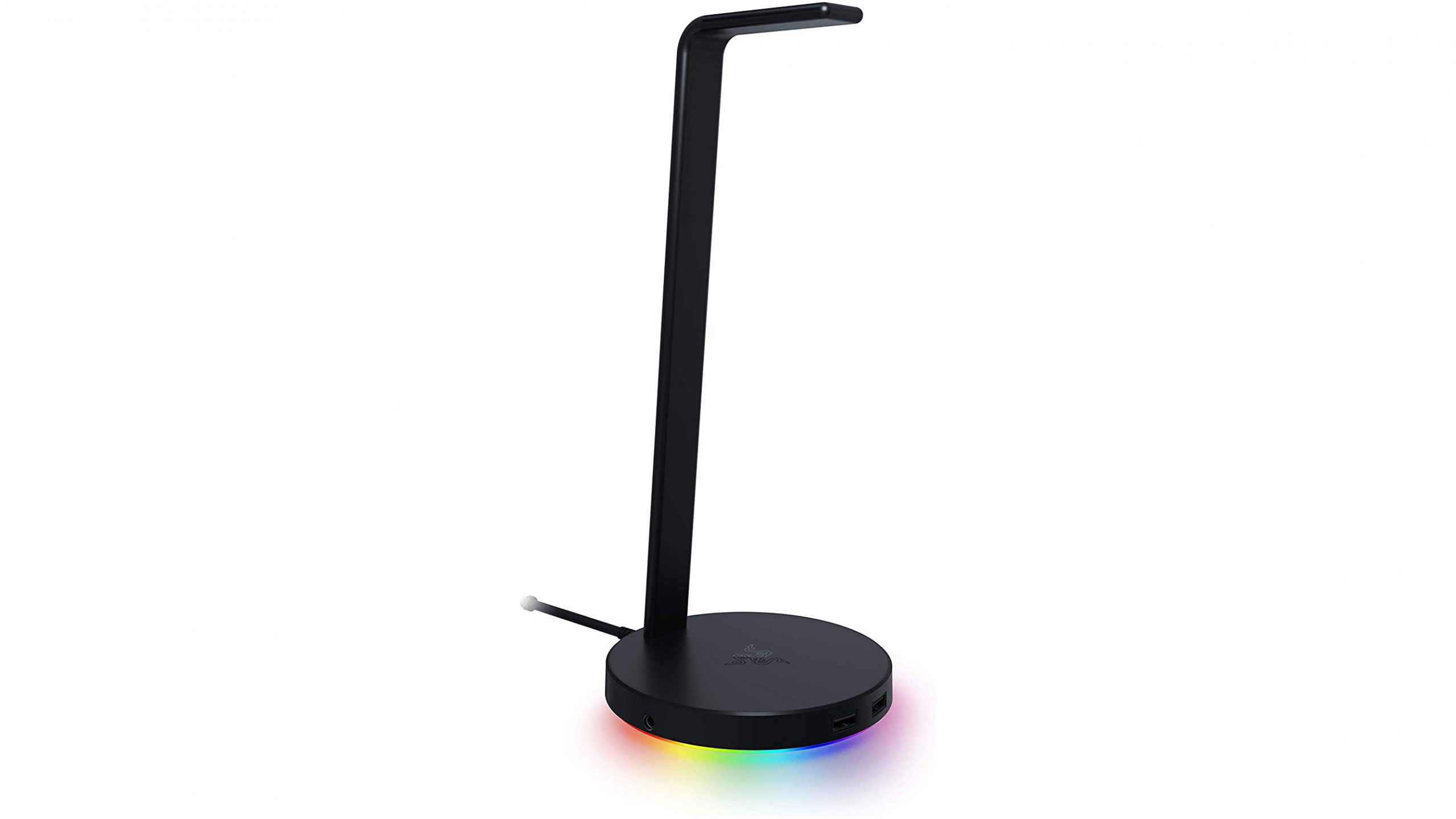 If you do decide to take advantage of the 7.1 surround sound, Razer's Synapse software has an EQ that will allow you to alter your sound—just be aware you'll need to use the headphone jack on the stand itself.
The ASUS ROG Throne has the best features
Easily the most expensive option on this list, the ASUS ROG Throne has everything but the kitchen sink thrown in for power gamers. A Qi charging surface, fast-charge USB 3.1 ports, a headphone jack, a DAC assembly, and an amp inside means there's a lot of hardware to support your gaming habit.
Sure, at $100 more than the Razer Base Station, it had better have a ton of features to justify the price. Still, as someone with way too many cables already I can tell you consolidating electronic devices into a small amount of desk real estate is quite the plus.
Save some cash with the Avantree Bamboo Headphone Stand
Avantree Bamboo Headphone Stand
9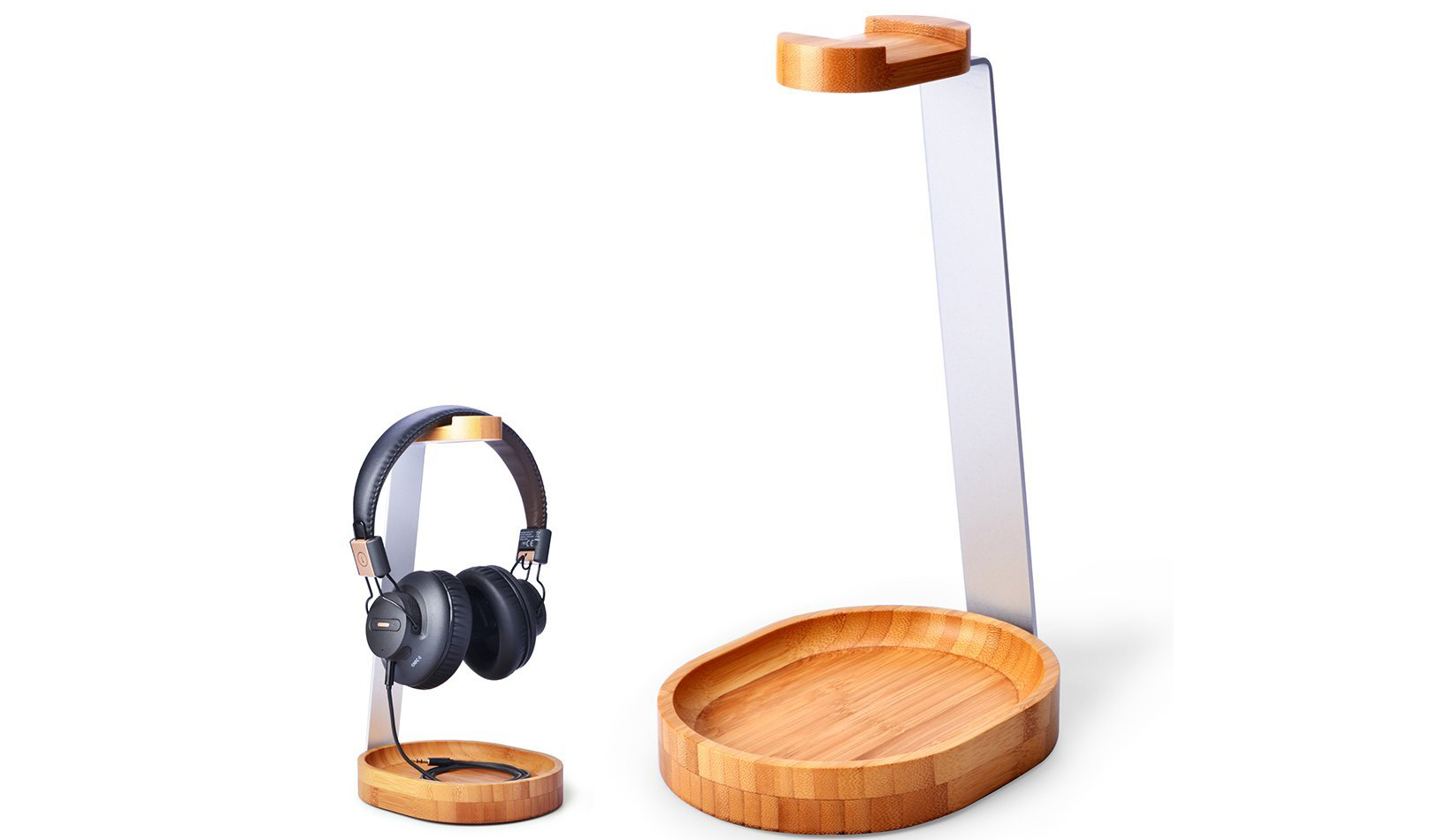 Avantree Bamboo Headphone Stand
Buy now
Bamboo enthusiasts will like Avantree's entry into the headphone stand arena. While it's fairly plain-looking, I appreciate the tray on the bottom to store the cables or whatever else you'd like to toss in there. The bamboo is a nice touch and should fit in on any solid-colored desk or dark-finish wood. It's not complicated, and at its price, it doesn't need to be.
Best headphone stands: Notable mentions
Bluelounge Posto: The holder on this stand is made of rubber and forms around the shape of your headphones' headband. It's very light and may not be the best for fragile headsets, but for only $13, it's not a bad deal.
Satechi Aluminum USB Headphone Stand: This option was among our best picks for a long time, so it's still a great headphone stand. However, newer models with more features knocked it down a bit.
Wooden Omega Headphone Stand: If you don't mind that this is an omega-shaped piece of particle board with a walnut finish rather than the real magoo, then this stand is a great buy for anyone on a budget.
EletecPro Headphone Stand: This is even more affordable than the Avantree headphone stand and maintains a low profile on any desk. For less than $15, it gets the job done and looks good doing it.
The Anchor: For less than $12, The Anchor descends from the bottom side of your desk or table and can hold two headsets at a time. It's about as minimalist as things get and remains securely fastened via 3M adhesive.
What about building your own?
If you are more interested in making your own headphone stand, there are a number of ways to accomplish this. Essentially, you want to make a simple support that won't tip over. You can either do that by making a structurally sound rigid object or an object that you can fasten to your desk or wall. The easy answer is to 3D print something you find on Thingiverse, but you could also make a design of your own, either with a 3D model or out of wood. Be aware that this will be more time-intensive, but it is a fun exercise.
Just be aware that you should pick your materials carefully and try not to have many sharp or catchy elements to the design if you have headphones with a cable. Similarly, if you have a set of Bluetooth headphones you want a stand for, make sure you're not setting up a charging cable to get caught or drag your headphones off of the table. Additionally, remember whatever design you make is going to have most of its weight near the top of the unit, so design with this in mind. It may mean you have to make a super dense or wide base or put your load-bearing fasteners near the top of your assembly!
Why you should trust SoundGuys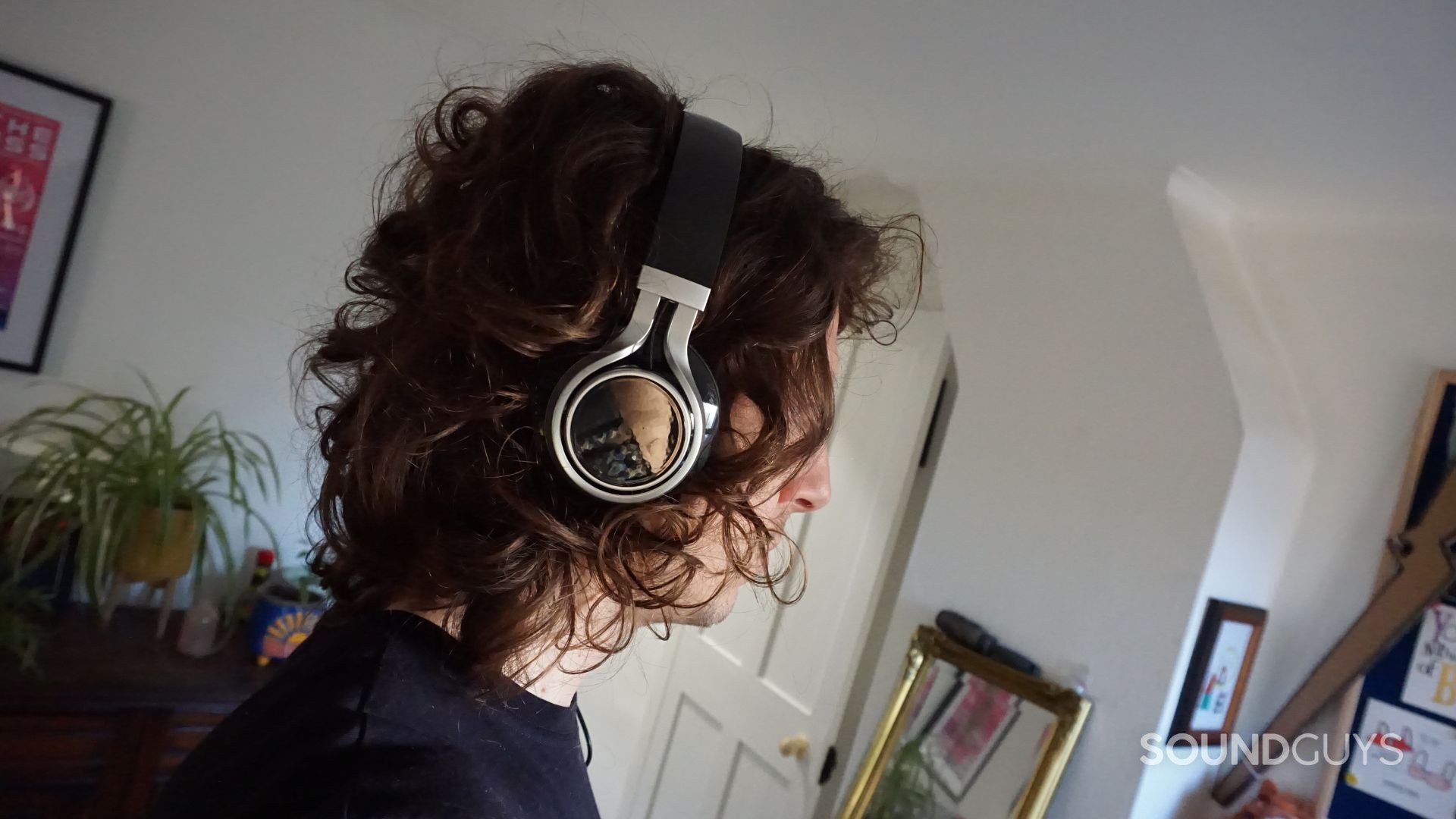 Although we predominantly focus on audio products like headphones and speakers, we recognize the demand for headphone peripherals. While we don't objectively test headphones stands the same way that we do wireless earbuds, we cull through user reviews and try to pick an array of designs to suit multiple tastes.
Frequently asked questions about headphone stands
It depends. If you don't already have a good place to put your expensive headphones, a headphone stand could help you keep them safe and increase their lifespan. You could also use a stand to display your favorite headphones in a prominent spot.
No. However, it can be useful to consolidate electronics and cables into one piece on your desk.
Not particularly, so long as it's inert or doesn't react chemically with your table.
While you can use a headphone stand to store audiophile-grade headphones on your desk or workstation, it might also be a good idea to store them inside a protective case to prevent any scratches, especially if you are going to be traveling with them.