All products featured are independently chosen by us. However, SoundGuys may receive a commission on orders placed through its retail links. See our ethics statement.
Best audio products at IFA 2019
All the best audio gear to come out of IFA 2019 in Berlin
Every year tech companies from around the world come together at IFA 2019 in Berlin to show off their newest products. Surprisingly, this year ended up being a really good one for audio products. This is great for anyone excited for new audio products, and giving awards this year resulted in more internal debating than in years prior. So without further ado, here are the best audio products at IFA 2019.
Sony 360 Reality Audio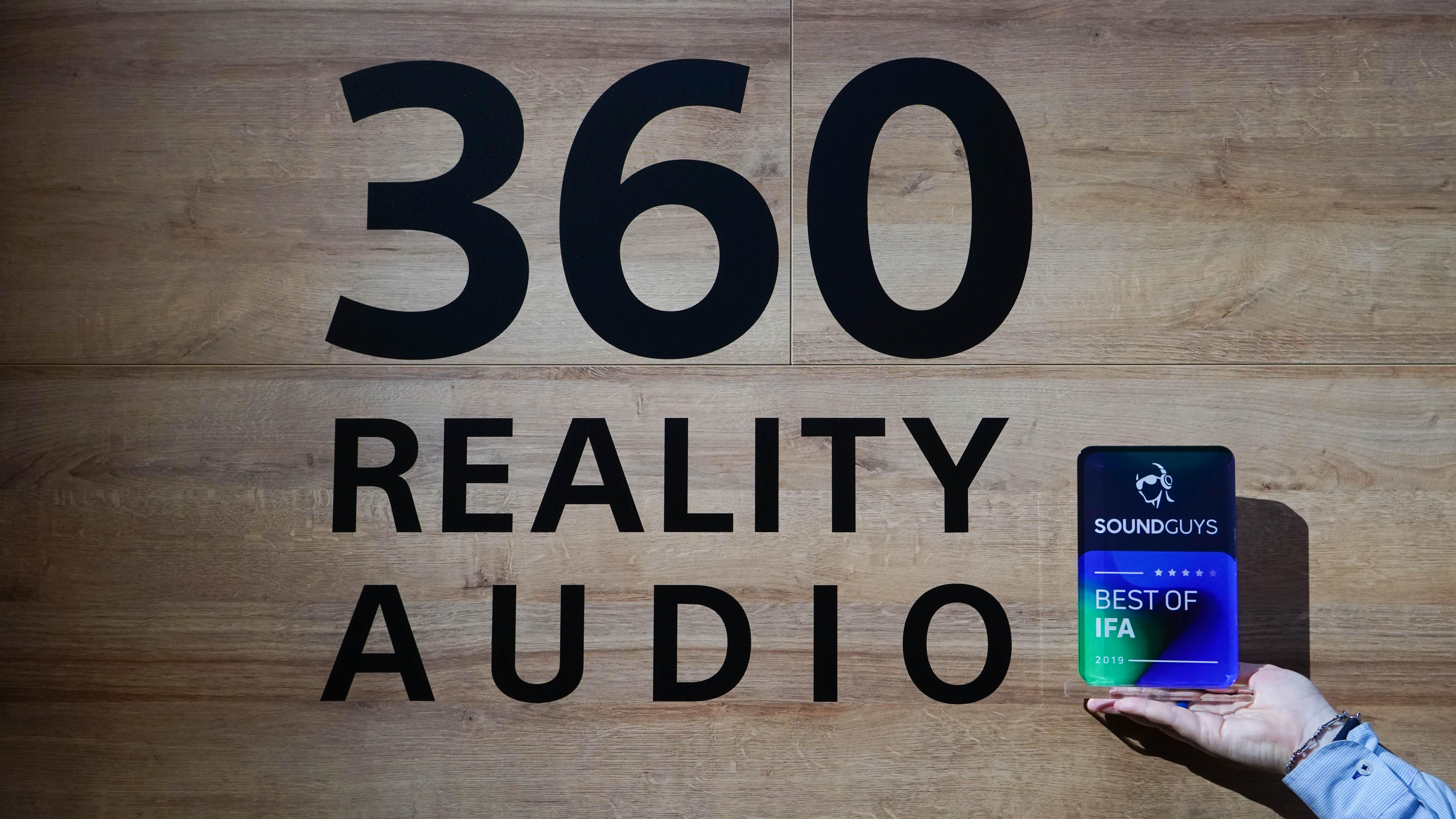 Okay, so we can't show ones and zeroes in a photo, but trust us: Sony's 360 Reality Audio is the best thing to come out of IFA this year.
Sony announced some cool products at IFA 2019 this year, but it wasn't a pair of headphones or a new speaker that stole the show. That award goes to their 360 Reality Audio software. Using a camera app that you can install on your smartphone, it will use machine learning in order to auto-DSP your audio based on the shape of your head and ears. What this means is that the software will be able to correct the headphones' response to your individual head, allowing you to create a near-perfect illusion of 3D space. Because Sony has such a gargantuan music library, their 3D remasters of your favorite tunes will span all the way to the late 70s. There are some limitations and it will only be compatible with high-resolution streaming services like Qobuz, Deezer, and Tidal on launch. On the bright side, it will work with any set of headphones.
Huawei FreeBuds 3
The Huawei Freebuds has always looked like a certain
other pair
of
true wireless earbuds
, but the new Freebuds 3 take a step past Apple with active noise cancellation. That's a big deal for the outside-the-ear design, as Apple currently doesn't offer any ANC in its model.
The new Huawei Freebuds 3 have active noise canceling.
The Huawei FreeBuds 3 are rocking an entirely new Bluetooth standard that operates on 5.1 and allows for 2.3 Mbps transfer speeds. Compare that to the 990kbps offered by LDAC which is the current industry leader, and you can see why these are interesting. A forced latency limit of 190ms also promises to keep audio-visual lag to a minimum when watching videos which should be nice for YouTube addicts. Plus, they come in black and white color options. Pretty sweet.
TCL RAY-DANZ
The TCL RAY-DANZ soundbar was among our picks for best of IFA.
IFA 2019 hasn't been entirely about headphones and there were some home audio announcements as well. One that caught our eye was the TCL RAY-DANZ soundbar, which has a unique design that helps it guide audio throughout the room thanks to acoustic reflectors. If you're familiar with surround sound, you can probably see where this is going.
By using acoustic reflectors, the TCL RAY-DANZ can simulate a wide soundstage.
Its ability to guide sound allows for a wider soundstage than you'd get from your regular TV speakers, and it simulates surround sound. It's even Dolby Atmos-certified and has dual side-firing speakers as well.
Monoprice Monolith M1070
The Monolith M1070 headphones are an updated version of the M1060, which was one of our top-rated over-ears.
The Monoprice M1060 planar-magnetic headphones are one of our favorite pair of over-ears, full stop. An upgrade wasn't expected but is always welcome. The new Monoprice M1070 promise to be a solid bang for your buck option for anyone looking to get into the planar-magnetic game, just like the M1060s before them were.
Monoprice Monolith HTP-1
Monoprice continues its bang for your buck approach with the feature-packed HTP-1
The team at Monoprice had more to announce than headphones, and their new home theater processor cleverly named the HTP-1 almost seems too good to be true. It's a 16-channel processor that features almost everything you can ask for. It's fully compatible with Dolby Atmos, DTS:X, Auro-3D, and even has Amazon Alexa functionality. The head-turning part of this announcement is that it also has Dirac Live Room Correction built-in. This means that it will tune itself to best perform in whichever room you put it in without any painstaking room treatment required from you. It'll run you about $3999 when its released—which isn't cheap—but if you know home audio, you know that its a great value.
Adidas RPT-01
Adidas' partnership with Zounds resulted in one of the best workout headphones released at IFA Berlin 2019.
One surprise to come out of IFA 2019 are the new RPT-01 headphones from Adidas. These were manufactured as a collab by both Marshall and Urbanears, so they have all of the standard specs you'd expect from a pair of headphones in 2019 including Bluetooth 5.0 and a 40-hour battery. Since Adidas is a sportswear/lifestyle brand, however, there are a few extra features thrown in that gym-rats will appreciate. They're IPX4-rated for protection against sweat and even go a step further with a completely washable fabric exterior. So the next time you have an extra hard workout, you can just wash the fabric instead of re-using your same smelly earpads.