All products featured are independently chosen by us. However, SoundGuys may receive a commission on orders placed through its retail links. See our ethics statement.
The bottom line
While the Beats Pro might be ideal for a certain type of environment, most people should save their money and opt for something with better sound and better features.
Beats Pro
While the Beats Pro might be ideal for a certain type of environment, most people should save their money and opt for something with better sound and better features.
What we like
Build quality<br>
Rotating earcups<br>
Good isolation<br>
What we don't like
Price<br>
Emphasis on bass isn't ideal for everyday use<br>
Padding is better than the plastic on something like the Solo3, but still uncomfortable<br>
Rating Metric
Sound Quality
7.3
Isolation / Attenuation
2.3
Durability / Build Quality
9.0
Value
5.0
Design
7.0
Connectivity
6.5
Microphone
8.0
Portability
7.5
When it comes to Beats headphones, you probably think of their Solo line, or even the Powerbeats if you frequent the gym. It's not that they're the best models, but they're definitely the most popular despite their high price tags. That said, those aren't the most expensive Beats you can buy. In fact, not even the Studio3 Wireless headphones with active noise canceling are more expensive than the pair of headphones we're looking at today: the Beats Pro. These aren't even wireless, yet they command a $399 price tag. So are they actually that good?
Editor's note: this Best Pro review was updated on May 1, 2021, to address include a content menu, add context to the sound quality section, and address the headset's discontinuation and viable alternatives.
Related: Best Beats headphones
Who should get the Beats Pro?
The Beats Pro are fairly large and weigh in at over 400 grams, making them pretty uncomfortable despite the padding.
These headphones were made for DJs. You'll see a common theme throughout this review, which is that unless you're a DJ who performs in super loud clubs, there really isn't any reason to spend your money on these.
How are the Beats Pro built?
One thing that I was immediately aware of is that these are not a light pair of headphones. Unlike the other Beats models that are made of plastic, these seem to be constructed mainly of metal. They weigh in at 405 grams which is one of the heavier headphones we've tested here. That said, it does give these a more sturdy feel than something like the Beats Studio3 Wireless which doesn't inspire nearly as much confidence when throwing them around.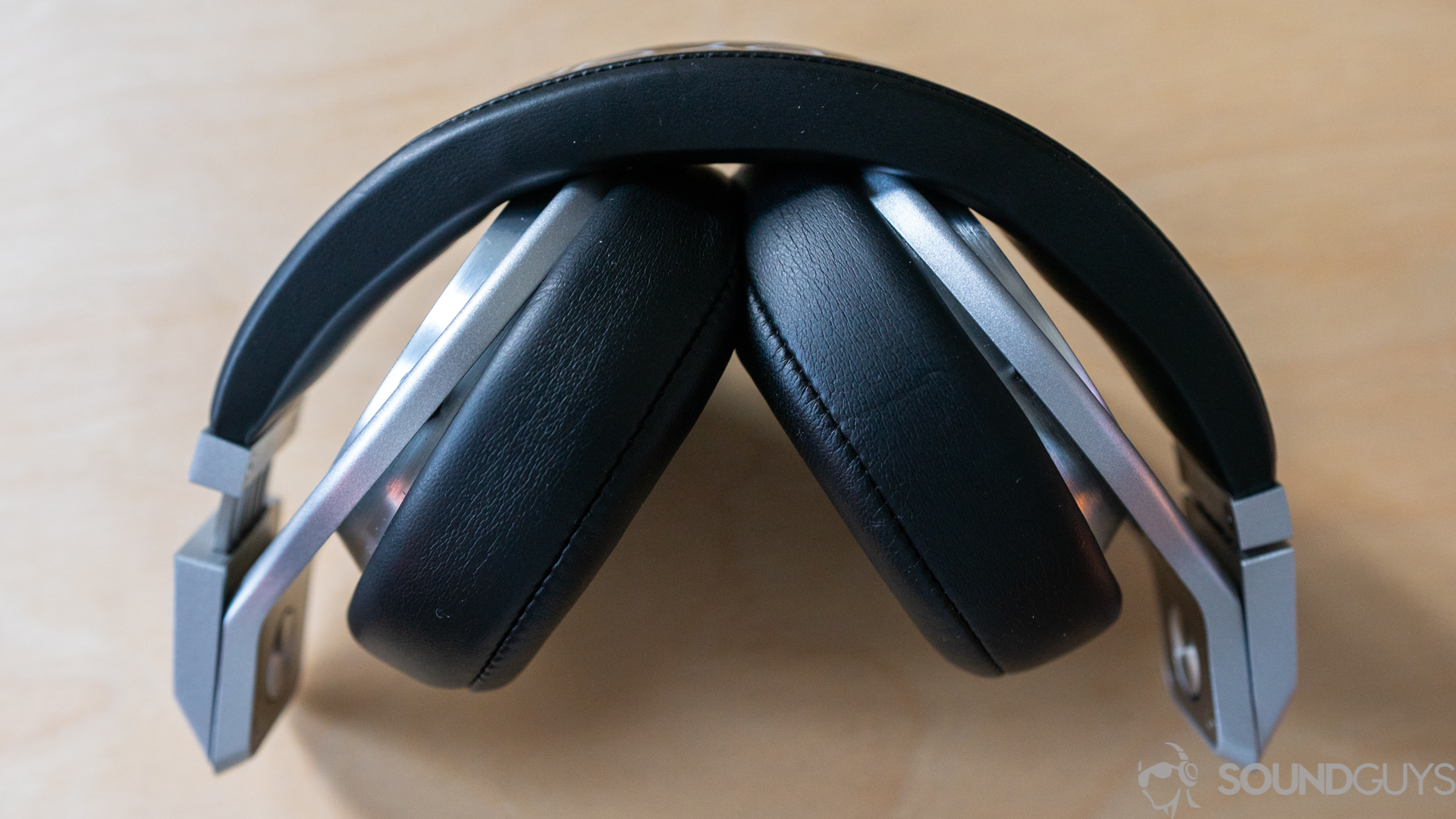 Once you rotate the ear cups they have a more compact footprint.
You won't find hinges here for folding these for easy storage, but they do have a stiff swiveling mechanism that allows you to get the same footprint as they would if they had hinges. I actually like this mechanism as it seems to be more sturdy than hinges, and therefore harder to break. Keeping with that durable mentality, the 3.5mm cable is removable so if it does happen to break in the future you can just get a new cable instead of needing to drop another few hundred dollars on a new pair of headphones. There are also dual-3.5mm inputs on either earcup so you can choose whichever one you want when using them.
On the downside, these headphones are seriously lacking in the comfort department. Beats seem to have worried so much about making them durable that it forgot that people are going to be wearing these. The clamping force is so strong that even with all the padding, it mainly felt like I was wearing metal. To be fair, the strong clamping force is as much of a good thing as it is bad because I didn't have any problem with these falling off at all. When a pair of headphones is heavy they tend to slip forward on my head every time I look down, but that wasn't the case here at all. I'm also not a huge fan of the padding which isn't plush enough to make these comfortable, though it's loads better than the rubber plastic you'll find on the Beats Solo Pro or Beats Solo3 Wireless which, admittedly, is a low bar to clear.
How do you connect the headphones?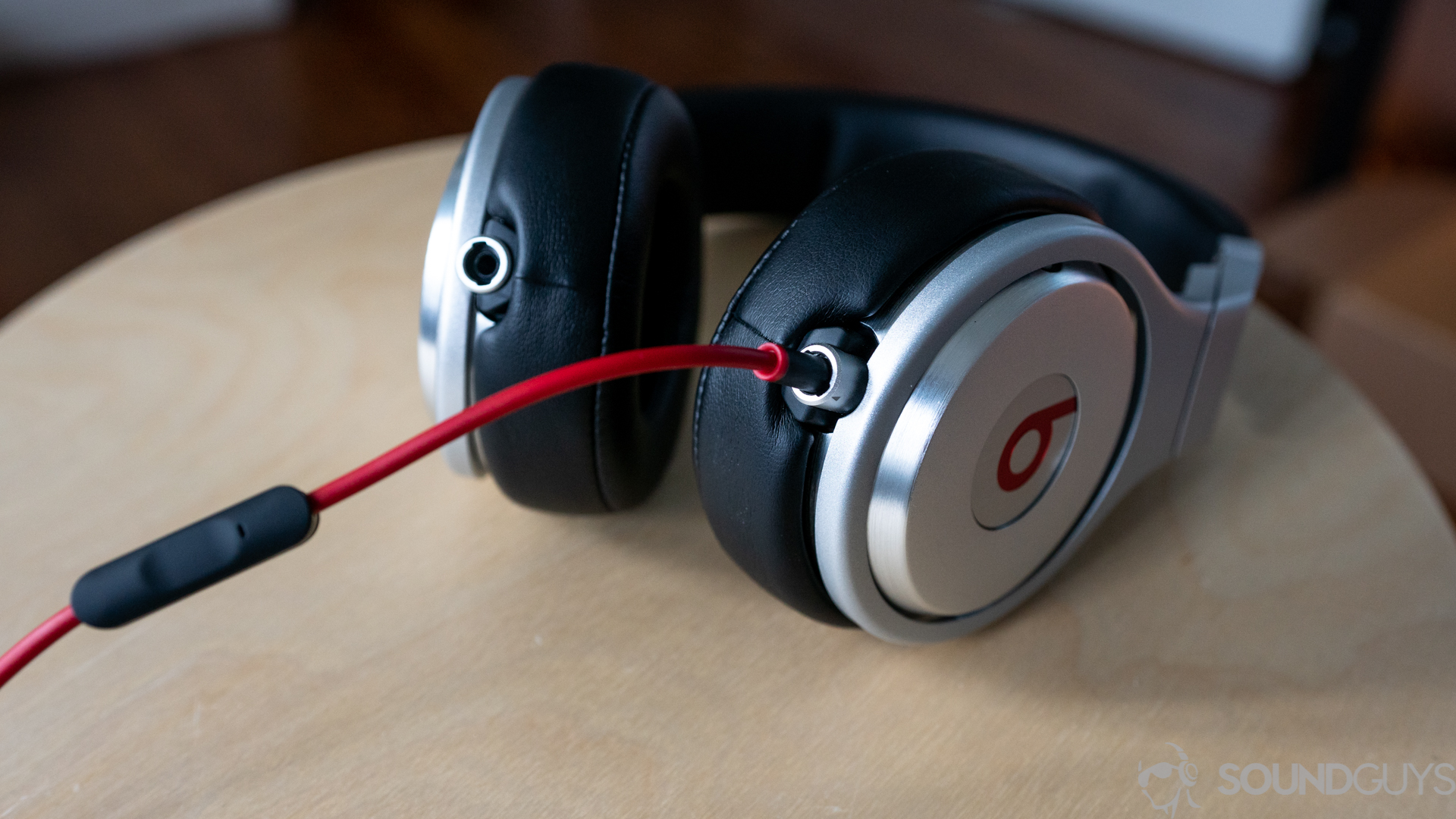 The cable is fully featured on iOS devices, but you'll miss out on some playback controls if you're on Android.
While Beats (and Apple in general) has gone wireless route since the removal of the headphone jack, but the Beats Pro has not one, but two 3.5mm inputs. I found this useful for switching the audio cable depending on what's more convenient at the time. For example, when walking around with my phone in my right pocket I have the cable going into the right ear cup. But while sitting at my desk with my laptop docked to my left, I plugged the cable into the left ear cup. The feature is mainly so you can daisy chain what you're listening to with your friends, but I've honestly never seen anyone do that in real life. And if you do, might I interest you in this new technology called a Bluetooth speaker?
The Beats Pro comes with the standard remote talk cable with a built-in mic for when you're plugged into your smartphone and another 4.2mm cable with a 3.5mm twist lock. Unfortunately, our unit was purchased used and only came with the remote talk cable. On iOS, this cable allows you to pause/play music, answer phone calls, skip between tracks, adjust volume, and access your phones personal assistant. If you're using an Android phone you'll have to live without skipping between tracks or volume controls.
Do the Beats Pro sound good?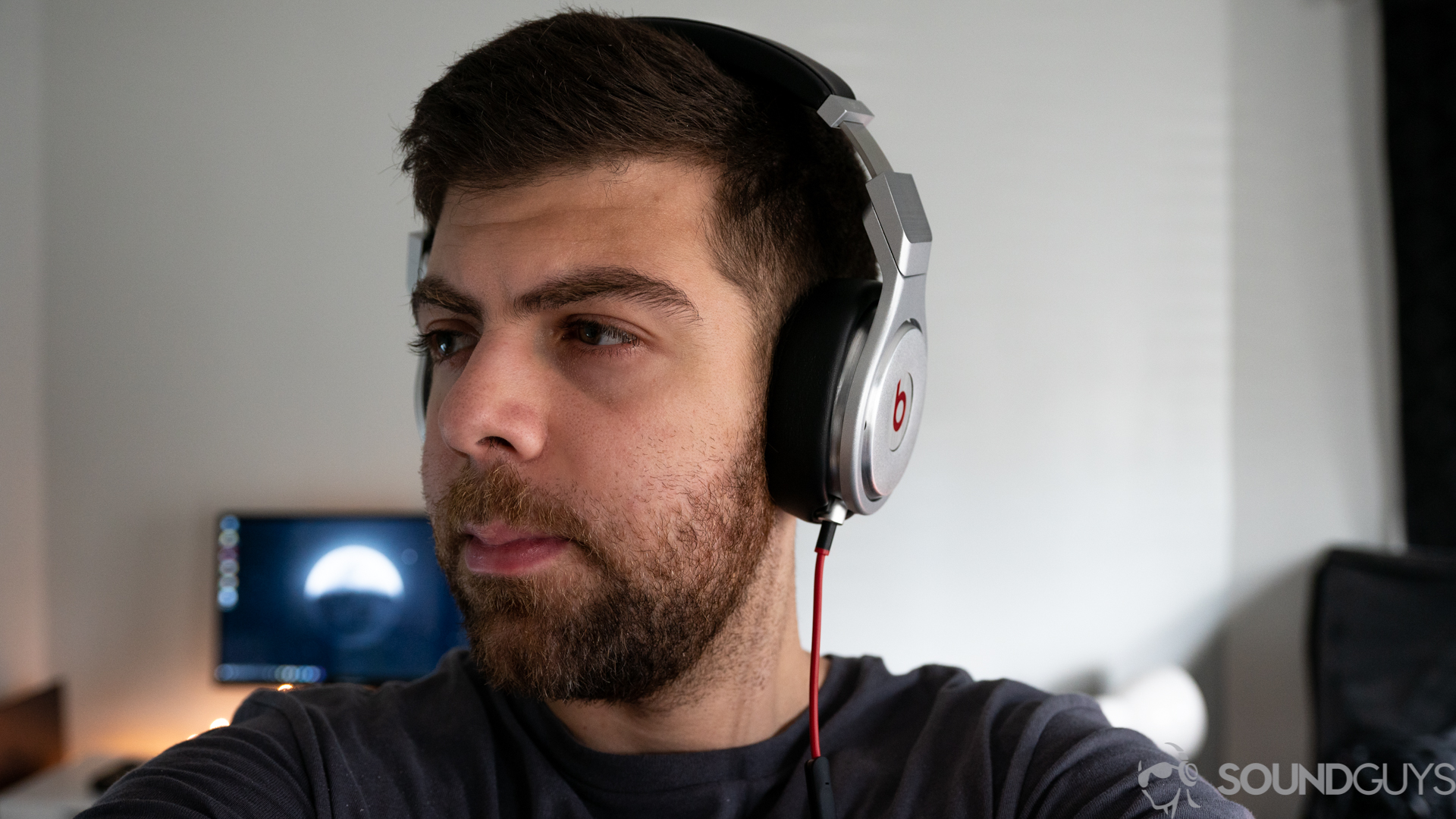 Wearing the Beats Pro can get uncomfortable during long listening sessions.
The Beats Pro headphones are marketed towards DJs and sound engineers, and I can really only get behind one of those recommendations. If you're going to be working with editing audio, you're probably off with a pair of studio headphones (not those) that has a more flat frequency response so that you know what you're working with.
The Beats Pro headphones are far from flat, with a decent emphasis on bass that can end up masking some of the mids at times, especially in the song Stayin' Alive by the Beegees. That said, this kind of bass-first sound might actually be helpful to people who need to listen to their music in loud places, like a DJ. Due to auditory masking, bass is usually the first thing to get drowned out by outside noise. So by emphasizing the lower notes DJs will be able to more easily hear what's going on in their headphones. The mids are audible, but if you're looking for clarity you won't find that here which is why these probably aren't the greatest for audio editing. The same can be said when it comes to the highs, which never get harsh but definitely take a backseat to everything else.
A good example of this can be heard in the song Howling At Nothing by Nathaniel Rateliff & The Night Sweats. The vocals throughout the chorus are audible, but if you didn't know the song was supposed to have backing vocals by the rest of the band they're easy to miss. The bassline just completely takes over. Then there are the cymbal hits which seem to disappear almost as soon as they're hit. On the bright side, these do get extremely loud which, again, makes them good for people who are going to be in loud situations. But in everyday use, I never found myself going past roughly 40% volume for fear of hearing loss.
The Beats Pro are discontinued, so what should you get instead?
The Beats Pro may be discontinued, but there are other headphones you can try that are less expensive and more portable, like the V-Moda Crossfade Wireless II. That said, as far as working professionally with audio I would never recommend these over something that's tried and true like the Sony MDR-7506 headphones, which are also significantly less expensive. If you really want to wear the Beats logo, there are cheaper and more practical ways to spend your money than blowing it on these.