All products featured are independently chosen by us. However, SoundGuys may receive a commission on orders placed through its retail links. See our ethics statement.
Apple AirPods vs Sony WF-1000XM4
This comparison boils down to a lot more than just fit.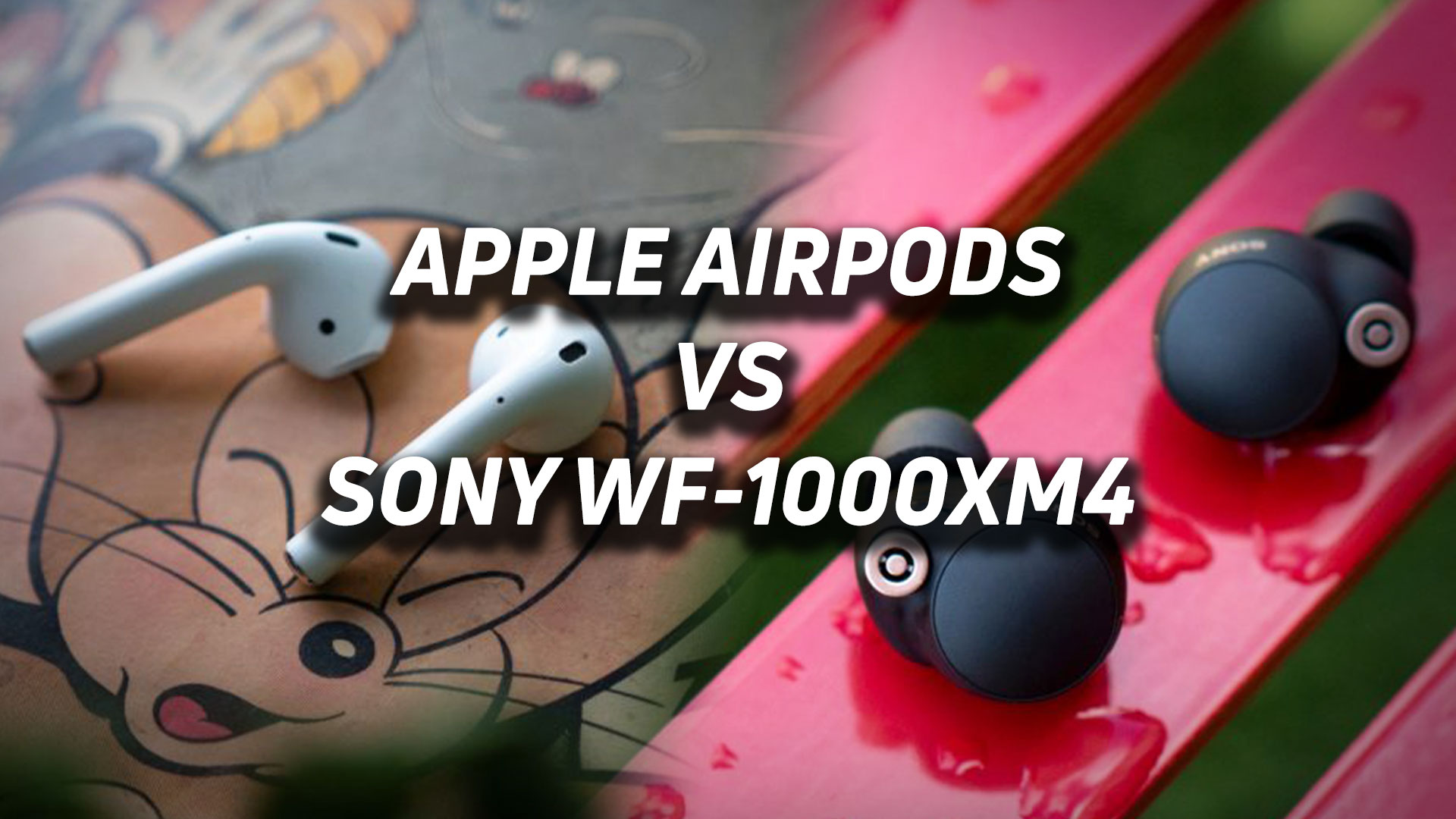 Though the Apple AirPods is a few years old and probably a little behind the times, it's Apple, so it's still relevant. The Sony WF-1000XM4, on the other hand, is a brand new pair of true wireless earbuds with active noise canceling. These sets of true wireless earbuds are as different as they come, so today let's go over which is right for you.
Editor's note: This article was updated on August 16, 2021, to mention the Sony WF-1000XM3. 
Do the AirPods or Sony WF-1000XM4 have a better design?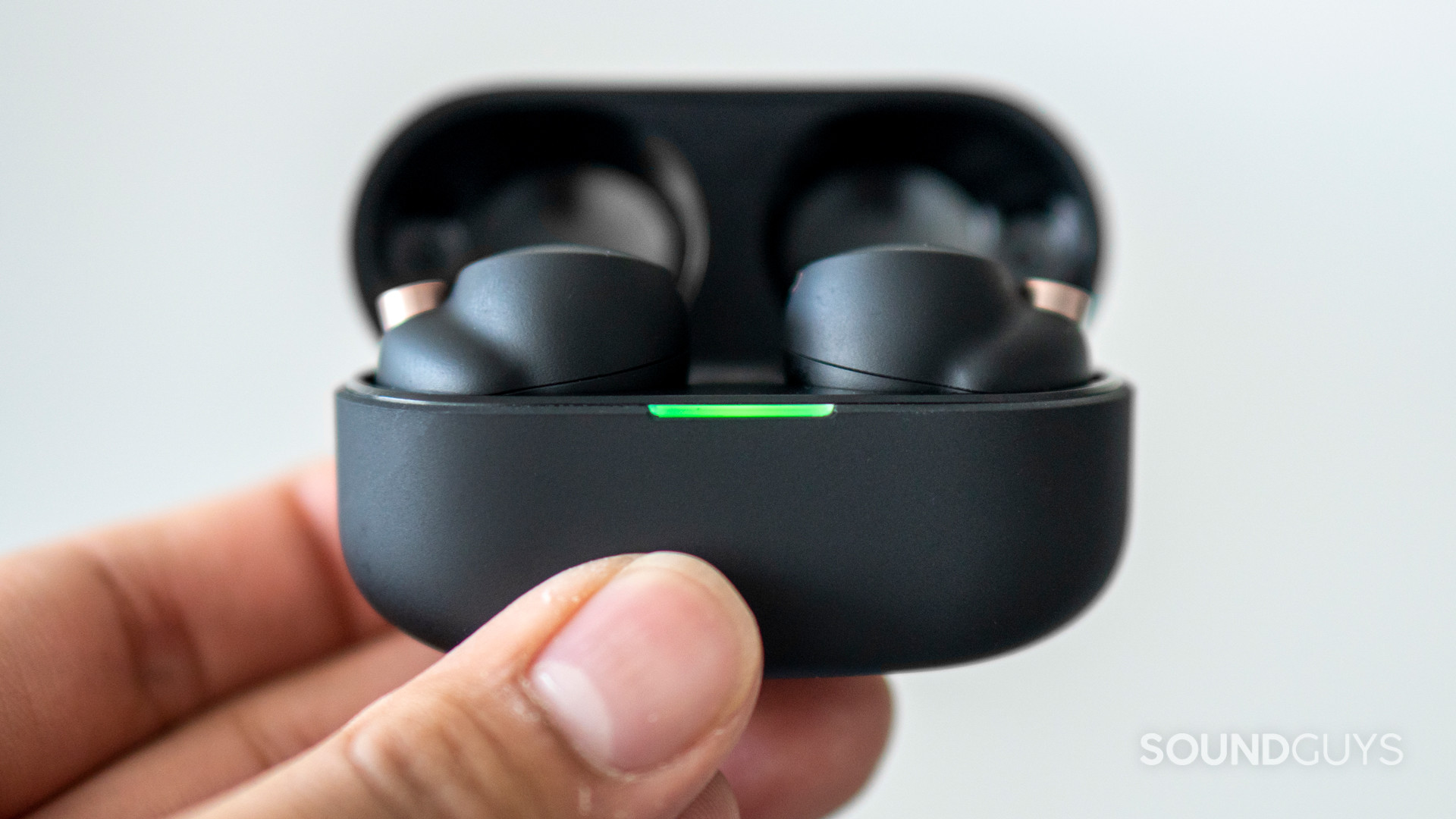 Pairing the earphones is easy after the first time.
The Apple AirPods has a funky design with its stemmed true wireless earbuds and an open-type fit that inhibits isolation. Those who hate the clogged ear feeling of many earbuds may prefer this type of fit, but if the hard tips don't fit perfectly in your ears, you'll probably be in pain wearing them for long sessions. Unfortunately, the Apple AirPods also doesn't have any water resistance IP rating, so we can't confidently recommend it for workouts.
See also: What makes a good set of in-ears?
The Sony WF-1000XM4 takes a very different approach to its design. It doesn't have any stems, which could make it less stable, but fit is one of its best qualities. It comes with three pairs of polyurethane foam ear tips that maximize sound isolation, keep the buds snug in your ears, and ensure comfort. This headset also has an IPX4 rating, which means it isn't waterproof, but it can handle a fair bit of sweat.
How is the Bluetooth experience with each headset?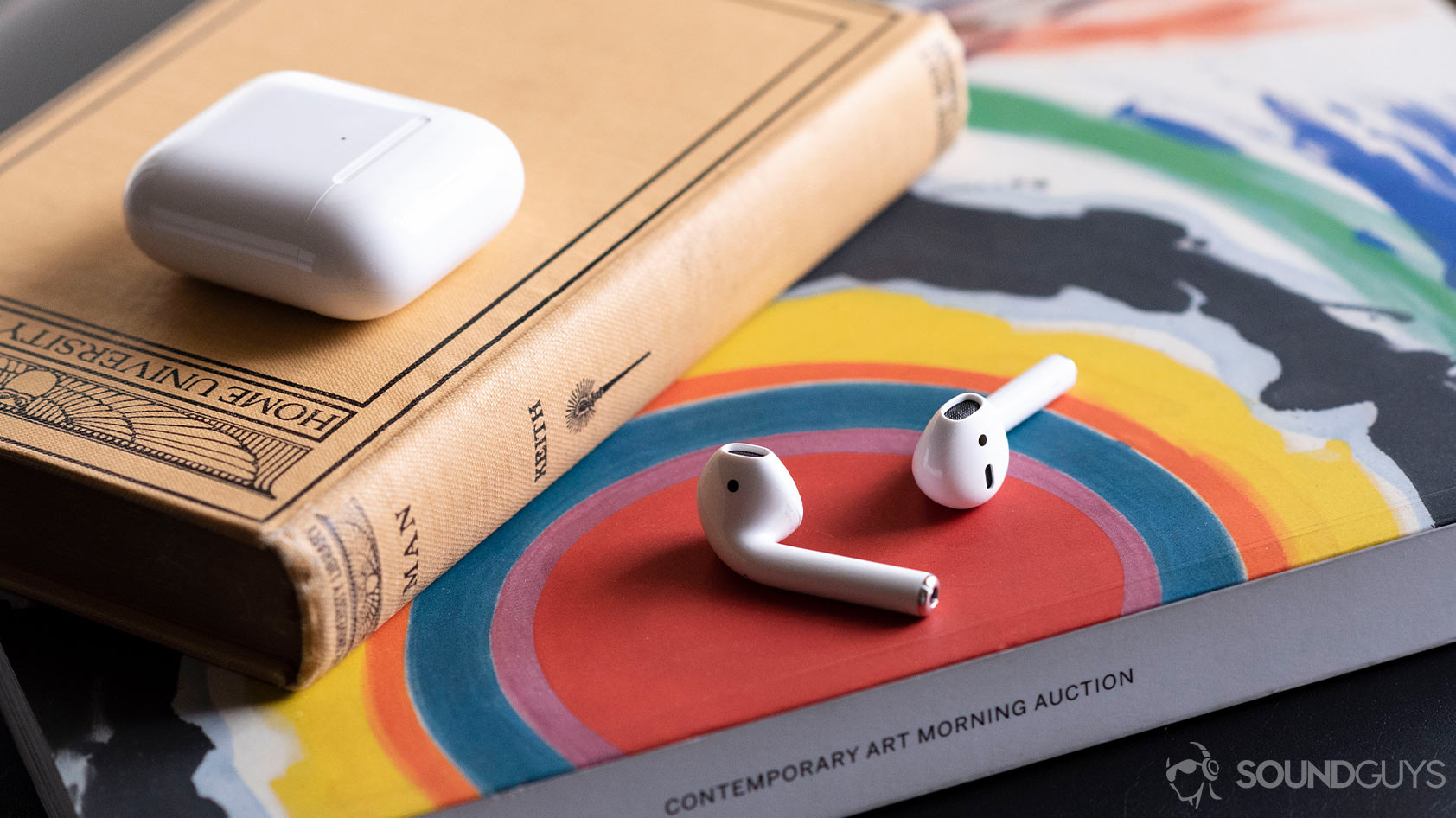 The AirPods don't seal to the ear, making it difficult to move around with them in—let alone exercise with them.
Pairing the AirPods to an iPhone is a cinch, since the earbuds house Apple's H1 chip. Just open the charging case near your iPhone and a pop-up will appear on the phone's screen, prompting you to pair it. Once you pair it with one of your Apple devices, it will automatically connect to all devices under your iCloud account. You'll be able to switch between devices with ease, just like how you would with Bluetooth multipoint. If you use your AirPods with an Android phone, you'll need to dive into your Android phone's Bluetooth menu to initiate pairing like any other device. The AirPods supports two Bluetooth codecs: SBC and AAC, which means that some Android handsets won't transmit reliable, high-quality streaming rates, as AAC is unpredictable on Android.
The Sony WF-1000XM4 supports Google Fast Pair and Windows Swift Pair, both of which effectively emulate the AirPods-to-iPhone pairing process, but if your phone or laptop doesn't meet these requirements, you have manually pair the earbuds to your device: remove the buds from the case and hold down both touchpads for 6 seconds to enter pairing mode. Then you can select it from your device's Bluetooth menu.
The Sony WF-1000XM4 is one of the first headsets to use Bluetooth 5.2 which means it could support LE Auido and the LC3 codec in the future. For now, the WF-1000XM4 uses SBC, AAC, and Sony's LDAC codec, so all your devices can support high-quality audio.
Is the Sony WF-1000XM4 or Apple AirPods easier to control?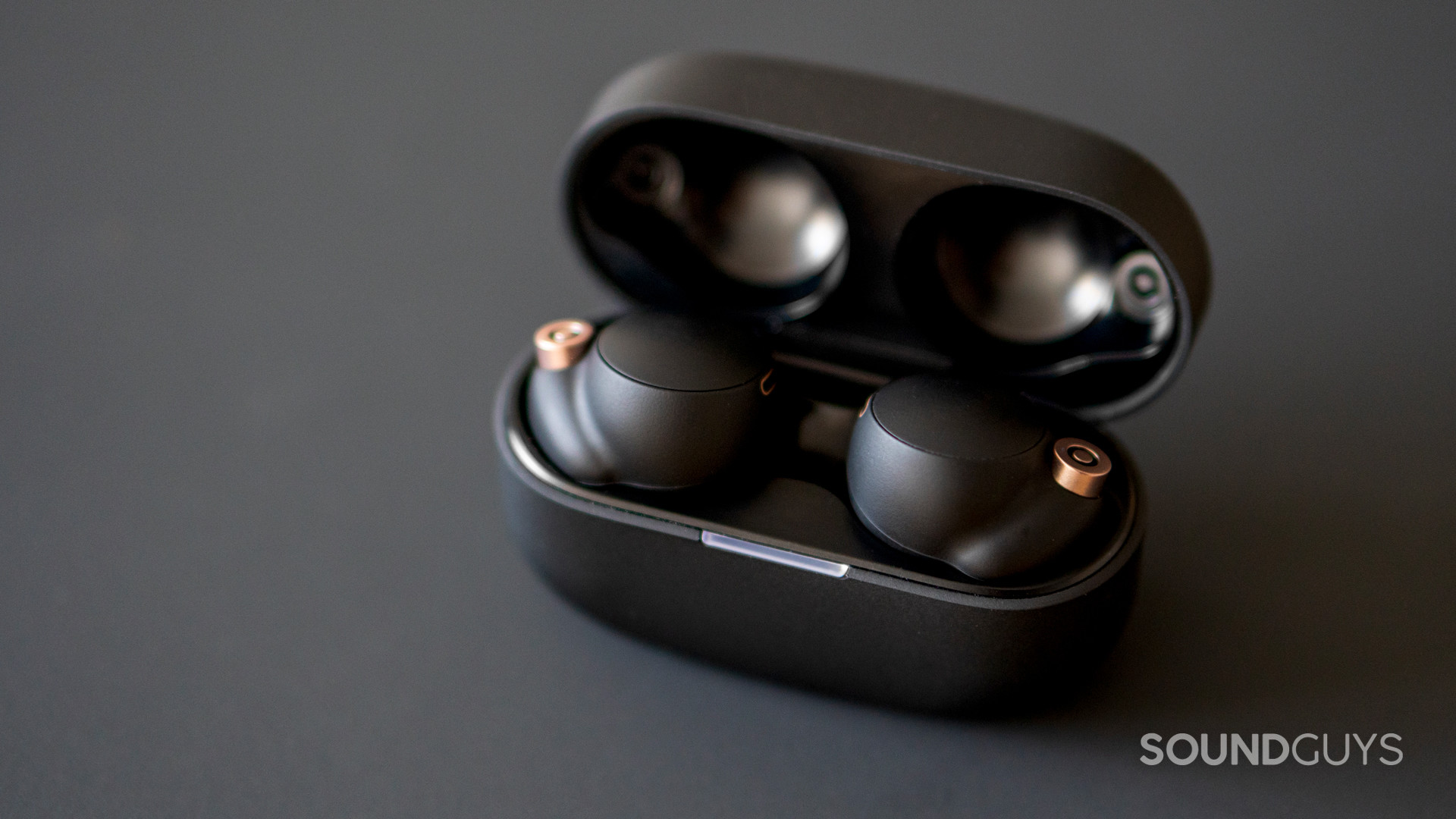 The addition of the copper ANC mic housings make the Sony WF-1000XM4 a bit more glam.
Once you link your AirPods to your iPhone, you'll control it via sensors, voice controls, and a few touch controls. To pause and resume playback, simply take the earbuds out of your ears. The AirPods has "Hey, Siri" functionality, which you need to control the volume of your earbuds. Double-tapping either earbud can trigger a number of things you can select in your iOS settings. The options include Siri access, play and pause, skip forward, and skip backward.
You don't get the same level of customization when you use the AirPods with an Android device, since there's no H1 chip compatibility or a compatible app. Android doesn't support automatic pause and play with the AirPods, but you can access Google Assistant with a double-tap of the earbud.
The Sony WF-1000XM4 is primarily operated via touch controls on both earbuds and also has automatic ear detection. Like the AirPods, you can't use the onboard controls to adjust volume levels. However, you can control ANC and ambient sound, pause and play media, skip forward and backward, answer calls, and activate your smart assistant.
You need an iPhone to use most of the AirPods features, while the Sony WF-1000XM4 works with any OS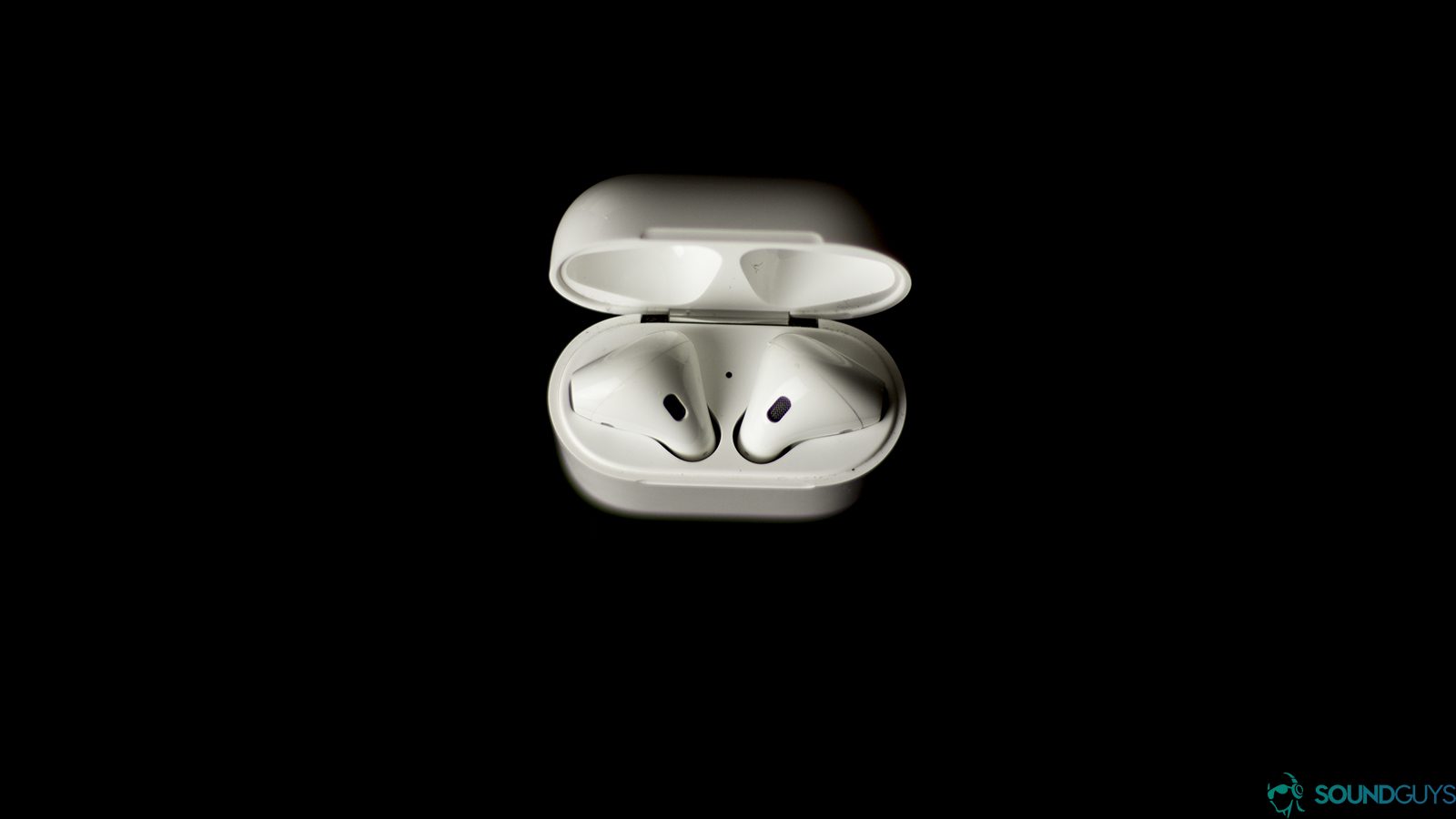 The AirPods charging case provides three hours of battery after just 15 minutes of charging.
This may be more of an iPhones versus everybody else competition than an AirPods vs Sony WF-1000XM4 competition. You need an iPhone to experience quick pairing, remap the touch controls, and quickly switch source devices with the AirPods. There's no "AirPods app" that you can download to access extra features on Android. Also, a definite downside of the AirPods is that you can't equalize the frequency response on either platform.
The Sony WF-1000XM4's companion app offers quite a bit in the way of features, and it is available for download on iOS and Android alike. The Sony Headphones Connect app has an ear tip fit test that helps you determine if you're using the right set of foam ear tips. You'll also be able to configure the touch controls and equalize the sound profile. The Sony headset also offers 360 Reality Audio which is supported on Tidal, Deezer, and Amazon Music HD, and mimics the effects of surround sound. On top of the ambient sound mode and active noise canceling, Sony offers a feature called speak-to-chat, which activates transparency mode when it detects you speaking. You can disable this feature if you'd like because many users find its hypersensitivity annoying.
Which earbuds have better battery life?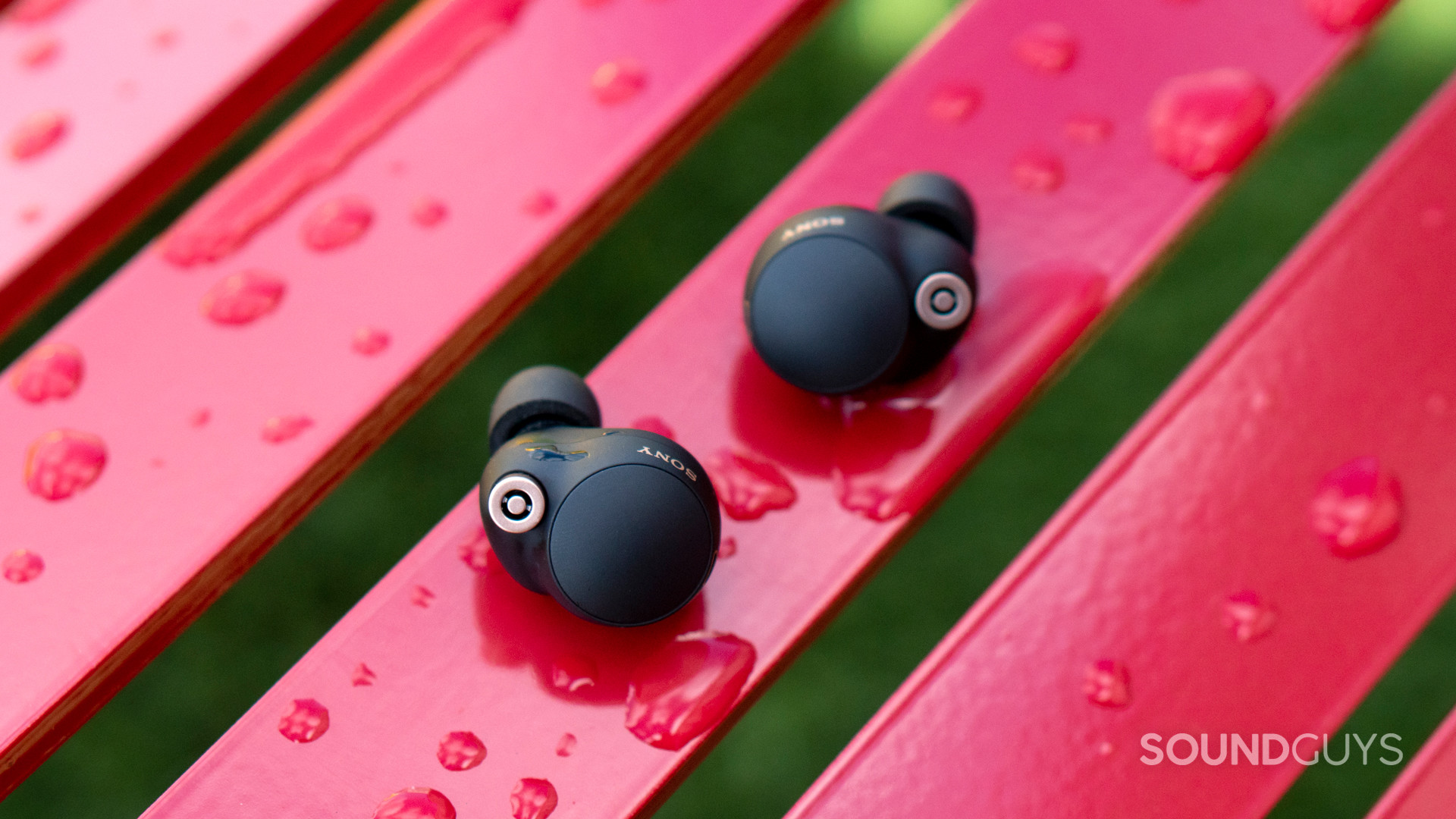 An IPX4 rating means splashes, sweat, and humidity won't kill your earphones.
On a single charge, the Apple AirPods lasts 4 hours, 7 minutes, but this number is a bit worse when the buds are paired to an Android device, clocking in at 3 hours, 29 minutes. The case also holds reserve battery which should bring the total playtime to about 24 hours of listening to music or 18 hours of talking on the phone.
The Sony WF-1000XM4 has a much better battery life—it lasts 7 hours, 43 minutes with ANC enabled, and with the case should last just under 24 hours. If you're not using ANC, the buds will last almost 12 hours on a single charge. Using LDAC to stream music drops battery life to about 5 hours.
Both sets of earbuds are compatible with Qi wireless charging, but you'll have to pay an extra $50 for a compatible AirPods case to gain this functionality. Otherwise, the Sony WF-1000XM4 charges via USB-C, and the Apple AirPods charges via lightning USB.
Only the Sony WF-1000XM4 has active noise canceling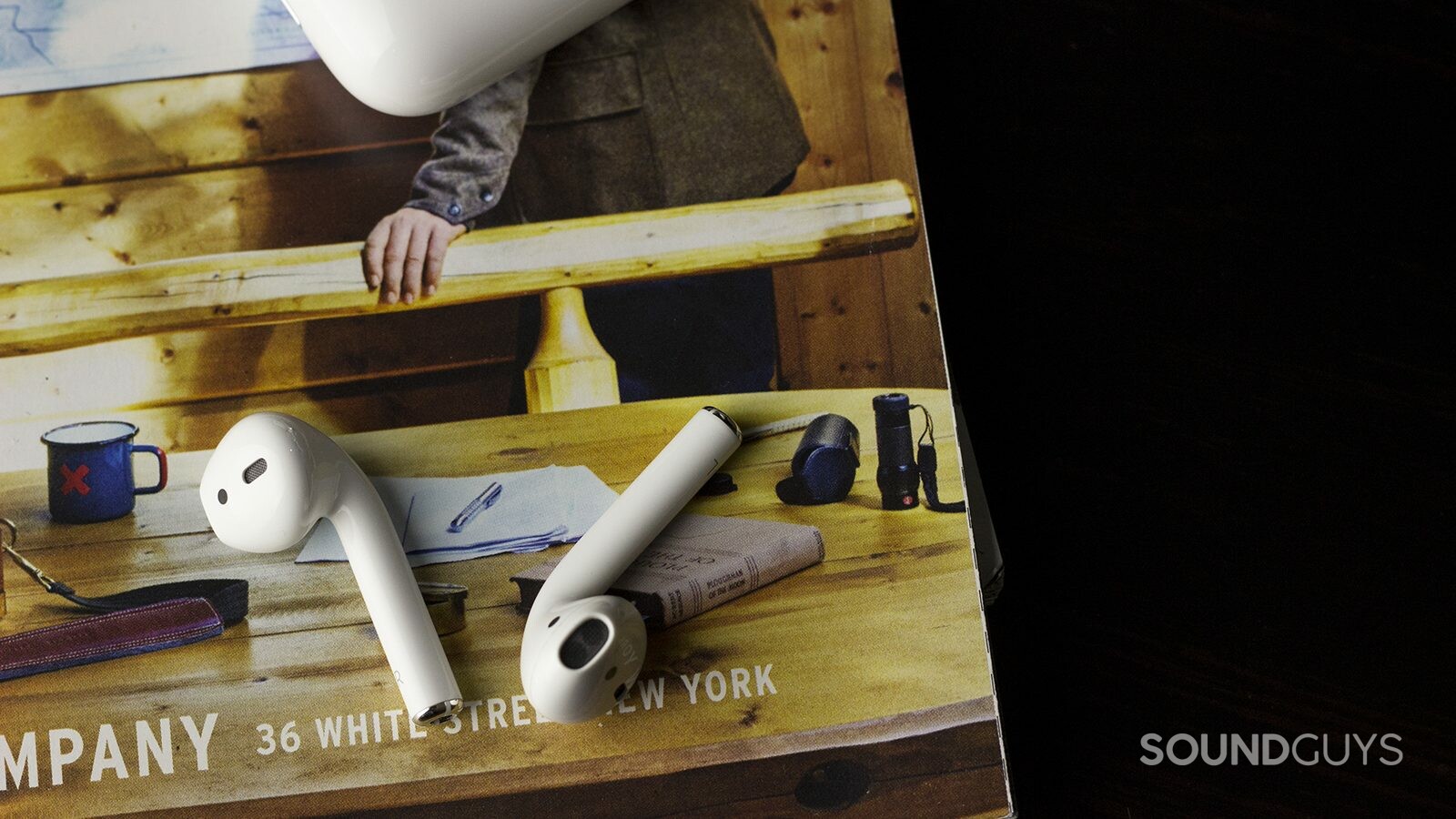 The Apple AirPods is easy to connect, if connecting to an iOS device. Android users will have a more fraught time.
The Apple AirPods does not have active noise canceling, and hardly isolates you from your surroundings. The lack of silicone or foam ear tips is by far the biggest drawback of these buds. Even if they do fit you just fine, they probably won't block out any low-frequency noise like engines or the sound of a dishwasher. High-frequency isolation is also pretty weak. Also, anyone sitting next to you on the bus will probably be able to hear what you're listening to, so be careful not to blast any music from your guilty pleasure playlist. None of this should be a surprise, seeing how the earphones don't actually seal to your ear canals.
In stark contrast, the Sony WF-1000XM4 has really great active noise canceling and passive isolation. Thanks to the memory foam ear tips, it's almost guaranteed you won't hear any high-pitched noise like people talking when you're wearing these buds. Turn on the active noise canceling and the same goes for low-frequency noise. If you need a portable headset to bring on airplanes that will protect your hearing, the Sony WF-1000XM4 might just be the way to go.
Does the Sony WF-1000XM4 or AirPods sound better?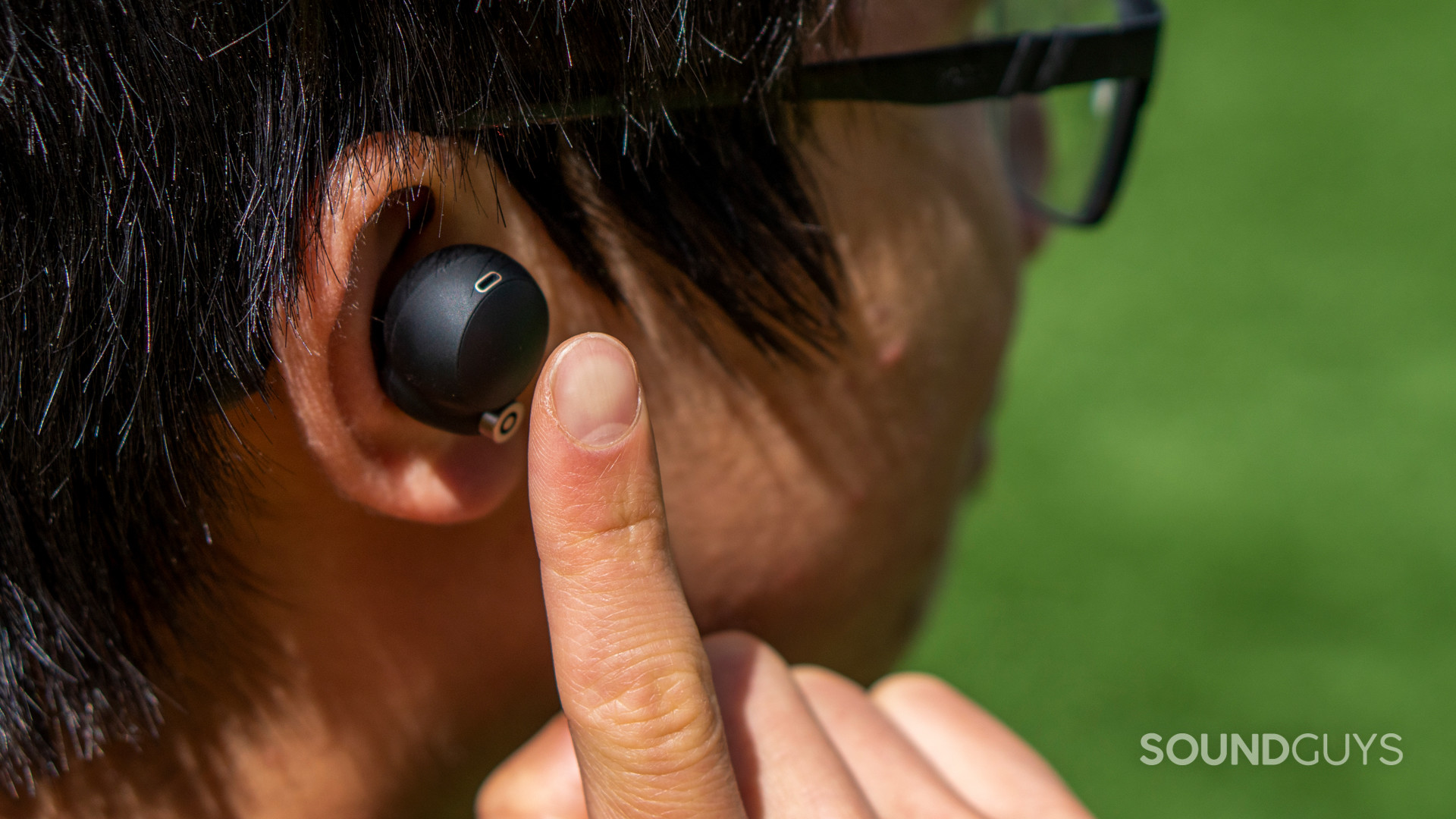 The capacitive touch controls are straightforward, but somewhat customizable.
Lack of passive isolation aside, the Apple AirPods sound okay. The frequency response is somewhat bass-heavy, but this shouldn't pose a huge issue: the lack of isolation means bass notes need a boost to be audible in noisy areas. If you're listening with your AirPods at home, the bass might come across a little strong, but most people enjoy that anyway. The slight boost in the high frequencies also means vocals will come through clearly.
There is also a consumer-friendly sound profile built into the Sony WF-1000XM4, though you can make adjustments to it by dropping the bass response a bit. The bass frequencies are boosted and the high frequencies are somewhat de-emphasized compared to our target. This de-emphasis makes it hard to hear vocal detail, and cymbals and guitar resonances may seem muted. The WF-1000XM4 also has Sony's DSEE Extreme which is software that upsamples low-quality files.
Which set of earbuds is best for phone calls?
The AirPods charging case is small and can easily fit in your shirt pocket, unlike the case of the Powerbeats Pro.
The mic on the Apple AirPods is fine, but it doesn't include the software of the Sony WF-1000XM4. The Sony headset's mic will differentiate between your speaking voice and background noise and emphasize your voice.
Apple AirPods microphone sample:
Sony WF-1000XM4 microphone sample:
Which microphone sounds better to you?
1013 votes
Should you buy the Apple AirPods or Sony WF-1000XM4?
The Sony WF-1000XM4 is a better pair of earbuds by basically all measures. It has active noise canceling, a software equalizer, longer battery life, intelligent features like 360 Reality Audio, and more. Unless it's really important to you to have streamlined pairing with your iPhone, we'd recommend everyone—iPhone or Android user—get the Sony WF-1000XM4 over the Apple AirPods.
Sony WF-1000XM4
All prices listed in USD unless otherwise specified. Prices may change over time, and vary by region. Unfortunately, we cannot list Amazon prices on the site, as they vary greatly by currency.
The Sony headset is pretty pricey, and some people actually prefer earbuds that don't create a seal to their ears with silicone or foam ear tips. If you're one of these people, you should consider the Apple AirPods. However, if you fit this description but don't have an iPhone, we'd recommend considering some alternative non-sealing earbuds such as the Mobvoi TicPods 2 Pro.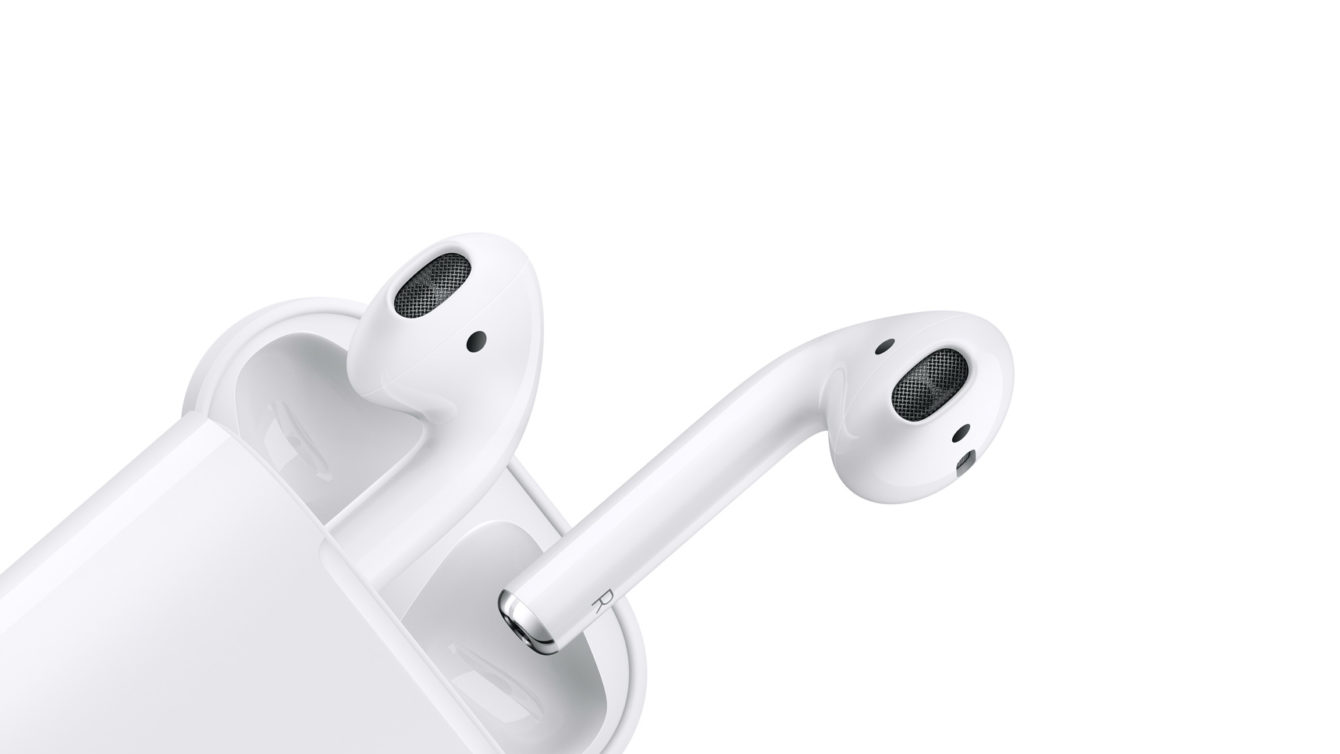 Apple AirPods (2nd generation)
All prices listed in USD unless otherwise specified. Prices may change over time, and vary by region. Unfortunately, we cannot list Amazon prices on the site, as they vary greatly by currency.
Of course you can always check out the older Sony WF-1000XM3 if you want to save a bit of cash. This earlier iteration of the Sony buds still has great sound quality and active noise canceling, though the ANC on the WF-1000XM4 is definitely better. The older WF-1000XM3 still has smart assistant integration and  adaptive sound control which automatically adjusts ANC levels depending on the amount of environmental noise. Though it's missing the Bluetooth 5.2 and polyurethane foam ear tips of the Sony WF-1000XM4, the Sony WF-1000XM3 is still a superb pair of earbuds.