All products featured are independently chosen by us. However, SoundGuys may receive a commission on orders placed through its retail links. See our ethics statement.
Apple AirPods Max vs Sony WH-1000XM4
Which active noise canceling headset is worth its weight in gold?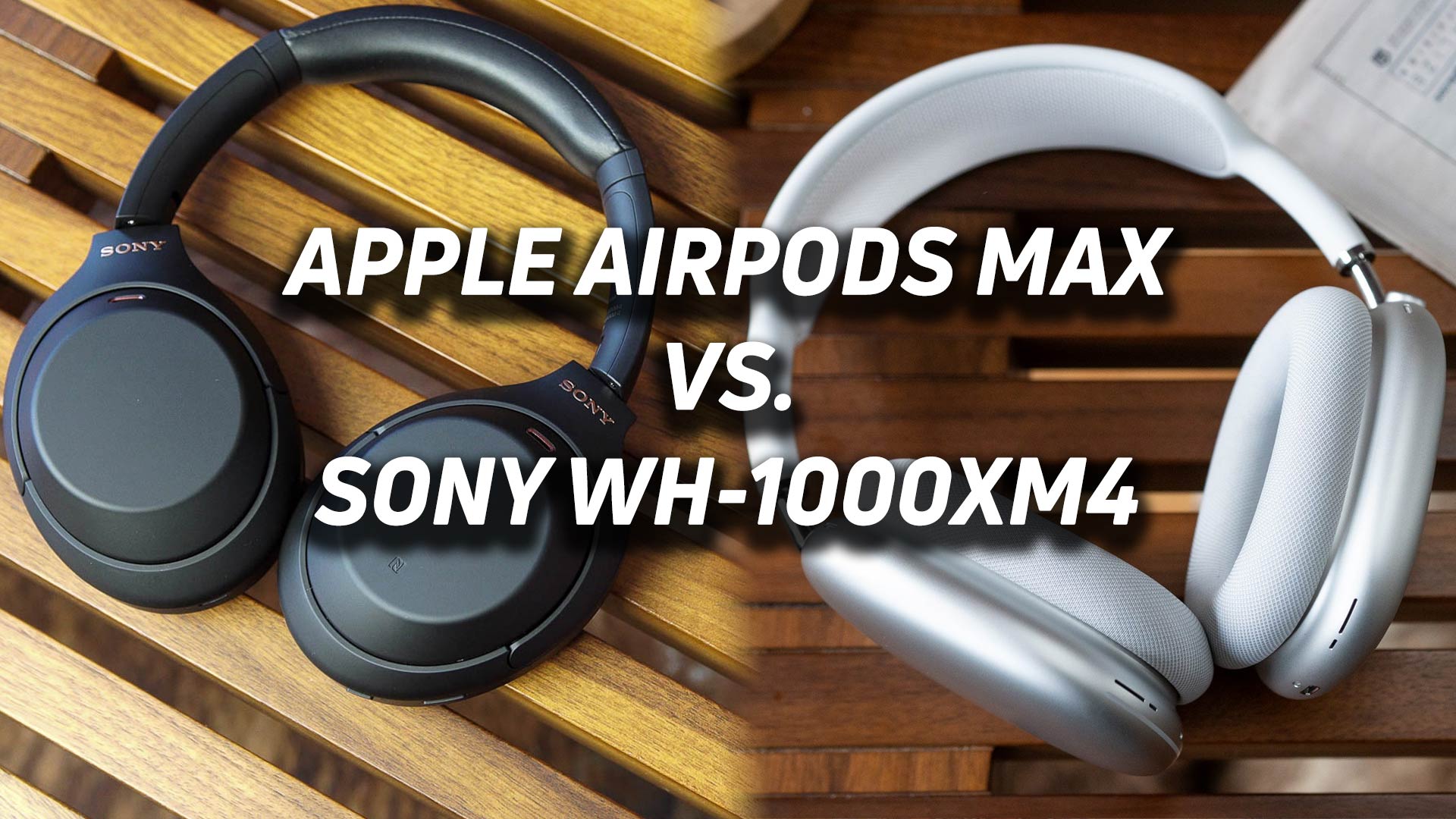 It's official: Apple has created an over-ear version of its AirPods Pro, called the AirPods Max. Considering the popularity and quality of the AirPods Pro, it's no surprise the AirPods Max is quite good, but there's one caveat; this noise canceling headset costs $550. Let's see how Apple's headphones compare to the now-outdated Sony WH-1000XM4, which, as of June 9, 2023, retails for under $350 and is among the best active noise canceling headphones around.
Does the AirPods Max warrant the expense, or are you better off with the Sony WH-1000XM4 and a hefty chunk of change?
Editor's note: this article was updated on June 9, 2023, to condense language and ensure the timeliness of the information within.

Apple AirPods Max vs. Sony WH-1000XM4: Design and build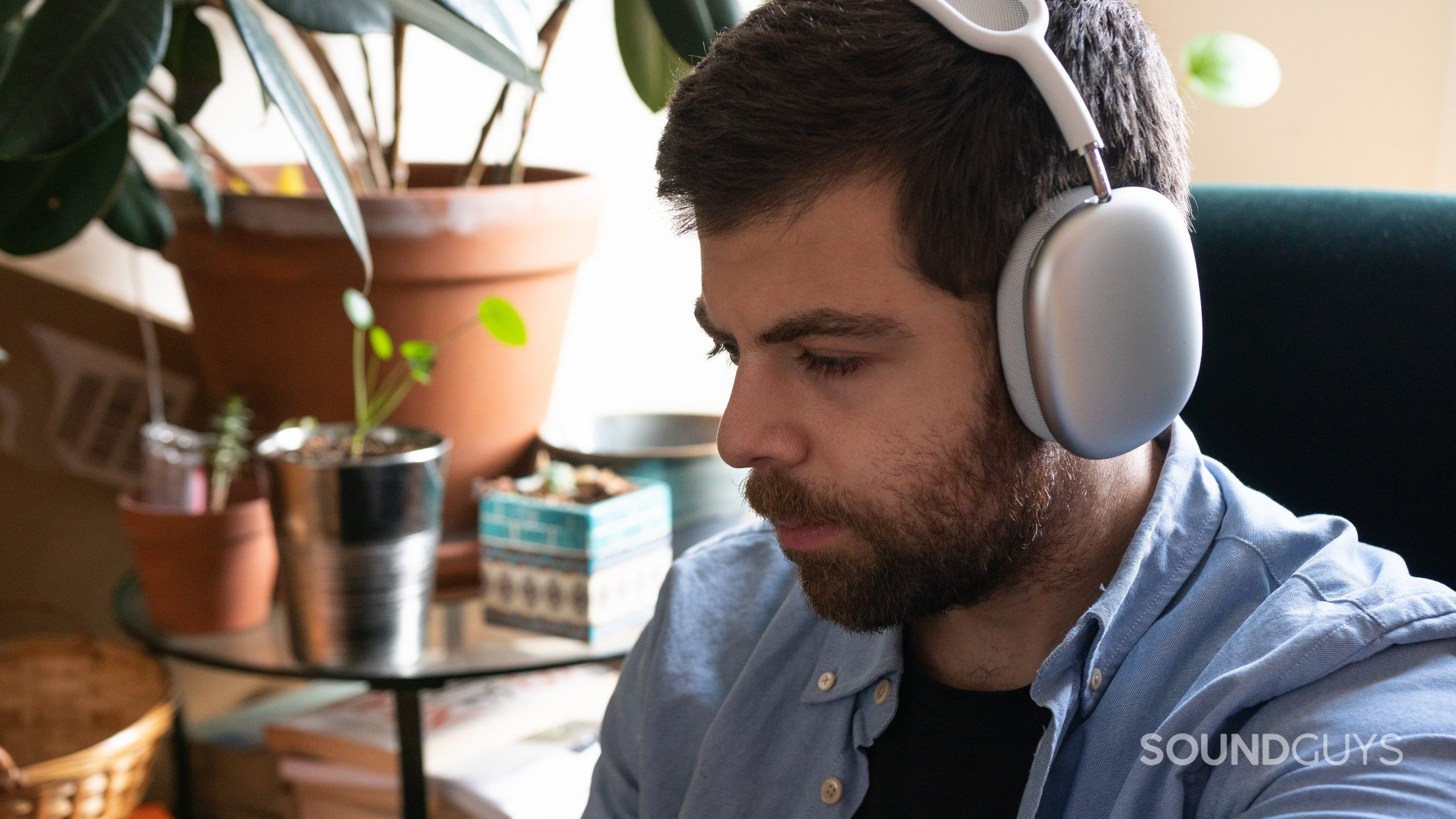 The AirPods Max has a sturdy all-metal build.
The AirPods Max is a very comfortable pair of headphones. It has plush ear pads and a mesh headband, but the skeleton of the headphones is made out of metal, which is really heavy. The build feels durable — it could withstand a bit of wear and tear — and you can replace the ear pads if they break down over time.
Though the AirPods Max feels luxurious, it's designed to be portable Bluetooth headphones, so you might expect it to be a little more… portable. You can't fold the ear cups for easy transportation, and the included AirPods Max Smart Case doesn't protect the headset from anything beyond nicks and scratches. These headphones lack any IP rating, so if you're like many of us at SoundGuys and live in a place where it's always raining, you may have to consider a more weatherproof pair of headphones. If you plan to use the AirPods Max exclusively in your house, you should find that it's more than adequate.
The Sony WH-1000XM4 is the more portable headset.
The Sony WH-1000XM4 is a bit more portable and a bit less comfortable than the AirPods Max, though comfort can be subjective since everyone's heads and ears are different. You can compact the headset by folding the ear cups toward the headband, and throw it into the hardshell carrying case. Just like the AirPods Max, the Sony WH-1000XM4 doesn't have any official IP rating so you'll want to keep it far away from water or sweat. It is decently lightweight though and has a very sturdy plastic build.
Which headset has greater connection stability?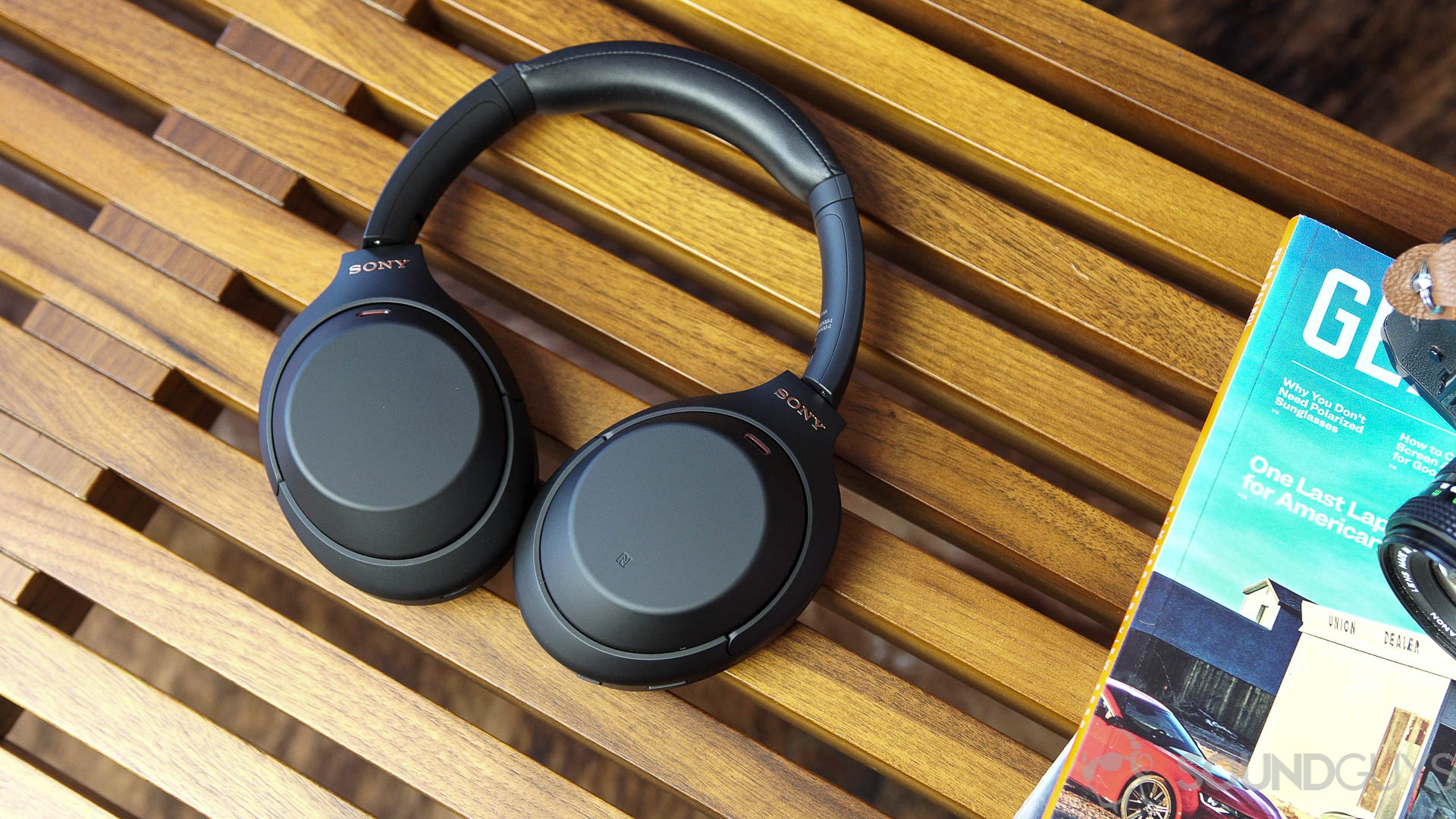 The Sony WH-1000XM4 has hinges so you can fold it to toss in your bag and the ear cups can rotate 90 degrees.
The AirPods Max and Sony WH-1000XM4 use Bluetooth 5.0 and support the SBC and AAC Bluetooth codecs. Sony's headphones also support its LDAC codec which is very good, but not necessarily hi-res. The AirPods Max doesn't have Bluetooth multipoint, but it can seamlessly switch between all your Apple devices through your iCloud account. The Sony WH-1000XM4 has Bluetooth multipoint, but it only works if all the devices are connected to the headphones using the AAC codec.
The Apple AirPods Max doesn't have a 3.5mm port, which isn't a huge surprise since the company was quick to ditch the headphone jack, but if you want to listen to wired audio you can buy a Lightning-to-3.5mm cable from Apple. Remember, if you want to listen with wires on your iPhone, you also need a 3.5mm to Lightning dongle. The Sony WH-1000XM4 includes a 3.5mm cable, which comes in handy when the headphones run out of battery.
Are the AirPods Max or Sony WH-1000XM4 software features cooler?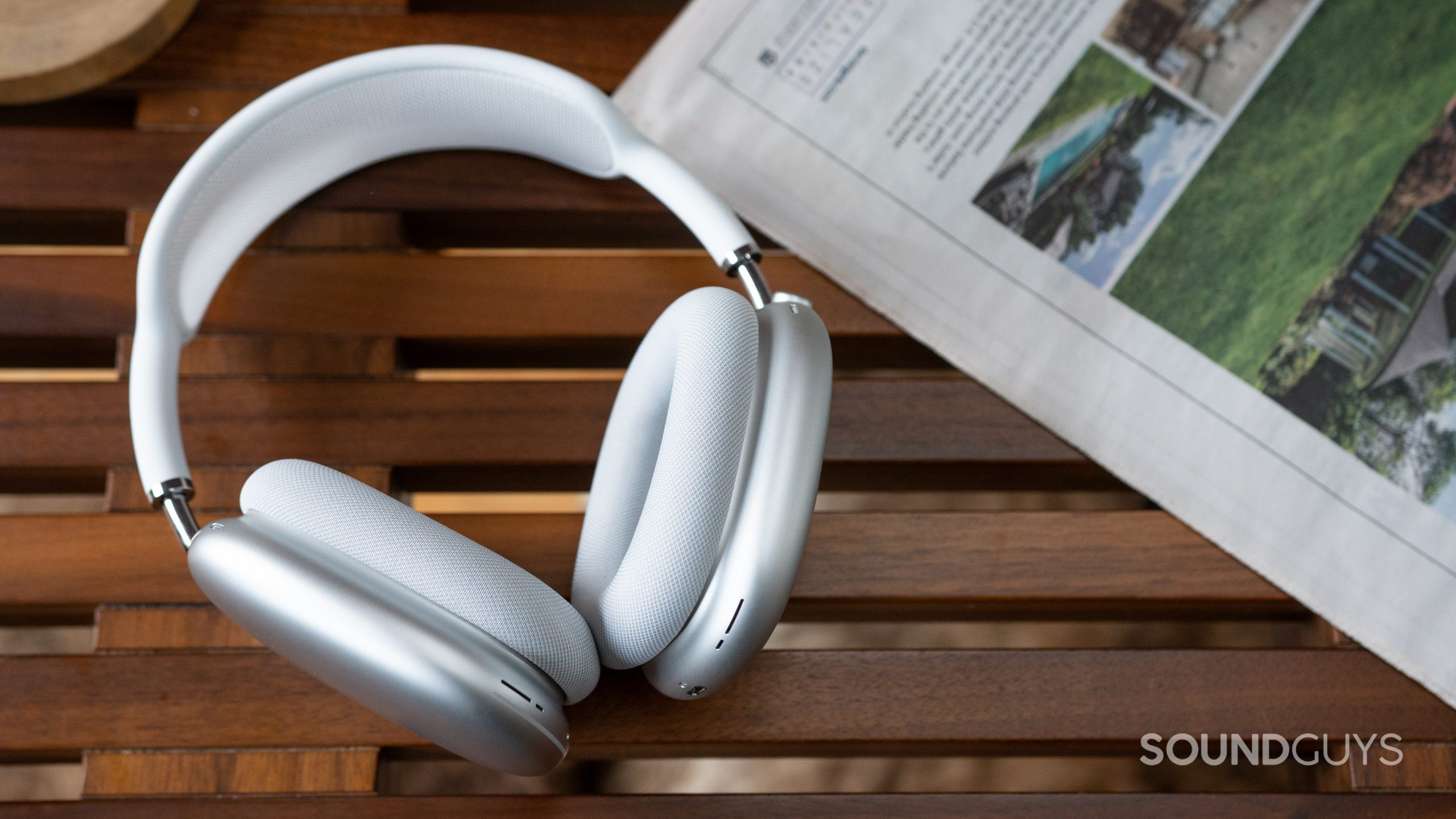 The headphones are built well and connect nicely to any iOS device.
The pairs of headphones in question are operated in fairly different ways. You can control the AirPods Max via the Digital Crown dial and noise canceling button at the top of the right headphone. The headset also has auto-pause and auto-resume functionality, as long as it's connected to an iPhone. The rotating crown immediately registers your input — if anything it's a little too sensitive. If you want to talk to your smart assistant you can either say "Hey, Siri" while wearing the headphones or give it a long-press. None of us should be surprised, however, that you cannot use your voice to access a non-Siri smart assistant through the AirPods Max.
To access many of the AirPods Max features, including firmware updates, you need an Apple device.
Apple products always have an impressive lineup of features, and the AirPods Max is no different. Transparency mode is actually available to any user, whether or not they're intimately familiar with Apple's devices. Transparency mode on the AirPods Max works very well. It uses the same microphones for ANC to pick up environmental sound and amplify it, so you can remain aware of your surroundings while listening to your music. Another feature of the AirPods Max is Spatial Audio, which mimics the effects of surround sound inside your headphones, but this feature is only for those with Apple devices.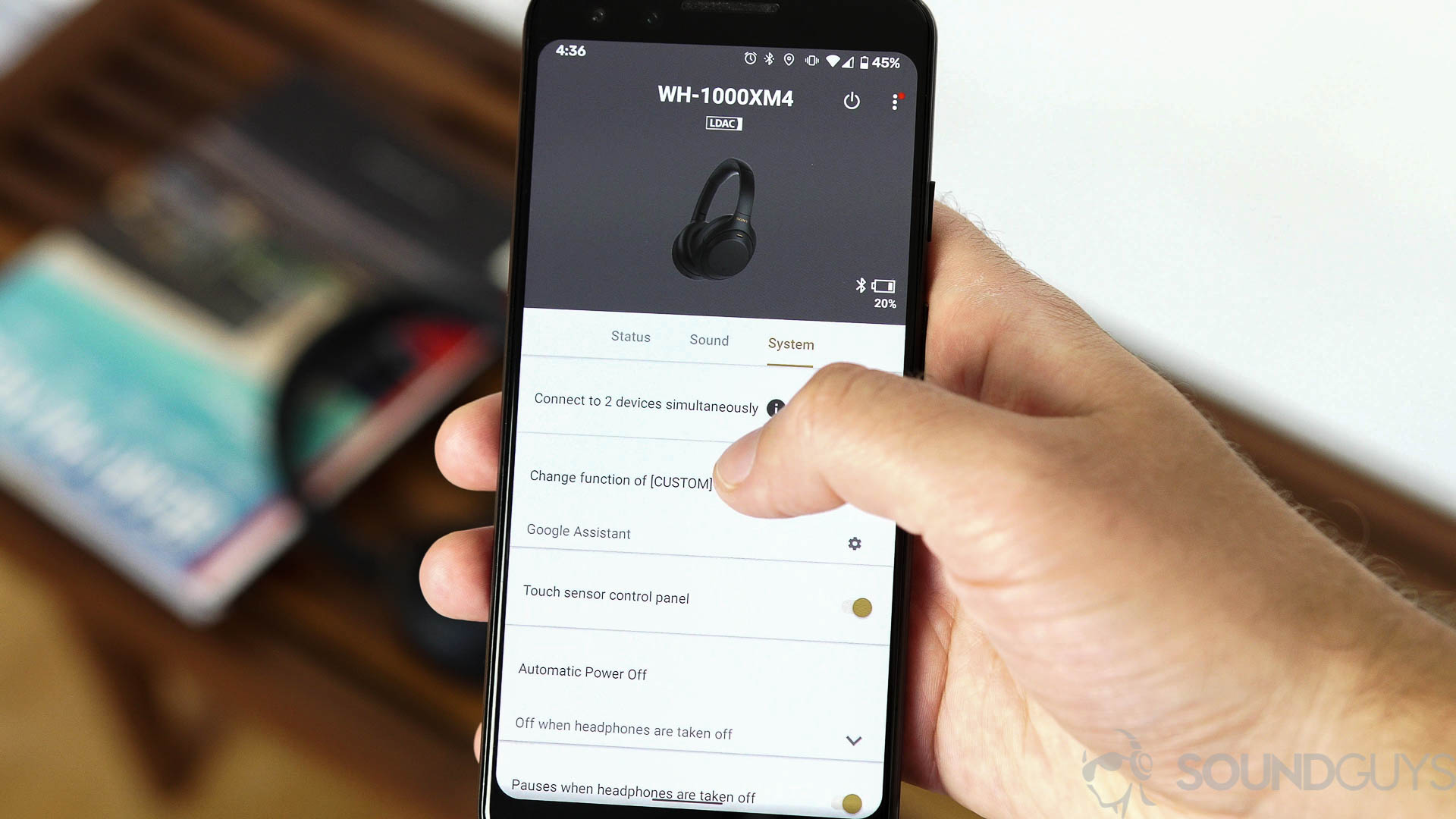 While the Sony headphones app isn't the prettiest it does give you access to all the customization options you need and even some special features.
The Sony WH-1000XM4 is operated via touch controls on the headphones, but they don't always work well. It's more reliable just to remove the headset to initiate auto-pause, rather than using the touch panels. Sony also has its own ambient sound mode, which is similar to Apple's Transparency mode, but instead of hitting a button, you cup one hand over the Sony WH-1000XM4's right ear cup to enable it. When ambient sound mode is on, it also lowers the volume of the media.
Some of the Sony WH-1000XM4 features aren't available until you download the Sony Headphones Connect app, available for both iOS and Android. The app lets you access Sony's Speak-to-Chat function, which automatically detects when you are speaking and pauses your music accordingly. However, it can be very sensitive to non-speech sounds and others speaking nearby, so it may not be the best feature for public transit. The app also unlocks Sony 360 Reality Audio, which can be used with Hi-Fi streaming services like Tidal or Deezer — it's a lot like Apple's Spatial Audio.
Apple AirPods Max vs Sony WH-1000XM4: Battery life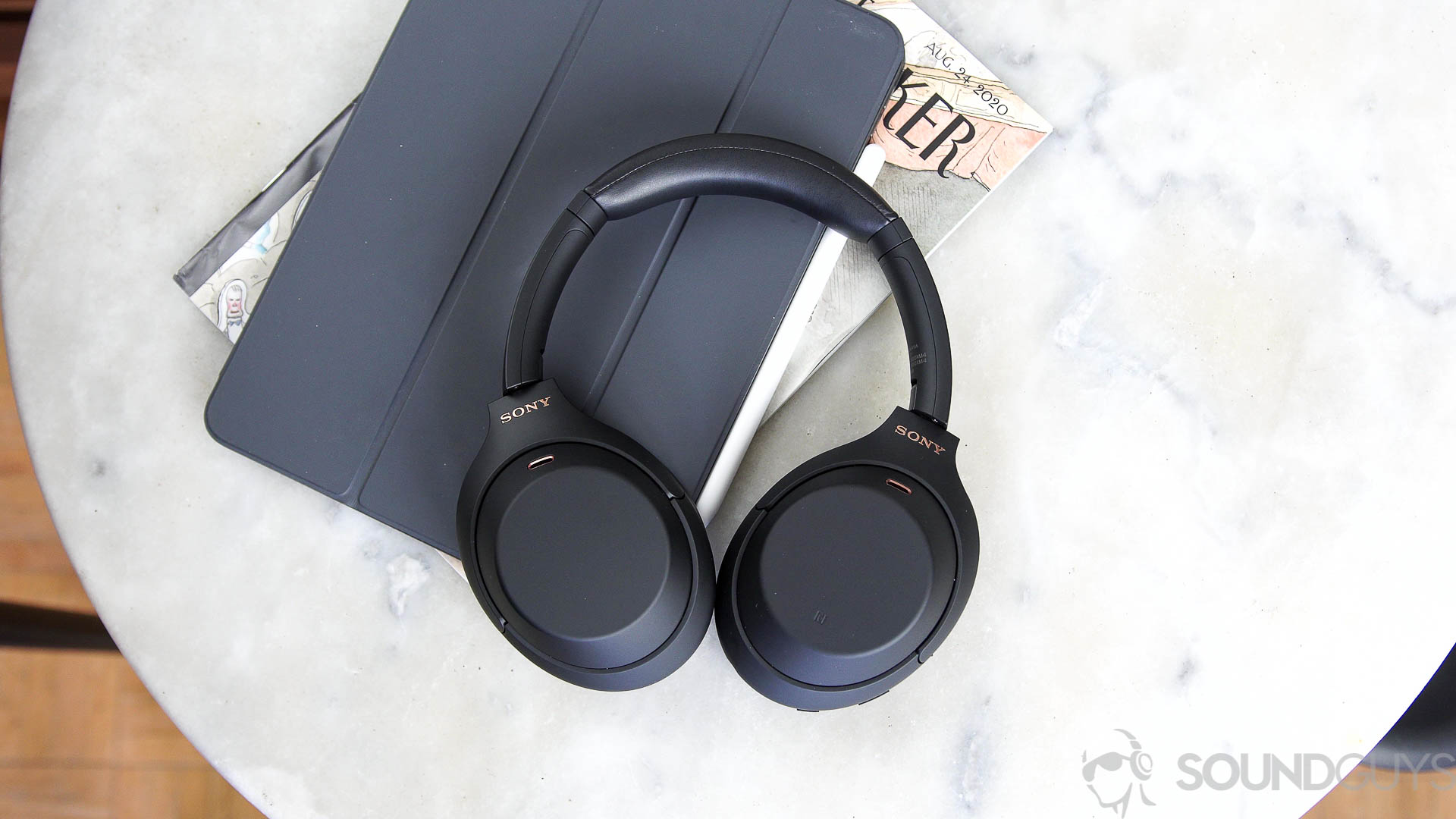 The addition of Bluetooth multipoint means you can stay connected to two devices at once.
The AirPods Max headset does not power on or off — weird, right? Instead of having a power button, it enters a low-power mode when placed into the case. Unfortunately, this means if you don't bring the Smart Case everywhere (and we wouldn't blame you for leaving it at home) the battery will deplete for several hours before it enters sleep mode. The battery lasted close to 21 hours when we put it to our standard test of continuous real music playback peaking at 75dB(SPL), which is slightly higher than Apple's claim of 20 hours. The AirPods Max annoyingly charges via Lightning to USB-C, and Apple doesn't include a USB-C power brick.
The Sony WH-1000XM4 charges via USB-C, as all headsets should at this point. This headset lasts 19 hours, 59 minutes on a single charge with ANC turned on which is quite a bit shorter than what Sony claims its battery life to be, but it's still okay. You can fast charge the WH-1000XM4; 10 minutes of charging time affords 5 hours of listening time.
The active noise canceling performance on both headphones is great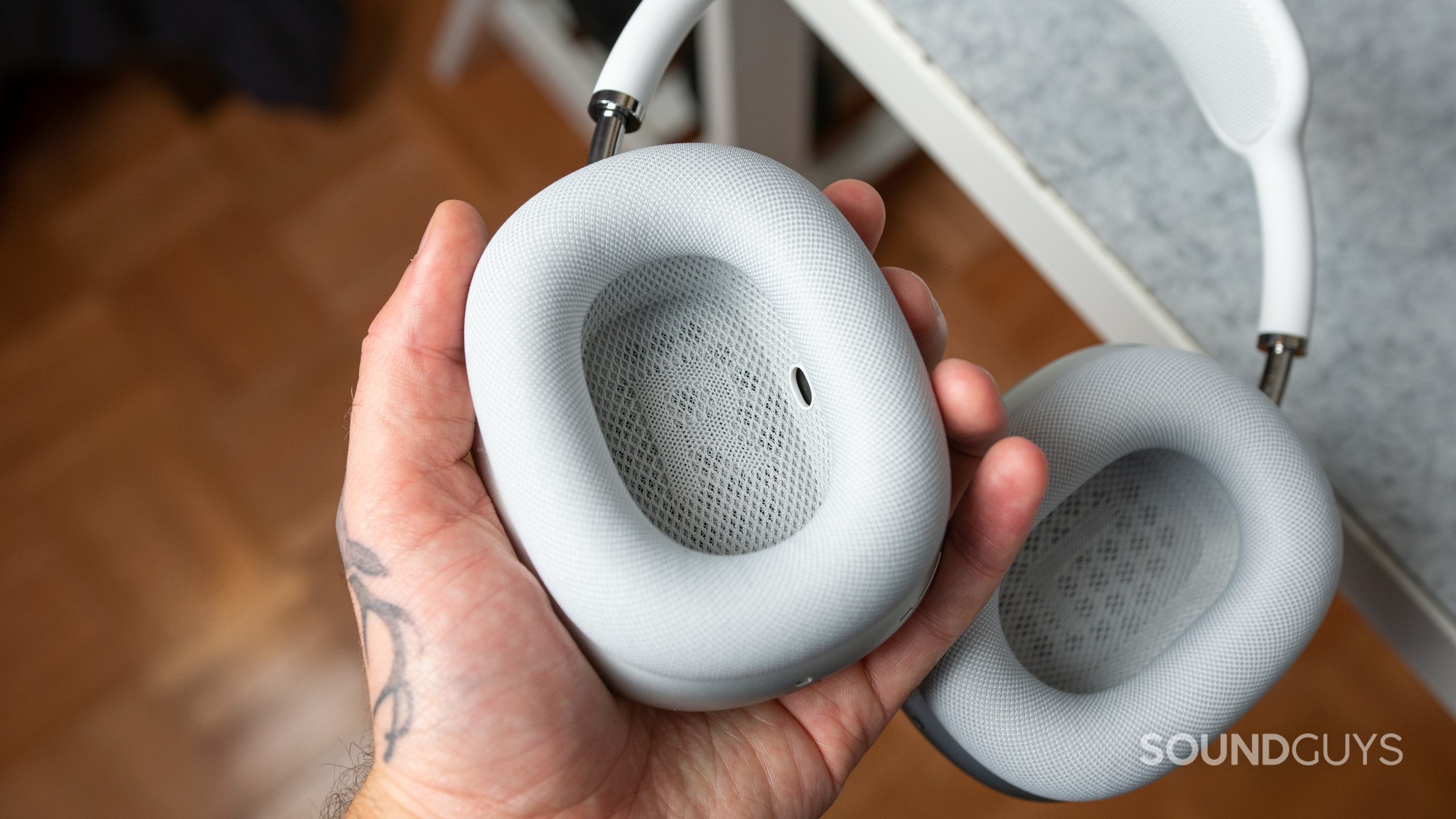 The ear cup is large but not bulky.
The two main things you need to know about the AirPods Max's active noise canceling are the fact that it is truly insane how effective it is, and if you don't have an iPhone it can never be disabled. That's right, Android owners can only toggle between ANC and Transparency mode. The roomy AirPods Max ear cups facilitate exceptional passive isolation. When you combine passive isolation with active noise canceling, the outside world is almost completely blocked out. Especially as ANC applies to low-frequency sounds: the AirPods Max cancels noise more effectively than the Sony WH-1000XM4, but this isn't to say that the ANC on the WH-1000XM4 is bad at all. Quite the contrary, it is also excellent, just ever so slightly less so than the Apple headphones.
Where Sony's attenuation takes a slight dip around 150Hz, the AirPods Max cancels out low-frequency noise consistently. This frequency range is crucial if you're trying to hush the rumbling sound of an airplane engine. The AirPods Max will more effectively eliminate these noises, but the Sony WH-1000XM4 will do a more than adequate job as well. Both headsets in question also do a very good job of canceling out noise in the mid and high-frequency ranges, so constant murmuring crowds will also be quieted.
Which headphones have better sound quality?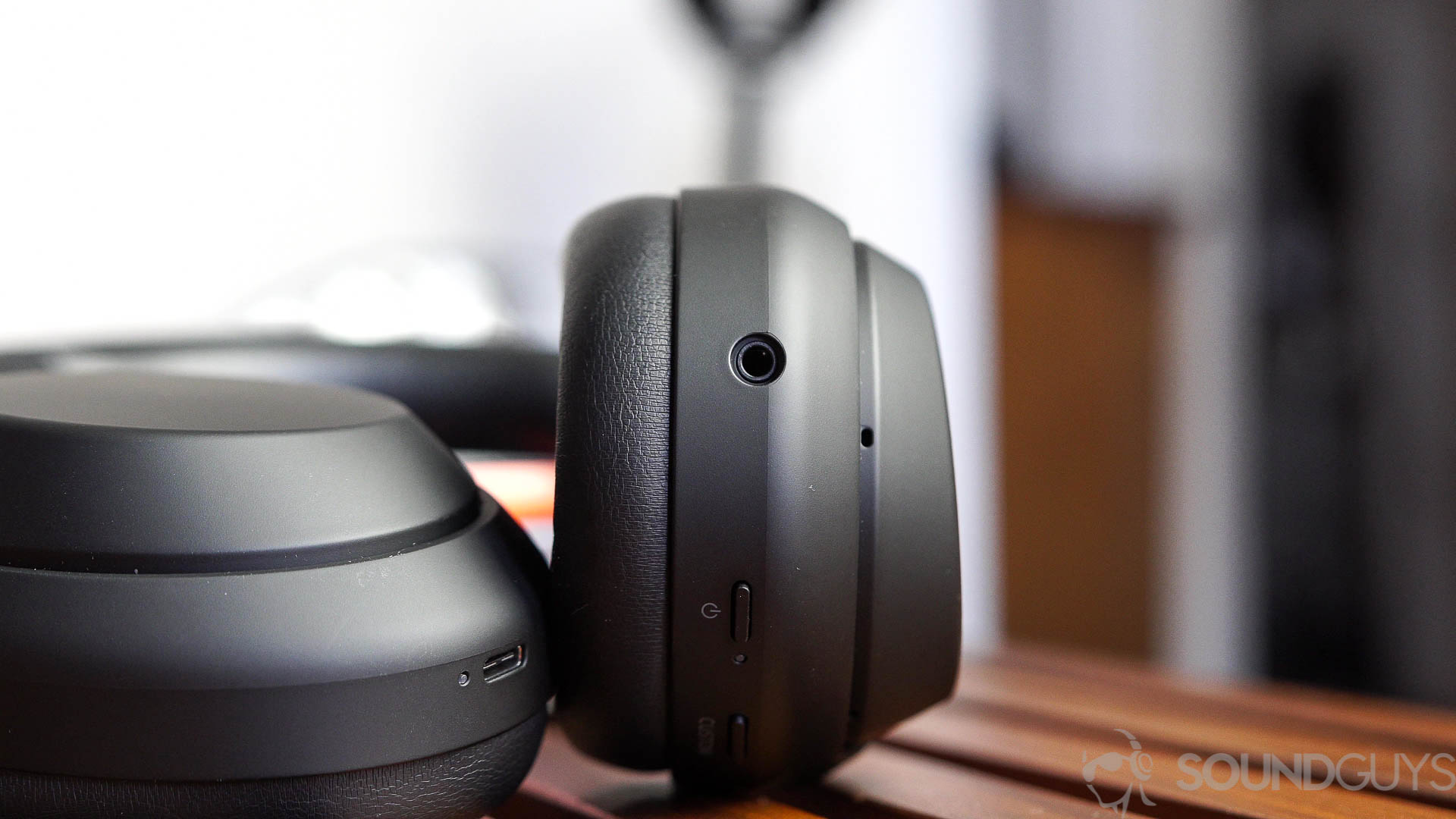 The WH-1000XM4 has a ton of Bluetooth codec options but thankfully still has a place for a standard 3.5mm audio cable as well.
Partially thanks to its ANC performance, and also partially thanks to the tuning of its drivers, the AirPods Max makes music sound beautiful and might even please some audiophiles. The frequency response is neutral across the board, except for a slight bass boost, which makes it easier for you to hear sub-bass notes. They aren't quite accurate enough to be studio headphones, but they aren't billed as such. The AirPods Max was tuned using a different mechanical head than the one we used for testing, but we're currently re-testing these headphones with the same type of mechanical head. The new results will be published soon.
Apple doesn't allow you to set a customized EQ profile on the AirPods Max, whether you're an iPhone user or not. Rather, the headphones use an Adaptive EQ which automatically adjusts the sound signature based on the ambient noise level around you, and it works very well.
The Sony WH-1000XM4 is also some of the best-sounding Bluetooth headphones money can buy. Unlike the AirPods Max, the Sony headphones don't place much emphasis on the bass notes, which yields a more neutral low-end sound. Though some bass-heads might feel they're missing out on the rumbles and kicks of bass-heavy music, this type of frequency response allows things like vocals and string instruments to be more audible. Also, the Sony WH-1000XM4 lets you customize the EQ settings in the Sony Headphones Connect app, so you can always boost that bass to your liking.
Apple AirPods Pro vs. Sony WH-1000XM4: Mic quality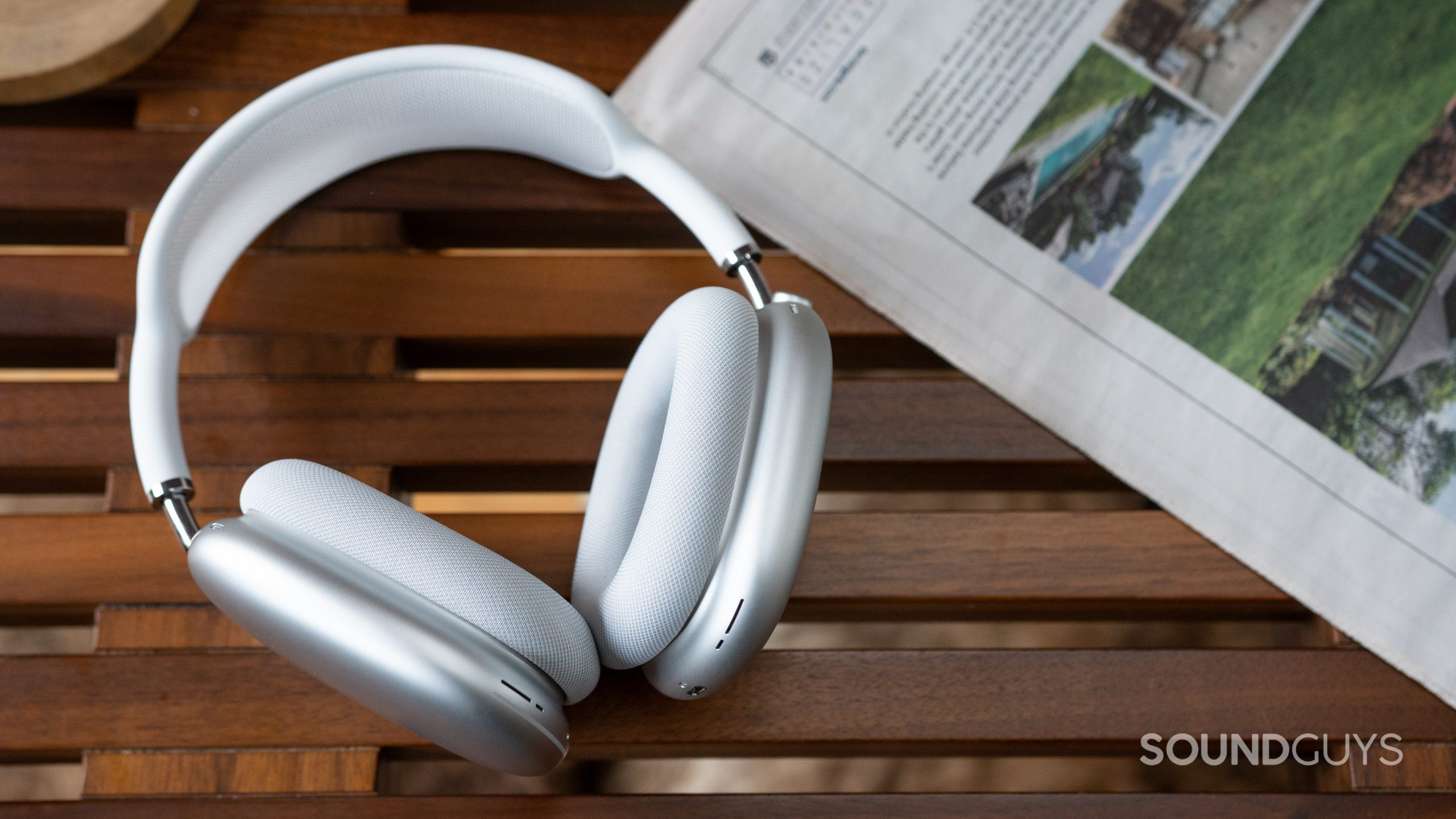 The headphones are built well and connect nicely to any iOS device.
The AirPods Max's microphone system transmits the best audio when connected to an Apple device. Weirdly enough, however, whether a given non-Apple device will result in poor microphone quality is kind of unpredictable. Based on our testing, this depends on the way the source device handles wireless communication with Bluetooth devices. If you're using the "wrong" device to talk through the AirPods Max, you might find that your voice is echoing or sounds muffled.
The Sony WH-1000XM4 microphone array is pretty good. It attenuates bass frequencies quite a bit, so people with lower voices may not come across as loudly. This attenuation is intended to remove low-frequency noise to help with speech clarity.
Apple AirPods Max microphone demo (ideal):
Sony WH-1000XM4 mic demo (ideal):
Which microphone sounds better to you?
13036 votes
Should you buy the AirPods Max or Sony WH-1000XM4?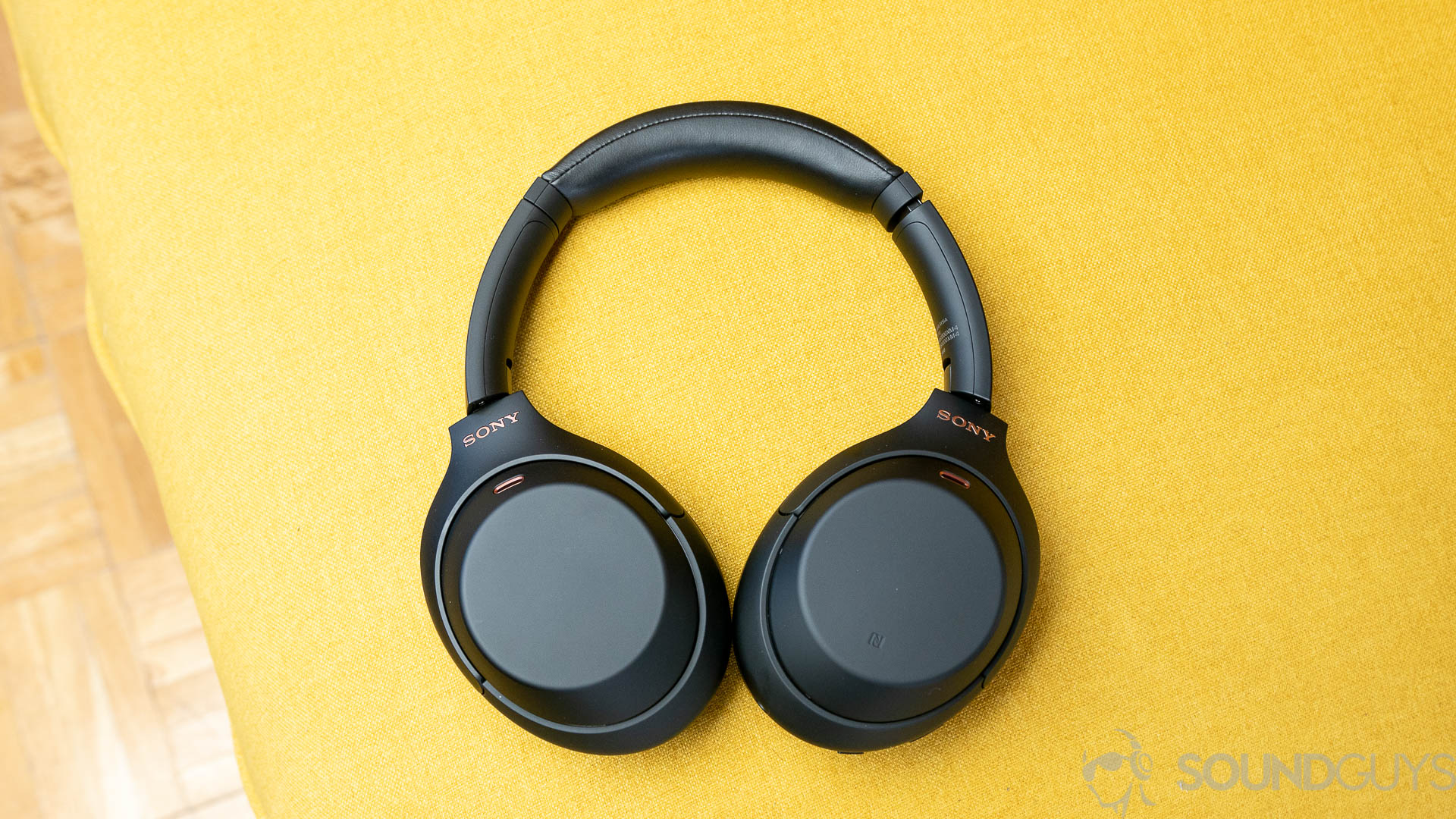 The Sony WH-1000XM4 doesn't look too different from the XM3 except for a few slight tweaks.
Please, do not buy the Apple AirPods Max if you don't have an iPhone. You'll miss out on many software features and you won't have as much control over the device — you just won't get the full experience. If you're an Android user, this pair of headphones is not worth your money.
Die-hard Apple fans may be drawn into buying the AirPods Max; after all, this pair of headphones screams luxury. It is a very good pair of headphones in many ways, including its sound quality and active noise canceling performance, and if drawbacks — like the inability to power the headphones off without the case or the lack of a headphone jack — don't matter to you, you won't regret it.
Apple AirPods Max
Apple AirPods Max
One of the best ANC • 20-hour battery life • Well-built pads
A spectacular pair of headphones with best-in-class ANC
The AirPods Max wireless headphones offer best-in-class noise canceling with twenty hours of battery life. They provide excellent frequency response and great audio features.
Regardless of if you have an iPhone or an Android phone, the Sony WH-1000XM4 headset is the better bang for your buck. Sony integrated ambient sound mode, Speak-to-Chat functionality, and a software EQ. Oh, and Sony's headset runs $200 cheaper. The WH-10000XM4 may not quite outperform the AirPods Max in sound quality and ANC, but it's pretty much tied up in this competition.
Sony WH-1000XM4
Sony WH-1000XM4
Great ANC • Sound quality • Connectivity options • Auto-wear detection
An exceptional pair of noise canceling headphones.
High-quality Bluetooth codecs, great sound, improved noise-canceling, good battery life, and smart features like auto-pause and Bluetooth multipoint make the Sony WH-1000XM4 a great all-round pair of headphones.
What should you get instead of the AirPods Max vs Sony WH-1000XM4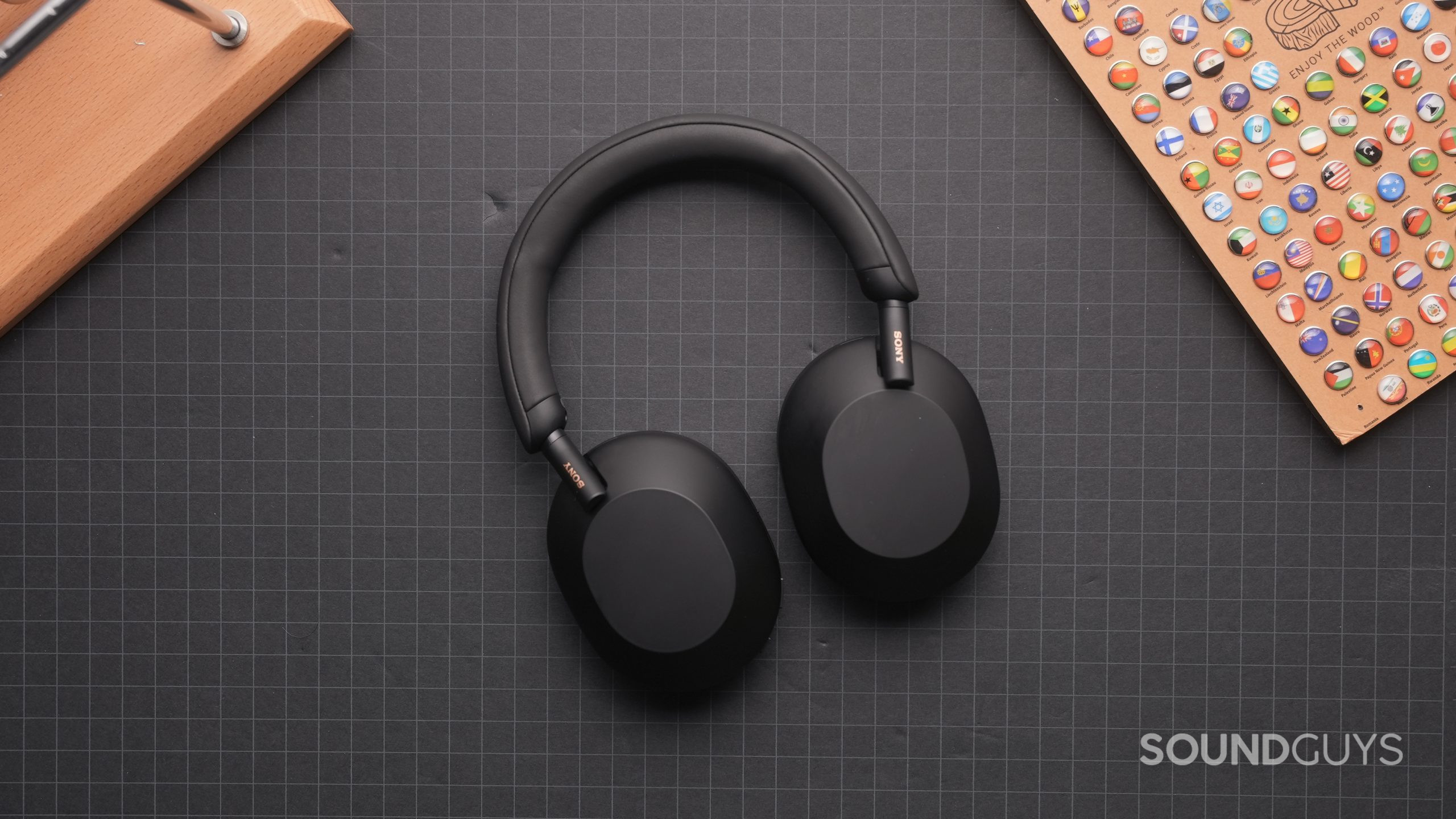 The Sony WH-1000XM5 headphones can be folded flat for easy storage.
When it comes to noise canceling prowess, the Sony WH-1000XM5 boasts some of the best ANC around. The younger sibling of the WH-1000XM4, it is still cheaper than the AirPods max $387 at Amazon. It isolates quite well, too, thanks to a redesign of its ear cups and headband. Plus, it's a bit more compact than Apple's model for easy storage and travel. If you want a truly multipurpose set of cans, this headset is likely where your search can end.
The Sony WF-1000XM4 and Apple AirPods Pro are more portable picks
Maybe you really like the idea of the Sony WH-1000XM4 or the Apple AirPods Max, but don't want to lug around a full-sized headset everywhere you go. Fear not: the Sony WF-1000XM4 and Apple AirPods Pro (2nd generation) are two very capable, compact sets of true wireless earphones that can do just about anything.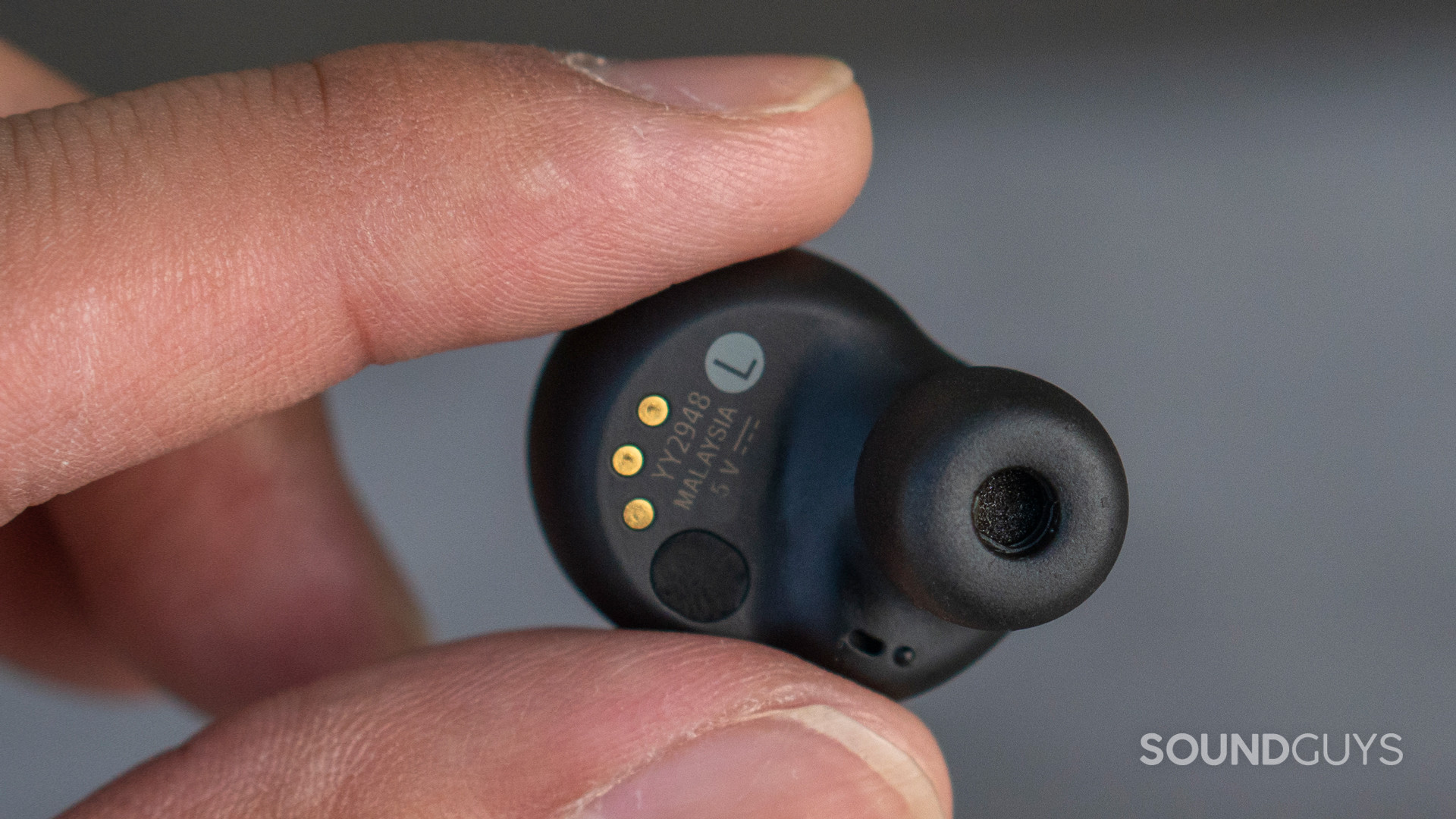 The polyurethane foam ear tips of the Sony WF-1000XM4 make for an easy fit every time.
The Sony WF-1000XM4 includes IPX4-rated earphones with some of the best ANC we've ever tested in this category. Battery life is quite good thanks to the Bluetooth 5.2 firmware, and the case can fast charge the earbuds. Sony's mobile app works on any mobile OS and the experience is uniform across the board, something that can't be said of Apple's software features. Find it for $278 at Amazon.
While the AirPods Pro (2nd generation) has its downsides, mainly because its features are exclusive to Apple hardware, it's the most obvious and best choice for most iPhone owners. This stemmed pair of earbuds also features an IPX4 rating (as does its case), and is built to last a bit longer than the competition thanks to Apple's battery optimization software. The 2nd gen model also includes big improvements to battery life and ANC, and a new U1 chip to help with keeping track of the charging case. You can get it for $199 at Amazon.
Frequently asked questions about the AirPods Max vs Sony WH-1000XM4
Weirdly, Sony has not discontinued the WH-1000XM4 just yet — even though its successor has been on the shelves for the better part of a year. At least for the interim, it does not appear as if the WH-1000XM4 will be retiring anytime soon.