All products featured are independently chosen by us. However, SoundGuys may receive a commission on orders placed through its retail links. See our ethics statement.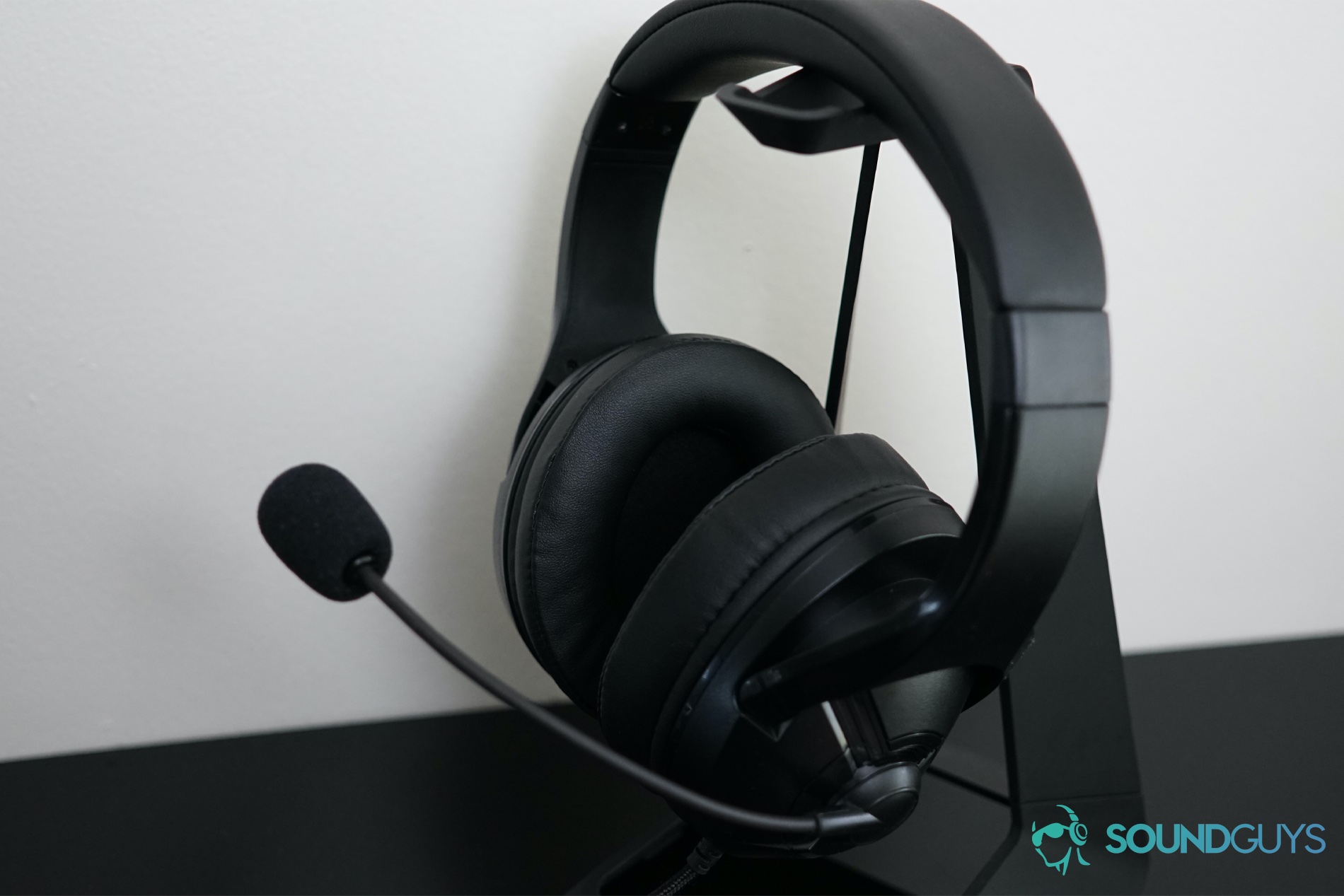 4.4
AmazonBasics USB Gaming Headset
The bottom line
Even for $24, you shouldn't have to settle for something this uncomfortable.
AmazonBasics USB Gaming Headset
Even for $24, you shouldn't have to settle for something this uncomfortable.
What we like
Accurate Mic.
Soft ear pads alleviate some strain.
What we don't like
Uncomfortable.
Sound Output.
Rating Metric
Sound Quality
4.0
Bass
3.7
Midrange
7.3
Highs
1.0
Isolation / Attenuation
1.0
Design
4.0
Microphone
9.7
Portability
5.0
Comfort
4.0
One more entry eating Amazon's recommended tags in the gaming headset category, the AmazonBasics USB Gaming Headset sits at a similar rock-bottom price to the AmazonBasics 3.5mm Gaming Headset, with a few key differences.
The 3.5mm headset offered a pretty awful experience—do the differences in the USB headset improve things?
Editor's note: This review was updated on April 12, 2021 to include a table of contents and poll on microphone quality.
Who is the AmazonBasics USB Gaming Headset for?
PC gamers on an extreme budget: This is built just for gaming. If you want something a little more well rounded, it's a good idea to look elsewhere (it'll become clear why as we go).
Parents who want something replaceable for the young Fortnite obsessive in their household.
What's the AmazonBasics USB Gaming Headset like?
In the box, you'll find the headset and a brief instruction manual—that's it. Even the foam tip on the microphone comes already attached.
Going into this review, I wasn't expecting much. The AmazonBasics USB Gaming Headset has almost the same build as its 3.5mm counterpart, which—well—sucked out loud. However, things felt a little better this time for a couple reasons.
First, while this headset has a primarily plastic construction with a thin metal strip running through the band, they feel durable enough to withstand casual abuse. The headphones feature thick but soft leatherette pads. The attached mic sits at the end of a flexible wire that flips up when not needed.
There's also a better in-line control module compared to that of the AmazonBasics Gaming Headset, with handy buttons for controlling volume and muting the mic and headphones. This is a nice improvement over the 3.5mm model—the buttons are easy to find and have a satisfying click to them.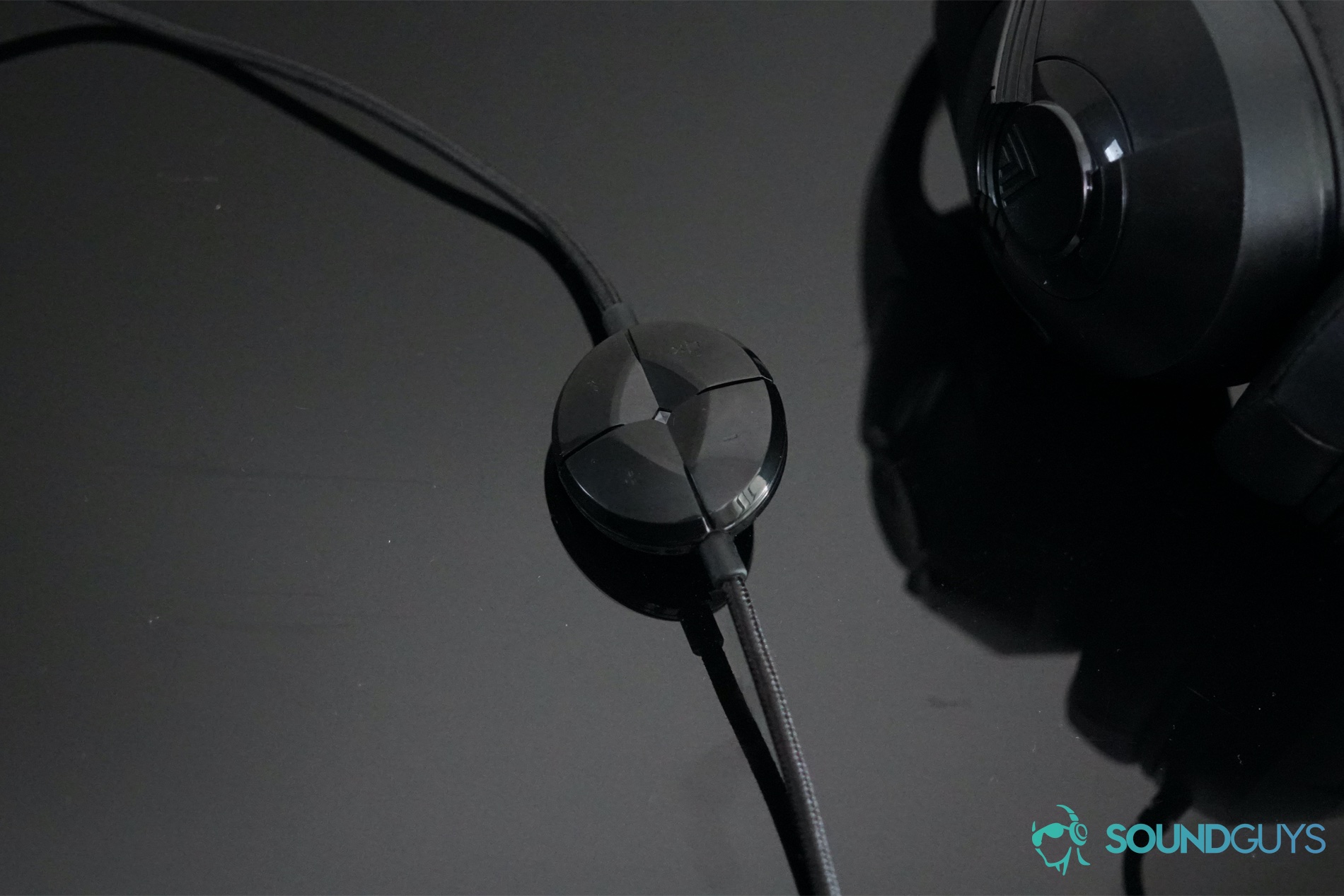 The inline controls are easy to use without looking.
Additionally, while leatherette is typically not very good for bespectacled people, the earpads here were actually remarkably soft. In fact, they're not nearly as rigid as the fabric ones on the 3.5mm version.
While the AmazonBasics USB Gaming Headset is more comfortable than it's 3.5mm counterpart—that doesn't mean it's actually comfortable. Sure, I didn't get headaches—but the band is still too tight, and the earcups are still tilted in a way that creates pressure behind my ears. Things loosened a bit after a couple days, but you're better off looking for something you find comfortable immediately, even at this price.
While the headphone pads offer decent cushion, the tightness of the band and the angle of the headphones make this one uncomfortable headset.
Gaming on the AmazonBasics USB Gaming Headset is pretty straightforward. It's a stereo headset, so don't expect surround (or really any other bells and whistles). Playing games like Overwatch and Dauntless, I didn't run into any issues, and the headset had no trouble creating a decent enough soundscape.
With its USB connection and a braided cord around seven feet long, clearly it's meant for use with a PC, and in that it offers a completely adequate experience. You could plug this into a console, but the length of the cord means playing from a couch in a living isn't really an option.
How does the AmazonBasics USB Gaming Headset sound?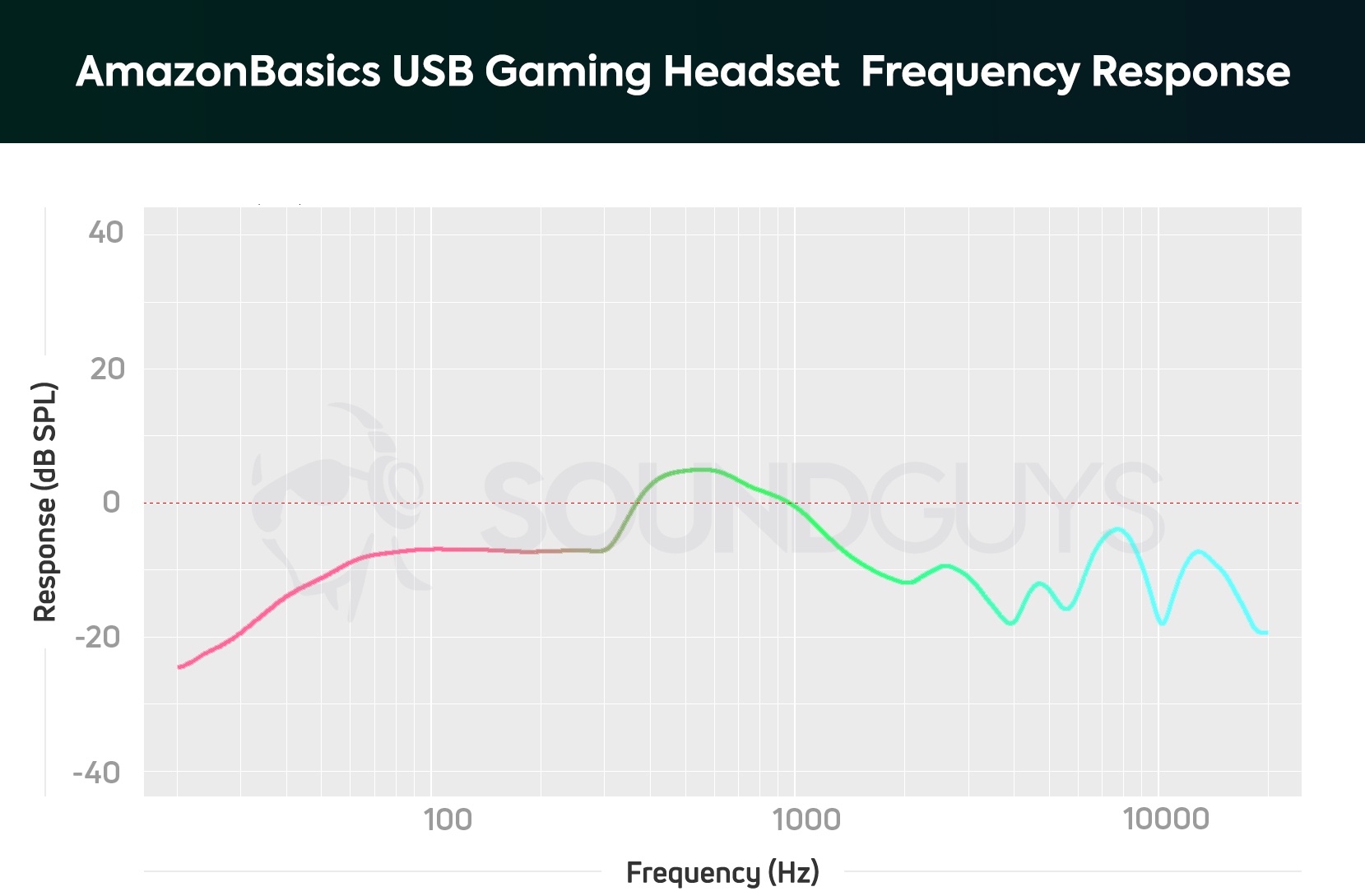 This… isn't good.
There's no two ways about it, the AmazonBasics USB Gaming Headset doesn't sound great. It de-emphasizes bass, mids, and highs to varying degrees. When you're playing games, this means sounds of gunfire and explosions won't sound as loud as they should. In a voice call, people with particularly low voices won't come through as clearly, and sibilant sounds (F SH S sounds) might also sound distorted.
When listening to music, things will not sound as they should. Bass lines will come across much less prominently, and high end sounds like some strings and cymbals will also get lost. In "Crabbuckit" by K-OS, the bass line is the dominant instrumental part of the song. However, as soon as the other instruments cut in, it recedes to the background.
This headset won't isolate you from much noise, but if you're playing at home it probably won't be a big issue.
The AmazonBasics USB Gaming Headset offers well below average isolation for a gaming headset. You shouldn't expect anything like ANC, but this will struggle blocking out anything more than the whirring of your fridge in another room. It takes a little finagling to get a decent seal with this headset, because of the angle of the headphones, but you shouldn't run into too many problems.
Poor isolation isn't as bad for a headset like this, which is geared exclusively toward use at home where it's quieter. Just don't expect to block out roommates or TV down the hall.
How is the microphone?
This headset's mic performance is a genuine surprise.
If this headset has one bright spot, it's the mic. Typically, gaming headset microphones de-emphasize bass sound, and boost highs. This is totally fine for most people, as it boosts sibilant sounds, which are important for voices to sound natural and often easy to miss. However, people with deep voices often don't come through as well with this balance.
It's rare for a gaming headset mic to offer truly accurate output, yet the AmazonBasics USB Gaming Headset comes pretty close. It slightly underemphasizes bass, but otherwise offers clear and accurate voice audio. If you're planning to use this with Discord, you won't have to do much to sound as good as you can.
How does the microphone sound to you?
17 votes
Should you buy the AmazonBasics USB Gaming Headset?
Don't buy this headset—it's just not very good.
The AmazonBasics USB Gaming Headset offers a better experience than its 3.5mm counterpart. It's less uncomfortable (though hardly a treat to wear), its inline controls are better laid out and easier to use, and its mic is genuinely very good. However, it's still hard to recommend.
For $23, you probably won't find a better deal than this headset, but for just a little more, you can find much better options. For under $50, the Razer Kraken X  offers much better sound, and it supports surround sound on PC—plus it's actually comfortable. There's nothing wrong with search for the absolute best deals, but gaming headsets are meant to be worn for hours on end—putting in a little more money will be worth it.