All products featured are independently chosen by us. However, SoundGuys may receive a commission on orders placed through its retail links. See our ethics statement.
The bottom line
For sub $200 dollar headphones, the V-Moda XS sound great, have military grade build quality, dual inputs, and portability.
For sub $200 dollar headphones, the V-Moda XS sound great, have military grade build quality, dual inputs, and portability.
What we like
Construction quality
Great warranty
Sound quality
Replaceable on-ear shields
V-Moda Buy Back Program
What we don't like
Heavy bass response
Uncomfortable
Microphone quality
No onboard volume control
Rating Metric
Sound Quality
8.4
Bass
8.5
Midrange
8.7
Highs
8.2
Durability / Build Quality
9.4
Design
9.5
Microphone
7.0
Portability
9.6
The V-Moda XS are a pretty old pair of wired headphones, but they're still some of the best headphones you can buy for under $200 because of how sturdy they are. Their construction is extremely durable and they have replaceable parts, so you don't have to worry too much about taking care of them.
Editor's note: this review of the V-Moda XS was updated on September 5, 2020, to update formatting and include additional information.
Who should get the V-Moda XS?
Anyone who doesn't want to worry about their headphones breaking. These headphones are built like a tank.
Bass-heads. The sound signature of the V-Moda XS emphasizes bass over other frequencies.
What's it like to use the V-Moda XS?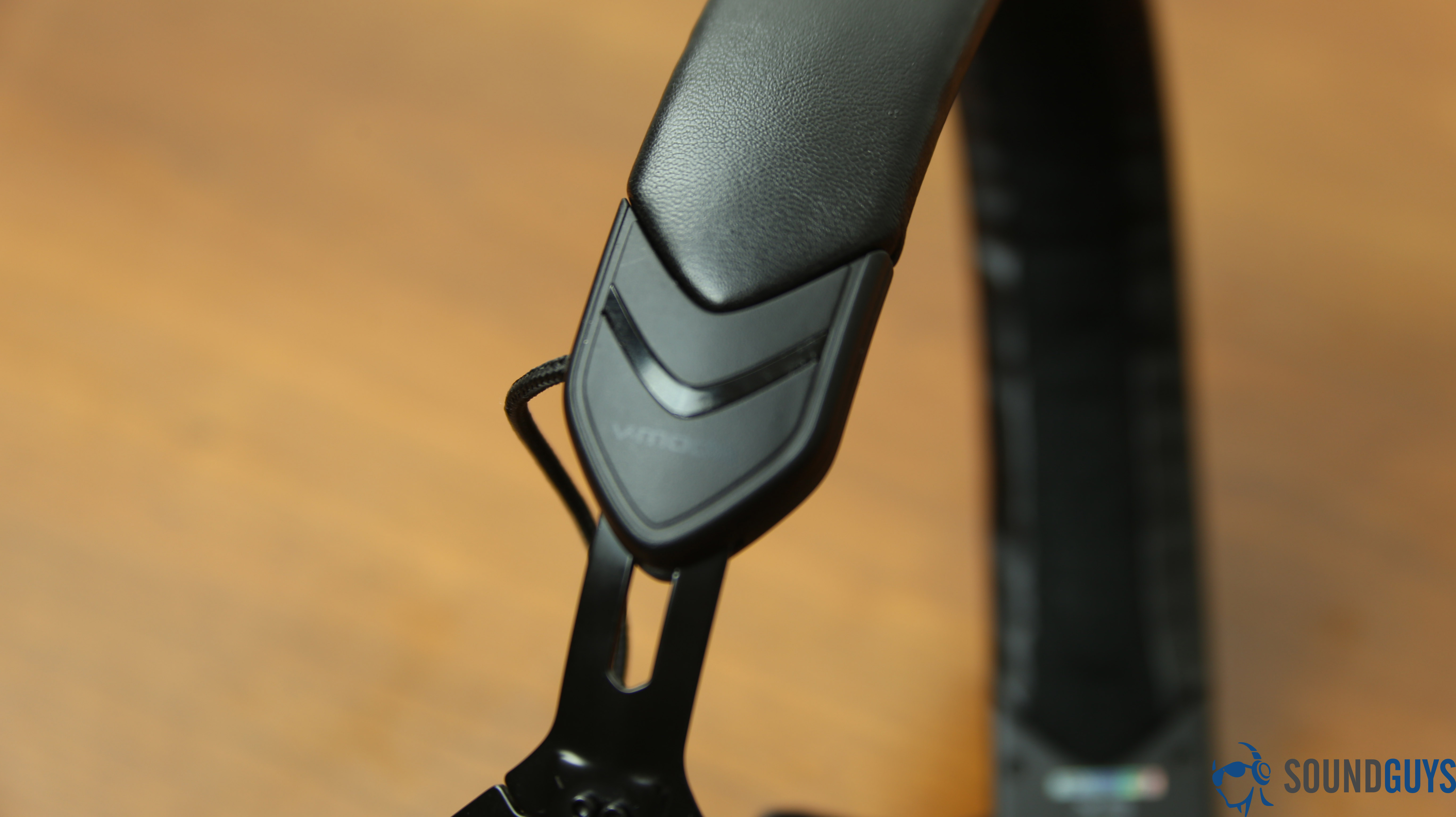 Military-grade construction means that the V-Moda XS were tested using the MIL-STD-S10G standard; the headband can withstand up to 10 flat bends.
The V-Moda XS is a lightweight and head-conforming pair of over-ear headphones. This headset is built with Military Grade construction, allowing for more than 1 million cable bends and up to 10 headband flat bends. And when they say Military Grade construction they mean it, they were tested using the MIL-STD-S10G standard, so you can rest assured that these will stand the test of time. Even if they don't for some reason, V-Moda provides a 2-year warranty. Beyond that they have a buy back program, where you can trade your no longer working V-Modas for up to 50% off a new pair.
The headphones collapse down to the point where they can fit into the palm of your hand, making them significantly portable for headphones of this construction. The hard carry case that it comes with has a spot for the cord, and also a clip so you can snap it on to your bag. Each ear cup has a replaceable metal plate on it. When purchasing the headphones you can submit your own image to have engraved on the metal plate. Each ear cup has a visible wire going into the headband, which is soft but has a steel band inside.
The XS has a more snug fit compared to other headphones, which V-Moda argues makes for better sound quality due to passive isolation. While getting a good fit on a pair of headphones is very important, it can make the clamping force of these headphones painful. In addition, individuals with larger ears might find that the small ear cups exert excess pressure on their ears.
Connection quality
The V-Moda XS offers Dual Input.
The V-Moda XS's SpeakEasy 3.5mm microphone cable feels sturdy and I have no worries that the cable will withstand the test of time. I've been known to roll over my headphone cables with my computer chair and I've ruined some pretty expensive audio equipment by doing so. The SpeakEasy cable is removable, and also is heavily shielded.
The microphone and 1-button control module are about 12 inches down the cable, which enables you to answer and end calls and access your smart phone's voice assistant app. Unfortunately, there is no way to control the volume via the cable or headphones, so you'll have to just go into your device for that.
A cool feature of the V-Moda XS is the Dual Input located on the left ear cup. This allows you to daisy-chain your headphones with a friends' headphones, so long as it also has a 3.5mm port. You can also use it to listen to two songs at the same time in your V-Moda XS, but I don't know why you would want to do that. After testing the Dual Input by making a daisy-chain, I couldn't hear any loss of quality. When not in use the hole is covered by what V-Moda calls the V-Cork.
Let's talk sound quality
The sound signature emphasizes bass frequencies.
The intense clamping force of the V-Moda XS means they have decent isolation, and but audiophiles may scoff at the the bass-heavy sound signature. Due to auditory masking, the over-emphasized bass response causes the highs to be somewhat dulled. I found that this made them less fatiguing than what you sometimes get with other headphones, but individuals looking for a very accurate response will probably find that they are too subdued.
Should you buy the V-Moda XS?
The V-Moda XS provides military grade construction and a great warranty to back it up, so if durability is the most important factor to you, these are a good investment. That being said, their sound signature may be considered overly bass-y, but it does make for a consumer-friendly sound.
For sub $200 dollars these compete with the Audio Technica M50x as the go to headphones. For audiophiles the XS may not be able to compete with the M50x's in the sound department, but they hold their own. What they can provide that the M50x's cannot is the military grade build quality, dual inputs, and portability.