All products featured are independently chosen by us. However, SoundGuys may receive a commission on orders placed through its retail links. See our ethics statement.
The bottom line
It was already one of the best speakers you can get for the price, and the new and UE Roll 2 is even better. It isn't much of an improvement over the original, but it is an improvement.
It was already one of the best speakers you can get for the price, and the new and UE Roll 2 is even better. It isn't much of an improvement over the original, but it is an improvement.
Dimensions
5.3 inches x 5.3 inches x 1.6 inches
What we like
IPX7 Waterproof
Good sound
Extremely portable
What we don't like
Limited playback controls
Questionable battery life
Rating Metric
Sound Quality
8.4
Bass
8.3
Midrange
8.6
Highs
8.4
Durability / Build Quality
9.3
Value
9.5
Design
9.0
Portability
9.0
Battery Life
7.0
One company that keeps popping up on best Bluetooth speaker lists is UE. Two of their speakers jumped to the top of tons of shopping lists: the UE Boom and the UE Roll. Since their initial release both have been updated. We already got a chance to check out the UE Boom 2 and though I liked it better than the original, it wasn't for me. Now we're taking a look at the UE Roll 2 to see how it holds up.
What's Inside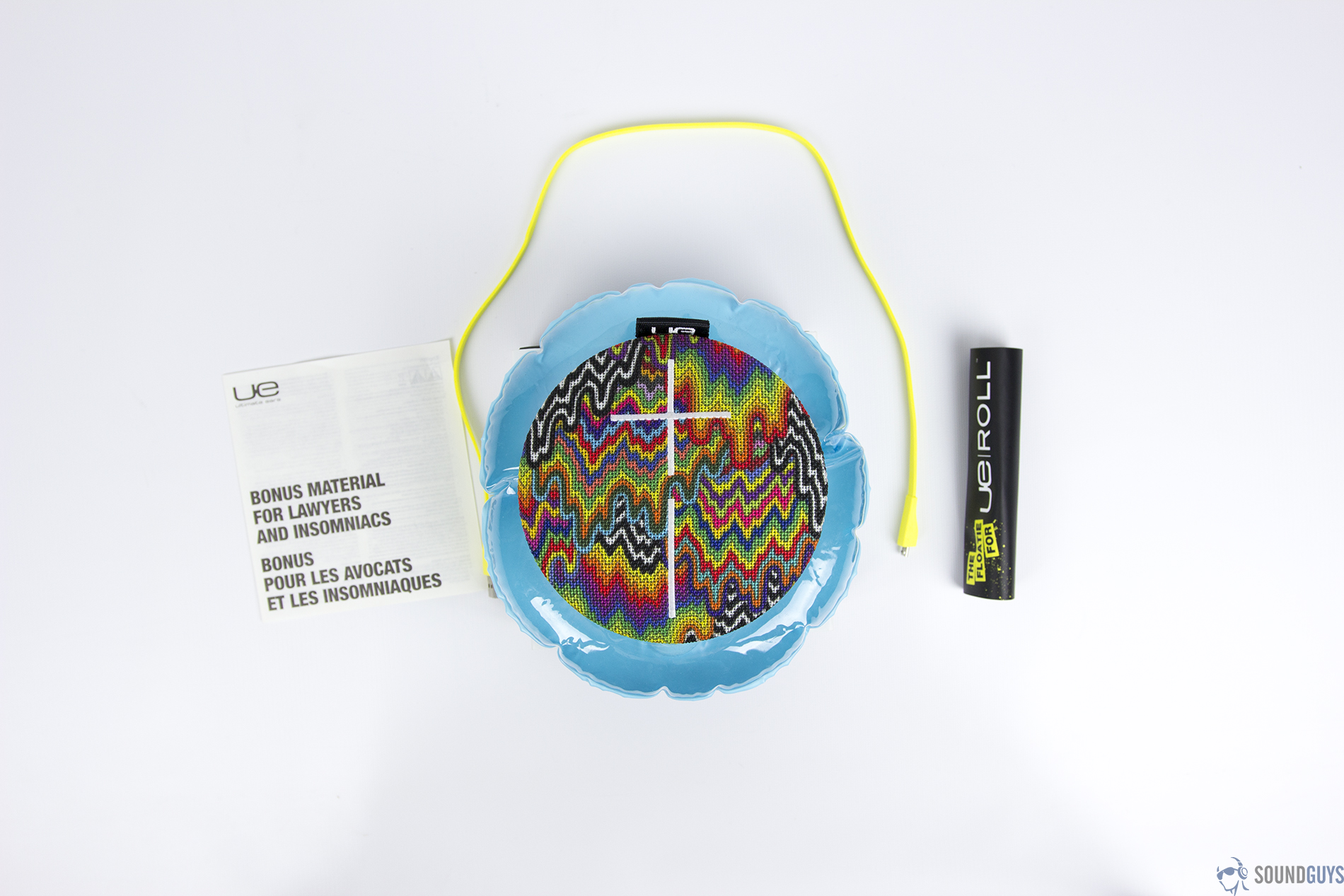 When you pull the box out of the sleeve and open it up, you'll be greeted with the speaker. They come in a bunch of different colors and designs, and we're looking at the new "Drippy" version from artist Jen Stark. You'll also get a short yellow micro USB cable for charging, a floatie for the speaker, and a quick start guide.
Build & Design
The UE Roll 2 is IPX7-rated, like its predecessor, and can be submerged in one meter of water for up to 30 minutes.
If you don't notice a difference in design between this new UE Roll 2 and the first version, you're not going crazy. There really isn't a difference, on the outside at least. The same IPX7 waterproof fabric covers the front and the same plastic is still present on the back. The giant plus and minus symbols for volume control are still sewn into the front and there's not much else. I definitely enjoyed the minimal take on playback controls in the original, and I'm glad to see that it's still the case with this new one.
The UE roll charges via micro-USB and lasts for nine hours. Unfortunately, it takes a full five and a half hours to top up.
On the back are a few more things of note, but you wouldn't know it at first glance because of how well they blend in with the speaker. On the top side of the back there's a small power button and a smaller Bluetooth pairing button. On the bottom is a small watertight flap of rubber that when pulled back reveals the micro USB input for charging and a 3.5mm input for non-Bluetooth devices.
Also like the original, the UE Roll 2 has a small bungee cord on the back perfect for hanging it wherever you want or strapping it somewhere. One cool design aspect is that you can securely strap it to a small hook on the back of the speaker when not using it. UE was definitely thinking ahead when they designed this speaker.
Connection
Users can pair a maximum of eight devices to the UE Roll 2 and simultaneously connect to two devices.
Here is where things finally start to differ between the Roll 2 and the original. UE claims that this new model has a range of 100 feet when paired to Bluetooth devices. When we tested it outdoors we got a little over 70 feet before stuttering became a problem. Range indoors definitely suffered more, but it was still good enough for average use. With 3 walls in the way I was able to get to around 30 feet before music cut out entirely. Playback controls are also still disappointing since all you can do is raise or lower the volume. You can't even pause or play music let alone skip tracks.
Battery Life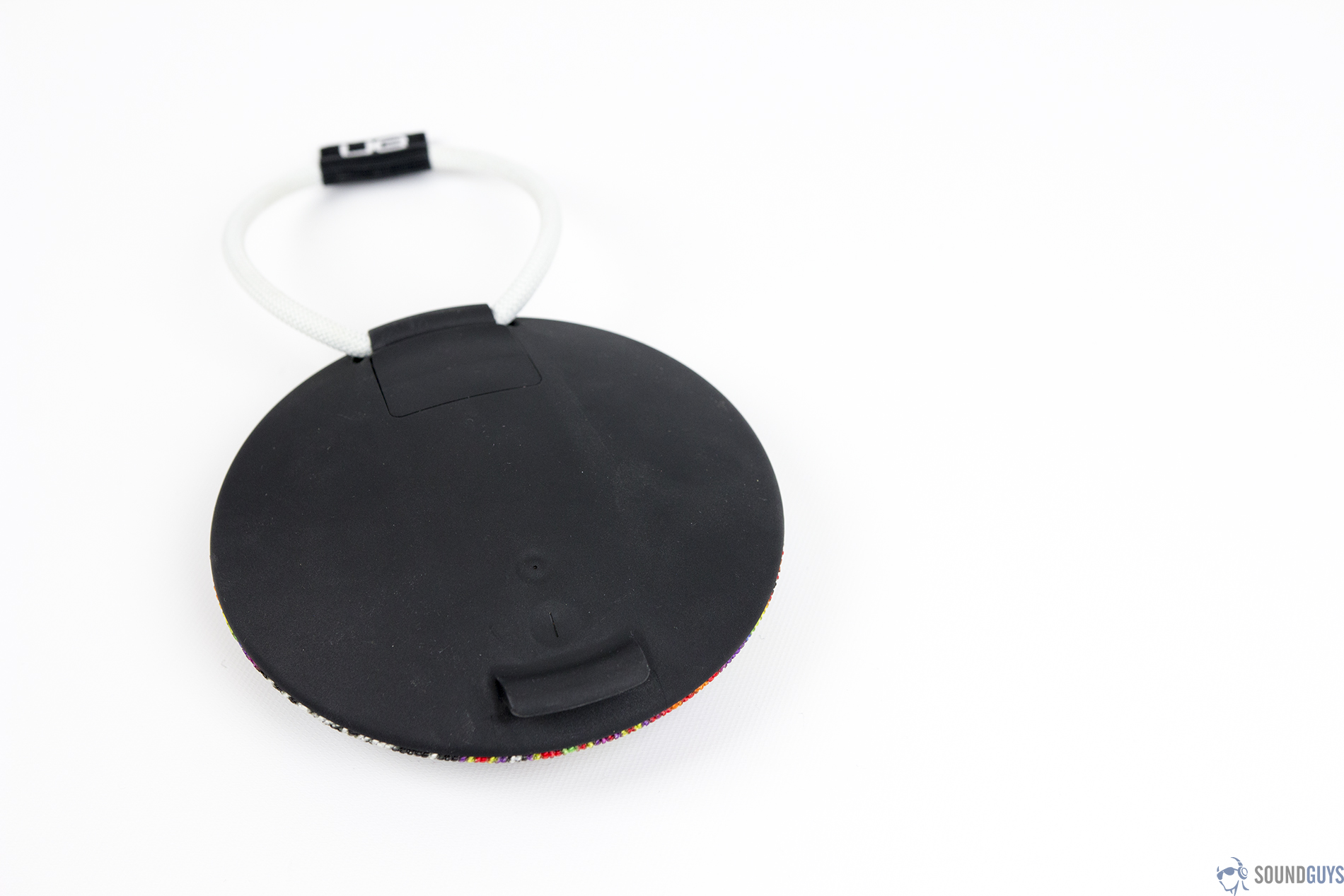 The mini bungee cord on the UE Roll 2 wraps around the back of the device.
UE claims a battery life of 9 hours but again, we weren't so lucky in our testing. With volume on about 60% we were able to squeeze a respectable 10 hours of the Roll 2. That said, when we maxed out volume the Roll 2 died after only 3 hours of usage. I had this same issue with the way more expensive Beoplay A1 that we recently reviewed.
Sound Quality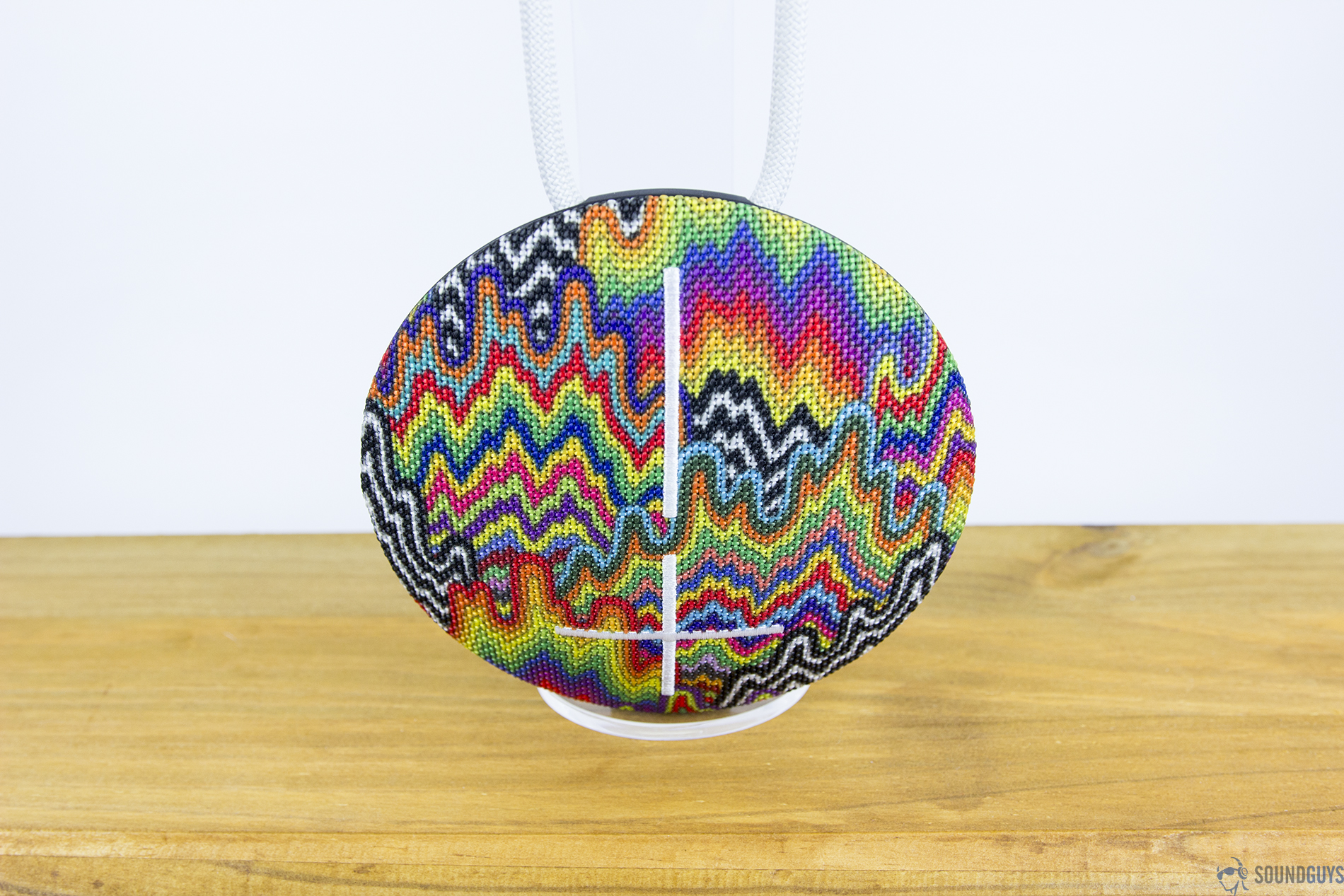 The UE Roll 2 has a 3.5mm input for non-Bluetooth devices, but where's the fun in that? We did all of our testing using mobile devices.
The low end is surprisingly solid for a speaker of this size, but isn't amazing. But what it lacks in depth and power it makes up for in control. Basslines and drum kicks were surprisingly clean and when the drums kick in a minute into "He Is The Same" by Jon Bellion it barely vibrates my desk, but it's enough to make your head nod.
The bass isn't anything special, but the mids are. Vocals and guitar in "1936" by Phox sound beautiful throughout the entire song especially when played at average volume. When you max out the speaker there is a very slight distortion sometimes but for the most part instruments are still clear and details. Snare hits also have a nice airy quality with the reverb cutting out at the perfect time.
When it comes to highs they were also above average. Detail in the shakers and cymbals of "Hang Me Up to Dry" by Cold War Kids were nicely maintained and never became piercing. Overall the UE Roll 2 has a very practical sound. Everything is nicely spaced and attention is given to the elements of the sound that matter most, but don't expect to be blown away by amazing quality.
Conclusion
The UE Roll 2 isn't much of an improvement over the original, but it is an improvement. It gets a little louder (15% to be exact) and has a slightly better range but really it just has a cleaner sound overall. Instruments sound like they have a lot more room to breathe which translates to a better experience. You're not going to be blown away by the gorgeous sound, but compared to the sound coming from other speakers in this price range like the Flip 3 I'd have to give the Roll 2 a slight edge. Not to mention that the disc shaped design is still just as unique and practical now as it was with the original, and it's also just as easy to recommend.