All products featured are independently chosen by us. However, SoundGuys may receive a commission on orders placed through its retail links. See our ethics statement.
The bottom line
For the price, these will get the job done and then some. It's hard not to recommend these to anyone who enjoys gaming fairly consistently.
Kunai Pro
For the price, these will get the job done and then some. It's hard not to recommend these to anyone who enjoys gaming fairly consistently.
What we like
Price<br>
HD Audio/3D sound mode<br>
Really good removable microphone<br>
Lightweight<br>
What we don't like
The plastic build is lightweight, but not durable<br>
Not great at isolating outside noise<br>
USB-A connector is not removable
Rating Metric
Sound Quality
9.3
Bass
9.1
Midrange
9.3
Highs
9.5
Isolation / Attenuation
1.3
Durability / Build Quality
6.5
Value
8.0
Design
7.0
Microphone
9.7
Portability
5.0
Comfort
8.0
Despite gaming being a hugely popular pastime, there aren't too many companies trying to fill the market. A quick search will show you a few notables like the Audeze Mobius, the HyperX Cloud Alpha, or anything from Razer, but that's it. That's where the Tritton Kunai Pro come in. At just $50 are these headphones worth your time or are they a waste of money?
Who are the Tritton Kunai Pro for?
While the plastic build isn't the most confidence-inspiring, it does mean that these are a fairly lightweight pair of cans.
Gamers, obviously. If you're just getting into gaming, it might not make sense to spend hundreds of dollars on a top of the line gaming headset. Instead, these are a great bang for your buck option that offers some solid sound and a great mic.
Anyone who lives with other people. If you want to game with a surround sound system but your living situation prohibits it, then these are for you.
They would make a great gift. At only around $50, these will make a solid gift for any gamer in your life.
What are the Tritton Kunai Pro like to use?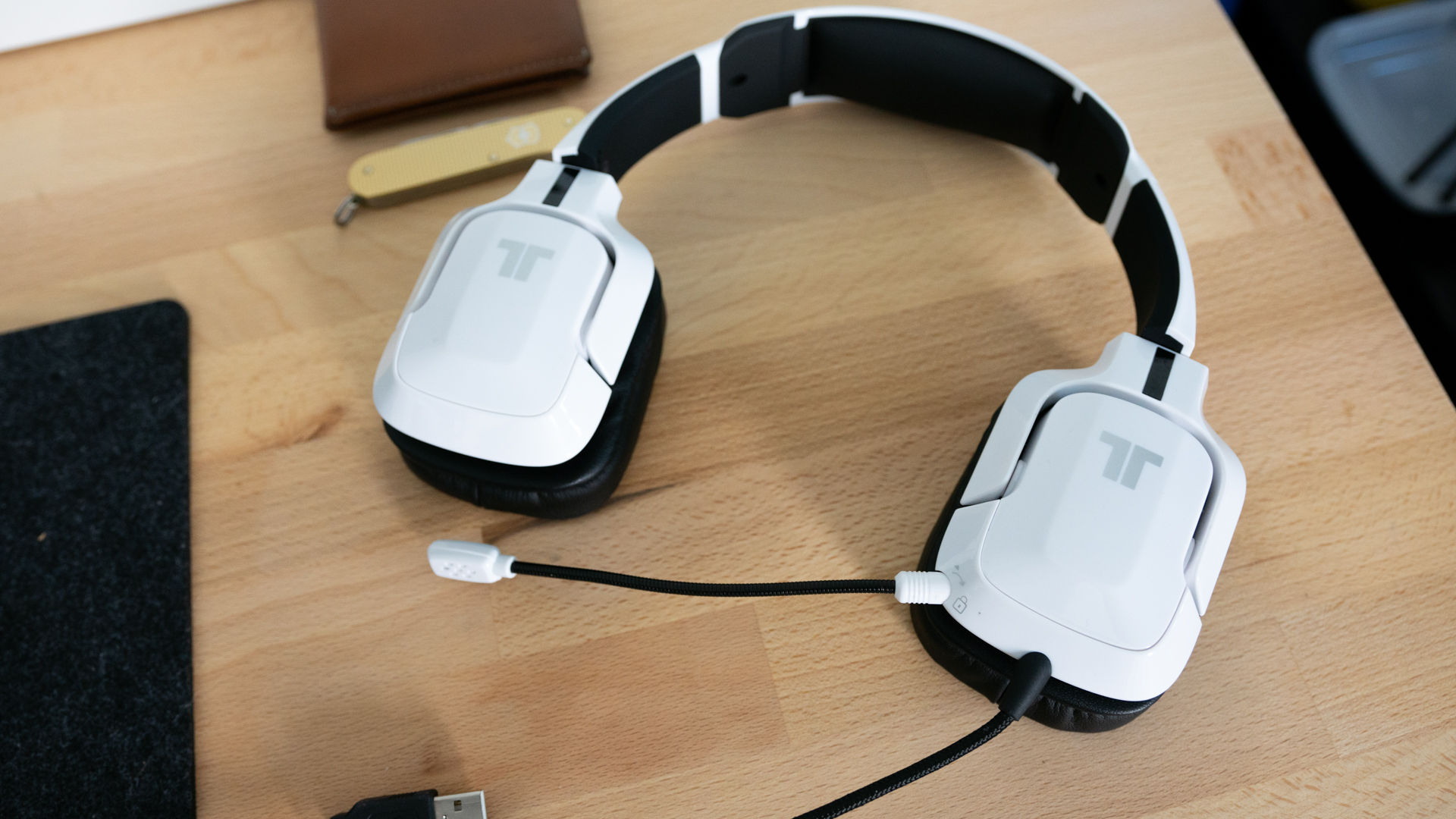 The Tritton Kunai Pro earcups rotate flat so you can rest them comfortably around your neck when not in use.
When you open the box you aren't greeted with much, just the headphones and some paperwork which is about as much as I was expecting for the price. The first thing I noticed when unpacking these is the build quality which isn't great. The Tritton Kunai Pro is made of what feels like cheap plastic that doesn't inspire much confidence. That said, I found this to be a good thing when using them as they were super lightweight (232.4 grams). So if you're a pro gamer who is always on the road, the might not last you. Though to be fair, at that point you probably have a decent pair of headphones already. If you're going to be leaving these plugged into your PS4 or only using them at your desk than the plastic build shouldn't be an issue.
When it comes to comfort, I found the Tritton Kunai Pro to be somewhat loose fitting which shows in the isolation test later on. The headband is adjustable and the earcups both swivel nicely to fit on your ear and rotate flat, but the clamping force is not too strong. That might sound like a bad thing, but I actually found this to be ideal as these are headphones that you're probably going to be wearing for long stretches of time. While the padding doesn't make these the most comfortable pair of cans you'll ever wear, they're not uncomfortable at all and I had no problem wearing them throughout testing.
The padding at the crown of the head is made of memory foam that perfectly forms itself to my head, but the earpads aren't made of the same material. They're much softer and while they fit over my ears nicely, they don't mold to my ears as much as I'd like. If you wear glasses, these may not be for you.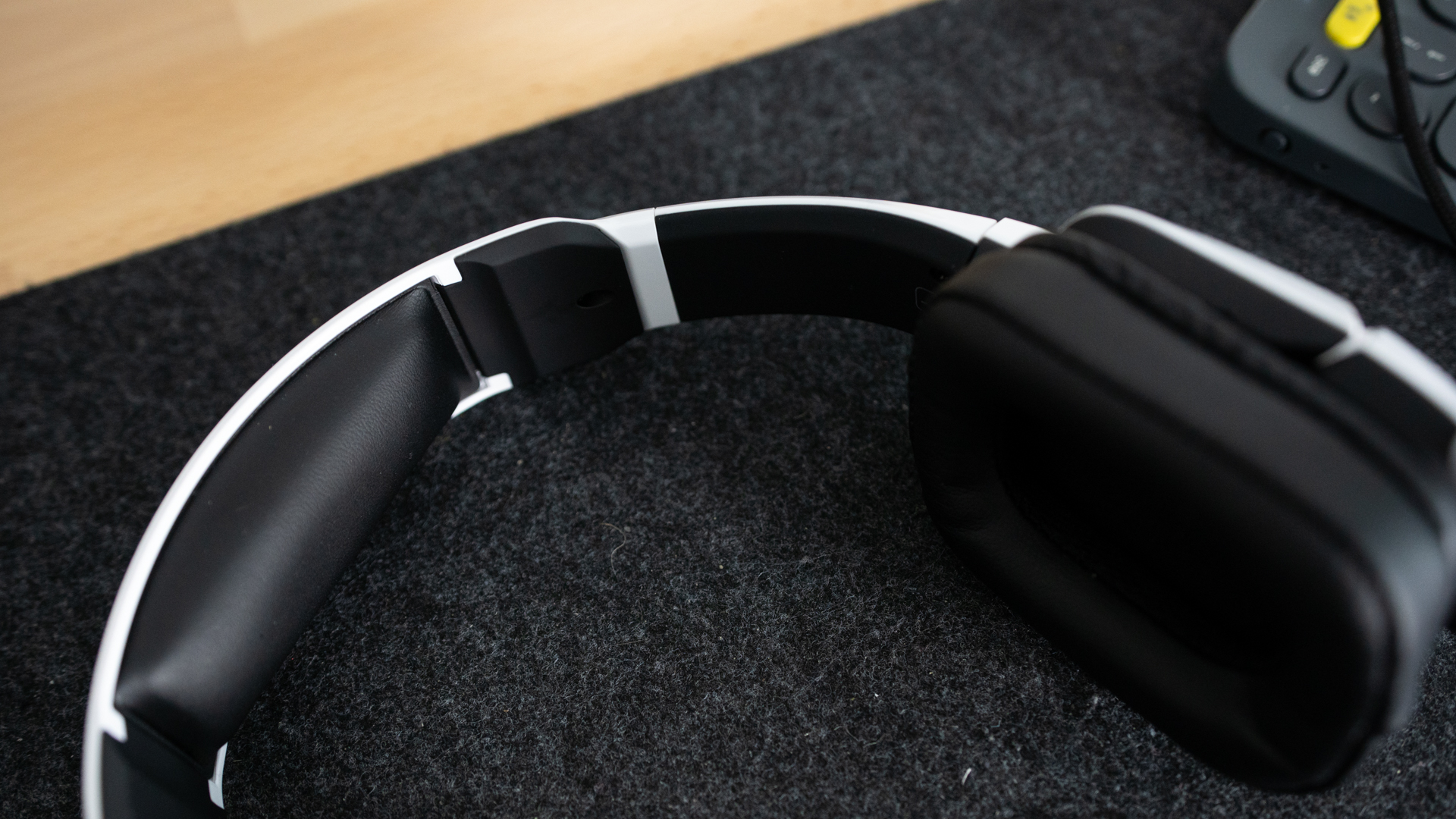 The padding on the headphones isn't great for isolation, but it is comfortable.
The other thing worth noting about these is the microphone and cable, both of which I think are great. The microphone is completely removable and locks into position with a small twist, not to mention that the stiff yet moldable material is easy to position. Still, if you'd rather not use a microphone at all so you're not tempted to yell at strangers on the internet, removing it is super simple. The cable, on the other hand, is easily tangled and is not removable, but it also feels sturdy and unlikely to break any time soon which is surprising at this price point. Halfway down the cable is where you'll find the control module with volume and HD audio controls, while the end is a standard USB-A plug to plug into a USB port.
How does the Tritton Kunai Pro connect?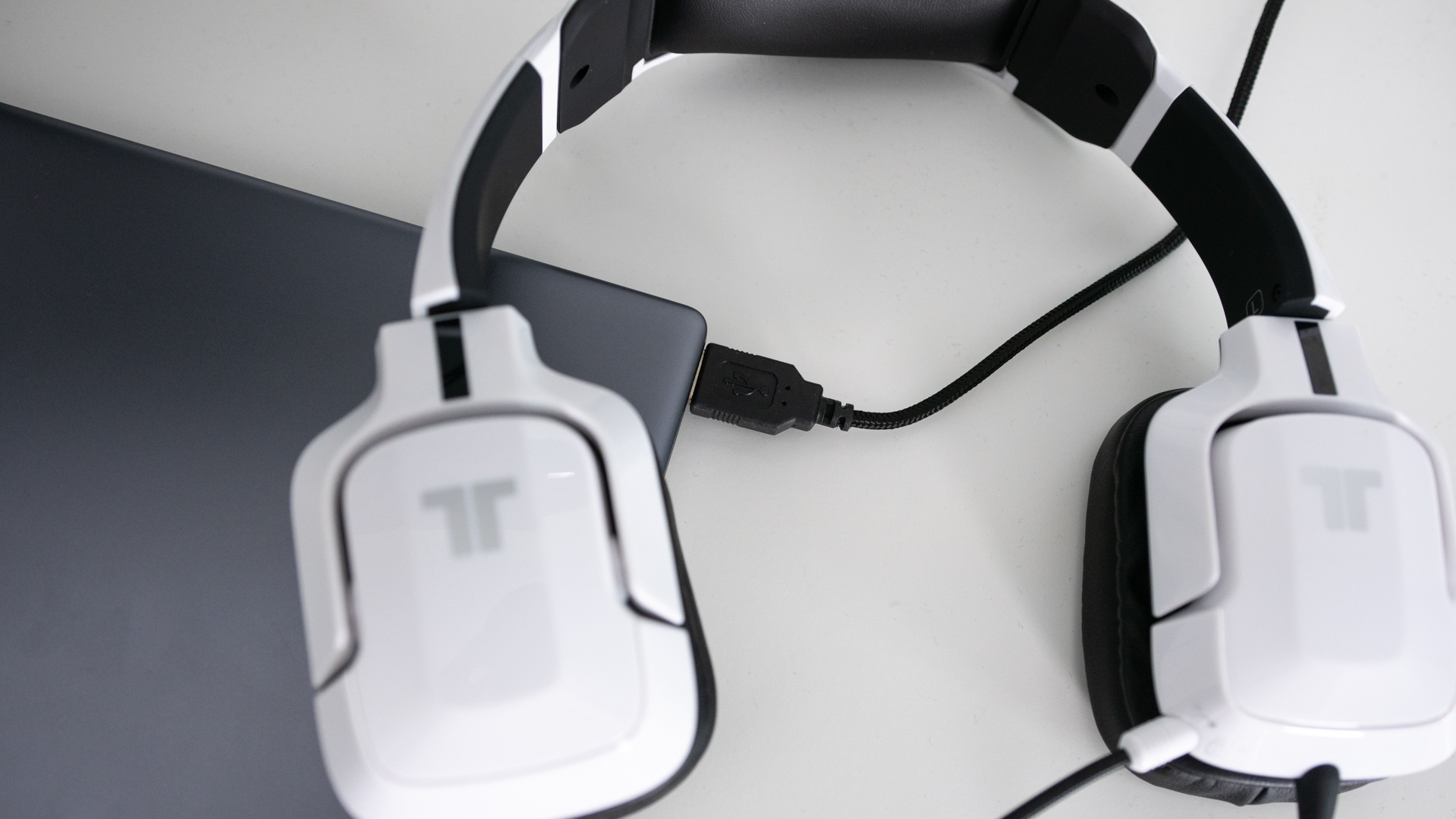 One thing to note is that these headphones have a non-removable cable that ends in a USB connector.
That brings us to the connection aspect of these headphones. If you were hoping to plug these into your phone while you play PUBG you're out of luck, as you can't swap out the USB cable with your favorite 3.5mm cable. Still, that makes sense: these are gaming headphones. These are completely compatible with both PC and PS4, and while I've read elsewhere that they're also compatible with Xbox consoles, I was unable to confirm this because I'm #TeamPlaystation.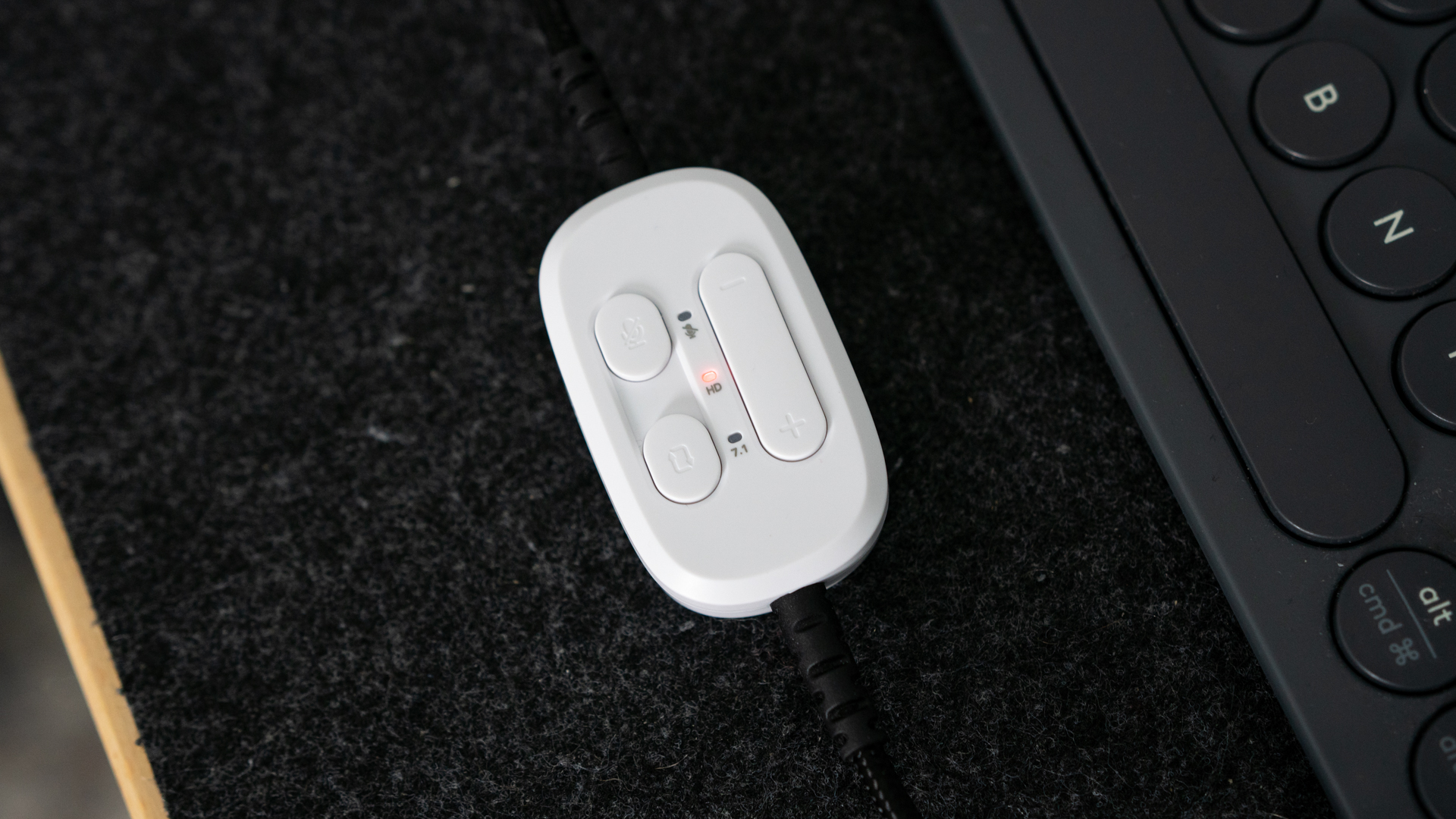 The control module isn't tiny, but it lets you switch between modes depending on what you're doing.
The feature of note with the Tritton Kunai Pro is that they feature Dirac audio, which means that they have 3D audio capabilities as the company specializes in software that helps fine 360-degree immersion. The small control module on the cable lets you switch between Dirac HD Sound and Dirac 3D Audio. As you can imagine, the 3D audio switch is the one that will toggle on the 3D surround sound, while the HD Sound just creates a flat frequency response profile for when you want to listen to music. We have an entire explainer on what frequency response is, but all you need to know for this is that it applies an equal amount of emphasis to all notes, be it in the bass, mids, or highs.
How do the Tritton Kunai Pro sound?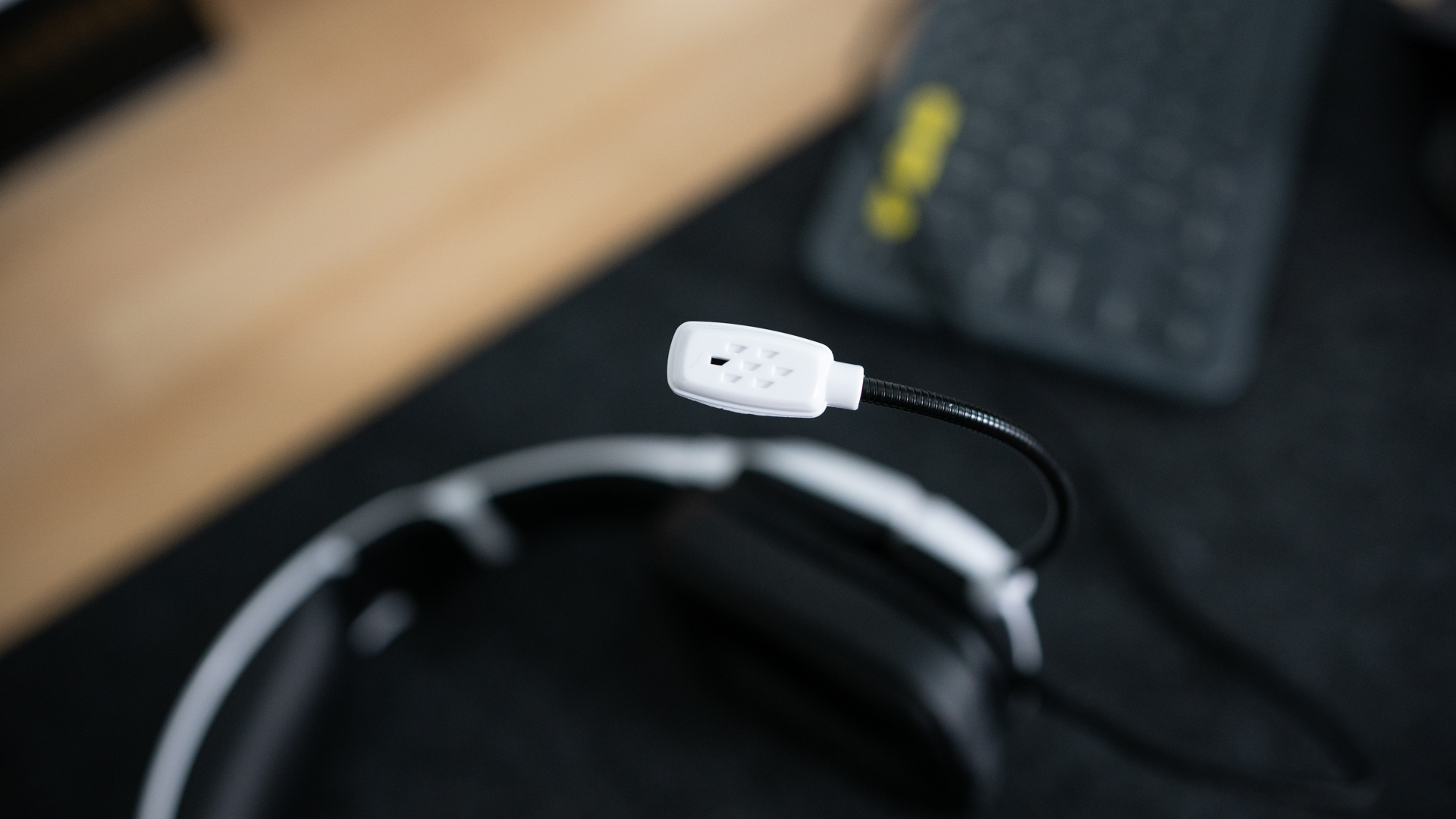 The microphone on the Kunai Pro is spectacular, and it's removable for when you don't feel like yelling at kids on the internet.
As you can see from the frequency response graph of the Tritton Kunai Pro headphones, they do a fairly good job at delivering on that promise of equally emphasizing all of the notes, save for the lowest of notes which leak out likely due to the padding on the ear cups. Still, the deep kicks and bassline throughout the song Eventually by Tame Impala sound fine with just the right amount of emphasis behind them. Through the verse when you're meant to be focusing on the vocals they stay underneath everything but come into the forefront in a pleasingly gritty way during the first chorus at 1:35.
Vocals also sound great, and Prince's voice in the song 1000 X's and O's really makes you really wish there was still a chance to see him live. His vocals and the instrumentation behind him sound in harmony and you're never left struggling to hear any one bit of music and even though there's a slight lack of clarity.
All that said, these aren't for listening to music. These are gaming headphones, and when you switch to 3D Audio mode it instantly ups the low end to compensate for the feeling of being engulfed in a 7.1 surround sound. Of course, the end effect is not true 7.1 as that would require multiple speakers positioned around you and these headphones, like most headphones, only have two drivers.
That said, the software adds some interesting trickery that does do a great job at giving you positional sound when gaming. While testing this with Fortnite I wasn't quite able to pinpoint perfectly the source of a sound in 360 degrees, but it was more than enough to tell which direction the person gunning me down was coming from. This was clearly demonstrated when walking by a small stream in-game, where turning around will play the sound of the stream accordingly as per its in-game position. I couldn't really tell if it was coming from seven different directions, but it was good enough that I could tell whether the stream was behind me or to the left/right of me with my eyes closed.
Should you buy the Tritton Kunai Pro?
If you're looking for a gaming headset that won't break the bank, don't pass on the Kunai Pro. While you're sacrificing build quality to get the price to around $50, you're not giving up much else. You still get a surprisingly good sound and microphone quality, plus wearing them for long periods of time won't fatigue your ears too much. Of course, they do suffer from some sub-par isolation which might be an issue if there's a lot of noise around you, but if you're going to be just kicking back to play some games at the end of the day these are a great option.