All products featured are independently chosen by us. However, SoundGuys may receive a commission on orders placed through its retail links. See our ethics statement.
The bottom line
If you like on-ear headphones, these should be on your shortlist. Not only do they have fantastic sound for the price, but they isolate well, and look great too. However, they're very basic. If you need wireless or other smart features, you need to keep looking.
Thinksound On2
If you like on-ear headphones, these should be on your shortlist. Not only do they have fantastic sound for the price, but they isolate well, and look great too. However, they're very basic. If you need wireless or other smart features, you need to keep looking.
What we like
Great sound<br>Wooden construction</br>Good isolation<br>Price</br>Durability
What we don't like
No features<br>Over-branded</br>Traps in heat
Rating Metric
Sound Quality
9.1
Bass
9.1
Midrange
8.9
Highs
8.8
Durability / Build Quality
9.4
Value
9.6
Design
8.7
Microphone
8.0
Portability
9.7
It's no secret that I'm a sucker for crafting things out of wood, but it's definitely not a material I see taken seriously at the entry level of the market. Sure, there are a few sets of cans out there with wood veneers or accents, but few headphones are milled out of a block of the stuff. However, New Hampshire-based audio upstart Thinksound is changing that with their On2 headphones.
What's included
Inside the box you'll find your On2 headphones, a carrying pouch, one 3.5mm to 3.5mm cable with remote, and another without.
Build & Design
The Thinksound On2 look a lot like how I'd build on-ear headphones. They have a removable cable—thereby increasing their durability and adaptability—soft leatherette earpads, and a folding design that makes them incredibly easy to stow. While the included pouch doesn't really offer much protection, it's still a nicety that affords some extra portability if you really need the extra organization. The company is actually from my neck of the woods (both literally and figuratively), and after a month plus with their On2 headphones, I'm quite happy with the build quality. It's not what I expected, but unlike the Monoprice Monolith line of headphones, the On2 avoids some basic woodworking mistakes that introduce durability concerns. These will survive you.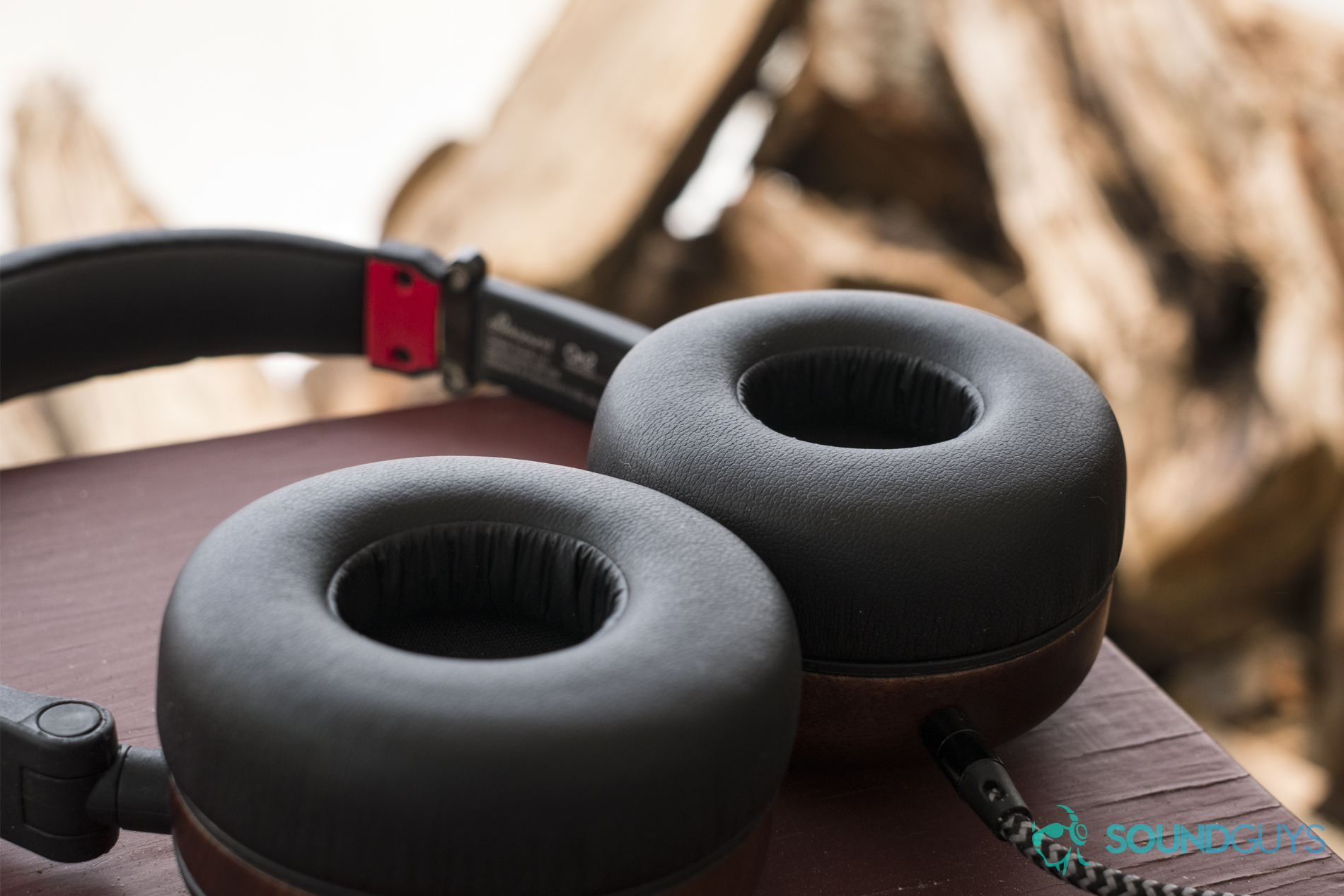 Super soft leatherette is a good choice for those with sensitive ears.
But the main thing that speaks to me here is the decision to use wood to house the drivers. Sure, it's not hard plastic or metal, but I think you'll find that the backings have a natural beauty to them. There's a reason we pay more for well-crafted hardwood furniture instead of going to IKEA: we know it's worth it, and it's damned pretty. These on-ears are far lighter than you'd expect, and you may find yourself wondering why you spent $200 on them because they don't feel premium. However, I should point out that this is an intentional part of the design. Many of the high-end cans from Sennheiser and others will try to make their models extremely light if you're likely to be listening for long periods of time.
Because these headphones have a light clamping force, you may find that the leather band doesn't grip your skull well. I had trouble with these when hiking out by the falls near my hometown, for example. If you get a bit sweaty, these will slide around, and tightening the band a bit doesn't seem to do much except put more pressure on your head and change the angle the drivers sit in relation to your ear. You might have more luck sliding the band back a bit on your head like I did.
Solid wood backs not only look great, but offer resonant properties that some audiophiles prize.
Similar to the Sennheiser HD-25-II, the Thinksound On2 sports its female jack in the right earcup instead of the left. When in use, the On2's cables are quite good: they have a Kevlar-reinforced weave protecting the outside of the wire, and the remote is beefy and easy to find without looking. If you're a hermit like me and won't want to talk to people on your phone, you can always use the remote-less cable, too.
Connection
At this point it's a little strange to re-hash a 3.5mm jack over and over again, but here we are. The Thnksound On2 has an extremely standard 3.5mm plug, but that's a good thing—unlike Apple's claims to the contrary. It means you'll have a reliable, durable, high-quality way of interfacing with multiple sources without the need to pair or futz with software.
The plug of the On2 is a straight affair, perfect for a smartphone or computer jack. Some people may like the l-shaped plugs better, but those aren't found here.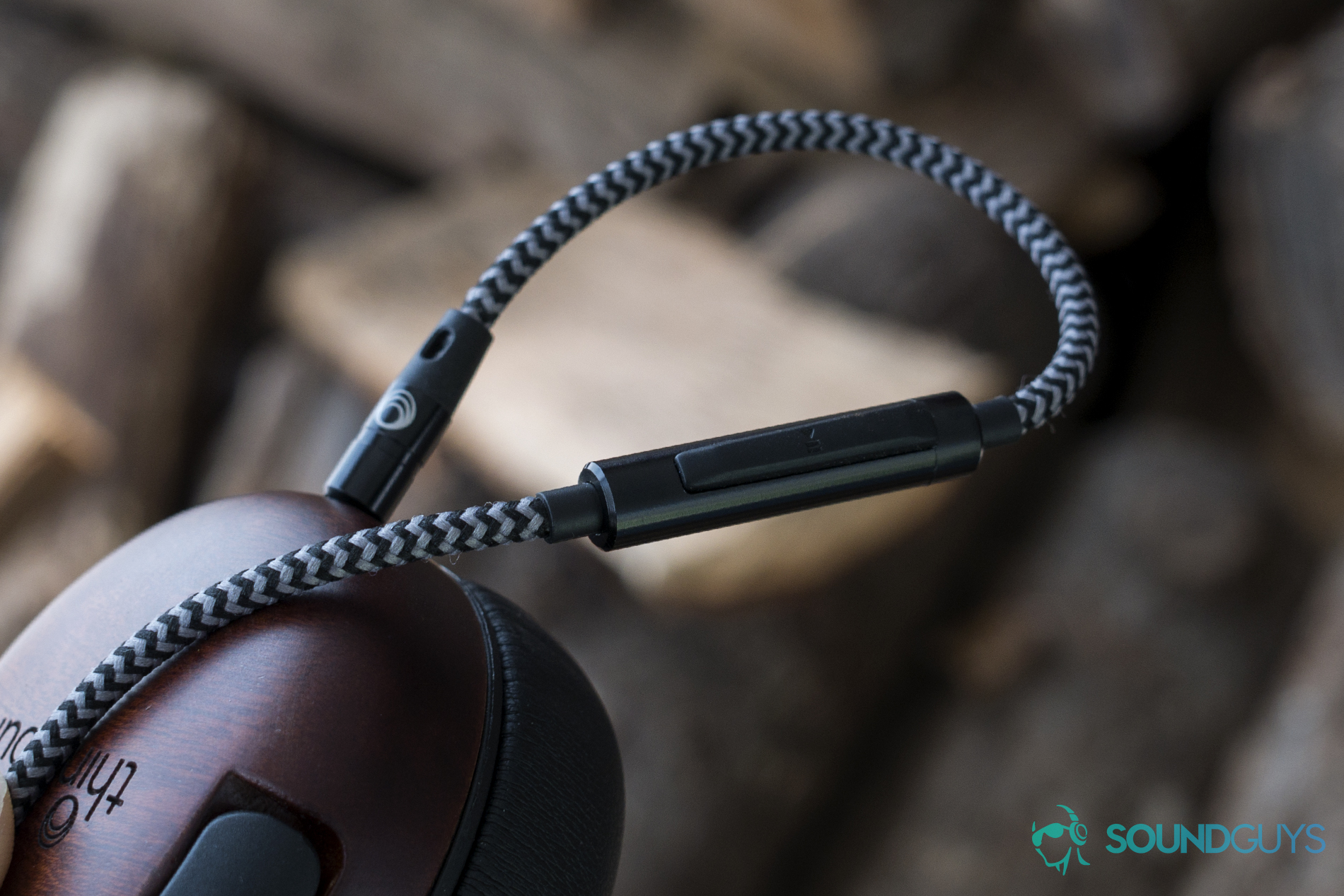 This beefy remote works well for Android phones.
How does the Thinksound On2 sound?
So that's a lot of words to spill over what amounts to "these headphones are well made," but how do they sound? Pretty good for the price point, actually.
For starters, you don't need an amp or DAC to make the most of the On2. While the impedance sits at 50Ω, its sensitivity is quite high—my smartphone was able to get these very loud. That's not to say that the On2 won't sound good on amped systems, but you don't need an amp or any other equipment.
My gripes with the on-ear design apply here, so you'll probably want to know that how these headphones sound depend largely on how well they fit you. Moving them around on your ear is necessary to get the best performance out of them, and that's true of virtually every on-ear set of cans out there. Similarly, how these fit you will also dictate how well they block out sound. However, when you do get a good seal, the isolation is quite good: sure, it won't block out the low end much, but you can easily halve the loudness of most sounds in the vocal range. Consequently, you'll be able to hear more of your notes in the presence of light noise.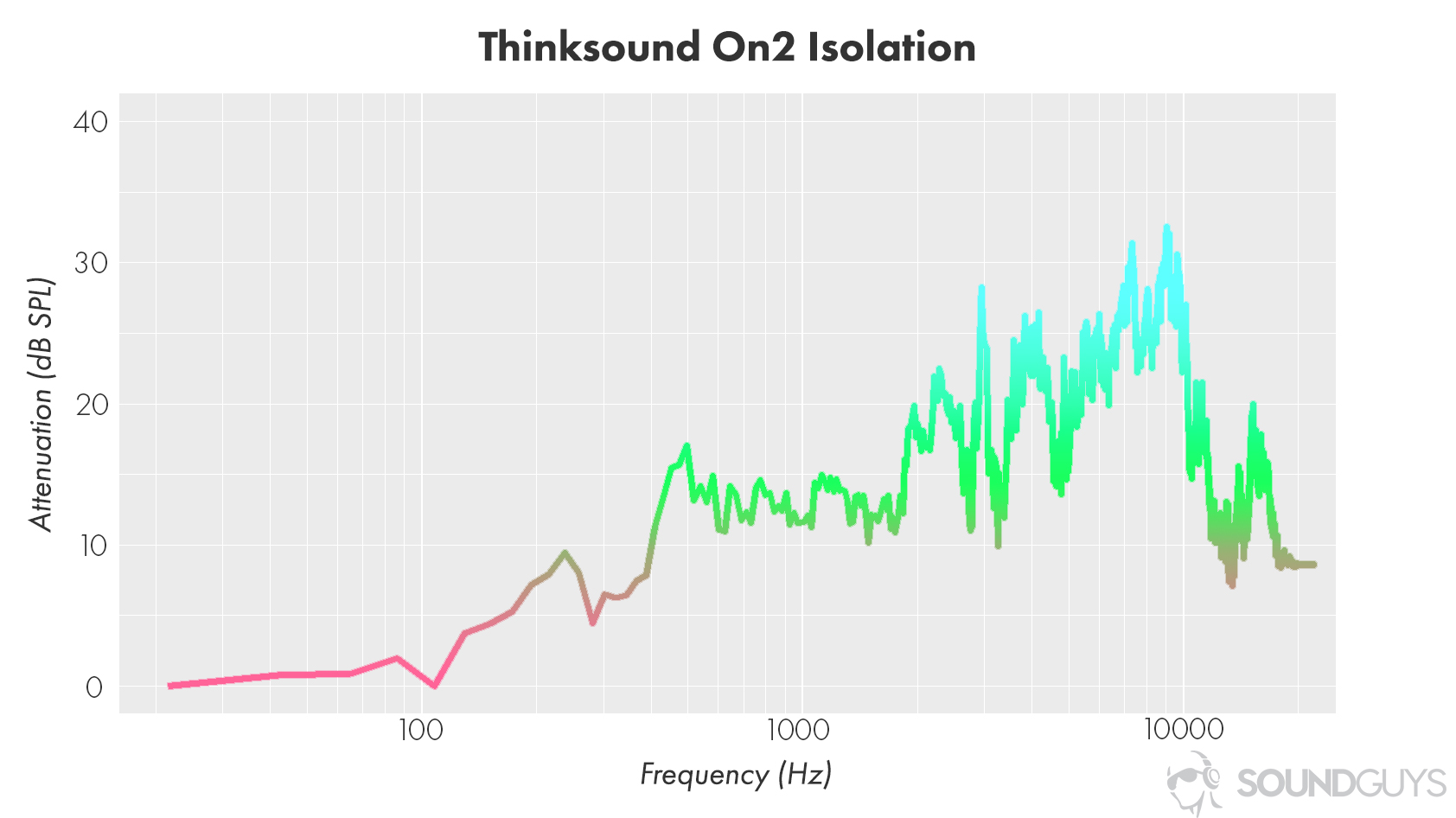 For on-ears, this isolation is quite good. I suspect the deep ear pads make a perfect seal much easier.
Despite their branding as "monitors," these headphones actually straddle the line between studio and consumer sound. What does that mean for you? Well, basically all that means is that there's plenty of bass, but not to the point where it drowns everything else out. Additionally, you're unlikely to hear strange ringing or really grating notes in your music. I did hear a few peaks here and there, but it's nothing crazy. Thinksound has come a long way from their first couple models, and it shows on the On2.
A few high-mids like some of the synth claps in Lincoln Jesser's Wicked Son get emphasized a little too much, which can be a little annoying, but you have to hunt doggedly to find any emphasis errors. However, that's really it for negatives. The On2 has surprisingly clear sound for closed-back headphones, and even on the same track it' s easy to pick the vocals out from the crowded melody.

I definitely appreciate the more restrained emphases in the mids and harmonic frequencies, as it makes come common synthwave beats a bit more pleasant to listen to. I'm not sure if it's the dampening effect of the wood or the driver design, but there isn't much in the way of ringing, which is well-demonstrated with generic samples.
If rock is more your jam, I think you'll find a damn good partner in the On2. It's very easy to hear details you'd often miss like the attack on the bongos in CCR's Born on the Bayou. It's little things like this that stand out, but get enough little things together, and it can change things for you over time.
Conclusion
The Thinksound On2 is a solid pick for anyone who wants a really well-crafted set of on-ear headphones, but doesn't need (or want) a lot of extra features. They sound great for the price, they're comfortable, and their light construction makes them a great pick for portability. However, these aren't likely to satisfy anyone in need of noise canceling, nor will it be a good option for those who have trouble with on-ears.
It's tough to argue with the On2 if you just want a lot of audio quality for the price, but at $200 there's a lot of competition out there. Still, they're a cut above—making them a value pick even if they cost quite a bit. It's about a safe a gamble as you can make for this kind of money.