All products featured are independently chosen by us. However, SoundGuys may receive a commission on orders placed through its retail links. See our ethics statement.
7.1
Soul Electronics Run Free Pro Bio
The bottom line
Even if these headphones did a great job, the data that the app is asking to track is a serious red flag and makes this hard to recommend to anyone who cares about privacy at all.
Soul Electronics Run Free Pro Bio
Even if these headphones did a great job, the data that the app is asking to track is a serious red flag and makes this hard to recommend to anyone who cares about privacy at all.
What we like
Surprisingly good sound<br>
Strong Bluetooth connection<br>
What we don't like
The associated app asks for way too much data<br>
Terrible fit<br>
Flimsy build quality<br>
Dated design<br>
Annoying in-ear "coach" that constantly interupts music<br>
Price<br>
Rating Metric
Sound Quality
8.3
Bass
8.5
Midrange
8.0
Highs
8.0
Durability / Build Quality
6.0
Value
5.0
Design
5.0
Microphone
8.0
Portability
7.0
Battery Life
7.5
When it comes to fitness, there are quite literally hundreds of workout earbuds to choose from. So how does one stand out from the pack? Soul has figured out one unique approach which is to use data to help you get the most out of your workout. The Soul Run Free Pro Bio is able to do more than other earbuds thanks to a special biometric sensor built right into the cable that collects data and, when paired with their app, provides real-time coaching based on what it gets. But does this actually help with your workout? Spoiler alert: Nope.
Who should buy these?
No one. Don't buy these. While there is a lot wrong with these headphones that I'll get into in this review, there's also a surprising data point or two that the associated app requires that make it hard to recommend these to anyone that values their privacy.
How is the Soul Run Free Pro Bio built?
At first glance, these earbuds look like any other pair of workout earbuds. They have two plastic earbuds attached by a wire, a playback control module on the cable, and they're even sporting a cable tie so you can secure the cable from flopping around too much during your workout. That said, there are some peculiarities upon further inspection, and you'll notice that the earbuds are actually quite a bit larger than some others that you might be used to.
These also have what looks like a small pillbox on the cable across from the control module. Soul has partnered with a company called Beflex Inc. to put an advanced biometric sensor in here that will track everything from your head angle to your gait while running (more on that later).
TheSoul Run Free Pro Bio earbuds are fairly large and I have a hard time keeping them in my ears.
The large earbuds also come with a few different sized ear tips so you can get the perfect fit, but I had a hard time getting any of them to fit perfectly. I found the pair that felt the most secure and headed to the gym, but barely a mile into my run they began to slip out. Once the sweat started to come around mile 1.5 it was nearly impossible to keep them in my ears as they just kept slipping out. Luckily, these are IPX5 water-resistance and have a nano-coating for sweat resistance as well so I didn't have to worry about them getting destroyed. Still, that didn't really matter considering they wouldn't stay in my ears and I had to stop using them.
The Soul Run Free Pro Bio can track everything from your neck alignment to the cadence of your steps.
Surprisingly, the bulky control module and biometric sensor didn't jumble around as much as I thought they would, but that's the only bit of praise I can come up with here. Overall, the design of these headphones just look terrible, and the cheap plastic build doesn't make them any easier on the eyes. The buttons on the control module are also terrible, as they have barely any click to them and I wasn't sure when I had successfully clicked the button or not.
Then there's the cheap plastic flap that covers the charging port as well. It looks like it will fall off after a few uses and it feels even worse. Still, I was willing to forgive the cheap build and bad design if the biometric sensors worked as advertised. Unfortunately, this review doesn't get any better in those regards either.
Connection strength and associated app
The Soul Run Free Pro Bio are rocking Bluetooth 4.1 and I had no problem connecting to my phone while running. As I alluded to earlier, the main selling point of these headphones is to track your runs down to the last detail. This means that you'll need to download a separate app on your phone to really get the most out of the biometric sensors and have access to the real-time coaching that's promised. So do they work? Yes, a little too well.
The earbuds have an LED ring around the sensors for extra visibility when running at night.
Apparently, my left foot is stronger than my right when running, and these headphones wasted no time telling me that the cadence of my run was off. Constantly. Just about every 20 seconds there was a voice interrupting my music telling me to fix my cadence yet offering no helpful advice. The result was constant, annoying interruptions that would've caused me to stop using them had they been able to stay in the first place. One thing that did work fairly well was the little voice telling you when your neck was misaligned.
Any time I was struggling and looked down to my feet trying to push through, the voice reminded me to keep my chin up. Once I did, it said "Good job!" before disappearing. So although it's not entirely useless, I do wish that the voice would offer a little more help other than just telling you that you're doing it wrong. That's the point of a good coach isn't it?
Privacy concerns
Feature improvements aside, one thing that caused me to really raise my eyebrows when using these headphones was just how much data they require from you. I get it, these are a pair of 'buds with advanced biometric sensors that need to track a lot, and I didn't really question it when the privacy agreement said that the app would collect data such as "leg length" and whether I was "right footed or left footed". After all, that's still related to running.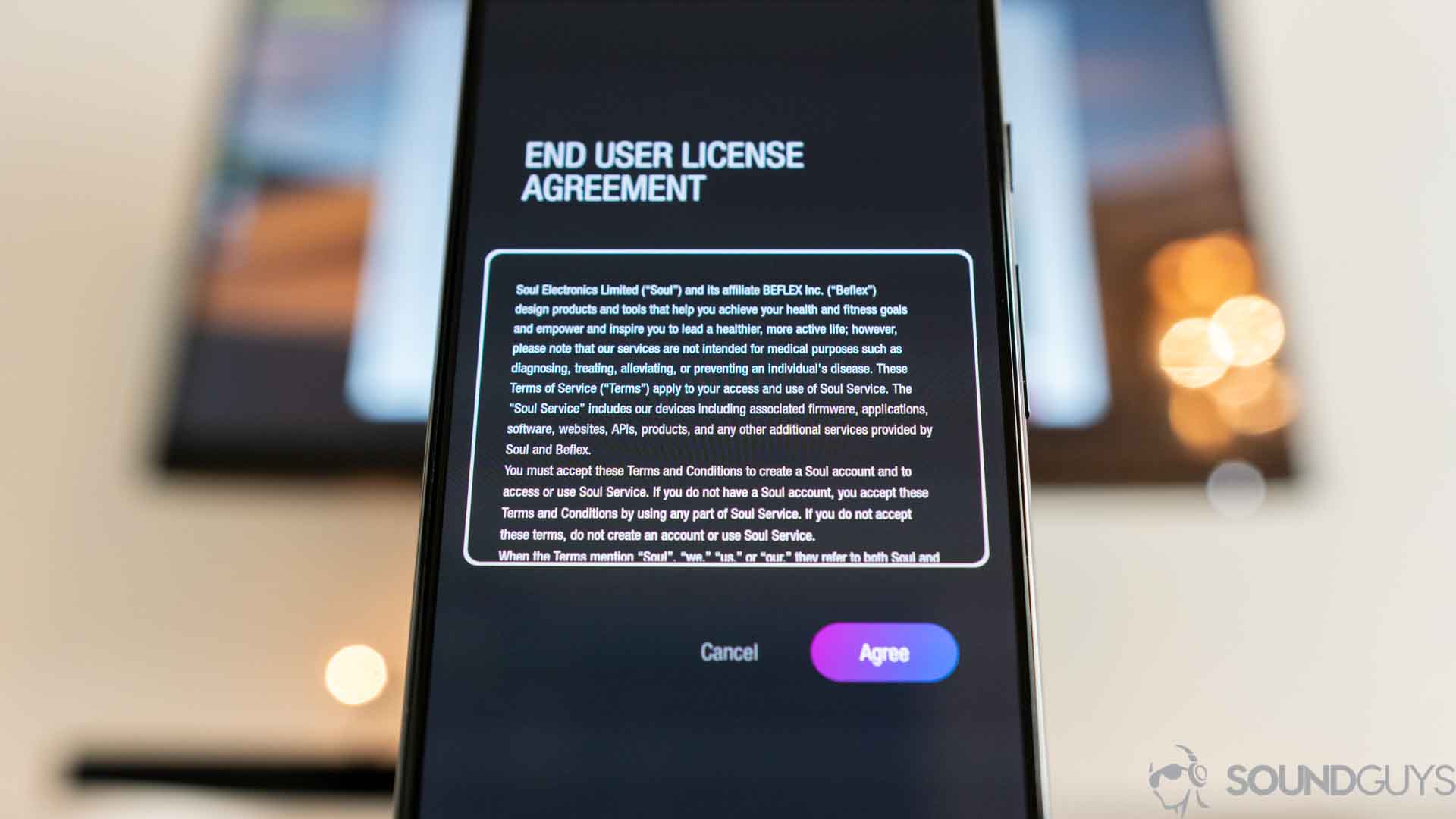 The End user agreement is a blur of words.
No, what caused me to question everything I was agreeing to was when the privacy statement said the app would also be collecting data on things like past injuries, alcohol use, and menstruation history. Why you have to agree to that is beyond me, but if you're picking up a pair of these you should definitely consider whether or not you're comfortable with divulging that information. I know it made me take a long, hard look at the rest of my fitness apps wondering if they were actually necessary, especially when just for a pair of headphones.
Battery life
Soul claims that these will last you around 11 hours of constant playback, and in our testing, we got around seven hours and 57 minutes. While that's not the 11 hours promised on the packaging, it isn't bad and should get most people through a solid week of workouts.  Underneath the flimsy rubber cover for the charging port, you get a micro USB port that looks like it's already been through a lot without my help. Also, one thing to note is that I was never able to get these to charge completely to 100 percent. I'm assuming mine were defective, but after trying to charge it fully twice it still came up as only 80 percent battery,
The Soul Run Free Bio have surprisingly good sound
These have a fairly basic workout earbud design, though a more premium build would've been nice.
If you haven't noticed, I haven't exactly been giving these headphones a glowing review. That said, I will throw Soul Electronics a bone here because these actually don't sound half bad. Had they been able to stay in my ears throughout my entire run, it would've had exactly the sound quality I look for in headphones I bring to the gym. The low end is slightly emphasized which adds a bit of urgency to my runs, but it wasn't overly exaggerated to the point where it's the only thing I hear.
It stayed nicely underneath all of the synths and vocals in the song Let it Happen by Tame Impala, though some of the detail in transitions were lost. Although these look like cheap earbuds that would have a muffled mid-range, that wasn't the case. Guitars, vocals, and background vocals in Kids With Guns had decent separation, making it easy to pick apart the layering of the instruments.
I'm not saying these are going to be your next critical listening earbuds, but for a pair of gym headphones, they sound better than some other options I've tried for around the same price.
Final thoughts
So if you're in the market for a pair of workout earbuds should you buy these? Absolutely not. Although I do like how they sound, there's too much wrong with these headphones to recommend them to anyone. They feel flimsy, look terrible, won't stay in my ear, and require way too much personal health data. Seriously, menstruation history? What gives? If you still want a pair of workout earbuds there are plenty of other options that cost less and don't want access to your personal information.