All products featured are independently chosen by us. However, SoundGuys may receive a commission on orders placed through its retail links. See our ethics statement.
The bottom line
While it doesn't have the top of the line specs that make home audio geeks drool, the Sony HT-S350 is an instant upgrade to your TV speakers that won't break the bank.
Sony HT-S350
While it doesn't have the top of the line specs that make home audio geeks drool, the Sony HT-S350 is an instant upgrade to your TV speakers that won't break the bank.
Dimensions
Soundbar: 900 mm x 64 mm x 88 mm
Subwoofer: 190mm x 382mm x 390mm
Weight
Soundbar: 2.4kg
Subwoofer: 7.8kg
What we like
Easy to set up<br>
Straightforward to use thanks to remote control<br>
Good sound with fairly neutral frequency response and powerful sub<br>
Price<br>
What we don't like
No Dolby Atmos or DTS:X support<br>
No good Bluetooth codec support<br>
Some of the EQ modes seem redundant<br>
Rating Metric
Sound Quality
9.0
Durability / Build Quality
8.0
Value
8.0
Design
7.0
Display technology has improved immensely over the past couple of years. My current 4K TV is barely 4-inches at its thickest point, and it's far from a top of the line model. Unfortunately, having a thin TV means less space for speakers. In short, audio tends to suffer the thinner you get. The best way to combat this is with a dedicated surround sound system or at least a soundbar. That's where the 2.1 channel Sony HT-S350 fits into the story. At less than $300, this soundbar comes with a wireless sub and promises to up your audio game, but how is it really?
Editor's note: This post was updated on September 28th, 2020 to reflect changes in pricing and to update the conclusion.
Who's the Sony HT-S350 soundbar for?
People in small apartments. If you live in a small apartment (like I do), this soundbar has more than enough power (340W) to give you the upgrade you need without annoying the neighbors.
College students. Aside from most likely living in a small space, college students also are mainly concerned with price. At under $200, the Sony HT-S350 soundbar is hands-down a great bang for your buck product.
Great entry-level soundbar for anyone curious about better TV audio. If you've never had a soundbar before and aren't sure how much use you'll get out of a soundbar, this is a great way to dip your toes into the world of more immersive home audio.
How to set up the Sony HT-S350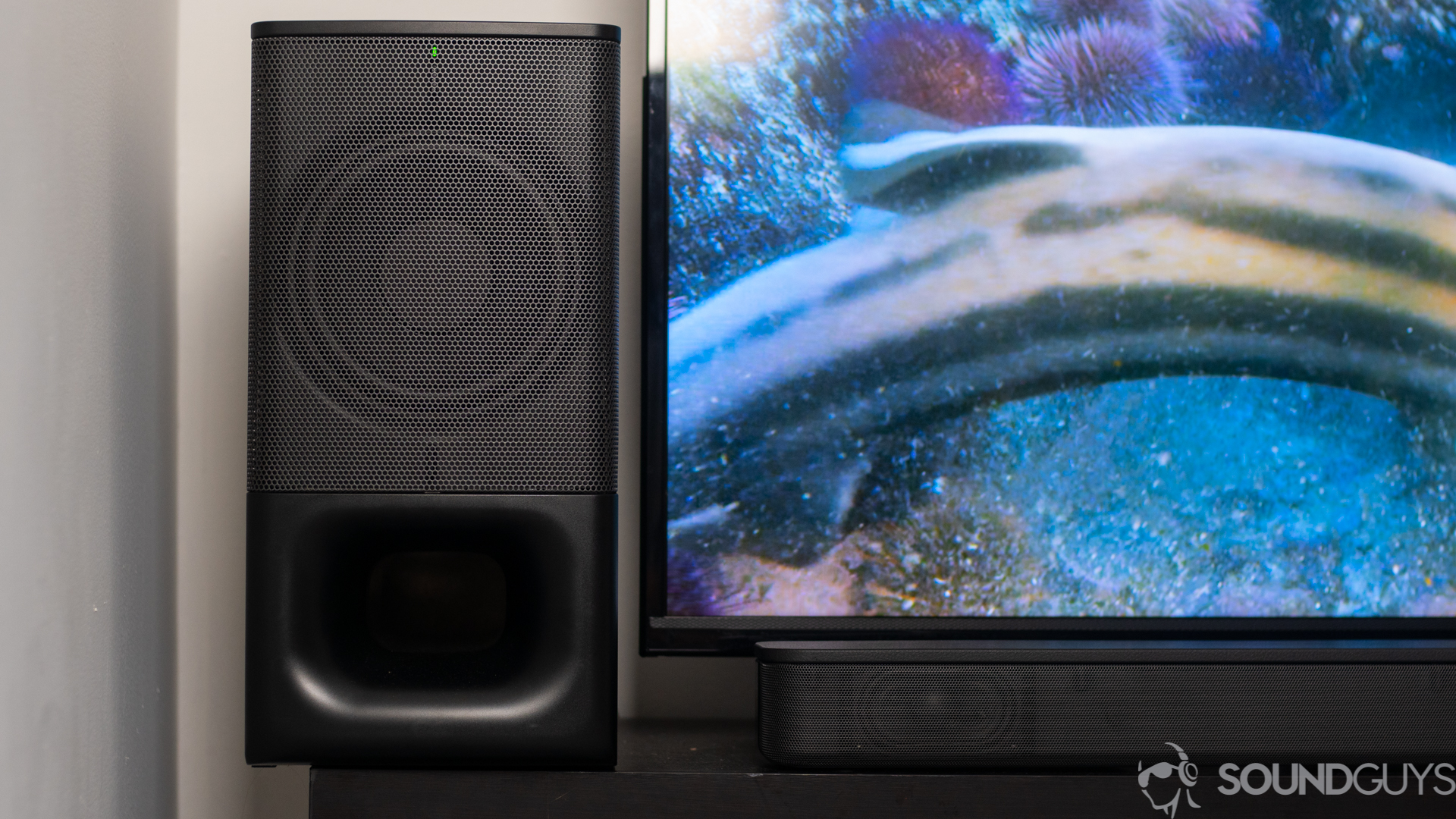 While the soundbar is fairly small and easy to place, the subwoofer is huge with a 160mm driver.
Fair warning, the Sony HT-S350 comes in a giant, awkward box. I feel like it would've been easier to ship/handle in two separate boxes for the soundbar and sub, but instead, they come together in a box that's difficult to store. Thankfully, setting up the soundbar isn't as tedious as its packaging. Once you get the soundbar and the sub to where you want them to be, then all you have to do is plug the soundbar and sub into an outlet.
At 64mm in height, the soundbar fits nicely under most TVs and can even be mounted on the wall if need be.
Next, connect the soundbar to the TV via the included optical cable or an HDMI cable and voila, you're done. When you turn on the soundbar it will automatically connect to the wireless sub which is super convenient. As someone who has fussed with the wires going into an out of a receiver more times than I can count, this is one of those moments that really made me feel like I was living in the future. True, it isn't a feature unique to this Sony HT-S350, but it still gets me every time.
What's it like to use?
Using the HT-S350 is fairly straightforward thanks to the included remote. Try not to lose it though because while you can switch between inputs between TV and Bluetooth thanks to the touch-sensitive buttons on top of the soundbar, there's no way to switch the EQ modes without the remote.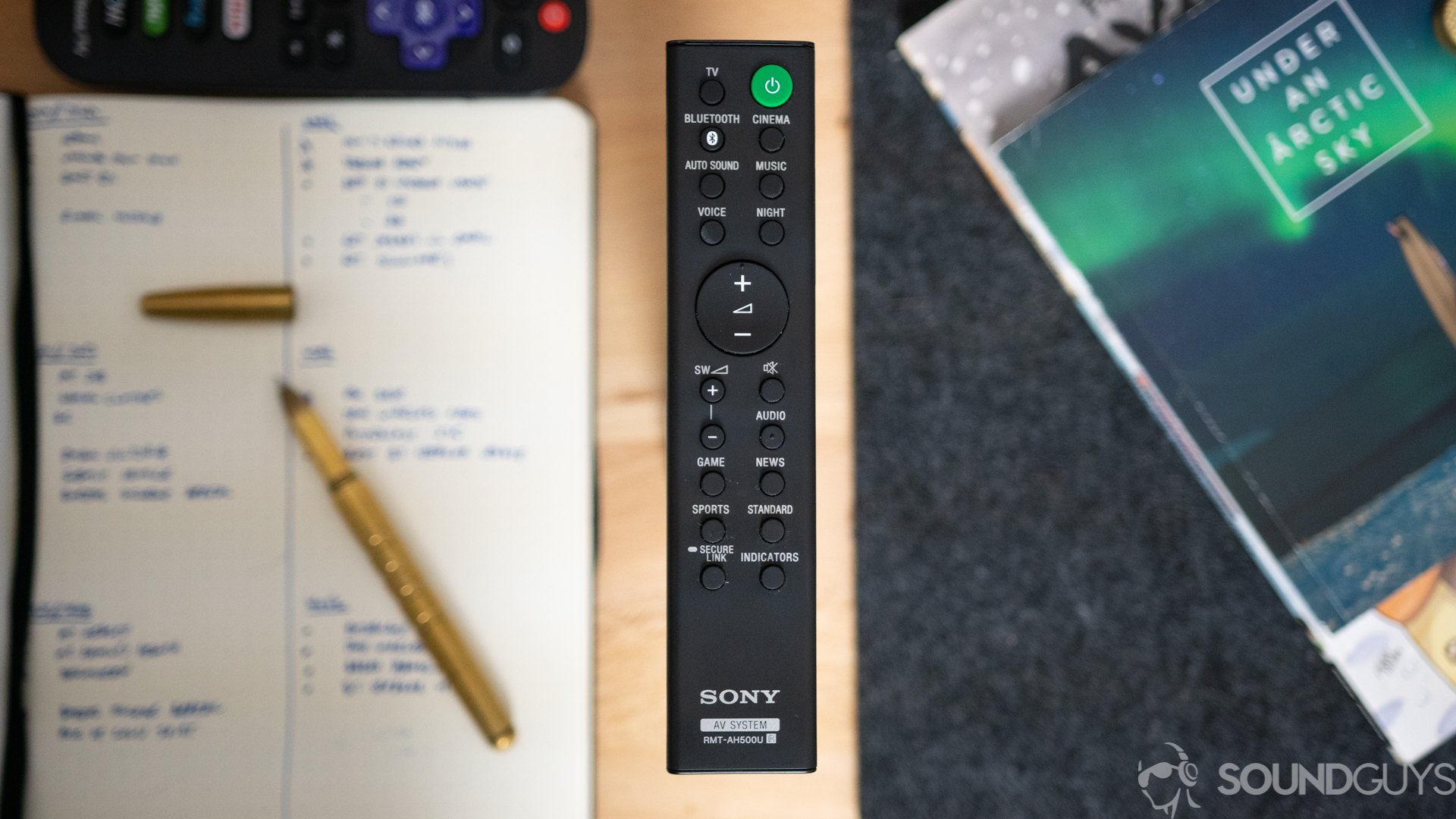 The remote is fairly straightforward to use, even if the modes are somewhat redundant.
Speaking of EQ modes, you can swap between them based on whatever you're watching or listening to. In the center of the remote are the volume controls, and I found that the listening modes above the volume way more useful than the modes on the bottom. For example, they're clearly labeled based on what kind of media you're listening to. The modes available are cinema, music, auto sound, voice, and night. I found night mode especially useful as it came in handy when watching movies at nighttime. So if you're watching an action movie, you won't have to raise the volume for the whispered dialog spoken by the protagonist only to have your ears blown off when there's an explosion. Instead, the night mode balances them out so you won't accidentally wake the neighbors or your significant other in the other room.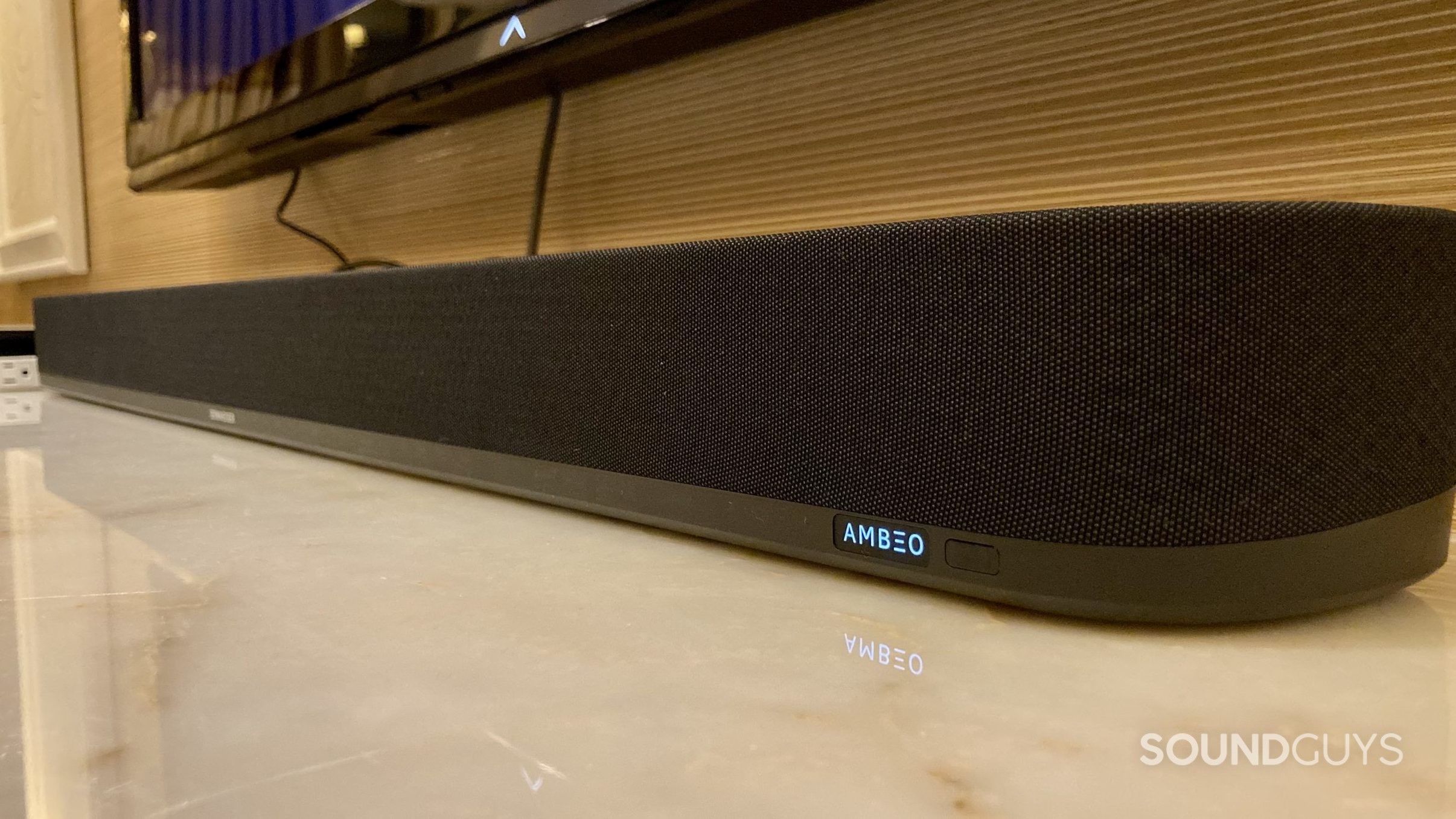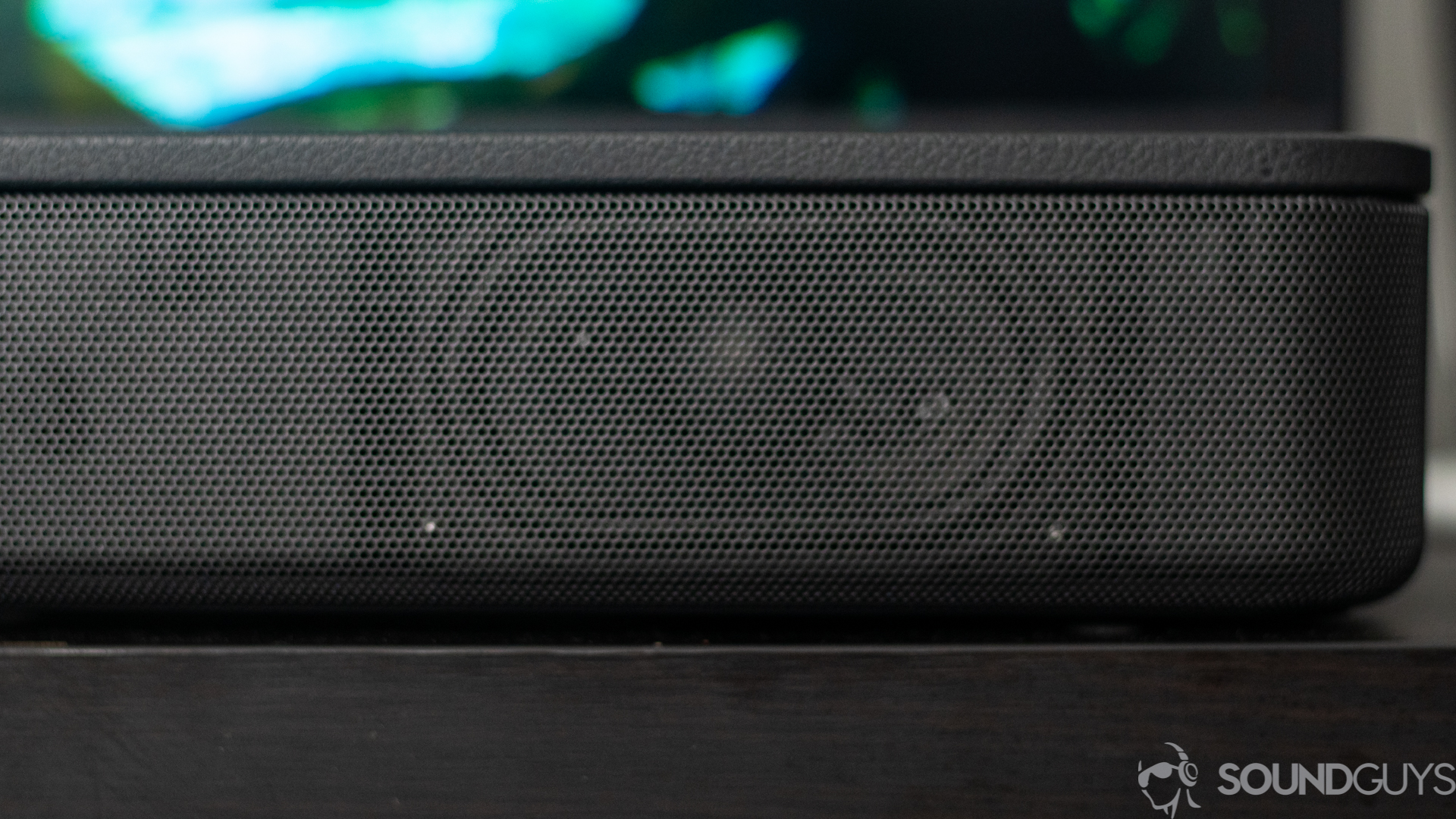 Underneath the volume controls you'll find a few more options like the subwoofer volume controls and a mute button, but then there's also some more vague controls like audio, news, game, sports, and standard. Using them, I wasn't exactly sure what they did or why they were there. For example, the "News" mode seemed to give extra emphasis to vocals, but couldn't I just press the "Voice" button on the top of the remote for that? It just seemed a little redundant to me but better have too many features than too little I guess.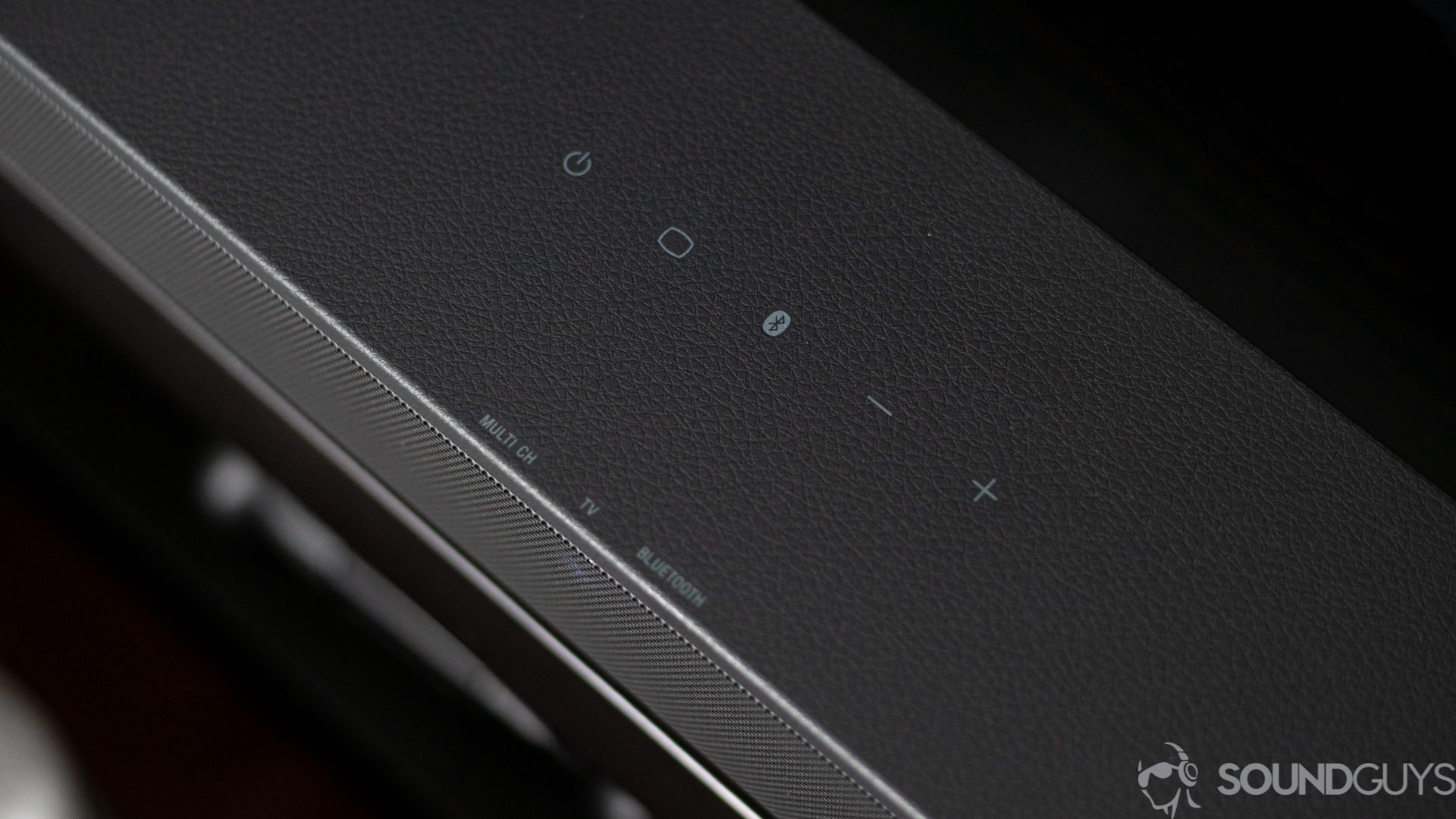 Along the top of the speaker are the touch controls for switching inputs and controlling volume.
The soundbar itself is a decent size, and I was able to fit it nicely on my own personal TV stand as well as the one in the living room with plenty of room to spare. It measures 900mm x 64mm x 88mm and weighs just 2.4kg making it light enough that you can mount it on a wall without too much hassle. The front of the speaker is wrapped in a typical grille protecting the drivers. The top of the soundbar is covered in faux leather that looks pretty nice and sets it apart from the plastic that you'll usually find at this price point.
While the soundbar is fairly slim, the subwoofer, on the other hand, is massive.
While the soundbar is fairly slim, the subwoofer, on the other hand, is massive. It measures 190mm x 382mm x 390mm, but despite its size, I didn't have a problem finding a spot for it. In my room, it fits snugly underneath my TV stand while in the living room it just sits off to the side of the TV.
What about the connections of the HT-S350?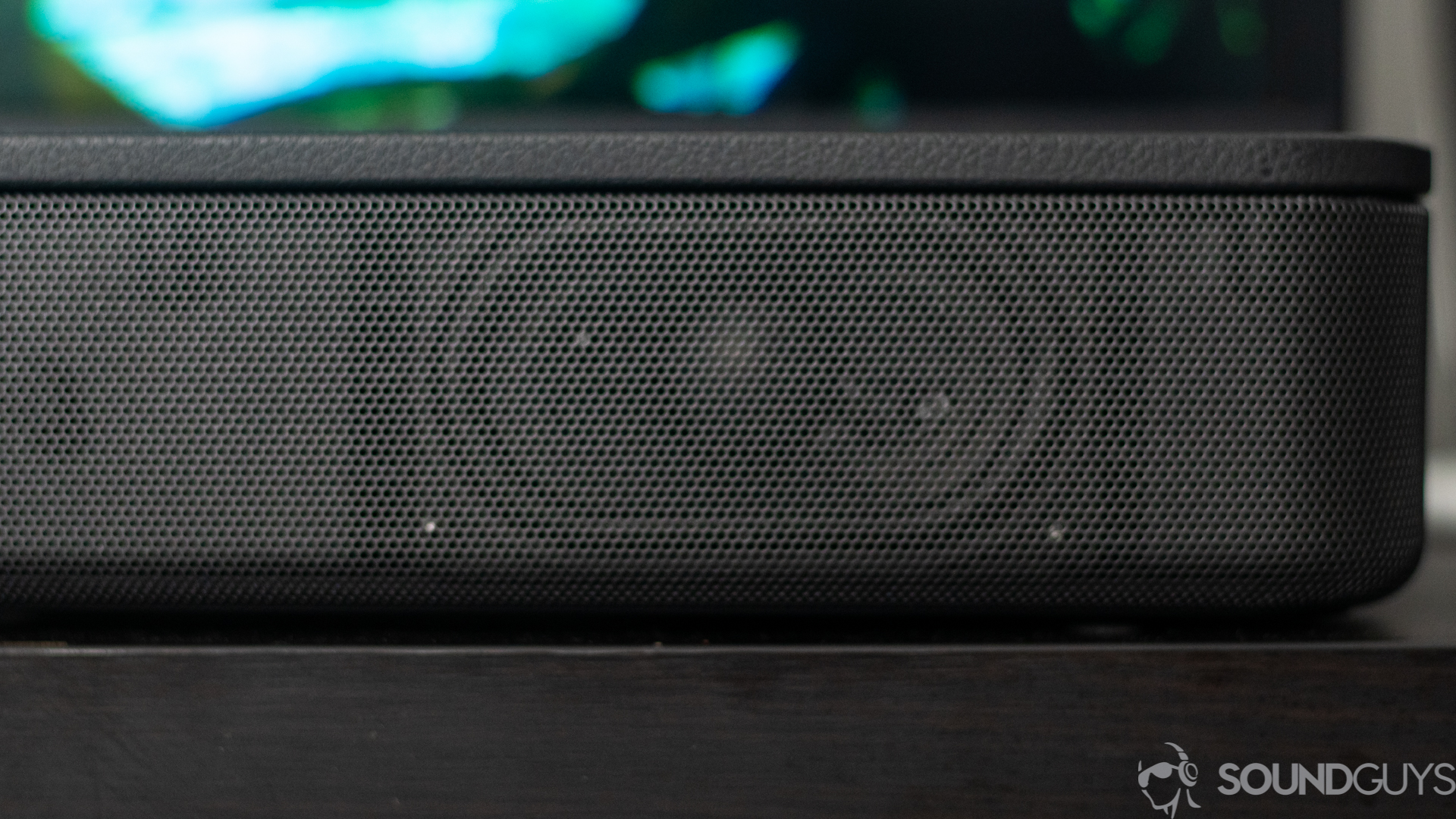 The soundbar has two drivers hidden behind the grille.
As I mentioned, the sub automatically connects to the soundbar wirelessly and I never had any issues with connectivity or stutters. The soundbar can connect directly to your TV via a single HDMI-CEC output or an optical cable. I chose to use the optical cable as its what came included in the box. If you prefer to listen to music or podcasts, you can also switch to Bluetooth mode and, while it obviously isn't as seamless as connecting to a pair of AirPods, my source device had no problem finding it and streaming audio. The HT-S350 soundbar is rocking Bluetooth 5.0, but unfortunately, it only has the basic SBC codec. So you won't get any higher quality streaming here but then again, this is meant to be used with your TV. I considered the addition of Bluetooth to be just a nice perk for when I feel like listening to music while cleaning or doing other household chores.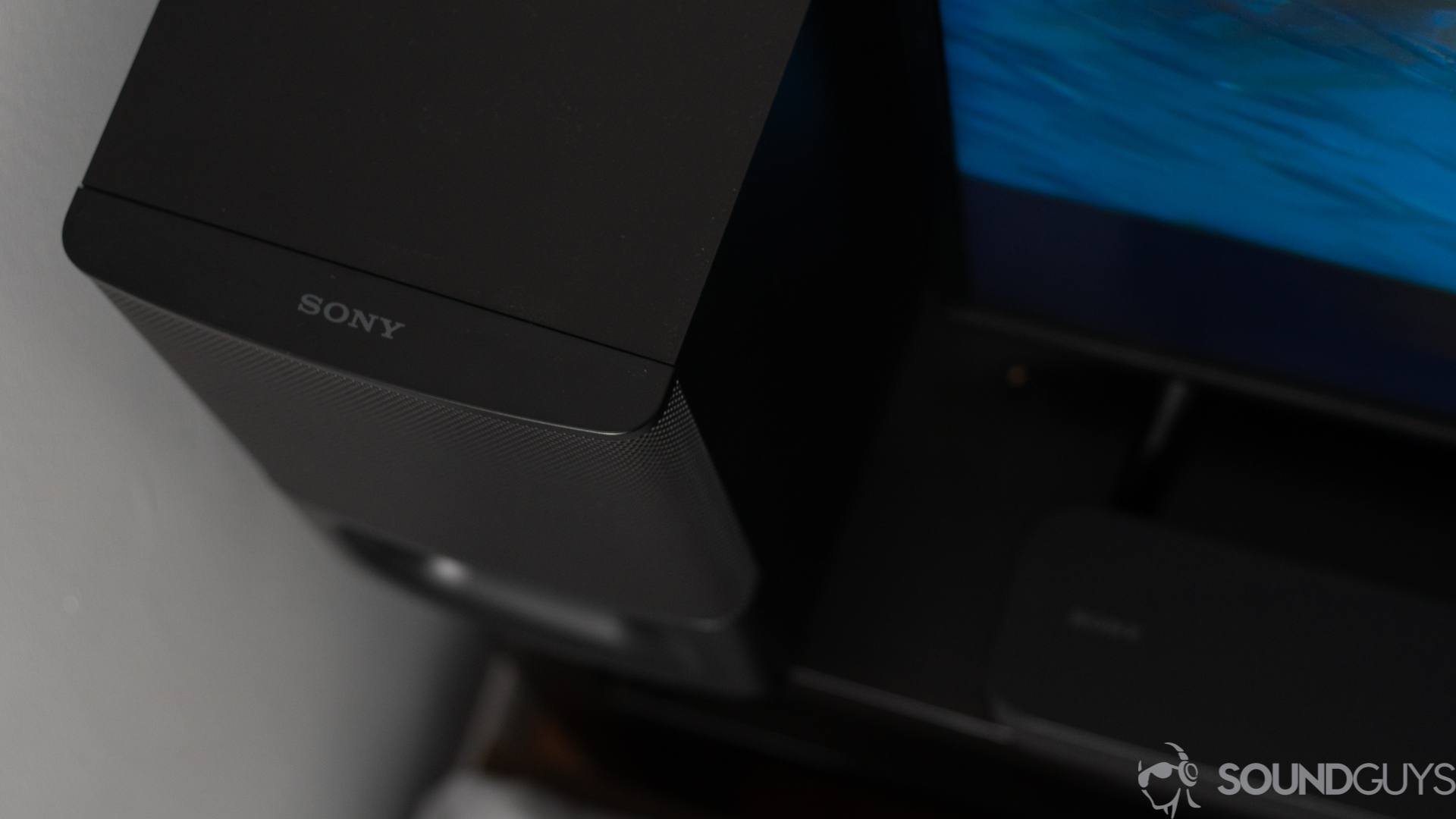 Thankfully, Sony kept the branding to a minimum with just a small logo that doesn't take away from the sleek, all-black design.
While the Sony HT-S350 soundbar does have Dolby Digital compatibility, that's basically all it has. So if you're hoping to get any of the more advanced surround sound codecs for a more immersive experience, you'll have to look elsewhere. Still, if you've never heard or cared about something like Dolby Atmos, then this is a perfect soundbar for you. It isn't the most technologically advanced, but it will hands-down drastically improve the sound coming from your TV speakers.
How does the Sony HT-S350 sound?
The subwoofer (grey), adds a strong, but not-overpowering low end to the mix.
If you look at the graph above, you'll notice that the sound quality on the HT-S350 is surprisingly neutral. This means that, for the most part, notes in basically all the frequencies above around 200Hz will sound pretty much equally as loud. The big drop off that happens below 200Hz is nothing to worry about, as that's what the subwoofer (grey) is for. While testing I turned off the sub so as to get the response from just the soundbar, but with the sub turned on it fills out the low ends nicely to the point where my roommate loves turning it on just for the intro of Law & Order because of how much more intense it sounds.
Crime shows aside, this is also good news when listening to music as you can control exactly how much low end you want. I found this useful when listening to music fairly late at night, as I just turned off the sub so as not to annoy the neighbors. It does make songs feel a little empty, and I was missing the thumping kicks throughout the song Haul by Christian Loffler but it's all there when you turn the sub back on. Mids and highs were also handled nicely.
Listening to Nunca Es Suficiente by Los Angeles Azules and Natalie Lafourcade, the trumpets and her vocals were not competing at all. My only critique would be the cymbal hit that comes in during the chorus at around 1:16 which sounds a little too soft and underemphasized. As I mentioned, the soundbar only supports SBC over Bluetooth as well, so while I wasn't blown away by the sound, the HT-S350 is still tuned nicely to my liking.
Should you get the Sony HT-S350?
If you already have a soundbar or a 2.1 channel setup, then the Sony HT-S350 might be more of a horizontal shuffle than an upgrade. However, if you don't have any speakers connected to your TV and want to step up your sound game for cheap, I have no problem recommending the HT-S350 soundbar. This is one of those products that I can easily talk myself into getting once this review unit goes back, and that rarely happens to me. While you won't get the best quality over Bluetooth and you also won't get any game-changing surround sound audio codecs, it's inexpensive and was an instant improvement to my movie-watching experience. The only thing you should keep a lookout for is the price. When this was first released it was hovering around $200 USD but now it's up to almost $250 on Amazon which is just a little too much. If you think this soundbar could be for you I'd recommend exercising a little patience and waiting for the price to drop again before you pull the trigger.
If you're still not sold and would rather check out some other soundbars, then we got you covered there too. Just click here to go on and read about some other top of the line options. If you already have a soundbar and are looking to upgrade to something a little better (maybe with some Dolby Atmos support) then make sure to check out our list for the best soundbars. Assuming you have a little money to play with and really want to get the best around we would definitely recommend checking out the Sennheiser Ambeo soundbar or the LG SK10Y, just be prepared to spend significantly more than the Sony HT-S350.