All products featured are independently chosen by us. However, SoundGuys may receive a commission on orders placed through its retail links. See our ethics statement.
Sennheiser MKE 400 Mobile Kit review
A videographer's dream on-camera microphone.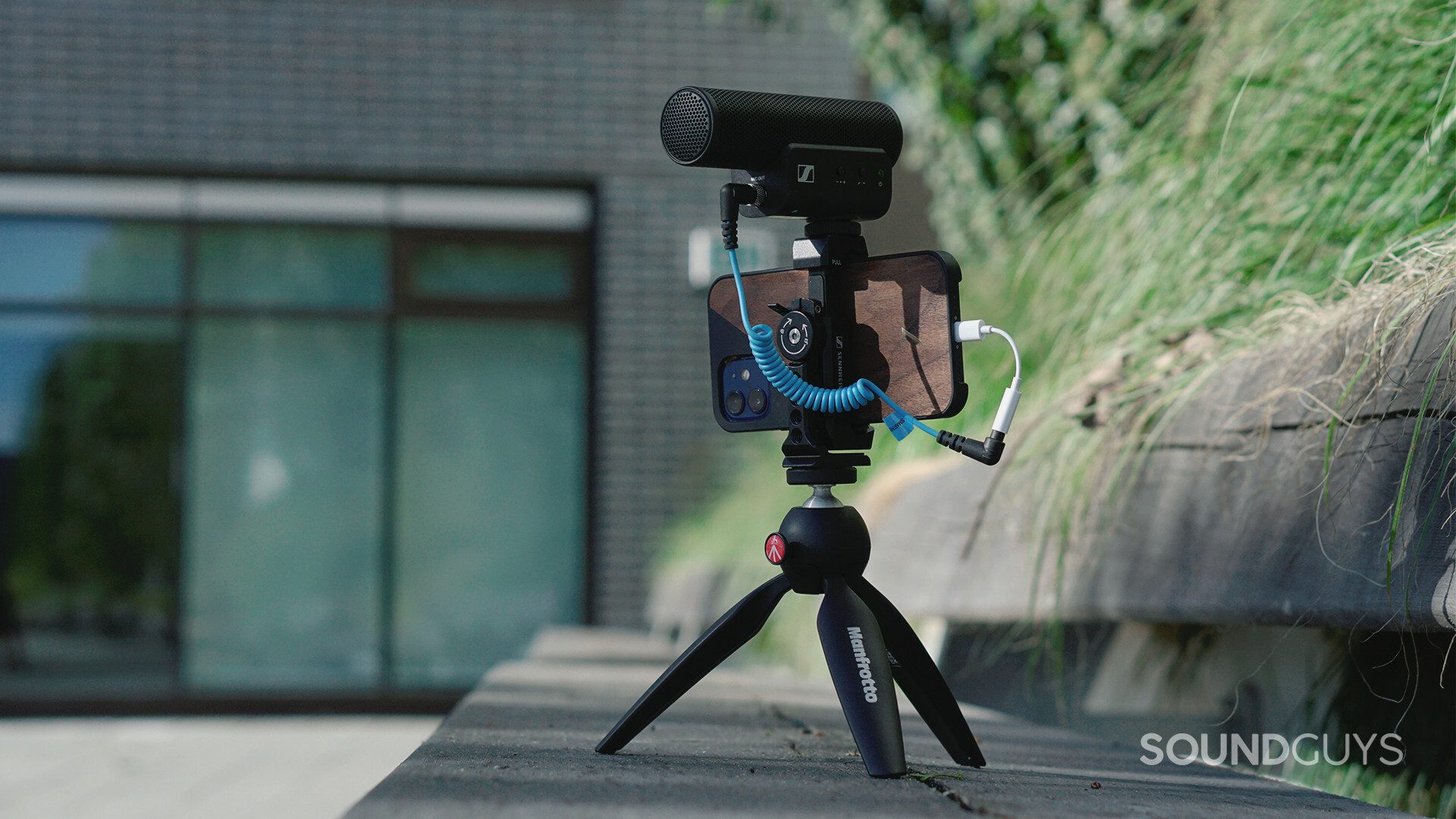 Sennheiser is well known for its broadcast-quality shotgun microphones and lavaliers. Lately, the company has reoriented its focus on a slew of new products to please casual content creators. The Sennheiser MKE 400 Mobile Kit sits at the top of that list. This bundle is a complete audio solution for anyone looking to add some production value to their smartphone videos.
Who is the Sennheiser MKE 400 Mobile Kit for?
YouTubers, vloggers, and online content creators who need a portable audio solution for video can attach this mic to their phones.
Indie filmmakers in search of an on-camera microphone for videography or clean scratch audio should splurge on this compact kit.
Smartphone videographers who need a compact microphone for electronic news-gathering (ENG) or general content creation will benefit from Sennheiser's top mobile mic.
How is Sennheiser MKE 400 built?
The design of the second-generation Sennheiser MKE 400 is sleeker compared to its predecessor, which first came out almost 13 years ago. The new MKE 400 features a lightweight and durable matte black aluminum enclosure.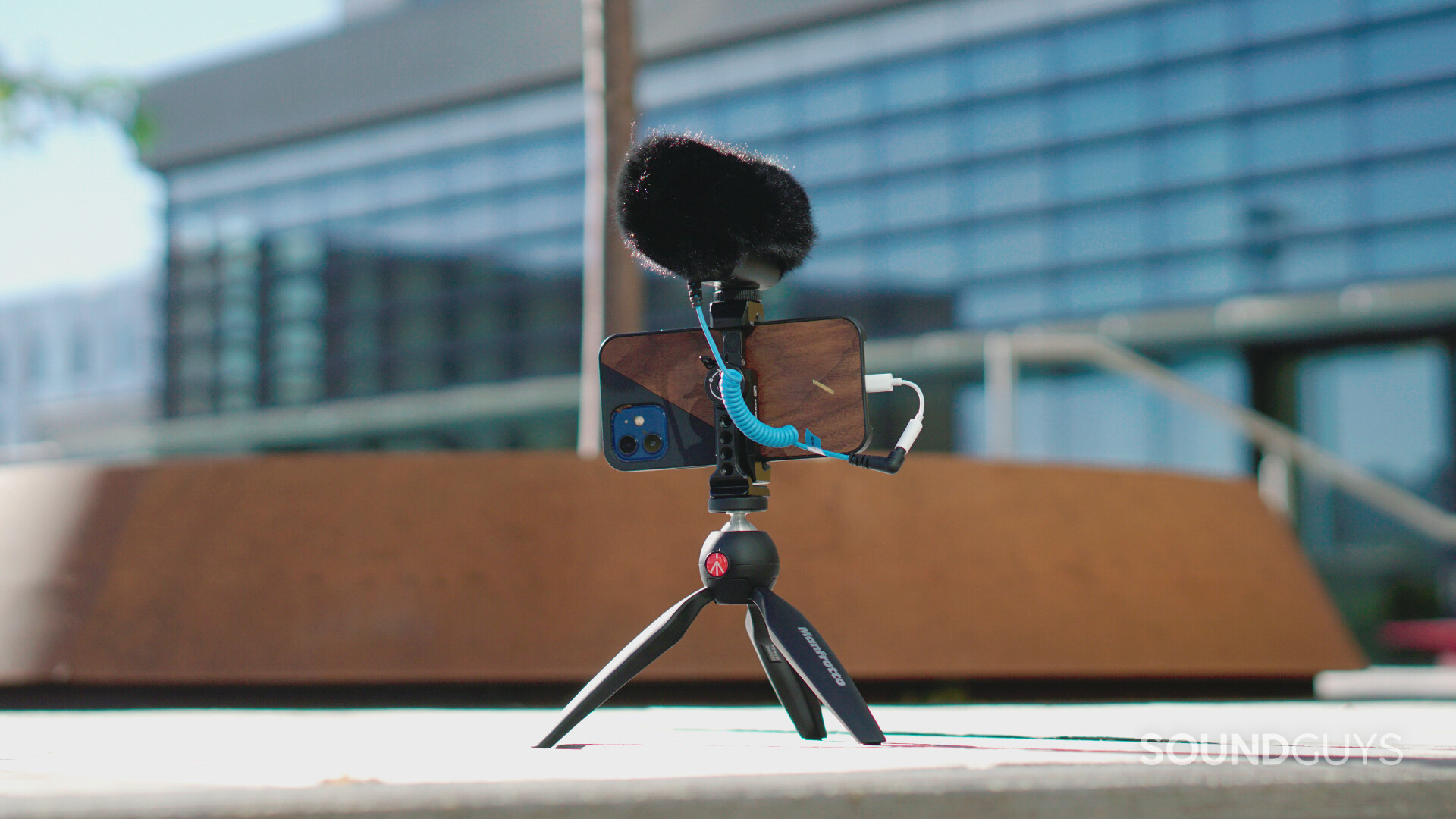 The Sennheiser MKE 400 Mobile Kit is one of the best audio solutions for smartphone video on the market.
This microphone shares similar design elements to its cheaper counterpart, the Sennheiser MKE 200 Mobile Kit. It features an integrated windscreen to protect the microphone capsule from light winds that may otherwise distort your recordings. The base of the Sennheiser MKE 400 includes an internal shock mount to reduce handling noise, as well as the microphone's sound controls. A cold shoe mount sits beneath the base, so you can attach the Sennheiser MKE 400 to most camera cages and bodies. There is also a 1/4-inch screw hole underneath the cold shoe mount for mounting to tripods, magic arms, or even a mini quick release plate.
The Sennheiser MKE 400 uses two AAA batteries that last around 100 hours—more than enough for few days of intermittent recording before you need to swap batteries.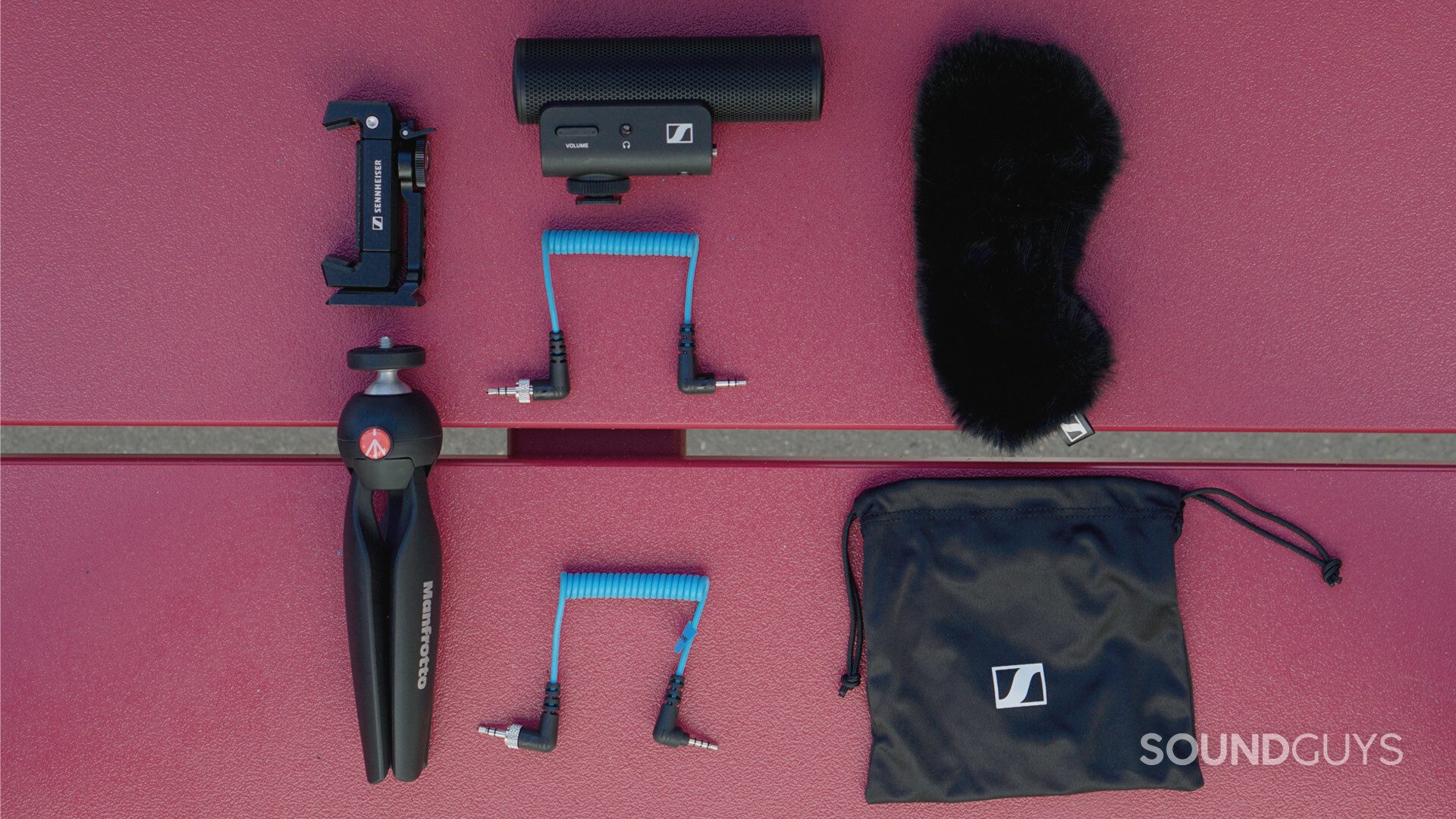 The Sennheiser MKE 400 Mobile Kit includes the MKE 400 shotgun mic, a smartphone clamp, the Manfrotto PIXI Mini Tripod, two locking 3.5mm coiled cables (TRS-to-TRS and TRS-to-TRRS), a windscreen (deadcat), and a storage pouch.
With the kit, you can connect the microphone to a camera using the included 3.5mm TRS cable, or to a smartphone using the 3.5mm TRS to TRRS cable. Most smartphones lack a headphone jack at this point, so be sure to have the appropriate dongle adapter for your setup.
The mobile kit also includes a Manfrotto PIXI Mini Tripod and an aluminum Sennheiser smartphone clamp for easy mounting. The tripod feels very solid and lightweight, so rest assured your smartphone and microphone will stay in place on the tripod.
What's it like to use the Sennheiser MKE 400 Mobile Kit?
Whether I'm capturing video with a smartphone, or shooting a videography gig with a full camera build, the Sennheiser MKE 400 is an absolute treat to use.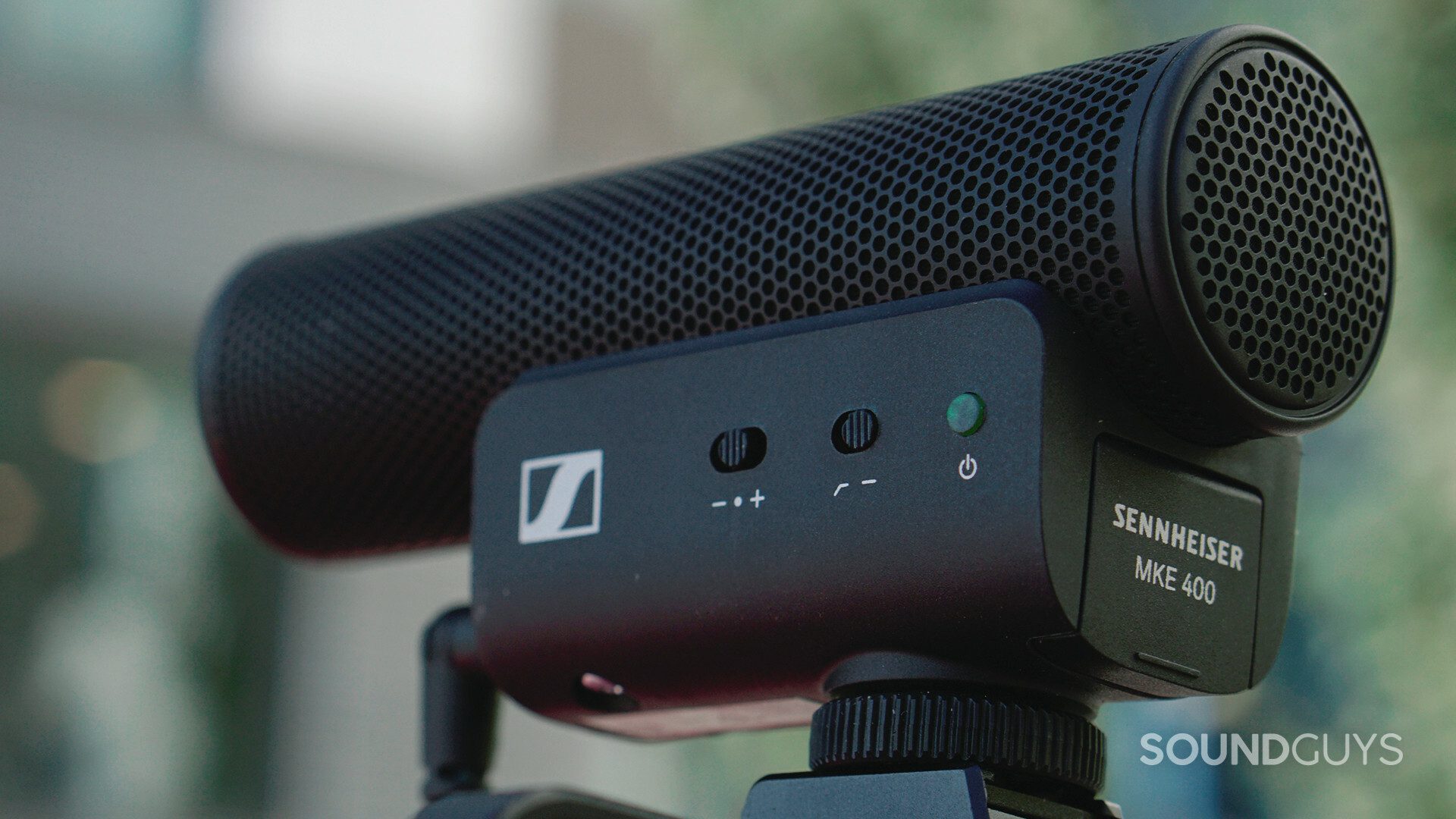 The microphone features a three-step sensitivity switch and low-cut filter.
One of the most underrated (but must-have) features of the Sennheiser MKE 400 is its autopower function. The microphone automatically detects when your camera is on, and powers itself on accordingly. Autopower is a life-saver during videography gigs when you might forget to turn on the microphone during the rush of an event.
The Sennheiser MKE 400 has a control panel so the recording is better suited to the subject matter. These onboard controls are particularly useful when you must shoot on location, regardless of a space's acoustic properties. On the left side rests a three-step sensitivity switch that lets you decrease the sensitivity when recording louder sources (like a concert), or increase the sensitivity for quieter sounds like whispers. Next to the sensitivity switch is a low-cut filter, which attenuates sounds lower than 200Hz—good if you're recording in a space where you can't turn off the A/C.
The Sennheiser MKE 400 features internal headphone monitoring with volume adjustment.
A headphone jack and volume adjustment toggle are located on the right side of the microphone's base. These basic additions are great because plenty of smaller DSLR cameras and smartphones don't include a way to monitor audio levels beyond an on-screen audiometer. Real time audio monitoring is an absolute necessity when shooting interviews or handling any videography gig. It's clear that Sennheiser took its customers' needs into account with this microphone.
The integrated windscreen effectively prevents light wind and plosives from distorting the recording, both in the studio or outside on location. Simultaneously, the internal shockmount successfully prevents vibrations from reaching the microphone, giving you the liberty to create handheld recordings with clean audio.
Recommended: How to solve common recording problems
How does the Sennheiser MKE 400 Mobile Kit sound?
At just under $230, the Sennheiser MKE 400 positions itself alongside established shotgun microphones like the Rode VideoMic Pro. Rode is a popular brand for vlogging and all-purpose content creation, but Sennheiser clearly has plenty to offer.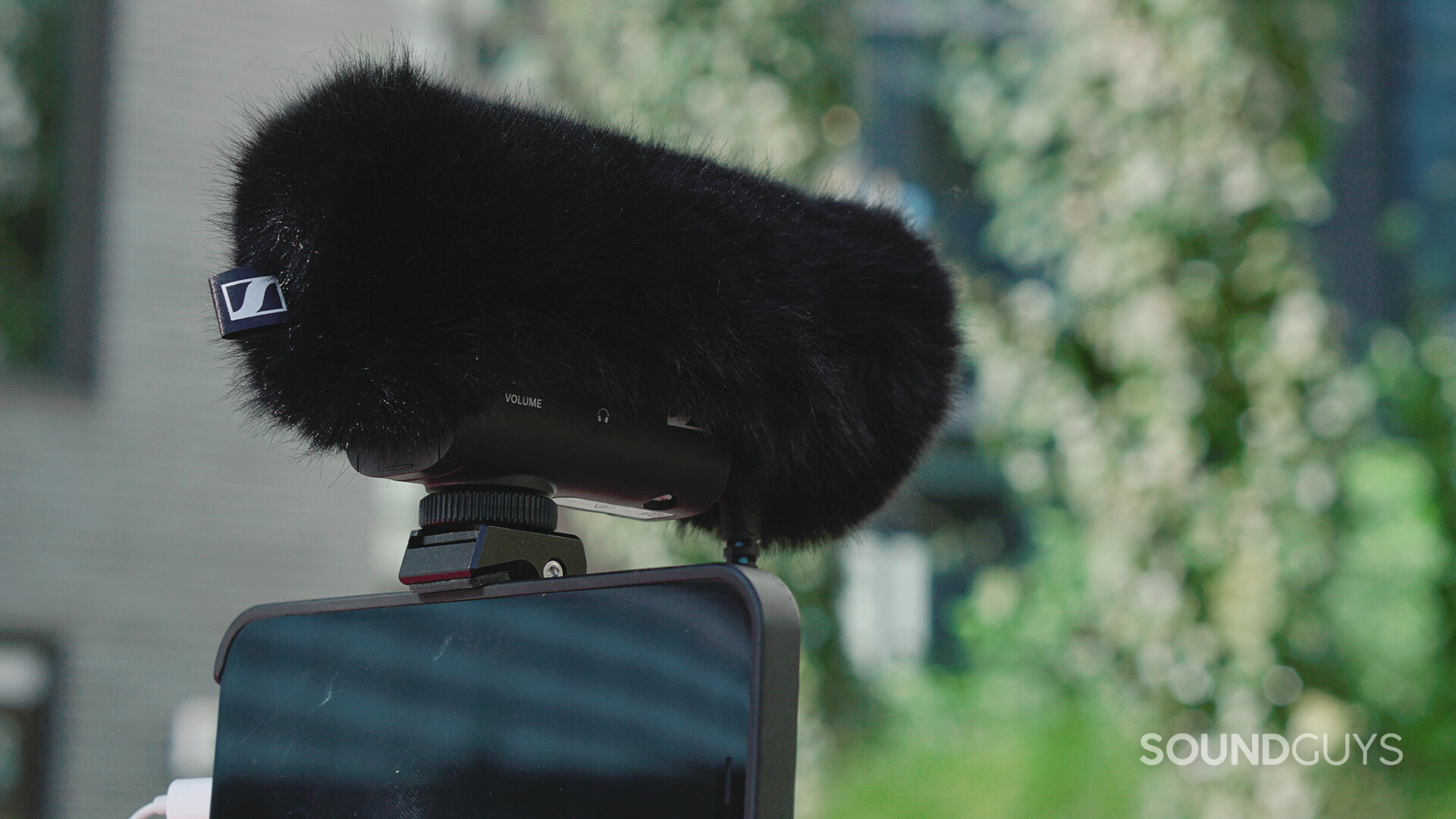 The included deadcat (windscreen) helps reduce wind noise when shooting outdoors.
Dialogue comes through the microphone very clearly, and I don't observe any of the low-frequency roll-off present with the more affordable Sennheiser MKE 200. With this kind of frequency response, deeper voices sound clear, rather than distant. However, the microphone does come with a low-cut filter switch, again, should you need to quiet a nearby refrigerator hum.
The Sennheiser MKE 400 is significantly more directional than I anticipated. In the recording below, there is light construction outside my window with loud trucks and drilling noises galore. Virtually none of these sounds make it through to the recording, which showcases Sennheiser's microphone prowess.
Sennheiser MKE 400 microphone sample:
How does this microphone sound to you?
244 votes
Hold up! Something's missing:
This section is typically where we display a frequency response chart to show you exactly where the audio output shines and where its deficiencies lie. Unfortunately, we've hit a technical snag in our testing. To combat this, we have an SCM-3 mic and we'll be adding a speaker with standardized output samples to update our testing and data collection. It will take a while to reach our office in Canada, but we will update this review (and many others!) once we're able with improved sound quality measurements and performance plots. These will be made obvious by an announcement explaining the change, and a new chart aesthetic.
Thank you for bearing with us, and we hope to see you again once we've sorted everything out.
Should you buy the Sennheiser MKE 400 Mobile Kit?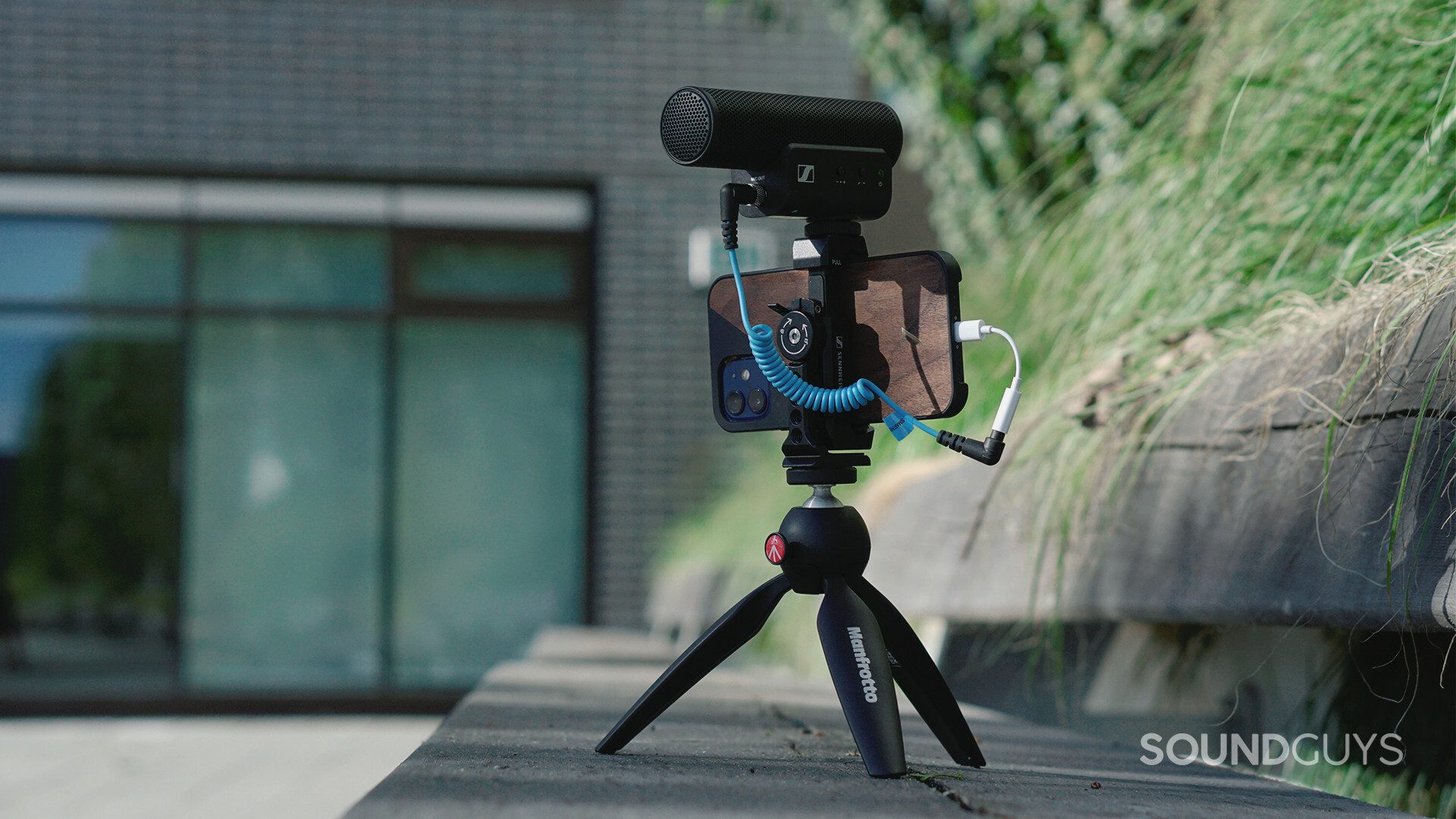 The new Sennheiser MKE 400 sports a modern design compared to its 13-year-old predecessor.
The Sennheiser MKE 400 Mobile Kit is one of the best audio solutions on the market, for both smartphone content creators and videographers who need a reliable on-camera microphone. The microphone's design caters to its target audience of filmmakers with its sleek, yet functional appearance, numerous onboard sound adjustments, good sound quality, and integrated headphone monitoring.
For $230USD, the Sennheiser MKE 400 Mobile Kit isn't the cheapest microphone bundle on the block, but it offers a better value than others from Shure and Rode. Alternatively, the Sennheiser MKE 200 Mobile Kit offers a similar plug-and-play mobile recording experience, and for almost half the price. If you don't need any of the smartphone-focused accessories, the Sennheiser MKE 400 microphone is available separately.
Sennheiser MKE 400 Mobile Kit
Sennheiser MKE 400 Mobile Kit
Portable and compact • Lightweight • 100 hour battery life
The Sennheiser MKE 400 Mobile kit is perfect for vloggers and smartphone filmmakers alike.
If you need to record video on a phone but want better audio, the Sennheiser MKE 400 Mobile Kit has you covered. Whether you're recording a vlog, an indie film, or a TikTok, you'll get reliable audio from this portable microphone.