All products featured are independently chosen by us. However, SoundGuys may receive a commission on orders placed through its retail links. See our ethics statement.
Sennheiser MKE 200 Mobile Kit review
Add some production value to your smartphone video with this mobile kit.
Filmmakers and broadcasters of yesteryear never thought it would be possible to capture good-looking video without an entire AV crew. Yet here we are in an age when anyone can make a short film or news segment with a pocketable device. While smartphone camera quality has dramatically improved over time, smartphone mics have a ways to go.
Fortunately, there's the Sennheiser MKE 200 Mobile Kit: a budget audio solution to help filmmakers step up their smartphone videography game.
Who is the Sennheiser MKE 200 Mobile Kit for?
YouTubers or online content creators who need a compact audio solution for video can appreciate the unobtrusive design here.
Vloggers who need a portable setup for on-the-go filmmaking can pack the MKE 200 Mobile Kit up and take it across the globe.
Indie filmmakers in search of a small on-camera microphone for videography or scratch audio should consider this bundle.
Mobile filmmakers who use a smartphone with a headphone jack can make use of this mic setup.
How is Sennheiser MKE 200 built?
The Sennheiser MKE 200 microphone feels premium, without the premium price tag.
The build quality of the Sennheiser MKE 200 is a stark improvement from the company's older shotgun mics. The MKE 200 sports a sturdy, lightweight black aluminum build, which should withstand any accidental bumps in a bag.
The microphone also features an internal shock mount to reduce handling noise and an integrated windscreen. This is a very clever move on Sennheiser's part, as the all-in-one design reduces overall size. A smaller footprint allows camera operators to fit additional accessories on the camera, like monitors or lights, alongside the microphone.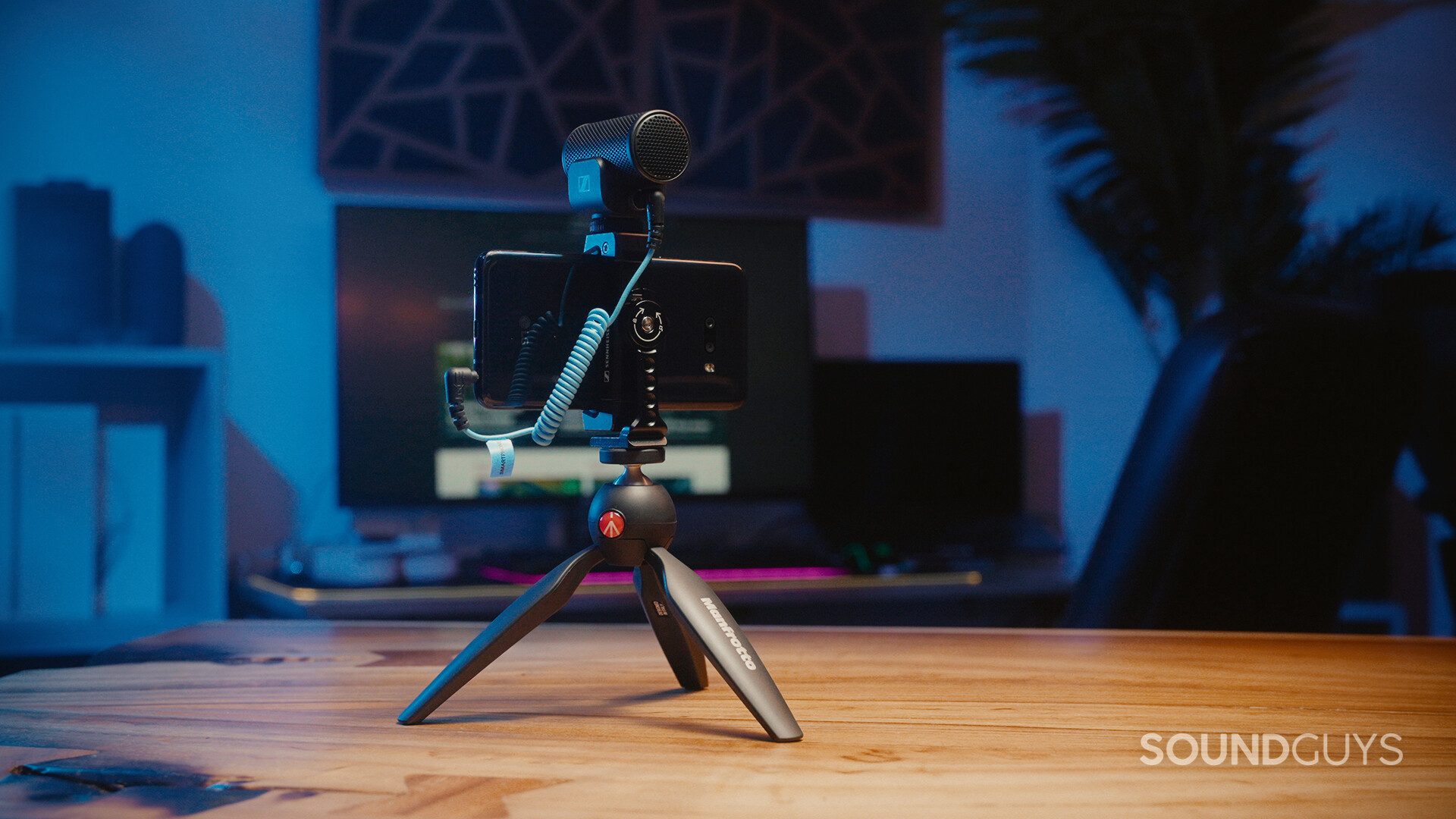 The Sennheiser MKE 200 Mobile Kit can connect to your smartphone with the included TRS to TRRS cable.
A cold shoe mount rests beneath the microphone's shock mount, so you can attach the Sennheiser MKE 200 to most camera bodies and cages. There is also a 1/4-inch screwhole under the cold shoe mount for tripods or magic arms.
Besides the microphone, the Sennheiser MKE 200 Mobile Kit comes with everything you need to start recording—excluding the camera. The TRS and TRRS cables are coiled and angled, so you're unlikely to kink or damage them during normal use. While we at SoundGuys are more focused on the audio components of the kit, the smartphone clamp and tripod are great additions. The aluminum clamp features several locking joints to secure your smartphone and accessories.
The Manfrotto tripod is also sturdy and easy to use. You can mount the ball head to a smartphone clamp via the 1/4-inch screw, and adjust it with a strong press on the Manfrotto logo.
What accessories do you get?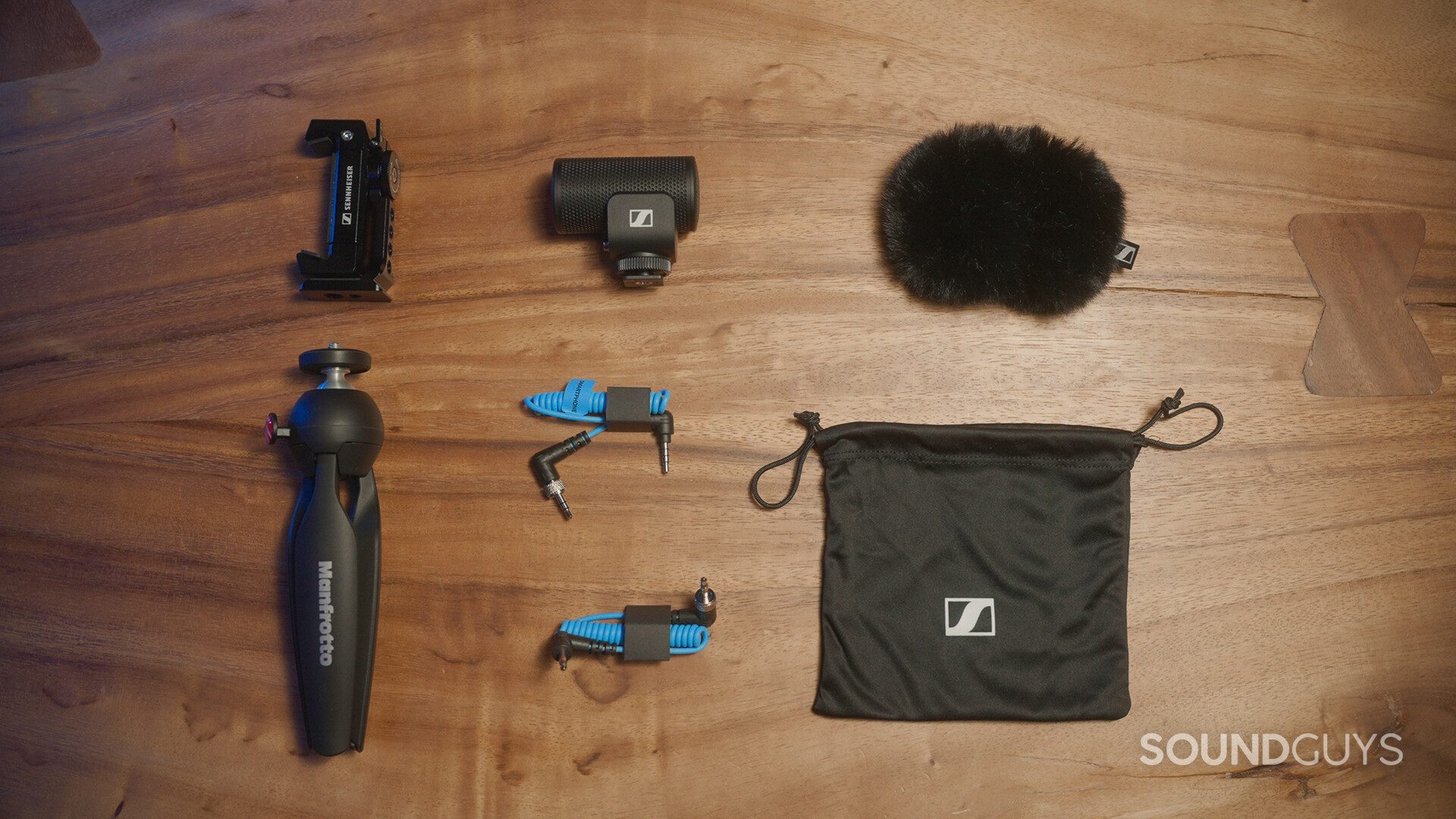 The Sennheiser MKE 200 Mobile Kit has everything you need for smartphone video.
Sennheiser MKE 200 directional on-camera microphone
Smartphone clamp
Manfrotto PIXI mini tripod
Locking 3.5 mm TRS to TRS coiled cable
Locking 3.5 mm TRS to TRRS coiled cable
Windscreen (aka Deadcat)
Storage pouch
What's it like to use the Sennheiser MKE 200 Mobile Kit?
Using the Sennheiser MKE 200 Mobile Kit is quite similar to the Sennheiser XS Lav USB-C: just plug it in, and you're ready to roll. The cold shoe mount makes the MKE 200 universally fitted for any camera, and you can connect the mic with the 3.5mm cable. The microphone draws power from the camera, so you won't have to swap batteries mid-shoot. If you record for too long, you may want an external battery pack to keep the camera going.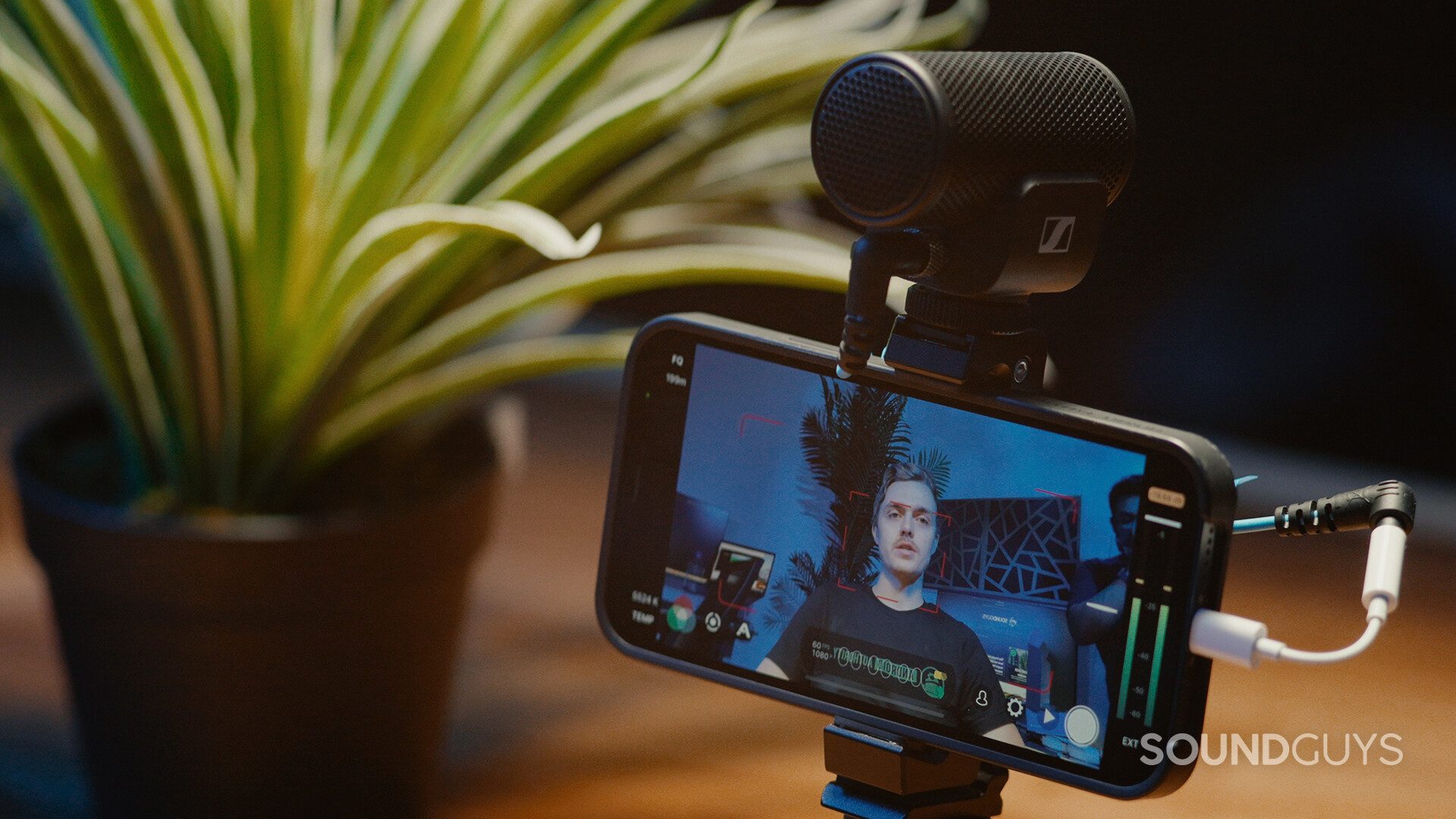 The Sennheiser MKE 200 Mobile Kit is a great and compact solution for content creators.
You can easily attach the Sennheiser MKE 200 to a smartphone using the clamp and 3.5mm TRRS cable. Those whose smartphones lack a headphone jack must use a dongle adapter with the cable. With Sennheiser marketing this product as a mobile kit, it would have been nice to see a USB-C or Lightning cable in the box too.
The Sennheiser MKE 200 Mobile Kit works well with DSLRs, but isn't perfect with smartphones. At first, when I connected the microphone to my iPhone 12, iPad Air, and MacBook Pro, I heard a low-frequency hum throughout all the recordings. This low hum disappeared when I swapped the cable with a spare. This issue persisted for a bit, but now the original cable works without issue. I'm not sure what fixed the problem, but it wasn't the plug-and-play experience I hoped for.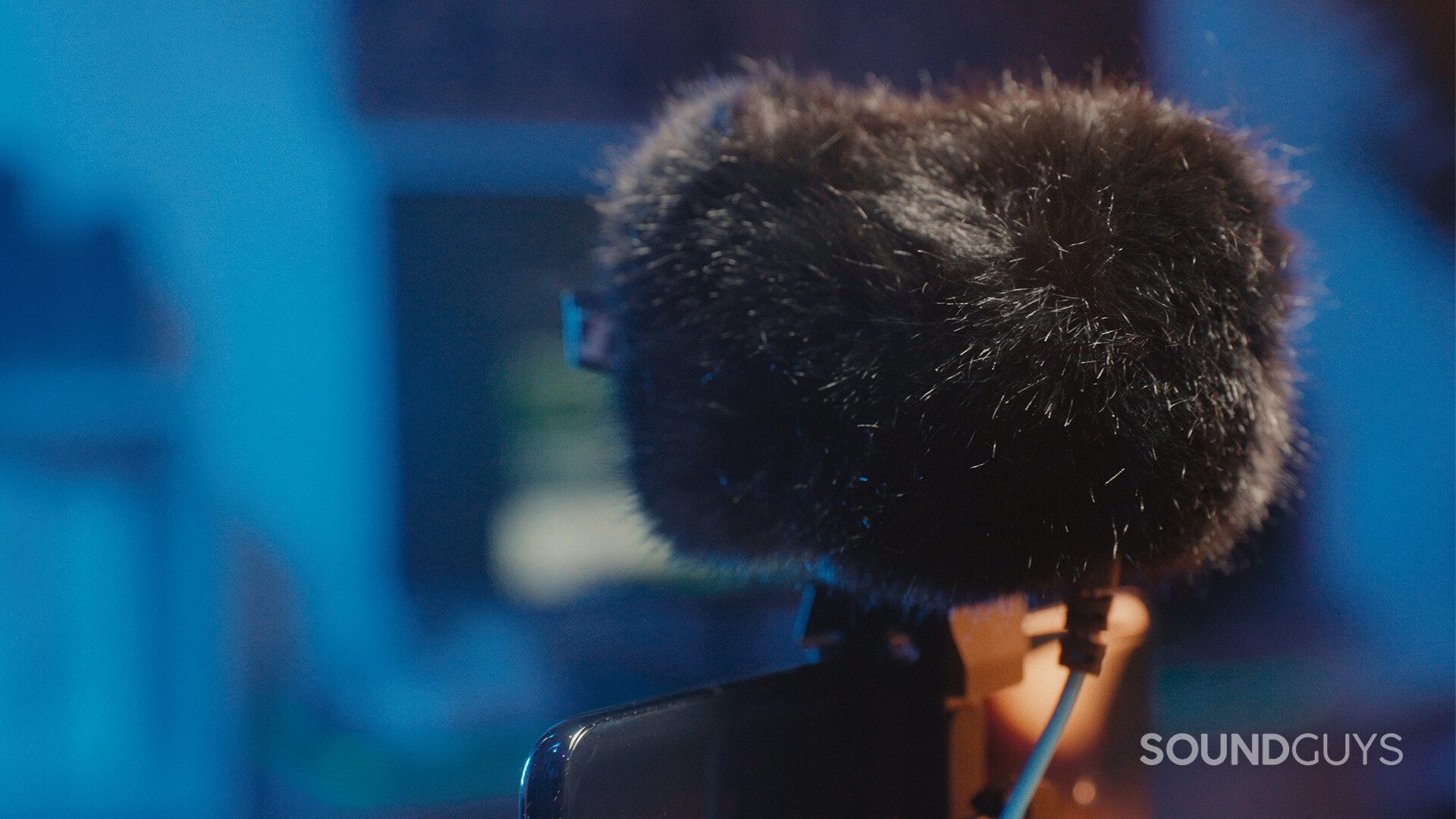 Sennheiser includes a windscreen (deadcat) that helps combat light-to-medium winds when shooting outdoors.
Once you get the Sennheiser MKE 200 working, its great design really shines during use. The integrated shock mount isn't as beefy-looking as those made by Rycote, but it effectively absorbs handling vibrations.
I don't hear any significant handling noise when recording with the MKE 200, except when I accidentally slip in the middle of a take (whoops). The windscreen—which replaces the foam covering of most shotgun microphones—does a great job of reducing light wind and plosives, especially when recording outside.
Recommended: How to solve common recording problems
How does the Sennheiser MKE 200 Mobile Kit sound?
The shockmount doesn't take up much space, allowing you to mount other accessories beside it.
For a microphone kit coming in under $130 USD, the Sennheiser MKE 200 itself produces pretty good sound.
Voices come through the microphone loud and clear, and it quiets very low-frequency sounds. While this is useful when you need to hush a loud A/C unit, it can make deeper voices sound more distant than you expect. However, speech still sounds intelligible, so this shouldn't be much of an issue.
Sennheiser MKE 200 microphone sample:
While the Sennheiser MKE 200 is technically a directional shotgun microphone, it's not as directional as you might hope. Its off-axis rejection is decent enough to avoid capturing distant traffic and passersby from the side, but it isn't ideal when absolute silence is necessary. Recording dialogue between two people in the hopes of isolating a single speaker's voice won't turn out how you'd like.
Sennheiser MKE 200 background noise sample:
How does the microphone sound to you?
253 votes
Hold up! Something's missing:
This section is typically where we display a frequency response chart to show you exactly where the audio output shines and where its deficiencies lie. Unfortunately, we've hit a technical snag in our testing. To combat this, we have an SCM-3 mic and we'll be adding a speaker with standardized output samples to update our testing and data collection. It will take a while to reach our office in Canada, but we will update this review (and many others!) once we're able with improved sound quality measurements and performance plots. These will be made obvious by an announcement explaining the change, and a new chart aesthetic.
Thank you for bearing with us, and we hope to see you again once we've sorted everything out.
Should you buy the Sennheiser MKE 200 Mobile Kit?
The Sennheiser MKE 200 Mobile Kit is a fantastic audio solution for people looking to up their smartphone video production quality, if you can get it to work.
The Sennheiser MKE 200 Mobile Kit is a great audio solution for phones with headphone jacks.
The microphone itself is well constructed, produces good sound for smartphone video, and comes with all the accessories you need for a mobile video setup. It's a pretty good deal, considering what comes with the kit for just under $130.
Related: Shure MV88+ Video Kit review
However, with more manufacturers phasing out headphone jacks from flagship smartphones, the omission of a USB-C or Lightning cable is a real miss. The low-frequency hum issue forced me to take significant time out of my day just to identify the problem and figure out whether the cable, adapter, or microphone was at fault. Still, you'd be hard-pressed to find a better mobile audio solution at this price point.
Sennheiser MKE 200 Mobile Kit
Sennheiser MKE 200 Mobile Kit
Value • Size • Functional