All products featured are independently chosen by us. However, SoundGuys may receive a commission on orders placed through its retail links. See our ethics statement.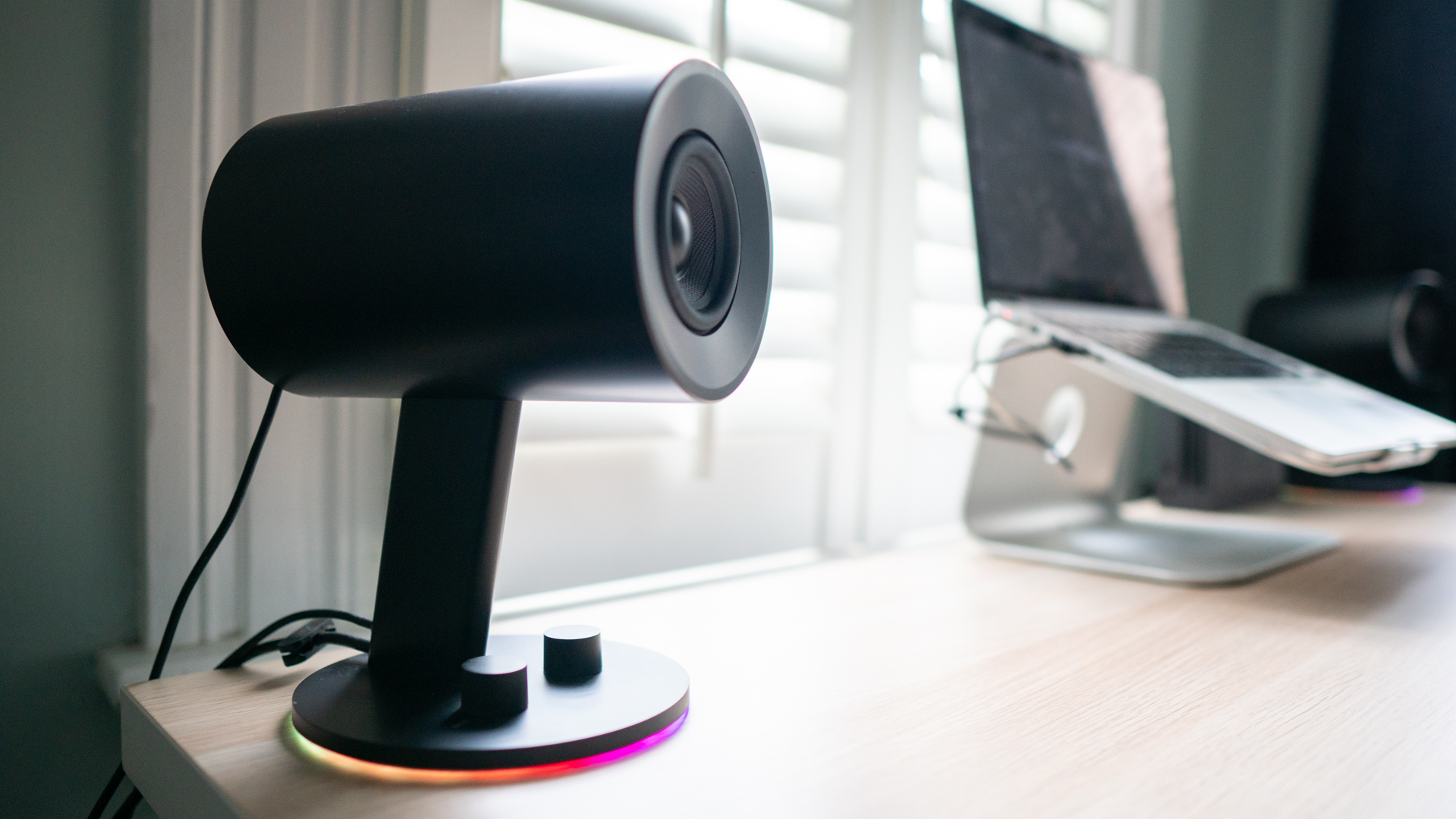 The bottom line
Unless you're a hardcore Razer fan who only games at the PC, these are hard to recommend. Where the Nomma Pro felt like it had a myriad of use cases spanning gamers and non-gamers alike, the Razer Nomma Chroma seem to be specifically for PC gamers.
Razer Nomma Chroma
Unless you're a hardcore Razer fan who only games at the PC, these are hard to recommend. Where the Nomma Pro felt like it had a myriad of use cases spanning gamers and non-gamers alike, the Razer Nomma Chroma seem to be specifically for PC gamers.
What we like
Decent low end<br>
Minimal RGB lighting<br>
Much lower price than the Nomma Pro<br>
What we don't like
Highs<br>
Doesn't get too loud<br>
Lacking useful connectivity options<br>
Volume and bass knobs feel cheap<br>
Rating Metric
Sound Quality
7.5
Bass
8.0
Midrange
7.5
Highs
7.0
Durability / Build Quality
7.0
Value
7.0
Design
8.0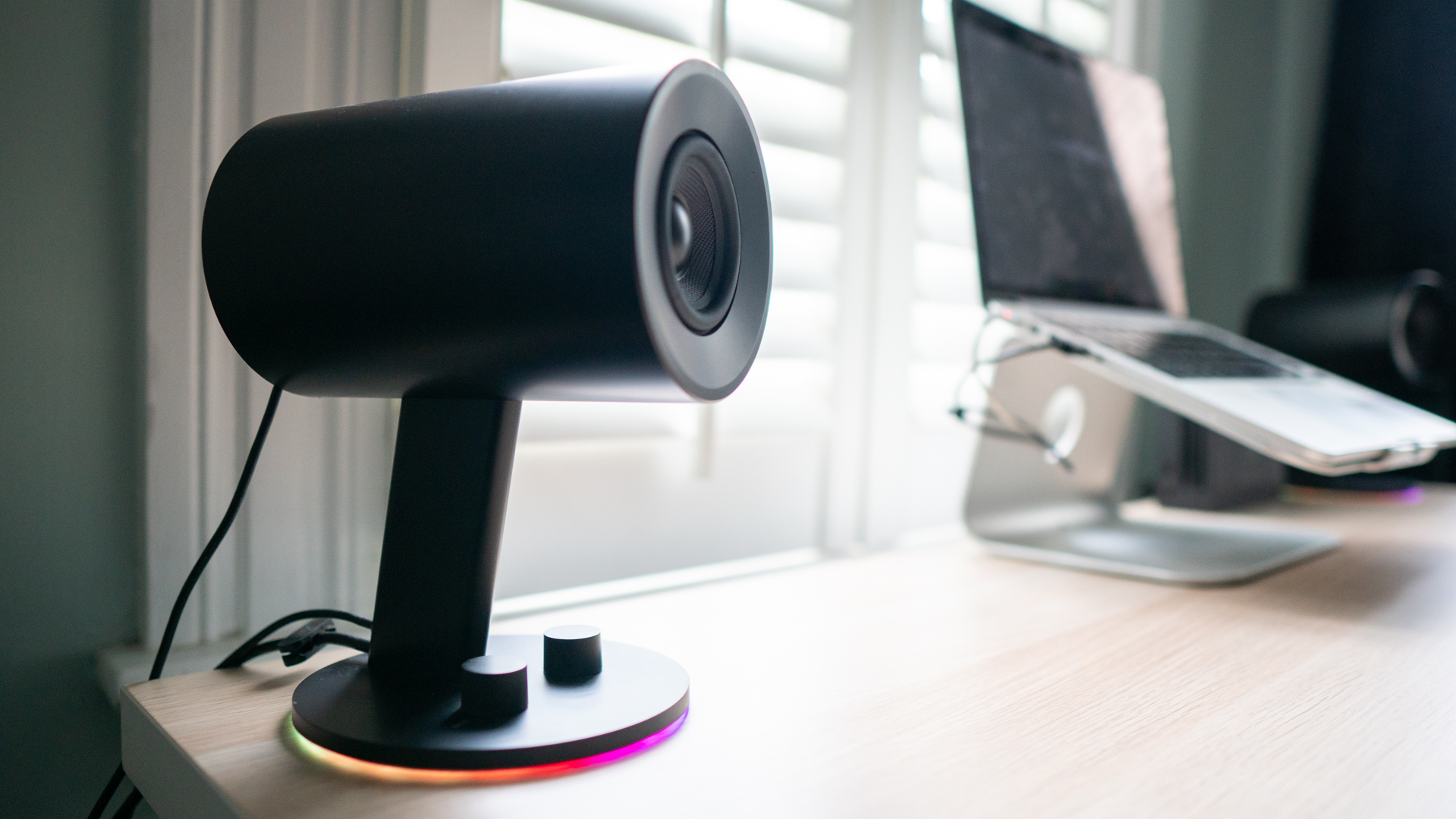 Each speaker has a ring of Razer's Chroma RGB lighting underneath.
If you're into gaming, you know the name Razer. The company makes all kinds of peripherals for gamers including keyboards, mice, and headsets. We recently looked at one of their speaker setups, the Nommo Pro, and as much as we liked it $300 is a steep price to pay for anyone. If you were interested in them but wanted something a little less expensive, then you should probably check out the Razer Nommo Chroma speakers.
Who should get these
Someone who doesn't want to spend too much on a pair of computer speakers. These give you most of what the Nommo Pro offer, just without a subwoofer. But that's a fair trade to make for something that costs half the price.
College students. The Nommo Pro was hard to recommend to anyone with a shared living space because of how powerful the subwoofer got. The Nommo Chroma speakers don't get as loud, and the lack of a booming bass will annoy your roommates/neighbors a lot less.
Razer fans. If you're a fan of the Chroma lighting that you can find throughout the Razer product line-up, these might be for you.
How are the Razer Nommo Chroma built?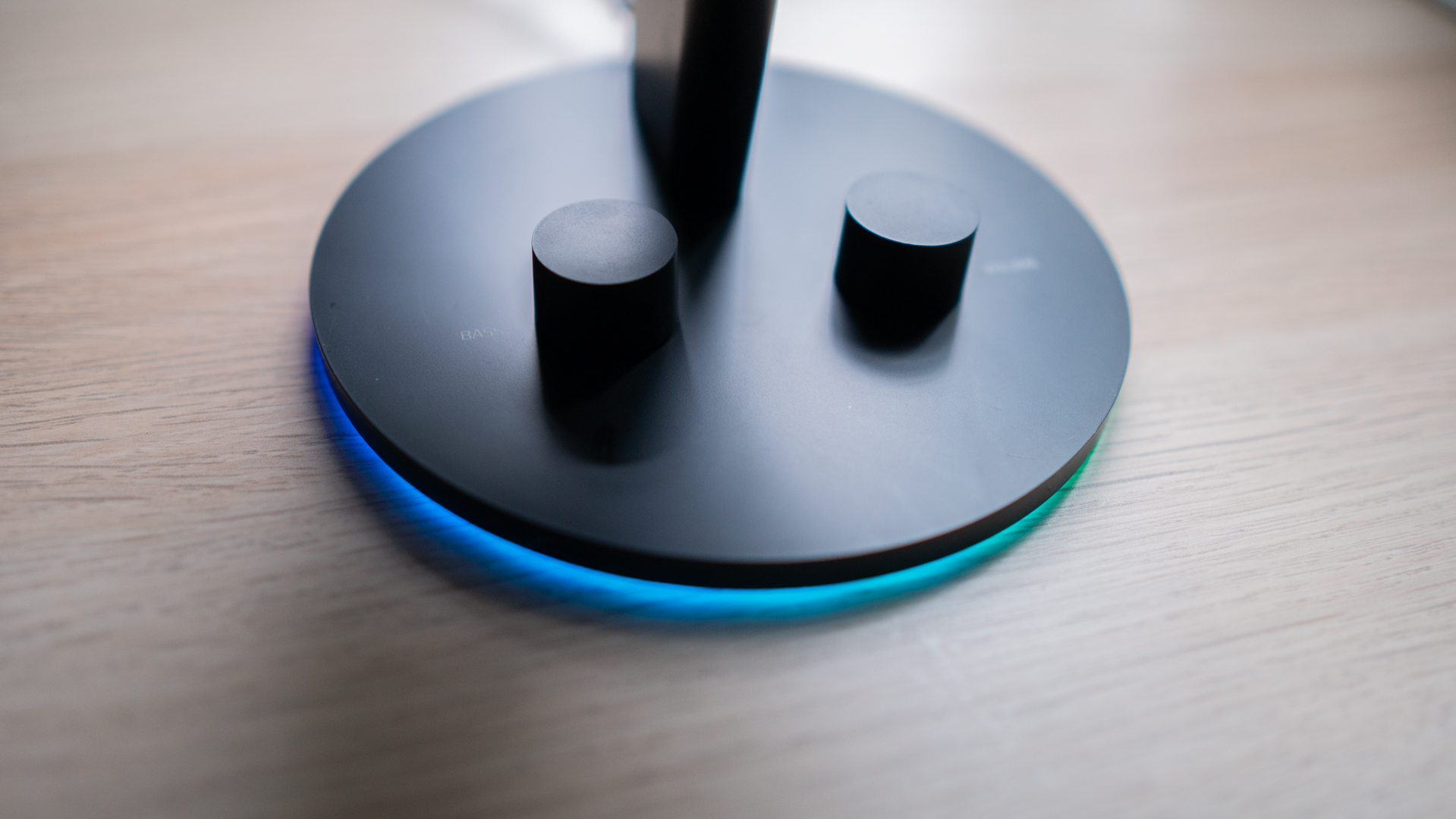 The two knobs on the speaker control volume and bass.
If you caught our review of the Nommo Pro a while ago, the look and feel of the Nommo Chroma shouldn't take you by surprise. It's made of the same kind of materials and even offers the same LED lighting underneath the two satellite speakers. But the similarities stop there. The Nommo Chroma is a watered down version of the Nommo Pro, which isn't necessarily a bad thing. The obvious difference is that the Nommo Chroma is lacking the giant subwoofer of the Pro, so while the entire setup is easier to manage: it's lacking a strong low end. It's also missing the dedicated 20mm tweeters, instead going with just the 3-inch full-range drivers to handle everything.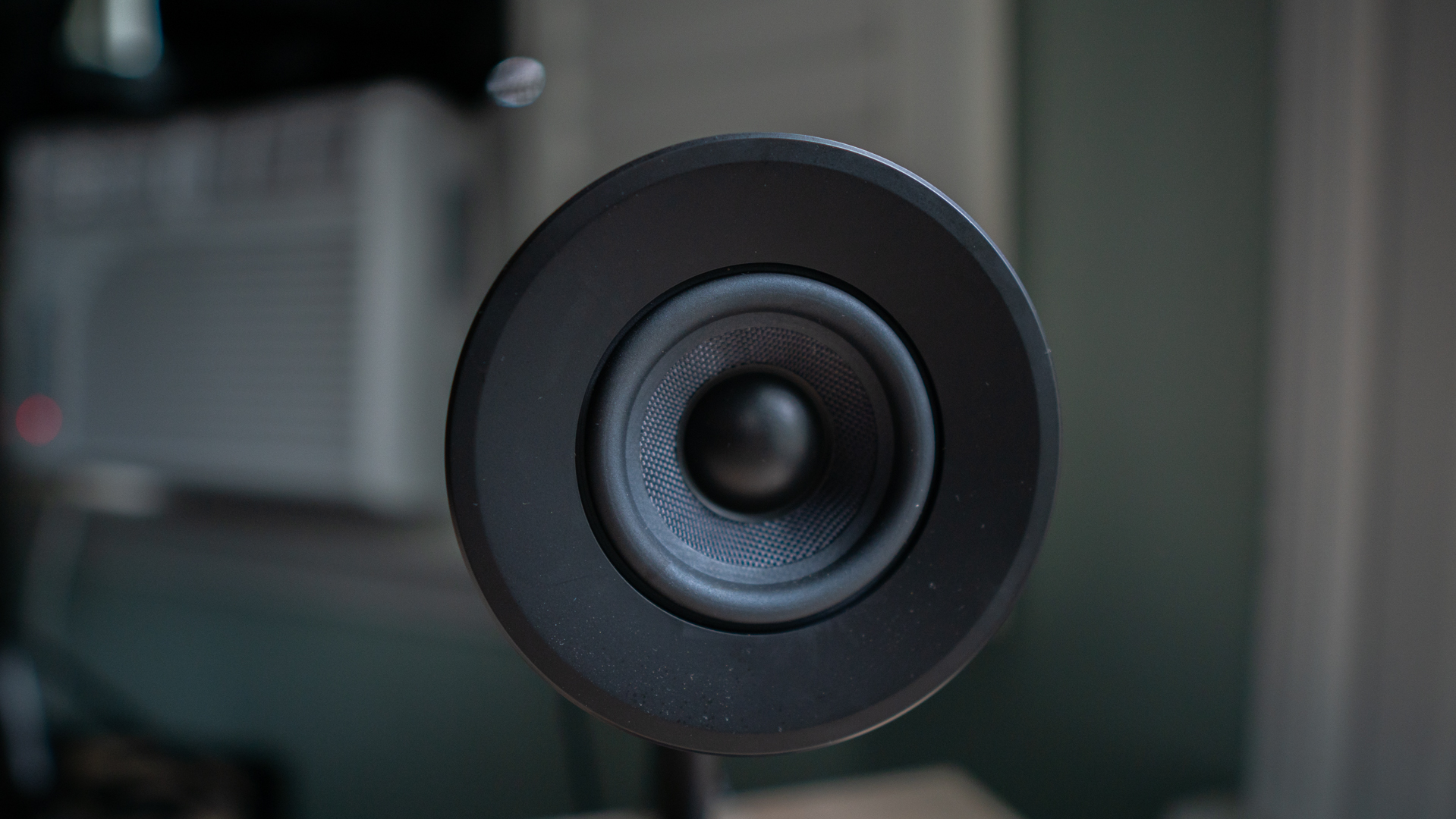 Each satellite speaker has 3″ full-range drivers.
The design is similarly sleek, as it's made of a smooth, all-black plastic that thankfully isn't a fingerprint magnet. The speakers themselves are still awkwardly huge. Although they only stand about 9-inches inches tall, they're 6-inches in length which is a hassle if you don't have some space on your desk. But the stand is where all the fun happens, as both speakers have a minimal ring of color around the bottom just like the Nommo Pro. You can control these colors via a downloadable desktop app, but I don't mind them as they come out the box. It's subtle, and it adds just the right amount of flair. They're also not just there for aesthetics, but they serve a functional purpose too.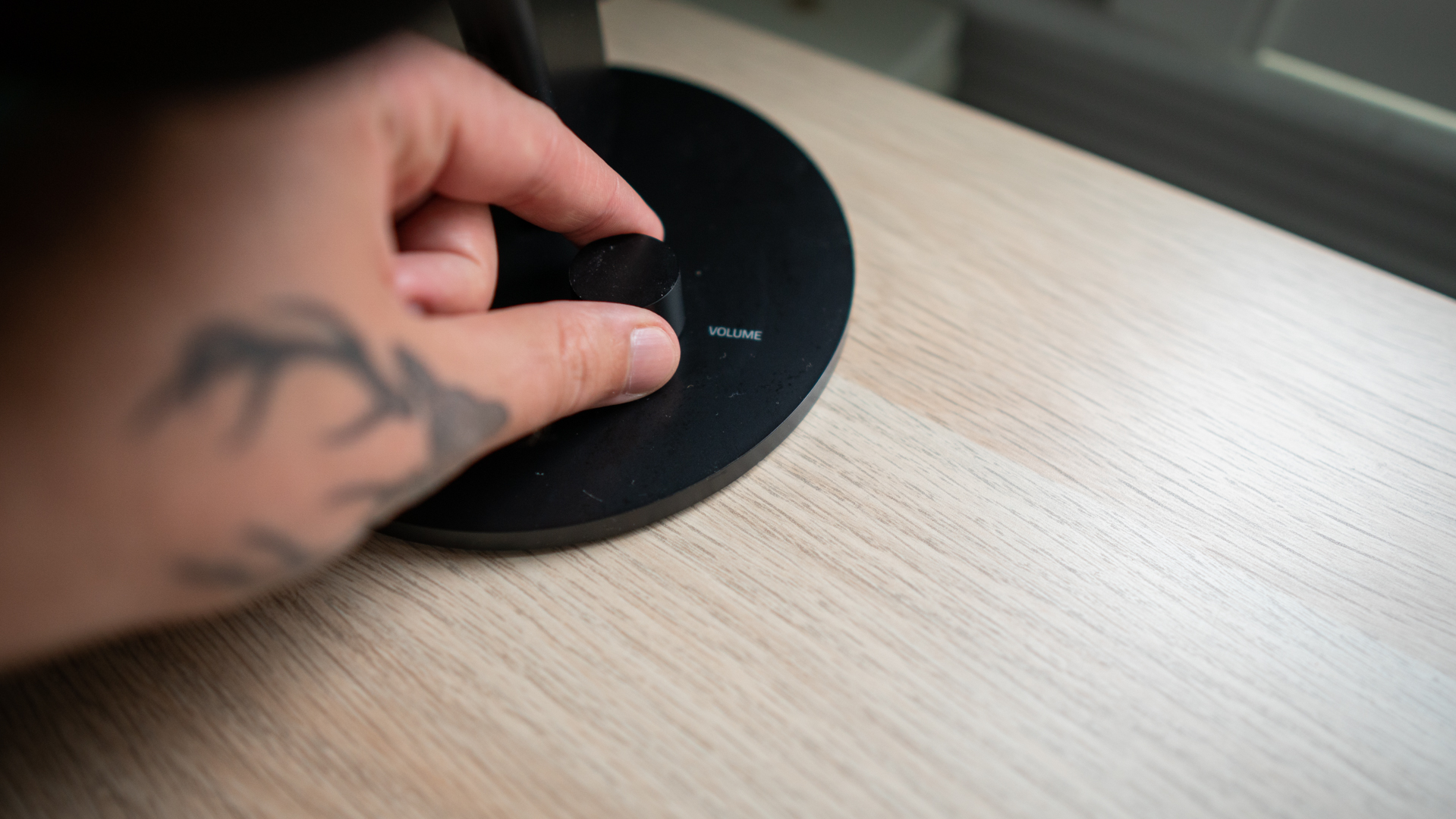 The volume adjustment knobs feel plasticky and cheap, but they work.
On the base of the main speaker are two knobs for adjusting volume and bass, and as you turn them up or down the color on the bottom of the speaker acts as a visual aid. So as you raise the volume, the light under the main speaker becomes green and moves around the bass to show you raising and lowering the volume. The same happens when you turn the bass knob, except it's the other speaker that does it, and the color is blue. The one big let down that I have with the build of these speakers are those knobs. They're not as smooth or as premium feeling as the control wheel that comes with the Nommo Pro—but they work fine, so I can't complain too much.
How can you connect to the speakers?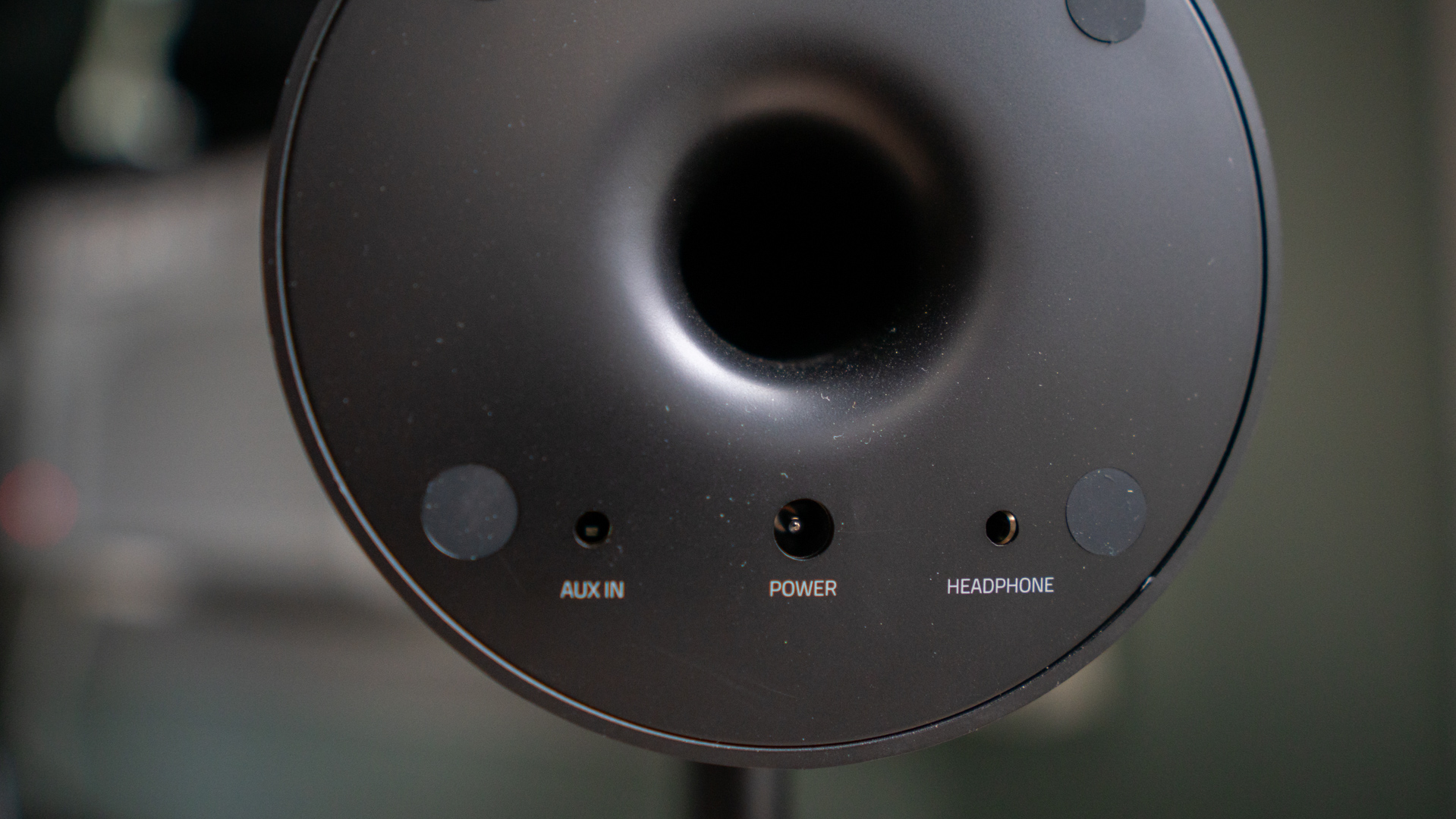 The Razer Nommo Chroma is lacking in connectivity options, with only a 3.5mm input for an audio cable, another for headphones, and a USB cable to plug into a computer.
Thankfully, the Razer Nommo Chroma speakers are easy to set up, only needing to be plugged into a power source, to the computer, and to each other. The cables are solidly built and seem to reach where I need them to easily.
Unfortunately, when it comes to connecting to a source: there aren't too many options here. You can plug in a 3.5mm cable on the back, and there's another input specifically labeled "headphone," but the main way you're going to be connecting is via USB. Which means that unlike the Razer Nommo Pro, these can basically only be used with a computer.
The satellite speakers are roughly 7-inches deep, making them weirdly deep.
There also isn't a way to connect via Bluetooth—which seems like a missed opportunity with a pair of computer speakers. Even the Logitech MX Sound 2.0 managed to stuff in Bluetooth at a much lower price point.
Sound Quality
The right knob on on the base of the speaker is for volume control, which is shown by the light.
The Razer Nommo Chroma is missing the THX certification and Dolby Audio like their sibling, so if you were hoping to use these for movies: look elsewhere. That said, listening to music during the day while I worked at my computers was much better than I expected. The Nommo Chroma don't get nearly as loud as the Nommo Pro, but if you're sitting at your desk or in a bedroom it should be sufficient. Just don't expect to get the house party going with these.
When it comes to the lower notes it's hard to say anything bad about the Razer Nommo Chroma. Not because it sounds amazing, but because it's just good enough that adding a knob for you to control it pretty much solves any issues I have while listening. Sure, it's annoying to adjust the bass on the speakers every other song, but it's better than having to sit through terrible bass. An example of this is the song Go 2.0 by Alex Da Kid, which I had to pump up the bass in order to feel like I could enjoy the bassline.
The problem was that the song immediately after that on my playlist was Blu by Mura Masa which has mainly low synth notes that masked some of the vocals in the chorus unless I lowered the bass knob again. However, that wasn't a problem with most songs. The two speakers seemed to do a good job at keeping instruments and vocals sounding clear, something that you can hear 0:46 seconds into the song Tadow by Masego when the brass comes in.
Highs never sound harsh even on max volume (which isn't too loud to begin with), but they are lacking a bit in detail. Cymbals and hi-hats didn't have a believable reverb, which is weird but pretty standard for entry-level computer speakers.
Final Thoughts
If you spend a lot of time at home sitting in front of your computer gaming, the Razer Nommo Chroma is a good option for you. They sound okay, have minimal chroma lighting for a bit of personal flair, and give you a decent amount of control over the low end with a hardware knob. The problem is that's all they do. It's hard to use these for almost anything else besides sitting at your desk. That isn't a big deal since these are made to be computer speakers, but it would've been nice to at least have Bluetooth for when you want to play music off a phone for the price. The Razer Nommo Chroma might not be one of our picks for best computer speakers, but they get the job done. If only they were a little more well-rounded.