All products featured are independently chosen by us. However, SoundGuys may receive a commission on orders placed through its retail links. See our ethics statement.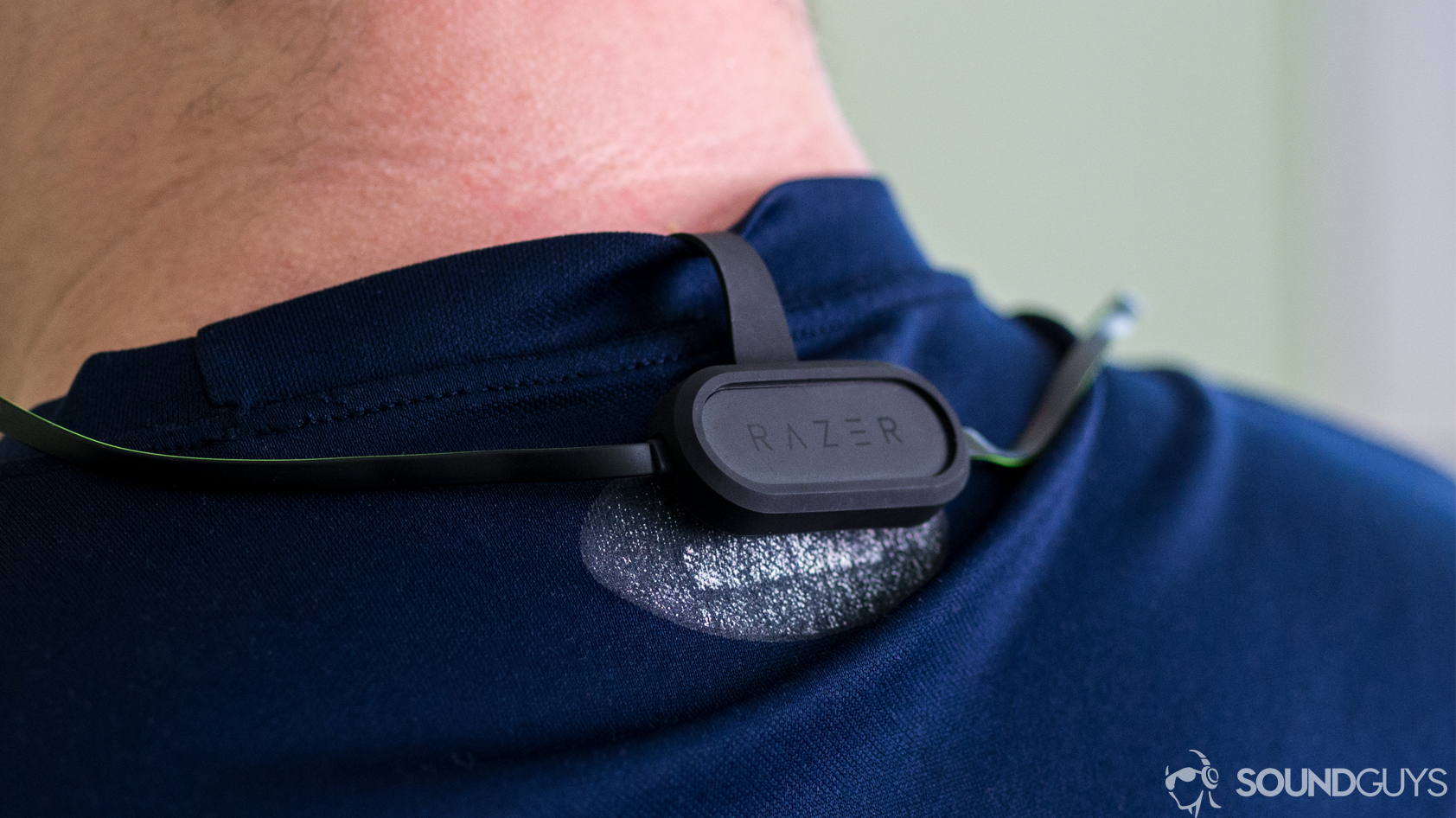 The bottom line
Razer's got a solid middle-of-the-road pick with the Hammerhead BT, but at this price point it's features alone that set it apart from the pack. Namely, the magnetic shirt clip and tangle-free cable.
Razer Hammerhead BT
Razer's got a solid middle-of-the-road pick with the Hammerhead BT, but at this price point it's features alone that set it apart from the pack. Namely, the magnetic shirt clip and tangle-free cable.
What we like
Secure fit
aptX, AAC support
Good Isolation
What we don't like
Sound quality
Light bass
Rating Metric
Sound Quality
7.2
Bass
6.6
Midrange
7.3
Highs
7.5
Durability / Build Quality
6.9
Value
8.3
Design
7.8
Portability
9.8
Battery Life
7.2
While the gaming industry is humming along just fine, Razer's set it sights on younger customers who want to take their flashy green peripherals into the outside world. And why shouldn't they? Razer is established well enough in the audio sphere—reaching out to gym rats and beyond only makes sense. That's where their latest in-ears, the Hammerhead BT come in.
What's in the box
Portability is the name of the game with the Hammerhead BT.
Inside the packaging for the Razer Hammerhead BT are a carrying case, short USB charging cable, silicone tips, and of course: your headphones.
Build and Design
It's now cliche to call out the EXTREME GAMER aesthetic in products, but Razer's got a well-restrained design language in my opinion. Even better, the Hammerhead BT is probably the company's most polished-looking audio product, despite the indicator lights on each ear being a lit Razer logo. The outside of the Hammerhead BT is matte black, save for the inside of the flat, tangle-free cable being lime green.
I'm a fan of these in-ears' design because it's very obvious that a lot of attention was paid to how people actually use Bluetooth headphones. For example, a magnetic shirt clip holds the wires in place so you don't have to fear their loss when they pop out, and a very simple remote hanging off the right side of the cable makes for a relatively frustration-free experience. These are fantastic gym buddies.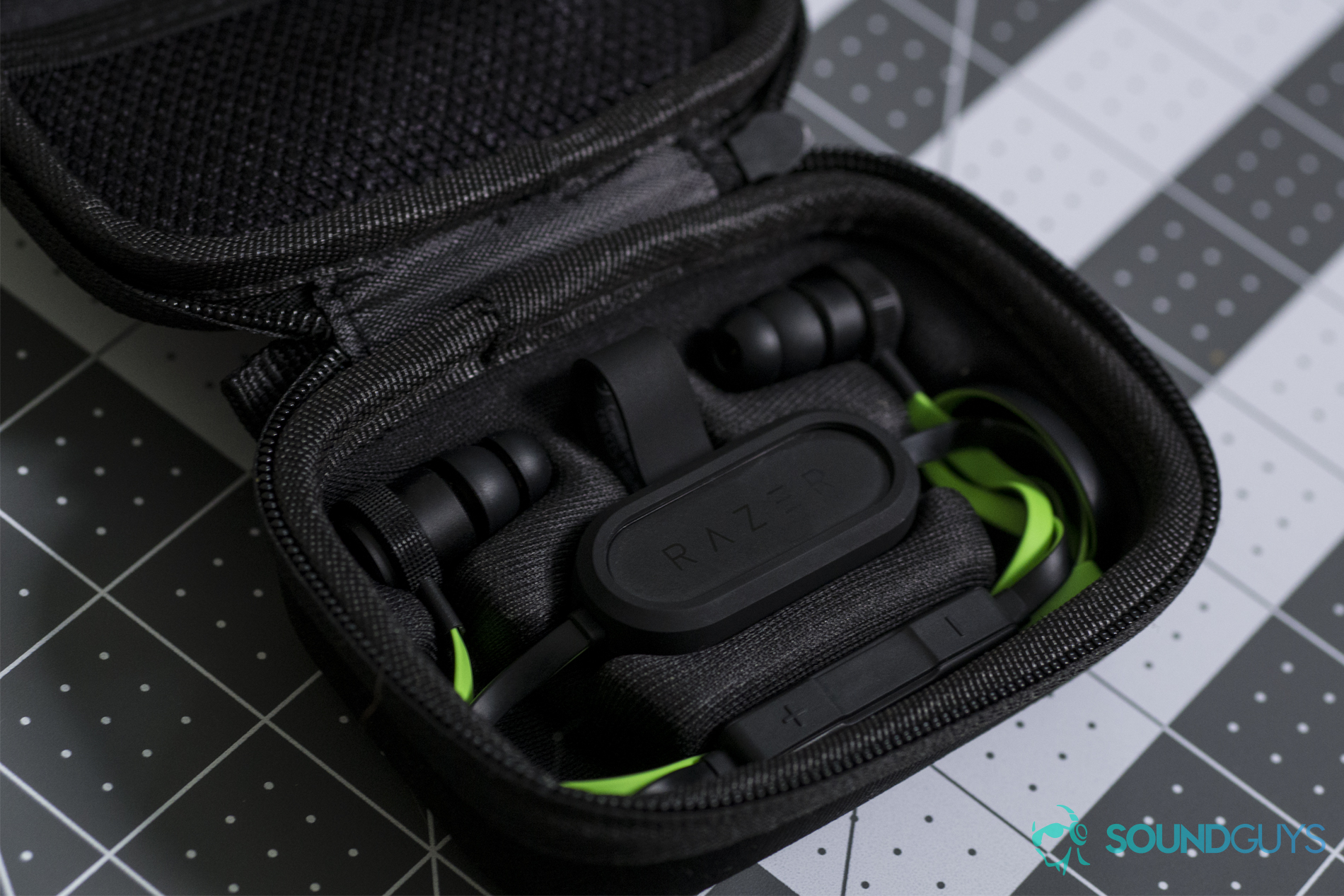 The carrying case adds a level of organization to your in-ears, making the Hammerhead BT a good choice for travelers.
A dual-flange silicon tip offers really solid isolation, and this type of ear tip tends to stay in your ear a bit better because it exerts a little more pressure against your ear canal. That might mean that these tips will make the Hammerhead pop out of your ears after a spell, so you may want to use the other included tips—or grab T-500 sized memory foam ones from Comply that will fit every time (and won't fall out).
But be careful not to stick these in too far: there's a spiky ridge ringing the outside of the driver housing, and when that touches your ear—get ready to itch. I'm not sure why this was included in the design, but it has the unintended consequence of causing discomfort if you're got Dumbo ears like I do.
Connectivity
The Hammerhead BT uses the latest Bluetooth codecs to connect to your phone, be it aptX, AAC, or an SBC profile. Of course, you'll have to have a phone and/or laptop that actually support the latest codecs. If you need to pick one up, you could always head on over to AndroidAuthority to figure out which one would satisfy your needs best!
All you need to do to pair the unit with your phone is to turn it on by holding down the middle button on the remote until the earbuds light up. One that happens, it'll search for a connection. Once you've paired your phone with it, you'll be all set.
The simple remote houses a microUSB port for charging.
I was a little bit baffled at the microUSB charging port given the prevalence of USB-C nowadays, but it's not a bad thing—you could very easily re-purpose an old cellphone charger to top off your battery if you have an Android phone. Alternatively, you could just use the included USB cable to charge them off of your computer or laptop, which is a nice plus. The cable being quite short also prevents tangles to a certain degree, so it helps keep your workstation clutter-free.
Battery
While the listed specs have the battery on the Hammerhead BT at 8 hours, your results will probably vary. But to its credit, the unit does have excellent standby life. It can go weeks at a time without a charge, and as long as the unit's off, you'll be able to pick them back up and use them. Should you run out of juice, it doesn't take very long to recharge, even if you only use your computer to do it.
Sound Quality
I'm not sure if it's the general difficulties of Bluetooth, varying battery levels, or simply the fact that I had an enormously difficult time getting the Hammerhead BT to stay in my ears, but I was never really impressed all that much with the sound quality. Now, I want to make it extremely clear that I was able to get a good seal a few times when I moved my foam tips off of some old in-ears of mine—but that still didn't fix things.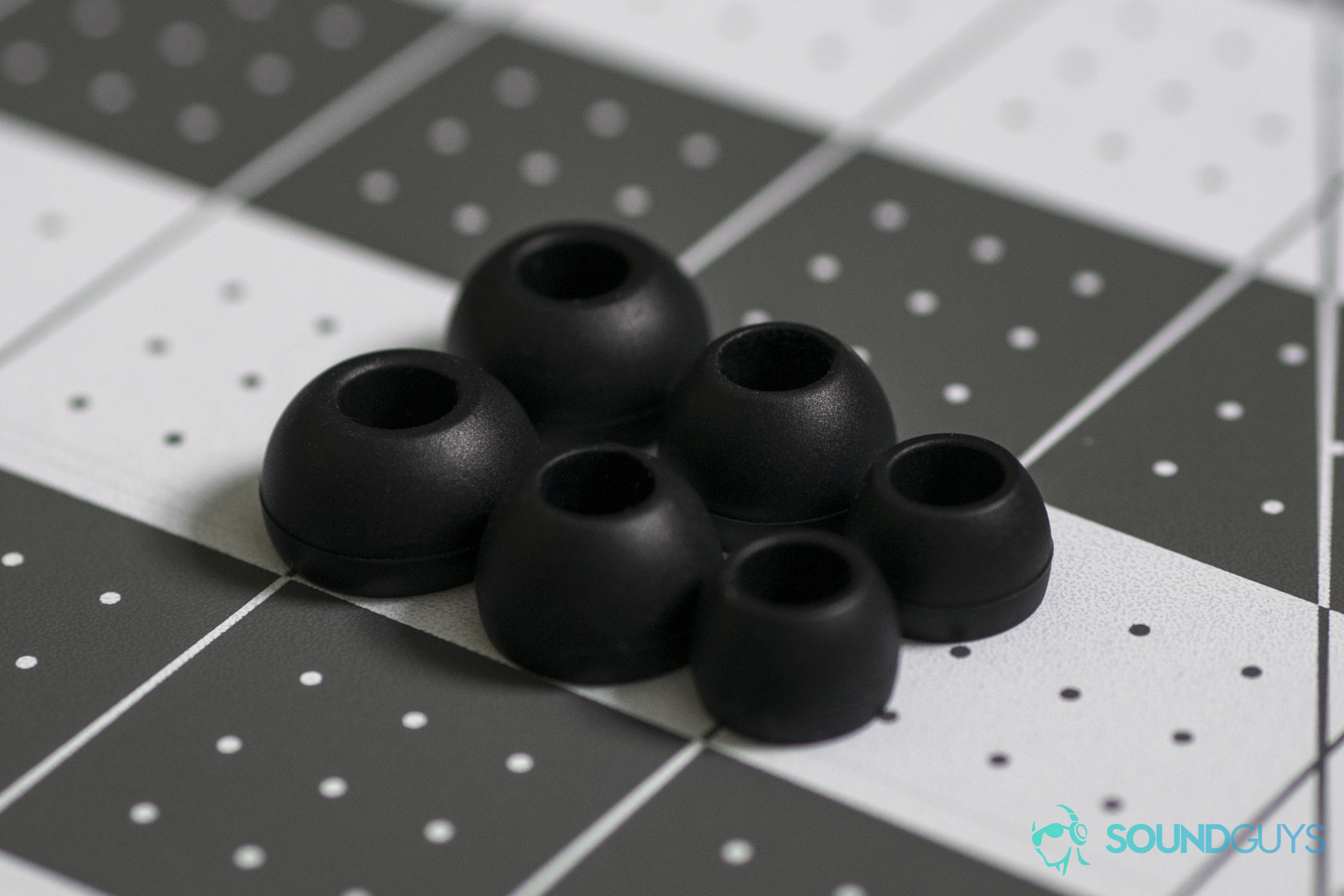 Three tip sizes allow a fit for just about any ear canal shape.
These little guys bump bass to a somewhat restrained degree, while de-emphasizing a couple ranges in the mids and highs. Nothing too crazy, I assure you. These are respectable if you like synth-heavy pop music, but not so great with string-heavy instruments. For whatever reason, the music just doesn't sound all that clear. While it's tough to tell when you're on an airplane, subway ride, or busy street—you'll definitely notice something's up if you're using these at home where there isn't a ton of noise.
You're going to notice the shortcomings of the Hammerhead BT most when you're listening to music that is pretty loud to begin with. By that I mean: 2000s emo/screamo, various forms of metal (think Lamb of God) and other high-energy dark rock. My Chemical Romance's Hang 'em High, for example, sounds like a cluttered mess (even more so than usual).
Another thing you might notice is music with low basslines will tend to lose them in the shuffle. Where slower, more melodic songs will sound perfectly fine like Kendrick Lamar's LOVE, you might find yourself cranking the volume a little bit.
Conclusion
The long and short of it is: these are in-ears that are best suited for a commute, trip to the gym, or anywhere that you need to drown the world out. Really, these are purpose-built for that sort of thing, so it's no surprise that they're not going to beat the pants off of audiophile options. They're the product you buy when you want some no-nonsense Bluetooth earbuds for under $100… and you're tired of having your earbuds fall out during a run.
Users looking for an upgrade to the Razer Hammerhead BT would do well to look to the Jaybird X3. Not only does it sound better, but it's got a little more ability to take a splash than the Hammerheads do. They cost a bit more, so you'll have to figure out if you're ready to sink $30 more into your in-ears up-front. This is a crowded part of the market, so you might find something else you'll like at this price point. If you're looking to save a little more money, you could always look at the ADV.Sound Model 3 for $80 as well.