All products featured are independently chosen by us. However, SoundGuys may receive a commission on orders placed through its retail links. See our ethics statement.
The bottom line
Sure they have their faults, but if you want good sound quality it's easy to recommend these. For less than $100, the ADV.Sound Model 3 in-ears are an impressive pair of headphones.
Model 3
Sure they have their faults, but if you want good sound quality it's easy to recommend these. For less than $100, the ADV.Sound Model 3 in-ears are an impressive pair of headphones.
What we like
Good sound
Interchangeable cable
What we don't like
Weak magnetic clasp
Average battery life
Rating Metric
Sound Quality
8.8
Bass
9.0
Midrange
9.0
Highs
8.4
Durability / Build Quality
8.0
Value
9.0
Design
7.3
Microphone
8.0
Portability
8.0
Battery Life
8.0
UPDATE [March 2022]: ADV.Sound has released a 2nd Gen version of this product, which we haven't reviewed, yet. It comes with a USB-C charging cable and an improved battery life of 9 hours (previously 5). If the design doesn't quite work for you, check out alternative in-ear headphones or true wireless earbuds.
We've checked out every ADV.Sound product thus far. Now their newest product are wireless IEMs dubbed the Model 3's. These are clearly aimed at people looking for really good sound considering they have the Hi-Res stamp of approval, but they're also Bluetooth and less than $100. Is that even possible? Let's find out.
What's inside
In the box you'll get the headphones, a micro USB charging cable, MMCX to 3.5mm straight cable, two extra pairs of memory foam tips and three silicone tips, an instruction booklet, and a really handy hardshell carrying case.
Build & Design
The Model 3 headphones aren't your average Bluetooth pair of in-ears. ADV.Sound designed these with MMCX connections so you can easily swap between cables. Alone this isn't anything new. Higher end IEMs have been doing this for years. But the Model 3 set themselves apart by coming with a standard wired cable as well as a wireless one. This means you can you swap between them whenever you want.
The two 'buds can be easily popped on and off the cables thanks to the MMCX connectors. The Bluetooth cable needs to be worn over the ear and is easily moldable for max comfort. Those two cables are then attached to another string that needs to be worn like a sort of necklace. On there is the small Bluetooth receiver/battery with playback the controls and a magnetic clasp on the back so you can put it on or take it off. In that clasp is also the micro USB input for charging which was an interesting design choice and I think it works very well.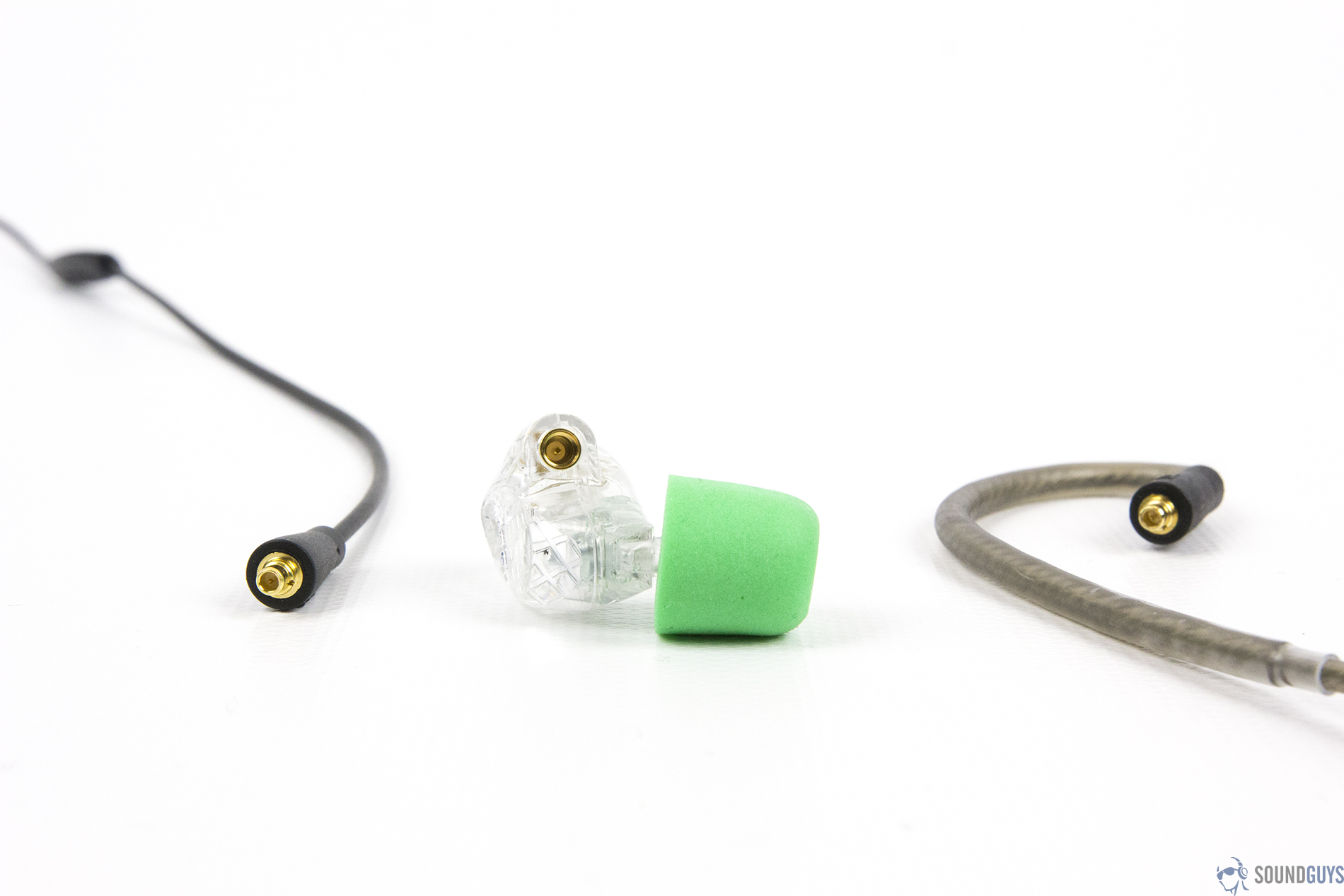 I found the in-ears to be really comfortable and the fit was great during testing. They easily stayed in my ears even with movement, but it was the necklace-like cable that was the issue for me. The magnets that help clasp it together just aren't strong enough and more than once I would accidentally snag it on something and the headphones would get pulled out of my ears. Sometimes I wasn't even sure how it became undone. I would sit or lie down and when I would get back I'd find the only thing holding them in my ears was the earbuds themselves. The standard wired cable wasn't an issue, though I didn't use it much because I wanted to test out the Bluetooth capabilities.
Connection
Switching between cables is definitely a plus in my book. I haven't yet tested a pair of in-ears that allowed be to do that in the way that so many larger over-ears do. One thing I did have an issue with was the initial Bluetooth connection. It would've been nice if it was a little stronger. I have a weird issue when I turn them on where the music falls out every second or two like a bad phone call for about 15 seconds before it clicks and stays strong. After that initial problem playback was fine with minimal skipping, but it's always annoying to miss the first couple seconds of a song. Of course, these are review units so your mileage may vary.
As far as playback controls go the Bluetooth cable will do everything you need them to. With a series of taps, double clicks, and long presses you can skip between tracks, play/pause music, activate Siri or Google Now, and answer or end phone calls. When you switch the wired option you'll have the typical issues with controls that depend on the device you're using. Android devices won't be able to return to previous tracks while iOS devices can and there's no option for volume control here.
Battery
ADV.Sound claims a battery life of 5 hours with the Model 3 which was spot on. We got about 4.5 on the first run and 5 hours on the second. It isn't the best battery life ever but it's definitely competitive. Especially considering how small the actual battery has to be since it can fit in the receiver.
Sound Quality
ADV.Sound claims that these are Hi-Res certified and able to stream at 96kHz/24-bit. It does this with a mixture of aptX, custom digital signal processing (DSP), and is even compatible with Apple's AAC codec. These can also reach frequencies up to 40kHz and though I don't pretend to be able to hear anything that goes on up there, I can say that these do sound really good.
The lows in the Model 3s are fairly strong but not too overpowering. There are some instances where it rises slightly out of it's intended range and makes the lower mids slightly muddy. But those instances are few and far between. For the most part bass guitars and kicks stay perfectly in their zones like in "So Many Details" by Toro y Moi. The rumble of the bass guitar maintains all its grittiness and nicely weaves a dark undertone throughout the song.
Vocals are given a bit of a push at around 5kHz just to make them a little more present, but it's not a bad thing. Instruments that lie in the midrange share the stage with the vocals but don't overtake them. A good example of this is in "Beginners" by Slow Club where you really get that live band feel. The guitar and synths are clearly audible over the rolling drums but vocals are always presented front and center.
The highs are also nicely done for the most part. Cymbals and hi-hats maintain all their "airyness" without ever becoming painful. They are pulled back a bit which is good considering that IEMs are pumping sound directly into your ears. All together you'll get a nice warm sound out of your music.
Conclusion
ADV.Sound continues to impress with the Model 3s. Though there are issues with the Bluetooth cable actually staying on, the sound quality of these makes up for it. Especially when you consider that it's coming over a Bluetooth connection. Battery life is only average when it comes to Bluetooth in-ears. That said, being able to switch out to a wired cable when the battery dies is definitely handy. With other headphones once the battery goes you're pretty much done until you can plug them in. If you're looking for sports 'buds or more entry level Bluetooth headphones you might want to skip these. But at less than $100 I have no problem recommending these for casual music listening.