All products featured are independently chosen by us. However, SoundGuys may receive a commission on orders placed through its retail links. See our ethics statement.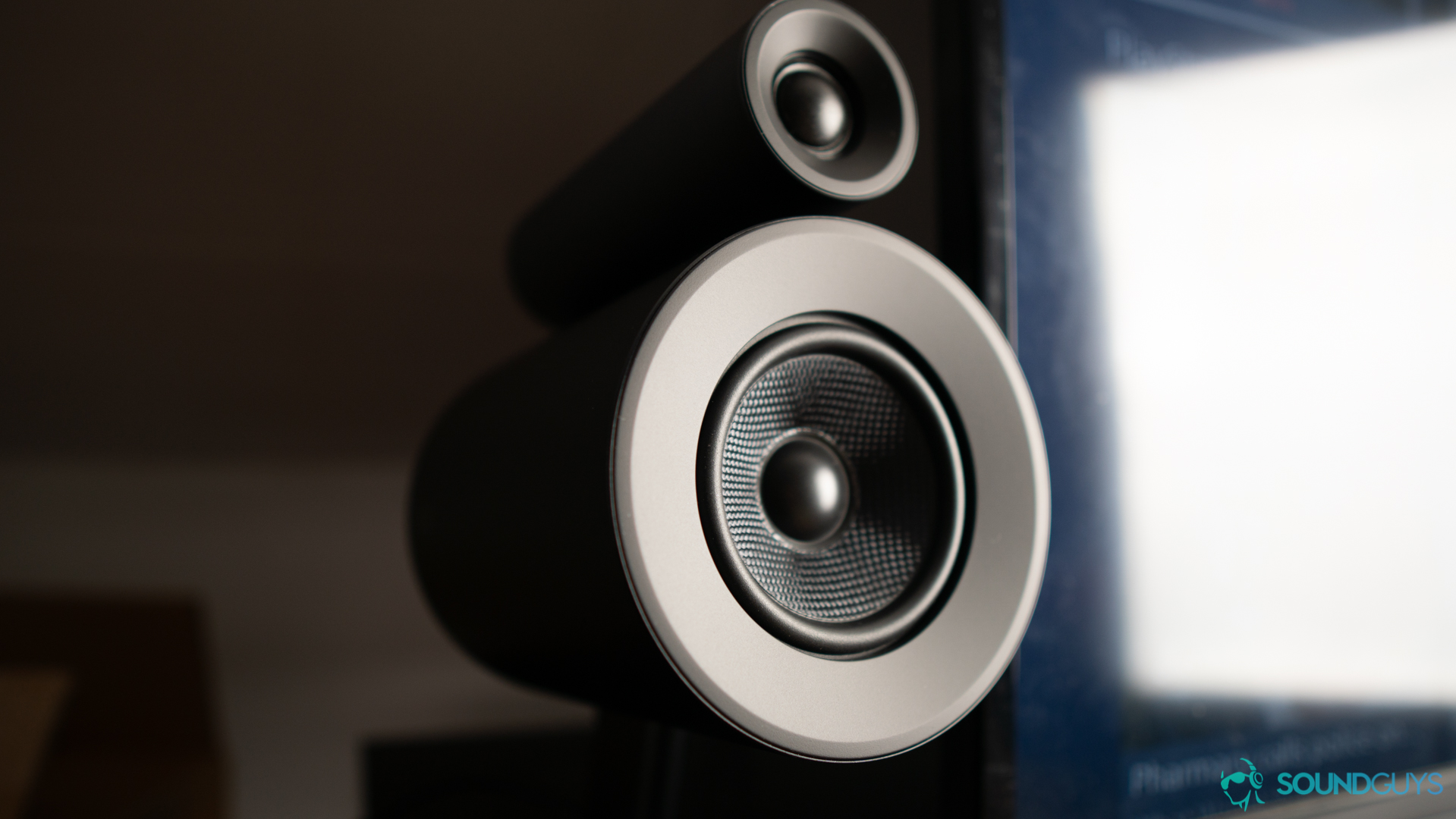 The bottom line
Whether you consider yourself a hardcore gamer or just someone who mainly uses their console to stream Netflix, the Razer Nommo Pro sounds good enough for everyone to enjoy.
Razer Nommo Pro
Whether you consider yourself a hardcore gamer or just someone who mainly uses their console to stream Netflix, the Razer Nommo Pro sounds good enough for everyone to enjoy.
What we like
Good sound<br>
Minimal design<br>
Connectivity options<br>
What we don't like
Price<br>
Large size isn't ideal for small desks<br>
Rating Metric
Sound Quality
9.2
Bass
9.0
Midrange
9.0
Highs
9.5
Durability / Build Quality
8.5
Value
7.5
Design
8.0
Razer is one of the most well-known manufacturers of gaming accessories in the world, with products ranging from headsets to smartphones. We don't often get to review gaming speakers here, so when we got the chance to check out the Razer Nommo Pro speakers, we couldn't say no. But are they worthy of the high price tag, or are you better off with something cheaper?
Who are the Razer Nommo Pro for?
Gamers. With connectivity options for consoles and PC gamers alike, the Nommo Pro deliver a great experience regardless of what you're doing. Sound is sound.
Not just gamers. Obviously, if you're into gaming these will up your audio setup significantly. But because they're THX certified and have Dolby Audio, they do a solid job with movies.
Anyone with their own place. Unless you don't care about pissing off your roommates, you probably shouldn't get these unless you have your own place because they get crazy loud. It's great for watching movies and playing games, but not so great for your neighbors.
How's the build quality of the Razer Nommo Pro?
The satellite speakers deliver great sound in a minimal, all-black package with some colorful lighting to accent it.
These speakers are big. If you have a standard sized desk, you might find yourself running out of space quickly. If you have a dual-monitor gaming system with a water-cooled PC, then you might have a desk big enough to handle this. But even then, you'll have no choice but to try and hide the subwoofer underneath the desk. Everything together weighs about 13.6kg (30lbs), and most of that is due to the giant downward-firing subwoofer. To be fair, both satellite speakers are pretty hefty in their own right, but it's the sub that makes up most of that bulk.
The subwoofer is large, but gets the job done when it comes to the low end.
As far as build quality goes, there really isn't anything that leads me to think these will break on you. Granted, I still have a pair of cheap Logitech speakers from '09 somewhere in my basement, so a computer desk isn't exactly what I'd consider a locale of extreme distress. I digress. That still doesn't take away from the build of the Nommo Pro.
Each speaker is made of a smooth black plastic that, surprisingly, isn't a huge fingerprint magnet. Despite the size, there really isn't anything special about the design of the sub. It's just a giant cylinder with a hole in it and some connection inputs along the back. The satellite speakers, on the other hand, are attention grabbers. Not just because the 20mm tweeters are stacked on top of the 77mm full-range drivers, but because they have RGB lighting along the bottom.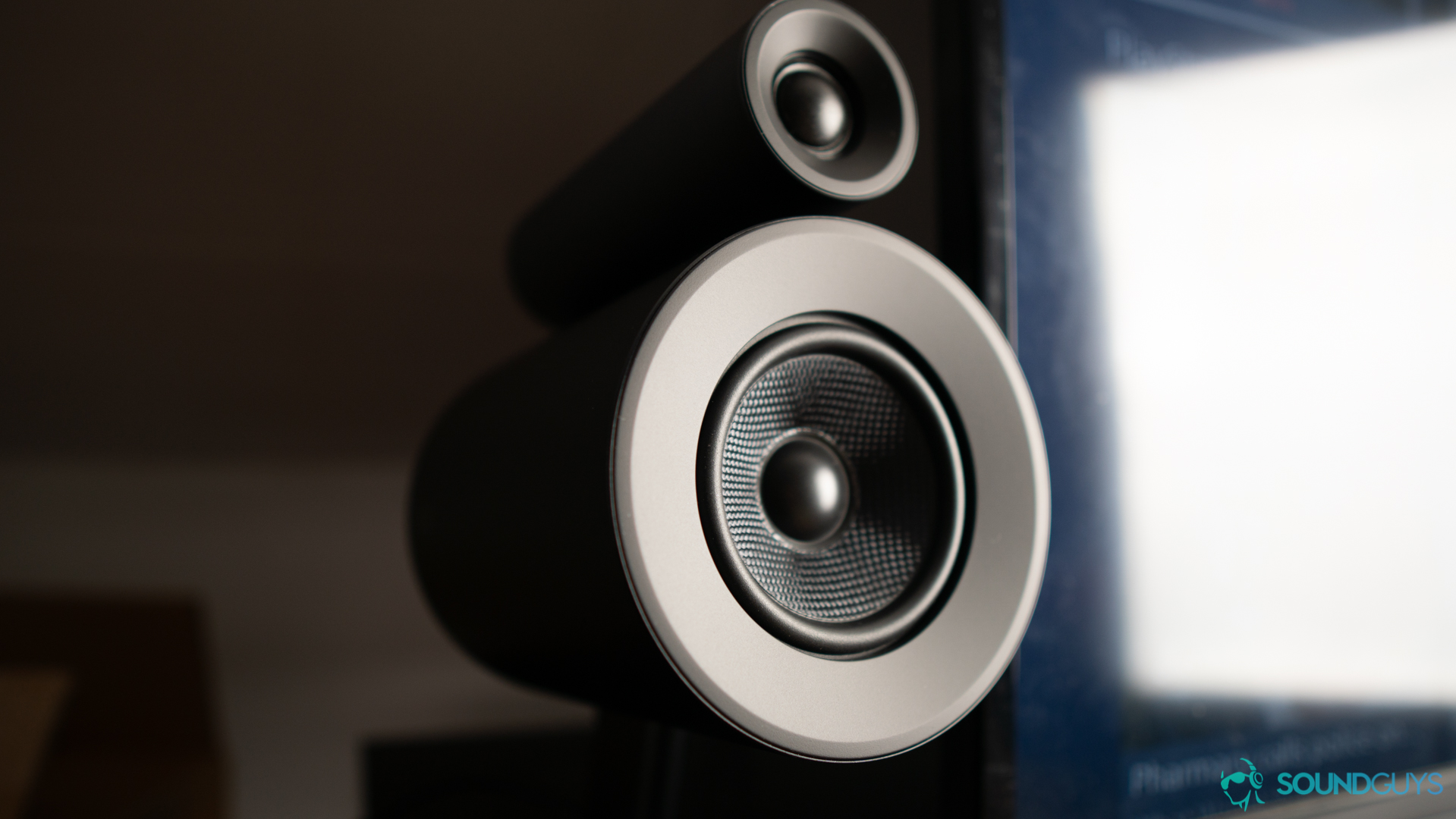 The satellite speakers are both quite large because of their depth and height, which is due to the tweeters being stacked on top of the 77mm full range drivers.
I know, RGB lighting in a gaming setup from Razer? No way! (heavy sarcasm). But what surprised me about the design was how minimal the entire effect was. Aside from a small sliver of light that wraps around the bottom of the circular stand, there aren't any noticeable lights. I'm not a big fan of colorful lights. I'm a firm believer in "less is more," and just the like the Creative SoundBlaster Katana speaker that I reviewed, the simple lighting looks great. I think will appeal to a wider range of people than just hardcore gamers.
But my favorite part of the speaker has to be the small, puck-shaped wheel for switching between inputs and controlling the volume. Not only is it small enough to fit in the palm of my hand (which saves valuable desk space), turning the wheel to adjust volume is just a great experience. It almost feels like turning the bezel on a quality watch, providing just the right amount of resistance and tactile feedback.
Connecting to the Nommo Pro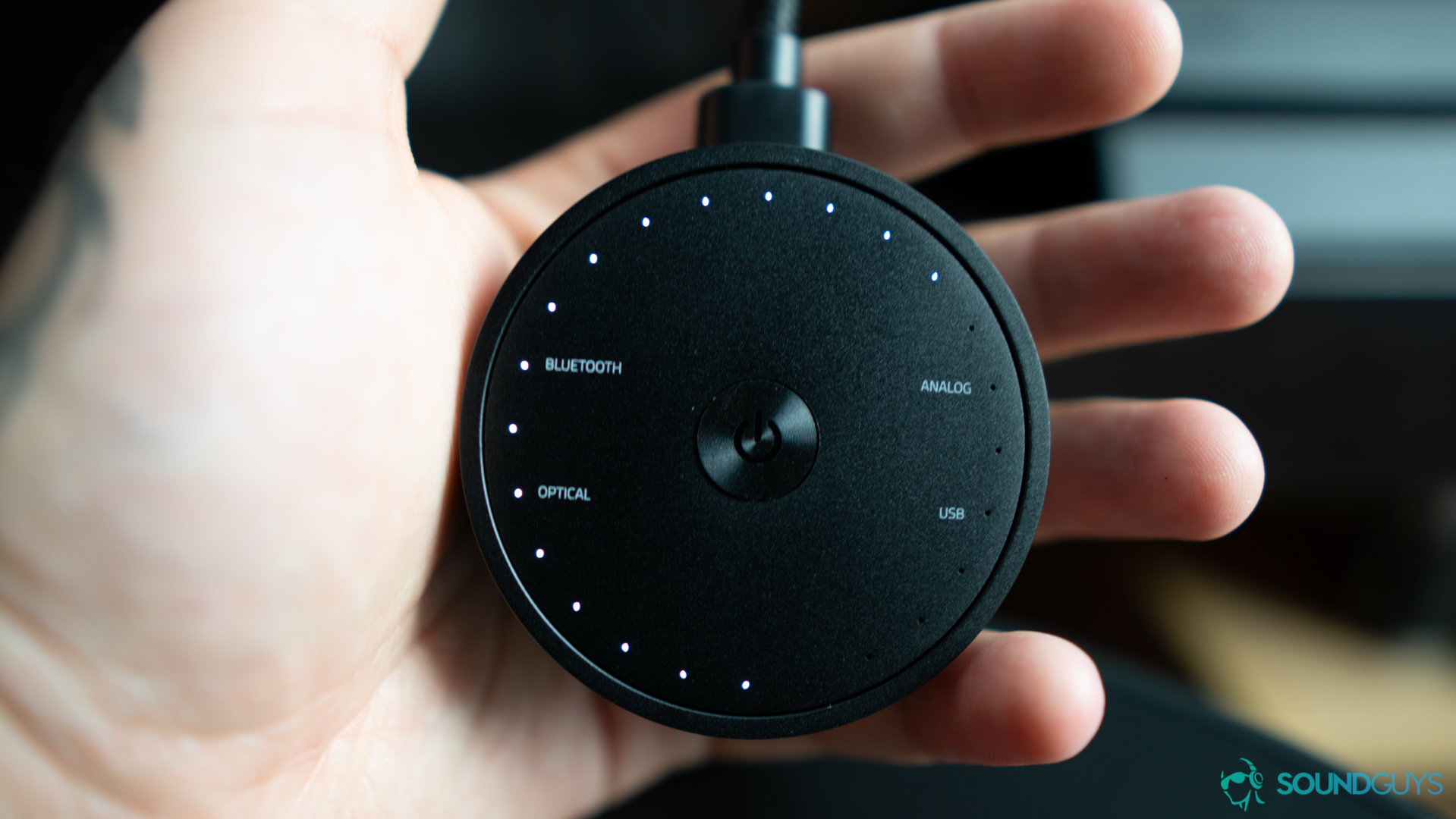 You can switch between inputs via the control puck.
When it comes to connecting, the Razer Nommo Pro has you covered in all aspects. The subwoofer has inputs to connect the left and right speakers along with the control pod, and under that are optical and USB inputs for connecting to a console or PC. The control puck also has a 3.5mm analog input so you can hardwire in an older device if you want and a 3.5mm output for headphones. You can choose between the different inputs by clicking the button under the volume wheel, as well. You can switch between Bluetooth (v4.2), USB, analog, or the optical input.
The large subwoofer has all of the inputs you'll need on the back.
In my experience, switching between inputs was seamless; although, to be fair, I don't have a PC to connect and instead relied on the optical input connected to my PS4. To get even more controls you can download the Razer app, which lets you choose the lighting effect and even more importantly lets you tweak the sound. For one, you can toggle on or off the Dolby Audio and THX. You can adjust the bass via a slider in the app, so you can add more boom or take some away if it's too much.
How do they sound?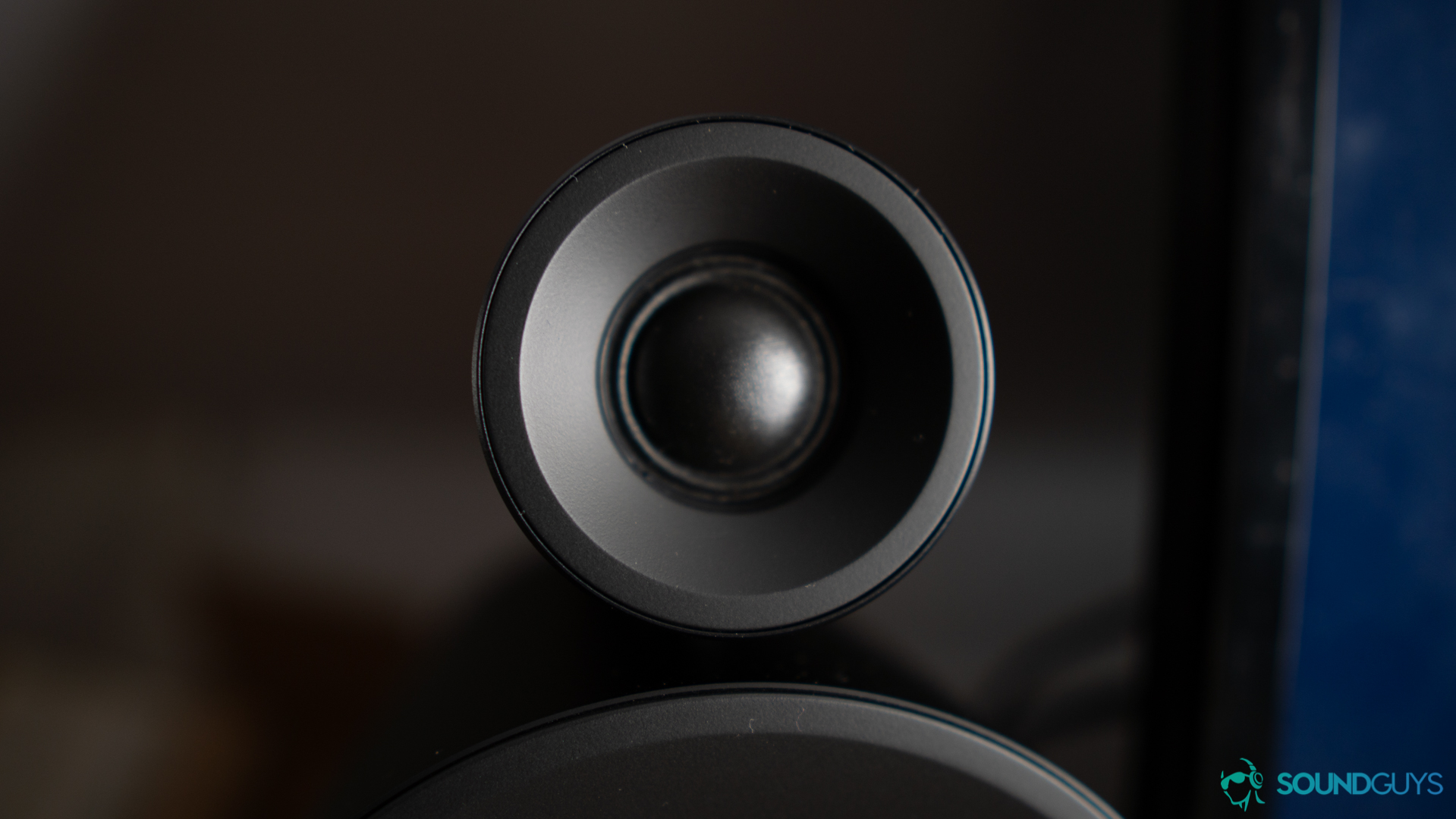 Up top are the 20mm tweeters that handle the highs.
With a subwoofer this big it's hard to imagine the low-end lacking in any way. It did a great job handling everything from smooth basslines to rumbling explosions in movies and video games. That said, I feel like the Razer Nommo Pro speakers really shine when they need to show off how they handle subtleties over the big booms. A good example of this is the lower notes in the song Wait by the River by Lord Huron. The bassline remains controlled throughout the song with no distortion while transitioning perfectly to the drastic synth drop at 0:53.
This occurs without interfering with any of the smooth vocals in the mids, which isn't surprising since the low-end is handled exclusively by the subwoofer. The treble was also handled very well, with everything from the strums of the guitar to the cymbals in the song New Slang by The Shins sounding like they were being played right in front of me. This is really noticeable about 1:16 minutes into the song when you can clearly hear the guitar pick is being dragged along the strings.
Final Thoughts
I admit that I'm no expert when it comes to gaming, which makes it all the more noteworthy that I loved the Razer Nommo Pro speakers. Whether I was listening to music, watching a movie, or trying to beat Horizon Zero Dawn: The Frozen Wilds for the hundredth time, the Nommo Pro always impressed me. It might not be the most desk-friendly setup thanks to the large speakers and subwoofer, but it makes up for that by delivering truly impressive sound.
Whether you consider yourself a hardcore gamer or just someone who mainly uses their console to stream Netflix, the Razer Nommo Pro will be a welcome addition to your setup. Unfortunately, this comes at the hefty price of $499. But after having used these for the last week or two, I have to say that I'm definitely going to be adding these to my Christmas list. Hopefully, Santa can appreciate a good 2.1 setup.