All products featured are independently chosen by us. However, SoundGuys may receive a commission on orders placed through its retail links. See our ethics statement.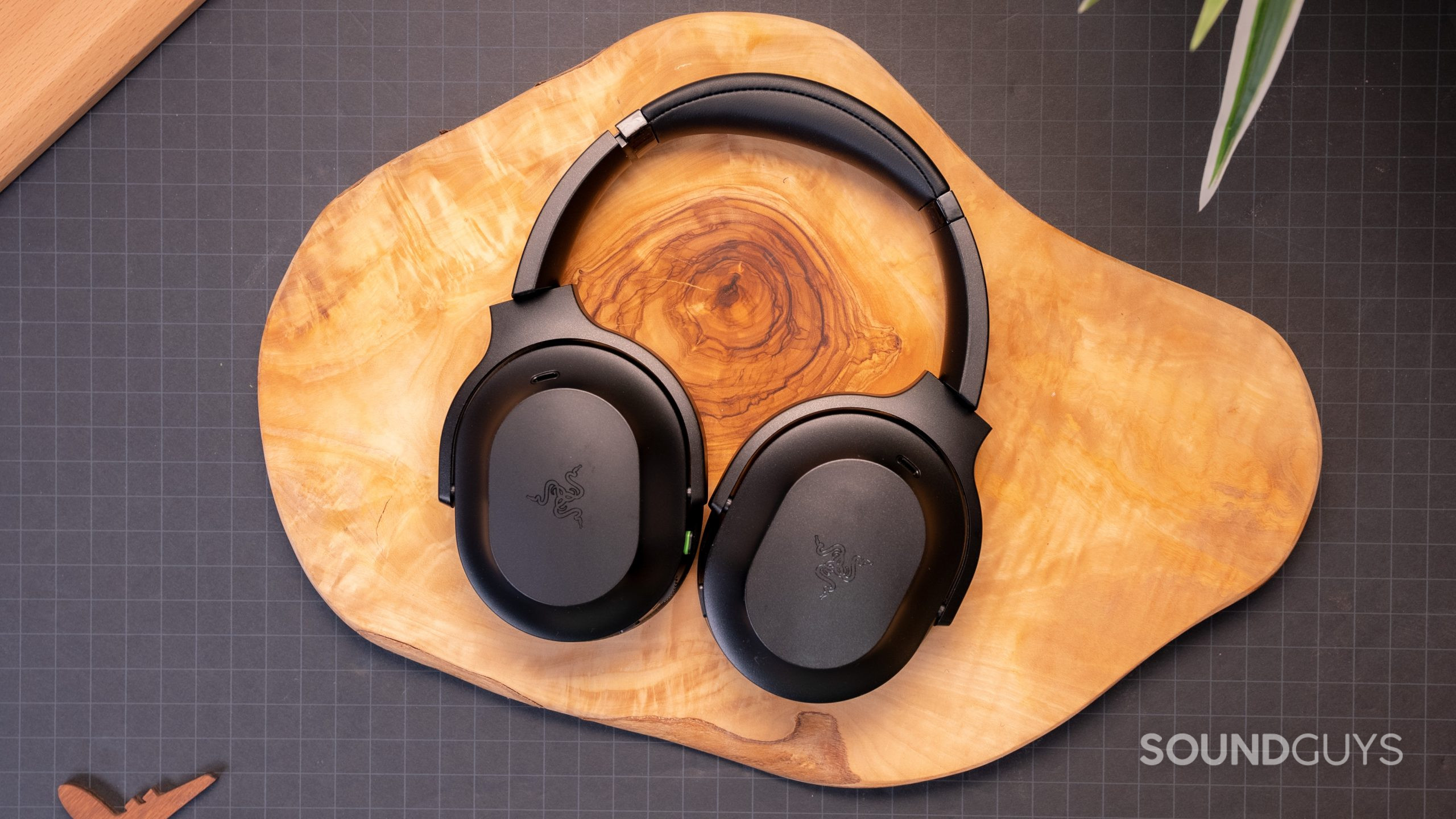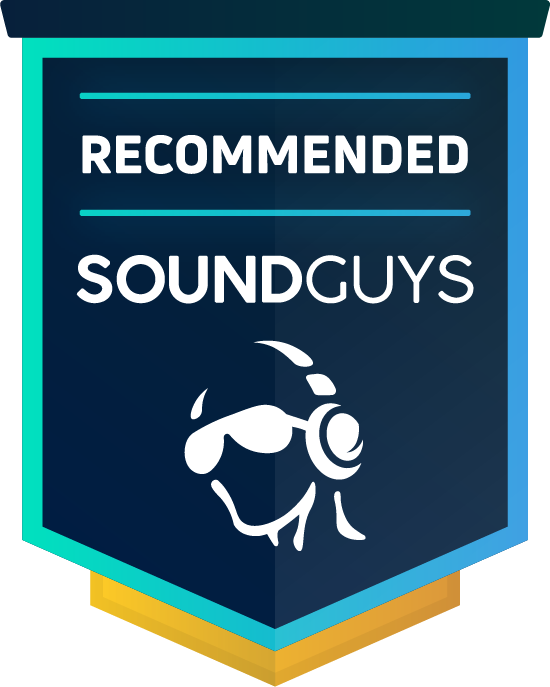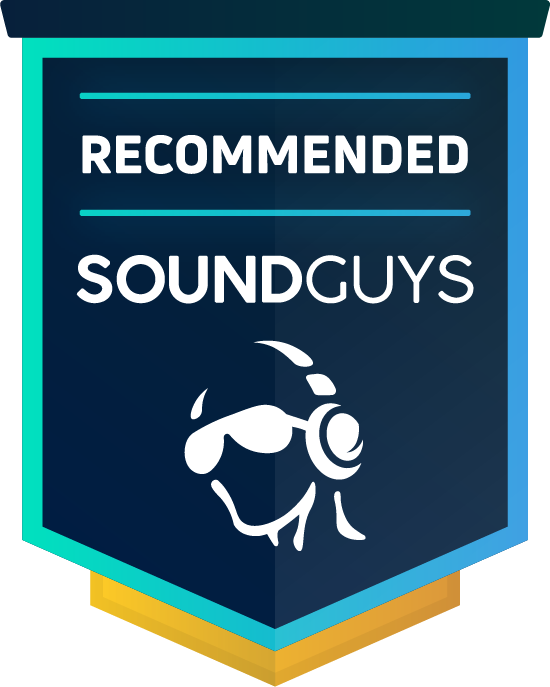 The bottom line
The Razer Barracuda Pro is a well built gaming headset with good sound quality and active noise canceling. The microphone quality and connectivity options are lacking, but if you can ignore those it's a great headset.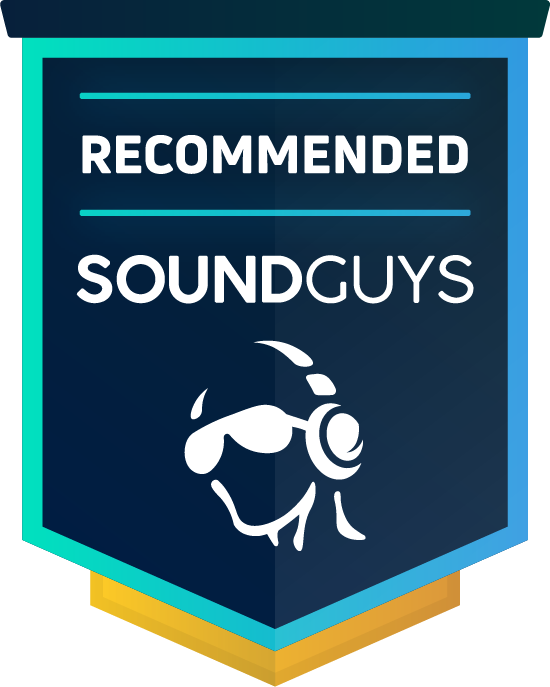 Razer Barracuda Pro
The Razer Barracuda Pro is a well built gaming headset with good sound quality and active noise canceling. The microphone quality and connectivity options are lacking, but if you can ignore those it's a great headset.
Dimensions
62 mm x 42 mm (ear pad interior)
What we like
Good build quality
Sound quality
Active noise canceling
Two simultaneous connections
Nice battery life
What we don't like
No boom microphone
Limited support for consoles
No 3.5mm headphone jack
Rating Metric
Sound Quality
9.5
Bass
9.8
Midrange
9.3
Highs
9.5
Isolation / Attenuation
6.4
Active Noise Cancelling
7.9
Durability / Build Quality
6.5
Value
6.2
Design
7.0
Connectivity
7.5
Microphone
5.8
Portability
7.3
Battery Life
9.9
Feature
8.0
Comfort
8.5
The Razer Barracuda Pro is an interesting proposition from Razer. Is a gaming headset without a boom microphone still really a gaming headset? Looking from afar, it would seem that this headset has more in common with something like the Sony WH-1000XM5 than it does with other gaming headsets on the market. The Barracuda Pro features excellent comfort, solid active noise canceling (ANC), and a simultaneous dual wireless system. But do these modern features make up for the reduced focus on gaming?
We spent a week with the Razer Barracuda Pro to find out everything you need to know.
Editor's note: this review was updated on June 23, 2023 to address some formatting changes and to add the results of the microphone poll. Thank you to everyone that voted!

The Razer Barracuda Pro is an excellent choice for gamers looking for a stylish, elegant headset that prioritizes comfort (as long as they don't care about microphone quality too much). Additionally, it's a good option for anyone wanting a general-purpose headset that can be used at home and on the go. The lack of a large protruding microphone makes it a solid choice for commuters.
What is the Razer Barracuda Pro like?
The Razer Barracuda Pro has ample padding alongside its stainless steel inner headband.
The Razer Barracuda Pro features a fairly robust design and several nice features, many of which are common to Razer's entire line of headsets. The design is primarily plastic, with an interior stainless steel headband for rigidity, in addition to plentiful cushioning. The memory foam ear pads go a long way to optimize comfort for the shape of the headphones. While not the most breathable, the leatherette ear pad wraps allow for some airflow, so things don't get too hot. Each headphone tilts up/down for a custom fit. You can even swivel the headphones to lay flat on a surface. The sizing is easy to adjust, and the mechanism doesn't tend to get hair stuck in it unlike some other headsets. It stays in place well, without clamping down on the head too hard. The headset also comes with a carrying case that is quite high quality, although a bit on the bulky side.
How do you control the Razer Barracuda Pro?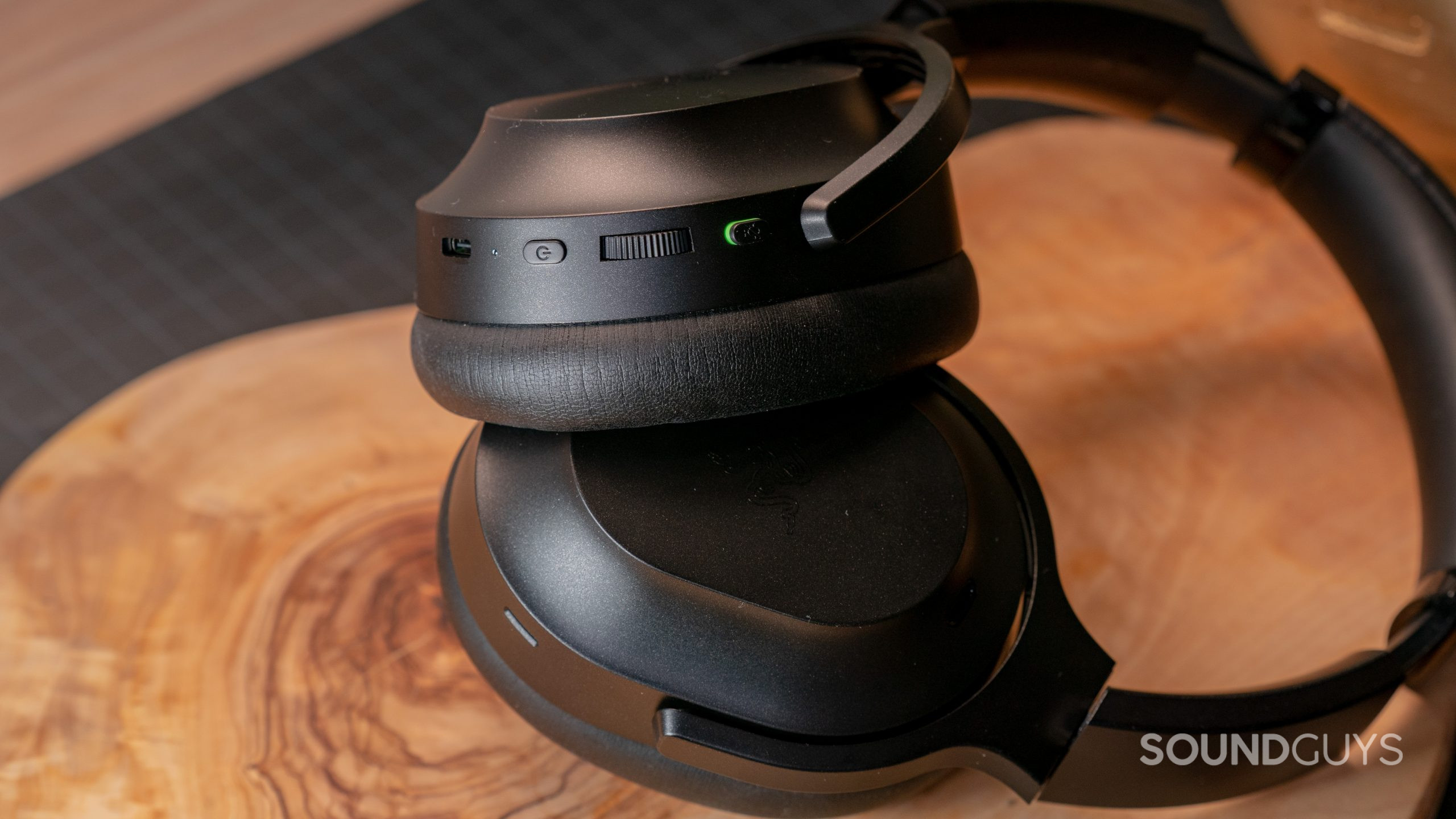 The controls on the Razer Barracuda Pro are fairly easy to use without being too confusing.
The Razer Barracuda Pro includes several controls on the backside of the ear cups that allow you to control it on the fly. This includes a volume wheel, a power button, and a microphone mute button on the left ear cup, as well as a button for adjusting the active noise canceling (ANC) on the right ear cup.
These buttons are fairly easy to get to grips with thanks to their different placement and texture. However, the headset does create some confusion by having the button for adjusting the ANC intensity also double for enabling Bluetooth connectivity when you hold it down.
How does the Razer Synapse software work?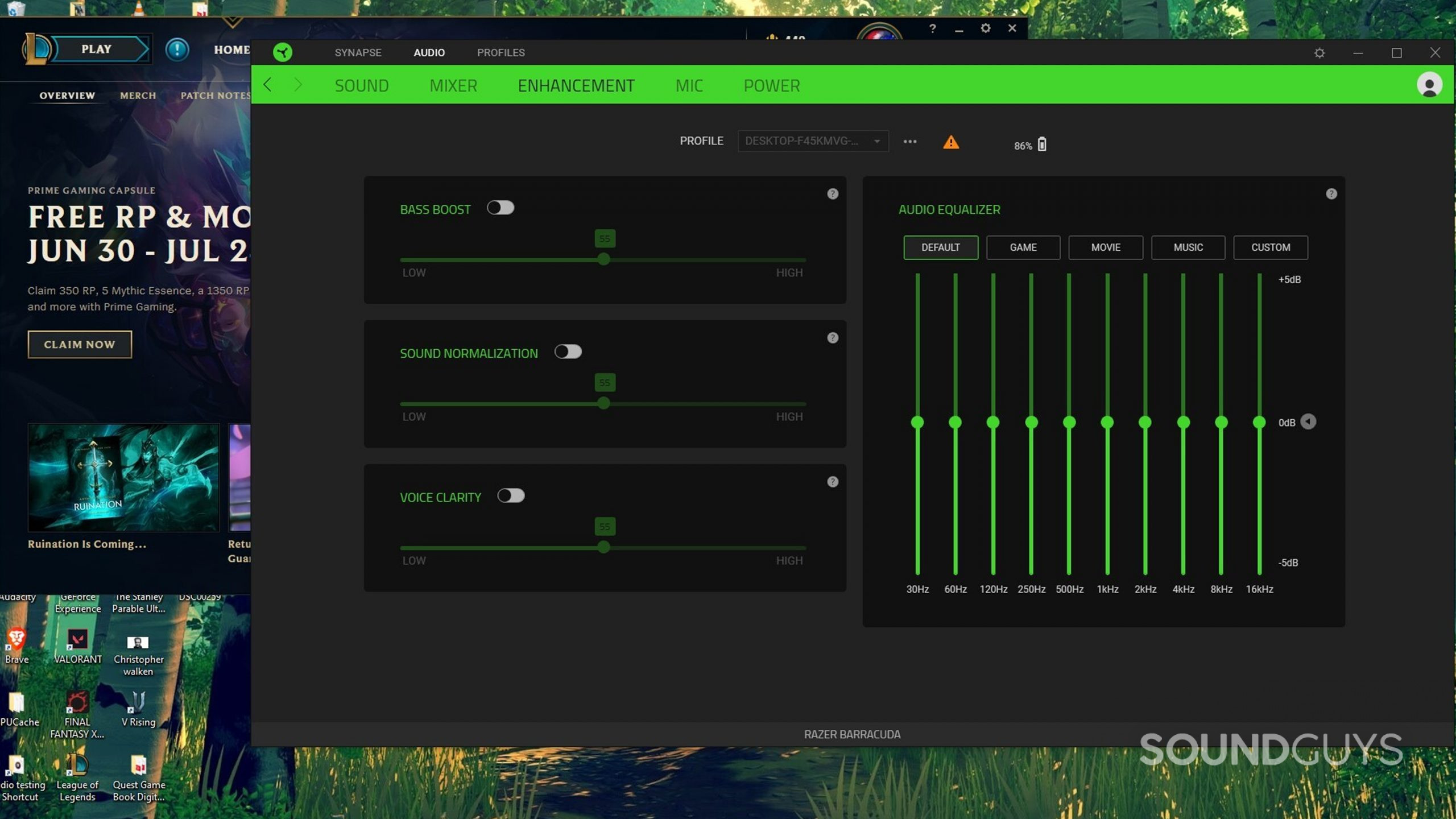 The Synapse offerings for the Barracuda are pretty typical of gaming headsets in the price range.
Included with the Razer Barracuda Pro is the software suite used to control almost all Razer peripherals, Razer Synapse. While it's certainly not required to use the headset, it does have several useful features. The primary use of the software is to adjust audio features such as EQ and microphone settings. The app includes several different EQ presets that complement the headset fairly well. Razer also provides a mobile app for Android and iOS called Razer Audio that enables access to some of the same features as the desktop, including EQ and active noise canceling. This app is pretty barebones, but it's useful for adjusting settings on the headset while on the go. For the privacy-minded individual, it may seem notable that the app asks for the user's location, but this is typical for mobile apps. It's how the app locates the Bluetooth headset.
Synapse also enables access to Razer's audio spatialization solution for the headset. This is powered by THX Spatial Audio and can deliver some impressive faux-surround sound effects with the correct setup. It's certainly not for everyone though, and should likely be avoided when listening to music.
Is the Razer Barracuda Pro good for gaming?
The Razer Barracuda Pro is a great option for PC gamers, especially thanks to the additional features of the Razer Synapse software.
The Razer Barracuda Pro is an excellent choice for a gaming headset. Despite being wireless only, it features fairly low latency playback with good audio quality. Razer Synapse's support for THX Spatial Audio on PC also noticeably enhances some games. We tested several different games, including Halo: The Master Chief Collection, Elden Ring, and Europa Universalis IV, each of which sounds excellent on this headset. The microphone also makes this headset an excellent choice for online games and late-night Discord calls.
How does the Razer Barracuda Pro connect?
The headset is primarily designed to connect to a 2.4GHz USB-C dongle (included with the headset, as well as a USB-C to USB-A adapter), which is great for gaming. When you're out and about, you can take advantage of Bluetooth 5.2 and choose between the SBC and AAC codecs. Unusually, there is no option for wired playback as Razer omits the headphone jack here.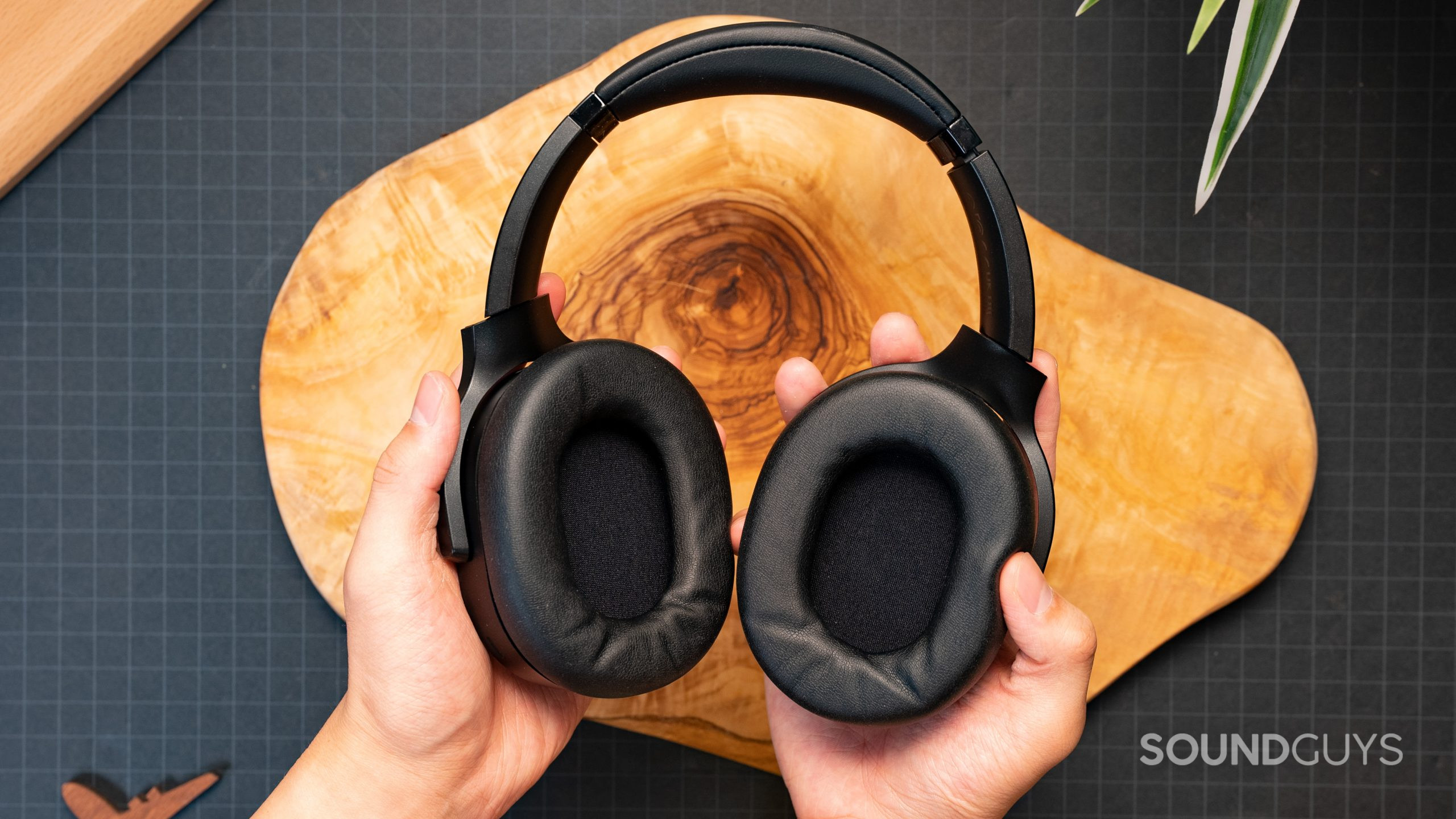 The Razer Barracuda Pro offers excellent wireless connectivity but lacks support for some devices and has no wired support.
The Razer Barracuda Pro also features Razer's SmartSwitch Dual Wireless system that lets it connect to both its USB-C dongle and a different device (typically a mobile phone) via Bluetooth. We notice some intermittent audio distortion during normal use, likely caused by electrical interference.
What about platform compatibility?
Thanks to its use of USB-C (and inclusion of a USB-A adapter), it's compatible with a wide number of devices, including PCs, smartphones, and PlayStation consoles. Razer does not have official support for Xbox or Nintendo consoles here, but the USB-C adapter should work with Switch. The headset has issues when connecting to the Steam Deck, which you can remedy by disabling the microphone in the settings menu.
How good is the battery life of the Razer Barracuda Pro?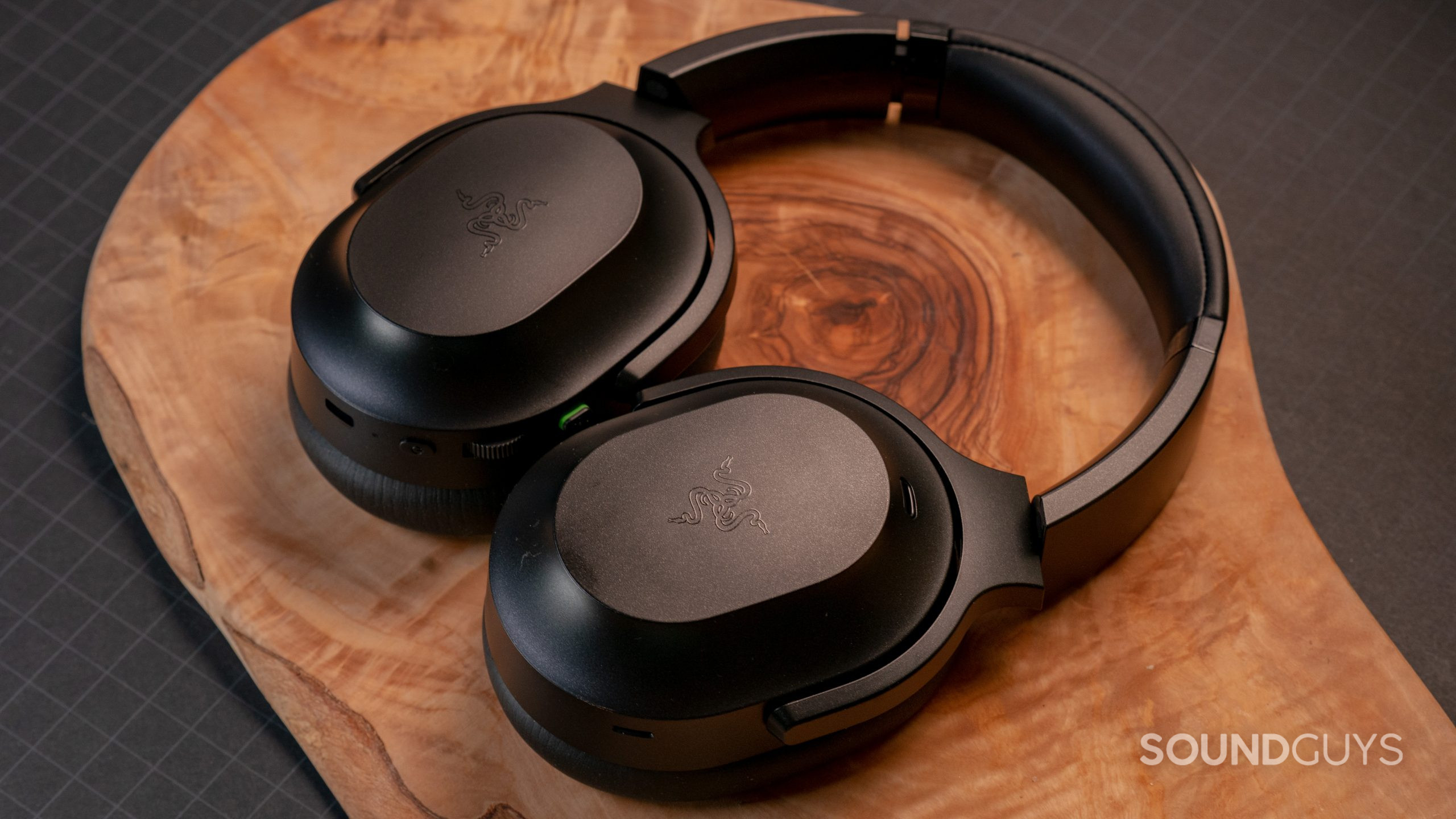 The Razer Barracuda Pro should serve you well across multiple days of listening and gaming.
Razer advertises a 40-hour battery life for the Razer Barracuda Pro. In our testing (with ANC on) it lasted 51 hours, 13 minutes, significantly longer than advertised. Battery performance will vary depending on your use of noise canceling, and the number of simultaneous wireless connections (the headset supports up to two at a time). This is quite impressive battery performance considering the headset is still a very comfortable weight, more than enough for several long gaming sessions.
How is the sound isolation on the Razer Barracuda Pro?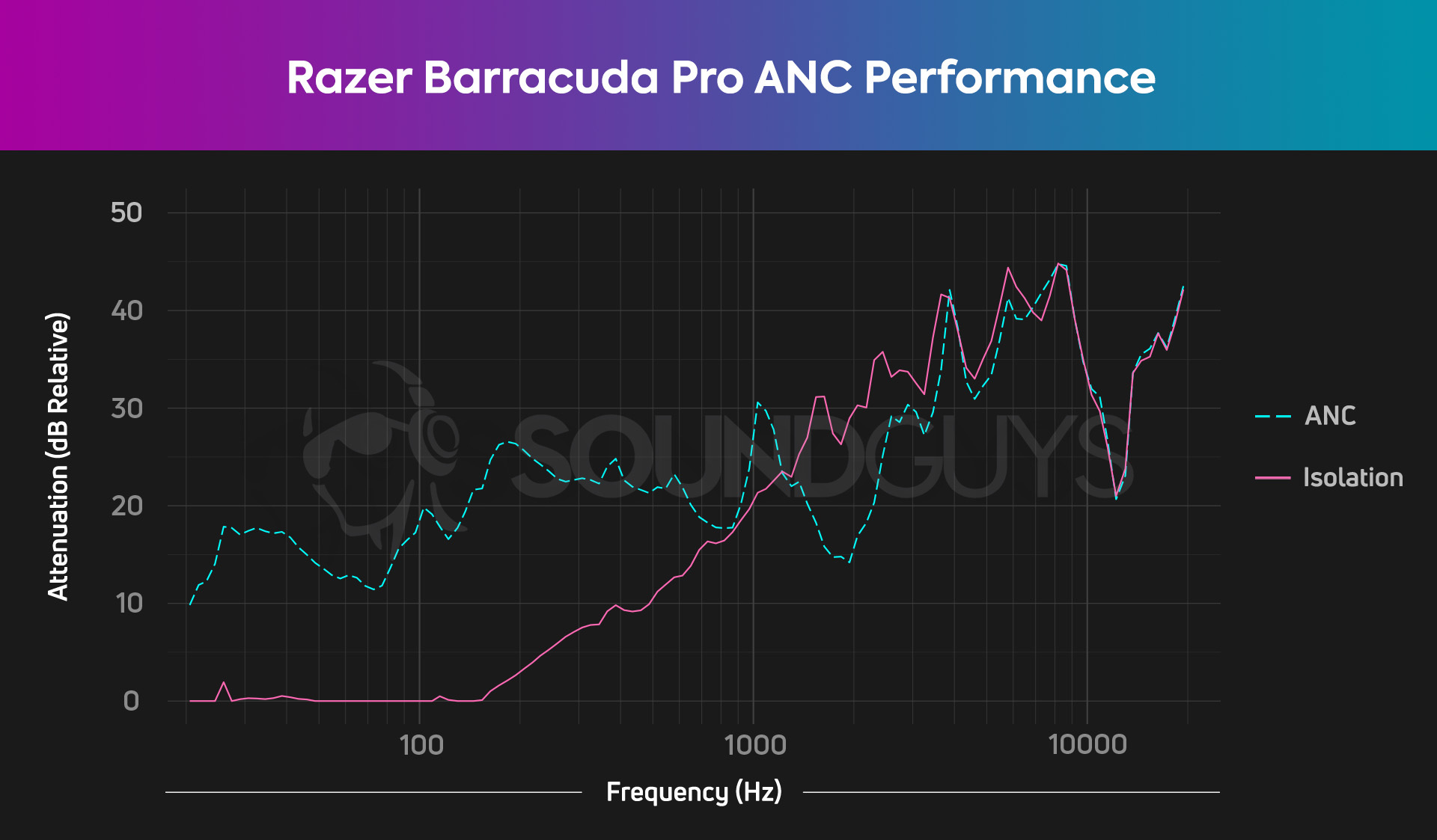 The active noise canceling on the headset isn't the most incredible we've ever seen, but it does a decently good job of blocking out distracting outside noises.
The Razer Barracuda Pro features active noise canceling, one of its major selling points in its pitch as a gaming headset that works both at home and on the go. While Razer's ANC solution isn't as powerful as some of the others on the market, for a gaming-focused product, it's still quite impressive at cutting down outside noise. You can easily ignore the loud hum of an AC unit or a conversation going on in the same room with ANC enabled. With the control on the right ear cup, you can toggle through the ANC modes (on, off, or amplifying ambient audio). When ANC is turned off, the headset also has pretty good passive noise isolation.
How does the Razer Barracuda Pro sound?
The Razer Barracuda Pro sticks fairly close to our ideal frequency response chart, although it does deviate in the mids and highs.
The Razer Barracuda Pro's frequency response generally follows the gist of our ideal consumer curve. Unfortunately, it does have a slight dip between 200Hz-1kHz and starts rolling off at the high end early, at around 8kHz. Generally, it's a fairly enjoyable headset to listen to with good bass response but unfortunately, the high end doesn't quite hold up to the price tag.
For casual listening to most songs and games, this won't be too much of an issue, it's only when it comes to critical listening that this headset falls short. The Barracuda Pro doesn't boost the bass too much compared to many other gaming headsets. This is nice if you prefer a more "even-sounding" response, and can even make it easier for you to hear nearby footsteps in your favorite action game.
Lows, mids, and highs
Several songs work quite well with this headset's frequency response profile. The bass in the song My Trains by Lemon Demon sounds excellent, nicely present without being overpowering. The guitars in several songs sound great, especially in the song Mongoose by NOBRO. However, some songs don't quite fit as well, such as the song Tribute by Tenacious D. The vocals in this song sound a little "hollow" compared to how they usually sound on other headsets, likely due to the unevenness in the headset's frequency response.
How is the Razer Barracuda Pro microphone?
The microphone on the Razer Barracuda Pro adequately covers the frequency range that the voice sits in.
Unlike most other gaming headsets, the Razer Barracuda Pro doesn't have a boom microphone that sits in front of the user's face. Instead, Razer has elected to use a microphone array that's built into the ear cups. While this is convenient and makes the headset easier to take on the go (clearly the main design goal), it unfortunately means that the microphone quality isn't as high as some other gaming headsets.
You can listen and vote below to judge for yourself the quality of the microphone.
Razer Barracuda Pro microphone demo (Ideal):
Razer Barracuda Pro microphone demo (Office):
How does the microphone sound to you?
1266 votes
Should you buy the Razer Barracuda Pro?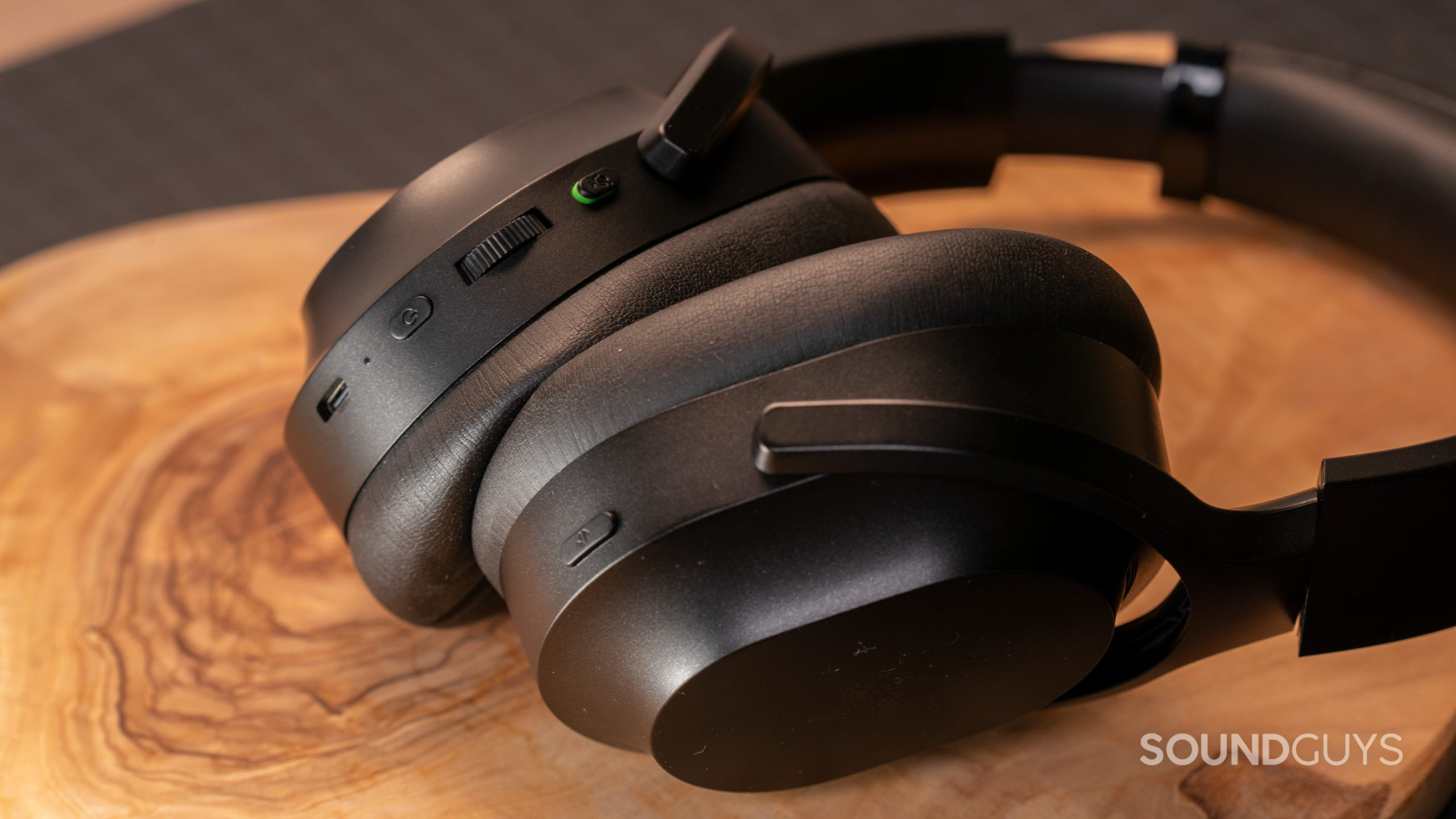 The Razer Barracuda Pro is a solid headset so long as you're aware of its shortcomings before jumping in.
Overall the Razer Barracuda Pro is a pretty easy recommendation from us, so long as you know it's what you're looking for. The stainless steel headband, excellent memory foam padding, and solid overall build quality make it feel like a high-quality product right off the bat. The active noise canceling and overall audio quality are also quite impressive.
Still, the headset is definitely let down by its lack of a boom microphone. The lack of support for a 3.5mm headphone jack is also notable. If neither of these features feels essential to you then the Razer Barracuda Pro is an excellent choice. It's a well-built Razer headset with a wealth of features.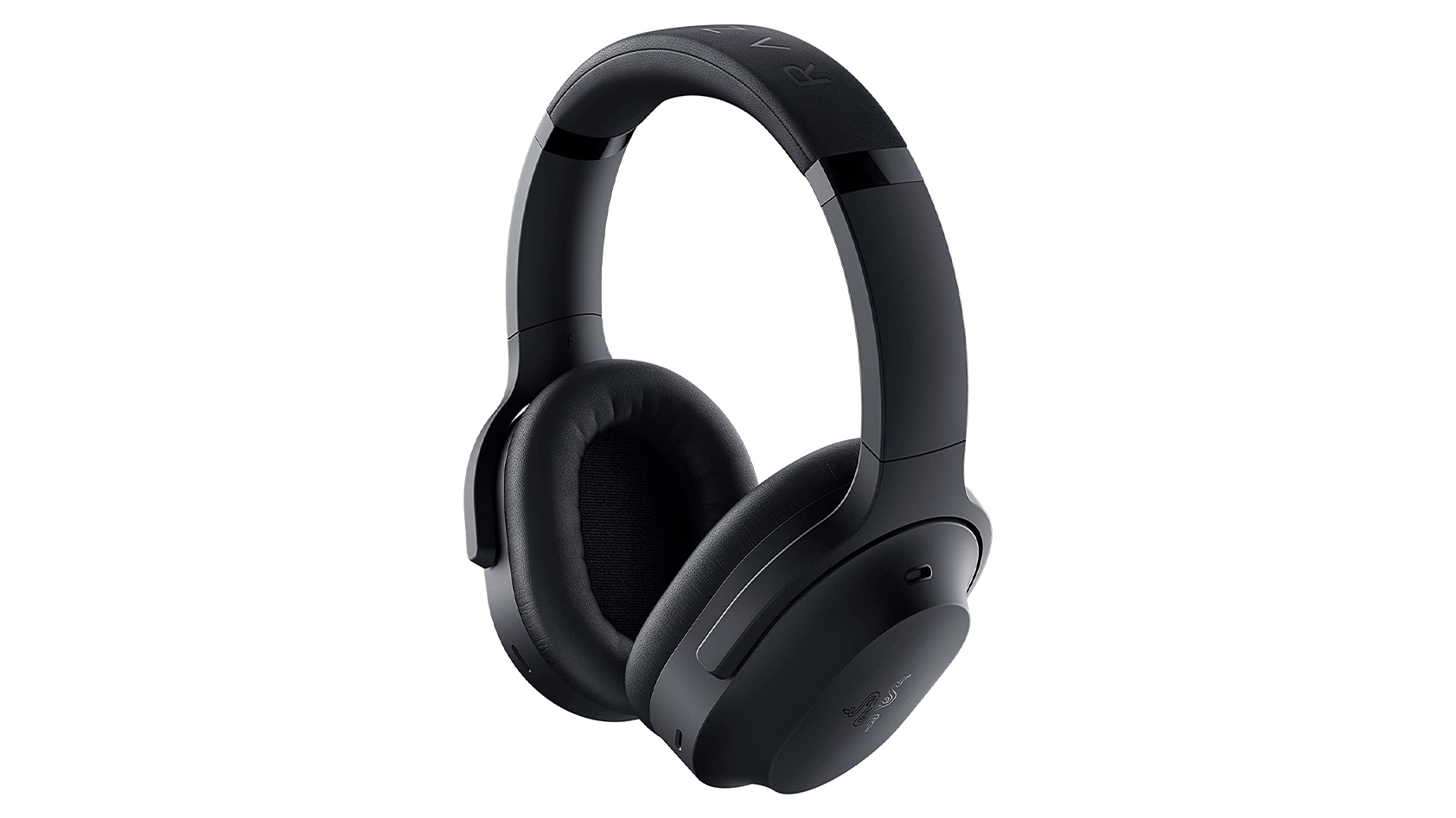 Razer Barracuda Pro
All prices listed in USD unless otherwise specified. Prices may change over time, and vary by region. Unfortunately, we cannot list Amazon prices on the site, as they vary greatly by currency.
What should you get instead of the Razer Barracuda Pro?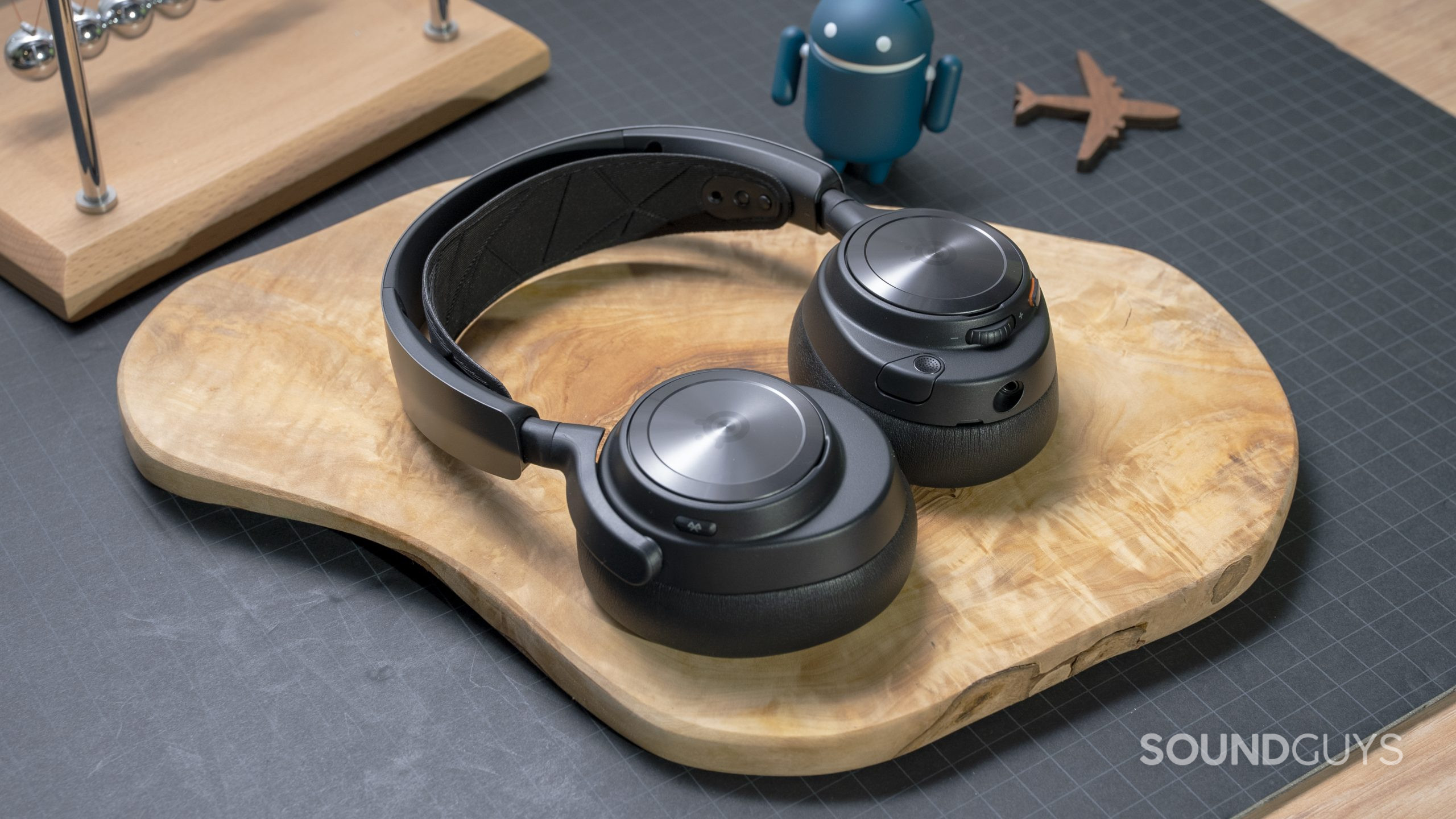 Although it may be on the pricey side, this headset delivers on everything from features to build quality. It sounds excellent and feels excellent.
One of the biggest competitors to the Razer Barracuda Pro is the SteelSeries Arctis Nova Pro Wireless, a headset trying to walk the same line between a full gaming headset and a daily driver headphone. If the higher price of that SteelSeries product is too much for you, however, you might consider the cheaper Razer Barracuda X (2022), which comes with a boom microphone. Another option is the EPOS H3PRO Hybrid, a venerable pick for wireless gaming.
Frequently asked questions about the Razer Barracuda Pro
The Razer Barracuda Pro does not officially support the Nintendo Switch nor the Xbox Series S/X consoles. However the headset may work with these consoles if you're able to connect them via Bluetooth audio. The Nintendo Switch in particular has full support for Bluetooth audio and should work with the headset.