All products featured are independently chosen by us. However, SoundGuys may receive a commission on orders placed through its retail links. See our ethics statement.
The bottom line
The Libratone ONE CLICK is without a doubt a good speaker, but that isn't enough to justify its price tag.
The Libratone ONE CLICK is without a doubt a good speaker, but that isn't enough to justify its price tag.
What we like
Build Quality
Customizable
What we don't like
Average sound
Price
Rating Metric
Sound Quality
7.8
Bass
8.2
Midrange
7.6
Highs
7.8
Durability / Build Quality
8.5
Value
7.2
Design
9.5
Microphone
8.5
Portability
8.0
Battery Life
7.7
UPDATE [March 2022]: While the Libratone ONE CLICK is still available, it's an older model and you'll get better features and battery life with newer Bluetooth speakers.
The last time we looked at Libratone it was to check out their Zipp speaker. Shortly afterwards they released the Libratone ONE CLICK speaker. It shares in some aspects of the Zipp, like the fabric covering, but is completely different in design and practical use. For one, the ONE CLICK is in some ways a modular speaker. Users can swap out some accessories for others, allowing for more personal use cases. But what else does it do?
What's inside
In the box you'll get the speaker, a fabric covered micro USB charging cable, and then the accessories. There's a soft rubber loop, a hard rubber hook, and two caps that you can use to fill any of the unused holes because the ONE CLICK has five places where you can use either of the accessories.
Build & Design
The ONE CLICK is covered in a great looking fabric that gives the speaker a good grip in the hand. That fabric also makes it IPX4 certified. You might not want to submerge it, but use by the pool or in the shower wasn't a problem for us during testing. The ONE CLICK is slightly larger than a paperback book, but not by much. It's also just as thick as one, at about two inches. Overall it's a great size for throwing in a backpack or even leaving at a desk.
Libratone definitely kept it minimal with the ONE CLICK which I love. Discretely placed on the back you'll find a single button that turns it on or off. Next to it under a small rubber flap you'll find the 3.5mm input and micro USB input for charging. On the front Libratone went with the same same illuminated touch pad you'll find on the Zipp, though with slightly less functionality. It looks great, but just like the Zipp we had some issues with it (more on that later).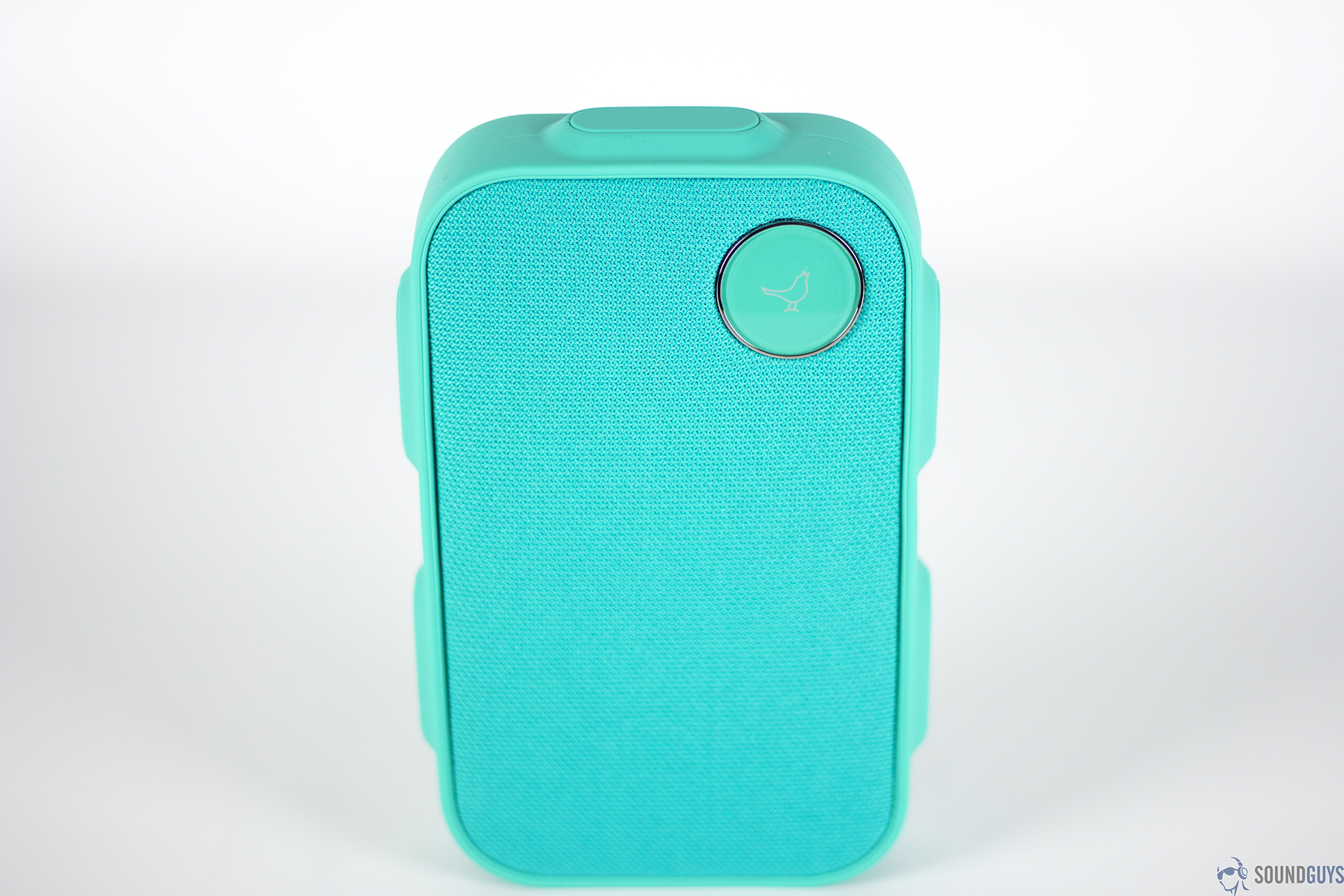 Along the outside is a rubber bumper with five small bumps. You can push these bumps out in order to attach any of the included accessories. It comes with a small hook, a lunchbox-like loop, and some spare caps to plug up any missing holes. Swapping them out is something that I was frustrated with at first, until I realized that I was doing it wrong. When switching the accessories you have to slide off the entire bumper, and then you can pop out any of the bumps and attach the accessory of your choice. I personally found the lunchbox loop to be perfect for my needs. Everything from a shower head to a tree branch becomes a potential place to hang the speaker.
Connection
When it comes to connection strength the ONE CLICK is above average. It maintained a strong connection regardless of how many walls were in the way. That said, the range is limited to about 30 feet. So if you need a far-reaching speaker you might have to look elsewhere. If not, then you shouldn't have any skipping or stuttering within 30 feet. My one big issue with the connectivity was that I was constantly pairing to it. I had to delete the device from my Bluetooth list and re-pair more often that I would have liked. Once paired however, the connection was solid.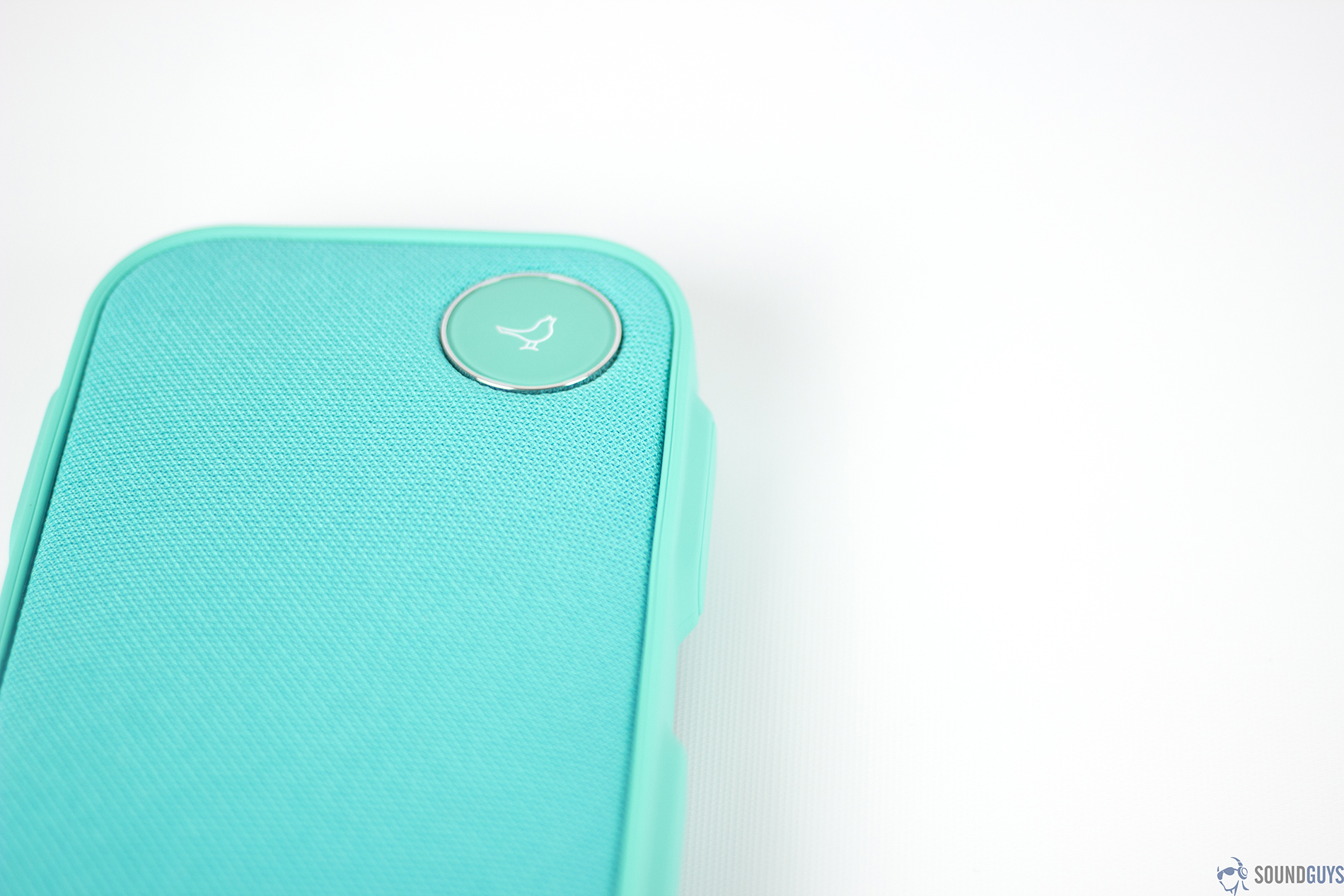 One of the main features that Libratone relies on to set their products apart is the touch sensitive pad. You can pause/play music by tapping the center of the pad and control the volume by tracing your finger around the circular touchpad. Touching and keeping your finger on the center will enter Bluetooth pairing mode, when it feels like it. This is where my issues began.
To be fair when music is playing, it works perfectly. And I guess that's the most important thing. But when you're trying to enter Bluetooth pairing mode it takes a few tries before showing up on my phone. There's also no skipping between tracks which I wish was a more prominent feature in speakers. Another neat trick is that you can pair two of these up together so you can double the fun in one room or even spread it out in two.
Battery Life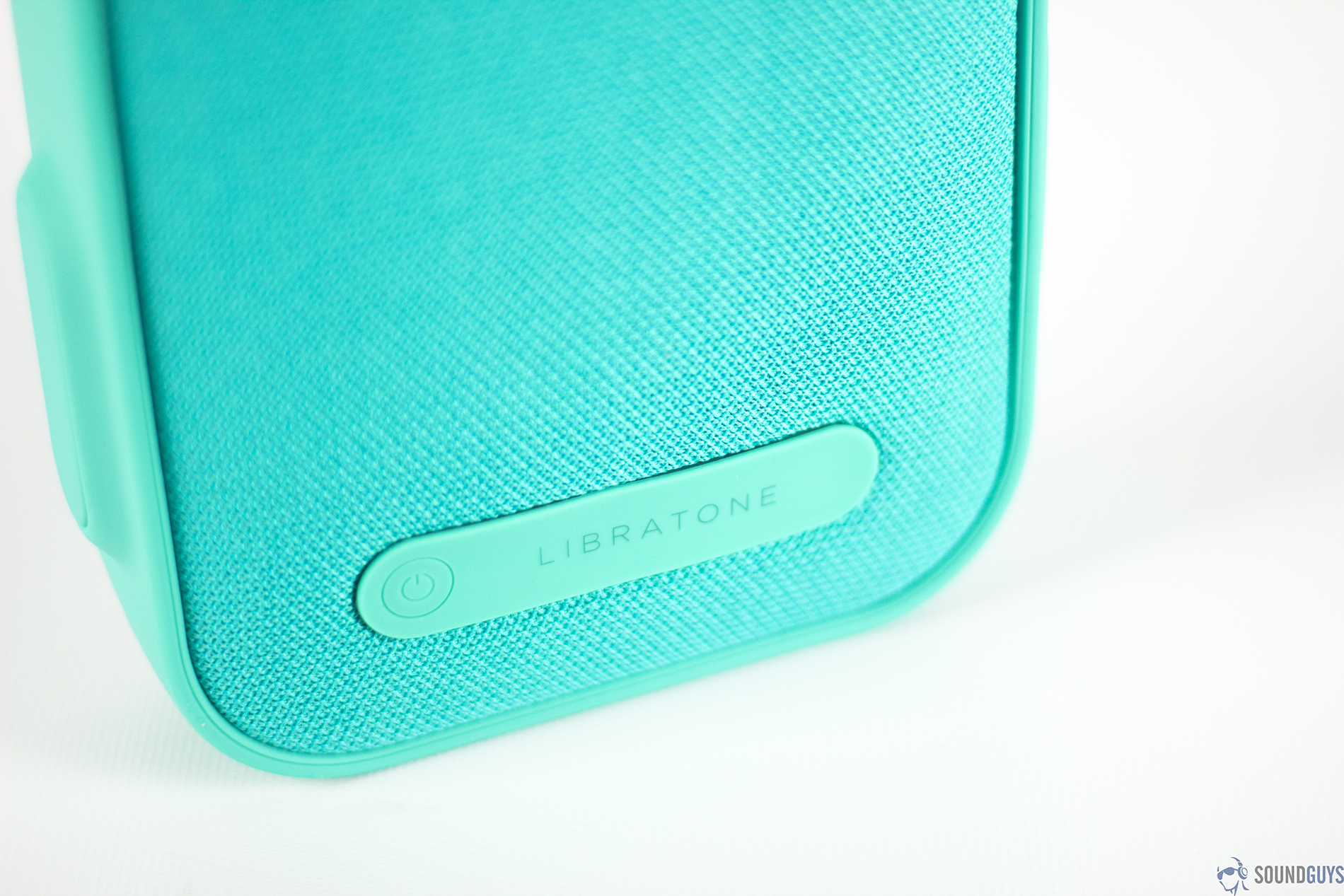 Libratone claims a battery life of about 12 hours, which isn't the best but it's enough to last you a few listening sessions. In our testing it did just that. We got around 11 hours on the first run and exactly 12 on the second, so it lives up to the claim as long as you don't max out the volume. With volume at 100% it lasted a respectable 8 hours. If you ever want to check battery life all you have to do is tap the power button and the indicator lights on the touch pad will light up to tell you how much remains.
Sound Quality
The ONE CLICK does have the option to connect via a standard audio cable, but we did all of our testing wirelessly through tablets, phones, and laptops. Inside is a 3" woofer, 1" tweeter, and 2 passive drivers that Libratone claims provides 360-degrees of sound.
We found this to be true for the most part while the speaker was standing up. You get a good sound at any angle for sure, but lying the speaker down flat reveals that there is more emphasis on the front of the speaker. You can still hear the music clearly while the speaker is face down, but it sounds muffled.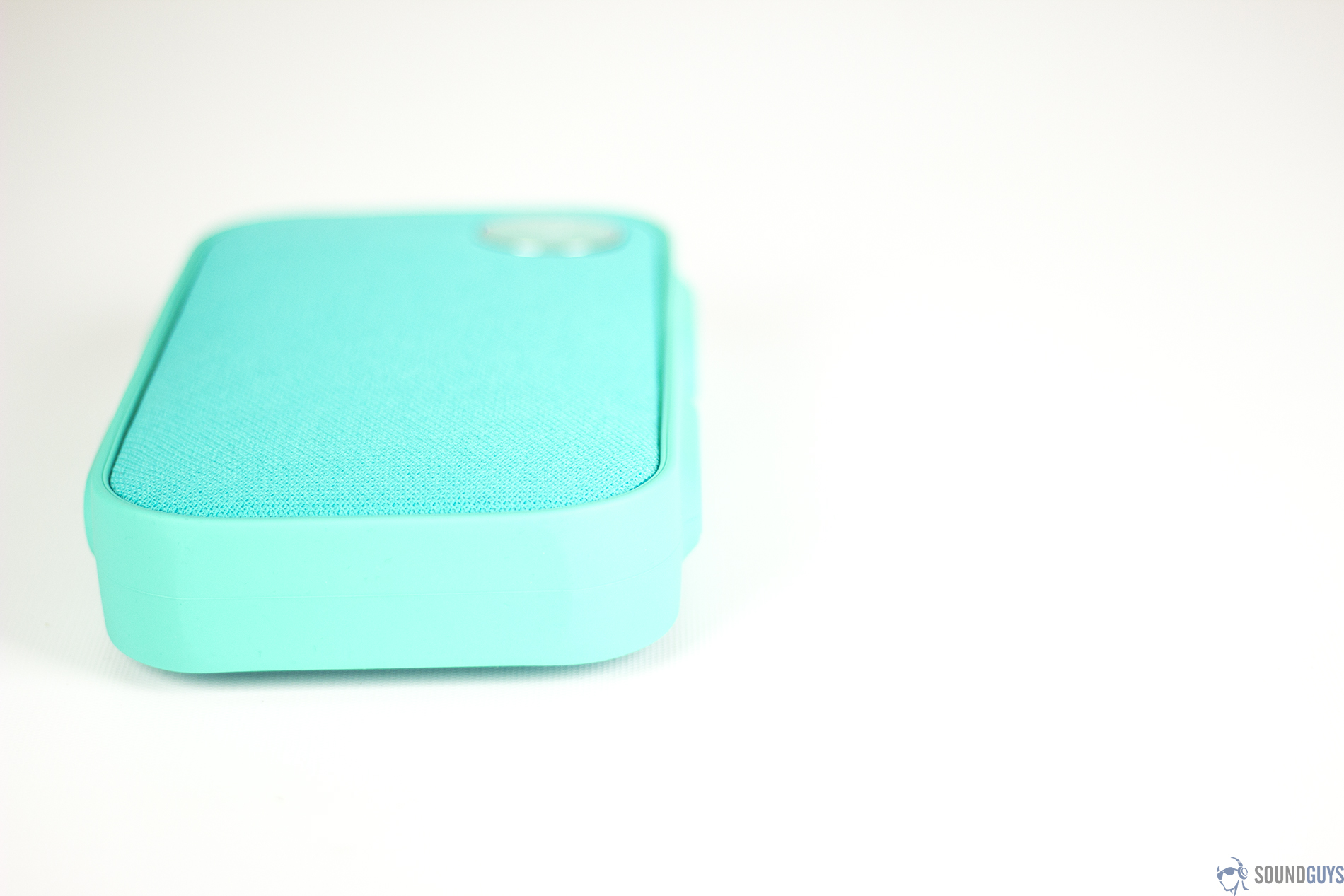 The low end on the ONE CLICK is definitely strong, but it's probably not going to do it for any bassheads out there. The bass in "I Need Never Get Old" by Nathaniel Rateliff & The Night Sweats sounds great for the most part but there are parts where it overlaps into the lower mids. Though it's a decently strong bass, it it's just not as tight as something like the Beoplay A1 for instance. It gets the job done but don't expect to be blown away.
Mids are definitely given a push here which, for what the ONE CLICK is intended for, suits it perfectly. It really gives the music a room-filling sound that will let you enjoy your music from pretty far off. Of course, once you get down into really listening vocals do sound a little lackluster. Attention to fine details is probably not something you'll say after listening to this speaker. Not that it sounds bad, but it could definitely be better.
When testing the speaker I didn't notice any harshness at all, even when at max volume. Libratone did a good job toning it back without cutting off too much of the detail. I say "too much" because some of it definitely get the axe and just like the mids, it isn't super clear. Even though they're clearly still audible, cymbals and hi-hats lose some of their airiness that they have on other speakers.
Conclusion
The ONE CLICK is a decent sounding speaker, but you're not getting it for the sound. The unique shape and size, great build quality, and customizable attachments make it one of the most versatile Bluetooth speakers around. The biggest problem with it has to be price. At $99 this would be a must-buy, a steal even. At $150 it would be strong competition for something like the JBL Charge 3, but at $199 it's a hard sell.
For $50 more you can get a spectacular sounding speaker in the Beoplay A1, and for $50 less you can get the Charge 3 which might not be as portable or good looking but has a better sound. Still, I can't deny that I do really enjoy the ONE CLICK. It's a truly solid speaker with a smart design and if you decide to get it you won't be disappointed, but there are plenty of options out there that are just as good for less money.