All products featured are independently chosen by us. However, SoundGuys may receive a commission on orders placed through its retail links. See our ethics statement.
The bottom line
True wireless earbuds may be everywhere, but the KEF Mu3 is a great contender. It has great sound, making it a fine option for music and speech. The design and comfort are good, and the connection strength is consistent. The lack of aptX or LDAC support might be a drawback for some, and you won't find ear detection here either. If you want stylish earbuds, with noise canceling and good sound quality, the Mu3 is worthy of serious consideration.
KEF Mu3
True wireless earbuds may be everywhere, but the KEF Mu3 is a great contender. It has great sound, making it a fine option for music and speech. The design and comfort are good, and the connection strength is consistent. The lack of aptX or LDAC support might be a drawback for some, and you won't find ear detection here either. If you want stylish earbuds, with noise canceling and good sound quality, the Mu3 is worthy of serious consideration.
Dimensions
25 x 18 x 26 mm (earbud)
34 x 62 x 52 mm (case)
Weight
5.8 g (earbud)
46.8 g (case)
What we like
Sound quality
Noise canceling
Distinctive design
IPX5 rating
What we don't like
No aptX or LDAC
Multipoint not supported
No ear detection
Rating Metric
Sound Quality
9.7
Bass
9.9
Midrange
9.8
Highs
9.6
Isolation / Attenuation
5.3
Active Noise Cancelling
7.3
Durability / Build Quality
8.5
Value
8.0
Design
9.5
Connectivity
5.0
Portability
9.0
Battery Life
5.5
Feature
7.0
Comfort
8.5
KEF is a renowned British hi-fi company that's been building highly regarded speakers longer than most people reading this have been alive. It has a pedigree that carries a fair amount of clout among audiophiles, but its headphone-building experience is limited. The Mu3 is the company's first true wireless earbud, and there's plenty of competition in this crowded field. Let's see how the KEF Mu3 differentiates itself, and if any of that loudspeaker know-how shines through.
Who should get the KEF Mu3?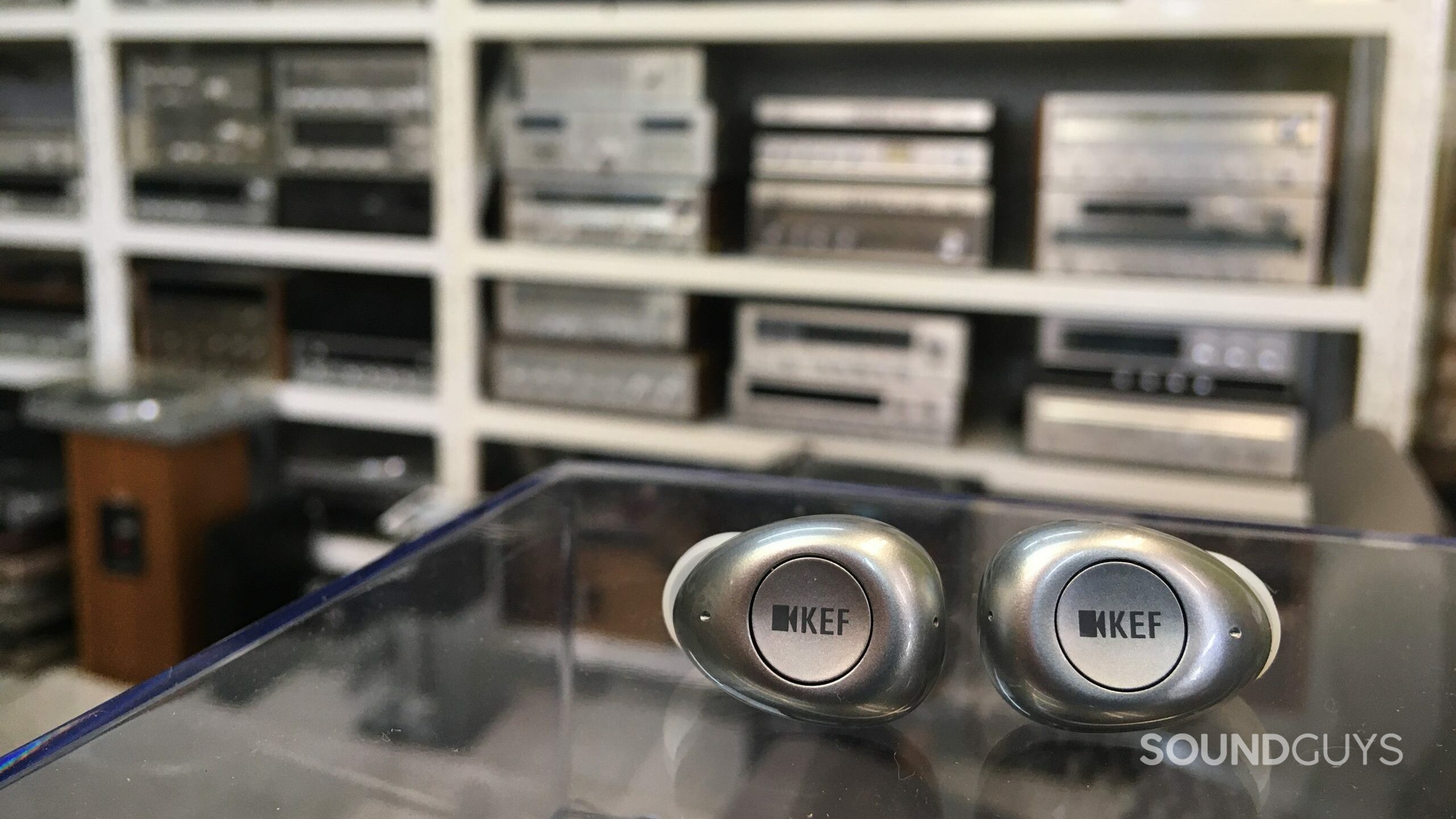 Hi-fi maker KEF's entrance into the true wireless space is impressive.
Anyone interested in noise canceling true wireless earbuds with a compact form factor will enjoy the Mu3. It's portable, stylish, and comfortable thanks to the ergonomic design.
People who care about sound quality should appreciate the well engineered audio characteristics.
Athletes can take full advantage of the Mu3 thanks to its splashproof IPX5 rating. It also has an ambient mode to keep you aware of your surroundings.
What's it like to use the KEF Mu3?
The earbuds are both stylish and discreet.
Let's start with the appearance. KEF makes a big deal out of the fact that Ross Lovegrove—also responsible for their $200k Muon loudspeakers—styled these earbuds. Regardless of this trivia, many will appreciate the aesthetic. The smooth lines and silvery grey coloring visually evoke Chicago's famous Bean, while the buds sit discreetly in the ears without drawing much attention. They're also available in a more utilitarian, charcoal grey colorway.
Both earbuds feature a locatable circular button. The left cycles through three modes, allowing more or less of your surroundings into your ears—active noise canceling (ANC) on, ambient, off—while the right serves as a multi-function control so you can pause, play and skip tracks, and answer calls. You can control the volume with a long press on either the left button (down) or right button (up). A neutral female voice provides confirmation of connection and announces the active ANC mode.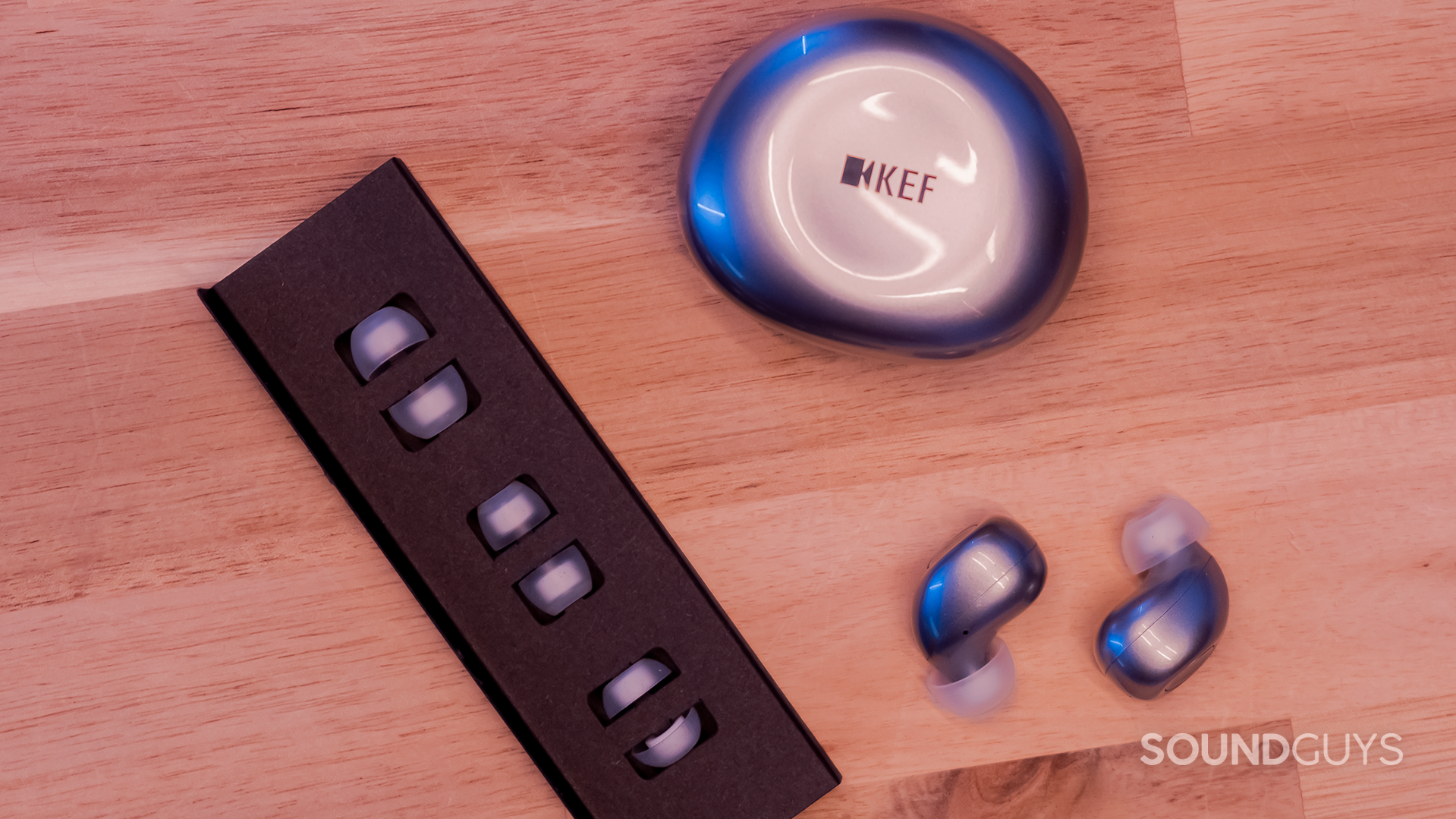 KEF supplies four sets of translucent silicone ear tips in different sizes.
Ambient mode makes you more aware of your surroundings, or enter a conversation without removing the earbuds, by allowing sounds from around you to filter in. It works well enough, but it takes some getting used to as the audio that's passed through sounds a little dull, lacking important high frequency content. I usually find myself taking them out whenever I need a bit more situational awareness. There's no automatic ear detection, so playing and pausing music needs to be done manually. After using headphones with ear detection previously, it's very much missed.
The charging case looks nice with its lack of hard edges and feels great. It also seems well put together—one accidental drop onto concrete and the plastic's coating didn't even scratch. The magnet that pulls the earbuds into their recesses and holds them in place as they charge feels satisfying and futuristic.
Is the noise canceling any good?
The earbuds have decent passive isolation and capable active noise canceling. You don't really get the "wow" moment when you activate ANC as you might with Sony or Bose's recent offerings, but the KEF Mu3's ANC is useful, with no noticeable side effects when listening to music on the go. It definitely helps the earbuds shine through on my walks to the office, keeping the sounds of the city at bay.
How does the KEF Mu3 sound?
The KEF Mu3 has a very pleasant sound profile that reproduces music and speech material well. The earbuds' frequency response conforms very closely to our in-house preference curve for the most part—meaning there's very little to complain about here—and I enjoy listening to a variety of content on these buds.
Lows, mids, and highs
Listening to the excellently produced Ace of Aces by The Fearless Flyers illustrates the Mu3's expertly tuned sound profile—meaning that the lows, mids and highs are each present in the right proportions—even while the sound does have a gentle smile profile that will please those not looking for absolute accuracy. The kick drum and bass guitar fill out the bottom end but without totally dominating. High hats are clearly audible without any harsh overemphasis, and the snare snaps with presence perfectly in the upper midrange. The two guitar parts are panned wide and feel like they're there in my left and right ears.
What we measured conforms very closely to our in-house preference—meaning there's very little to complain about here.
The vocals and guitars in The Linda Lindas' Oh! come through with clarity despite the huge production on the bass guitar and drum sounds. The Mu3 copes well with the addition of heavy floor tom part in the pre-chorus, which might surprise you given the diminutive size of the buds and their 8.2mm full-range drivers. Listening to audiobooks is a treat, as voices sound clear and natural, unlike many consumer-targeted, overly bass-heavy headphones.
Is the KEF Mu3 good for phone calls?
The mic delivers a good signal when speaking in a normal conversational voice, but it starts to break up a bit at higher levels. The person on the other line will be able to tell you're using a headset, but voices come through clear enough. Calling from outside on the street, surrounding noise is audible, as is wind noise, and is worse than many competitor products in this regard. It's certainly fine for extended business calls, ideally conducted in a quiet space. Take a listen and judge the microphone quality for yourself.
KEF Mu3 microphone demo (ideal):
KEF Mu3 microphone demo (wind noise):
How long does the Mu3 battery last?
The Mu3 is splashproof, making it a great companion in a variety of situations.
According to our controlled test, the earbuds allow for 7 hours, 55 minutes of music played back continuously with a 75dB (SPL) maximum output level, with noise canceling on—less than the quoted 9 hours, but respectable nonetheless.
The Mu3 supports quick charging, which is always a welcome feature—a 5-minute charge should provide around 60 minutes of use. The case provides enough juice for a quoted 15 hours of reserve battery, and uses an included USB-C cable (no charging brick supplied) for charging.
How is the KEF Mu3 connection quality?
The Mu3 is simple to connect and offers very stable wireless performance.
The connection strength is very respectable. I encountered no issues with the wireless link apart from the occasional "connected" voice notification from the buds being slightly out of sync on power up. The earbuds support a 10-meter wireless range, operating on Bluetooth 5.0. This allows for enhanced audio performance, assisted by simultaneous transmission, where both earphones receive a signal at the same time. This is in contrast to the old (pre 5.0) approach where greater potential for latency exists, since audio would be sent to one earpiece and relayed to the other.
As far as Bluetooth codec support: you can use AAC and SBC, but none of the aptX codecs, so Apple product users will likely get a consistently better performance here. Also note that Bluetooth multipoint is not supported, so you can only pair with one device at a time.
Should you buy the KEF Mu3?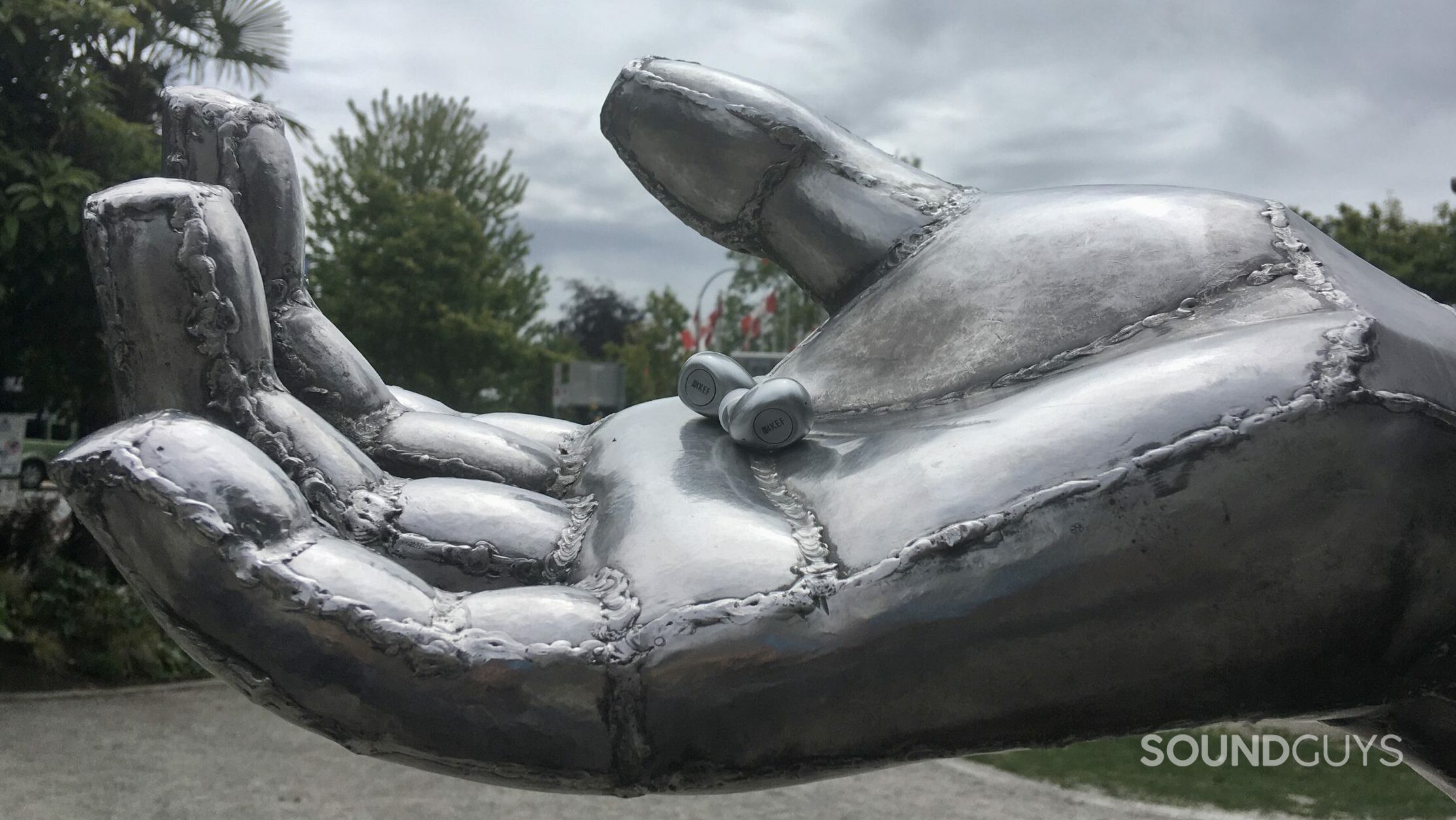 As well as great sound, the Mu3 has a unique industrial design. *Hand not to scale.
The Mu3 is a great first true wireless product from KEF. You can easily find a good fit with the provided ear tips, and most listeners should find the buds comfortable over long periods. The battery life is respectable; the ANC is effective; and the sound quality is superb, working well with the majority of listening material.
I have no issues with the wireless connection strength and as an iPhone user was happy with KEF's choice of the AAC codec. If you want other codecs, multipoint, or ear detection, you'll have to look elsewhere. If you want a solid set of splashproof true wireless earbuds that includes a stylish, robust charging case, refined sound quality, and comfortable fit, the Mu3 may be just right for you.
What are some good alternatives to the KEF Mu3?
Consider the Sony WF-1000XM4 instead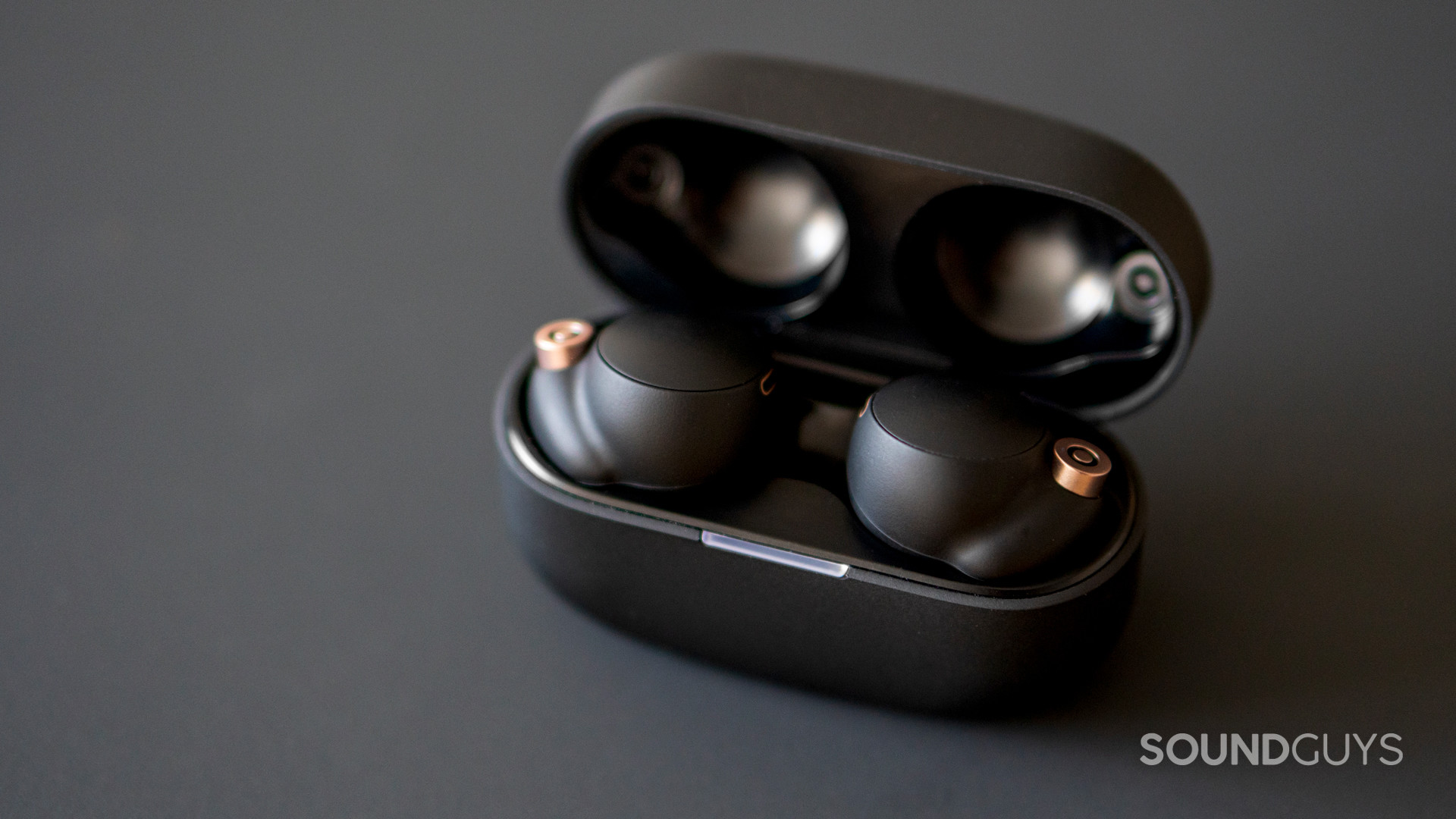 The addition of the copper ANC mic housings make the Sony WF-1000XM4 a bit more glam.
If you have cash to burn the Sony WF-1000XM4 is the better pick as its Bluetooth 5.2 chipset futureproofs it for a bit longer, and it supports LDAC. Other features include an IPX4 rating, better ANC, and impressive battery life.
The Jabra Elite Active 75t is a great pair of workout earbuds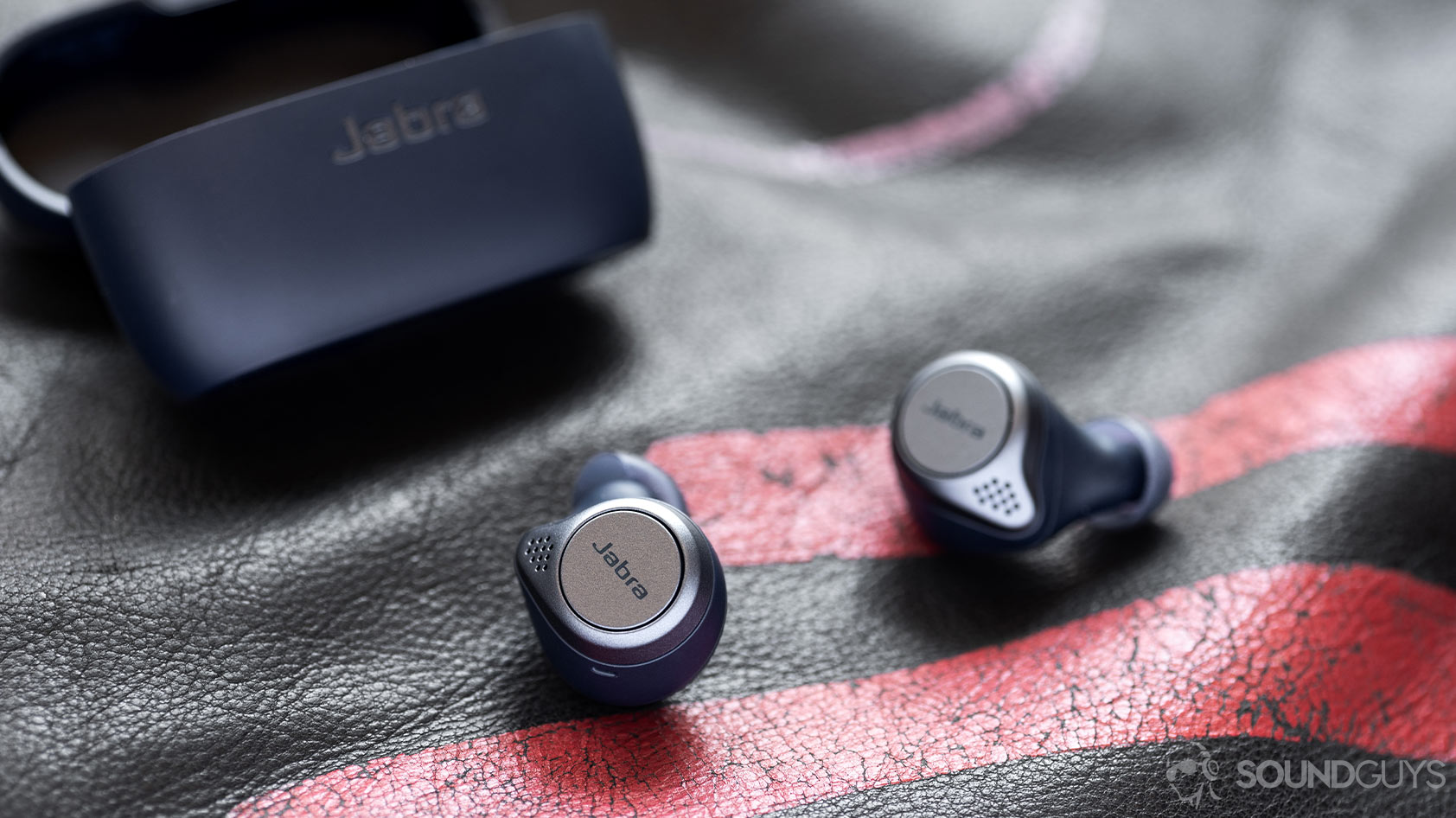 Jabra's workout earphones are expensive but well worth it for listeners looking for versatile earbuds with fantastic microphone quality.
The Jabra Elite Active 75t is another pair of true wireless earbuds with both active noise canceling and a waterproof design. It offers a solid IP57 build and good connection performance. You also have access to powerful sound customization via the Jabra Sound+ App for Android and iOS. For really good noise canceling, you'll have to spring for the Jabra Elite 85t.
The Sennheiser MOMENTUM True Wireless 2 is a great option too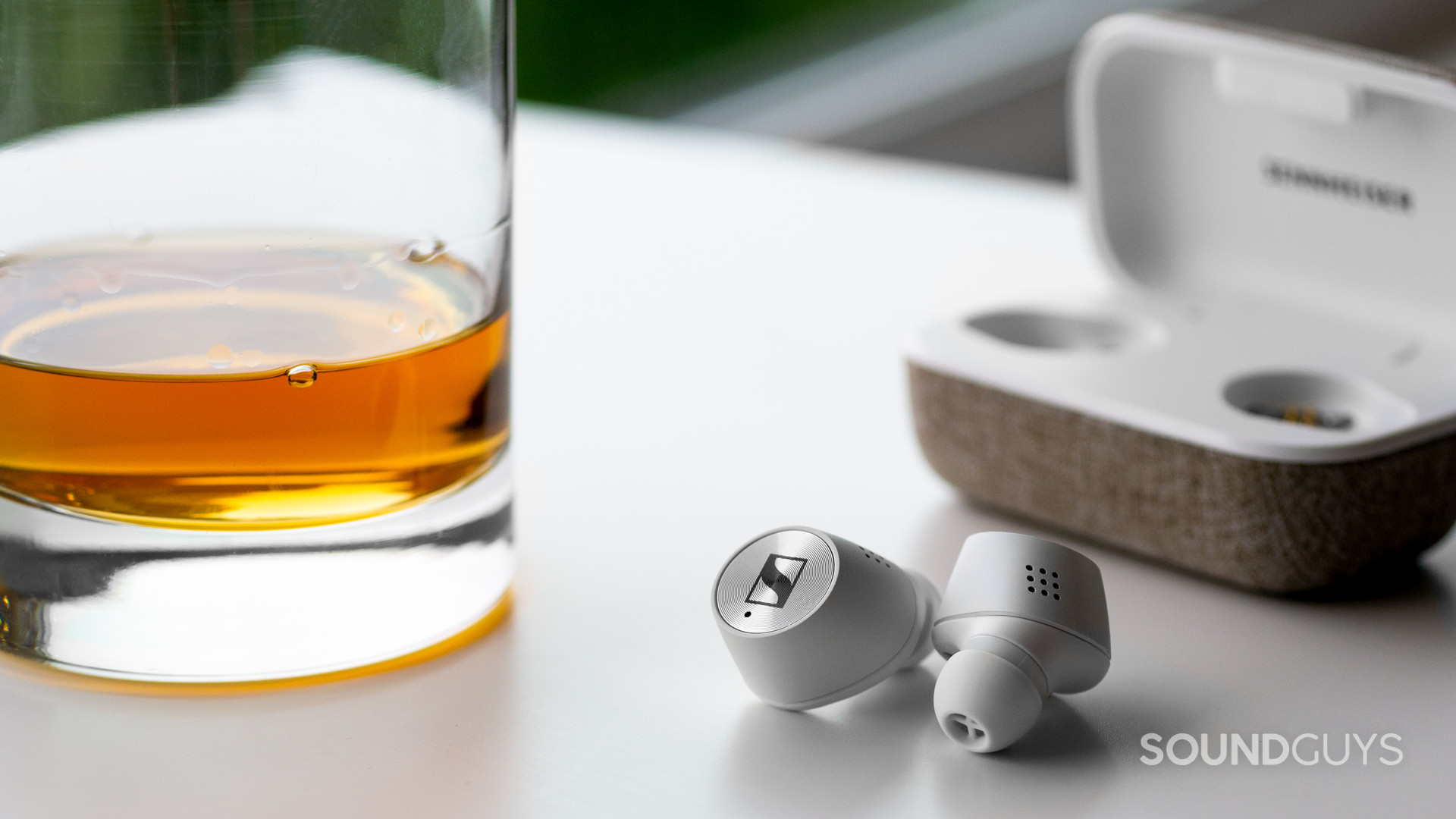 If there are luxury true wireless earphones, the Sennheiser MOMENTUM True Wireless 2 definitely fits the bill.
Sennheiser's active noise canceling earbuds are also nice and compact, though arguably not as stylish, and have an official IP rating. If you're not scared off by the MOMENTUM True Wireless 2 price tag, these may be a good pick for you. These earbuds feature customizable touch controls and a fun, customizable sound profile.