All products featured are independently chosen by us. However, SoundGuys may receive a commission on orders placed through its retail links. See our ethics statement.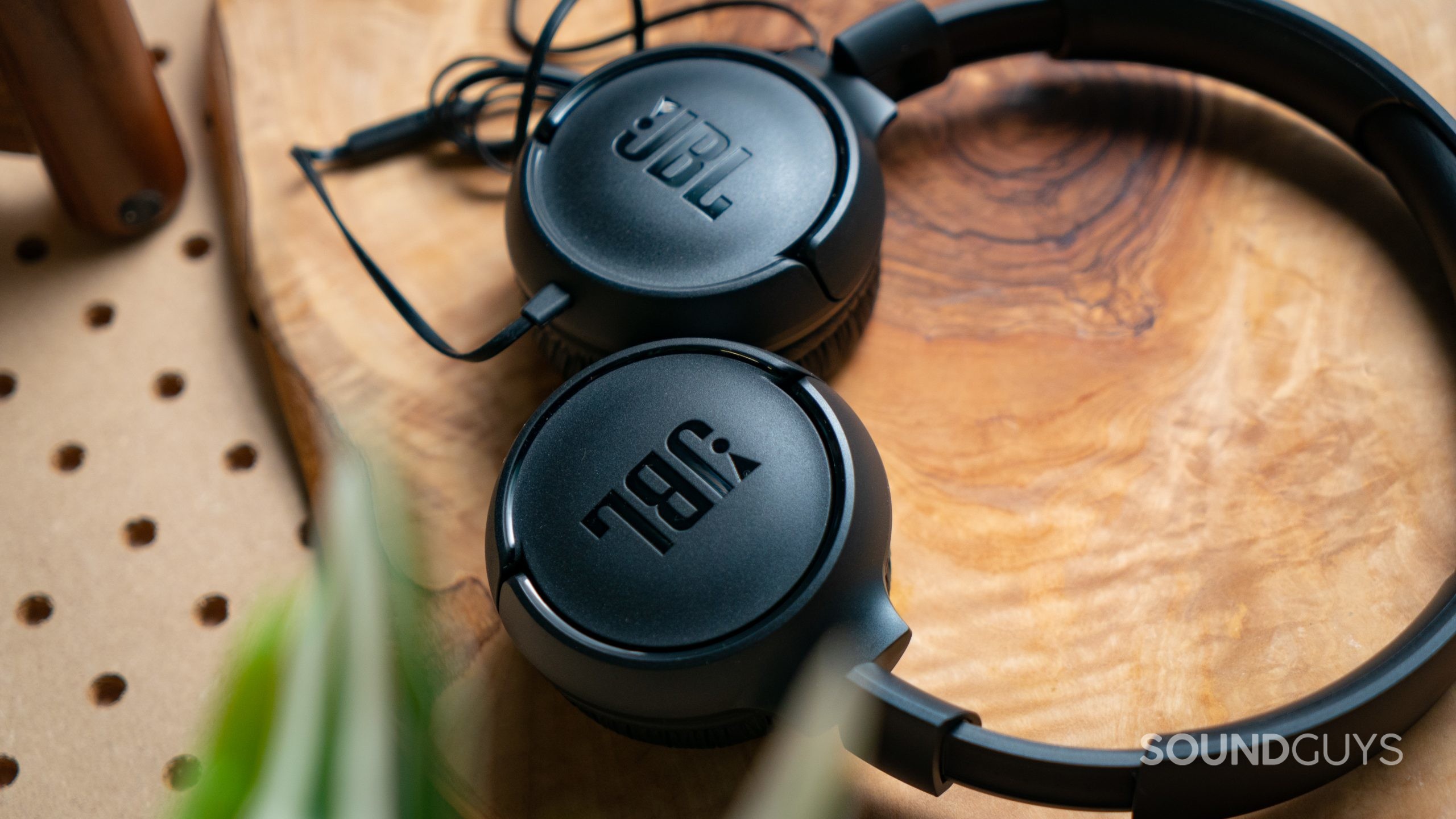 The bottom line
The JBL Tune 500 delivers an impressive result considering its supremely budget-oriented price tag. It's got a litany of issues, but in terms of being a decent pair of headphones that's easy to pick up and use without worrying too much, it's actually pretty nice.
JBL Tune 500
The JBL Tune 500 delivers an impressive result considering its supremely budget-oriented price tag. It's got a litany of issues, but in terms of being a decent pair of headphones that's easy to pick up and use without worrying too much, it's actually pretty nice.
Dimensions
Cable length: 118.7 cm
20.5 x 4.8 x 22.3 cm
What we like
Cheap
Sleek look
What we don't like
Short cable
Somewhat uncomfortable
Sound quality
Rating Metric
Sound Quality
7.1
Bass
3.2
Midrange
9.5
Highs
8.6
Isolation / Attenuation
2.4
Durability / Build Quality
6.0
Value
8.8
Design
5.9
Connectivity
5.0
Portability
7.0
Feature
5.5
Comfort
6.0
The JBL Tune 500 is laser-focused on being a budget pick. It's a wired pair of on-ear headphones with an inline microphone. At just $29.99 USD it's undercutting almost every other pair of headphones on the market. Usually a product this cheap comes with serious flaws, and the JBL Tune 500 has many, but are they enough to prevent it from being a good option?
Editor's note: this is the first version of the article. Updates will follow as the market changes.
About this JBL Tune 500 review: We tested the JBL Tune 500 over a period of one week. SoundGuys purchased the unit for this review.
The JBL Tune 500 is a great option for anyone who needs a cheap pair of headphones they can throw in a bag without worrying too much. Parents looking for a cheap headset for their kids may also want to take notice, though they should check the fit first. It's also a decent choice for calls, thanks to an inline microphone.
What's it like to use JBL Tune 500?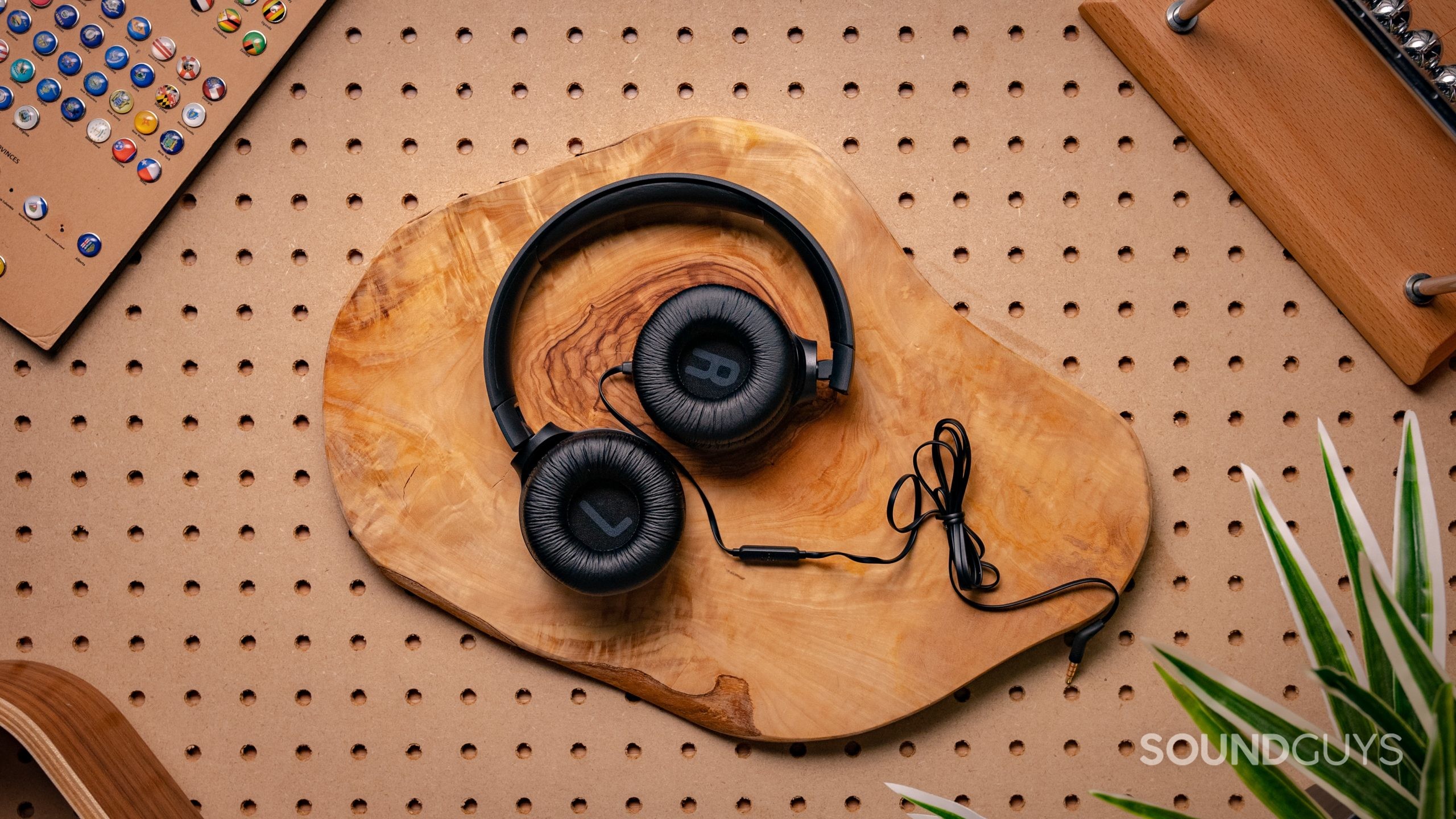 The JBL Tune 500 is very easy to fold up and thrown in a bag when you're on the go.
The JBL Tune 500 is made almost entirely out of plastic, with some padding in the headband and the ear cups. The faux leather material on the cushions probably won't stand up to years of wear, but it's reasonably comfortable for about two hours of use. We're concerned about the longevity of the included cable since it's quite thin and not replaceable. The ear cups are adjustable, and swivel to fit your head. You can also fold them up to make the headphones more compact, and easy to throw into a bag for transport.
The JBL Tune 500 uses an on-ear design, which isn't the most comfortable, but does make it easy to take on and off quickly.
The most glaring issue with the design of the JBL Tune 500 mostly comes down to the short length of the attached cable. At 1.18m it's fine for a smartphone in your pocket or a laptop directly in front of you, but if you're plugging it into a desktop PC off to the side it might be too short. The cable also has an inline microphone and voice assistant button for smartphone users.
How does the JBL Tune 500 connect?
The JBL Tune 500 uses a 3.5mm headphone connector, and features an inline microphone along the cable.
The JBL Tune 500 connects using a traditional 3.5mm headphone cable. The slightly curved TRRS connector carries microphone audio as well as stereo playback using a single connection. The cable is slightly short as mentioned (1.18m according to JBL). Thanks to the adherence to the traditional 3.5mm headphone jack standard these headphones are compatible with a wide range of devices all the way from laptops, desktops, and smartphones (may require a headphone adapter dongle), to gaming consoles.
How well does the JBL Tune 500 block out noise?
The JBL Tune 500 is not great at blocking out outside noise, most other closed headphone designs will perform better.
The JBL Tune 500 has generally pretty middling noise isolation. It will block out quiet conversations in the same room, but anything louder may interfere with your listening experience. This is primarily due to the on-ear design. Unlike over-ear headphones, the JBL Tune 500 doesn't fully surround your ears, but instead rests on top of them. To put it simply: there are better options if you're looking for a headset to take on your crowded morning commute.
How does the JBL Tune 500 sound?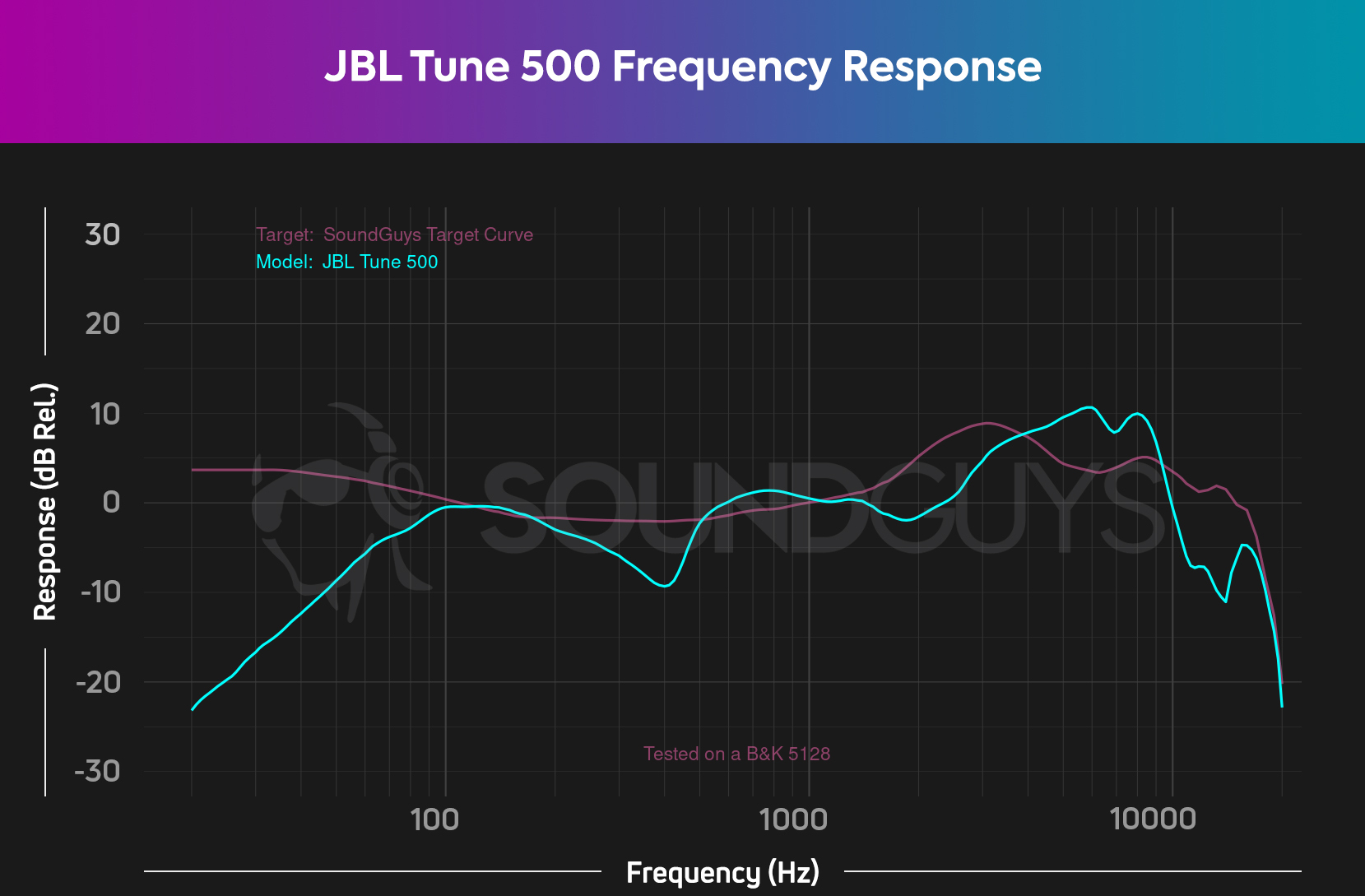 The JBL Tune 500 has a notable lack of sub-bass and some odd deviations from the ideal curve in the high end.
The JBL Tune 500 deviates wildly from our ideal consumer curve. It lacks notably in sub-bass, and has several spikes and dips all along the frequency response from 200Hz up to the upper register above 10kHz. This is to be expected of cheaper headphones, as it's rare to see one that comes anywhere close to our ideal frequency response curve. The JBL Tune 500 sets itself apart however, by the way that these deviations don't impact the listening experience too heavily. The bass and midrange is generally present despite the dips, and there are no excessively sharp peaks in the high end that often produce the worst results when it comes to sound quality. It's nowhere near good enough to do critical listening with, but for casual listening, it'll get the job done without being unpleasant.
Lows, mids, and highs
Trying out different songs on the JBL Tune 500 reveal its strengths and weaknesses. Well engineered rock music such as My Hero by Foo Fighters still sounds fairly enjoyable here, with the guitars and drums still having the punch they require to make the song work. The cymbals aren't too overly emphasized by the frequency response curve (can sometimes be hissy or overly sibilant), which is often a problem on other cheap headphones. Bass-heavy music like Faceshopping by SOPHIE sounds decent, but it depends on the song; the lack of sub-bass does not help.
Can you use the JBL Tune 500 for phone calls?
The JBL Tune 500's microphone is perfectly serviceable, but the frequency response and clipping issues mean it's not useful for quality audio recording at all.
The JBL Tune 500 has an inline microphone which can be used both for voice calls as well as to control your phone's virtual assistant (there's a button right next to the microphone to activate it). Inline microphones are often worse than headset boom microphones, but usually better than embedded microphones. Here the microphone is serviceable (especially considering the price tag). It has a slow rolloff from around 2kHz up to 8kHz, meaning that it picks up most of the spectrum of the voice, but is slightly bass heavy. It also tends to distort at high input levels. You can listen below to judge for yourself how it sounds, and vote in the attached poll.
JBL Tune 500 ideal microphone demo
JBL Tune 500 office microphone demo
How does the microphone sound to you?
242 votes
Should you buy the JBL Tune 500?
The JBL Tune 500 is pretty impressive for the price; it does everything just well enough to really be a standout at such a cheap price point.
The JBL Tune 500 is not the best pair of headphones around. It has issues with sound quality, build quality, and comfort. However when you consider its fantastic price, it actually becomes a really incredible pick for budget headphones. Compared to other products at this price point, the sound quality isn't so terrible as to be obnoxious or distracting. It's comfortable to wear for a few hours at a time, and is exceptionally easy to fold up and throw in a bag without worrying too much about damage. It's rare to see a product this cheap perform as well as it does. If you're looking for a burner pair of inexpensive headphones this might be the best pick.
JBL Tune 500
JBL Tune 500
Price • Lightweight • In-line mic/remote
A cheap pair of wired headphones that's great for daily use.
The Tune 500 delivers good sound in a lightweight, affordable package. You can take calls on the go with the one-button mic module and even access your phone's smart assistant it. The headphones fold up toward the headband making it easy to travel anywhere with the Tune 500.
What should you get instead of the JBL Tune 500?
The first port of call for an alternative option should probably be the Audio-Technica ATH-M20x which has comparable sound quality, is slightly more comfortable, and belongs to the same family as the often lauded Audio-Technica ATH-M50x. Another option is the Koss Porta Pro, a retro re-release of an old favorite. It's lightweight and comfortable, and well known for its sound quality. Finally you might want to look at the Razer Kraken X, a gaming headset, and the only option here that matches the JBL Tune 500 for price.
Frequently asked questions
Yes! However be aware that depending on the microphone connector on your computer you may need a TRRS to 2x TRS splitter in order to plug it into separate headphone and microphone jacks.
Yes, JBL offers the JBL Tune 500 in four different colors, including black, white, pink, and blue. Availability may depend on your market.